Venue: Goodison Park, Liverpool
Premier League
Sunday 6 April 2008; 3:00pm
Osman (55')
Half Time: 0-0
Attendance: 36,017
Referee: Andre Marriner
Improved news on the injury front saw the return of Andy Johnson, who partnered Aiyegbeni Yakubu upfront, with Victor Anichebe on the bench, where the presence of Phil Jagielka was something of a surprise. He has looked a little jaded so perhaps it's understandable; with Hibbert out and Neville at right-back, it provided a chance for Manuel Fernandes to start a game and show us how interested he really is in staying...
Two early corners should have set the right tone for this one but appalling deliveries again from Arteta against the worst team in the Premier League. No Alan Stubbs for Derby, out injured; James McEveley on the bench. Yakubu and Osman so nearly got the ball in after a scramble following a better cross form Neville, but a free-kick given to Derby for a push by Osman.
But Derby were not going to lie down and roll over, Fernandes looking slow and getting caught in possession three times as they attacked with fervour. A number of lively attacks led by Savage were not in the script...
A clever ball in from Baines fell perfectly for Yakubu as Arteta pulled ahead to give him space and he incredibly skied it over the crossbar from 4 yards! A glorious chance gone begging. Everton finally putting it together after a nothing 20 mins and another corner, better delivery this time but still no real end-product.
But lack of width and a failure to get the ball in front of Johnson meant that little was going Everton's way as Derby kept coming back at the Blues... Don't they know they've been relegated??? Todd got booked for diving in on Ossie. Undeterred, Derby came at the Blues with perseverance and determination, Savage and Neville colliding; yellow card for the Everton captain.
Another great opportunity for Arteta from a dangerous free-kick but he chose to do a slow curing bender into the top corner and it sailed harmlessly 5 yards over the bar. Poor. Carsley had a chance from another Arteta corner, but he was not well positioned and headed wide.
Savage gave Arteta another opportunity that he floated across, and Lescott was pushed by Carroll going up for the ball but the ref favoured the goalie, of course.
A poor first half from the Blues, with Fernandes particularly disappointing, and the rest of the team lack-lustre... so much for a refreshing break in Marbella... that Uefa Cup hangover just won't go away! Much better needed in the second half.
It was just as laboured at the start of the second half until some one-touch football let Fernandes get in a shot off, Yobo followed up but neither could beat Carroll in the Derby goal.
But a fantastic ball in from Fernandes, who had pulled out to the left, put Leon Osman in and his good first touch allowed him to dispatch the ball neatly, drilling the ball home with his left foot. Johnson went over and left the field briefly with an injury.
Derby had a good chance, Miller getting Villa in one-on-one with Howard who stood up well to block. Worrying! Ghaly also had a good pop at goal. Yakubu and later Fernandes were replaced by Anichebe and Jagielka as Everton pretty much sat on their slender one-goal lead.
Three points is what was required and predicted, so job done... But convincingly? Far from it. If this was an easy game on paper then there are five hard ones coming up. Some significant improvement required all round.
Job done... but only just
Everton won in the Premier League for the first time in a month and closed the gap between themselves and Liverpool to three points but there was very little to inspire confidence as David Moyes's charges did just enough to overcome relegated Derby County at Goodison Park.
For most of a match that was frustrating to watch from the Everton perspective, it was clear that given Derby's general ineptitude the Blues only had to score once to earn victory but it was annoying that that was all they managed. The Everton of a few weeks ago would have put a hatful past Paul Jewell's hapless side but this clearly isn't the same team.
Andy Johnson made a welcome return up front, Victor Anichebe was on the bench and Leighton Baines was finally deployed at left back and the Joseph Yobo-Joleon Lescott partnership was restored. Steven Pienaar was absent, however, after picking up another injury in the Merseyside derby last week.
Everton started positively enough. Leacock almost put into his own net inside two minutes but somehow managed to send his stooping header over his own crossbar before Leon Osman almost got on the end of a Mikel Arteta cross but referee Andre Mariner penalised him for a push on a defender.
Derby, however, finally freed from the worry of battling against certain relegation by the inevitable, weren't afraid to knock the ball about themselves and after Manuel Fernandes was robbed near the halfway line by Hossam Ghaly, Howard was called upon for the first time to save Mile Sterjovsky's low angled drive in the seventh minute. Five minutes later Jones' effort from the edge of the box was deflected wide for a corner by Lee Carsley.
Everton, meanwhile, despite looking the more potent side going forward, were being let down by a seemingly complacent, almost lazy demeanour and yet more mind-numbing hoofball. Tim Howard looked for all the world as though he'd put his boots on the wrong feet, so prone was he to belting the ball into touch even with his favoured right foot. And even when he kicked straight, it often sailed over the heads of every Blue shirt and bounced straight through to Roy Carroll in the opposing goal. More infiruatingly, on the occasions he did elect to bowl the ball out to a teammate, the recipient — usually Phil Neville — would merely hoof it aimlessly to a white jersey.
That's not to say that the Blues didn't have their moments or their chances with the ball on the deck. Arteta led a three-on-three break but ended up running down a blind alley and drifting a hopeful left-footer well wide once all other options had been closed out.
And when Baines, probably the only Everton player — with the exception perhaps of Johnson — to emerge from the first half with much credit, despatched a perfect low ball across goal to the feet of Yakubu, the Nigerian somehow contrived to scoop the ball over the empty net from barely four yards out.
Undeterred and no doubt confident that the breakthrough would come within minutes, the home side countered swiftly again a minute later, a move that broke down when Arteta failed to anticipate Yakubu's clever back-heel in the box. Seven minutes after that, Fernandes forced Carroll into saving low with a decent shot from 25 yards.
The first half ticked on, though, and the home crowd grew more restless as the goal that was supposed to open the floodgates didn't materialise. Too many players were wanting too long on the ball and Derby were doing a decent job of harrying and hustling the midfield out of their stride. Arteta was blowing hot and cold, both in open play and in dead-ball situations and his current form was perhaps summed up by a 42nd-minute free kick in his sweet spot on the edge of the area that he skied into the Gwladys Street end.
The first half ended with a couple of penalty shouts when Lescott was man-handled by Darren Moore — the second time after a conversation with the referee asking him to keep a look out for that very infringement but, predictably, nothing was given. So it was Mr Mariner and not the players whom the home fans booed down the tunnel at half time despite what the media want you to believe.
The second half was marginally better than the first, for the first quarter of an hour at least, and it proved decisive. After Fernandes had forced Carroll into parrying into the path of Yakubu and the striker had found the corner flag with an awful left-footed snap-shot, Osman got the all-important goal.
And a wonderful interval of class it was too. Fernandes, having moved into the left-midfield slot, delivered a pinpoint through-ball to Osman on the edge of the box and he took one touch, steadied himself to prevent himself from over-running the ball, and then hammered left-footed into the corner. A terrific pass and a finish to match.
That roused Osman in particular into a flurry of acivity in the ensuing minutes, the former Derby loanee prompting Carroll into two good saves before knocking Arteta's corner on to Lescott whose firtst-time, side-foot shot sailed narrowly wide of the left-hand post.
In between, the visitors really should have levelled matters when Emanuel Villa found himself completely in the clear with just Howard to beat but the American was off his line smartly and made a great save with his legs on the edge of his area to snuff out the danger.
After that, the game more or less fizzled out as Everton shut up shop and Moyes pulled off Yakubu after he took a knock to the foot and then Fernandes, presumably to pretect him for the run-in. Anichebe and Phil Jagielka were the replacements but neither had much impact on a dull finale.
The points were obviously the most important goal today but it would have been nice to see Everton settle back into an attacking groove that would set them up for the season run-in. Unfortunately, while they showed flashes of what they're capable of, they struggled to put away a plucky but desperately poor Derby side.
Next week's game at Birmingham is going to be a lot tougher — to say nothing of the Arsenal and Chelsea games — but the return of AJ coupled with an improving Fernandes and an excellent display by Baines at left back at least bode well.
Match Preview
This weekend's game against Derby County may not be the be-all and end-all of Everton's season — certainly not in the context of the race for fifth place... though could be where the fourth place is concerned — but it could be vital in terms of confidence.
Three games without a win in the Premier League have yielded just one point from 9 and, while the impact of the disruption caused to the squad by injuries and illness has been a factor, it can't be blamed entirely for an apparent drought of inspiration and a consequent lack of threat up front.
No question morale has been affected, which is why a home game against unquestionably the worst team in the league has come at just the right time.
No wins, just six goals away from Pride Park all season long, and a goal difference of -51 tells its own story — Derby should be cannon-fodder for a team that still harbours aspirations of a top-four finish, a goal that could still be very much attainable by end of play at Goodison on Sunday. Arsenal and Liverpool faced off at The Emirates in the lunchtime kick-off on Saturday and the 1-1 draw means Blues could narrow the gap to three points behind with five games to go.
David Moyes was once again robbed of key personnel and options in last weekend's Merseyside derby defeat but he should at least have an attacking option on the bench in the form of Victor Anichebe. The youngster came back from international duty with an apparent stomach bug and has been battling to regain his strength ever since. It's that lack of strength that could prevent him from starting.
The other factor standing between Big Vic and a starting berth is the possibility that Andy Johnson could also be fit after limping out of the loss at Fulham and then missing the next two matches with a groin strain. He appeared to have a chance of making the derby last weekend but ended up playing no part. Another week on and the hope is that he will pass a fitness test to add firepower to that offered by Yakubu.
Steven Pienaar won't be so lucky. He suffered bruising to the muscle and bone in his leg against Liverpool and hasn't trained all week. In addition, Tony Hibbert is suffering from a hip injury. If AJ plays, it'll allow the manager to field a 4-4-2 with Arteta, Fernandes, Osman and Carsley in midfield and Neville at right back. For Derby, Alan Stubbs, who joined from Everton at the close of the January transfer window, is out injured and will miss this return to Goodison.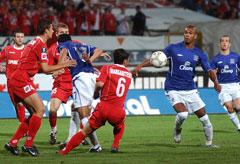 No Desire:
Derby defeat was another downer
There's not much more to say. Victory should be a formality, not winning is unthinkable but nothing can be taken for granted against a team whose relegation is now guaranteed and who have been freed of any pressure apart from playing for pride.
* Unfortunately, we cannot control other sites' content policies and therefore cannot guarantee that links to external reports will remain active.
EVERTON (4-4-2)
Howard
Neville {c}:31'
Yobo
Lescott
Baines
Fernandes (77' Jagielka)
Carsley
Arteta (90' Valente)
Osman
Johnson
Yakubu (72'Anichebe)
Subs not used
Wessels
Gravesen
Unavailable
Pienaar (injured)
Hibbert (injured)
Cahill (injured)
Vaughan (injured)
Van der Meyde (injured)
Gosling (injured)
Turner (injured)
Vidarsson (loan)
Boyle (loan)
Spencer (loan)
Jutkiewicz (loan)
DERBY CO. (4-4-2)
Carroll
Todd :29'
Leacock
Moore
Lewis
Sterjovski (49' Mears)
Ghaly :73'
Savage (c) :86'
Jones
Villa
Miller
Subs not used
Price
McEveley
Feilhaber
Earnshaw
Premier League Scores
Saturday 5 April 2008
Arsenal
1-1
Liverpool
Aston Villa
4-0
Bolton
Blackburn
1-1
Tottenham
Fulham
1-3
Sunderland
Man City
0-2
Chelsea
Newcastle
3-0
Reading
Wigan
2-0
Birmingh'm
Sunday 6 April 2008
Middlesbro
2-2
Man Utd
Everton
1-0
Derby
Tuesday 8 April 2008
West Ham
0-1
Portsmouth
Premier League Table
Pos
Team
Pts
1
Man Utd
77
2
Chelsea
74
3
Arsenal
71
4
Liverpool
63
5
Everton
60
6
Portsmouth
56
7
Aston Villa
52
8
Blackburn
51
9
Man City
49
10
West Ham
44
11
Tottenham
40
12
Newcastle
38
13
Sunderland
36
14
Middlesbro
35
15
Wigan
34
16
Reading
32
17
Birmingham
30
18
Bolton
26
19
Fulham
24
20
Derby
11
After 8 Apr 2008