Everton welcome back Mikel Arteta after the international break, the creative Spaniard being missed at Chelsea, with Tony Hibbert the one to make way. Otherwise, David Moyes, with almost a full squad to choose from, went with the other ten players who started at Chelsea two weeks ago.
Carsley gave up a free-kick, sandwiching Jones, but the wall defended well. Everton were slow to settle but after 4 mins Pienaar finally saw the whites of the goalposts but his shot was wide. Arteta put in a lovely ball to the far post and Yakubu nodded down to Cahill who needed to hit it first time but he wanted an extra touch allowing it to be blocked.
But Route One paid off after just 12 mins, McShane missed a clearance from Howard allowing Yakubu to pounce. He chested it down, and slashed at it, into the ground, but it bounced up nicely, looping over Gordon and into the Sunderland net! Lovely start!!!
Everton pulled out a great move for the second goal just five minutes later, Yakubu superbly laying off the ball to Arteta, who casually paused, jinked, and then flicked in a beautiful ball to the in-running Neville whose difficult layback to Tim Cahill was superbly controlled and then hammered with skill and placement straight into the Sunderland net: Two - Nil! Jones got close enough to have a pop but it was wide of Howard's goal.
Ledbetter almost got a header in off Howard pawing at a high ball in the strong wind. At the other end, a couple of free-kicks from Arteta, with Osman glancing the second just past the post. A poor Neville pass on a great Everton attack led directly to a series of corners for Sunderland. Everton looked nervous in defence and unable to really stamp their obvious authority on a plucky Sunderland team that refused to just lie down and be beaten.
On two occasions, Osman looked like making it three for Everton, getting the final ball on two more great pieces of passing football from Everton, who seemed to have finally dispensed with the dreaded hoofball. And it was Nuno Valente and Steven Pienaar with a move and finish of the highest quality that put Everton in total command. The two left-sided players worked the ball forward superbly, Pienaar playing in Valente and then clipping the return ball first-time for a brilliant angled shot beyond Gordon from an acute angle to make it three for the Blues. Beautiful football from Everton!
But another moment of panic in the Everton defence allowed Yorke to finally fire home just before the break after a series of desperate saves and blocks, another chance for a clean sheet spurned!
Roy Keane made two changes at half-time after no doubt losing his rag in the changing room at half-time. After a worrying 10 minutes that Sunderland dominated, Everton started to turn the screw on the back of some good vocal support from the big Goodison crowd. Cahill went close with a looping header off a distant Arteta free-kick, then Yakubu got free after a lovely open transition from defence but dragged his shot uncharacteristically wide.
But another long ball, this time from Yobo at the back, was dealt with poorly again by McShane and Tim Cahill walked it forward and slotted it home nicely for Everton's fourth goal. Yet Everton's superiority did not extend to the defence, which allowed Sunderland to set up Chopra for an open goal that he somehow managed to screw high and wide from six yards out.
Osman so nearly go the fifth but that honour soon fell to Yakubu, who was in close to benefit from some good work again by Osman, whose shot was blocked. He was then subbed in a nice move by Moyes to bring on Anichebe and Johnson, Cahill also going off, thus preventing either of them from getting a hat-trick..
And Andy Johnson underlined why the Blues have missed his predatory instincts, scampering through onto a long ball hoofed up from Phil Neville to beat Gordon with a delicate finish for Everton's SIXTH GOAL!!! Goodison rocked as Jagielka came on for Yobo. More wonderful football should have seen a seventh go in but Anichebe's finish was not enough to beat Gordon.
And finally seventh heaven for the massed Evertonians as Leon Osman danced through from midfield on a solo run that mesmerized the demoralized Sunderland defence as they fell away, allowing him to finally get the goal his play so richly deserved.
The first time in David Moyes's long rollercoaster era that Everton have scored more than four goals, and earned an entry in our long moribund Big Wins page! What a fine way to celebrate his 100th win in charge of Everton!
Black Cats Torn to Shreds at Goodison
It's been eight six years since an Everton team put five or more goals past Premier League opposition but they went two better than the 5-0 hammering of West Ham in September 2001 and even that of Sunderland by the same scoreline on Boxing Day in 1999 by putting seven past the Black Cats at a bouncing Goodison Park this afternoon.
It was, of course, the biggest Everton win under David Moyes and had everything that his critics have been demanding of the Scot ever since he established his personal benchmark at the Blues' helm with that unprecendented fourth-place finish in 2004/05: breathtaking attacking football; over-lapping full-backs; confidence rather than complacency; and the killer instinct to finish teams off with a hatful of goals.
It was a display that wasn't without its spells of ragged, desperate defending that yielded one goal for Roy Keane's side when Kenwyne Jones teed up Dwight Yorke to ram home what promised to be a ray of light at 3-1 but turned out to be a consolation goal in a 7-goal drubbing for the Wearsiders.
The writing was on the wall early for Sunderland. Everton were clearly in the mood to entertain, Mikel Arteta in particular, and after the Spaniard had made a monkey of Ian Harte by twisting, turning and then crossing, Tim Cahill set himself and pulled the trigger but his goalbound shot was blocked by a last-ditch lunge by a defender.
The first goal didn't take long to arrive, though, and after Craig Gordon had saved after Nuno Valente drifted in from the left and fired on his weaker right foot, Yakubu capitalised on an error of judgement by Paul McShane. The Nigerian latched onto a route-one boot downfield by Tim Howard that the Irish defender failed to deal with and his shot bobbled off Danny Higginbotham and over the advancing 'keeper on 11 minutes.
Four minutes later it was 2-0. Arteta was the magician again, turning Harte inside out before dinking it to the overlapping Phil Neville at the byline and his first-time chip across goal was controlled once and then lashed home by Cahill from close range.
Clearly enjoying themselves, Everton had a couple of good chances to notch a third before they eventually did. Yakubu had time after picking the ball up just inside the Sunderland area and after expertly side-stepping his marker he let fly but a terrific block by McShane denied him a second.
Leon Osman went close on a couple of occasions, first glancing an Arteta free kick across goal and not far wide of the far post and then chesting down Cahill's header back before unleashing a volley that was beaten away to safety by Gordon.
Despite their defensive deficiencies, Sunderland retained their spirit and Kenwyne Jones had sounded a warning in the 19th minute with a low shot that had Howard scrambling across goal but it fizzed inches wide of his right-hand post. The Black Cats then embarked on a ten-minute spell around the half-hour mark where they controlled possession and were creating all sorts of problems for their hosts who, all of a sudden, forgot how to keep the ball and seemed intent on surrendering the two-goal lead they had so impressively built.
But when Leadbitter could only head onto the roof of the net after Howard had clawed the ball into his path, the home side weathered that particular storm and then stretched their lead to three with another brilliantly executed move. This time the magic was conceived by Steven Pienaar who exchanged passes with Valente on the overlap, raced into the box to get on the end of the Portuguese defender's cross before smashing it first time high into the Sunderland net.
3-0 became 3-1 at the end of the first half, though, when Sunderland got the goal they had earlier threatened. Leadbitter did well to come away with the ball from a crowd of legs on the left flank before bringing the best out of Howard, his parry fell to Edwards whose shot was scooped onto the post and out by the American but only into the path of Jones. He spotted the run of Dwight Yorke who slammed it home from 12 yards.
Everton under Moyes have been guilty of not going for the jugular and murdering opponents who are there for the taking — not so today. Not only did they add to their tally, they scored more goals in the second half than they had in the first and by the end had the home faithful acclaiming a performance to remember.
Predictably, the Black Cats had the greater urgency in the first quarter of an hour after the restart but they were restricted to two decent long-range efforts by Ross Wallace in the space of a couple of minutes. Everton, on the other hand, created a glorious chance for Yakubu but after doing all the hard work with a delightful turn to leave his marker for dead, he scuffed his shot wide with only Gordon to beat.
The fourth goal did arrive just past the hour mark, though, and an exercise in the perfection of simplicity it was. Yobo punted a long ball downfield where Cahill seemed to be the only one to accurately track its flight, giving him all the time he needed to bring it down with his boot, let the pace of the ball take it past McShane and calmly slot past the 'keeper. The Australian's fifth goal in seven games since returning from injury.
After Michael Chopra had somehow contrived to prod wide from close range with the goal at his mercy, number five for Everton could have come from the spot but referee Phil Dowd, who on the whole had an uncharacteristically good afternoon, turned his back on vociferous claims for a penalty after Arteta was upended in the area having beaten Harte for skill once more. A couple of minutes later, though, it was more or less academic anyway. After Osman had been denied an almost certain goal by the toe of Gordon, a short corner routine with Phil Neville left Arteta with all the time he needed to tee up Osman just inside the box and when Gordon saved his side-footed shot and the rebound ricocheted back off McShane, Yakubu spun on a sixpence and lashed the loose ball into the net with his left foot.
Any hopes he had of a hat-trick, though, were dashed by the fourth official's electronic board as it was to be the big striker's last involvement in the game. Andy Johnson and Victor Anichebe, who had been warming up prior to the fifth goal, were duly introduced as Moyes went to 4-4-2 and added more firepower.
That decision paid off with a sixth goal with 11 minutes left on the clock. Neville got to the ball ahead of Jones near the touchline and belted it forward inadvertantly releasing Johnson who sped between two defenders and bore down on Gordon at top speed. There was a split second where it looked as though his penultimate touch had take it too far but at the last second he lifted it over the 'keeper's legs and into the empty goal. 6-1, AJ's second goal of the season and a wonderful way to return from another lengthy spell on the sidelines.
Everton weren't done yet, though, and the Gwladys Street End was again baying for a spot-kick in the 84th minute when Anichebe's legs were taken from underneath him has he prepared to shoot with just the goalkeeper to beat. Referee Dowd again waved away the protests claiming that the defender had got the ball but the Blues merely took matters into their own hands again.
Osman picked the ball up deep and with the visiting defence backing off he just kept on going into the area where he neatly side-stepped the last man before tucking it past Gordon to wrap up a fine display by Moyes's boys. The goal was a pretty good summary of the afternoon as a whole: Everton's irresistible attacking and the confidence that comes from winning five of their last six versus Sunderland's defensive deficiencies.
But it wasn't merely about a superior team taking advantage of inferior opposition; the Blues systematically tore Keane's team apart with some quite wonderful football and were rewarded with the club's biggest victory since they destroyed Southampton here by the same scoreline 11 years ago. That result was, surprisingly, the precursor to the collapse of the Joe Royle regime. This time, you get the sense that Everton under David Moyes are destined for better things.
Arteta was, of course, magnificent throughout and exhibited all of his trademark skills, including a late free kick from just outside the box that he whipped onto the top of the net. Had that effort gone in it would have been more than he had deserved but the Best Little Spaniard seemed quite content to create things for others. Whether it was a cheeky scoop of the ball over an opponent's head or a deft flick like the one that released Neville for the second goal, he was majestic.
Osman, Pienaar and Cahill never stopped running, probing and generaly making life hell for the Sunderland defence, while Lee Carsley was the ever-willing disruptor in the defensive midfield role. While the defence had their shakey moments, particularly in the first half, Joseph Yobo and Joleon Lescott were on the whole their usual reliable selves and Valente was both an energetic presence down the left flank and tenacious in the tackle when defending.
On an unbeaten run that really underscores the travesty of the Clattenburg derby (they haven't lost since the agony of that controversial defeat), Everton have a great platform on which to approach the trip to Potsmouth next weekend. Like the Blues, Harry Redknapp's side are one of the in-form sides in the Premier League and have also scored seven in one game already this season but Moyes will feel that with his team in the mood they're currently in, anything is possible.
Match Preview
Everton's five-game winning streak may have come to an end at Chelsea before the international break but a draw at Stamford Bridge is always something to cherish these days and the manner in which it was earned made it feel like something of a victory.
Following two away games, the Blues are back at Goodison Park for only the second home fixture in the League since the controversial derby defeat to Liverpool. Last time out they triumphed in injury time against Birmingham City and it's another plucky newly-promoted side who are the visitors this weekend.
The enforced break at least allowed some of the walking wounded to recuperate a little but it's not clear whether David Moyes's key player, Mikel Arteta, is fit after missing the Chelsea game with an ankle injury.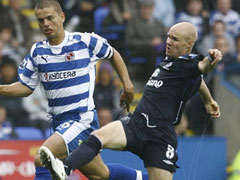 Andy Johnson:
Fit again but will he start?
Andy Johnson and Leighton Baines should be in contention, though, after resuming full training a couple of weeks ago; similarly, James Vaughan and Alan Stubbs are also likely to be passed fit after recovering from knocks of their own. Victor Anichebe, who pulled out of Nigeria's squad this passed week to allow his broken hand to heal, is unlikely to figure in the starting XI.
Two issues will no doubt be uppermost in Moyes's mind as he prepares for this one: firstly, whom out of Yakubu, Johnson and Vaughan, to play as the lone striker; and, secondly, what midfield five to deploy if Arteta isn't ready to start. Phil Neville's sub-par display against Chelsea and Thomas Gravesen's apparent inability to play 90 minutes mean that the manager's choices aren't as abundant as they seem.
Sunderland made a fair start on their return to the top flight but have been stuttering of late, garnering just three points from the last 21 available in the League and losing all six of their games against clubs currently sitting in the top half. While Everton are unbeaten in six, Roy Keane's men are winless in their last seven in all competitions suggesting that this is another "should win" for the Blues.
Victory and the right results elsewhere would see Moyes's boys return to the top six for the first time since the beginning of September and set them up nicely for a tricky trip to Portsmouth next weekend.
The Bollocks!
It was at about 11am when Gaz dropped the bombshell that he couldn't make it to the game and hence we all needed to find alternative ways of getting to Goodison Park. Thankfully Adam offered to drive however so with no problems we arrived and parked up near the ground at about 1:30pm and made straight for The Spellow.
As I suspected it would be, the pub was packed. Normally with The Spellow there's a bit of an overflow outside of the pub so it's not insanely crowded but, now the cold winter has descended, people tend to stay indoors. Bizarrely, it was quick and easy to get to the bar but nigh-on impossible to find a place to stand or a "spec" as we tend to call it. As it was, Gary and I actually lost Ste and Adam in there as there was no space and the only part of my anatomy I could realistically move was my eyelid. Eventually we found a little bit of space where we could watch Liverpool tear Newcastle United to shreds…not that Newcastle United did much to stop this or anything.
We were all pretty confident of a win before the game but I felt it would be a scrappy game, which we'd just about edge. I think the others were all a bit more confident than myself, with Gary really keen on the concept of putting Sunderland to the sword given the two teams' current form. As we made for the ground, some Sunderland fans were singing loudly behind us in a fairly obvious attempt to look for a fight. They nearly got it as well when somebody squared up to them but thankfully the situation was defused. Ste pointed out that Sunderland fans have caused the only trouble he's ever seen at a game. Come to think of it, Ste's got a point as I can think of a few incidents over the years when Sunderland fans have caused the odd problem. Anyway that's for another day… we made it to the ground and in our seats just in time for Z-Cars as the teams took to the field.
There were no surprises from David Moyes with this one, as he stuck with the tried and trusted 4-5-1, with Cahill playing just off Yakubu. I think the midfield is doing so well at the moment that it effectively picks itself, whilst defensively the centre backs and Neville are just fine in their positions (although Hibbert may justifiably feel hard-done-by to not have played having done so well at Chelsea last week), whilst Valente in his current form is really there on merit. Howard was obviously in goal.
As for Sunderland, well they certainly came to have a go at us, playing the impressive looking Kenwyne Jones up front alongside the unimpressive-looking Michael Chopra. Dwight Yorke was also in the team in midfield. Craig Gordon was in goal with Ian Harte, Paul McShane, Danny Higginbotham and Dean Whitehead making up the defence. Generally, on paper, they looked a Championship team.
The referee was Phil Dowd. I rated him highly until he sent Andy van der Meyde off for practically nothing in the Merseyside derby in his firrst season so this was a good chance for him to get back in my good books! We won the toss and so attacked the Park End in the first half. In the opening exchanges I felt Sunderland were probably ever so slightly the better side, but Everton soon settled and got a grip of things. Nobody could have expected the ensuing goal-fest however.
It all started when a routine goal kick by Howard was completely missed by Paul McShane (who just got worse…and worse… and worse as the game went on, by the way) and suddenly Yakubu was clear in the box; his shot took a wicked deflection from Higginbotham and looped over the stranded Dean Gordon and into the net. That was 1-0!
No matter how desperate the situation got for Sunderland, they continued to probe and try to find a way through so credit to them for that, but they'll really need to tighten up at the back if things are going to get any better for them this season. Everton nearly doubled their money shortly afterwards when Cahill stung a volley towards goal from close range, but was thwarted by a terrific close-range block from I think Higginbotham. We didn't have to wait long however. Arteta skinned Ian Harte inside and out before lofting a cute little pass in towards Neville. He looped a cross in towards the back post where Cahill managed to control it. Such is our little Aussie's determination to force the ball home sometimes, you just knew he was going to score, and that he did, somehow smacking the ball home with a sliding half-volley before heading for the corner flag as per usual. That was 2-0!
Things might have gotten slightly better for Sunderland I guess and it could have been a different game had Leadbitter headed inside the post instead of outside it when presented with an open goal after an uncharacteristic Howard flap. This wasn't the case, however, and Everton instead went down the other end and banged another one in themselves…
This time it came from a lovely attacking combination of Valente and Pineaar, who played a lovely one-two, with Valente returning the ball back to Pineaar who didn't waste any time in beautifully banging the ball into the net. Good work by the two of them who are really showing good reasons to extend their contracts beyond the end of this season at the moment. Steven Pineaar simply has to be signed and although Valente will be 34 next season, I don't see any harm in having him as cover if nothing else. He's playing well and you didn't hear a peep from him when he wasn't in the team. That was 3-0!
I scanned around the seats surrounding me and realised there was a good-natured Sunderland fan in front of me, and a little rascal a few seats in front and to the left who was smoking. Tut tut tut.
Before Sunderland grabbed themselves a lifeline, Leon Osman missed a reasonably good opportunity to make it 4-0 when he shot just a bit too close to Gordon. At the other end, however, Leadbitter drove a shot goalwards (although from my angle I'm convinced it was going wide). Of course Tim Howard wasn't to know this and saved. Jones tried to force the rebound goalwards but Howard again blocked it well on his line. The ball came back to Jones who turned it back to the incoming Yorke (stay with runners midfield?) who made no mistake and buried the ball into the net. I was gutted about this as I could see a Sunderland revival. The half-time whistle went pretty much straight after this. That was 3-1!
At half-time we were treated to a campaign in support of male cancer awareness when a mascot called Mr Testicles came on the pitch and attempted the crossbar challenge. It was quite bizarre, as I've never seen a big pair of bollocks take a penalty before and I'm sure its something I'll never see again. Dreadful crossbar-hitting attempts but a funny outfit for a great cause. The pubic hairs on the bollocks appeared a trifle unnecessary, however!
Sunderland made two changes at half time, replacing Dwight Yorke, who'd just scored, and the ponderous Dickson Etuhu with Danny Collins and Ross Wallace. Sunderland started the second half with a bit more purpose and looked a bit more at the races but you always felt Everton had them at arm's length really. This was summed up when Paul McShane was caught ball-watching when a long ball forward from Yobo was controlled superbly by Cahill before he composed himself and stroked the ball into the net. That was 4-1 and game over. Tim Cahill headed for the corner flag nearest me, kissing his badge before jabbing the flag a few times. Somehow you feel Cahill means his badge kissing a bit more than Wayne Rooney's Man Utd badge-kissing antics... That was 4-1!
Everton now sensed blood as the crowd sensed more goals. Again, things might have been a bit different had Sunderland not missed a second guilt-edged chance. This one was even easier than Leadbitter's, however, with Michael Chopra somehow inexplicably missing an open goal from about four yards, smacking the ball into the Park End. He was probably quite relieved to be subbed for veteran Andy Cole shortly after this. Meanwhile, in and around me, the young rascal ahead of me who was smoking earlier was told by the police to pack in his general misbehaving. Such was the mood nobody really cared As the police walked up the steps towards him they were greeted with a rendition of the Laurel and Hardy theme by several fans. When the lad was told to stop doing whatever he was doing, he mimicked the Laurel and Hardy stance back at them much to everyone's amusement, before pulling tongues and blowing raspberry's at the beleaguered policemen. It was pretty funny.
Back on the pitch, Osman drove another attempt goalwards. This one deflected off a Sunderland leg and was brilliantly saved with an outstretched leg by Gordon when he was diving the wrong way. Everton took the resulting corner short and played it out to Osman at the edge of the box. His shot got stuck in a melee of players in the box before Yakubu took control and smacked the ball home to make it 5-1. Things were just getting better and better. That was 5-1!
Immediately after this, Cahill and Yakubu, both with a brace each, were subbed for Anichebe and Johnson. Andy Johnson's impact was almost immediate when he got ahead of the now suicidal Paul McShane and ran the ball forwards before lofting cutely over Dean Gordon. Unbelievably we now lead 6-1 and the atmosphere was just incredible with the Park End making a gallant attempt of the 1985 European Cup Winners Cup team song. That was 6-1!
Arteta drove into the box, skinning Collins on the outside before hitting a fierce drive with his left foot across Gordon. It was cleared off the line by McShane. From the rebound Pienaar laid it off to Anichebe who steadied himself but drove it straight at a relieved Gordon. Shortly afterwards Anichebe had a decent shout for a penalty turned down when he and McShane both stuck a leg at a loose ball with Anichebe going over the young Irishman. I felt McShane won the ball although the other lads were convinced Anichebe was felled. It mattered not anyway as from the resulting clearance Osman turned well on the halfway line and strode forward. He used his body well to guide two defenders away from him and all of a sudden (aided by good movement by our strikers to confuse the defence) he was through on goal. He made no mistake, tucking nicely past Gordon and in doing so simply lifting the roof off Goodison Park. Well done Ossie! A cracking goal. That was 7-1!
Arteta even came close with a free kick and on another day Everton really could have banged in a few more as if it wasn't embarrassing enough for Sunderland. The full-time whistle was greeted with fantastic applause from the Everton supporters. What an incredible game!
As we walked back towards the car, a man walked ahead of us with a huge bag of what looked like big balls. Adam pointed out it was Mr Testicles. Upon enquiry, it was indeed. I guess its not every day you watch Everton score seven and meet a big walking pair of bollocks!
The day really was "the Bollocks"!
Player Ratings:
Howard: Flapped uncharacteristically a couple of time but didn't really have much to do otherwise. 6
Valente: Looking good. The other month I thought he'd never get a look in but he seems to have taken his chance very well indeed. Nice move for the third goal. 8
Lescott: Seems just fine after his England blip in midweek. Had Jones in his back pocket. 7
Yobo: Very solid and used the ball well. 8
Neville: Two assists from Neville today as well I do believe. That means the defence have created assists for five of the seven goals we've scored today! 7
Carsley: Did very well. He's in great form at the moment. He just didn't let them play. 8
Arteta: Whilst Moyes has been singing form the rooftops how magnificent our little Spaniard was yesterday, I thought he had a bit of an off day myself. 6
Osman: My man of the match. A simply splendid display from Ossie capped off by a wonderful goal that even had the guys from Goals on Sunday on Sky Sports 1 comparing him to Paul Gascoigne. Great stuff! 9
Pineaar: He impresses me more every game. Another busy and classy display from Steve, capped off with a neat goal also. Sign him up! 8
Cahill: What more can you say about Tim which hasn't been said already? He's simply awesome. Two more goals for the scrapbook, and neither of them were headers! 9
Yakubu: Feed the Yak and he will score! Indeed. Although he'll score better goals in his time, he just doesn't miss. 8

Johnson (for Cahill): Got in on the act as well. His pace will always cause any team problems and he seems to have that confidence back. A great finish with his goal. 8
Anichebe (for Yakubu): Missed a good chance but moved the ball about well with some nice flicks. He's always a handful. 7
Jagielka (for Yobo): Not on long and had nothing to do so I can't really judge.
Matchday Stats
Everton play Sunderland for the 162nd time on Saturday, as David Moyes's men look to keep their current 6 match unbeaten run going.
Everton's record against Sunderland:
| | | | | | | |
| --- | --- | --- | --- | --- | --- | --- |
| | P | W | D | L | F | A |
| Premier League | 12 | 5 | 2 | 5 | 16 | 16 |
| Division One | 132 | 56 | 20 | 56 | 219 | 225 |
| FA Cup | 14 | 7 | 3 | 4 | 28 | 16 |
| League Cup | 2 | 0 | 1 | 1 | 3 | 4 |
| Zenith Data Cup | 1 | 1 | 0 | 0 | 4 | 1 |
| TOTALS: | 161 | 69 | 26 | 66 | 270 | 262 |
Our record at home to Sunderland:
| | | | | | | |
| --- | --- | --- | --- | --- | --- | --- |
| | P | W | D | L | F | A |
| Premier League | 6 | 3 | 2 | 1 | 13 | 8 |
| Division One | 66 | 41 | 9 | 16 | 142 | 84 |
| FA Cup | 8 | 7 | 0 | 1 | 23 | 7 |
| League Cup | 2 | 0 | 1 | 1 | 3 | 4 |
| Zenith Data Cup | 1 | 1 | 0 | 0 | 4 | 1 |
| TOTALS: | 83 | 52 | 12 | 19 | 185 | 104 |
The last match between the sides was on 1 April 2006 when a Sunderland came away from Goodison Park with a 2:2 draw, with Everton's goals coming from James McFadden and Leon Osman.
Everton's dominance in home matches against Sunderland would suggest that the current unbeaten run should continue, however, our record on 24 November is not as good.
This will be Everton's 18th match on 24 November:
| | | | | | | |
| --- | --- | --- | --- | --- | --- | --- |
| | P | W | D | L | F | A |
| Premier League | 1 | 0 | 1 | 0 | 0 | 0 |
| Division One | 15 | 5 | 4 | 6 | 20 | 26 |
| Division Two | 1 | 0 | 1 | 0 | 3 | 3 |
| TOTALS: | 17 | 5 | 6 | 6 | 23 | 29 |
The last match on this date was in 2001, when Everton ground out a 0:0 draw at Leicester City. This will be the first match at Goodison Park on 24 November since 1979 when Bob Latchford scored in a 1:1 draw with Tottenham Hotspur.
Although our overall record on this date is a bit shaky, Everton's home record is more impressive with 5 wins and 3 draws out of the 9 home games played on this date. The only home defeat on this day was in 1934, when Everton lost 1:2 to Manchester City with Everton's strike coming from Jackie Coulter.
Milestones that can be reached this game:
If he plays, Tim Cahill will be making his 100th appearance for Everton in all competitions.
If Everton win, then this will be David Moyes's 100th victory as Everton manager in all competitions.
* Unfortunately, we cannot control other sites' content policies and therefore cannot guarantee that links to external reports will remain active.