Suspensions, injuries, AFCoN, Aussie Internationals, players out on loan.... this one has the lot! And what an unusual line-up David Moyes has thought of... Lescott, Baines, Valente... three left-backs!!! 4-4-2, supposedly... But are they really gonna play 5-3-2? May be the best way to nullify the rampant Spurs attack, while providing a couple of bodies for duty up-front to test the leaky Spurs defence... This one might be fun!
A lively start, with perhaps Spurs looking the more confident, moving the ball forward and switching the play more quickly. Anichebe pulled down Huddlestone — a sign perhaps of an interesting battle... Everton came into it a bit more as the game progressed but goalmouth action was surprisingly absent. Valente caught Chimbonda but was not booked.
The first decent shot came from Baines after 20-odd minutes but it was wide. Keene did likewise at the other end as the tension built. Johnson was next with a chance after a nice head-down from Anichebe but as ever, Johnson let it bounce across his body instead of attacking the ball, taking control and firing in. Chance missed. From a throw-in Anichebe got the ball to Baines but his shot was blocked.
Fernandes, Arteta and Neville combined to produce some great one-touch football that saw Johnson turn and shoot, forcing Cerny to save. Spurs responded with their best move that Howard foiled. Johnson was past Huddlestone, clearly tripped, cast-iron penalty... Huddlestone feigns innocence... ref buys it — Not given!!!
Chimbonda was the next to commit a foul, but Spurs cleared the free-kick as you felt a goal was only a matter of time with just 10 mins left to the break. But it just didn't com and they went in at the half all square.
After the restart, Arteta got in and chipped neatly across goal... but Anichebe was just too far away. Deserved a goal. At the other end, Berbatov and Keane looked dangerous and Howard had to be alert to save well. Johnson got in again with a sight of goal but his shooting let him down: it was straight at Cerny.
Everton seemed to have perhaps tried everything and it was Spurs who then picked up the initiative as Boateng came on for Gunter. Victor Anichebe had worked hard and he was replaced somewhat later by James Vaughan with 19 mins left. Pressure needed from Everton in the last quarter to win this one...
Valente was finally booked for a late tackle, and the news that Liverpool had lost to a late penalty at Upton Park gave the Blues added impetus. But it was an excellent Spurs move that almost bought a goal, Jagielka blocking superbly.
Berbatov headed in on Howard near the end after Lennon rounded Valente a little too easily , a nervy finish in extra time as Spurs looked the stronger. But Everton had a final chance in the last minute of added time... but it was Spurs who scurried forwards and Valente was almost embarrassed nut excellent defending by Lescott and Jagielka saved the Everton goal on numerous occasion.
A good result in the circumstances... Everton probably should have won it with just a little more belief and conviction, but it ends a dreadful sequence of four home defeats to Spurs!
An Evening of Frustration
When you're challenging for a top-four finish, every game is crucial — particuarly when, as this week, the teams around you in the table drop points — but Everton endured an evening of frustration, partly of their own making, and this must go down as two points dropped against a lacklustre Spurs display.
With Yakubu, Joseph Yobo and Steven Pienaar away on Africa Cup of Nations duty, Tim Cahill and Tony Hibbert suspended, and Leon Osman and Thomas Gravesen injured, David Moyes had something of a selection headache ahead of this game. Reverting to 4-4-2 was virtually a given and he paired Andy Johnson with Victor Anichebe and deployed Leighton Baines on the left side of midfield. The presence of forgotten men Anderson de Silva and Andy van der Meyde on the bench underscored the lack of depth to a squad that was further depleted with the same of James McFadden.
This may have been the meeting of two of the highest-scoring and most in-form teams in the Premier League but the first 20 minutes were scrappy, disjointed and belied the talent present in both teams' line-ups. A third of the way in, though, the game spluttered into life when first Baines, who had an impressive first half playing wide left, engineered space for a shot that was dropping wide when Radke Cerny gathered it by the byline and then Steed Malbranque flicked the ball up impressively with his back to goal and executed an overhead kick that Tim Howard caught comfortably.
Then, a nice move down the left ended with Baines knocking it back for Nuno Valente and Anichebe's knockdown just evading Johnson — a foot or so further back and it might have been 1-0. And Baines was unfortunate not to work Cerny again a couple of minutes later when Phil Neville's neat ball in was helped on Anichebe and as Woodgate's attempt to push it away came off Johnson, the former Wigan defender's right-footed shot was blocked again by Woodgate.
The Blues were enjoying what would ultimately prove to be their best spell of the game and when Arteta smartly backheeled Manuel Fernandes' pass to Neville and he crossed low, Johnson took one touch before firing goalwards and forcing Cerny into a save to his right.
Five minutes later, the Park End stand was baying for a penalty when Johnson chased down a throughball but was sent sprawling on the turf when Tom Huddlestone clipped his heels. The contact may have been accidental but it was surely a foul by the letter of the law and should have been a penalty. Referee Andre Mariner was having none of it, though, presumably due to a holdover of the reputation AJ developed last season.
Ultimately, despite a much-improved performance by Fernandes in the middle and a decent 15-minute spell of pressure midway through, it was a first half of "nearlys" for the Blues — a case of the ball nearly dropping to a blue shirt in crucial areas, a through-pass nearly sending AJ on his way. Anichebe was willing and his physical presence unnerving for the Spurs defence but all too often his first touch let him down. Still, with a bit more purpose and fluidity, the game was there to win for Everton in the second half because Tottenham barely looked interested.
Everton appeared to come out from the break with a little bit more about them and could have broken the deadlock within a couple of minutes when Arteta's dazzling footwork took him past two white shirts and to the byline but his clipped ball across the face of goal was too far ahead of Anichebe and while it could just as easily have struck a Spurs body and gone in, it drifted agonisingly past the post and out for a goalkick on the other side.
Then, fantastic skill and acceleration by Fernandes took him past O'Hara and he picked out Johnson with a sliderule pass that the striker took in stride before trying to slot it under the advancing Cerny. Unfortunately, the 'keeper got just enough on it with the underside of his body and Woodgate was able to hack it away. It was a great chance and on another day could well have gone in but had Johnson looked up, he might have attempted a chipped shot instead of trying to slot it in along the ground.
Tottenham for their part still looked a shadow of the side that put five past Arsenal in the Carling Cup and played their part in an entertaining FA Cup tie at Manchester United at the weekend but gradually started to put their foot on the ball a bit more at a time when Everton were becoming less and less effective at doing just that.
Dimitar Berbatov had already given the Blues a scare in the 50th minute when he intercepted a suicide ball by Neville on the edge of his own box and fed Robbie Keane but the Irishman delayed his shot and then delivered a tame effort that was easy for Howard, but for the most part the front two had been kept very quiet by excellent defending by Joleon Lescott and Phil Jagielka.
Indeed, it was Jagielka who threw himself at Berbatov with seven minutes left to block superbly the Bulgarian's first-time shot and Lescott who stepped into deny Malbranque with the clock running down on normal time and forcing the midfielder into trying it on for a penalty with a clear dive.
By that stage, Everton had lost their way. They had clearly needed to make a change in personnel but it was hard to know what would be the best option. Remove Anichebe and the physical and aerial threat up front would be gone; take off Johnson and the outlet of his pace would be missing. In the end, Moyes withdrew Anichebe who had had a frustrating afternoon and threw on James Vaughan.
Unfortunately, with Howard either reduced to — or choosing to — belting long balls downfield, Everton surrendered the initiative far too easily and the ball kept coming straight back. Thankfully, despite some occasional scares, Spurs never really looked like scoring themselves and managed to foil their hosts' last resort of hoping that a free kick or corner would drop kindly and present someone in a blue shirt with a chance they couldn't miss.
Tottenham were quite happy to run the clock down in the final 10 minutes by knocking it around the back four and while the Goodison faithful were desperate for their side to mount some sort of last-ditch offensive, Fernandes' and Baines' effectiveness were all but spent, the team as a whole was sitting too deep and both Vaughan and Johnson were chasing long punts from Howard with little hope of getting them. Indeed, at one point towards the end it took a surging run by Lescott down the left to make the ball stick in the Tottenham half with a throw-in.
Given the stakes, Everton's failure to press home their dominance in this game was mighily frustrating. Yes, the absentees were a big factor and can only have added to the disruption to the side, but there was enough talent on the field to get the job done, particularly given Spurs' lethargy. In the end, they only played well in patches and almost stopped doing what was working altogether in the latter stages of the game.
The temptation will be to blame Johnson's failure to put away one of his decent chances but to his credit he was often in the right place at the right time even if his control let him down on a number of other occasions in crucial areas. The silver lining is that none of the sides below them picked up wins either but those absent players can't come back soon enough. We needed a little something extra and had no one to turn to.
Player Ratings
Howard: If I recall correctly, he bowled the ball out just once, to Fernandes, a player with whom he is no doubt confident can do something with it. Apart from that, he didn't have much to do apart from punt it downfield and play the percentages. 6
Neville: Unfortunately, while he had some good moments going forward, he was something of a liability at times in terms of distribution. Nothing new there then. 6
Valente: Fairly solid and broke up some attacks with good tackling. He has an annoying habit, though, of leaving vast gaps on the left side which, had Aaron Lennon been more enterprising mood, could have been costly. That and his propensity to commit himself rather than jockey his opponent were worrying. Linked up well going forward, though. 7
Jagielka: Determined defensibe display once again, made some crucial stops but while some of his long-range passing was excellent, he too fell into the trap of knocking it long. 8
Lescott: Another terrific defensive stand. Typical Joleon in every respect and arguably Everton's mano of the match. 8
Carsley: Did the usual job of breaking up attacks but his passing as hit-and-miss. 7
Arteta: As always, the focal point when it came to flair and invention but he can't do it all on his own. Links up well with Fernandes and that will only improve as the season progresses. 8
Fernandes: Was really much improved in the first half on his display against Chelsea but faded in the second, becoming more casual, bordering on nonchalent, and less effective. 7
Baines: Another one who looked really good in the first half but suffered in the second, particularly after Vaughan came on and the Blues dropped more deep. 7
Johnson: Ran his socks off and was unlucky not to score or at least earn a penalty. Could have been sharper with the ball at his feet at times, though. 7
Anichebe: His first touch let him down on a number of occasions and garnered the frustration of the crowd but he was missed when he went off, if only because there was no one to challenge for those hoofed balls from the back. 7
Vaughan: (on for Anichebe) Ran around a lot but had little constructive to feed on. It wasn't his fault that it felt like the substitution had been counter-productive. 6
Match Preview
The last time Everton faced Tottenham Hotspur at Goodison Park was regarded by many as something of a watershed in David Moyes's tenure. He might be the first to admit that he got his tactics wrong that April evening and surrendered all three points to a Spurs side that went on to finish 5th in the Premier League and deserved a barracking from the home faithful the like of which he hadn't received either before since.
It's interesting, therefore, that though it was Spurs who were tipped to be best placed to make the breakthrough into the top four this season, it's Everton who currently occupy fourth place and who could consolidate that position by opening up a four-point lead over the next team below with victory in this week's game if Liverpool fail to win at West Ham.
Tottenham made a horrendous start to this season, a run of results that cost Martin Jol his job, and even though the revival under Juande Ramos is well underway, the North Londoners are still in the bottom half of the table, some 15 points below the Blues.
It's that revival of fortunes, confidence and potent goalscoring form that poses a real threat to an Everton side tasked with picking itself up after a morale-sapping defeat to Chelsea in the Carling Cup to resume their impressive challenge to the hegemony of the "Sky 4". Of course, they did that after the Oldham tie to see off Manchester City (who were at that point the occupiers of 4th place) and then grind out an important victory at Wigan. Indeed, Moyes's boys have a 100% record in the league since the turn of the year.
Questions over the formation that Moyes will go for may be moot given suspensions for Tony Hibbert and Tim Cahill who both picked up their fifth bookings of the season against Chelsea. That will almost guarantee Phil Neville dropping back to right back and one of Victor Anichebe or James Vaughan starting up front with Andy Johnson in a 4-4-2 formation; the smart money would be on Anichebe given his more physical nature.
The midfield has become a real problem area, though, with Steve Pienaar away at the Africa Cup of Nations and Thomas Gravesen a virtual write-off because of recurring knee issues. Mikel Arteta, Manuel Fernandes and Lee Carsley will start barring any training ground disasters but Leon Osman will undergo a late fitness test on groin and calf problems picked up in the last week following his return from 5 weeks out with a broken toe.
Leighton Baines has also been named in the squad despite an ongoing ankle complaint and he could be thrown into a left midfield role and asked to play through the pain barrier if Osman doesn't make it. Nuno Valente, Joleon Lescott and Phil Jagielka should round out the back four in front of Tim Howard.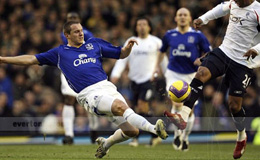 Phil Jagielka:
enjoying a good run in the side deputising for Joseph Yobo
Tottenham may have found their shooting boots in recent weeks — since Boxing Day they've put five past Fulham and Arsenal's second string and six past Reading — but they're also prone to conceding goals and have been pretty awful on the road, winning just once so far in the Premier League. They're also coming off the back of a 3-1 defeat to Manchester United in the FA Cup 4th Round.
So while there is plenty of which to be wary, there is also enough to warrant confidence on Everton's part of getting the result they need to put some daylight between themselves and Aston Villa, currently fifth and who were held to a draw by Blackburn on Saturday.
But it'll take more of the abandon and slick passing they showed at White Hart Lane back in August when they took full advantage of the space allowed by their hosts to score a handsome 3-1 win. Since Steven Pienaar in particular began to tire at the end of last year and then shipped out to the Africa Cup of Nations, the Blues have been exhibiting less of the kind of free-flowing football that characterised the best of that 13-match unbeaten run prior to Christmas. Moyes will be looking to Fernandes to improve on his shaky return to the Royal Blue jersey last week and show the way on that score.
If it ain't broken…
With Gaz not making the game to fill out his tax forms and Adam not making it 'cos he had an early start the next morning, it was left to just Gary, Ste and I to go to the game. Getting there was a less than ordinary matter as I work in Manchester and don't finish 'til 5:30pm so basically had to go straight there from work. Ste doesn't own a car and so made his own way there whilst Gary does own a car but you'll never find him not having a few beers on a matchday so he just doesn't drive to games as a rule. We agreed to meet up before the game at about 6:45pm in The Spellow and then I'd give them a lift home afterwards.
Usually we park in a secure car park just near the "megastore" for the princely sum of Ł5. Now I don't mind paying the money at all but it can sometimes take an absolute eternity to get out of there, particularly so on a matchday. Thinking I was being clever I opted to park in an open space just opposite some houses. As I parked up I saw a few scallies milling about but with plenty of other cars there and a few houses about I felt this was safe enough and so headed on to the ground.
The further I got away from the car the more I worried about it and when I met Ste for a quick chippy I must've mentioned going back to check on my car about 20 times but in the end convinced myself I was being overly paranoid and so jollily went on to the The Spellow for a couple of pints before the game. Ste managed to get the team news on his phone in the pub and it was a blow to hear Osman hadn't made it as this meant Baines filling in on the left hand side as Moyes went 4-4-2 in the absence of the suspended Cahill.
Anichebe got the nod over Vaughan to partner Johnson in attack with Van der Meyde and Anderson Silva de Franca amongst the bench to truly highlight our lack of bodies at the moment. Jonathon Woodgate debuted for Spurs whilst Berbatov and Keane started up front. The referee was Andre Marriner. Everton won the toss and kicked off towards the Park End in the first half.
I'd say Spurs started quite comfortably the better team but Everton did ease their way into the game and were well in control for quite a long period of the first half. At one stage, Spurs were just all over the place, unable to clear the ball and getting in each other way. You felt that a Top 4 (hang on, what am I talking about?), I mean Top 3 side would have punished them here but Everton with their current lack of numbers just couldn't.
Leighton Baines had a good opportunity from about 8 yards which he smashed goalwards but it was well blocked by Woodgate. You felt that a player more used to being in the box may have guided it into the corner but that's no criticism of Baines as he was playing in a very unfamiliar position. In another chance, Andy Johnson did well to scoop up and volley a cross although the save was fairly comfortable for Radek Cerny. At the other end, Spurs – although they had a lot of the play – didn't really threaten Howard's goal much.
The biggest talking point in the first half was when Andy Johnson didn't win a penalty when he looked to have been felled, I think by Woodgate but I could be wrong. There's no way I could tell and I haven't seen it since so I don't know if it was or not but Johnson certainly appealed hard, as did Neville and as did Moyes. That was generally it in what was a pretty flat first half.
If the first half was pretty flat then the second half was pretty fizzy as it seemed to go at 100 mph with both teams giving it a real go. Both teams played good football at times in the second period and either side really could have won it. The longer the game went on I felt there'd be a winner but a draw was certainly a fair result. Both sides had one golden chance each to win it.
Everton's came when I think Fernandes slipped in Johnson who hit it under Cerny who made a very good save. It was only later on when I got home that I saw just how close he was to scoring with that one with Cerny actually saving on the side of his stomach as the ball looked to have gotten past him. Still, Johnson really should have scored from there.
Tottenham's chance came when Neville made a brilliant interception at the edge of our box and then went past a Spurs player. He then tried to thread a pass through to the midfield only for Berbatov to easily intercept and play in Robbie Keane. Keane drove goalwards but Howard did well to get his body behind the ball and save, and then gobble up the rebound.
Spurs later on had a penalty shout although again being at the other end of the field I simply don't know if it was a foul or not. Everton certainly got in and around Spurs box a lot but didn't really create anything inside the area. Earlier in the half Arteta took the initiative in the 18-yard box and took on a few players before smashing the ball across goal (I think it was a shot). A bit more anticipation from Anichebe and he may have had himself an easy goal but that was the problem throughout from our strikers.
Shooting (or the lack of) was also the problem for Arteta. I can recollect three great opportunities for Arteta to shoot from good positions in and around the box but every time he seems to look for the better ball. That's probably my only criticism of our little Spaniard. If only he learnt when to shoot and when to pass he really would be world class because he's capable of scoring some truly remarkable goals (remember that corker last season against Bolton…on his left foot).
With about 20 minutes to go, Vaughan replaced Anichebe but this failed to have the desired effect and in reality the way the last 5-10 minutes went with the amount of possession Spurs had I for one was actually quite relieved to grab a draw from this in the end. Overall, I'll take 4 points off Spurs in any season. The biggest cheer all night was perhaps hearing that Liverpool had lost 1-0 to a last minute West Ham penalty.
We were informed at the ground that the Birkenhead tunnel was closed so we knew there'd be big queues for the Wallasey one. Gary said we might as well go for a pint 'cos we'd only be in traffic. Bright idea that this was, I was still worried about my car. As we got closer I saw a few scallies nearby. "Oh dear" I said to Ste. One said "watch your car mate". That old classic.
For those that may not know, this generally translates into "give us some money or you get a brick through your car window". Gary basically told them to fuck off but not really wanting a brick through my car window from these scallies I thought better of it and bowed to their robbery commands. On the way back Ste and Gary couldn't talk about anything other than the scallies though I was just relieved my car was OK.
Think I'll just go with the secure car park next time. As they say: "If it ain't broken…"
Player Ratings:
Howard: Made a good save from Keane and was excellent with cross and distribution I thought. Although he had little to do he's my man of the match. 8
Valente: Defensively he's fine though does get caught out when up against someone with pace. A more card happy ref may have sent him off actually as he committed quite a few fouls. 6
Lescott: Slightly shaky in the first half but was excellent in the second. 7
Jagielka: See Lescott. 7
Neville: Had a 'mare. 5
Arteta: Majestic at times but I just wish he'd shoot a bit more…or at least sometimes. 7
Carsley: Good defensively but passing and shooting was poor throughout. 5
Fernandes: Quality at times but played himself into trouble a bit too often. Will be OK after a couple more games I reckon. 6
Baines: I thought he did very well. Not the best in the box but he put some good balls in and his defensive work was exceptional. 7
Anichebe: Was given probably one of his toughest games yet this season against Huddlestone. Was quite good in the first half though seemed to tire in the second. 6
Johnson: Never hid and full of running to his credit, though you never felt he was really going to score, particularly once he missed that chance. 5
Vaughan (for Anichebe): Seemed to find it difficult to get into the game and didn't have the desired impact. 6
* Unfortunately, we cannot control other sites' content policies and therefore cannot guarantee that links to external reports will remain active.