Cahill the Hero Again
It's not so much irony as Sod's Law that the curtain has come down on the Gwladys Street Hall of Fame at a time when Everton boasts two players whose induction into that hallowed list of heroes would surely now be a foregone conclusion based on their contributions to the Club's recent renaissance under David Moyes.
Not for the first time this season, Everton struck late as Tim Cahill and Mikel Arteta combined in glorious fashion to wipe out Liverpool's lead and hand the Blues a share of the spoils in the part one of this nerve-jangling Merseyside derby double-header.
The Australian became the first player since William Ralph Dean to score in three consecutive Anfield derbies when he popped up in front of goal to glance home the Spaniard's trademark free kick with just three minutes of regulation time left on the clock and denied the Dark Side a quick return to the top of the Premier League.
For the Evertonians bouncing away in delight in the stand behind the goal it felt like victory. Stripped of their top three strikers by injury and unable to field Marouane Fellaini because of a two-match suspension, the Blues rarely looked capable of winning what was a tight and often scrappy encounter played in snow, sleet and then driving rain.
And, having been punished on the one occasion they allowed Steven Gerrard enough space to set his sights and beat Tim Howard from 25 yards, they only needed the combination of Mikel Arteta's sweet right foot and Cahill's legendary ability to ghost into space in the box to spoil Liverpool's victory celebrations.
As expected, David Moyes deployed Victor Anichebe up front as the lone striker, with Cahill dropping off behind, and left the back four unchanged. Joseph Yobo's omission from the bench perhaps signalled that he wasn't deemed fit enough to return after all but it enabled Leighton Baines to continue his successful spell at left back.
The decision to include Anichebe was a smart one; while he lacks pace and movement, the burly Nigerian striker's physical presence was a constant thorn in the side of Martin Skrtel and Sammi Hyppia and it was he who had the first shot of the game, a left-footed volley inside the first minute that Pepe Reina got a palm to before gathering at the second attempt.
Liverpool responded nine minutes later when Mikel Arteta fouled Steven Gerrard near the right edge of the area and Joleon Lescott glanced the Reds' captain's free kick to the other side of the box. Dirk Kuyt was the willing recipient but Baines made a terrific blocking challenge to deny the Dutchman from the angle.
A superb Everton move a little later in the half ended with Anichebe floating an inviting cross for Cahill who leaped prodigiously and forced Reina into another low save by his post, the Spanish 'keeper pushing the ball around the post for a corner.
Three minutes later, it was 1-0... or so 40,000 Liverpool fans must have thought when Fernando Torres raced into a perfect long ball over the top from Hyppia and, having dissected the Everton defence, clipped the ball past the onrushing Tim Howard. Thankfully, his effort shaved the post and bounced behind for a goal kick.
By the half-hour stage, the game had settled into the pattern that would characterise much of the contest. Liverpool were largely in control possession-wise but were regularly forced to go sideways and backwards as the Blues' back line, marshalled by the magnificent Phil Jagielka and Lescott, kept them at bay.
Everton, meanwhile, were suffering from a lack of options and space going forward. Anichebe was being well shackled by Skrtel and Hyppia, Cahill was being buffeted around with little reward, Arteta was playing too deep to have any influence in the final third, and Baines didn't really cross the halfway line until 38 minutes gone.
That led to a spate of aimless long balls in the first half, many of them from Tony Hibbert and Moyes's pledge that his side would try and match their more expensive hosts — the entire Everton line-up this evening cost the same as Fernando Torres — in the passing department was forced to take a back-seat to the stark realities plaguing his under-strength side.
Chances remained at a premium before the break but Leon Osman eschewed the prevailing reluctance among the Blues to put a boot through the ball from outside the box when he caught hold of one from 20 yards but his effort was easily gathered.
It was the home side who had the last chance of the half, though, when Hibbert's careless giveaway allowed Riera to drive one inches wide. 0-0 at the break, though, and so far so good for Moyes's boys.
The second period continued in a similar vein but, after finding little joy lumping balls in direction of Anichebe and Cahill, Everton were more apt to playing it around the deck in their attempts to break Liverpool down. Baines got forward twice in the first seven minutes after the restart to send dangerous low crosses into the six-yard box but on both occasions the ball was inches away from an extended Blue boot.
In between, Evertonian hearts were in their mouths when Torres drove into the area in his customary style and tumbled to the turf in tangle of legs with Jagielka but as The Kop bayed for blood, referee Howard Webb stood firm and emphatically waved away appeals for a penalty.
More danger arrived six minutes later when Howard made a great one-handed save from Gerrard but could only push the ball into the path of Hyppia who looked odds-on to convert from the angle until Baines intervened and did enough to force the Finn into shooting wide. Then, Torres swept a shot a yard over from just outside the box as Liverpool continued to look the more likely side to score.
Anichebe was continuing to cause problems for the Reds' defence, though, holding the ball up well and generally doing his best despite the close attention of his markers. In one instance, he accelerated down the touchline, evaded Alonso with an uncompromising shove and powered into the box making a beeline for Reina's goal. But, instead of trying his luck with a shot, though, he went down too easily under Skrtel's challenge, giving the Everton fans cause to vent their displeasure at Mr Webb. Everton been awarded just one penalty at Anfield in the last seven decades and Victor wasn't about to get that one either.
Seconds later, Liverpool were ahead. Three Everton midfielders were caught too far over for a throw-in down the Liverpool left so when the ball came to Gerrard he had all the space he needed to take a few yards before picking his spot with an unerring drive into the bottom corner past Howard's despairing dive.
For a few minutes, it looked as though the stuffing had been knocked out of Everton. Mindful of how few genuine scoring chances they'd had and how their opponents now had an iron grip on the game, they looked momentarily lost as to how to go about clawing back the deficit.
Osman had a decent half-volleyed attempt saved by Reina and it seemed that, as has been the case since the triple loss of Yakubu, Saha and Vaughan, set pieces offered the best hope, but even then the Blues weren't winning enough of them in the right kinds of areas.
That changed in the 87th minute, though, when Anichebe was tripped by substitute Yossi Benayoun near the byline. As Arteta lined up to take the kick, Cahill loitered inconspicuously in the vicinity of Reina, pretending to mark the 'keeper. With Liverpool's defence unawares, the Australian stole in front of Hyppia as the ball was whipped across and, unmarked, he just had to flick it on and into the empty net to send the 3,000 traveling Blues into ecstasy behind the goal.
It really was no more than Everton deserved. As expected from a team in their position and with their resources, Liverpool had had the better chances and more of the possession but the visitors were nothing if not resilient and determined and they got their reward just when it looked as though they were going to suffer heartbreak and a psychological blow ahead of the FA Cup Fourth Round clash on this ground on Sunday.
Whether the impetus they'll take into the second match combined with Liverpool's own disappointment, self-doubt and off-the-field problems will be enough to propel Everton into the next round remains to be seen. Certainly, their problems in attack will remain a significant handicap but, as they proved this evening, they have what it takes to force a replay at least.
They can only hope to have officiating as even-handed and measured as referee Webb's was tonight, though. While he was, of course, not perfect, he delivered, in my opinion, as restrained a refereeing performance as is possible in a derby game, particularly one as scrappy and littered with fouls as this one was. On another day, both sides could have been awarded penalties but there was enough to see in the replays of both incidents that an award of either would have been very harsh.
Match Preview
So, you spend your life dreading Merseyside derbies and then two come along at once. Everton and Liverpool will meet twice in six days at Anfield, first in the Premier League and then in the FA Cup fourth round and it's got the nation all atwitter at this echo from the pre-Premier League era when these two titans, separated by the green mile of Stanley Park, regularly clashed in important matches.
Evertonians won't need reminding that they haven't tasted victory on the Dark Side's own turf under David Moyes; indeed, the Blues haven't won there since a Kevin Campbell goal and a resolute defensive stand in the Anfield derby of September 1999. Of course, given the almost constant gulf in resources and transfer budgets between the two clubs since the inception of the Premier League, it stands to reason that Liverpool would have the upper hand.
If you are going to go by the current form book, though, there is little to choose between the two right now. The Reds, looking like genuine title contenders for the first time in years, are top of the table (albeit having played a game more than Manchester United) and they've only lost once all season but have stuttered recently against the likes of Stoke City.
Everton, though, have one of the best away records in the division, and haven't conceded a goal in nine hours of football — or six weeks on the fixture calendar. Despite having just one recognised striker available, they're scoring goals, winning games and that's breeding the kind of confidence on which can be founded surprise victories against the league leaders.
Marouane Fellaini is, of course, suspended after collecting 10 yellow cards in what must be record time. He misses both derbies and leaves Moyes with something of a selection conundrum in midfield.
Segundo Castillo is fit but lacking match practice so it wouldn't be surprising to see Phil Neville handed responsibility for the holding role and Tim Cahill pulled back into his more familiar position behind the lone striker. Victor Anichebe, being the only fit forward and possessing the physical power if not the pace and movement ideally needed, would obviously be that lone striker if Moyes elects to start with him up front.
If the manager wants to keep Cahill in attack, however, he could also turn to Dan Gosling, a player who has looked very impressive in two substitute appearances so far this season. What he clearly offers is a lack of fear and a willingness to move the ball forward at every opportunity and despite his inexperience, might be worth a punt.
At the back, Joseph Yobo's return to fitness provides another selection decision for the manager; does he opt for additional height by moving Joleon Lescott (who is teetering on four yellow cards) across to left back or keep faith with Leighton Baines who has performed well and added an important attacking dynamic in recent weeks?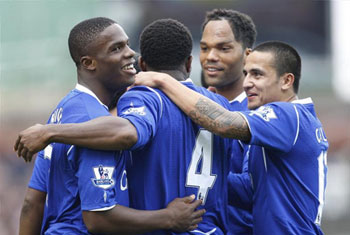 Will there be a Blue celebration at Anfield on Monday?
Liverpool, unfortunately, have Fernando Torres and Xabi Alonso available again but they go into this first derby under something of a cloud after Rafael Benitez rejected a new contract at Anfield, the latest twist in his uneasy relationship with Messers Gillette and Hicks. How those off-the-field shenanigans affect the players remains to be seen but we can only hope it does.
Though dreams of a first away derby triumph in almost a decade and an opportunity to not only dent Liverpool's title hopes but grab three precious points in their own bid for Europe will no doubt be filling the heads of Evertonians in the build-up to this match, the Blues would probably be happy to escape with a draw... and no more suspensions!
What must be priority number one, though, is to shake off the inferiority complex with which the Blues seem to have approached games against the Sky Four in recent seasons. The way they ruffled Manchester United's feathers and prevented Chelsea from winning again on the road earlier this season should give them confidence and a desire to atone for an awful display against Liverpool back in September wil surely provide all the motivation they need.
* Unfortunately, we cannot control other sites' content policies and therefore cannot guarantee that links to external reports will remain active.