Venue: Stade Maurice Dufrasne, Liège
Uefa Cup
Thursday 2 October 2008; 6:40pm
Witsel (22'), Jovanovic (pen:79')
Half Time: 1-0
Jagielka (67')
Attendance: 27,406
Referee: Peter Sippel
The Toffees miserable form in front of goal continued as they were dumped out of their second cup competition in eight days. Everton lost to Blackburn in the Carling Cup last Wednesday, then lost the Merseyside derby at home on Saturday and now the Liege result condemns David Moyes' side to a truly awful start to the season.
Everton came into the game requiring a 1-0 victory to progress to the group stages, a task described by goalkeeper Tim Howard as "simple." Howard, though, rightly tempered his comment by taking into account his side's recent defensive frailties as the Toffees had conceded 16 goals in eight games prior to this first round, second-leg tie this season.
Defeating Standard would almost certainly have required a clean sheet, something Everton had not achieved for a run of 13 games stretching back into last season. In a concerted effort to achieve this Moyes made Joseph Yobo his fall guy for recent failures, relegating the Nigeria centre-back to the bench. In pairing Jagielka with Joleon Lescott at the heart of the back four, it allowed Baines to return at left-back.
The home side played a patient game in front of their passionate support at the Stade Maurice Dufrasne. The Belgian champions allowed Everton to pass and probe with ease and authority in the early exchanges, even though the visitors carried the added threat of playing two in attack. Moyes handed Louis Saha only his second start of the season since his summer move from Manchester United. The Frenchman was also appearing in a European tie for the first time in almost 10 months despite the Reds' march to last season's Champions League title.
Injuries, though, took their toll on Saha, prompting his eventual removal, and he appeared a player out of sorts as the visitors barely threatened Aragon Espinoza in the opening 45 minutes. One early half-chance saw Saha slip in the area and with a clear sight of goal just he shot wide.
Right-back Tony Hibbert did manage to sting Espinoza's fingers with a low drive from just outside the area soon after, but the Ecuador goalkeeper was quick to pounce on the ball. Then came the moment all Evertonians had been dreading as Standard stretched the visitors' failure to keep a clean sheet to 14 games.
The goal was sparked by a fierce 22-yard drive from captain Steven Defour that swerved through the air, forcing Howard into a fingertip save to his left. The loose ball, though, was swiftly collected by Jovanovic who delivered a looping cross to the far post. With Howard still scrambling to his feet following his efforts moments previously, Witsel was able to sidefoot home from a yard out. That left Everton needing to score twice against a team who had only conceded three goals in six Jupiler League games this season.
Saha had another half-effort before the break, but again failed to properly connect from 15 yards, giving Espinoza an easy take. After the anonymous Ayegbeni Yakubu headed a Mikel Arteta cross wide in the 58th minute, Moyes then went for broke four minutes later in bringing on a third striker in Victor Anichebe.
The move provided a spark as it was a drive from Anichebe that spun off the clearing head of Witsel which led to the equaliser. From the ensuing corner swung in by Arteta, Espinoza rose unmarked to collect, only to drop the ball at his feet. Even then he appeared to have time to make amends for his howler, but was so slow in reacting, it allowed Jagielka to toe poke home his third career goal for Everton, and first since February.
But 12 minutes from time Baines bundled over Jovanovic inside the area, with German referee Peter Sippel instantly pointing to the spot. After Baines was booked, Jovanovic beat Howard from 12 yards with a low left-foot shot, compounding a miserable night for Everton.
Match Report
They promised, by implication, a rousing performance that would propel them into the group phase of the Uefa Cup. Instead, Everton delivered a pedestrian, disjointed and often inept attacking display that for long periods fell way short of what was required to progress past a disciplined and stubborn Standard Liege.
The result was an almost entirely predictable defeat in Liege which, if history is any indication, could precipitate a long struggle to get even close to emulating last season's laudible fifth-place finish in the Premier League come May.
For 23 minutes of the first half, David Moyes's side controlled this second leg, looking to seize the advantage from the Belgian champions who had brought two away goals back from the first leg at Goodison Park two weeks ago. But for all their possession — and it really was quite incredible how much they saw of the ball in the first period — they mustered just one effort on target, that a well-struck shot from the unlikely source of Tony Hibbert who was making his second successive start at right back.
Standard, by contrast, needed just their second meaningful attack to break the deadlock. After Dalmat had made a fool of Phil Neville by dancing right by him only to see the chance he'd created for Mbokani snuffed out by Phil Jagielka's block, Axel Witsel gave the home side the lead. Totally unmarked, he slotted home Jovanovic's chipped cross from close range after Tim Howard had done well to beat away Defour's impressive 30-yard drive.
That Defour was still on the pitch at that point was a matter of controversy raised by Moyes in his complaints over the referee's performance after the game. Having picked up an earlier yellow card, the Liege no. 8 tripped Yakubu just outside the box in the 21st minute and wildly gesticulated to the official in protest but escaped a second yellow card for either the foul or dissent.
Leighton Baines, starting at left back after Joleon Lescott was moved into the middle at Joseph Yobo's expense, blasted the resulting free kick into the wall and another decent opportunity was wasted. That poor decision not to allow MIkel Arteta, the free-kick expert in the side, to take the shot was symptomatic of general poor decision-making that seemed to plague their evening.
Yakubu, taking turns with Louis Saha to drop back from attack to collect the ball in midfield, routinely chose an overly elaborate option over the simple ball while Neville, playing in the defensive midfield role that almost always exposes his severe limitations, often couldn't fashion anything inspiring and elected for the simple lateral pass that killed the momentum of any promising attack.
He wasn't alone, though. Arteta was playing far too deep and, as such, had little opportunity to dictate the play, Tim Cahill looked lost and Leon Osman was having another one of those ineffective games that make you wonder if he can possibly be the same player that lit up many of last season's Cup games with vital goals.
There was virtually no width, no speed of thought and no ideas once the ball made it into central midfield.
The Blues' best chance of the first half fell to Saha after he had expertly turned his marker and driven into the area only to slice his left-footed effort as the space opened up for a chance to test Espinoza in the Belgians' goal.
He had another scuffed effort easily saved 10 minutes before the break as Moyes's side struggled to turn their territorial dominance into anything useful but they at least went into the half-time break without having conceded further and still needing two goals to win the tie.
If the hordes of traveling Blues who had made the trip across the Channel were expecting a charge of the Blues brigade in the second half, they were to be sorely disappointed. What followed the interval was more of the same depressing inability to create anything going forward.
The long balls started creeping in as time after time, promising moves through midfield stalled once they reached the final third, none of the midfield quartet able to find a killer pass or benefit from a full-back over-lapping at speed.
Standard, by contrast, looked dangerous almost every time they attacked, usually with pace — Dalmat, Defour and Jovanovic were enough to make you wonder what Everton might look like this season had Moyes splashed £15m on any of those three instead of Marouane Fellaini — and with purpose.
With 62 minutes gone, Hibbert was withdrawn, Neville moved to right back and Anichebe, last season's Uefa Cup hero, was thrown into the mix. The result was an immediate improvement and the young striker was unfortunate to see a terrific half-volley, that looked as though it might have caused Espinoza his first real problem of the evening, cannon off a defender's head and over the bar for a corner.
A spill by the Ecuadorian 'keeper had created that chance for Anichebe and it was another more glaring error that handed Everton an equaliser in the 66th minute. Espinoza failed to claim a routine catch off another Arteta corner and as the ball dropped and ..... hesitated, Jagielka poked the ball into the net between the defender's legs. It was a superb piece of opportunism.
They Blues were level and seemed to have the bit between their teeth and looked more capable of making the crucial breakthrough for the second goal when Steven Pienaar came on Saha after the striker suffered a head injury in a collision with Onweju.
While they looked better going forward, though, it was through the holes at the back that Jovanovic tore, easily evaded Neville's sliding tackle, played a one-two with Mbokani but was felled in the area by Baines as he turned inside preparing to shoot. The referee pointed to the spot and the Croatian himself stepped up to take the penalty which Howard got a hand to as it flew down the middle but he couldn't prevent from finding the net.
2-1 down and 4-3 down on aggregate, the Blues' task remained the same — to score a second goal but their efforts fell well short of what was required as their opponents shut up shop. Arteta drove a shot wide from 25 yards and then wasted a last-roll-of-the-dice corner four minutes into injury time by failing to beat the first man... and that was that.
There's no question that the Blues got one of the worst draws possible when they were paired with Standard Liege but over the two legs it was clear that the Everton of last season, with its more fluid and confident attack and more secure defence would probably have triumphed against the Belgian league leaders.
Yes, there are question marks over whether Defour should have stayed on the pitch in the first half to play such a crucial role in the Belgians first goal but they merely deflect from the salient impression that came from this game that the Blues simply weren't good enough, certainly not on a team level and not on an individual level.
Too many of the supposed star players — Yakubu, Saha (for the first time), Cahill and Arteta in particular — and those like Osman that were key to last season's success just fell flat. That performance as a whole exposed the limitations of players like Neville, Hibbert and Baines and the manager's wisdom of dropping a player like Segundo Castillo — who even provided attacking threat in the first leg — in favour of deploying Captain not-so-fantastic in central midfield.
As expected, Pienaar made a difference and it's players like him that will be key for the remainder of the season but everything will depend on how the team and the manager react to this defeat and how quickly they can recover.
Therein lies the uncertainty. In 2005 and again last season, elimination from the Uefa Cup led to a nosedive in form. A repeat this season would compound the already bad start Everton have made in the League and would almost surely rule out another top-six finish.
Match Preview
One match to save their season. That's appears to be the sentiment dominating the build-up among fans and the national media alike to Everton's Uefa Cup First Round Second leg clash with Standard Liege this evening. could make or break their season.
Already eliminated from the Carling Cup and having made the kind of stuttering start to their Premier League campaign that has already called into doubt their hopes of repeat qualification for Europe via league placing next season, the Blues know that victory over the Belgian champions, and current league leaders, could provide the desperately-needed springboard to morale that was hoped for against Liverpool on Sunday but which was replaced by yet more recriminations and battered confidence following an awful performance.
It may only be October but if history is any guide, the result in Liege could well make or break our season. The double blow of being dumped out of the Champions League qualifiers and the Uefa Cup at the first hurdle in 2005 sent the Blues into a tailspin which didn't stop until they hit the bottom of the Premier League that autumn.
Similarly, last season's gut-wrenching defeat on penalties to Fiorentina had a lasting effect on Everton's league form — just two wins in the subsequent nine games prompted a nervy finish to the campaign where Moyes's side just about clung on to fifth place.
This time around, following a summer of deep division in the fanbase over Destination Kirkby, the unexplained departure of Keith Wyness, broken promises on the transfer front, and no movement on the manager's contract extension, morale at the Club is already low and it's frightening to contemplate how defeat in Belgium and the premature end to Everton's involvement in a copmpetition many felt they could have won last year will impact the rest of the season.
Certainly, the do-or-die nature of this second leg isn't lost on the players, with the likes of Phil Jagielka, Tim Howard and Phil Neville promising that they will give it their all and go all-out for victory against the odds in public statements this week. As the American 'keeper says, "We have to go and win one game. You can pick it apart and dissect it but, at the end of the day, we have to win one game against a side we know we can beat."
It's certainly going to be a tall order unless the quality of the Blues' play improves markedly. Moyes came in for fierce criticism on the Internet forums for playing a lone striker at home but the 4-5-1 formation has been his stock in trade for away games in Europe so it would not be all that surprising if he remained cautious for the first half in Liege with Yakubu up front on his own.
Most fans would , no doubt, like to see Louis Saha start in attack alongside him. The Frenchman has looked a class apart when he's played but was frustrated in the League Cup defeat at Blackburn by a lack of service.
No matter how many midfielders the manager plays from the start, one things is certain and that is that Marouane Fellaini won't be playing; he will remain cup-tied for this competition until January if Everton get that far. That should mean a return for Segundo Castillo, the scorer of the second equaliser in thje first leg two weeks ago and the unfortunate casualty of selection changes in the centre of the park. But there's always the spectre of Phil Neville in the midfield reckoning now that Tony Hibbert is fit again.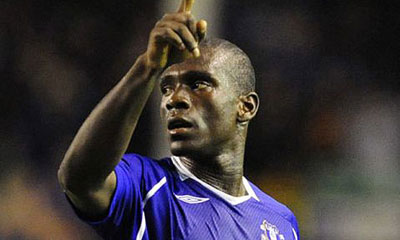 Segundo Castillo:
the hero from the first leg could return
Steven Pienaar, aside from Tim Cahill arguably the player we've missed the most while he's been out injured, but he is not expected to play a large part given his lack of match fitness. That should mean a continuation of Leon Osman, Mikel Arteta and Tim Cahill across the middle.
At the back, Moyes is unlikely to change the central pairing or remove Lescott from left back but he may — please! — move Neville back to right back.
The 2-2 draw that the secured at Goodison Park could be tantamount to victory by a single goal if those two away goals end being the difference after 90 minutes at the Stade Maurice Dufrasne so Everton know they have to score at least twice to stay in the tie beyond 90 minutes.
Thankfully, goals haven't been their biggest problem this season and they did, of course, faced a similar situation in Kharkov where they edged Metalist at this stage of last year to qualify for the group phase.
There is plenty at stake and it could be a defining moment in the campaign. Will Everton stand up, be counted and show their long-suffering fans what they're made of? Will David Moyes abandon his usually cautious approach and will the work on eliminating defences lapses show through on the pitch? Can the Blues pull of a performance worthy of a cup final to rescue their season? We'll know soon enough...
Matchday Stats
Everton are looking to get their season back on track with their return leg against Standard Liege in the UEFA Cup and need to register a high-scoring draw (3:3 or better) or a win to progress to the group stages after the 2:2 draw in the first leg.
Everton's record in Europe:
| | | | | | | |
| --- | --- | --- | --- | --- | --- | --- |
| | P | W | D | L | F | A |
| European Cup | 10 | 2 | 5 | 3 | 14 | 10 |
| European CWC | 17 | 11 | 4 | 2 | 25 | 9 |
| UEFA Cup | 21 | 12 | 3 | 6 | 39 | 21 |
| Fairs Cup | 12 | 7 | 2 | 3 | 22 | 15 |
| TOTALS: | 60 | 32 | 14 | 14 | 100 | 55 |
Our away record in Europe:
| | | | | | | |
| --- | --- | --- | --- | --- | --- | --- |
| | P | W | D | L | F | A |
| European Cup | 5 | 1 | 2 | 2 | 5 | 4 |
| European CWC | 8 | 3 | 3 | 2 | 6 | 5 |
| UEFA Cup | 10 | 5 | 0 | 5 | 16 | 14 |
| Fairs Cup | 6 | 2 | 2 | 2 | 9 | 9 |
| TOTALS: | 29 | 11 | 7 | 11 | 36 | 32 |
With a 50% record in away games, it would seem that Everton must rely on a high-scoring draw to progress in the competition this season, and Everton's history in Europe does not provide any pointers to a vital win. Of the 5 ties which have seen a home draw in the 1st leg, only 1 has seen a win (the 3:2 victory over Metalist last season), whilst we have drawn 1 and lost the remaining 3.
However, of the 11 ties which have seen a draw in the 1st leg (irrespective of the venue), 5 have been won, 2 have been drawn and the remaining 4 have been lost – so a slight glimmer of hope in that respect.
This will be Everton's 19th match on 2 October:
| | | | | | | |
| --- | --- | --- | --- | --- | --- | --- |
| | P | W | D | L | F | A |
| Premier League | 3 | 0 | 1 | 2 | 1 | 4 |
| Division One | 13 | 4 | 5 | 4 | 20 | 20 |
| European CWC | 1 | 1 | 0 | 0 | 1 | 0 |
| Screen Sport Super Cup | 1 | 1 | 0 | 0 | 1 | 0 |
| TOTALS: | 18 | 6 | 6 | 6 | 23 | 24 |
Everton's last match on this date was in 2005, when they lost 0:2 at Manchester City in a bizarre 11:00 kick off – on a Sunday morning!
Everton's only other European match on this date was back in 1984 when a Graeme Sharp goal secured a 1:0 win (and a 1:0 aggregate win) over University College Dublin – can this side repeat history and gain a 1:0 win against Liege?
Milestones that can be reached this game:
If he starts, Joleon Lescott will be making his 100th start for Everton in all competitions.
* Unfortunately, we cannot control other sites' content policies and therefore cannot guarantee that links to external reports will remain active.
STD LIEGE (4-4-2)
Aragon
Dante
Onyewu
Camozzato
Sarr
Dalmat
Nicaise
Defour :17'
Witsel
Jovanovic
Mbokani
Subs not used
Devriendt
Goreux
Mikulic
Toama
Ingrao
Mangala
Benko
EVERTON (4-4-2)
Howard
Hibbert (63' Anichebe)
Jagielka :78'
Lescott
Baines :78'
Neville (88' Yobo)
Osman
Arteta
Cahill
Saha (71' Pienaar)
Yakubu
Subs not used
Nash
Valente
Rodwell
Castillo
Unavailable
Fellaini (cup-tied)
Van der Meyde (injured)