Venue: Goodison Park, Liverpool
Uefa Cup
Thursday 18 September 2008; 8:05pm
Yakubu (23')
Castillo (38')
Half Time: 2-2
Mbokani (9')
Yobo (og:35')
Attendance: 28,312
Referee: Grzegorz Gilewski (Pol)
Everton face a momentous task to stay in the Uefa Cup after surrendering two away goals to Standard Liege and then, having twice fought back from a goal behind, being frustrated by the Belgian champions in a tighter second period that ended all square.
In stark contrast to the stalemate that persisted deep into extra time at Anfield between Liege and Liverpool in the Champions League 3rd Round qualifier last month, the first half of the Belgians' second visit to Merseyside was an open affair that yielded four goals inside 38 minutes.
The Blues, needing to secure a victory to take into the second leg in a fortnight's time, started purposefully and Victor Anichebe, once again playing an attacking midfield role, was inches away from giving them the dream start when he converted Joleon Lescott's shot-pass but shot wide.
But the game was just eight minutes old when Lescott was caught out badly by a through-ball to Wilfried Dalmat down the right flank and with the home defence static — no doubt they expected that Joleon had matters in hand — the Frenchman hooked the ball square across the area where Dieudonne Mbokani strolled past Neville and had all the time and space he needed to ram it past the stranded Tim Howard.
After Tim Cahill had squandered a gilt-edged chance at the other end by nodding a free header over the bar as his marker fell at his feet, Jovanovic thought he had doubled his side's lead. After Defour had been allowed all too easily to waltz into the box and he'd found the Serbian midfielder, De Camargo unwittingly diverted his goalbound shot wide a yard from the line — although Lescott might have also made a crucial intervention on the line had the ball been allowed to run through.
Standard clearly had the upper hand at this stage. They were quicker, smarter and more inventive with their use of the ball and the width of the pitch while Everton were playing too narrow and giving the ball away too cheaply too often.
That changed, though, midway through the half when Lescott fed Mikel Arteta from the byline, he found Osman in the "D" who diverted it first-time to Yakubu. With one touch the Nigerian coolly tucked it into the corner of Liege's net to level the scores.
Igniting both the crowd and the home side's confidence, that goal opened the game up even further and soon Arteta was turning and skipping past players, Osman and Cahill were linking up nicely in midfield and home debutant Segundo Castillo was showing signs of really warming to his new surroundings.
After being dispossessed in the middle of a trickery routine and then seeing the ball come back to him, Arteta tried his luck from outside the box but his low shot was straight at Espinoza.
While Everton had clearly perked up, they were still susceptible both to players running at them in the space that existed in front of the back four and to the ball down the right channel where Lescott was being given a torrid time by Dalmat. And sure enough, with 10 minutes of the first half remaining and Lescott caught in the centre circle, the Liege No 8 despatched a perfectly-weighted ball down the wing where Camozatto crossed first time across the box.
Joseph Yobo, unsure of who was behind him and how far, lunged at the ball attempting to cut out the delivery and steer it behind for a corner, but at full stretch he could only steer it into his own net and hand Standard a 2-1 lead — and, perhaps more crucially in the final reckoning, a second away goal.
Everton's response was almost immediate and within three minutes they were level again through the best strike of the game. Arteta's free kick struck the first man and when the second of successive balls back into the mixer fell to Castillo 25 yards from goal he unloaded a thundering right-foot shot that gave his compatriot Espinoza little chance despite getting one hand to it.
2-2 and game on once again. Further chances would fall the way of both teams before the interval — Howard was alive to DeCamargo's attempt to back-heel the ball through a tangle of legs while Osman curled wide and Yakubu went close with a flicked shot off the outside of his boot in injury time — but the scores were level at half time.
The second half was a significantly tighter affair as Liege closed ranks a bit more and Everton found it increasingly difficult to find a way past them but not before Moyes's side had begun the half in the ascendency.
Anichebe, enjoying himself once more in a Uefa Cup match with a powerful and impressive display, was felled by Sarr outside the area three minutes after the restart and Arteta fired one of his trademark free kicks a foot over Espinoza's crossbar.
Then the Blues might have had a penalty when Anichebe was tripped by Onjewu as he diligently chased Yakubu's overhead knock-on but the Polish referee waved play on. When the ball came back to Yakubu, his speculative drive from distance was gathered by the 'keeper.
The home side seemed to run out of ideas as the half progressed and the final result began to have an air of inevitability about it. As was the case against Metalist Kharkiv at this stage of the competition last year, the Blues really only seemed to catch fire when they were behind.
Their cause was not helped after an hour when Anichebe, having made an excellent interception tracking back in central midfield, gave himself too much to do with a heavy touch as he raced towards the box and came off worse in a 50-50 challenge with Dante. He was stretchered off with a leg injury and James Vaughan eventually replaced him in the 64th minute.
And it was Vaughan who had the next and last real chance for the Blues, an 81st minute header from Arteta's cross that flew narrowly over the angle of crossbar and post. Apart from a tame Cahill header a few minutes later, that was all Everton's late probing could produce and as the game ticked on into stoppage time, they seemed to have accepted their lot.
That they didn't end up effectively throwing the tie away completely in added time owed much to fortune and the judgement of the referee. Lescott, in a carbon copy of the incident that led to Blackburn's second goal on the opening day of the Premier League season, again allowed Dalmat too much space to collect Nicase's angled ball forward and bundled him over as the forward steadied himself for the shot. It looked a clear shout for a penalty but the referee saw differently and, thankfully, let the game proceed.
So, definitely not the result anyone in Blue would have wanted before the game but having fallen behind twice, they'll probably live with the tie being level going into the return leg on 2nd October. Those two away goals will provide an enormous boost to the Belgians who effectively have a goal's advantage — Everton will need to win or match tonight's result in order to stay in the Uefa Cup.
On tonight's evidence, that won't be an impossible task but it will be a tall order, particularly given the frailty that persists at the back.
While Castillo was for the most part excellent in breaking up play and much improved on his display at Stoke in terms of distribution, there were still large gaps in front of the back four. Whether that was down to unfamiliarity with the role, a lack of support from his teammates, or the simple fact that he is only one player and cannot patrol that entire area, there is no doubt that he will improve as time goes on and he looks to be a very good acquisition.
More worrying is the form of Lescott who seems to be a yard off the pace at times and uncharacteristically unable to spot dangerous situations before they arise. Going forward he was OK — albeit a little ungainly, but as an unorthodox left back, that was the case last season as well — but defensively he was a liability at crucial junctures of this game.
Going forward, it was pleasing to see Arteta so instrumental really for the first time this season but there was a general lack of ideas as times from elsewhere and a lack of penetration when it was needed in the second half.
Overall, the Blues acquitted themselves well against a side that was excellent against Liverpool but will need to tighten up considerably in the return leg which could be as tough as the first leg in Fiorentina last season. Such was the difficulty of Everton's draw in this first round but while the scores are level, they're always in with a shout of causing what would now be regarded as an upset.
Player Ratings
Howard 6 — Apart from dealing with a crafty backheel in the second half, he didn't have to do much except pick the ball out the net twice in the first. It's debatable whether it was his responsibility to call to Yobo before he stabbed the ball into his own net; Howard seemed surprised when the ball didn't continue on across the six-yard box where he could claim it on the other side.
Neville 7 — He's come in for his share of stick but it has to be said that in the last couple of games he has been very solid and reliable, even an asset going forward. One moment where he did a Ronaldo-esque step-over had the crowd whistling.
Yobo 7 — One calamitous moment aside — and it really was more unfortunate than incompetent — he had another solid game
Jagielka 6 — Along with Howard's long kicks (thankfully fewer in number than usual), Jags was the chief proponent of the hoofball giveaway but defensively he was fairly sound if not back to his best form from last season
Lescott 5 — Unfortunately, he must shoulder some or most of the blame for both goals (skinned for the first, well out of position for the second) and the penalty-that-probably-should-have-been. Seemingly needs to rediscover his focus which was the underpinning of a terrific season last time out.
Castillo 8 — Really good all-round performance that hints at what is to come from a player who was an unknown quantity a few days ago. His goal was a cracker, his defensive break-up play impressive and his distribution uncomplicated.
Osman 7 — Not quite at his inventive best but not bad at all for a player returning from injury. Nice assist for Yakubu's goal.
Cahill 7 — A bit hit and miss on only his second game back from long-term injury. At times he led the charge well going forward but also missed a great headed chance in uncharacteristic fashion.
Arteta 8 — Nice to see him playing the playmaker role with confidence again and rolling out a few party pieces. Definitely the heartbeat of the side going forward.
Anichebe 8 — I thought he did really well and was unlucky that injury brought an end to one of the better displays on the night. Chased everything that moved and seems to have shaken off some of the clumsiness that undermined some of his performances last season.
Yakubu 6 — You can't argue with his scoring record and when it comes to finishing there are few better players around but he often drifts far to deep or far too wide when you just want him in the box. I suspect that will change once PIenaar returns. Not quite as effective with the ball tonight as he usually is.
Subs
Vaughan 6 — Not really able to get involved as by that stage, Standard had pulled men behind the ball and were repelling much of what was thrown at them. Had one headed chance towards the end that went close.
Match Preview
Everton are back in Uefa Cup action this week with the first of what will hopefully be many European nights this season. Unfortunately, despite that late flurry of transfer activity, subsequently undermined by the loss of Lars Jacobsen before he'd even kicked a ball in anger, the arrival of this first round, first leg tie against Standard Liege feels a little like it's come too soon.
With the Blues' record signing Marouane Fellaini cup-tied in this competition until the New Year, Tony Hibbert, Louis Saha, Steven Pienaar and Andy van der Meyde ruled out with injury, and Leon Osman struggling to be fit, David Moyes again has a selection puzzle in midfield.
Thankfully, Tim Cahill's return to the starting line-up and the goal trail came as a massive boost against Stoke at the weekend and Segundo Castillo made a promising debut in the midfield holding role. He may find the less frenetic proceedings of a European encounter more to his liking and, as such, Thursday's game will more than likely provide a better indication of what he will bring to the side than the helter-skelter clash at the Britannia Stadium on Sunday.
With the manager sure to persist with a five-man midfield, his key concern will be whom to deploy in midfield alongside Mikel Arteta, Castillo and Cahill if Osman isn't passed fit. Jack Rodwell is an obvious candidate, while both Leighton Baines and Victor Anichebe, the surprise deployment wide on the right against Stoke, provide additional options.
The back four that played on Sunday may have been selected to deal with Stoke's aerial threat but it would be surprising if Moyes changed things up given the success of that quartet for much of last season.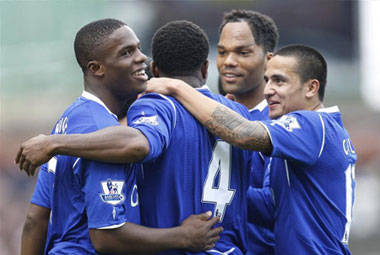 Will it be all smiles again on Thursday evening after the first leg?
Much has been made, via some undue criticism, of the perceived frailty of Blues' rearguard against Stoke at the weekend and that, to these eyes, is to overlook the unique nature of that game. Apart from the return match at Goodison, the Blues are unlikely to face a style of attack quite like the one on which Tony Pulis' side seems far too reliant and it's no exaggeration to say that two chances for Ricardo Fuller aside (one a clear foul on Yobo that was rightly pulled back for free kick) were really all they managed from open play.
Tim Howard has been criticised for failing to deal with both Rory Delap throw-ins that created goals when in the first instance there was very little he could have done with a tall opposing player blocking his path and, in the second, Phil Jagielka provided the decisive touch under pressure from Cort.
Even without Fellaini, Standard Liege will be a different prospect altogether, of course, and with Everton making Blackburn and Portsmouth look better than they actually are in the first two home games of this season, the Belgians will surely be the best outfit that Moyes's side will have faced thus far.
The Blues showed last season, however, that they could live with the best in the Uefa Cup, beating the eventual winners in the group phase and almost producing a stunning comeback against Fiorentina after letting themselves down badly in the away leg. So they will hopefully take confidence from that while, of course, being mindful of the stern test Liege gave Liverpool in the Champions League qualifiers last month.
As ever, the key will be to keep it tight at the back while making the all-important breakthrough at the other end in order to take a cushion across the Channel for the return leg on 2nd October.
Matchday Stats
Everton start their UEFA Cup campaign with their 60th European match against Standard Liege of Belgium.
This will also be Everton's 21st match in the UEFA Cup, but will be the first time we've met Belgian opponents in any type of competition.
Everton's record in Europe:
| | | | | | | |
| --- | --- | --- | --- | --- | --- | --- |
| | P | W | D | L | F | A |
| European Cup | 10 | 2 | 5 | 3 | 14 | 10 |
| European CWC | 17 | 11 | 4 | 2 | 25 | 9 |
| UEFA Cup | 20 | 12 | 2 | 6 | 37 | 19 |
| Fairs Cup | 12 | 7 | 2 | 3 | 22 | 15 |
| TOTALS: | 59 | 32 | 13 | 14 | 98 | 53 |
Our record at home in European competitions:
| | | | | | | |
| --- | --- | --- | --- | --- | --- | --- |
| | P | W | D | L | F | A |
| European Cup | 5 | 1 | 3 | 1 | 9 | 6 |
| European CWC | 8 | 7 | 1 | 0 | 16 | 3 |
| UEFA Cup | 10 | 7 | 2 | 1 | 21 | 5 |
| Fairs Cup | 6 | 5 | 0 | 1 | 13 | 6 |
| TOTALS: | 29 | 20 | 6 | 3 | 59 | 20 |
Everton's last European match was the 2:0 victory over Fiorentina in last season's UEFA Cup, which saw Everton eliminated on penalties.
This will be Everton's 20th match on 18 September:
| | | | | | | |
| --- | --- | --- | --- | --- | --- | --- |
| | P | W | D | L | F | A |
| Premier League | 1 | 1 | 0 | 0 | 2 | 0 |
| Division One | 13 | 8 | 3 | 2 | 29 | 16 |
| League Cup | 2 | 0 | 1 | 1 | 1 | 4 |
| European Cup | 1 | 0 | 1 | 0 | 0 | 0 |
| Screen Sport Cup | 1 | 1 | 0 | 0 | 4 | 2 |
| Texaco Cup | 1 | 0 | 0 | 1 | 0 | 1 |
| TOTALS: | 19 | 10 | 5 | 4 | 36 | 23 |
Everton's last match on this day was in 1996 when an Andrei Kanchelskis equalizer gave us a 1:1 draw with York City in the League Cup at Goodison Park.
The only other European match on this day was Everton's first in the European Cup when they drew 0:0 with Inter Milan at Goodison Park.
Milestones that can be reached this game:
If Everton score 2 or more goals, then the second goal will be the club's 100th in European competitions overall.
Match Report
Will appear here later
* Unfortunately, we cannot control other sites' content policies and therefore cannot guarantee that links to external reports will remain active.
EVERTON (4-5-1)
Howard
Neville
Yobo
Jagielka
Lescott
Castillo
Osman
Cahill
Arteta
Anichebe (Vaughan 64')
Yakubu
Subs not used
Nash
Baines
Valente
Jutkiewicz
Rodwell
Baxter
Unavailable
Fellaini (cup-tied)
Hibbert (injured)
Pienaar (injured)
Jacobsen (injured)
Saha (injured)
Van der Meyde (injured)
STD LIEGE (4-4-2)
Aragon Espinoza
Camozzato
Onweyu
Sarr
Dante
Witsel
Jovanovic
Defour
De Camargo (Nicaise 86')
Dalmat
Mbokani
Subs not used
Devriendt
Ingrao
Mikulic
Mehdi Gonzalez
Toama
Goreux