Venue: DW Stadium, Wigan
Premier League
Saturday 30 January 2010; 3:00pm
Half Time: 0-0
Cahill (84')
Attendance: 16,863
Referee: Lee Probert
Philippe Senderos makes his Everton debut in the back line, in place of Sylvain Distin, who has been disappointing in recent games. No Arteta!
Right at the start, on Everton's first attack, and a great chance for Osman, he completely mishit it when he really should have scored. Wigan were showing plenty of bite in the tackle and hounding the Everton players, denying them space in possession. Pienaar tried a floated shot that went out for the first corner, that Cahill got to but could only loop toward the far angle., where Stojkovic saved comfortably.
It was very niggly stuff and you could not help the feeling that Saha was not really up for the battle. Cahill had a glimpse on a dropping ball. Donovan skipped away from Figueroa but his cross on a very inviting situation was awful, beyond and behind everyone. At the other end, Heitinga was called for a push deep on the Everton left but Wigan's delivery was too strong.
Wigan finally got behind the Everton defence and Rodallega shot but Howard was up for it and saved well. Donovan played in a great ball for Saha whose shot deflected of Cahill and beat Stojkovic but hit the foot of the post and bounced back. It would not have counted as Cahill was 2 yards offside.
More chances for both sides. Scotland got loose and galloped in on the Everton goal but his shot was a let-off, high wide and very ugly. Baines, his crossing much improved, planted one on Saha's head, his header testing Stojkovic. Saha was brought down by Caldwell... Penalty! No, said Lee Probert.
Wigan had definitely looked a little more dangerous with their attacks but the Everton defence had held pretty well with Senderos performing competently. Donovan broke and Everton won a free-kick, Donovan getting a kick. The free-kick was headed out for a corner, which was delivered in well but Senderos's header was weak and time in the first half was up.
Pienaar was fouled early on in the second half, a good central position, Baines got it round the wall but it was blocked away and Wigan broke at speed but Senderos pushed Rodellaga wide at the end. Heitinga blocked N'Zogbia just inside the area, but the ref gave a free-kick a foot outside that Everton defended well for a corner.
Everton won another corner after some good play but Donovan's delivery was short, too close to the near post. Osman earned himself a yellow card for bringing down N'Zogbia. Martinez took that break to bring on Everton nemesis Paul Scharner for Diame.
Wigan were probing and getting the ball down to the Everton byline, while Everton struggled to get meaningful possession, the niggly tackles and blocks thwarting he black & pinks at seemingly every turn. When they did get some decent possession, it was the old final ball, a dreadful cross from Saha, playing far too wide, epitomizing the paucity of their final play. A game as ever crying out for a substitution, perhaps Vaughan in Saha's place, but 70 mins gone and Moyes persisted...
Scharner got a shot on one break that was thankfully straight at Howard. At the other end, Fellaini did scramble the ball into the net off a great forward ball from Pienaar but it was called back for offside on Cahill, or perhaps for Fellaini when he finished off the move. The sub finally was Victor Anichebe coming on for Landon Donovan with 15 mins left... strange..
Pressure then from Wigan, a dangerous free-kick, taken twice after Pienaar was booked for encroaching, neither of which came to anything. Some better balls delivered in by Baines and Pienaar from the left but a little too close to the keeper as Everton pushed harder while the time ticked away. As you wondered if this was destined t be nil-nil, another Everton corner, won cleverly by Saha, delivered in well by Baines, a superb run and nod down by who else, Tiger Tim Cahill... GOAL!!!
A fantastic reward for some excellent resilience and dogged persistence by Everton in the face of some really determined football from Wigan. This will go down as a fantastic smash and grab in the face of some tremendous adversity from a very aggressive home side. Saha got knocked down in the last minute and said he's had enough, Vaughan coming on at 90+3'.
Everton still needed to do some defending but Howard could do nothing to prevent N'Zogbia's excellent snap-shot from smacking into the angle, underlining how close this game really was. An excellent result for the blues. Nine games unbeaten in the league, and the the gap to 8th now closing...
Match Report
Everton scored another late goal and made it nine games without defeat in the League as they prised three priceless points away from a Wigan side that looked to have successfully frustrated their near neighbours with a dogged display.
That the Latics were still level after 82 minutes when Tim Cahill rose with a trademark leap to head home the winner owed as much to the officials as their own defensive efforts; referee Lee Probert, who was only put in charge of this game yesterday after Alan Wiley had to pull out, denied Louis Saha a clear penalty after half an hour and then his assistant inexplicably flagged Marouane Fellaini's 75th minute goal as offside even though Cahill's ball from the byline was clearly a pass backwards.
At that point, it looked as though Everton would never win an encounter they ended up dominating in the second half after shading the first. With Steven Pienaar for the most part subdued by close marking and determined tackling, Leon Osman largely ineffective and Phil Neville offering next to nothing down the right flank, David Moyes's side generally lacked the fluidity and threat that has characterised much of their recent revival.
They almost got off to a flyer, though, and were probably a good connection away from taking the lead as early as the the third minute. Osman picked up Landon Donovan's pass and side-stepped his way past his marker but he scuffed his shot with just the goalkeeper to beat and Vladimir Stojkovic was able to save easily. Had he just put his boot through it, it surely would have been 1-0 and it might have been a very different game.
Pienaar then had an early shot deflected narrowly over but when Cahill connected with the resulting corner, he could only loop the ball up to the back post where the 'keeper made a routine catch. In the 16th minute, the Australian latched onto Neville's up-and-under when it dropped in the area but his weak volley was saved by Stojkovic.
Everton quickly found that they had very little time on the ball as Wigan had clearly set their stall out to close down their men and snap into challenges, so any instances of hesitation or heavy touches — of which there quite a few in the early going from the likes of Marouane Fellaini, Osman and Saha — were being seized upon.
The home side then started causing some real problems of their own for the visitors and when Rodallega was put through by a pass that dissected John Heitinga and debutant Philippe Senderos, their first chance to break the deadlock arrived. Fortunately, though, he shot low and close enough to Tim Howard for the 'keeper to save his shot and Heitinga hacked it clear.
Five minutes later, his strike partner Jason Scotland found himself in a similarly good situation when Neville's poor ball forward was returned with interest and sent the forward away but as Howard closed him down, he fired wide and high of the angle of crossbar and post when he really should have at least worked the goalkeeper.
Wigan kept up the pressure and within a minute the ball was flashing across the face of Everton's goal but, thanks to a touch by Senderos, it carried just far enough in front of the sliding Rodallega to evade his lunge and skidded behind.
Chances for the Blues were at a premium as the final ball consistently let them down, but just before the half hour mark, Leighton Baines swung in a beautiful cross that Saha rose to meet but the Frenchman was denied by an acrobatic-looking one-handed save by Stojkovic.
Having been denied by the Wigan 'keeper, Saha had his head in his hands for a different reason three minutes later when, after Pienaar had picked out his run brilliantly with a slide-rule pass, he was sent tumbling to the turf under Gary Caldwell's challenge. There was clear contact but referee Probert waved away appeals and Saha would question him at the half-time interval why, if it wasn't deemed a foul, he wasn't shown a yellow card for diving.
At the other end, Scotland was still doing his best to break his Premier League scoring duck but again, after wriggling free of first Fellaini and then Senderos, he blazed over the bar.
If the first half was fairly even in terms of possession and Wigan had perhaps had the pick of the chances, the second was tilted more in Everton's favour but they continued to find space hard to come by and with their attacks mostly coming down one flank, the home side found them fairly easy to contain, even when Pienaar and Donovan switched flanks.
The South African enjoyed a better second half and his first purposeful run after the break yielded a direct free kick from 25 yards out when Diame pulled him back. Baines lined up the shot and forced a save at full stretch from Stojkovic who pushed his effort away to his right.
Wigan counter-attacked quickly through Rodallega from the subsequent clearance and with Senderos burned for pace, Neville had to come back across smartly to close him down and force him into firing wide from a tight angle.
Wigan's own dangerman, Charles N'Zogbia, started to pose more and more of a threat and, when he was clattered to the ground by Heitinga right on the line of the penalty area, the home fans bayed for a spot kick but, after consulting with his assistant, the referee awarded a free kick right on the edge of the box. Cahill cleared that free kick but when N'Zogbia raced down the right again seven minutes later, Osman was forced to scythe him down to prevent him getting away and was shown an inevitable yellow card.
With an hour gone and Everton having plenty of the ball but just lacking enough ideas, their nemesis Paul Scharner was introduced and the more pessimistic among the traveling faithful might have feared a script had just been written. So, when the Austrian latched onto Osman's defensive header from a cross from the right, there were some hearts in mouths before he dispatched it first time high into the stand behind Howard's goal. Then, again, with 17 minutes left, Scharner was presented with a chance to give the Latics the lead but Howard beat his effort away.
By the mid-way point of the second half, Everton's performance was just crying out for a change and Victor Anichebe was prepared to come on in the 70th minute. For some reason, Moyes delayed the substitution for a further five minutes, but in the meantime, Fellaini had broken the stalemate by tucking the ball home from close range... or so he thought.
Pienaar had found Cahill in a borderline offside position but the assistant's flag stayed down as he battled to the byline and cut it back to Fellaini to score from a yard out. The Belgian's celebrations were cut short, though, by an awful offside decision and, again, it didn't look like it was going to be Everton's day. Mind you, with Cahill then getting away with blocking a direct free kick with his arm, it didn't seem to be written in the stars for Wigan either.
Anichebe eventually came on for Donovan in the 75th minute but instead of going 4-4-2, a change that would have given the home defenders more to think about than they'd had to up to that point, Moyes deployed him wide on the right. With post-match reports now being drafted around criticism of Moyes for not adapting to the situation, though, Cahill popped up to grab three priceless points for Everton.
Baines swung in a corner from the left which Cahill met with a trademark run and salmon-like leap before powering home an unstoppable header. It had seemed for long periods that one goal would win it and the Blues grabbed it with seven minutes left in normal time.
N'Zogbia came within inches of raining on the parade, though, in the last minute of stoppage time when he took advantage of space in front of the Everton defence to bring the ball down well before smashing a shot off the crossbar and away to safety from the visitors' perspective.
So, in the end, not the greatest performance but Everton came away with three vital points and that was all that mattered. In any case, had the officials not intervened with controversial decisions, the Blues could have had the game in the bag well before Cahill's winner.
Some concern was raised by the dependence on the long ball at times, most notably from Senderos and Neville, and the general disconnect between Saha and the midfield, but credit to Wigan for making it very difficult for Moyes's boys to play the way they wanted.
Three Premier League wins on the spin now and Everton are back in touch of the top eight going into the month that could well define their season. They'll have to play a lot better at Anfield next Saturday if they're to win an away derby for the first time in 10 seasons, but Moyes has a week to worry about that.
Player Ratings:
Howard 7, Neville 6, Senderos 7, Heitinga 7, Baines 7, Fellaini 7, Donovan 7, Osman 6, Pienaar 7, Cahill 8*, Saha 7 Subs: Anichebe 7, Vaughan (not on long enough)
Match Preview
Buoyed by the midweek home win over Sunderland, Everton make the short trip to Wigan this weekend hoping to get the right balance between complacency and confidence as they target another three points which would inch them closer to the clutch of clubs battling for the European qualification places.
In similar timing and fashion to the Hull City defeat earlier this season, the Blues' loss in this fixture last season kick-started a revival in their fortunes and David Moyes will be hoping that this time his team can safely negotiate what is never an easy fixture with victory ahead of a February programme that has already been dubbed "the month of death."
Moyes will likely opt for continuity and name an unchanged starting XI at the DW Stadium but it looks as though he will have to tinker with his substitutes' bench following the news that Mikel Arteta aggravated a groin strain in training that he initially picked up in a practice match on Monday.
The Spaniard was able to come on for another 15-minute cameo in the win over Sunderland but he may be forced to sit out this weekend as he continues to ease back to match fitness.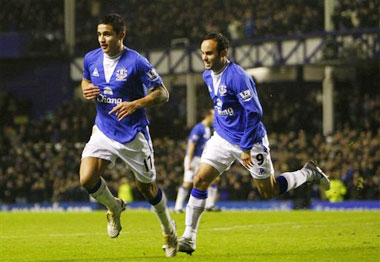 Cahill and Donovan:
Linked up well against Sunderland
Jack Rodwell might have been hoping to take Arteta's place on the bench but this game might come too soon for him too. The young midfielder has been out for a month with a torn hamstring and, like Dan Gosling, is apparently close to returning to first-team action.
Wigan, who will likely be without captain Mario Melchiot — he picked up a neck injury against Blackburn in midweek — have experienced some erratic form since stunning Chelsea with a 3-1 win in September, not least some heavy away defeats to the likes of Tottenham and Manchester United. Though they've won just once in seven Premier League games, manager Roberto Martinez's side have lost only once on home soil since August, that a 3-2 reverse at the hands of Birmingham City, while Everton have won just twice on their travels so far this season.
The Blues are eight unbeaten in the league and in good form so as long as they can carry that through and find their shooting boots again, the points are there to be won.
* Unfortunately, we cannot control other sites' content policies and therefore cannot guarantee that links to external reports will remain active.
WIGAN (4-4-2)
Stojkovic
Caldwell
Boyce
Bramble
Figueroa
Thomas
McCarthy
Diame (59' Scharner)
Scotland (80' Sinclair)
N'Zogbia
Rodallega
Subs not used
Pollitt
Amaya
Watson
Koumas
Gomez
EVERTON (4-5-1)
Howard
Neville
Heitinga
Senderos
Baines
Fellaini
Donovan (75' Anichebe)
Pienaar :76'
Osman :57'
Cahill
Saha (90+3' Vaughan)
Subs not used
Nash
Coleman
Duffy
Rodwell
Bilyaletdinov
Unavailable
Hibbert (injured)
Jagielka (injured)
Yakubu (international duty)
Yobo (international duty)
Ruddy (loan)
Jutkiewicz (loan)
Premier League Scores
Saturday 30 January 2010
Birmingham
1-1
Tottenham
Burnley
1-2
Chelsea
Fulham
0-2
Aston Villa
Hull
2-1
Wolves
Liverpool
2-0
Bolton
West Ham
0-0
Blackburn
Wigan
0-1
Everton
Sunday 31 January 2010
Arsenal
1-3
Man Utd
Man City
2-0
Portsmouth
Monday 1 February 2010
Sunderland
0-0
Stoke
Tuesday 2 February 2010
Hull
-
Chelsea
Wednesday 3 February 2010
Fulham
-
Portsmouth
Premier League Table
Pos
Team
Pts
1
Chelsea
54
2
Man Utd
53
3
Arsenal
49
4
Tottenham
42
5
Liverpool
41
6
Man City
41
7
Aston Villa
40
8
Birmingham
34
9
Everton
32
10
Blackburn
28
11
Fulham
27
12
Stoke
26
13
Sunderland
24
14
Wigan
22
15
West Ham
21
16
Bolton
21
17
Wolves
21
18
Burnley
20
19
Hull
20
20
Portsmouth
15
After 1 Feb 2010