Passing the Baton
By
Rob Sawyer
:: 06/09/2012

Comments
(8)
jump to end
James Corbett's moving ToffeeWeb tribute his late grandfather got me reflecting on my father, Ken Sawyer, and how supporting Everton has been passed down the family. His body has been failing him these past months but his brain remains sharp and he can draw on Goodison memories spanning 80 years.
Ken was born in Waterloo in 1925 to Billy and Ethel and grew up in Crosby. Supporting anyone other than Everton was never an option: Ken's grandfather "WJ" Sawyer had been Everton's Honorary Secretary at the end of the First World War and served as a director for 10 years in the 1920s.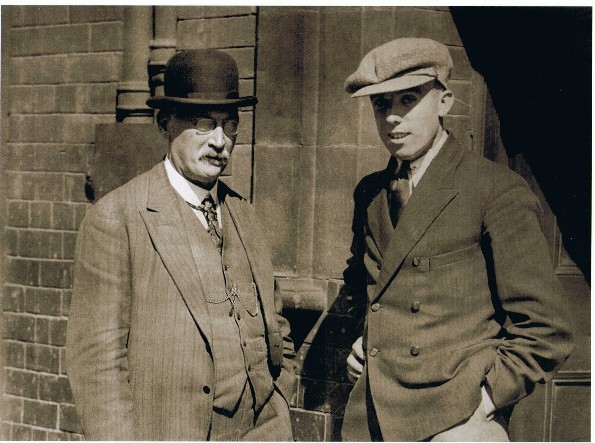 WJ was there on the day Dixie grabbed his famous 60th. Twin sons Billy and Dan followed in WJ's royal-blue footsteps. Billy went on to found the Everton Shareholders Association and stood unsuccessfully for election to the Board in the 1950s.

Ken's recollections of his first visit to Goodison Park are hazy but he places it circa 1933. His eyes light up when recalling Warney Cresswell's sliding tackles at right-back, Tommy Lawton's barnstorming centre-forward displays, and the crossing prowess of Cliff Britton and Tommy Egglington. Funnily he also recalls "Dixie" being "over the hill" in his twilight Everton years as age and injury took their toll.

In the 40s and 50s, Ken and Billy were regulars in Bullens Road and also watched the Everton A team playing at Marine FC. After the barren 1950s, they enjoyed the Catterick-led revival including the 1966 FA Cup Final before declining health curtailed Billy's attendance at matches.

Around this time, my sister Louise and I arrived on the scene and, after a "training period" watching Southport's exploits at Hague Avenue, we made our Goodison bows in the late 1970s; by this time, the family had relocated from Ainsdale to Wilmslow.

Despite Ken's best efforts, I wasn't bitten by the Everton bug immediately. (I cringe now in recalling being "Liverpool" when playing Shoot football tiddlywinks against Dad's "Everton" team…) It was my sister that Dad would take to matches more frequently. Happily my interest flourished just as Kendall started to turn things around in early 1984.

As a trio, we attended virtually all home games and a smattering of away fixtures. My early recollections are the 1984 2-0 victory in the Cup over Stoke and Rob Wakenshaw grabbing his only Blues goal against Manchester United . Then there was the night-time trip to Villa Park for a nerve-wracking Milk Cup semi-final second leg after Andy King's (an early idol of mine) mistake allowed Villa back into the tie. The classic matches came thick and fast: from Wembley Cup Final appearances to that Bayern match and the Championship clincher against QPR in 1985.

Dad himself was not one to get carried away – indeed, he sometimes seemed to revel in going against the flow. Whilst the Goodison faithful would bridle and seethe at a referee's decision, dad would nod and affirm that the man in black was correct! Being a football purist, he was never the biggest fan of the likes of Peter Reid or Tony Kay – comparing them unfavourably to Bobby Collins. Only a few modern-era players met his high standards as evidenced when I asked him recently to name his all-time EFC 11 (adopting a 4-4-2):

Neville Southall;
Warney Cresswell,
TG Jones,
Brian Labone,
Ray Wilson;
Cliff Britton,
Howard Kendall,
Bobby Collins,
Tommy Eglington;
John Willie Parker,
Tommy Lawton
There were also honourable places on the bench for Ted Sagar, Trevor Steven, Gary Lineker and Peter Farrell.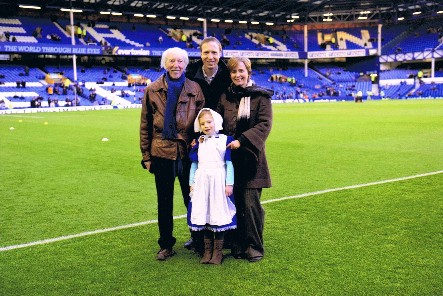 In the midst of the glory years, Ken was diagnosed with advanced throat cancer and defied the odds by surviving major surgery in October 1985. Remarkably he was back taking me to Goodison to see a late Peter Reid winner against Spurs on 1 February 1986 – he was so exhausted that we took an unscheduled vehicular detour down an embankment on the M62 on the way home – but that's another story…

As I went off to university and then lived abroad, our Goodison pilgrimages became infrequent but I could also rely on Ken's Football Echo clippings reaching me via the post in those pre-internet days.

A proud moment for Ken and the whole family was my eldest daughter Sian being selected as Toffee Girl in 2008 and it was wonderful having our photos taken together on the hallowed turf.

Despite failing health,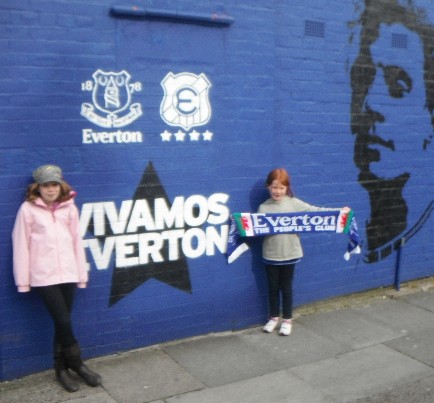 Ken made it to the Manchester City match in the 2010-11 season (a 2-1 victory). We all thought that might be our last trip together; however, a brief Indian summer of good health enabled one more visit to the Old Lady for the final match of the 2011-12 season. This time, Ken was accompanied by me, Louise and both of my daughters for the first time. A visit to the new gravestone for "WJ" in Anfield Cemetery was followed by a 3-1 victory over Newcastle which made Ken's long, hard climb of the Gwaldys Street steps worthwhile.

So the baton first clenched by "WJ" has been passed to the next generation and Ken can take comfort in seeing the grandchildren decked out in royal blue – no mean feat as we live in an area where Mancunian red and sky blue predominate.
Here's to you, Dad – you have given us nothing but the best.

Reader Comments
Note: the following content is not moderated or vetted by the site owners at the time of submission. Comments are the responsibility of the poster. Disclaimer
Jon Beck
990
Posted 06/09/2012 at 07:06:52
Tremendous read Rob. Thanks for sharing.
Dave Charles
995
Posted 06/09/2012 at 07:48:51
Nice one Rob, a good tribute.
Nick Palmer
026
Posted 06/09/2012 at 13:03:40
Lovely story and tribute Rob. Hailing from Wilmslow myself and now living in London, I am sure I recognise your dad as a referee when I was playing cub football in the mid 80's!
Rob Sawyer
051
Posted 06/09/2012 at 14:41:48
Hi Nick - nice to hear from you. Yes you're right - Dad ran Lindow Cub Football Team for 30 years - had to retire due to ill-health last year. Drop me a line if you are ever back up - robsawyer1970 "at" gmail.com
Paul Wharton
077
Posted 06/09/2012 at 17:13:29
Rob
Once again nice story.
Peter Mills
099
Posted 06/09/2012 at 20:03:40
I enjoyed reading this Rob. Judging by his team your Dad was certainly a fan of the School of Science, although of the players I saw Southall, Wilson, Labone and Kendall were not scared of anyone.
I hope Dad battered you at Shoot!

Peter Laing
120
Posted 06/09/2012 at 22:47:31
Great read Rob, I love reading these stories on toffeeweb as they always seem to illuminate the rich tapestries which run through the Everton family. I'm also a fourth generation Evertonian and have grown up listening to stories of Dixie bringing the Cup home in 1933 and the masses awaiting at Lime Street and St George's hall. My two boys are now the 5th generation Evertonians in the Family and have got their hands on a season ticket for the first time this year, so will hopefully be bitten or infected with the bug !
Martin Mason
818
Posted 10/09/2012 at 10:59:34
My family moved from Liverpool in the early 50s when my Dad got a job in mid-Cheshire with ICI. He was a ronk Liverpool supporter and he used to go back to Liverpool to most matches with a group of like minded Koppites in an old van. He stopped going in the 60s when Liverpool became successful, just hated the "modern" game and supporters.
Me and my brother Chris dropped the baton and became Everton supporters because my grandad and Uncle HArry used to take us a s small lads. We spent many a long hour waiting outside pubs for them whilst they nipped in for a "quick" one.
Add Your Comments
In order to post a comment, you need to be logged in as a registered user of the site.
Or Sign up as a ToffeeWeb Member — it's free, takes just a few minutes and will allow you to post your comments on articles and Talking Points submissions across the site.
© ToffeeWeb