Fellaini and the Quest for the Top Four
By
Lyndon Lloyd

:: 16/11/2012

Comments
(40)
jump to end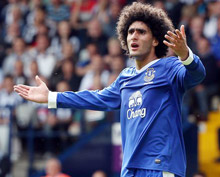 The mounting speculation surrounding Marouane Fellaini's future has put Evertonians back into a familiar position recently; one of trepidation and anxiety that another of the Blues' outstanding players will be plundered from Goodison Park by one of England's cash-rich teams already firmly established in the virtually exclusive Champions League club, entry to which the Belgian midfielder openly desires.
Since Wayne Rooney left so controversially for Manchester United in 2004, Everton have profited significantly from the sales of what many regarded as their best players in the form of Joleon Lescott, Mikel Arteta and Jack Rodwell. With less resolve from David Moyes, Phil Jagielka might also have joined that list last year after Arsenal lodged a reported £16m offer.
And then there was the near-ceaseless campaign by the domestic media this past summer to push Leighton Baines' non-existent move to Old Trafford despite insistent denials that Sir Alex Ferguson had even lodged a formal bid for the England fullback.
Now, with Fellaini enjoying the best form of what is still a maturing career, having turned heads with an "unplayable" display against United on the opening day and already scored as many goals this season as he managed in the previous two combined, covetous eyes — not to mention the media mischief that comes with that attention — are back on Goodison Park with the Blues' afro-haired beast the object of their desires.
Fellaini himself didn't help matters with quotes attributed to him in the Belgian media in September which suggested that the current season would be his last with Everton and that he might look to leave as soon as the January transfer window. He expressed surprise at the revelations the following day and the matter was apparently settled in a subsequent meeting with Moyes, but the combination of the player's own ambition and his father's apparent impatience to see his son play for one of the top three clubs in the Premier League meant that Fellaini's comments probably came as little surprise to most Everton fans.
Nevertheless, such destabilising talk so early in a season that promised so much given the team's form in the 2012 calendar year was unwelcome at best.
Fellaini's form since, however, has only served to ratchet up for the media the size of the story surrounding the 24 year-old's future, with stories of an impending £30m offer from Chelsea appearing at the weekend. Thankfully, that prompted clarification from the player himself this week which continued the refreshing candidness that both he and his manager have adopted recently.
He openly stated his desire to play for one of the top teams in Europe "one day" but insisted that while Everton remain ambitious and — by implication — on course for a top-four finish come May, he is happy to stay at Goodison Park to see if his Champions League desires can be achieved with the Blues.
There is certainly much for him to gain by staying put beyond next season and remaining patient with regard to his ultimate goals. With the obvious caveat that a career-ending injury can happen at any time, he is still just 24 and has plenty of time to earn that dream move to a team capable of not just qualifying for the Champions League but also of winning the whole thing. Certainly his talent and development to this point suggest that he wouldn't look out of place in any team in Europe.
Far from stagnating in a struggling or middling team, Fellaini is evolving in an Everton side that is coming into its own with the recent injection of quality in the side represented by Moyes's signings since the turn of the year. Plucked from relative obscurity for what, at the time, was a head-spinning £15m, the gangly, disciplinary headache that spent most of his first season adapting to the rigours of the Premier League has blossomed into a seemingly improbable mix of height and delicate balance, power and finesse, aerial prowess and deceptive grace on the floor. He is among a handful of players already setting the pace in the race for Premier League player of the year and is approaching idol status among the Everton faithful who have taken him to their hearts.
Adoration alone isn't likely to keep him at Everton, of course, and, in the context of his aforementioned ambition to play for a bigger club, nor is money. Though there have been calls for the Board of Directors to do whatever is necessary to ensure Fellaini stays, even if Everton took the unlikely step of breaking their rigid wage structure in a bid to keep him, it's doubtful he would stick around.
That really only leaves one likely way for the Blues to retain the Belgian international and that is to finish in the top four this season. Assuming the team's form doesn't fall off a cliff over the next couple of months — Moyes's team face four rivals for the top four places in the form of Arsenal, Manchester City, Tottenham and Chelsea between now and the New Year — the continued chase for a CL place should guarantee Fellaini's presence at Everton until the summer transfer window at least.

The hope then, of course, is that the Everton will not only have earned a crack at the Champions League by finishing in one of the qualifiying places but they will also gain entry to the lucrative group stages which might prompt Fellaini to delay any decision on his future another season to see if he can steer the team into the later phases of the Continent's most high-profile competition.
The fly in the ointment, of course, is the Blues' lack of squad depth. Though Moyes's side has continued an impressive run of results of one defeat that stretches all the way back to March, the disruption to the current campaign by injuries to Fellaini himself, Nikica Jelavic, Kevin Mirallas and Darron Gibson — all key players vital to the push for Europe — throws up a lot of "what ifs". Chief among them: would more of those frustrating draws have turned into wins if Moyes been able to replace those missing players with equal quality?
As the season grinds through the winter months, that question is likely to be thrown up time and the threat of fatigue setting towards the end of the campaign will loom unless funds can be made available in January to bolster the squad in two or three key areas to really add some fuel to the momentum already established.
Whatever your opinion of the Kenwright regime, its troubling stifling of dissent through the dissolution of the AGM process, its dubious conduct around everything stadium-related over the last decade — from the Kings Dock to Kirkby — and the questionable fiscal policy that had taken the club to the mouth of the abyss in a quest for the Champions League gravy train just a couple of years ago, the fact remains that the program of debt stabilisation that the Board has undertaken over the last two or three seasons appears to have put the finances on a more even keel (whether debt has actually been reduced remains to be seen) and seemingly removed the need to offload our most saleable assets to stave off calamity.
A hard-nosed view would give the bulk of the credit to Moyes, of course, for crafting what is now an entertaining and impressive team on a shoe-string budget and point to the austerity measures enforced upon the Board, chiefly by Barclays Bank and, presumably, Blue Bill's other more shadowy benefactors for where the Club currently stands. Whether there has been any leeway available at all to the administration in terms of borrowing is open to question but it has managed well within the confines of its new financial reality and none of the manager's acquisitions this year were made on credit.
The current shortfall of around £5m a year is manageable and doesn't threaten the immediate solvency of the Club but it still precludes any real progress or significant squad-building. So, the looming questions as we approach January are: whether Everton's debt is now under control; is the Board willing to open up small lines of credit to fund player acquisitions seeing as its assumed there is no free cash; or are any of the Directors prepared to inject any of their own money to speculate on possible Champions League qualification?
On the last point, past history would point to an emphatic "no". There is no evidence that any of Bill Kenwright, Jon Woods, Robert Earl or Sir Phillip Carter have invested any money into the Club except to purchase their shareholdings in the first place. (And in the case of Mr Earl, there are many who believe, based on word from ex-Director Paul Gregg, that the funds for his shares were actually fronted by Sir Philip Green.)
So, if, as is assumed, Sir Philip has now closed his purse strings to his pal, Bill, Barclays refuse to raise the Club's overdraft limit, and none of the other Directors are willing to invest any of their own money, the Club is left with the option of taking out more off-shore loans on unfavourable terms, doing the unthinkable and selling another player in order to buy others, or just sitting tight with their fingers crossed that Moyes can work the loan market in January and maximise his use of the few million left over from the Rodwell sale.
Not exactly the most encouraging of outlooks but it will boil down to the Board's appetite for risk based on the promise of Champions League football. The onus really should be on the hierarchy to dip into their own pockets to support the team but if taking on additional, small amount of debt to support the European dream is the only other option, it may have to be considered.
The Premier League's member clubs' discussions over new regulations for salaries as they relate to turnover will rumble in the background in the coming weeks — probably months — and while nothing is agreed there that might level the playing field more than the forthcoming Uefa rules, it would behoove Everton to work on the assumption that nothing significant will change any time soon; that it will be up to the club itself to build itself towards being a Champions League side; and that its window for doing so — i.e. while the team boasts the quality of players it currently does — won't be open for ever.
There is a certain urgency about January and the need to build upon this excellent start the Blues have made to the campaign as they seek Everton's version of the Holy Grail. It remains to be seen to what extent, if any, the Board will rise to meet that challenge and whether the Club's best players, like Fellaini, will feel that those efforts match their own ambitions.
Reader Comments
Note: the following content is not moderated or vetted by the site owners at the time of submission. Comments are the responsibility of the poster. Disclaimer
Lloyd Farrell
774
Posted 16/11/2012 at 08:07:49
Watch the bullshit media to twist the story stating that Marouane Fellaini not only wants to play in the CL - But he also wants to WIN it.....
I would stick a fiver on this being in the papers pretty soon...

Kase Chow
778
Posted 16/11/2012 at 09:05:29
Terrific article
Methinks that whatever we achieve this season will have to be done with the current squad
Tom Dodds
781
Posted 16/11/2012 at 08:37:21
Well my take would be this:
It's always been my belief that Kenwright was someone who bought an expensive motorcar he could never of afforded to run. That being said, he found an amazing and cheap mechanic to help him out, so-to-speak, in the form of David Moyes.
If this scenario of Moyes coming aboard had not occurred, I (and most other Evertonians) would probably agree that Kenwright would more than likely by now have imploded, and the other circling wealthy board members/hangers on or whatever they are would've stepped right in and invested properly... which also would wake you up to the fact that Kenwright nicked the club from under their noses (and at the right point in time) in the first place.
All this being said, we now have an impasse between Kenwright and the 'others', in that the team's obvious good start and the rise of the value of the squad (and rising) has buoyed up the chairman's hand. As I've said, the board members with the clout (but who want the club away from Kenwright) might now well find that this scenario has distended, giving the 'board' the only choices left of put in or go back to the 'waiting for him to fall' game...
Of course ultimately this scenario leaves us either within 6 foot of striking oil, or the eternal debt fandango of EFC of the last 10 years. Something or someone has to give; something has to shit or bust, because, believe me, if that lot up-top don't organise something while we're (hopefully) on our upward trajectory... it will be bust.
Sam Hoare
786
Posted 16/11/2012 at 10:02:13
Good article Lyndon.
It would seem to me inevitable that Fellaini will leave this summer or at best next. If we did manage to get in the Champions league then that would surely draw more attention to us and him and its hard to believe that either the club or the player are in a position to say no to a large money offer from one of Europe's elite.
But as the saying goes, no player is bigger than the club and so long as Fella is here and fit then we have a better chance of making the much sought after champions league. I agree with Kase Chow that little strengthening seems likely in January, though hopefully we might be able to bring in one or two loans to add depth particularly in the middle of the park where Neville, despite his laudable efforts, is not an ideal long term replacement for the worryingly crocked Gibson.
Certainly an exciting time to be an Everton fan, so lets enjoy it while its here and hope that 3 points at Reading adds to the impetus. I'm going with a friend to watch arsenal play Spurs tomorrow, not sure who I want to win from a toffee perspective. Suppose a draw is ideal, with red cards aplenty!
Paul Smith
788
Posted 16/11/2012 at 10:24:33
I think this will be Felli's last season with us, no matter what we do. I cannot really blame the lad as he would probably double his wages and be guaranteed CL every season. My only hope is he carries us to 4th and we get £30 million plus for him and Moyes gets that money to reinvest to cement our place around the top 4.
James Morgan
789
Posted 16/11/2012 at 10:10:04
Spot on, Lyndon.
Should we get in to the champions league, Fellaini could either choose to stay as he is realising his ambition of playing the competition, or he could say he has played a major part in getting us there and it is his parting gift.
I wouldn't begrudge him going to a European giant, for the right price obviously.
First and foremost we need to get there, strengthening in January would give us a big push but I can't see any of the board splashing the cash. 3 quality additions, 2 midfielders and a forward would certainly help.
Ciarán McGlone
794
Posted 16/11/2012 at 11:03:44
Very good piece Lyndon.
Moyes has managed to walk the precarious tightrope of fiscal prudency and achieved a decent footballing side..Kudos. However outside our first eleven (as Moyes see it) is where we struggle..
Replacing Mirallas with Naismith tomorrow, and continuing with Neville will leave us looking a shadow of the side we are with the Belgian in the wide position. It just shows the significant difference that one or two changes to the side can make (the Leeds defeat being a prime example).
As for Fellaini...he appears to being more considered about his position. I welcome this.. but at the end of the day he's an employee and if we don't match his ambitions then we can hardly complain about any decision to leave..
However I'm not sure where he'd go..I for one, am happy that he is eventually showing the consistency he failed to show in his earlier career..But I still think it's far too soon to proclaim him the messiah.
If he moves to a club with more chance of winning things, then he may struggle as a small fish in big pond..
James Martin
795
Posted 16/11/2012 at 11:26:33
I wouldn't worry too much about the whole thing. 18 months ago premier league football never mind champions league was the target. If we sell Fellaini and get £0 million for him, who's to say Moyes wouldn't find us some more players of equal or even better quality.

Fellaini is not an Everton fan, the same way Ronaldo was not a Man U fan. Players move on, Fellaini will leave Everton one day, and when he does its about getting a good price for him and then rebuilding the team. That is the way of modern football for every single club bar the top few.

We are not some rare breed of selling club, we are part of the majority. What would be a shame is if we let this opportunity pass because Arsenal and Tottenham are on weak stages of their team cycle whilst we are dfinitely in a strong one. If we don't capitalise it could be another 3 or 4 years before this situation arises again.
Tony J Williams
797
Posted 16/11/2012 at 12:06:06
Bloody Hell James, I hope we get more than 0 million for him....I know our board is bad but even they are not that incompetent.....surely
Nick Entwistle
798
Posted 16/11/2012 at 11:59:16
I'm not one to buy the 'career ending injury'. How many have there been in the Premier League?
Other than injuries to aged players who either no longer posses powers of recovery or the motivation to play-on, I can think of say Nicky Busst, John Fashanu, Fabrice Muamba, our own Danny Williams perhaps.
There will be a good few more but the % of players who drop out of the game on a failure of talent is infinitely higher than injury to players in their 20s.
When he does go, the fee, as with Lescott's and Rodwell's, would make the squad stronger.
James Martin
799
Posted 16/11/2012 at 12:24:00
Sorry 30 milion*
John Audsley
800
Posted 16/11/2012 at 12:29:10
Well
30 Million would enable you to do a lot of team building but who would spend the cash??
Will Moyes sign a new contract, i'm not sure and even if we got 30m how much of that would go towards team building.
Its inevitable Fellani will leave but support from the board towards our manager would send a lot of positive signals. They haven't put a penny in for years and you would think that with us 4th in the league know is the time to help the manager, plus if they really are serious about selling the club then a team in the Champions League is a much better bet than a team in the Europa...........if they are serious that is
Joel Durkin
801
Posted 16/11/2012 at 12:37:00
Another article on this site states that Fellaini reportedly has a £24m release fee clause. That's way below his value right now.
James Morgan
803
Posted 16/11/2012 at 12:43:16
Forgot to ask, with the new sky deal coming in, won't the 5m a year loss disappear?
Al Reddish
809
Posted 16/11/2012 at 13:33:46
James, be prepeared fot the 'operating costs' to go up by £5m.
Tom Brown
810
Posted 16/11/2012 at 13:20:29
"The onus really should be on the hierarchy to dip into their own pockets to support the team"
Oh, I see. They should just give their money to Everton. Fair enough. Presumably you will be doing the same?
Tell you what, I will if you and the Board will. I'm prepared to write a cheque to Everton FC for £50 if you will also write a cheque for £50 and one of the Board members matches our combined £100. In line with your suggestion, we will not be repaid and we all gain nothing in return but the knowledge that we have made an effort to support the club we love.
I'm not rich but I can just about manage the £50 without getting shouted at by the wife (not that I'll be telling her).
If 100,000 fans put up £50 each, and the board matches it, that would be £10m for the club. If you are able to get someone to set this up, I will absolutely send my cheque.....
And yes, I know, we already buy tickets and shirts and everything else. And, of course, there is no guarantee on how the money will be spent inside the club. I'm still up for it.

Kevin Tully
812
Posted 16/11/2012 at 13:58:30
Tom #810 you say : "Oh, I see. They should just give their money to Everton. Fair enough. Presumably you will be doing the same?"
I don't know whether this was sarcasm or not ? But if you are seriously suggesting the board should not put any money into the club, then you are really out of touch with what is happening at the club.
If the business is up for sale, and the board stand to make many millions from this sale, then why the fuck would there be no obligation to make the business a sound investment?
Or should they run it into the ground, sell all the assets on and off the pitch, and then swan off with their pockets bulging?
Jim Knightley
814
Posted 16/11/2012 at 13:55:53
Very good article.
Tom, I think the board are generally expected to support the team financially....the fans are not expected to invest their own money. Since 2003, we've had a net spend of little more than £500k per season... that's worse than Norwich.

Given our relative success over that period, we have not been fairly supported, as a club, by the board. If we had been even given a £8-10M net to spend (a fair amount I think...), I expect that we would have breached the top four by now. By as it is...those with the power to invest, need to look after their investment... a £5M spend in January, and an investment in a couple of loan players (Vadis Odjidja-Ofoe and Donovan?) may get us top four, and a minimum £25M windfall if we make the group stages.

It may be the kind of cash boost which could evolve the football club. Arsenal, despite a very good team, are extremely low in confidence, and Spurs' are suffering from a strangely negative manager, and a less impressive squad than last season.

For the benefit of the fans, the club, and the board, we must spend in January, because top four, at the moment anyway, is looking a potential reality. As I see it, we desperately need a central midfielder, and a right sided creative player (I say right sided, because we have two players in Pienaar and Mirallas who ideally played on the left, and therefore a right sided would provide proper cover). We may be-able to get both of those by following up interest in previous loan attempts, although if we got in Donovan, presumably, it would only be for two months.

As Ciaran notes, beyond our first eleven, we are poor. If we take our best first 11, excluding injuries, to be Howard, Coleman (arguably Hibbert), Heitinga(arguably Distin), Jags, Baines, Osman, Gibson, Pienaar, Fellaini, Mirallas, Jelavic... then we have a bench with Mucha, Distin, Hibbert, Naismith, Oviedo, Anichebe, Neville? Don't get me wrong, it is not awful... but it is not really better than the sort of benches we would see in the bottom half of a Premier League.

Spurs failed in part last season, because they got rid of their depth in January, and then failed to replace injured/tired players in the second half of the season. If we want top four, we will need to replace our best players at points in the season....For Fellaini, Pienaar, Mirallas and Jelavic...we'd bring in Oviedo, Naismith, push Coleman up, and Anichebe? it's simply not good enough.
On the other hand, I do generally think we will bring in at least one in January. I think the dealings in the summer suggested an expected improvement in our financial position, after the departure of many highly paid players, and squad players in the previous couple of years. I would like to see a CM, a wide player, and another striker.

I think there is also a very good potential loan market...Ramsay, Vadis Odjidja-Ofoe, Donovan, Sturridge (if/when Chelsea buy another striker and rumours re. his temperament are to believed), Sinclair etc may all be available. We need to be aggressive this January, and repeat last season's winter window, and with the faux morale of our historically strong second half of the season performance...and a bit of luck, we could be watching Everton in the Champions League next season.
Whatever happens, I'm really proud to be an Everton fan at the moment. To hear people talk about us... to hear Motson and Shearer talk about us as favorites for top four...To see Mirallas and Fellaini play as they are... it is a fantastic feeling. And it is what we deserve, after hanging onto the coattails of those above us, with so much less.
Kevin Tully
815
Posted 16/11/2012 at 14:30:56
The club could also raise an immediate cash injection through a rights issue - no chance of that though, that would dilute their shareholding.
In fact, didn't one board member buy more shares recently?
James Martin
816
Posted 16/11/2012 at 14:31:44
I don't buy a lot of this stuff about squad strength. To my mind this is the strongest and deepest squad in terms of quality that Moyes has ever had at his disposal. In the past we've both made and been in touching distance of the top four. Yes having a massive squad brimming with quality makes it easier, but look around the league and you will see there aren't many of those around.
Tottenham have Adebayor and Defoe upfront without reserve, very little creativity without Dembele in midfield, and little to no cover for their two first choice wingers Bale and Lennon. Add to that the fact they still have Gallas playing in the back 4 and you can see they have definite weakness.
Equally Liverpool. take Suarez out and who do they have? They have a minimum of three kids playing in the first 11 every single week and have ony 2 top quaity centrebacks, with no senior reserve leftback.
Arsenal arguably have the best shaped squad out of the possible challengers for fourth. They have lots of numbers especially in midfield but do they have the quality? They no longer have the Fabregas/RVP axis to guarantee them fourth spot every year.
You can make up any scenario you want in your head regarding injuries. If Jelavic, Fellaini, Mirallas and Pienaar all got injured for a long period then yes we would have a bad team (would just be our luck as well). Firstly what are the chances of this? Secondly what team would this not affect? Take Rooney, Van Persie, Valencia and Kagawa out of Man U and they'd struggle to win lots of games as well. Liverpool would be down to their under 9s.
Gibson has been injured this season, we've survived thus far. Jelavic was injured, Anichebe came in with goalscoring appearances. Pienaar got suspended, Mirallas and Naismith stepped up. Our squad has already shown that it can cope with a normal amount of injuries. We have top class cover at CB, we finally got good cover at LB, RB spot is equally well stocked. Up front we have nothing short of an array of options due to player flexibility. Jelavic goes down then Mirallas could play up there, or Naismith, or Anichebe and then finally Vellios. Mirallas, Pienaar, Naismith, Oviedo, Coleman, Gueye can all play on the flanks.
Our problem lies in midfield with Gibson's injury. Everyone knows about this and hopefully it can be rectified in January. Yes some of the replacements are not top quality and if you line up our resevre team with the first team its far worse, but how often does the whole first team get injured? You can add one or two (as we have already shown this year) without detracting from the consistency of performance too much. City have the best squad in the league, but if they take out Silva and Toure then they have to replace them with Milner and Sinclair. No one has two first 11s that they can rotate. So lets stop banging on about it, because the media sure will, and eventully the players will (like they will with anything) use it as an excuse as to why they came 5th by a few points whilst some side with an equally weak squad will be above us in the Champions League.
Ciarán McGlone
817
Posted 16/11/2012 at 14:58:48
"I don't buy a lot of this stuff about squad strength."
"Our problem lies in midfield with Gibson's injury
--------------
Bit of a contradiction there James.
And Just to expand...what if Jelavic's cruciate went? or Fellaini fell down a manhole?
Roberto Birquet
819
Posted 16/11/2012 at 13:19:09
J Morgan 803
Only if Premier League clubs are able to ensure all the new money disappears into players and agents pockets again.
It is not much use getting more money for the PL if it just goes – as has previously happened – to wages. It makes the Prem better than the Serie A for example, as better players head this way, but clubs still run at a loss. It's the richest national league in the world, and it's in debt. And that debt worsens each year.
If clubs do not work together, Everton and others, will be faced with the choice of: paying down its debt, but losing key players to those willing (even if they haven't the sufficient money from cashflow) to pay higher wages; or keeping players and staying in debt. Utter madness.

James Martin
820
Posted 16/11/2012 at 15:09:42
Did you read my post Ciaran? I didn't say we didn't have issues with the squad, one of which as I pointed out is our central midfield problem. I said that squad issues should not be overexaggerated and used as an excuse for not getting fourth as most of the teams in and around us have them. So no contradiction no.

The funny part comes when I say, 'You can make up any scenario you want in your head regarding injuries' and you follow it up with 'what if Jelavic's cruciate went? or Fellaini fell down a manhole?' What if Suarez's cruciate went, what if Van Perise and Rooney collided on the training field, no league or european cup for Man U this year. What if Vermaelen and Koscielny eloped, what if Bale bails in January? What if one of Torres's wild shots catchs Sturridge in the cruciate, rebounds and gets Torres in the metatarsal. What if, what if...

I'll agree with anyone who says what if x,y, and z gets injured, won't we be worse? Yes, but so would anyone else if it happened to them. What about the scenario where Arsenal and Tottenham lose all their players and we stay fit for the whole season? Or have we being the positive lot we all are just not considered that potential outcome?
Philip Roberts
821
Posted 16/11/2012 at 15:00:17
Moyes has said today that he doesn't expect to do any transfer business in January.

"It's not that we don't want to, but I don't think we'll have the resources to do it."

I might be wrong but didn"t Bobby Elstone state not long ago that there would be money available in January for a couple of loan deals at least??

What the fuck is going on at this club? I'm afraid I"m not clever enough to work it out, but something's not right and I suspect it has something to do with Bullshitters forgetting what they have or haven't said.
Ciarán McGlone
823
Posted 16/11/2012 at 15:21:01
Yes James,
I did read it — It appeared to be rather dissonant. I don't know how your opening sentence reads in conjunction with the rest of your post.
Saying we've acquitted ourselves well enough without Gibson is one example: given the amount of games we've drawn and lost, it appears that such absences could be considered to be having a net effect — therefore your point about being able to 'cope' is rather lost.
Ciarán McGlone
824
Posted 16/11/2012 at 15:25:16
"I suspect it has something to do with Bullshitters forgetting what they have or haven't said."
-----------------
Bingo!
Drew O'Neall
831
Posted 16/11/2012 at 15:22:26
I noticed Moyes's come out and said we have no money for any business, which I take to include loans, in January.
Honestly, it's no wonder he won't sign his contract. We sold Rodwell for £12-15M and bought Mirallas for less than 6 and we're bloody potless again.
I appreciate that there's been changes to the wages over the past 12 months but I reckon they've gone down if anything and therefore to answer someone's point about the operating P&L, I'd say 'no', an operating loss of £5m is clearly not more manageable at all! We clearly can't manage it and sustain a challenge.
Given the revelations that Fellaini is intent on leaving for Champions League football anyway and we will recoup £25+M in so doing, and it's the end of Moyes's contract, surely we ought to raise some cash, roll the dice and bring in a couple of players in January to maintain our upwards momentum. They will be paid for by Champion's League qualification or Fellaini's exit money....
Or is that just exactly what Moyes is positioning with the board through the media?
Jim Knightley
844
Posted 16/11/2012 at 17:06:49
James, of course injuries to key players will affect anyone..but that's not the point is it? the point is, that it will affect us worse than the rest of the likely top 6 at the end of season, because we have so little depth. You ask what would happen if Van Persie and Rooney got injured? Hernandez, and Welbeck, two internationals and highly talented players, would take their place. Spurs have decreased their depth, as mentioned in my last post, but it still well exceeds ours. They use 1 striker up front in their formation, so Defoe and Ade represents acceptable cover...as does Clint Dempsey, who scored 20 league goals last season, and was often employed as an auxiliary striker. Gallas does play in the back line of course...Because Kaboul is injured. Spurs also have one of best young cb's in the country in Caulker, and Vertoghnen. Not to mention great goalkeeping reserves (Lloris on the bench?!) and full back strength.
You can quote certain players stepping up to the plate(which I in part disagree with), but there is no doubt that we are severely outgunned in terms of squad depth. Arsenal may have lost Fabregas (I don't consider Nasri a massive lost, as he only performed truly in one season for Arsenal, and hasn't since) and Van Persie, but don't forget they spent the best part of 35million on Podolski, Giround and Cazorla, and Cazorla, imo, is one of the very best midfield players in this division. They also, despite all their injury problems, and a horrific start, came third last season.
Of course, it doesn't mean we can't get fourth, and our players might not get bad injuries...but they will get minor ones, they will get suspensions and they will get tired...and if we can't replace them, we will lose valuable points which may ultimately determine whether we finish fourth or in the Europa League places.
And you can bet, that Spurs, sitting on what remains of the Moutinho money, will look to invest in January. And it wouldn't surprise me if Arsenal did the same. Now, if we want fourth, we will have to add to our squad. If we don't, I can't see how we can perform at our current level for the whole season.
James Flynn
880
Posted 16/11/2012 at 23:36:13
Well, I'm willing to see Fella as trying to get his current team into the CL. Not some unknown future squad. Just an opinion based on his play so far.
Unlike Nasri and Van Persie at Arsenal.
Ciarán McGlone
882
Posted 17/11/2012 at 00:07:40
What I wouldn't give for a Carzorla, Mr Knightley.
Jim Knightley
884
Posted 17/11/2012 at 00:48:06
Me too...his passing ability is absolutely incredible.
Eric Myles
889
Posted 17/11/2012 at 01:25:56
Tom#781, the obvious flaw with your theory is that the other board members collectively own more of the Club than BK so could oust him easily if they wanted to take control themselves.
Bobby Thomas
891
Posted 17/11/2012 at 02:15:50
I have to say Drew (831) that's quite a turn around from telling people to "get a grip" and enjoy what was happening on a previous Fellaini thread (the BBC Fellaini Champions League quotes one a few days ago).
Such was your confidence that only City, Chelsea or Madrid will be paying over £25 million for Fellaini there wasn't too much too worry about regarding Fellaini... apparently. He is now, according to you, "intent" on leaving for Champions League football.
You suggested on a previous thread I was somewhat psychologically disadvantaged for holding the opinion that Fellaini would leave in January or at season end, that it was a "downer" and "treated as such"... which basically means you didn't like what I was saying. This despite the points I raised regarding EFC's transfer policy during the Kenwright era.
I suggested we have no chance of keeping Fellaini as we have zero Champions League track record to speak of compared to he teams who will be interested and:
"Then think about the financial position of the club, how this board operates and the transfer policy of EFC over the last decade or so. I will let you figure out what happens next."
You are enjoying things so much you are now recommending splashing out in Jan, "rolling the dice" to keep things ticking and if we fail to secure a Champions League place, and this money can be recouped with the proceeds of a Fellaini sale at season end!!! And now Moyes is off as well, something I suggested on the same thread worried me a great deal more than anything to do with Fellaini's future.
Amongst other things you labelled my points "facts/opinions cipher" and eruditely pointed out in relation to the Fellaini gossip, "August and January are the season for paranoia and neurosis." It is November.
Think you need to have a few hours off the emotional rollercoaster mate. Your talking inconsistent bollocks all over this board.
I'm not arsed about Fellaini really, we will be fine either way. If we get the dollar we can progress as Moyes is in a good phase in the market and we can hopefully continue to develop the side. Young players, progressive and flexible.
If Moyes stays. That's all I'm arsed about.
Barry Rathbone
904
Posted 17/11/2012 at 08:44:21
The Rodwell sell to invest is our only option under this regime, it's that stark.
The problem with glass ceilings is they're invisible. It's only when you jump up to enjoy the view and twat your head you realise.
I don't go with all the Moyes genius bollocks but I can see why he's had enough.
Antony Matthews
905
Posted 17/11/2012 at 08:58:53
The trouble is that Felli and Pip are one booking off suspensions which will deplete the squad even more (well maybe not in Pip's case :) ). Injuries and suspensions happen – it's up to others to step up to the plate. Who is good enough is the question. January seems a long way off.
John Crawley
907
Posted 17/11/2012 at 09:16:05
Anthony – good point about Fellaini only being a booking away from a suspension. To be honest, I would be tempted to just get him booked against Reading and miss the Norwich game. He almost certain to pick up a booking anyway and that would be the game to miss rather than crucial games against the top sides.
Drew O'Neall
908
Posted 17/11/2012 at 09:10:05
Get a grip Bobby.
I know what I said I was there, so whoever's benefit you are paraphrasing me for I presume it's not mine.
Do you think my argument was that Fellaini would never leave? It's about the timing.
Your first contribution started with "let's be clear, he's leaving in January" or some such supposition.
I haven't changed my stance at all, I'm 99.9% certain he won't leave in January and continue on this thread that we should strengthen so we have the best chance of progress this year while he's still here...
The part you conveniently left out was I suggested that only Chelsea, Man City or Real Madrid would be able to afford to pay that fee THIS YEAR.
Anyway I'm sure others have more interesting things to do with their Saturday than to listen to you and I bang on so let's just agree you were wrong and put it behind us.
Peter Hall
909
Posted 17/11/2012 at 09:09:42
James Martin @816, this is a sensible case, only the top 3 and Arsenal have a bigger 'quality' squad and an equally good point was made that we are in a better position with squad cycle than Arsenal (not that our squad is much better, but it is usually worse and is now - maybe - slightly better).
Top conclusion is that this season is an opportunity to break the mould and get in the top 4, but this time with a squad that could use the opportunity (Yes, Collini etc, but be honest, we weren't CL standard last time). Then who knows? Once you've broken the mould it will probably go back to the old shape, and the team with bigger income, better ground, London base etc will steal it back. But it might not - we might be able to build and move up a notch, for a period at least . . . .
Peter Hall
914
Posted 17/11/2012 at 09:26:40
Anyway we'll soon find out what are chances are because after Norwich our next two home games are Arsenal and Spurs – and it's the North London derby today.
If we get say 4 points from Reading and Norwich and go into these games with several points lead on both teams and win both home games (an IF but not the biggest one – we can lose to Man City in between without affecting the argument) then both Arsenal and Spurs have a lot to do to catch us. We don't have to 'keep up our current form' all season to get fourth.

Current from would lead to around 70 points – all stats suggest that 64 will do it. So a good burst over the next 5 games – especially home to Arsenal and Spurs because, if we win these, they aren't likely to get 64 points – then the finishing line could start to be in sight... and actually moving a bit closer!
Jason Lam
215
Posted 19/11/2012 at 01:22:30
Which of the top 3 clubs play route one long ball and look for the knock down?
Add Your Comments
In order to post a comment, you need to be logged in as a registered user of the site.
Or Sign up as a ToffeeWeb Member — it's free, takes just a few minutes and will allow you to post your comments on articles and Talking Points submissions across the site.
© ToffeeWeb