John Connolly – The Man Who Left Defenders on Their Bottoms
By
Rob Sawyer
:: 28/04/2013

Comments
(37)
jump to end
John Connolly in conversation with Rob Sawyer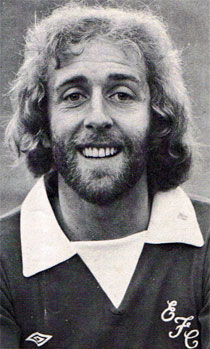 The mention of John Connolly to Evertonians of a certain age may prompt a rendition of "John Connolly, John Connolly, the winger to watch". The subject of the song, a fleet-footed "leftie", was drafted in to replace 60s stalwart Johnny Morrissey. Harry Catterick, still recuperating from a heart attack, headed north to capture his services in March 1972 – just in time to lend his vocal talents to the recording of "Forever Everton"!
John's all-out attacking play was a rare beacon in the twilight of the Catterick era and led to a Scotland call-up. Sadly a horrific run of injuries hastened his departure to the West Midlands after 116 appearances, but no lesser Everton connoisseur than David France rates Connolly as one of Goodison's most skillful entertainers – why? – "because he left defenders on their bottoms".
It was a pleasure to speak with John, now living in Ayrshire, and reflect upon his career:
As a youngster I was playing for Glasgow United, one of many boys clubs in the city at the time, it was tough football but with a lot of quality. Rangers and Celtic fed off all these juvenile clubs – Alex Ferguson played for Drumchapel Amateurs and they developed a lot of big players in English football; take Leeds, for example, with the likes of Bremner, Gray and Lorimer. At the time, United was one of the up and coming boys clubs and for a few weeks the strike-force was Kenny Dalglish and John Connolly – now he's a multi-millionaire and I'm in poverty!

I was invited for trials at 3 or 4 clubs, eventually choosing St Johnstone, and it kicked on from there. I played under Willie Ormond at St Johnstone, for Scotland and he signed me later at Hibs, so obviously I had a lot of time for him; he had been a great player himself at Hibs. There was very little tactics in the game at the time – it was more a case of having respect for him and his ability to motivate players – now football is so tactical, it's frightening.

St Johnstone came third in the league and played in Europe which, for a provisional club, is fantastic. The biggest game in our history was beating Hamburg 3-0 at home in a Uefa Cup tie – it was probably my best performance for the team. I was there 4½ years and loved playing there, I played as a central striker and scored about 55 goals in 110 games.

At Muirton Park, I had become a Scotland Under-23 player, and was getting a lot of publicity as an emerging talent, so scouts were coming up to watch. Malcolm Allison came up three or four times and I was invited down to Tottenham by Bill Nicholson to watch a game there. Rangers made a bid of £40,000 but Everton came in with a bid of £70,000 in March 1972 so that was that. I was whipped away down South to meet Harry Catterick and Harry Cooke in Carlisle – I actually locked my wife out of the house, it was that quick.

When we moved to down we were put up in the Lord Nelson Hotel near Lime Street station – John Toshack was staying there too.

My first Everton game was against Leicester City at home and I played up front as Joe Royle was injured – it was 0-0. Up in Scotland, we played a 4-2-4 system but when I came down to Everton they played 4-3-3 with Johnny Husband, Johnny Morrissey and Big Joe Royle up front. For the rest of my career, I played on the left wing, replacing Johnny. I never really hankered to get back to play up front – to play up front in the English league, you had to be big and physical.

My game was all about "give me the ball and I'll have a go at the defender", using close control on my left foot; I was quite old-fashioned in that I liked to try and go past people and get the ball into the box for Joe.

In my first full season I played nearly every game and thoroughly enjoyed it – I played about 112 games for the club in all. I got one full cap for Scotland in 1973 in Switzerland and was on the bench for a game against Brazil at Hampden. I scored some goals with my head and on my right peg; in fact I did play one season mainly on the right wing – I used to cut in to try and shoot. Even in the modern game, some guys at the top level now are all one foot and I think that you should at least be able to cross the ball with your weaker foot.

In January 1975 I suffered a double leg break in an FA Cup game against Altrincham – it was a dreadful tackle. We were flying at the time – top of the league and 4-5 points clear when it was only 2 points for a win. My claim to fame is that, if I hadn't have got injured, we would have won the league! We were very unlucky not to win the Championship – we had a lot of quality players at that time but in fairness so did Liverpool, Leeds and Manchester United.

The injury was a bad blow to me – Billy Bingham and I had our run-ins but with hindsight I was very impatient. Up until the leg-break, we got on fine but afterwards I wanted to be back in the team, yet he was right to hold me back.

After 8 months we went on a pre-season tour to Germany and Holland. I played against Kaiserslautern and felt that I'd done really well; then in the next game in Deventer a guy wrapped both leg rounds me – I have never been tackled like that before – and broke my leg in the same place. Clearly the leg wasn't ready to take that pressure so I must have tried to get back to soon.

That break took another 5-6 months to recover – Dave Jones and I trained a lot together to keep each other going. I don't think I ever reached the heights of the form I had before the breaks – I was too impatient and didn't sit-down and think "I've had two breaks in a year; it could take 2-3 years to get through this." Although agents are maligned today, I think if I'd had a mentor, he could have told me that it would take longer to recover than I thought.

My first full game back was against Sheffield United and I played intermittently after that so I was getting fed up – like every player, you think you should be in the team. Funnily enough, I told Billy that I wasn't happy but he said he wanted to keep me. Then I walked in one Friday, ready to tell Billy that I'd decided to stay at the club, and he said that he'd had an offer from Birmingham City. Howard Kendall was a great pal of mine, how he never played for England I'll never know. He was at Birmingham by then and had put in a word about me with the manager Willie Bell.

Nothing against Birmingham but the biggest regret in my career is that I didn't stay at Everton – they were, and still are, a massive club. Everything about the club and where we lived was great but my impatience took me to Birmingham – I should have stuck to my guns with Billy. All through my life I have always thought the grass is greener somewhere else – I sometimes feel sorry for my wife of 40 years who followed me wherever I went. We have lived in some lovely areas like Formby – I could quite happily have lived there for the rest of my life. On my gravestone I should have inscribed "Never happy and too opinionated"!

As I got older, injuries took a toll; every year I'd be missing maybe half a season and that drags you back and you start to lose a wee bit of pace – the guys that go through year after year without major injuries are very lucky. I was knocking it past players and the tackles were flying in so I was liable to pick up injuries. You would be up against players like Trevor Cherry and Ron Harris who didn't mess about and let you know about it "early doors".

Willie Ormond took me back up to Scotland with Hibs after I'd had two seasons at Newcastle. After that, I did a bit of non-league stuff player-wise and in management at Gateshead and Blythe Spartans. Funnily, I played with Jim Pearson ar Gateshead and before that at St Johnstone, Everton and Newcastle – I could not shake him off! We had a golf day at Formby Hall a couple of years ago and he even ended up rooming with me there, so people are beginning to talk!

As well as playing and managing, I also worked for Vaux Breweries and later for Golf Monthly as an advertising sales manager. I then moved up to Queen of the South as manager where we won the Challenge Cup and the Second Division title then I moved back to manage St Johnstone.

Now I work for the SPL as a match delegate – I'm basically observing and speaking to the match commander, referee and team managers then send a report to the SPL. I also work for The Scouting Network, a company with a database of players throughout the world which various clubs buy access to. I've not been down to Goodison Park for a couple of years now but I know that the invitation is always there; I need to get down for the weekend with my wife and sneak in a game!
Reader Comments
Note: the following content is not moderated or vetted by the site owners at the time of submission. Comments are the responsibility of the poster. Disclaimer
Ajay Timothy
754
Posted 29/04/2013 at 18:21:57
Loved watching him play. I will never forget our first game of I think 1973-74 when we beat Ipswich 3-0, how he took Mick Mills apart. Mills was Englands right back at the time and a no nonsense defender. I also remember holding a banner with all the players names on it. John Connolly saw the banner and gave me huge toothless grin as he came up to it to take a throw in.
Little things like that when you are a 10 yr old at Goodison stay with you for ever.
Paul Ferry
764
Posted 29/04/2013 at 18:49:01
hi Rob, your series of stories on the 'past' and 'players' is one of the top three things about this site at the moment. Love them, not least, because I came of Everton age in the mid-70s. Husband, Morrison, Connolly, Thomas, always loved flankers. Thanks again mate, super article. And lovely to hear his real commitment to us though I would hate to live in Formby.
Phil Walling
766
Posted 29/04/2013 at 18:49:18
One of my old man`s favourites from the 70s,he`s always told me that Bingham let him go too soon but this puts a new light on what actually happened.
I can just about remember him but I think John was in a Newcastle shirt when I last saw him. The picture above surprised me.I never knew he had teeth as all the pictures we had of him featured a bearded gap!
Patrick Murphy
768
Posted 29/04/2013 at 19:03:03
My memory must be failing me, how come I seem to remember JC scoring twice in the opening 10 minutes in a Midweek game at Goodison circa 75ish. I remember it because I had been held up and got to the ground late and the scoreboard read 2-0 Everton. It must have been the LC but I can't find his name as a scorer.
Ah well those were the days when wingers were in the team to produce crosses and score goals and full-backs were down to stop them by fair means or foul.
Richard Dodd
771
Posted 29/04/2013 at 19:07:47
I`ve never switched on to `the old days`but Rob`s occasional visits to the seventies has begun to wet my appetite for more.My old fella always talks of `flying wingers`but did the genre die out with Connolly and Thomas? The Premier age has seen them largely replaced by wing-backs although I suppose Ronaldo and Bale might dispute that!
Paul Johnson
780
Posted 29/04/2013 at 19:23:18
My biggest memory of John was the missing tooth and if I am not mistaken I modelled the long sleeves over my hands on him. I remember him playing on the right more than the left.
These articles are great as they bring back fantastic memories of early match going. We played some great football without winning trophies in the mid 70s.
Aside the John Connelly song was based on the John Collier clothes store if I am not mistaken, a staple for Birmingham bags and parka's. Great stuff.
Steve Boardman
849
Posted 29/04/2013 at 21:25:11
I was at the Altrincham match when John had his leg broken by one of the worst tackles I have ever seen. My recollection is that one of our guys (Dave Jones?) twatted the culprit and then marched straight off the pitch, not even waiting for the ref to send him off. God help Suarez in those days............
Dennis Stevens
854
Posted 29/04/2013 at 21:41:20
I think it was Gary Jones, Steve. Always struck as odd that the replay was at Old Trafford - but then again it was a Second Division ground at the time!
Kev Johnson
865
Posted 29/04/2013 at 21:54:00
I was at that Altrincham game too, and recall the leg-breaking tackle and the general sense of outrage round Goodison. But that wasn't the end of it...
Monday morning I went to school. We always had a double Games last thing in the afternoon. Well, this time we were taken by a new guy, a student teacher who had just started that day. Guess who it was? Yup, the man who broke Connolly's leg! Worst thing was, we had to call him "Sir" and "Mr Whateverhisnamewas". As you can imagine, the Blues amongst us were not best pleased! He put us through some fairly simple football routines - as I recall, he did not tutor us in the art of hideous fouling.
I remember Connolly as the type of skillful wingman who perfectly suited the adjective "nifty". A good player, no question.
Another excellent article, Rob - thanks a million.
Tommy Jones
892
Posted 30/04/2013 at 01:07:35
I was playing footie for the school team in Speke and our ref was a player on the team that Everton played the following week. It was a lowly non-league team.
It was in this game when our Johnny Connolly had his leg broken and was taken off on a stretcher. It was about 1973 or 4. I know coz I was there.
David Hamilton
902
Posted 30/04/2013 at 02:40:35
I was in the Bullens Road paddock when John's leg was broken. Happened right in front of me. Shocking tackle. John just sat there looking at the ref, who did nothing. Next thing you, know, Gary Jones clobbered the Altrincham guy. We escaped with a draw, but it took a Dave Clements penalty to do it.
Chris Hockenhull
953
Posted 30/04/2013 at 09:37:07
Love these interviews from yesteryear. Well done and keep them up. I recall the Altrincham game well. They dug in a it was floodlights all day as Everton battered them but couldnt get the goal and a cup upset looked odds on. I think it was Dave Irving who got brought down for the pen Clements thankfully slotted away. The tackle was horrific and I think everyone knew immediately it was a bad break. The guy who did it was Andy Windsor who went on to teach at Merchant Taylor's in Crosby. In the 80's I recall after an Everton game we were in the Crows Nest and someone pointed him out. Meant nothing to me until the Connolly incident was brought up. Someone else in the pub overheard this and later 'introduced himself' to him and asked his memories of the game. Smugly he went on for a few minutes and never mentioned the incident. The Blue in question smiled on and on and then let rip into him about the tackle 10 years afterward and the look on the Alty man's face was priceless. He left the pub shortly afterward before he was invited to replicate the tackle in the car park to a posse of Blues who were still none too happy.
David Booth
014
Posted 30/04/2013 at 13:28:39
I remember Connolly scoring the winner in a 1-0 win away at Man City at the start of the 1972/73 season.
It rermains to this day, THE most impressive performance I have seen from an Everton team.
We were just perfect and played them off the park from start to finish.
As a mad-keen 17 year old, I thought we'd go on and storm the league.
We didn't.
Eugene Ruane
023
Posted 30/04/2013 at 13:44:03
Fantastic piece (anything about Everton in the 70s and the years just roll away). JC, though no Dave Thomas was a decent enough player. I was 13 when he signed and probably saw every home game he played (wasn't old enough to be allowed to go to aways then - probably a wise move what with away supporters getting darts and Kung-Fu stars whizzed at them at every game). We didn't know it then but we were watching the team at the start of a slide that (apart from a couple of near things), wouldn't really do anything until 1984. However at the time I was so young that I simply saw no faults in any Everton player and in fact saw them all as gods. JC, with his blonde barnett and missing railings, looked great to me and being a winger had that 'flair player' thing that excites young and old. Looking back it was not a great side that he played in, but when one remembers his injuries, he has a more than decent excuse for not really hitting the heights (christ there were some dirty bastards knocking about then). Anyway he comes across like an honest self-aware feller and I'm chuffed that he appears fit and well and enjoying life. He played over a hundred games for Everton and his image is burnt into my psyche forever. Best of luck.
Andy Riley
241
Posted 30/04/2013 at 22:10:19
Wasn't the song "John Connolly John Connolly the winger to watch" after the TV advert at that time which had the line "John Collier John Collier the window to watch." I remember that Harry Catterick signed him and in those days the transfer deadline was sometime in March. He was signed after the relevant date but was allowed to play because the game involved was meaningless with neither Everton or their opponents involved in going for the Fairs Cup or relegation. Remember that Fairs Cup with the one city one club rule so we always seemed to lose out to Liverpool? All seems a lifetime ago and was.....
Rob Sawyer
260
Posted 30/04/2013 at 23:23:11
Andy (241) you are spot-on. Dave was restricted in his appearances during the tail-end of the 72-73 season due to the rule you allude to. He could not play in matches that had a bearing on relegation etc. The John Connolly chant was indeed based on the John Collier advert of the era.
Ian Smitham
266
Posted 30/04/2013 at 23:53:10
Blimey a trip down memory lane for many. As I read the thread, my mind cast to one person, and his influence on me as a young 11 yea r old. Step forward #014.
I went to both games, maybe I was young, maybe I had started plying or even playing with the beer, but I can not remember any aspect of either game other than standing petrified in the left side of the Stretford end as battles were had all around me. Terrifying .
In the days of my friend we took the Stretford end.....
Back on thread, a great player and one to enjoy our respect.
Thanks,
Ian
Ian Smitham
271
Posted 01/05/2013 at 00:08:45
At the time, some will know, the big boys would fight opponents fans and nick their scarves. These were usually tied to their wrists. I had a mate called "Si" he supported Leeds. His big bad brother went to watch Everton home and away. He nicked a scarf of a Leeds fan and took it home.
While I was in the family home back there in Park Road, someone used said scarf as toilet paper right there in front of his brother.
Flipping heck, just reminds me that I have been going to Everton for 40 years now. Economic reality has finally caught up with me and I can not renew next season, last game will be tough, think I will be blinking a lot and pretending that I have something in my eyes.
Ian Smitham
272
Posted 01/05/2013 at 00:22:55
Mr Booth, have a look at my submission and deny it if you will!!
Paul Ferry
274
Posted 01/05/2013 at 00:24:07
We had some memorable and very moving songs back then in the day.
Namely:
We are evii
You're going home in a fucking ambulance
You'll never make the station
You're gonna get your fucking heads kicked in
and, altogether now
I'm a bone-legged chicken and a knock-kneeed hen
I haven't been wanked since I don't know when
I walk with a wiggle and I walk with a squawk
Doin the Everton bootwalk.
Kev Johnson
276
Posted 01/05/2013 at 00:35:31
I don't remember "We are evii". Was it some kind of mid-70s sci-fi thing? You know, "We are evii, from the planet Ev" sort of thing?
Paul Ferry
285
Posted 01/05/2013 at 02:20:18
Kev the memorable we are evil consisted of us repeating in an intimidating cycle we are evil 20/30 times. A very heart-tugging monochrome build up of tension. We are Evil surely is still today one of our most emotional and metaphorical performances. A beautiful song for beautiful people
Andy Riley
290
Posted 01/05/2013 at 05:26:41
I remember that I thought Gary Jones from the same era, who took the retribution for JC in the Altricham game, was a better player than JC. He had a lot more aggression which allied with his fantastic skill and great pace should have made him an Everton stalwart for years but sadly he also went to Birmingham unfulfilled and unloved by Billy Bingham. My abiding memory of him was one of his first games I think it was against Chelsea. He was trying to take a free kick outside the box and the Chelsea wall wouldn't move back so the ref just booked all of them, five or six at once. Why don't they do that anymore?
Paul Johnson
296
Posted 01/05/2013 at 07:31:21
La la la we are the park end
The cock of the north
We hate man united
And city of course
We only drink whisky
And bottles of brown
The Everton boys are in town

Dave Charles
308
Posted 01/05/2013 at 08:22:24
Love reading about old players and glad he mentioned that 'tackle'. My dad died 10 years ago and never forgot the tackle and said it was as bad as a tackle by Dave Mackay on Jimmy Husband. We went the replay at OT and my dad spent most of the game shouting at the ref to watch them dirty twats.

Eugene Ruane
311
Posted 01/05/2013 at 08:59:08
Kev (276) For 'We are evil' see 'We are Devo'.
http://www.youtube.com/watch?v=hRguZr0xCOc
A fairly accurate description for people who were also proclaiming that although they didn't hold with carrying hammers or lead, they weren't against carrying hatchets to bury in your head.
David S Shaw
312
Posted 01/05/2013 at 08:55:08
Paul, wasn't there a Park End song that started Left right right jeans on tight airware to the floor?', and a version of The Everton Boys are in town' along the lines of 'we all go mental when we score a goal'?
Mike Berry
320
Posted 01/05/2013 at 09:35:28
Fans use the phrase 'quick feet'. It summed him up. Remember being close to the action away at Sheffield United. He was hemmed in by four defenders and and he jinked his way out of it. Truely magic. His leg break was tragic was him and the club.
Kev Johnson
329
Posted 01/05/2013 at 10:00:59
Cheers for filling in that gap in my knowledge, Paul (285). It does sound like a magnificent ditty. I'm only sorry I missed it.
I still think my idea for a song - "We are Evii, from the planet Ev" - is pretty good. Maybe we could start singing it from now on? I'll drop it into a match-day thread and see if any of the lads join in. Not sure what tune it should be sung to. Possibly by Glory Box by Portishead.
Eugene - there was no need for me to click on that link as I am well acquainted with the alien-scientist-alt-rock experiment that was Devo. "De-evolution" with a beat, as I recall. It was around this time (1977/78) that I decided to forsake Goodison and stop playing football altogether to focus on hanging around in Erics and reading Penguin Modern Classics while smoking French cigarettes. Ah, the foolishness of youth...
Eugene Ruane
349
Posted 01/05/2013 at 11:10:50
Kev: Remember a couple of years after I left school (77) seeing a lad from our class in Erics (let's call him Jimmy Sheehan as that's his name). He had a pair of those bondage kecks on and a pair of patent leather docs. Never seen anyone look so embarrassed. "Why are you wearing those kecks Jimmy?" "Er..just (bluuuuush) like them...like". Best band I ever saw there, Rockin' Dopsie and the Cajun Twisters.
David Booth
496
Posted 01/05/2013 at 19:05:32
Mr Smitham, maybe a bit graphic, but I did amass quite a scarf collection at one stage. Mind you, it was mainly out of shock tactics - if someone had stood up to me, I'd have probably apologised and run away!
What was funny though was that we were at Sale Grammar School at the time and I used to take a spray can and a wide variety of felt pens (for more intricate, inaccessible places), with me everywhere, so the whole town was festooned with Everton graffiti.
Every time I left the house, I left a trail of spray paint destruction in my wake. I was an absolute Everton fanatic and lived, eat, slept, dreamed and day-dreamed about my team 24/7. I was completely obsessed and to some extent, still am.
I remember once being at the bus stop with my mother, with more EFC murals than Banksy could have managed up and down the main road (Old Trafford was only three miles away) and she remarked how much like my writing that 'other' Everton fan's was. I changed the style of one or two letters immediately afterwards to avoid detection!
However, it couldn't last.
I committed the transgression of unwittingly spraying 'EFC Rule' next to a Man United slogan written by Herbie Heywood, the town's big 'skin' and feared Stretford-ender. Next day it was the talk of the school - I was on his list and he was looking for me.
Thankfully, he never found me, although I did return home from a game one Saturday, to find a deathly silence around the house and underwent a barrage of questions about who on earth could possibly have sprayed 'Everton are shit' across our gates that afternoon.
I pleaded ignorance and think I got away with it.
Truth was, we really were shit then, but no-one could have loved their team more.
John Connolly was a brief glint of hope, but it took another decade before those hopes were realised. It was worth the wait though.
Peter Bell
775
Posted 03/05/2013 at 08:54:37
Can remember the week after the Altrincham game the Gwladys Street end belting out the usual rendition of " Bobby Latchford walks on water" only for some wag behind me to sing " Johnny Connolly walks on crutches"
Alan McGuffog
094
Posted 04/05/2013 at 09:58:07
We were bad-assed mutha's back in the day. Who could forget Leeds, Man Utd, West Ham et al wetting themselves when we started to sing "Everton Everton Everton FC" to the tune of Donovan's "Jennifer Juniper"?
I cringe still.
Derek Turnbull
161
Posted 04/05/2013 at 15:09:27
Alan McGuffog, do you remember one to Dead End Street or Little Arrows (for Whittle?)?
Alan McGuffog
201
Posted 04/05/2013 at 18:25:22
Hi Derek....the only Kinks one I recall was The Everton Attack ( Autumn Almanac ). Don't recall the Whittle one.....although the Kopites used to sing a version of My Ding a Ling about him.
Eric Myles
263
Posted 05/05/2013 at 07:00:51
Is Johnny Husband any relation to Jimmy Husband who used to play for us?
Derek Turnbull
307
Posted 05/05/2013 at 10:57:45
Alan, didn't we have one to My Ding-a-ling as well?
Add Your Comments
In order to post a comment, you need to be logged in as a registered user of the site.
Or Sign up as a ToffeeWeb Member — it's free, takes just a few minutes and will allow you to post your comments on articles and Talking Points submissions across the site.
© ToffeeWeb