We Get the Leader We Deserve
By
Joe Beardwood
:: 08/05/2013

Comments
(57)
jump to end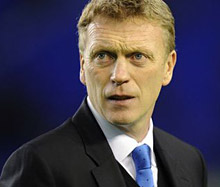 The French political philosopher Alexis de Tocqueville (1805-1859) said "In democracy we get the government we deserve".
Everton was as powerful a football club as any in the land when the Premier League was formed in 1992/93 season. Notts Forest, Middlesborough, Crystal Palace, Oldham, Southampton, Leeds, Ipswich, Coventry, Sheffield Utd, Wimbledon, Sheffield Wednesday, Blackburn and QPR (13) were all in the Premiership and the current top 8 plus Aston Villa made up the balance. The Premier League was a big change which gave a new business opportunity to those progressive and clever enough to grasp it; it was also a huge threat to those clubs who were change averse, traditional and not as business minded.
It's also worth noting the average Premier League attendance was 21,126 and the HIGHEST was 44,619 for Liverpool v Everton on 20th March 1993. Everton's average gate 19,504, Man Utd 33,898, Arsenal 24,403 and Chelsea was 18,754 - Liverpool highest at 34,741.
The other seismic change was in 1995 with the Bosman ruling which meant that players could move to a new club at the end of their contract without their old club receiving a fee.
UK supermarkets went through similar big changes in the 1980s and perhaps there are parallels in the way Tesco and Manchester United went about things. For Somerville, Gateway and Safeway read Wimbledon, Sheffield Wednesday and Coventry. If Arsenal have adopted a Sainsbury type strategy, then it's fair to say Everton has been the Co-op. Still around and managing to compete - but a victim of not changing and adapting early enough and not putting sound progressive business practices into place as quickly as the competition.
Since football was invented it's been the case that the best players had more chance of winning than a team of weaker players, and since the Bosman ruling it's been logical that those clubs able to pay the highest wages would be able to attract and afford the best players. It's also a reality that even the most loyal, home-grown youngster will be poached by a bigger club as soon as he really starts to perform and that the smaller club is powerless to resist. It's always been so – as Dixie Dean described in his memoirs about leaving Tranmere.
Statistics show that in the first ten years of competing in this new commercial world of the Premiership, Everton finished (13, 17, 15, 6, 15, 17, 14, 13, 16, 15) an average 14th. We were nearly relegated twice but we did win the FA Cup. Throughout this period United, Liverpool and Arsenal enjoyed a significant salary advantage over the rest and were well placed to benefit financially from the Champions League.
The last 10 years of the Premier League
Since 2003 we have seen the emergence of what I call the Rich 4 clubs: Arsenal, Chelsea, Liverpool and Manchester United. Apart from Blackburn (1994–95) and Manchester City in 2011–12, only three clubs have won the Premier League title – Manchester United (12 titles), Arsenal and Chelsea (3 each). United haven't been outside the top 3 since the formation of the Premier League.
Since the summer of 02, the top 4 finishers in the PL have qualified for the Champions League. In the summer of 03, Chelsea was bought by billionaire Abramovich, and so started the concept of a Rich 4:
The Rich 4 won all but one of the top four places between 2003–04 and 2008–09. The only exception was Liverpool's 5th place behind Everton in 2004–05, though they still got into the Champions League for 2005–06 by winning it in 2004–05 (while Everton, unlike any of the Big 4 in this period, failed to make the lucrative group stage of the Champions League, after being knocked out in the final qualifying round).
The Rich 4 went on to fill all 24 spots available to them in the lucrative group stage of the ensuing 2004–05 to 2009–10 (when prize money quadrupled) Champions League seasons (which no English team outside the Big 4 reached in those seasons)
The Rich 4 went on to fill 22 of the 24 Champions League Last 16 (Knockout Stage) spots available to them in those seasons (the exceptions being Manchester United in 2005–06 and Liverpool in 2009–10).

The effect on wages
By season 2010-11 the gap between the top 5 wage bills and the rest has become huge. Everton's budget has been less than half that of Chelsea, City, United, Arsenal and Liverpool and £30m less than Spurs.
Predicted table based on wages

2010-11 
Team
Turnover (£>m)
Wage bill (>£m)
Wages %
ACTUAL Pos.
1
Chelsea
222
190
85.60%
2
150-210m
2
Manchester City
153
174
113.70%
3
3
Manchester United
331
153
46.20%
1
4
Liverpool
184
135
73.40%
6
80-150m
5
Arsenal
256
124
48.40%
4
6
Tottenham Hotspur
163
91
55.80%
5
7
Aston Villa
92
83
90.20%
9
8
Sunderland
79
61
77.20%
10
9
Everton
82
58
70.70%
7
10
Fulham
77
58
75.30%
8
11
Bolton Wanderers
68
56
82.40%
14
45-70m
12
West Ham United
81
56
69.10%
20
13
Newcastle United
89
54
60.70%
12
14
Blackburn Rovers
58
50
86.20%
15
15
Stoke City
67
47
70.10%
13
16
Wigan Athletic
51
40
78.40%
16
17
Birmingham City
56
38
67.90%
18
< £40m
18
Wolverhampton Wanderers
64
38
59.40%
17
19
West Bromwich Albion
59
37
62.70%
11
20
Blackpool
52
25
48.10%
19
It's no surprise that every year for the last 10 years, at least 5 of the biggest 6 wages bills have occupied the top 6 places in the league and that the winners have always been in the top 3 wage bills.
For the last 10 years Everton have been in the £45-70m bracket with Villa, Sunderland, Fulham, West Ham, Newcastle, Blackburn and Stoke and this group of clubs are a LONG WAY behind the top 6.
The analysis would suggest that that by looking at last year's published accounts it's possible to predict 5 of the top 6 places and the winners always come from the top 3:
Predicted table based on wages
| 2011-12  |   | Team | Turnover (£m) | Wage bill (£m) | Wages % | Actual Pos. | under/over |
| --- | --- | --- | --- | --- | --- | --- | --- |
| | 1 | Manchester City | 231 | 202 | 87.40% | 1 | 0 |
| 150-210m | 2 | Chelsea | 261 | 173 | 66.30% | 6 | -4 |
|   | 3 | Manchester United | 320 | 162 | 50.60% | 2 | 1 |
|   | 4 | Arsenal | 245 | 143 | 58.40% | 3 | 1 |
| 80-150m | 5 | Liverpool | 169 | 119 | 70.40% | 8 | -3 |
| | 6 | Tottenham Hotspur | 144 | 90 | 62.50% | 4 | 2 |
|   | 7 | Aston Villa | 80 | 70 | 87.50% | 16 | -9 |
| | 8 | Sunderland | 78 | 64 | 82.10% | 13 | -5 |
| | 9 | Newcastle United | 93 | 64 | 68.80% | 5 | 4 |
| | 10 | Everton | 81 | 63 | 77.80% | 7 | 3 |
| | 11 | Fulham | 79 | 62 | 78.50% | 9 | 2 |
| 45-70m | 12 | QPR | 64 | 58 | 90.60% | 17 | -5 |
| | 13 | Bolton Wanderers | 65 | 55 | 84.60% | 18 | -5 |
| | 14 | Swansea | 65 | 54 | 83.10% | 11 | 3 |
| | 15 | Stoke City | 71 | 53 | 74.60% | 14 | 1 |
| | 16 | Blackburn Rovers | 54 | 50 | 92.60% | 19 | -3 |
| | 17 | West Bromwich Albion | 67 | 50 | 74.60% | 10 | 7 |
|   | 18 | Wigan Athletic | 53 | 38 | 71.70% | 15 | 3 |
| < £40m | 19 | Wolves | 60 | 38 | 63.30% | 20 | -1 |
|   | 20 | Norwich | 75 | 37 | 49.30% | 12 | 8 |
For this season, Chelsea, Liverpool, Villa and Sunderland significantly under-performed and once again Everton over-performed.
Assessing Everton's performance over the last 10 years
Quite simply, Everton have won their league for 8 of the last 10 years acknowledging the huge gap in resources between the top 4 (now 5 gate-crashed by City and the Sheikh) and the rest. Spurs enjoy a 50% advantage in resources and complete the top 6.
What the pure wages analysis also misses out is the analysis of player trading, as illustrated in this analysis of January spend in the last 10 years:
Net Spend on players in the January Transfer Window:
| Seasons | Club | January spend (£m) | Avg Jan spend per PL season | Ave Pos |
| --- | --- | --- | --- | --- |
| 10 | Chelsea | 123 | 12.3 | 2.4 |
| 1 | QPR | 11 | 11 | 17 |
| 10 | Man City | 109 | 10.9 | 9 |
| 10 | Tottenham | 91 | 9.1 | 7.5 |
| 10 | Liverpool | 81 | 8.1 | 4.7 |
| 7 | West Ham | 40 | 5.71 | 14 |
| 7 | Wigan | 36 | 5.14 | 14.1 |
| 10 | Aston Villa | 47 | 4.7 | 10.2 |
| 9 | Newcastle | 42 | 4.67 | 9.8 |
| 10 | Man United | 36 | 3.6 | 1.7 |
| 10 | Arsenal | 36 | 3.6 | 3 |
| 4 | Stoke | 11 | 2.75 | 12.5 |
| 2 | Norwich | 5 | 2.5 | 15.5 |
| 2 | Reading | 5 | 2.5 | 13 |
| 3 | Southampton | 7 | 2.33 | 13.3 |
| 7 | Sunderland | 16 | 2.29 | 15.2 |
| 10 | Fulham | 20 | 2 | 11.7 |
| 10 | Everton | 14 | 1.4 | 7.7 |
| 1 | Swansea | 1 | 1 | 11 |
| 6 | West Brom | 4 | 0.67 | 16 |
Everton have spent less on players than their entire mid-tier competitors throughout this period.
Over the last 10 years, never in the history of top flight football has Everton been so disadvantaged in terms of resources against its competitors (top 6).
Never in the club's history has our transfer budget been so low against our competitors (all 19 in the league!)
Never has the gap been growing as fast as it has in the last ten years.
Never in my lifetime has an Everton manager achieved so much with so little and received such lack of appreciation by so many of the supporters.
Everton FC 1992-93 – a Co-op business model
Perhaps Bill Kenwright has been influenced and listened to the part of the fan base that share his 'passionate' beliefs and values. He believes Everton should be finishing in the top 4 regularly and beating the top 4 away from home when we play them. He believes in giving the manager every available penny to spend and keeping people happy if he can. If we 'believe' badly enough then we are passionate. If we are passionate enough we can win the league. If we don't change the business model, if we sell and lease back and spend every available penny on the right players then we can still recapture the glory of 1995?
There are undoubtedly still many fans who don't accept the argument that wage bill and resources dictates results and truly believe that Everton underperform on the pitch.
When all said and done, Everton is a traditional club – the people's club – my club… and perhaps the majority shareholder (our Chairman) personifies the fan base. Passionate, optimistic, emotional and because of love – irrational.
Summary
Today the news on SAF's retirement has hit and because I respect the professional way in which Manchester United is run, then I am sure that there is a succession plan in place and that logic and careful planning will prevail.
It's a real contradiction (because Moyes has saved Kenwright's bacon for the last 10 years) but I hope it is Moyes because I appreciate everything he's done for Everton during these ten years and for me he is the second best manager in the league. The snipe that he hasn't won 'anything' isn't true; he's won matches and done better than anyone has any right to expect given the way the club has stagnated for the last twenty years.
Football is about winning matches and supporting your team. Thank goodness that the fans of another 92 clubs think this way because only 3 teams can win the league in its current format.
Anyway, like Bill, I now have to hope, pray and cross fingers that we stumble upon another fabulous manager and that we don't end up with an average one – because average will see us back to our par performance of the nineties and the on-pitch performance that our off-pitch performance deserves.
Reader Comments
Note: the following content is not moderated or vetted by the site owners at the time of submission. Comments are the responsibility of the poster. Disclaimer
Thomas James
019
Posted 08/05/2013 at 19:19:01
Brilliant article Joe, I'm going to take a second read to digest it all.
One thing that I have remember of the pre-Moyes era is that in the Premier League we never ever won more than 2 in a row
Sam Hoare
038
Posted 08/05/2013 at 19:25:29
Extremely thorough and backed up article outlining what commendable work has been done by Moyes. Look forward to the MOBs articulate dissection.
Tony I'Anson
045
Posted 08/05/2013 at 19:31:37
A very interesting read Joe. Was it reported recently that Tesco profits were down and Sainsbury's were up? I think the latter was credited to their CEO who came from M&S with a real passion for the Sainsbury's product offering, making its in-house brand affordable to the less well off, whilst premium brands appealing to the more affluent in our society. The overall effect being the Sainsbury's outlets appealing to more people to buy from them.
Can I assume what you are saying is that it's not just a great replacement manager that Everton will be needing soon, but a business superstar passionate about the sport industry with a panchant for football; the Everton brand; and a vision to take one of the greatest sporting institutions forward in the modern era?
Brian Keating
074
Posted 08/05/2013 at 19:48:18
Brilliant article. I rarely post here, but I felt praise was warranted here, you've succinctly summarised everything that any sensible fan should already know.
The MOB are getting their wish. I won't take any pleasure in seeing them proved wrong. Moyes leaving is a disaster for Everton, a disaster.
Dave Randles
103
Posted 08/05/2013 at 20:01:07
Brilliant article, Joe!
Brian - 074 - Moyes leaving is not and won't be a disaster, but Moyes leaving and Kenwright failing to support whoever the new Manager is may well be. Fact is, Moyes has papered over Kenwright's cracks for the past 11 years.
The chickens are coming home to roost and Blue Bill should be shitting blue bricks - he'll be very lucky to find another manager to keep us in the Premier League with the same level of support he gave Moyes!
Tom Hughes
115
Posted 08/05/2013 at 19:57:37
Joe..... an excellent article. We'll need a miracle worker to repeat that on our resources. The club has gone backwards while Moyes has papered over the cracks. The upcoming EGM could be even more momentous now. ..... perhaps it's 5 yrs too late though.
Brendan McLaughlin
141
Posted 08/05/2013 at 20:19:53
Excellent article Joe. Statistical proof of what many of us knew already in our hearts. When you look at Manure's wages relative to Citeeh's then Moyes was even more of a "shoe in" for the United job than most of us believed. Given today's speculation I get the feeling that we'll be looking back at articles such as this in the not so distant future and thinking "if only....."

David Booth
176
Posted 08/05/2013 at 20:17:24
Oh how the chickens will come home to roost now.
In the first ten years of the Premiership (how I hate that word), we finished 13, 17, 15, 6, 15, 17, 14, 13, 16, 15.
Under 11 years with David Moyes we have finished 7, 17, 4, 11, 6, 5, 5, 8, 7, 7 and very likely 6 this year.
Spot the difference?
I know he can appear to be cautious - but who wouldn't to ensure consistency.
And I know he definitely has his favourites - but which manager doesn't?
But if anyone thinks ANY manager could have done better under our circumstances - and especially when considering Joe's excellent analysis above - they need to wake up and take stock of what the game has become today.
David Moyes has, without question, made us consistently THE best of the rest outside the moneyed clubs.
In doing so, he has had to sell Rooney and not had the luxury of being allowed, or able, to attract some of the 'big names' his immediate predecessors had.
If any of you see fit to deny that only United, City and Chelsea are capable of winning the league now, then you will get what you deserve if Moyes leaves.
And unfortunately, people like me will only be able to say: "I told you so."
Yes, we are still a 'big' club. Yes we have great expectations. Yes we have a history and heritage that an increasing number of rival supporters are not aware of. And thankfully we are still hanging on to the coat tails of the elite - thanks to David Moyes.
Sadly though, we have been been in a slow decline for years and today's developments have made me acutely aware that it is a lack of leadership, innovation and financial muscle from above that has seen Everton become a club in serious danger of being marginalised for decades more, with a ground that is already a laughing stock.
The only reason those cracks continue to be papered over is David Moyes and it is laughable that many castigate him on here for his 'lack of achievement'. What kind of football world do those detractors live in?
The worst day of my life as an Evertonian was when I picked up a paper in W H Smith in Sale to read that Harry Catterick had sold Alan Ball.
I was a teenager then and was quite literally heartbroken for months.
I'm 58 now and if David Moyes leaves, his departure will be a very close second.
Steve Guy
224
Posted 08/05/2013 at 20:36:43
A great article that gives plenty of credence to the view that DM has done a great job.
I would however like to pick up on a comment from responses above, that the MOB have got their wish. Clearly nonsense and I hope no one else goes down that road. The only person who has got their wish is DM. The rest of us are left with a Club at a crossroads. One road leads (as this article suggests) to mediocrity at best if no money is forthcoming. However another road leads us on to continued top ten finishes and the possibilty of actually winning a cup.
In either case we will get not the manager we deserve. Instead we will get the manager that Bill Kenwright gives us. From the above stats, the implication seems to be that there is no other manager out there who can keep us competing. Clearly not so surely ? It's a question of getting the right one and backing them. That's Kenwright's job. He's the Leader and always has been; not Moyes. Trouble is he doesn't seem to do a lot of leading and that is more likely to take us down the wrong road than any manager who comes in. I will watch how this plays out with apprehension mainly based on my distrust in BK's ability to get this right. Hope I'm wrong.
Phil Canning
227
Posted 08/05/2013 at 21:03:42
As a member of David's "generation" (54), I sympathise. The first time I cried at news from Goodison was Alan Ball's move to Arsenal. Years of frustration as an Evertonian made it the last time to-date but if Moyes goes it may happen again.
"Best of mid-tier" is an inadequate epitaph. Based on points-per-pound, Moyes has been the best manager in the Premier League. My only hope is, what is the personal risk for him in taking on the challenge at Old Trafford? The best he could realistically achieve is to match SAF's record. Anything less would be seen as failure by every pundit.
There is one thing that would be a greater disaster than losing Moyes would be our getting Rooney back as well. No thanks! Let him trundle off to Europe. Ironically, that would be a better bet for Moyes if he has to leave Goodison.
SOM – Save Our Moyes!
Brendan McLaughlin
228
Posted 08/05/2013 at 21:19:57
So Steve #224
You're saying the MOB didn't wish Moyes gone?
Derek Wadeson
253
Posted 08/05/2013 at 21:31:44
An excellent article that I started reading to get away from Ross Edward's insane waffle on another thread.
At 60 years of age I have seen great Everton teams and truly woeful one's. Thanks to David Moyes and his steady leadership the last eleven years has seen mainly above average one's.
Thanks David and good luck in beating all the teams I dislike in your new job.
Please Bill choose very carefully and if Mr Rathbone, Edwards or Marsh give you advise please ignore it.
Steve Guy
257
Posted 08/05/2013 at 21:33:49
Brendan, What I'm saying is that MOB wanting Moyes gone hasn't sent him on his way for the last few years. He's gone because he wants to, not because of internet warriors on this site and elsewhere. He's got his wish and by implication the MOBs have too. I just don't think we should be clouding over the fact that Moyes had a choice and he made it. He has clearly done a great job given the lack of financial support he has had from Kenwright and our continued tolerance of BK at the helm has given us the real leader we deserve. I still shudder when I remember his Cheshire Cat mug on the big screens and thousands applauding North Korean style.
Derek Wadeson
277
Posted 08/05/2013 at 21:46:17
Steve, I applauded because I am truly thankful that we have someone like Bill Kenwright at the helm, someone who cares about the club and not the quick buck.
Could he do better in terms of decision making, probably. But then again we don't have to make the gut wrenching decisions he has to.
I am glad he is working 24/7 to keep us out of the wrong hands.
Clive Lewis
296
Posted 08/05/2013 at 21:54:19
OK so what are you guys going to do now, he didnt leave becuase of the Moyes Out lot he left becuase of a lack of investment to take us further. So the way I see it is as follows.......
New manager does crap
Fans finally call for BK to leave.
We get an arab with loads of dosh.
We get a manager such as Guadioli or That German fella
We win the premier league and beat United under Moyes whom finish a lowly 5th
So sometimes you have to go back to go forward.
Do you guys really think Moyes can continue this for ever with no investment.
Steve Guy
308
Posted 08/05/2013 at 22:02:30
Derek (277). I take it that mail was posted without any hint of irony ? You actually meant it ? You actually believe that 24/7 bilge ? Tell me you were joking.
Colin Wainwright
318
Posted 08/05/2013 at 22:04:24
Seriously Derek? Bill might not be in it for a quick buck but he's definitely in it for a buck. As far as decision making is concerned, he has failed badly (KD, DK, FFS), I wish he'd take a few days off, tbh.
Derek Wadeson
333
Posted 08/05/2013 at 22:07:39
Steve (308) Irony is part of being an Evertonian.
I don't believe Kenwright spends his entire day touting Everton around the world to sell to the highest bidder.
But I don't actually believe he spends 24/7 trying to shaft us either.
I bet he rues the day he signed on the dotted line, just like Steve Morgan at The Wolves (and to think many of us panicked when we thought Morgan was going to buy Liverpool for 60 million a few years ago)
Trevor Lynes
336
Posted 08/05/2013 at 22:04:14
Great article and fantastic to see so many true fans agree with it. I've been saying all along that DM is the mother Hubbard of the Premier League. Shopping at Pound shops while the so-called cream clubs shop at Harrods. I've been proud of the side who £ for £ are by far the best in the league.
DM has been lied to consistently and used as a buffer for the Board too long for any man of honesty to continue to stomach. The debacle over Fer and Ofoe must have been the straws that broke the man's heart. The January window was an absolute DISGRACE, — not only did we do no business we actually loaned OUT four players weakening our first team squad.
DM and his tiny squad deserve all the plaudits and I just hope we don't lose our best players in the aftermath because this miserly, miserable board would only give any new manager a fraction of any money that comes the club's way from transfers.
The FANS are the ONLY investors in our once mighty club... the board just sit on their shares and invest nothing. The likes of Dave Whelan at Wigan puts our board to shame. I am so angry, I must end here as it's winding me up.
Barry Rathbone
375
Posted 08/05/2013 at 22:11:00
Let the hand wringing begin, what a gang of bottlers.
The undisputable issue is nothing at this club would change till Moyes moved to one of the numerous places he "would like to manage".
The circumstances remain the same selling to buy IS the deal - the despairing defeatism that nobody can replicate nay improve on Moyes is the mans real legacy.
I for one can't wait even if it goes tits up we couldn't go on excusing everything from the pies to the cup debacles year in year out.
lift your heads up be Evertonians for once in your life god forbid the new fella might improve things through personality and ability rather than pound notes - we might even win something like Swansea !! what a disaster.
David Hallwood
386
Posted 08/05/2013 at 22:27:53
Really good but a sobering article. Well done Joe. I didn't realise that attendances had risen so sharply in the last 20 years.
One thing is certain that the new boss (as it looks like Moyes is gone) will have to replace not only Baines & Fellani but also an ageing squad, and the 30-40 million will have to be spent well. Turbulant times ahead for the club; Joe's piece highlighted that over half of the founders of the premier leagues are in the lower leagues. Membership to this exclusive club isn't a gimme
Steve Guy
427
Posted 08/05/2013 at 22:54:53
Well said Barry
Brent Stephens
435
Posted 08/05/2013 at 22:58:00
Barry, "I for one can't wait even if it goes tits up".
Shit! You'd settle for tits up!
Alasdair Mackay
436
Posted 08/05/2013 at 22:50:46
One thing we are all missing - Moyes was appointed by Kenwright.
I have faith that Kenwright can find the right manager from a host of likely applicants.
Brent Stephens
447
Posted 08/05/2013 at 23:01:39
I'm actually intrigued by who Kenwright will take advice from on who would be a good appointment. I'm sure that on his own, despite his boys' pen experience, he hasn't got the wherewithal to decide.
Colin Wainwright
448
Posted 08/05/2013 at 23:02:52
Moyes was appointed by Kenwright, on Walters advice, Alasdair. He was cheap, too. Could easily have been Megson.
Barry Rathbone
465
Posted 08/05/2013 at 23:08:42
Brent, I can see context would be lost on you and some of the other boys... EFC re-instated above Moyes FC - must be a nightmare - had to happen one day.
Brent Stephens
473
Posted 08/05/2013 at 23:18:56
Barry #464 - means fuck all to me. Explain properly. "I for one can't wait even if it goes tits up" - you said. And that's what I pointed to. See you tomorrow lad.
Brendan McLaughlin
513
Posted 08/05/2013 at 23:40:01
Brent #473
"I for one can't wait EVEN if it goes tits up" As long as Moyes goes I don't give a fuck what happens next?
Brian Keating
524
Posted 08/05/2013 at 23:45:50
Barry Rathbone, you're advocating for change for changes sake. What utter nonsense.
"I don't care how it goes after Moyes leaves, good or bad I want him gone"????
Thank god people like you don't get to run the club.
Barry Rathbone
527
Posted 08/05/2013 at 23:47:52
Brendan, well done you're half way there.
Be careful because omiting a full stop after the quote Brent might read it as YOU don't give a fuck as long as Moyes goes!
Heaven forefend people mess about with posts to suit themselves ... eh Brendan.
Barry Rathbone
529
Posted 08/05/2013 at 23:53:28
Brian Keating you're talking bollocks
Brian Keating
533
Posted 08/05/2013 at 23:54:32
Talking bollocks? How exactly?
How about you defend your nonsense instead of throwing out insults.
Barry Rathbone
537
Posted 08/05/2013 at 23:55:57
Do you disagree things were likely to change if Moyes stayed?
Brian Keating
538
Posted 08/05/2013 at 23:55:41
"I for one can't wait even if it goes tits up we couldn't go on excusing everything from the pies to the cup debacles year in year out.
lift your heads up be Evertonians for once in your life god forbid the new fella might improve things through personality and ability rather than pound notes - we might even win something like Swansea !! what a disaster."
Translation: I want a change, even it's not necessarily for the better i.e. it goes "tits up".
Brian Keating
540
Posted 08/05/2013 at 23:57:18
Things may have changed if Moyes stayed. Who knows either way.
It's your instance that change is always a good thing that baffles me.
If Moyes leave and we get McKay, Hughes, Martinez, O'Neill or so on. We're fucked. We are back to fighting relegation. If we get Laudrup, we may stay up where we are.
Change at the board level has nothing, zero, zip to do with Moyes staying or going.
Brendan McLaughlin
543
Posted 08/05/2013 at 23:55:42
Barry #527
Where exactly did I misquote you?
Barry Rathbone
545
Posted 09/05/2013 at 00:02:39
Brian Keating, did I really say change is always a good thing or have you just made that up?
Brendan what are you waffling about?
Steve Moore
553
Posted 09/05/2013 at 00:02:08
Great article Joe, highlights how lucky we have been for the last 11 years. It's a scary time now for all Everton fans. I believe we are doomed personally, but hopefully I'm wrong. I hope Moyes gets a fantastic send off on Sunday, he deserves it. You never know Bill could get lucky twice, don't like the odds though .
Patrick Murphy
569
Posted 09/05/2013 at 00:34:14
Well between the ages of 13 and 25 I too had to endure the constant piss-taking of the dark side, constantly being told that Everton was a nothing club and watch as they paraded trophy after trophy around the City, all adorned in their colours with badges and scarves from exotic places in Europe.
I Was there when we lost Semi-Final after Semi-Final , how we nearly won the league with Bingham in 1975 with the most boring football you could witness and then crashed down to earth with a bang as we lost to Carlisle, M'boro and Luton, then lost to second- division Fulham in the FA Cup at Goodison. Gordon Lee arrived and he too was a dour defensive minded manager but he had some exciting players and he was the nearly man, again I watched our glorious failures as the Dark Side kept on parading a variety of trophies around the city with thousands of adoring fans lining the streets to worship them. But then a man who knew what Everton were and what Evertonians wanted arrived and it took him a while but he managed to restore the pride into the blue half of Merseyside and we had a few seasons in the sun. My long wait was worth it and I enjoyed it all the more because it hadn't just happened it had been earned. Now I don't expect us to replicate what we did in those days, I only hope that we win more than we lose and play in an attractive manner.
I wonder if you would feel the same about the Moyes' era if it had been the dark side wining the trophies during his tenure rather than the team from OT.
The 90s and early 2000s were a stain on the name of Everton FC and we may never recover from the events that took place in those years, but we have to live in hope otherwise what is the point of it all?
John Brennan
582
Posted 09/05/2013 at 00:30:40
I've said on another thread I would like to get the guy who currently manages Benfica, but thanks Joe, that really was a very interesting and illuminating read.
David Booth (176), I coud'nt agree with you more. I am older than you, you young pup, I'm 60 and I think it really is a worrying time for us.
OK, Moyes has'nt won anything for us, but look at our end of season finishes. Do we want to emulate Pulis, Lambert (who might , I admit, do ok next season), de Canio or O'Neill?
We need investment, we need innovation, we need imagination, we need errr, well, I need Mel B. Phwoaarrr!!!
Brian Keating
584
Posted 09/05/2013 at 01:41:17
Yes Barry, that's what you said.
You're happy even if goes tits up. What else could that mean? Well?
Roman Sidey
589
Posted 09/05/2013 at 01:02:29
I can't believe that the main talking point on a good article and at this point in time is finger pointing at the MOB saying, "You've got your wish now!" in that tone.
For me, and I'm going to assume a lot of fellow MOBsters, the order in which this has happened has been very unexpected, and, to be honest, the convenience of it all stinks of inside work, when Everton could have at least gotten some compensation had he signed a contract or just admitted he was leaving WHEN HE SAID HE WOULD.
It's no secret Moyes never likes players running down their contract, so why is it okay for him?
John Ford
644
Posted 09/05/2013 at 06:00:16
Jesus if ever a post put the 'does Moyes add value' question to bed. Excellent work.
Makes me worry even more about what's to come. Good luck to our next manager, especially working with our board. COYB
Marcus Choo
731
Posted 09/05/2013 at 08:30:52
Some posters are suggesting Moyes should have revealed his intentions to leave earlier or even left earlier to provide compensation to EFC. I'm not convinced that any potential benefit would have outweighed the potential risks. We talk about Moyes decision not to commit to a new contract as destabilizing for the squad; well if he outright said he would leave wouldn't that be as equally destabilizing?? Players wondering what their futures would be etc. And really what over-riding benefit is there in a manager leaving mid-season for a club in our position? I can't think of any unless it's a case of battling relegation. Why not just let Moyes finish the job over the season and have time to properly assess managerial choices over the off-season??
Ciaran Duff
826
Posted 09/05/2013 at 10:07:05
Great article Joe and a good thread until the usual suspects jump on a derail everything.
Brent Stephens
834
Posted 09/05/2013 at 10:19:57
Barry #375 etc "I for one can't wait even if it goes tits up we couldn't go on excusing everything from the pies to the cup debacles year in year out".
Perhaps we misunderstood what you meant. It seems you've missed a full-stop or similar pause out of that sentence?? Where do you want it?
Steve Carse
860
Posted 09/05/2013 at 10:42:41
A few comments on the financials of next season. One, we'll have £20m from TV every season now. Two seasons and our debt would be paid off by this alone. But we'll also pull in £40m from the possible (likely?) sales of Baines and Fellaini (by the way, we only dread Baines's departure because he was the only plan Moyes had of winning a game). Good use of that money would rebuild the side -- and if it produced a more watchable brand of football then that would be a start for me.
Tony J Williams
864
Posted 09/05/2013 at 11:01:07
Yeah, good luck with that Steve. I foresee the miscellaneous "operating costs" going up next year.....but don't ask bill, he's just the chairman.
Graham Mockford
868
Posted 09/05/2013 at 11:03:01
Steve #860
There's a lot to be said for keeping things simple but really pay our debts in two years.
There are many reasons this wont happen, the main one being unless we generate cash from transfer fees our current operating model has us running at a loss. So the extra revenue may help but don't be lulled into the notion that the enhanced TV deal leaves us in any financial position other than up shit creek.
Carl Sanderson
625
Posted 09/05/2013 at 19:35:08
Superb article, Joe. Those with eyes to see...
Just asking - would you be the bloke who did the presentation on EFC's finances at the Blue House about, oh, ten years ago? (I took the minutes that night and I dimly remember Tom Cannon being there.)
Joe Beardwood
896
Posted 09/05/2013 at 23:28:25
Hi Carl (625)
Can't believe it was 10 years ago:-)
Yes I remember it well - though the only clear memory of Tom Cannon was him proposing the motion at the EGM on the other memorable night.
Since posting it's all now confirmed and DM has gone but our leader remains - be interesting to see who he appoints. One thing is for sure, the appointment won't be made as a formal recommendation to a board (united have Joel Glazer (Co-chairman), Avram Glazer (Co-chairman), Bryan Glazer, Kevin Glazer, Edward Glazer, Darcie Glazer, David Gill (Chief Executive), Edward Woodward (Executive Vice Chairman), Richard Arnold (Commercial Director). Robert Leitão, John Hooks and Manu Sawhney are all non-executives Directors.) - and 12 business minded individuals won't be having an input!
Good luck Bill - let's hope his gut feel works again.

Paul Johnson
995
Posted 10/05/2013 at 01:50:13
One thing that sticks out for me in this article.
"Never in my lifetime has an Everton manager achieved so much with so little and received such lack of appreciation by so many of the supporters."
You see he hasn't actually achieved anything. All he's done is mask the failure of the board to invest in the infrastructure of the club so that the gap between us and the 'bigger' clubs can shrink.
He's done it with a style of play that at times was dour. Sometimes it was atrocious.
Some games were an absolute disgrace.
We're in an entertainment business. And while what he done was very effective it was hardly pleasant on the eye.
He failed to get his team to perform for 90 minutes. It was generally one half good one bad. The same with the season as a whole.
His attitude towards the other lot left a lot to be desired. He really needed a touch of Joe Royle about him where the derby was concerned. Even when they were in the worst form of their lives, his team still managed to look terrified of them.

I could keep going but I won't. The top and bottom of it is the only thing he achieved was to keep the heat off the real problem at our club.
The league he 'won' doesn't exist.
Henry Jones
033
Posted 10/05/2013 at 06:27:14
Sorry to drone on again but someone with more time and will power needs to confront the Board in regards the amount of money they've lost the club. The Moyes situation is just another example.
Us fans have said for 2 years Moyes should be forced to sign in order that we don't lose another asset. Low and behold, we lose another asset.
These losses are an indication that the Board are failing in their duties to the company I.e. Everton FC and should be fired.
The Board's losses consist of the following:
1. The loss of Moyes (circa £3 million);
2. Dan Gosling to Newcastle (circa £2 million);
3. The Kirkby project (£2 million?);
4. The Kings Dock fiasco (£1 million plus);
5. The failed Park End redevelopment (legal expenses etc likely to be near 1 million).
The list goes on. That's nearly £10 million. A lot to lose. If it were a national company there would be an outcry but because its 'only' Everton the media don't investigate and shareholders put up.
I was unsure where Moyes was taking us after watching the Wigan game and many draws and failures to win at Liverpool, Mand Utd, Chelsea and Arsenal. However, I'm worried at what the Board will now do as they continually fail on so many counts.
It's about time we as fans stopped fighting amongst ourselves and stood up as one group to rid OUR club of the rubbish that we call a board of directors.
Any volunteers?
Carl Sanderson
295
Posted 10/05/2013 at 12:42:35
Paul:
I disagree with much in your post, but this quote sticks out:
"He failed to get his team to perform for 90 minutes. It was generally one half good one bad. "
Everton have never been a 90-minute team; it pre-dates Moyes by decades. My late father and I used to have the same conversation: good first half or good second half, rarely both.
Robert Collins
878
Posted 13/05/2013 at 17:29:16
Joe Beardwood,
Good article and well researched, it's hard to find fault with your statistical representation of the Moyes era. Indeed, when I heard he's off to try to sit on SAF's very large thrown, I posted 'Thanks for the first 6 years, but not much after that'.
He will produce very consistant sides at Manu and the state Chelski/ManC and Arse are in he should win a prem or two, but I believe he will be found wanting when he has to face Bayern, Real etc. He's simply not a killer/winner, he will return to type under pressure.
Finally: 'nis satis, nisi optimum', I read as: let's do our best and go for the win and not let's go for the draw and hope we get the win.
Dennis Stevens
882
Posted 13/05/2013 at 17:43:27
Loss of Moyes £3 million, Henry? Didn't spurs pay Pompey £8 million for Redknapp?
Add Your Comments
In order to post a comment, you need to be logged in as a registered user of the site.
Or Sign up as a ToffeeWeb Member — it's free, takes just a few minutes and will allow you to post your comments on articles and Talking Points submissions across the site.
© ToffeeWeb