Martinez's Everton Searching for Attacking Answers
By Lyndon Lloyd

01/09/2013

Comments (40)
jump

Cardiff City 0 - 0 Everton
Roberto Martinez's wait for his first Premier League victory as Everton manager goes on following a second-successive goalless draw that deepened the sense of frustration around a team that has been utterly dominant in all four of their games this season but has managed to win just one of them.
Lopsided possession statistics have been a hallmark of the Blues' campaign so far but a worrying lack of incisiveness and threat in the final third has critically undermined them, particularly in the last two League games where they have been stifled into stalemate by West Bromwich Albion and now Cardiff City.
Granted, an elusive goal and, in all likelihood, the first three points of the season might have arrived had referee Anthony Taylor not ignored a blatant foul by Gary Medel on Leighton Baines in the Cardiff area late in the first half. It was the biggest talking point of Everton's first game against the Bluebirds since 1962 but the Blues' failure to turn in excess of two thirds of the possession into more than a handful of chances was just as pressing a concern.
Unchanged from the team that started against West Brom a week ago – all eight changes for the Stevenage tie returned to the starting XI – Everton brushed off some early ferocity and intensity from Cardiff to settle into their now-familiar patient passing approach under Martinez. Though initially unable to move the ball out of defence to the midfield due to the committed closing down by their hosts' forward players, the Blues eventually took almost complete control of proceedings.
Seemingly in their stride by the 11th minute, a lovely heel-flick by Steven Pienaar set up Ross Barkley for a surging run and Everton's first shot on goal that deflected behind. But as the first half progressed it became apparent that the tentative, slow-paced build-up that has drawn concern from Evertonians over the previous three games was again hampering the players' ability to break down another stubborn well-organised defence set up to close own the spaces and stop them playing their way through.
A nice passing move did open up a chance just before the half-hour mark, though, when Nikica Jelavic latched into a ball by the byline and crossed invitingly for Kevin Mirallas but he made disappointing contact with his header and glanced it wide.
And when Baines came inside with a smart run into the box and edged the ball past Medel, the Chilean appeared to scythe under him and make enough content to make the award of a penalty as nailed on as they come. And yet referee Taylor, who had a nightmare at the Emirates on the opening day and who seemingly did everything he could last season to make Evertonians question his appointment to the top flight refereeing roster, waved play on.
True to his no-fuss character, Baines barely complained and, in truth, there hadn't been sufficient anger four minutes previously when Barkley chased down Kim and executed an excellent sliding challenge to win the ball, only for the linesman to flag for a foul and referee Taylor to book the Everton midfielder!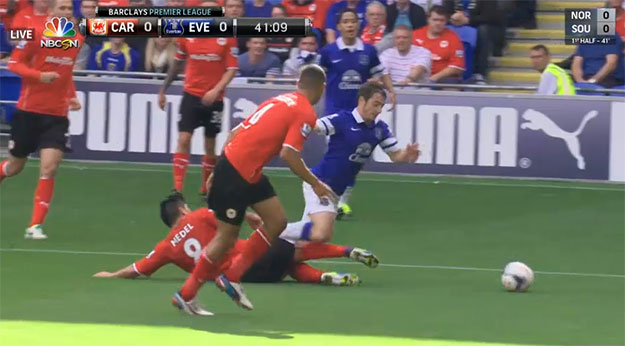 Baines is fouled by Medel but Anthony Taylor doesn't give the penalty (via @NBCSports)
The half finished, however, with what would arguably be the Blues' best chance of the afternoon, a header for Jelavic off a cross from the fairly subdued Seamus Coleman that came off a defender's arm and wrong-footed David Marshall in the Cardiff goal. The 'keeper did superbly to change direction and stop the ball with one hand and the home side escaped into the break at 0-0.
At the other end, Tim Howard had been almost completely untroubled and was called into meaningful action just once when a dangerously inswinging corner had him momentarily panicked but he parried it with two hands and Sylvain Distin hacked it away to safety.
That pattern would continue in the second half, with Everton in the ascendancy but consistently unable to carve the Welsh side open to any great degree or cause them many problems from a succession of set-pieces.
The best chance of the second half also fell to Jelavic seven minutes after the break when Barkley threaded a lovely ball into the channel to release the Croatian but he went for a first-time effort with his right foot- rather than letting it come across his body and hitting it with his left - and he stabbed his shot over the crossbar.
Barkley drove a poor direct free kick attempt into the defensive wall and Mirallas failed to test Marshall with a tame shot before Martinez made the obvious decision to introduce Arouna Kone with 22 minutes to go, withdrawing Jelavic rather than gambling with two strikers and hooking the ineffective Leon Osman from midfield.
The officials, meanwhile, were making a mockery of the players' and supporters' desire for consistency, failing to award so much as a foul for Kim's elbow to Pienaar's face or book Medel for chopping Barkley down in full flight. And then, right at the end, bottling a second yellow for Connolly for the exact same calculated block on Baines that had earned him his first booking earlier in the game.
In between, Baines had lashed a 25-yard shot wide with his right foot and Mirallas, who was a mystifyingly peripheral and ineffective presence throughout, wasted a good opening in the opposition area when he eschewed a shot with his left foot and instead tried to drag the ball inside with his right and he was closed down.
It was symbolic of Everton's general hesitancy to just put a boot through the ball once in a while when the goal opened up and it would be the Belgian's last contribution before being replaced by Gerard Deulofeu for his first Premier League appearance.
The Spanish teenager had just eight minutes (including stoppage time) to make an impression but he displayed more purpose and threat in that short period than most of his teammates had in the preceding 85. Two shots in as many minutes didn't unduly trouble the goalkeeper but they were both on target and, after he won a corner on the right in the last minute and the ball came back out to him, he fizzed a dangerous ball right across the face of the Cardiff goal but not a single blue shirt had gambled and it flew out to the far side.
So, three League games and three draws under the new manager with enough to evidence to suggest that Martinez has a lot of work ahead of him in trying to quicken the pace of play in the final third and get his players to create more chances. Given how often the Blues struggled to make their superiority tell under his predecessor last season as they racked up an inordinate number of draws, his biggest problem may be with the players he has in the squad, although the ponderous playing style he has introduced so far is certainly not helping.
With Mirallas largely toothless in the first three games, Osman lacking any offensive punch and Jelavic so reliant on chances created for him in front of goal, there hasn't been anyone apart from Barkley who has looked capable of fashioning a chance or a goal, and he hasn't yet been able to produce for a full 90 minutes yet. That will come as he gains experience and fitness but, in the interim, the feeling that Martinez needs to bring in at least two signings of real quality before the transfer deadline is inescapable.
A quick-minded and fleet-footed attacking midfielder to replace Osman and a reliable striker appear to be imperative, although there is little to suggest from the speculation thus far that he is looking at either type of player. And his task will probably be complicated by the loss of Fellaini to Manchester United if late-breaking speculation is correct. Should the Belgian be sold, James McCarthy would seem to be the most likely replacement but you would hope that there would be additional funds to bring in another couple of players as well to add more options.
On the obvious plus-side, the team looks very solid defensively, with Cardiff really only able to create a couple of chances, the best of them falling to Craig Bellamy who was put through on goal by Kim but his touch as he tried to round Tim Howard was too heavy and it took him too wide of goal to keep the opportunity alive. With Distin defying the years and Phil Jagielka every inch the dependable rock alongside him in central defence, conceding goals hasn't been an issue in the last couple of games.
And if he can find the key to unlocking his team's offensive potential on the back of its ability to control matches, Everton will be in very good shape this season. On the evidence so far, though, that is a sizeable "if".
Once the chaos of the transfer window is out of the way, Martinez has just under a fortnight to plan for the visit of Chelsea on the 14th which will, obviously, be his biggest test to date. One way or the other, that game will likely be very revealing about where Everton are heading under the Spaniard, at least in the short term. Rome, now that he has decided to partially rebuild it, wasn't finished in a day, but Evertonians will be looking for signs of progress sooner rather than later.

Follow @Everton1an
---
Reader Comments
Note: the following content is not moderated or vetted by the site owners at the time of submission. Comments are the responsibility of the poster. Disclaimer
Rick Jackson
653
Posted 01/09/2013 at 08:12:01
Barkley had a handful of the Cardiff player's shirt, so the yellow was probably fair enough...
Ray Robinson
678
Posted 01/09/2013 at 09:29:16
Agree with Liu about sometimes getting the ball over first time. Perhaps that's why all the attackers were on their heels when Deulofeu put that ball right across the penalty area late on? That's just the sort of ball that Jelavic craves but he had already been hooked.
By the way Lyndon, I thought Barkley was booked for shirt pulling rather than the perfectly sound tackle that followed it.
Phil Gardner
688
Posted 01/09/2013 at 09:37:46
Barkley was booked for dissent after the ref correctly awarding the free-kick to Cardiff for shirt pulling which was spotted by the linesman.....(learn to button it Ross lad, especially as you should know that particular ref is an utter clown!)
Christopher Timmins
705
Posted 01/09/2013 at 09:53:59
Lyndon, there is a lack of pace in the team, particularly at the top end of the pitch.
McCarthy will replace the Fellaini but in addition we need a centre forward and a wide right player with pace.
The back four are not going to let us down and it's a matter of solving the goal scoring problems at the other end of the field.
I know I will get stick for saying this but Victor should be playing up top as the lone striker until a reliable centre forward is found.
Has Jela scored a league goal since the Man City game at Goodison? When did he score prrior to the Man City game?
Steve Guy
720
Posted 01/09/2013 at 10:12:08
Keeping hold of the ball means the opposition have fewer opportunities to score, but doesn't always mean you will score from that possession. Too many of our players lack the pace and confidence in ball retention that will turn possession into attacking threat. It's saying something when we had to rely on a 19 year old loanee to really shake things up yesterday (MoM v Stevenage as well)
Continuing to play Fellaini yesterday was a mistake. I can't believe that he didn't already know he is on his way, so what's that done to his head ? Moreover how does it make the rest of the squad sat on the bench feel ?
The Dear Leader had better pull something out the bag for RM that will add said pace to the squad or I think this will be a long hard season (again) and BK's unlikely to get the type of reception he got last time his mug was put up on the screens.
Paul Gladwell
723
Posted 01/09/2013 at 10:26:30
Never in my wildest dreams did I ever think I would say this but Anichebe offers more than Jelavic, I have give up on him, I once thought we had a £25m + striker now I see a cart horse.
Darren Hind
731
Posted 01/09/2013 at 10:13:12
Jelavic has been found out and so have those who claimed it was Moyes' s tactics that were stiffling.him, he's a failed gamble, just as Beckford and Aj were and kone will almost certainly prove to be. Only top marksmen do it year in year out,, but they cost top dollar.
A good account Lyndon. Painful watching that "penalty" incident again, if thats not a penalty, what is ?
Darren Hind
741
Posted 01/09/2013 at 10:49:24
Paul @723
Never in my wildest did I think I'd say this either. . . but I agree.
Dont worry though mate, uncle Bill will bankroll Robbie to buy a top draw proven striker
Susong Hermawan
758
Posted 01/09/2013 at 11:19:04
CMIIW, Beckford is the answer IMO.
Linda Morrison
759
Posted 01/09/2013 at 11:14:04
Agree with Lyndon, lots of ifs but Martinez has been put in a very difficult position with the likelihood of the two top players going. Looks like there both off for £40 million. Don't swallow this crap about loyalty and not putting in a transfer request. They put in a transfer request and it costs them money as they don't receive the contract pay off. Remember Arteta the other year?
You wait; he'll give the young ones the chance from the next games – they can't be any worse. This season I think we will be near the middle half of the table if we are lucky.
Colin Glassar
823
Posted 01/09/2013 at 13:00:38
I can't believe that we are linked with a MF player and two defenders (McCarthy, Bertrand and Martins Indi) if we lose Felli and Bainsey. Surely we need a goalscorer as well as direct replacements for those two?
Mark Tanton
826
Posted 01/09/2013 at 13:10:17
Tottenham are in for Thomas Ince. I'd put money on his dad preferring him to come to Everton, where he'll play football.
I'll be Spurs send him straight out on loan.
Colin Glassar
828
Posted 01/09/2013 at 13:12:18
How many fucking players do spurs need? It's been a bit of a graveyard for young English players over the years.
Harold Matthews
873
Posted 01/09/2013 at 14:16:11
McCarthy is not a replacement for Fellaini. He is a Gibson clone. A run of the mill spraycan.
Christopher. Jelavic has scored one goal in his last 25 appearances.
Martinez reckons Arouna Kone will be flying at the end of the month. Apparently, for him," this is normal."
I'll be very annoyed if we don't bring in someone special to replace the big fella. We cannot afford a drop in quality.
Derek Knox
877
Posted 01/09/2013 at 14:24:32
Yes Colin, Spurs are doing what 'too much money Chelsea' have been doing for years now, buying players and stacking them up, very few getting a sniff of the first team, then they go out on loan etc.
The worrying thing is that these players often lose their edge in the process, and obviously make money, but lose the desire also.
I think this just being able to go out and buy anyone, regardless of cost is ruining the game.
David Holroyd
884
Posted 01/09/2013 at 14:40:37
Lack of pace has been Everton's problem for over ten years. Pace opens up defence, now we are keeping the ball longer we need players who can beat defenders.
I believe we should be targeting a striker, and if Fellaini goes another midfielder. Kone is still to get fit but I doubt if he is going to score lots of goals. Jelavic is going backwards, time to cash in.

Phil Walling
942
Posted 01/09/2013 at 15:52:23
I have a terrible feeling that what we've seen over the past few years is as good as it is ever going to get. I was bored with Moyes but over his time here he showed he could both manage our apology of a chairman as well as getting average footballers to perform at their peak week-in, week-out.
What we have now is a fucking mess. Key players being tempted away by their former boss, an idealist young manager for whom only one way of playing 'the beautiful game' will suffice and to make things worse for him he's signed up to work his miracles for a chairman who remains in awe of his predecessor who he thinks can push some ready cash his way.
I don't give a stuff whether Fellaini goes or stays (although Baines would be a real loss) but I have every feeling that the new manager and this wank of a chairman will be selling us the dream that all this tippy-tappy football more than makes up for us sinking down the table year by year.
Now, where's the carving knife?
Jim Bennings
966
Posted 01/09/2013 at 17:38:34
I think 'lack of cutting edge' is a phrase that you could quite easily attach to Everton FC for a number of years now. Last season we didn't score 4 goals in any single league match – despite creating sacks of chances in so many games – and in 2013 so far we have had six 0-0 draws and failed to score in NINE games in all so far this calender year alone... that is not great reading and that is not soley down to Martinez.
It is a problem that has been building up in my opinion since last October. The signs were clearly there after drawing with Wigan, QPR, Liverpool, Fulham, Norwich, Arsenal and losing at Reading. For too long, we have just been hard to beat.
What Martinez must somehow attempt is get this team, because let's be honest, it's roughly the same as last season's draw masters, learning how to win games, learning how to shoot with power when faced with great opportunities, learning how to score from corners (something we seem useless at), learning how to commit enough men and realise that, without committing men in the box, you are going to actually struggle to score goals. How you are meant to score by having your lone, one striker outside the box is beyond me.
Bill Gall
992
Posted 01/09/2013 at 18:06:38
Just finished watching Arsenal who also like to play the possession type of footbll. The differance between their type of possession football is the speed they move the ball from defence to attack.
I realise that some Everton players may not have the same skills as some of Arsenal players but R.Martinez seems to want more lateral movement than foreward movement that does not allow fast breaks and allows the opposition defence to get back.
All Everon supporters know a 15_20 goals a season type of foreward is what we need but unless R.Martinez revamps the type of system he wants even this type of foreward will struggle with no service.
Phil Walling
010
Posted 01/09/2013 at 18:53:15
No self-respecting striker would sign up for this pedestrian style build up. By the time the ball gets as far as the box,all defenders are in place to block you off.
Until we have players with the talent of the Barca Boys ,don't try to play like them.
Simples.
Tore Fredlund
083
Posted 01/09/2013 at 20:33:14
Norwegian supporter and Uefa-A license holder. My take on the first four games:
1. Results matter. You enter dangerous territory if too obsessed with style. The team does not seem hungry enough. Like it's OK just dominating. It's not.
2. Not Martinez's side, is it? He's just picking Moyes players.
3. Possession is better, most noticeably Distin and Jags. But the ball is not moved quickly enough without Gibson to create the situations where Baines/ Pienaar and Coleman/ Mirallas prosper.
4. Remember Liverpool's disastrous transfer window and start last August? To his credit, Rodgers has stood by his principles, and brought in players who fit them. RM must do the same.
5. Fellaini and Baines are performing at 70%. Norwich's first goal was down to their lack of desire and determination. Sell and reinvest.
6. Regaining possession high up is getting better, but still a problem. We need more physicality, pace at the back and in midfield.
7. Jelavic is not better than Kone.
8. I guess Gibson being out is the reason, but not changing the line-up for the three games sends the wrong signals to Moyes's Old Boys. Competition for places, which was emphasized in pre-season, is not being encouraged.
9. I'm kind of disappointed not to see us with three at the back, especially in the last two games. I also liked the look of Mirallas in a more central role, and think he has been too stationary out wide now. Barkley will come good though.
10. I am excited about the Chelsea game. The Moyes era saw Everton fight and win memorable games against top sides at Goodison Park. Yet Moyes often sat back to win those games. I guess an adventurous side against the money teams is the one thing we hope for and expect Martinez can create. But again, results matter..
Andrew Cutler
239
Posted 01/09/2013 at 22:51:34
We have scored 1 less goal than Liverpool?
Andrew Cutler
242
Posted 01/09/2013 at 22:52:02
....and equal to Spurs (and theirs were from 2 penalties!!)
Andrew Cutler
259
Posted 01/09/2013 at 22:52:43
...and whilst this does not address the issue of goal scoring, only three teams remain unbeaten (after 3 games!!)...one of them is mighty Everton.
Give RM a bit of time, lads.
Peter Laing
263
Posted 01/09/2013 at 23:03:24
Good analysis Tore, I don't have a Fifa A license but know what our current problem is : we aren't scoring, and if you aren't scoring you ain't winning ! Solution, in the next 24 hours we need to ship Jelavic out on loan to save o. His wages and find a striker from somewhere / anywhere who can score goals. On another thread Defoe has been mentioned but I don't think Levy will let that deal happen and he's a London boy.

Lev Vellene
416
Posted 02/09/2013 at 07:20:03
We can only hope RM is thinking "wax on, wax off" Karate Kid style, and then expects the team to start passing fast once the mindset is there...
Kieran Fitzgerald
417
Posted 02/09/2013 at 07:13:11
At least the fear factor about a Martinez team leaking goals is gone.
At the moment, we're depending on Barkley, who still needs to lean when to release the ball quickly enough, and a slow Osman for a large part of our creative threat. Barkley will learn with games, and considering the talent he has, and how involved he seems to be in games, he ill start to create more games as he goes on. Osman needs replacing. Whether or not we have enough time today remains to be seen. We still have some younger midfield players who may get game time to show what they can do. Kone will get more game time and Anichebe may show more of the better attitude and progress he showed last season. He can hold the ball up so he may make a difference.
Frida Ericsson
752
Posted 02/09/2013 at 19:36:49
Darren Hind - actually they don't always cost top dollar. David Villa from Barca to Atl Madrid only 6m euros. Was a massive steal, and his wages where never an issue.
Frida Ericsson
753
Posted 02/09/2013 at 19:40:09
Everton, also known as the graveyard of strikers. The list of failed strikers at Everton defies any sort of logic.
Darren Hind
379
Posted 03/09/2013 at 17:33:26
Frida
David Villa only cost €6m because he is well into hi thirties Mate. Barca paid €40m for him.
There are exceptions to every rule, but if there is a proven top draw striker( at the peak of his powers ) going for the sort of dosh uncle Bill wants to pay, then every manager in Europe would have been chasing him yesterday
They cost top dollar and then some
Ross Edwards
384
Posted 03/09/2013 at 17:49:05
Darren, I'd say Real made a bigger loss. Paid £56 million for Kaka in 2009, let him go to Milan on a FREE in 2013.
Good luck Galen. You are going to need it at Real.
Darren Hind
392
Posted 03/09/2013 at 18:01:22
Is right Ross.
I don't know how they do it at the Bernabeo, they have taken some monumental hits down the years . . . but back they come all guns blazing to break more records
Phil Sammon
393
Posted 03/09/2013 at 18:09:41
'Is right Ross'
Oh dear me, Darren.
Ross Edwards
395
Posted 03/09/2013 at 18:15:13
Are you all right Phil? He was just agreeing with me. Is that allowed?
Phil Sammon
399
Posted 03/09/2013 at 18:18:10
Yes that's fine, Ross.
Just irked by the 'Is right'.
Ross Edwards
400
Posted 03/09/2013 at 18:22:53
Maybe he should have said, "What a load of bloody tripe Ross as ever"
David Ellis
640
Posted 04/09/2013 at 02:47:18
Peter Laing - your wishes came true (OK it was Anichebe that went - but the effect is the same - or even better)
Add Your Comments
In order to post a comment, you need to be logged in as a registered user of the site.
Or Sign up as a ToffeeWeb Member — it's free, takes just a few minutes and will allow you to post your comments on articles and Talking Points submissions across the site.
© ToffeeWeb