From My Seat: Fulham (A)
By Ken Buckley
30/03/2014

Comments (30)
jump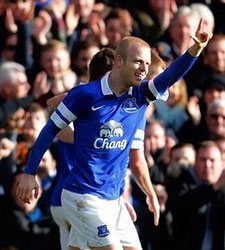 Fulham 1 -3 Everton
A warm sunny late morning was just right for a walk through a park and stumble across a football ground on the banks of a river. Picturesque setting seemed to fit the bill as many assembled to witness a top v bottom clash that would, in its fullness, both frustrate and hearten in equal measure until final quarter when victory was achieved and outpourings of emotion tumbled down from the terraces and made for lively conversation as we trudged back through the park on a balmy afternoon contemplating the chances of extending our run of five wins on the trot by seven more and so ensuring a place in the much sought-after Champions League.
Most agreed a very tall order but we have momentum plus a large dollop of self-belief allied to large chunks of hope. Throw in a modicum of good fortune and who knows. If we did manage to succeed then a slice of Everton history would be added to that already writ.
The game today was always going to be fraught with both teams knowing only victory would be of major use for each one's purposes. As far as the first half went then for Evertonians it was a frustrating time as we seemed to be late waking up and were lethargic as we watched Fulham press us quickly, causing us to concede ground and make unforced errors.
Make no mistake, Fulham were the better side and Howard had to be alert and made saves with his feet, chest and arms. He parried away a Richardson shot. Fulham forced corners and Howard again caught quite few of them and was quick to bowl the ball out to try to start quick counters but each time the moves broke down due to, on many an occasion, a lack of movement off the ball leaving the man on the ball surrounded and eventually losing out.
In that first half I noted just one real opening and that was from a Howard save being picked up by Deulofeu in our half and went at speed down the wing leaving players in his wake and then cutting into the box and his shot across the keeper was only denied by an outstretched boot. Lukaku looked less than pleased that he shot instead of a pass to him. Barkley got a kick and was limping for some time and was quite ineffective but to be fair he had not showed much prior to the kick.
The board went up for one minute of time added and I thought well going at 0-0 was a touch fortunate but hoped Roberto could wake the lads up during the break, coinciding with those thoughts Fulham went down our end on the very whistle almost scored, maybe should have scored when 17yr debutant Dembele peeled off our defence to meet a cross from Evertonian Holtby and from point blank range headed straight at Howard who held on.
The whistle went and still zero – zero which pleased me as, in truth, a more clinical outfit could well have been two up as for most of the half it was either last-ditch stuff with Howard prominent or wayward shooting by Fulham that was more of a danger to the fans than the goal. In that first half I thought only Howard, Stones and Deulofeu were anything like on blob. The rest without being awful were shall we say less than productive.
The half time chat centred mostly on our slow start and could Roberto sort it as well as who would you bring on for Ross if he could not continue?
Teams out for second half and we got our answers. Naismith for Barkley and a fast start from us suggesting that words had been spoken as it took less than five minutes for us to power forward and force a corner which was headed out as far as the 18yd line where the lurking Naismith let fly and the ball, although deflected, found the net to send some 7,000 Blues into raptures. With that goal both players and fans were now fully awake. Songs were sung and Chants Chanted. Allez - Allez – Allez Ohhh and 'Were all going on a European tour' would now be heard throughout.
Naismith had certainly made a difference, his work rate and ability to leap was prominent and to see him out jump the lanky Hangerland was quite something as Big Rom had been unable to do that all match. Everton were now putting it all together and looking for that second goal that would seal it. Some great moves involving Deulofeu, Naismith and Baines variously got to the by-line and crossed invitingly but each cross seemed to go just beyond an attacker usually Big Rom.
In one interlude Big Rom received the ball on the edge and sort of half dribbled, half stumbled into the box and worked a shooting opportunity and hit a powerful left footer that the keeper did well to block with his foot. We were well in control but you just sensed that second goal was needed as Fulham realising they were in the last chance saloon upped the work rate if not the finesse but never the less were getting at our back line and you just never know.
Then on 71minutes it happened. We all yelled for a foul when our old boy Heitinga wrestled Naismith to the ground but the ref. merely shrugged and signalled play on. The ball was worked out to our right. Coleman lost out to the Fulham winger's quick turn inside and run into the box, as ever the workaholic McCarthy was backing Coleman up but he slipped to the deck as the winger passed him and hit a rocket and left Howard helpless at his near post. You could not say it silenced our fans as the language was appalling.
We knew a draw was no good to us and neither was it to Fulham but we got right back behind the lads and so did the Fulham fans get behind theirs. It was a bit of a humdinger now and a great chance at both ends occurred, From a Fulham corner Heitinga peeled off the back and was afforded a free header but Howard got to it on the line. Now that looked close. At the other end from a cross McCarthy went all Beth Tweddle and tried a mid-air manoeuvre that went wrong and the ball whizzed back from whence it came.
By now Mirallas was on for Deulofeu and his fresh lags were causing problems for the opposition none more so when on the 79min mark McGeady who had only been on two minutes for Osman received a long ball pass from Howard, controlled it in fine fashion and delivered an inch perfect pass to Mirallas who was between two defenders and he had the pace to move on goal and produce a clinical finish that had the travelling faithful in raptures.
In this shoot out of a second half we had our noses in front. McGeady fed Big Rom who showed strength in holding off two defenders and playing the ball to Naismith who shot just too close to the keeper. Naismith had also hit a post with keeper beaten in a so far excellent performance. John Stones was showing well today and easy to spot with his white headband protecting his cut from Tuesday night as he gathered ball after ball and strode confidently into midfield and beyond to start attacking forays. Pique came to my mind. Maybe not yet but that lad has every chance of really hitting the big time. Jags must be worried.
With how the game was going the manager, players and fans knew another goal would be priceless and put in the necessary fighting spirit and togetherness to try for it without leaving the back door open for a quick break. Baines and McGeady were linking well and with Naismith and Mirallas always on the move chances were coming but each time a few inches always seemed to prevent meaningful contact in front of goal.
Then just before the ninety Naismith fed McGeady who linked with Baines and Big Rom and eventually Baines was but in to the by-line. His cross was met by the stretching leg of supersub Naismith and the net troubled. I imagined TV commentators yelling things like 'Game over' Hell it was sweet. We played out the 4mins added without incident and roared at the whistle.
M.O.tM. – Naismith and Stones (Tie)
In the end enjoyable and whilst the performance first half was poor the fighting spirit was not in question so getting the three points satisfied most. I thought the managers handling of subs was very good in putting the right men on to capitalise on Fulham eventually tiring and the role he gave Naismith was excellent and carried out very well by the player.
Every game is a big game now and they won't come much bigger than our home clash with the Gunners next Sunday lunch. I hope the lads are fully awake by kick off time. If we could get all the fans to pretend it's a night match under the lights then maybe we can get that 'Bear Pit' rocking mood going. Arsenal are still a very good strong experienced side so we will need all advantages possible and our players showing the world we can play too.
Can we really win the next seven games? Heart says a big yes. Head says mmm not too sure about that. I am with Roberto on this: 'Lets get as many points as we can'. See you down Goodison way to find out how many.
UP THE BLUES
---
Reader Comments
Note: the following content is not moderated or vetted by the site owners at the time of submission. Comments are the responsibility of the poster. Disclaimer
Andy Osborne
243
Posted 31/03/2014 at 05:49:59
On another thread, there seemed to be a debate about whether 4th spot is "in our hands", well clearly it is. If we win every game, there is nothing Arsenal can do about it, whether we win, is another thing.
The tricky one here is that we play each other next game, if they win all of their remaining game, we can do nothing about it. So both teams have it "in their own hands". Goes without saying, that next game is the biggest of the season so far.
The fact that we have 5 wins on the bounce, and have momentum, when they appear to be faltering, is good news for us. The fact that we are pushing for CL with 7 games to go, is more than I expected at the start of the season.
I don't think we played our best against Fulham, but I don't really care; we took the points, a few of our players showed some great progress, and we kept the momentum going.
I hope we win on Sunday, I hope the crowd lift us and deflate them, I'll take a 1-0 deflected shot in the last minute, if it means we get the three points. Who was it that coined the phrase "squeaky bum time", oh yes, the Godfather of Man Utd. There will be 40,000 squeaky bums at Goodison on Sunday.
Paul Ferry
245
Posted 31/03/2014 at 06:07:53
Lovely report, Ken. I love that Thames-side walk through the park to the Cottage, turn left from the Tube to the Everton alehouse, not least knowing that Fulham are a decent bunch and not the Fulham Broadway knobheads.
Away support was immense, thanks Ken and the rest.
Stones MotM - shone in both halves, helping out his 16-year-elder.
We must try and buy Deulofeu.
McCarthy - yes Mr Walling, how do you feel about 7th-ish now - was superb.
Anyone else thinking it's a great first season for the new gaffer and licking their lips about the next window and the next season?
Andy Osborne
248
Posted 31/03/2014 at 07:06:51
Exceeded all my expectations. 7 games to go and 4 points behind 4th with a game in hand, 7 points behind 3rd, played a game more, 9 points behind 2nd, game in hand, 11 points off 1st, game in hand. Can't help thinking if we hadn't given up those silly points at the start of the season, we might be talking more than just 4th.
Mark Palmer
252
Posted 31/03/2014 at 08:03:32
Arsenal's draw wasn't good for us. That's the point they needed which means even if we beat them, we can't necessarily catch them come May.
I'm more worried about Spurs and Man Utd breathing down our necks. It'd be terrible to miss out on Europe completely given the season we've had.
Andy Osborne
253
Posted 31/03/2014 at 08:07:34
Mark, we have a game in hand. If we beat Arsenal, and win the game in hand against Palace, we are two points ahead. They have an easier run in than we do but, if we match their results in the run-in, they won't finish above us.
Iain Love
257
Posted 31/03/2014 at 08:29:31
After they equalised, it was a bit squeeky bum time, but changes made a difference.
Stones looking like a real diamond, McGeady looking impressive. Still something to play for, happy days.
Paul Smith
258
Posted 31/03/2014 at 08:41:04
Thought we were very lucky to be level after 70 minutes of that match yesterday but that is the biggest difference from last season. Then Moyes would've tried shutting up shop to get a draw or possibly lose but RM brings on two wingers who combine for the 2nd goal and we play our best football of the match in the last 20 minutes and could've even had a couple more goals.
The frustration is just thinking about dropped points from too many draws earlier in the season when we were getting used to a new system.
Trevor Lynes
262
Posted 31/03/2014 at 08:53:07
Really good article and reflected my own opinion of the match.
We had an absolutely dire first half and sometimes watching the team can be a real chore. As it turned out, the much maligned Naismith did a real job and caused Hangeland much more trouble than Lukaku did in the 1st half. I must say that punting long high balls to him without support was a complete waste of time and effort. It harked back to the bad old days!!
We really have to be very sharp against Arsenal as the game is just as important to them and a draw would suit them very well. We need to start fast and close down Arteta and Carzola, an early goal would be fantastic for us.
Strangely enough I am more worried about the Man Utd game as Moyes will be really anxious to avoid defeat at Goodison. They are still a decent side with good players and we will need to be at our best against them. Just seven more cup finals to play!!
Sam Hoare
264
Posted 31/03/2014 at 09:16:42
Good result yesterday even if perhaps a little undeserved. Feel a bit sorry for Fulham who I like alot and are surely condemned to the Championship now. 3 points for them would not have been unmerited.
The good news is that its now 'in our hands'; the bad news is that our hands often start to shake considerably under pressure.
I suspect that, even if we pull off a great day and beat Arsenal this weekend, that we would still not be favourites for 4th spot especially as Man City and Man Utd (best away form in the league) at home and Southampton away are all very, very tough fixtures. However, to even be in the race at this point is exciting and much appreciated.
Let's concentrate on next week and, if we manage to do something we have done so rarely in the the last decade and beat Arsenal, then perhaps I will let myself get a bit more excited about the possibility of Ronaldo and Messi (not the Scottish variety) at Goodison next season.
Kevin Tully
265
Posted 31/03/2014 at 09:10:41
How good is John Stones by the way? I cannot think of a young defender in this League who looks as comfortable on the ball. In contrast, Distin looks like he can't wait to get rid.
It really is refreshing not to rely on the Baines/Pienaar axis for all our attacking play, if someone is injured it doesn't affect our approach, which is the sign of a good side.
I don't think it's a coincidence we seem to get most of our chances in the last third of games, we usually make attacking substitutions when the opposition are tiring – Mirallas is also benefitting from a little time on the bench.
We can build a great side around McCarthy, Coleman,Stones and Barkley, if we can add a twenty goal a season striker this team can go places. I fully expect all those players to perform even better next season. Who would have thought Jagielka would not be missed?
Add Oviedo, Kone and Gibson to that bench yesterday and I can see us doing well in Europe, I don't think our loanees will be missed as much as some think if we can get a goalscorer on board.
Craig Fletcher
266
Posted 31/03/2014 at 09:01:33
The subs was just one of a fair few differences between this season and years gone by, Paul (258).
We're also learning to play players in their rightful positions- Naisy yesterday the best example of this; compared to the Naismith of, admittedly earlier this season and last, when he had to loiter on the wing when it seemed to be blindingly obvious that wasn't his natural position.
Without breaking the bank Roberto has given us options off the bench this season who can make a difference - how refreshing is it to be able to bring the likes of Miralles, McGeady on in the second half to change things around. Certainly makes a difference to the ilk of Anichebe, Bilyaletdinov (out of position on the wing) being bought on with ten minutes to go under the old regime.
The breakthrough this season of Stones and Barkley.... Hard to say whether or not this would have happened under OFM, but Martinez had to be brave enough to throw them into the cauldron.
The high percentage of our goals scored in the last 15 minutes of games this season reflects well also on our manager's positive attitude, an attacking mindset, and fitness.
The summer transfer window sounds exciting too with seemingly money in the kitty. TBH, with the long-term absentees to come back, and if we were to keep Barry, re-sign Deulofeu on loan, and if by chance we could nab Lukaku, and maybe another central midfielder and striker, I'd be reasonably happy - as long as, of course, there were no out-goings.
Hopefully also we'll see the other young guns, Garbutt, Browning, McAleny, Lundstram and others, break through next season. Exciting times.
Nicholas Page
275
Posted 31/03/2014 at 10:31:10
Everton and "big games", especially those on TV at fuckin' lunch-time, just don't mix. God help us on Sunday
David Ellis
276
Posted 31/03/2014 at 10:38:08
I never thought Naismith would be the type of player who could change a game from the bench – but I was wrong. He certainly adds something ot the mix, even if close control is not one of them!
Its also very pleasing to see the depth of the squad we now have. I think this is one of the reasons why we have (more or less) been able to maintain our form all season. The only area where we do not have good options is the central defensive midfield pairing, but I am confident this hole will be plugged next season (we should have Gibson back anyway, but we need one more body there if we are in Europe).
As others have said it is great to have a Mirallas and a McGeady on the bench. Massive change from previous years (and this with Pienaar injured).
Kevin Tully
278
Posted 31/03/2014 at 10:56:33
Oh no... Just realised we have won every one of our 5 League games in March, this makes Martinez and Brendan Rodgers the two top candidates for the Manager of The Month award - a curse that nearly always ensures you lose your next game.
Let's hope Brendan wins that one!
Christopher Timmins
284
Posted 31/03/2014 at 11:13:04
Ken, honest and accurate report as ever. 7 games to go, 4 at home and 3 away. Everything is up for grabs. We will have to smash the 70 point barrier to play in the Champions League. However, it's one game at a time and next Sunday is massive.
Great time to be a blue!
Steavey Buckley
285
Posted 31/03/2014 at 11:15:44
The Everton first goal was crucial because it forced Fulham into a more expansive attacking game by immediately bringing on more attacking substitutes, which, eventually, led to Everton's 2nd and 3rd goals. If Fulham had scored first I would have suspected they would have 'parked the bus' and 'hit' Everton on the counter attack.
Dennis Stevens
288
Posted 31/03/2014 at 11:45:38
Thanks for the excellent report Ken. I never got to use my ticket thanks to our marvellous rail system, so got a refund on my train ticket & drank the proceeds on the way back home. My only consolation being that I knew in that instant that we were now bound to win the match!
Steve Cotton
290
Posted 31/03/2014 at 11:42:49
I was impressed with that DeJagah (spelling) character. he certainly knows where the goal is and looked dangerous constantly.
I've also been impressed with Holtby, Caulker, Bony, Delph, Snodgrass, Redmond, Fonte, Lallana, Marshall (keeper), Ki, Kim, Coldback, possibly Shelvey and Diame/
Mike Gaynes
324
Posted 31/03/2014 at 15:26:49
As always, a lovely report, Ken.... thanks for taking us along to the game with you!
I'm still grinning at the delightful irony that one of the most derided players on TW, Naismith, was the game-changer... and this after a MOTM performance by Osman on Tuesday.
Not many have mentioned the contributions of Lukaku and Howard, but I thought Rom's holdup play was excellent and Howard's save on Heitinga was absolutely critical... a gamewinner by our old boy would have been too much to stomach.
Everybody's contributing, and just at the right time... all eyes on the Arsenal game.
Kevin Tully
325
Posted 31/03/2014 at 15:37:01
Sky Sports piece on Roberto ;

http://www1.skysports.com/football/news/15134/9241374/the-Roberto-Martinez-effect-how-the-spaniard-has-improved-everton-in-his-first-season-at-the-helm
Patrick Murphy
328
Posted 31/03/2014 at 15:49:19
Enjoyed that Kevin #325 and you have unwittingly provided me with an opportunity to share a little ditty I have been working on to the tune America from West Side Story.
Everton FC is old and proud
Goodison Park can be very loud
Blues always support their football team
We are realistic but we like to dream.
He has a scheme has R Martinez
Building a team is R Martinez
We can be cream with R Martinez
Living the dream with R Martinez
Barry Morrison
335
Posted 31/03/2014 at 16:55:07
Sam (264) - I wonder who has the best home form in the league?
Paul Ferry
352
Posted 31/03/2014 at 18:33:43
Mark Palmer - 252 - "I'm more worried about Spurs and Man Utd breathing down our necks. It'd be terrible to miss out on Europe completely given the season we've had."
Mark, Spurs and Man Utd are not breathing down our necks - it's hard to lose 4-0 and to be breathing down a neck!
We are I think bound to be more concerned about the Man-Utd home game because pushing points to one side - how silly is that - this match is all about putting one over on you know who and the stakes of that being so high we are a little scary don't you think of him putting one over us.

Jimmy Hill
370
Posted 31/03/2014 at 19:58:02
Nicholas Page have faith this a seasons of breaking hoodoos.
Phil Walling
395
Posted 31/03/2014 at 21:30:50
I still think Naismith was crap when he came here.
Howard is playing better (safer) than he ever has.
Stones has gloried in his early opportunities.
Coleman has become the perfect right-back - best in the Prem.
Roberto has brought the best out of all of them.
Long may it continue.
Raymond Fox
397
Posted 31/03/2014 at 21:53:22
Are you feeling alright Phil?
Martin Mason
535
Posted 01/04/2014 at 18:25:30
I think that we struggled when we played 3 at the back in the first half and they were getting past Coleman quite easily as he pushed up. We changed to 4 at the back when they changed formation and we didn't look back. I'm not sure that we can play 3 at the back?
What a class act Stones is... and Naismith too. He's like a new signing. Leon Osman I just don't get, he goes from sublimely good to astonishingly poor. I have a feeling that, had he been a bit bigger, he would have been a true great.
Add Your Comments
In order to post a comment, you need to be logged in as a registered user of the site.
Or Sign up as a ToffeeWeb Member — it's free, takes just a few minutes and will allow you to post your comments on articles and Talking Points submissions across the site.
© ToffeeWeb