Rampant Blues destroy Arteta's Arsenal
By Michael Kenrick
06/04/2014

Comments (69)
jump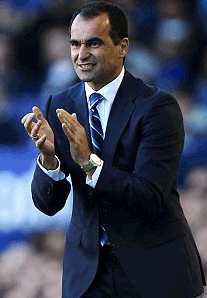 In a wonderful first half, Everton took the lead after an evenly matched 15 mins in which they lost Osman to injury, both sides attacking with vigour. The first goal came when Baines played in Lukaku superbly, whose shot was direct at Szczesny, and Naismith was there to slot home the rebound.
Then Romelu Lukaku jinked past two or three defenders along the 18-yard line and lashed an unstoppable shot for a brilliant second goal.
After a nervy start to the second half, Mirallas almost single-handedly scored a vital third and Everton were swaggering.
Matchday updates
Roberto Martinez looked to be keeping some of his powder dry for the second half of this massive game against the Gunners, with the attacking prowess of Deulofeu, McGeady and Barkley all on the bench while Osman started with Naismith and Mirallas in a 4-2-3-1 line-up behind Romelu Lukaku.
Everton kicked off and played the ball around confidently, witth captain Leon Osman making a nice statement of intent with an adventurous lob off a throw-in that had Szczesny beaten but flashed inches past the far post. At the other end, Giroud tried a low shot that flew wide across Howard's goal.
A promising attack saw Baines play a great ball to Naismith who chose to cross behind Lukaku. The ball came out down the Arsenal right and a very rash tackle by Osman on Sagna that earned him a cut on the head, a yellow card, and then a substitution, as Barkley replaced him inside 10 mins.
Naismith went in late on Arteta but avoided a yellow card as the boos rang out for the former Everton player. Stones almost played in Giroud with a weak cross-pass that Howard had to kick away but it started a move that ended with a superb Baines pass playing in Lukaku, whose shot was direct at Szezny, and Naismith was there to slot home the rebound ad really define the Blues' intent for this vital game.
The goal was vitally important for giving Everton confidence,.. perhaps a little too much for the first corner, won by Baines, that Mirallas woefully over-hit. Everton should have done better on the next attack, two balls driven hard into the danger area, Naismith clipping it at Szczesny. A better move from Arsenal saw a great pass behind the Everton defence and a clear goal chance.
Barkley was getting more and more involved, and caused havoc when he got to the byeline to force the second Everton corner, from which Mirallas conjoured a low drive saved by Szczesny at the near post. At the other end, Arsenal looked dangerous each time they attacked, their first corner seeing a Stones miskick in a very dangerous are that was recovered well by his teammates.
From a throw-in, Everton worked the ball across field in determined fashion to Romelu Lukaku, who had one thing on his mind as he jinked past two or three defenders along the 18-yard line and lashed an unstoppable shot with the minimum of backlift, a very special moment for the big man and the massed Evertonians rocking the roof off Goodison Park.
Each Arsenal attack brought more fear and trepidation, only for the Everton defence to somehow deal with it, one shot form Podolski, driven into the ground and up with massive topspin carrying it toward the top corner of Howard's goal but the American tipped it behind with an excellent save. Flamani then got a booking for his foul on Naismith. Arsenal kept the tempo of the game really high, putting the Everton defence under some real pressure as they searched for a goal that would give them some hope for the second half but Everton simply denied them at every attempt.
The second half saw both sides trying to use their skills in possession to different ends, Arsenal trying to pass their way into the Everton area;Everton trying to retain possession but with limited attacking intent as they hoped to draw Arsenal out. At times it looked to be a very dangerous ploy, when Mirallas dribbled in toward Howard and almost gave away a goal... then Stones, hassled and caught, finally losing the ball. Everton needed to play their normal game, and finally got back into their attacking grove after a worrying period of indecision.
But Mirallas had more drive about him as he picked Vermaelen's pocket and drove into acres of space, playing the ball to Naismith who fired at Szczesny and the loose ball turned into a foot race between Arteta and Mirallas, one of whom clipped the ball into the Arsenal net, much to the relief of the Goodison crowd.
Everton then indulged the crowd in extended spells of Olé football, holding the ball well as they tried to draw Arsenal out and create more space for Lukaku, Naismith and Mirallas to exploit. Wenger made three substitutions in a forlorn attempt to get back in the game. The one time Arsenal did penetrate the Everton defence, Sanogo was flagged offside.
In the last 10 mins, McGeady replaced Naismith, given a fine hand by the Goodison faithful, as Arsenal looked increasingly pathetic, playing some shocking balls on the rare occasions Everton ceded them possession. At times during the second half, the Martinez philosophy of "expressing ourselves" had been epitomized by wonderful spells of champagne football, spoilt only by Oxlade Chamberlain smacking the ball agaunst the Everton crossbar.
Romelu Lukau went off to a tremendous round of applause, replaced by Gerard Deulofeu for the last few minutes, as Arsenal attacked more out of desperation, stones doing some tremendous defensive work.. . Arteta finally getting into it wiyth Barkley, accused of using an elbow, and the Everton crowd ecstatsic as the former Blue was told what for by Baines and was booked by Martin Atkinson.
A tremendous domineering performance by the Blues that totally destroyed Arsenal, their biggest win over the Gunners in 25 years, and fine revenge for that galling FA Cup Quarterfinal defeat.
Scorers: Naismith (14′), Lukaku (34′), Arteta (og:62').
Everton: Howard, Coleman, Stones, Distin, Baines, McCarthy, Barry, Naismith (81' McGeady), Osman Y:7' (9' Barkley), Mirallas, Lukaku (87' Deulofeu).
Subs not Used: Robles, Hibbert Garbutt, Alcaraz.
Arsenal: Szczesny, Sagna, Mertesacker, Vermaelen, Monreal, Flamini Y:44' (66' Ramsey), Arteta Y:89', Rosicky, Cazorla, Podolski (66' Oxlade-Chamberlain), Giroud (71' Sanogo).
Subs not Used: Viviano,Jenkinson, Kallstrom, Bellerin.
Referee: Martin Atkinson
Attendance: 39,504
---
Reader Comments
Note: the following content is not moderated or vetted by the site owners at the time of submission. Comments are the responsibility of the poster. Disclaimer
Denis Richardson
376
Posted 06/04/2014 at 15:24:30
Yyyeeeeeessssss!!!!!!!!
David Waugh
377
Posted 06/04/2014 at 15:34:29
Fantastic performance all round. We played them off the park today.
Anto Byrne
378
Posted 06/04/2014 at 15:30:50
I think Barkely is maturing into a very special player. That was a very good performance from him and it was nice to see some self control when that C@#T Arteta used an elbow on him. Great to see Baines lay into him as well. Overall a 10/10 performance but we need to take it up to 11 for the remaining games.
Stephen Brown
380
Posted 06/04/2014 at 15:41:14
Tremendous performance by all players and Roberto . Special praise to the blues in the ground. Could feel the atmosphere from my living room . Proud to be a blue !!
Michael Kenrick
381
Posted 06/04/2014 at 15:41:39
A simply tremendous performance by Roberto and his boyz— playing the Martinez Way... Playing the new Everton Way. Scintilating stuff. I've gone into overdrive on the superlatives here...
Although how can those possession stats be right? Did they say 56% to them? No way!!!
Phil Walling
383
Posted 06/04/2014 at 15:42:24
My son said on the whistle, 'How can you not believe after a display like that, you grumpy old bugger?'
I believe!
Alan Khan
384
Posted 06/04/2014 at 15:45:29
Majestic in attack! Solid in defense! David who?
Alan Khan
385
Posted 06/04/2014 at 15:49:47
Is this the return to The School of Science?
Gerry Quinn
386
Posted 06/04/2014 at 15:50:18
ET got it spot on
ET showed Wenger how to manage
ET Rules
.....ET?
El Tactico
James Carlisle
387
Posted 06/04/2014 at 15:47:50
That was a complete performance. Everyone was perfect. It's well and truly on. We may have the harder run in but our form is as good as it was pre New Year while Arsenal look shocking.
We can do it. COYB!!!
Jamie Crowley
388
Posted 06/04/2014 at 15:52:50
I've gone into overdrive on the superlatives here...
Disagree - there aren't enough positive words in the English language to aptly describe what we just witnessed.
Paul Tran
389
Posted 06/04/2014 at 15:50:52
First they said he'd get us relegated.
Then they said he'd give us 'Wigan defending.'
Then they said our players couldn't pass the ball.
Then they said we'd be no good without Fellaini.
Then they said tippy tappy would get us nowhere.
Then they said it wouldn't last.
Then they said it was the 'expensive' loan players.
Then they said it was Moyes' team.
Then they said he was too nice.
Then they said possession is no good without winning games.
Then they said we were winning games but playing rubbish.
Then we won six in a row.
In the last eight months we have seen a good, workmanlike 'do the numbers' team turn into one with method, control, attacking options and blimey, even a bit of pace!
Whatever happens for the rest of the season (and there'll be plenty of ups and downs), I think there will be many contributors to this site eating humble pie and questioning their judgement.

Michael Upton
390
Posted 06/04/2014 at 15:56:53
Wonderful. Now will the doubters believe?
Andy Osborne
391
Posted 06/04/2014 at 15:54:56
Fucking awesome. Naismith is blossoming under RM. One game at a time and all that but we were a class act today.
Stephen Karnes
393
Posted 06/04/2014 at 15:55:00
Proud to be a blue. I started watching Everton 6 years ago in Oregon in the United States. I didn't have cable, but for some reason one of the eight channels on the rabbit ears played the weekend's EFC game every Tuesday night. I'd never watched the EPL before, but I fell in love straight away and haven't changed my mind since that Everton is the best club in the world. My girlfriend is a blue now too and watching big Rom hug Roberto made her cry. So proud to be a blue.
Phil Walling
394
Posted 06/04/2014 at 16:02:28
Well, weren't you a clever-ass, Paul Tran !
Mike Powell
395
Posted 06/04/2014 at 15:59:17
Absolutely best performance off the season every player put in a shift today, we played them off the park. Don't really want to pick a player out but Naismith was outstanding today... so was John Stones. I slagged Stones off last week but this week he was superb.
Keep up the good work, Blues — don't blow it now! Chapions League? We are having a laugh!
Paul Columb
396
Posted 06/04/2014 at 16:03:17
Stephen....where in Oregon? I just moved to Portland and haven't bumped into a Bluenose yet.
Andy Osborne
397
Posted 06/04/2014 at 16:06:01
Phil, give it a fucking rest. Being an Evertonian means taking the shit 99% of the time! But enjoying the moments when they present themselves. We have a chance at 4th, and it's only a chance, but let's revel in that fact. We have just played the Arse off the park. Let's bask in that glory and look forward to the next game.
Paul Tran
398
Posted 06/04/2014 at 16:08:45
Phil, you mean my bet? It was part based on my agreement with you that we would be a top 7 side regardless of manager? The second part was based on the shapeless, method-free, 'do the numbers' football served up by the previous manager. I just couldn't see him changing straightaway at Man Utd.
Nothing clever about that – it seemed obvious to me at the time. Ker-ching!!
Andy Osborne
399
Posted 06/04/2014 at 16:13:43
Phil, what's it like being in the minority of Everton fans that want the team to play shite? Don't you think that thinking positively about our team will result in good stuff?
Jim Harrison
400
Posted 06/04/2014 at 16:11:58
3 games. 9 goals to 1. Great stuff. I was like Phil to begin with, not sure it was the right choice. It took until the Spurs game at Goodison for me to be convinced. A draw with little to shout about, but the signs were there. Now it's possible. Great work from the manager and the team.
David Denby
401
Posted 06/04/2014 at 16:17:29
Stood in the Leigh Arms trying to soothe my throat with some golden sunshine. What a win, what an atmosphere, what a club. We are Everton, yes we fucking are!
To think I was going to put my seat on Stubhub today due to family wedding and Mrs' birthday yesterday! So glad I didn't, the drive from back in deepest Devon flew past and it feels like 1987!
Bobby, you're a genius. Can't wait for Easter Sunday. Enjoy your afternoon Blues.
Jim Harrison
404
Posted 06/04/2014 at 16:21:07
From the Guardian. Sums it up really. Bobby gets a loan striker to play like a life-long fan. Arsenal's big-money striker didnt fancy it....
"[B]ut it was Séamus Coleman and Olivier Giroud who encapsulated the difference between these teams. In the 63rd minute, the Republic of Ireland defender, a £60,000 signing from Sligo Rovers, sprinted up the field performing keep-ups for at least 30 yards of the journey. Goodison reverberated to the sound of 'Olé'. Moments later, a 50-50 ball dropped inside the Everton penalty area. Giroud pulled out of the challenge and left Gareth Barry to it."
Andy Meighan
405
Posted 06/04/2014 at 16:20:05
Men against boys... and Arteta's og was the icing on the cake. Didn't see the slimy little bastard kissing his badge today. Brilliant from the Toffees today. I can't see anyone touching us. It's a long time since I've been this confident.
Graham Holliday
406
Posted 06/04/2014 at 16:24:36
In Chile and unbelievably, they preferred to show Fiorentina v Udinese and Ajax v someone on TV. Stream was okay but I didn't see the Arteta/Barkley incident properly. I worry Ross could be in trouble, as I definitely saw the shove! Was his rage at Arteta justified - use of elbow? No blue-tinted specs please... honest appraisals! Baines getting so riled up makes me suspect Mikel was at least partly to blame...
Otherwise, great performance. Still make Arsenal slight favourites due to run-ins, but good to finally see us step up in an important game...
Peter Jansson
407
Posted 06/04/2014 at 16:29:18
This is just brilliant, brilliant, fantastic!
COYB!
Si Cooper
408
Posted 06/04/2014 at 16:29:59
Great performance from the whole squad of players - couldn't pick a man of the match myself.
Surprised at Wenger's selection / tactics, delighted with our's. Only Citeh look to now be a real test in our run in if we can maintain our current form. Race for fourth really on.
Arteta seemed to connect with swinging forearm rather than an aimed elbow - frustration bubbling over rather than real nastiness in my opinion, and I think the incident will be considered as done and dusted by the authorities.
Keith Glazzard
409
Posted 06/04/2014 at 16:35:42
A great day with the side oozing class, confidence and belief.
Don't take any media crap about a poor Arsenal performance. They had the possession and the shots to win a game, but not against us today.
Lukaku's celebration was interesting in a 'thank you Boss' kind of way (like Deulofeu this week) and this could be a pointer to our prospects for next season.
And was Seamus's wonderful 'keepy-uppy' run straight out of Gaelic football? More please!!
Brian Hennessy
410
Posted 06/04/2014 at 16:30:35
Well that should be the end of the Naismith debate after another brilliant performance and this time against one of the top 4.
When that Lukaku shot broke for the first goal I cant think of a single player I would have wished it went to more than Naismith, great finish again by him and his work rate was once again unbelievable.
Stones was top class again and Baines had his best game for a long while.
Moment of the match for me was Colemans keepy-upies run followed by another incredible bit of skill shortly afterwards to leave the gunners defence for dead.
I cannot rembember a more satisfiying Everton performance since the 80's
Proud to be a blue
Linda Morrison
411
Posted 06/04/2014 at 16:41:52
Never has my gob been so smacked. As a lot of Everton fans I kept waiting for the Arsenal reply and it never happened.
There have been a number of very good articles about the difference Martinez has made to Everton this week end, especially in The Guardian and Observer.
Credit to Kenwright for picking 2 managers who were the right people at the right time
Unless we implde and we won't Everton will be in Europe and I expect Lukaka and Barry to be signing full contracts over the summer.
Roberto is off to Brazil for the world cup so no doubt he'll pick up a few more players there.
My man of the match is Naismith
Milos Milenkovic
412
Posted 06/04/2014 at 16:33:47
Fantastic!!! Super blues!
I think we are far more dangerous when playing two up front as we did with Lukaku and Naismith. Mirallas and Lukaku are top, top players and with Barkley, Naismith, Baines and Coleman we are very, very dangerous team going forward. When you add Deulofeu and (maybe) McGeady you can see that Everton can be optimistic for the next month.
Our entire defense is full of excellent players and I must admit that McCarthy is far better player then I was thinking.
Roberto Martinez you are the boss ;)
Brian Waring
413
Posted 06/04/2014 at 16:50:22
Brian Waring
414
Posted 06/04/2014 at 16:54:48
That link goes to 49 secs, you need to start it from the beginning.
Daniel Flosi
415
Posted 06/04/2014 at 16:57:22
Stephen, Paul - I'm in Seattle the only blue I see is Chelsea, would be great to have a beer and watch a match with some proper blues. And worth the drive too.
So happy. Great to see and FEEL the atmosphere, to see the team not be out of sorts by the big game, to see big ROM celebrate with Roberto like that!
Peter Z Jones
416
Posted 06/04/2014 at 17:00:38
YESSSSSSS!!!! Here's a microcosm of what we just did to Arsenal:
Anthony Washington
417
Posted 06/04/2014 at 17:01:17
One word... MAGIC.
Fran Mitchell
418
Posted 06/04/2014 at 16:54:03
Great performance. Tactics spot-on by Martinez.
Nessismith looks a player as a centre forward. He's got decent pace and his positional play is great (something lost when out wide). He no longer looks to be a duff and could well have a decent career with us.
Lukaku out wide is a decent option. It gives him more space and the chance to run at the defense. In the long run he will definitely be at traditional no 9, but his pace and strength out wide will cause defenses much trouble, and with Nessi's positional sense in the middle, we'll be more dangerous.
Barkley was brilliant, very composed. Once his awareness of space and players around him (when to pick the pass or shoot) develops he'll be a beast.
McCarthy was MotM, brilliant. Dominated the midfield and once Flamini got booked, every ball in the middle seemed to arrive at his feet. His dominance was evident in the frustration shown by Arteta at the end.
Coleman... I Love You.
It ain't over til it's over. We're gonna win the league!!!!!!
James Morgan
419
Posted 06/04/2014 at 17:03:10
Haha that guy doesn't mince his words!
Strange hearing an American saying the game was a "fucking cracker."
Love it.
James Martin
421
Posted 06/04/2014 at 17:10:56
Amazing football. Great result. For once let's make it happen.
Let's win the next two and put the pressure on Arsenal to follow suit.
Jim Lloyd
422
Posted 06/04/2014 at 17:02:05
What a performance from the lads; and what a performance from the supporters!
We came of age today. To take a team like Arsenal and give them a footballing lesson, was just exhilarating. The team was truly a team and the the team and the crowd were one, It was "We're Everton mate and don't fuck with us!"
So glad it was a whole team effort and the way we took the piss out of them was truly great to experience.
We've got a difficult run in and we might not get in the Champions League but whatever happens, people are sitting up and taking notice of us now.
I am so pleased for Naismith who received a lot uninformed and vitriolic comments from some on here. I think one said the worst footballer they had seen in an Everton shirt. I hope they will now shut the fuck up and just get behind our players.
Graham Mockford
423
Posted 06/04/2014 at 17:13:54
Fucking brilliant! Seamus galloping down the wing doing keepy ups will go down in Everton folklore.
Paul Columb
424
Posted 06/04/2014 at 17:14:00
Daniel. Drop ur email and we'll get together either up there or down here, or better still in the Gwladys street. I'm due a trip over but unlikely this season. If in Seattle, maybe we could take Dr Everton out for an ale. Chime in Stephen and let us know where ur at.
Eugene Ruane
425
Posted 06/04/2014 at 17:08:15
A trip to Goodison does not get much better.
Boss curry and chips, confidently batter a top side, then come out of the ground and pick up £140 winnings from Hills - five nicker, 3-0, 28/1.
There's an episode of Bilko that sees Ernie have a day when everything goes his way.
If both boats sink in the boat race and West ham win, I'll stay in tonight, convinced Madeline Smith will arrive in a time machine from 1973 (no bra!) asking if I fancy 'a bit of the other'
Up the Toffees!
Gavin Ramejkis
426
Posted 06/04/2014 at 17:18:56
Graham those keepy uppys and his Cruyff turn were magical
https://vine.co/v/MiPqXuIlZUi
https://vine.co/v/MiPMEKXYb91

Phil Walling
427
Posted 06/04/2014 at 17:19:34
To all those rubbing my nose in it, I say only 'there will be more joy in heaven over one sinner who repents than over ninety nine (self) righteous persons who need no repentance.'
I was that sinner !
John Raftery
428
Posted 06/04/2014 at 17:21:33
No complaints about Lukaku playing wide right today. The 4-3-3 formation with Naismith in the middle and Mirallas on the left worked a treat. The whole team and the crowd were tremendous today. Let's keep it going!
Colin Glassar
429
Posted 06/04/2014 at 17:25:24
Have you found god, Phil or do you now recognise Roberto's rise to sainthood?
Amit Vithlani
430
Posted 06/04/2014 at 17:27:28
Just got back from Sports Cafe in Joburg. Surrounded by load of gooner expats and local red shites watching smugly. Met two blues randomly (they didnt know about ToffeeWeb!) and we were singing all the way through. Thank you to Roberto and the team what a wonderful day to be a blue.
Roman Sidey
431
Posted 06/04/2014 at 17:17:55
Three moments that filled me with joy and hope more than anything since Bryan's winner at OT:
- Lukaku sprinting to hug RM after his goal. The boy loves his manager and that is a plus for us going into next season.
- Coleman's run with the keepie-uppies. Bloke in the pub with me reminded me that while he was doing it, he was out-sprinting the defender.
- When everyone still thought Kev had scored the third goal (o.g. but he was still as much a part of it as anyone could have been) the way the players mobbed him - this team is there for each other and are clearly so happy for each other.
Giving some credit to Kev for that goal, it means that, in a manner of speaking, all three strikers that started the match for us (pretty much) scored a goal. Love it.

Wayne Smyth
432
Posted 06/04/2014 at 17:27:44
Two signs we have a top quality manager:
1) The players want to play for him
2) He improves the players and gets the most out of them during the game by using them tactically to our advantage.
With some managers, they play players out of position and those players then perform at a fraction of their potential. Often they do it with negativity in mind. Central midfielders on the wing, defenders in midfield. With Martinez he often does it because of some attacking threat they will expose.
We may or may not get CL football - it's in our hands certainly, but a tough task - however, long term I'm convinced we've got more chance of breaking the domination of the rich 6 with this man in charge.
Great win, great form, and the sight of Coleman doing the tricks was just superb. The Irish Cafu indeed.
Brin Williams
433
Posted 06/04/2014 at 17:36:52
Wayne Smyth
435
Posted 06/04/2014 at 17:38:18
Barkley was also superb today. Made great use of the possession he had in a deeper role than he's been playing recently.
Certainly think he is capable of playing in a central 2 at home to City when Barry is unavailable.
Dave Lynch
436
Posted 06/04/2014 at 17:32:26
Amen to that, Phil.
Phil Walling
437
Posted 06/04/2014 at 17:45:01
Anybody like to have a stab at when we last put in a performance on par with today?
Got to be 30 years ago, at least!
Mike Gaynes
438
Posted 06/04/2014 at 17:47:12
Praise be, Phil!
Michael Polley
439
Posted 06/04/2014 at 17:57:58
Outstanding performance. I was shouting the house down. All too often we have fallen short in the big games when it mattered, but not today. Today we showed a class and commitment. Arsenal were second past all departments.Can we get 4th. Lets's see - one game at a time.One thing for certain RM is building a great team that is a pleasure to watch. COYB!!!
Kris Boner
440
Posted 06/04/2014 at 17:50:36
@Phil, I haven't seen Olé football like that in my lifetime at Goodison. Albeit 22 years isn't a lot, but still. Dark days of football were my childhood.
Alex Trevalyn
441
Posted 06/04/2014 at 18:04:43
So proud, so so proud...
David Price
481
Posted 06/04/2014 at 19:45:41
If I was an Everton player after carrying out a Martinez tactical masterclass to perfection, then I would feel like no team would get the better of me. As a fan, it's how I feel now.
This is a proper 'caterpillar to a butterfly' moment for this Everton side.
Awesome, Roberto. Thank You...
Stephen Karnes
593
Posted 07/04/2014 at 00:41:56
@ Paul Columb
Unfortunately, I don't live in PDX anymore, I moved abroad. If you go to 4-4-2 on Hawethorne (I assume it's still there) to watch matches you'll run into some toffees. Beaulahland on 28th is a great place to watch the Workd Cup. Portland is a great town for football. My email is stephenkarnes@gmail.com if I can help you out with anything PDX related. It's an amazing town.
John Keating
871
Posted 08/04/2014 at 14:47:57
I know Arteta got some stick during the match for his crap during the game at the Emirates - and quite rightly.
Forgetting that, I was really surprised, after the match how much the visiting supporters gave Arteta stick and later on by their condemnation of the team in general and Arteta in particular.
Since the game I checked out a couple of their websites and was surprised by how much the gooners dislike Arteta !
Seems he's not only out of favour with the support but the management as well. Of all the older players - and there's a few - he's the only one not been offered an extension.
William Turner
315
Posted 11/04/2014 at 07:24:13
Dick Fearon 375, Dick only just read your problem. I have no difficulty gettng FOX sport, perhaps it's where you live. We are in the BLUE Mountains, where are you?
Add Your Comments
In order to post a comment, you need to be logged in as a registered user of the site.
Or Sign up as a ToffeeWeb Member — it's free, takes just a few minutes and will allow you to post your comments on articles and Talking Points submissions across the site.
© ToffeeWeb