Fortune Favours the Persistent
By Lyndon Lloyd

13/04/2014

Comments (21)
jump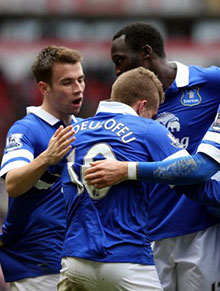 Sunderland 0 - 1 Everton
Somewhere between the two adages of "if at first you don't succeed, try and try again" and "the definition of insanity is trying the same thing over and over again and expecting a different result" lies Gerard Deulofeu.
The mercurial Spaniard's telling contribution to this match which ended in the decisive own goal 15 minutes from time was not his first attempt to skin Sunderland's left back Marcos Alonso down the outside on the right flank but it was his most productive. It helped Everton to a Premier League-record seventh successive victory that prolongs an astonishing run of form that has vaulted them back into the top four at a timely juncture in the season.
Seeing only the last few minutes, Deulofeu had largely been a spectator in the Blues' swashbuckling destruction of Arsenal last Sunday but he benefited from Roberto Martinez's continued squad rotation policy with a place in the line-up at the expense of Kevin Mirallas, the only change from that starting XI. He rewarded his manager's faith by asserting himself as a regular thorn in Alonso's side and offering the most likely source of a goal from what was a strangely subdued performance, particularly in light of the win over Arsenal.
Indeed, Everton fell some way short of the kind of display the travelling Evertonians had expected given what was at stake from a potentially tricky fixture. They seemed to lack intensity and drive for much of the contest but, crucially, never looked like losing it which left you with the feeling that they just needed to score to fulfil the fears of a nervous home crowd. That the decider was another own goal – the first time in Everton's history that the opposition have contributed a goal to the Blues' side of the scoresheet in three straight games – that masked a poor overall performance didn't matter a jot – Martinez's side picked up another three priceless points with a win that may have doomed the largely toothless Black Cats to the Championship..
The early signs had been promising enough. Deulofeu raced into oceans of space down the left channel after eight minutes but he dallied rather than drive on goal and by the time three Sunderland defenders had got back between him and Mannone, he could only shoot tamely at the goalkeeper. Lukaku then similarly failed to really test Mannone with a low shot from distance a minute later but Everton's best chance of the first half opened up for Naismith after 14 minutes. The Scot collected Baines's pass and rolled Wes Brown superbly but then smashed his shot over the bar with the target yawning in front of him.
At the other end, a word class piece of defending by John Stones would ensure that the two teams went into the half-time interval on level terms. Leighton Baines sold Tim Howard dangerously short with an attempted backpass that was seized upon by Fabio Borini who smartly rounded the goalkeeper and fired an accurate shot from the angle that would have found its mark had Stones not anticipated it and blocked it by the near post.
Having witnessed Everton move into another gear at Craven Cottage a fortnight ago, the visiting fans were no doubt banking on a more focused and purposeful start to the second half but Martinez's men remained fairly pedestrian in their approach. There was almost nothing in the way of the clever triangles and interchanges down the flanks involving the likes of Baines and Leon Osman or Seamus Coleman and Deulofeu, just the occasional drive towards the opposition defence by Deulofeu.
Nevertheless, substitute Ross Barkley forced a good save from Vito Mannone as he tried to side-foot Romelu Lukaku's cross in at the far post and the Sunderland keeper was almost embarrassed by Naismith as he charged out of his box to head a loose ball but could only give it straight to the striker but he couldn't hook it into the empty net from distance, the Scot's effort dropping a couple of yards wide.
With the exception of an impressive jink to the byline where he slid the ball agonisingly across the face of Vito Mannone's goal with an hour gone Deulofeu hadn't been able to carve out a killer final ball. He remained a willing outlet, though, and after Everton had survived a scare at one end where Baines had to head away from his goal line and Ki Sung-Yeung had glanced wide at the back post, he burst once more to the byline and attempted a cutback that prompted Wes Brown to unwittingly divert the ball into his own goal with his chest.
That probably should have been the catalyst for the Blues to take the game by the scruff of the neck and kill Sunderland off but in stark contrast to the authoritive way in which Martinez's side have been finishing matches in recent weeks, they would grind their way through a nervy last quarter of an hour as Sunderland tried in vain to get back on level terms.
With the Blues seeming to abandon their much-vaunted possession game in favour of uncharacteristic long balls from the back, sloppy distribution in forward areas and a series of silly fouls in dangerous areas in front of their area, Gus Poyet's beleaguered Black Cats would see more of the ball in the closing stages than was comfortable. Thankfully, though, they weren't able to do a lot with it.
Howard made a couple of low saves from Alonso and Wickham and was relieved to see Borini's whipped 25-yard effort swing a couple of feet wide as he sprang across his goal at full stretch but there would be no sustained assault from the home side as their supporters trickled away in resignation as the minutes ticked down.
So, not an impressive display from Everton by any means and one perhaps betraying some of the weight of expectation that is building the more possible a top-four finish becomes. Getting the three points was absolutely paramount, though, allowing the Blues to take three more points into two consecutive home games in the space of a week.

Follow @Everton1an
---
Reader Comments
Note: the following content is not moderated or vetted by the site owners at the time of submission. Comments are the responsibility of the poster. Disclaimer
Christopher Timmins
740
Posted 13/04/2014 at 11:22:38
Makes up for the result at Christmas!
Now that we are in the top 4, let's stay there, lets smash our points total for a season, lets smash the 70 point barrier, lets kick the door down over the next 5 game!
David Hallwood
742
Posted 13/04/2014 at 11:21:52
I wonder what's the Spanish is for "Pass to a team mate" if he learns that he will be one of the greats, sadly not with us, but even if we only get a season out of him its been a pleasure to watch him develop. BTW great report as ever Lyndon.
Brian Harrison
743
Posted 13/04/2014 at 11:30:59
At this stage of the season results are more important than performances, and although we were way below our best yesterday we still managed to win with a little bit of luck. Again RM rotated his team selection trying to keep everybody fresh for the remaining games, not easy with a small squad but he seems to be managing the squad brilliantly.
I think anything other than a win yesterday would have given Arsenal a big lift, but it is now them that are doing the chasing. Now they are facing a must win game on Wednesday against West Ham. There is no doubting that Everton fans players and manager now believe we can do it and momentum is with us.
Anto Byrne
980
Posted 13/04/2014 at 18:54:05
It was pointed out that we still have the ability to go back to the Everton of old and baton down the hatches, all hands to the pumps mentality when we are put under the gun. These games are always going to be tough. So next up is Palace under Pulis and we can expect a Stoke-like performance from them as they seek to consolidate their place with the big boys.
For us, 8 in a row is on offer while keeping the pressure on Wenger's Arse. Another 1-0 will suffice but I'm hoping for a few and then the visit of OFM. I really want to bury the Mancs with a 3-4 goal margin.
Terry Murphy
027
Posted 13/04/2014 at 21:52:48
Why am I more nervous about playing Crystal Palace than Manchester United?
Dennis Ng
030
Posted 13/04/2014 at 22:21:37
You're not the only one... I always assume we need to work hard for every point, so I won't be disappointed even when we lose after putting in great effort.
Ciaran Duff
047
Posted 14/04/2014 at 00:24:25
David (742) - I was of the same opinion re Del not passing but, looking at some of the replays, I noticed that supporting players (eg, Lukaku) were not always in the best position for a pass (ie, they were behind a defender).
James Annunziata
083
Posted 14/04/2014 at 12:10:26
Palace will be a tough game. I would like to see us attack them from the off in every way possible. Slick passing, strong runs, a few strong tackles. Let them know they are playing against a team determined to break them into pieces and secure Champions League football.
Pulis-inspired grit and determination aside, the likes of Gabbidon and Mariappa should simply not be permitted to get in the way of our destiny this season.
Jamie Barlow
113
Posted 14/04/2014 at 16:31:11
I see we have the loveable Clattenberg for the Man U game.
Anthony Hanlon
119
Posted 14/04/2014 at 17:15:33
No chance of Clattenberg given us a pen then , having given 3 against the Mancs last time he was in charge against Rshite.
Ray Roche
120
Posted 14/04/2014 at 17:25:34
Jamie, I thought Clattenburg had a decent match when he took our game v Southampton last December, however, I also thought he was back to his snivelling, grovelling and suckholing best when he decided not to send Suarez off yesterday. The LAST thing he would do is to piss on Stevie Me and his date with destiny in lifting the Premier League title which S M so richly "deserves". (although I think he deserves a 4 iron round the back of his fuckin' head more, but that's just me being nasty)
Jamie Barlow
125
Posted 14/04/2014 at 18:03:56
I don't think you've got a nasty bone in your body Ray. Sounds perfectly reasonable to me.
Tom Bowers
126
Posted 14/04/2014 at 17:57:11
Delboy gives Everton some flair and it's nice to see a winger with pace and the footwork to beat defenders.
However like many players similar such as Oxlade, Lennon and Walcott, far too often the final pass is overhit or a shot is taken when a pass seems the better option.
However,just having a player like him can cause a lot of headaches to opposing teams and forces those teams to keep extra players back.

Wednesday's game will probably see Miralles start but It's time to start McGeady and leave Osman out.

Palace have the worst offence in the Prem. but their defence is bettered only by Everton, Chelski and City which shows they park the bus a lot.

Pulis certainly has them playing like Stoke so Everton need to be patient.
Ray Roche
145
Posted 14/04/2014 at 19:47:10
You've got a rare and well developed judge of character Jamie.
Karl Masters
147
Posted 14/04/2014 at 19:52:03
I doubt Moyes will be happy to see Clattenburg on Sunday and vice versa.
May actually work in our favour a bit.
Keith Glazzard
153
Posted 14/04/2014 at 20:10:51
'Pass it to a team mate' - David Hallwood asks.
Pasale el balon al compañro - in Castillian Spanish.
Passa li la pilota al company - in Catalan.
Pronunciation could get in the way of course if you're trying to get the Gladwys St choir to have either of these perfected by Wednesday. But a simple "al compan-yero" would do, or even better the Catalan. We tend to pronounce 'companion' as 'companyern', and this is almost Catalan. So -
'al companion'.
I'm sorry I can't be there to hear your efforts as I would miss the last bus home to Girona.
Keith Glazzard
156
Posted 14/04/2014 at 20:45:01
Jeez, I've got some sort of machine code thing going on too.
So, either 'al compan-yero', or 'al companion'.
In any case, mucha suerte to all on Wednesday night.
Paul McGinty
183
Posted 14/04/2014 at 23:33:52
I was In England for a couple of days last week so naturally went to the game. First half, Gareth Barry bossed the midfield, second half, thank the lord for Stones and James McCarthy. I had stub hub tickets at pitch level, it was interesting to see Big Dunc having a blast...he was great at warming up the subs, getting them relaxed and ready.
A final note... yet again, great support from the away section...I had never heard the "Roberto had a dream" song before... which I hope is sung loud and long as Man Utd slink away soundly beaten next week.
Roberto had a dream...
To build a football team
We had no money so we signed our players on loan
We build from the back
With Ross in attack
The school of science is on its way back
Add Your Comments
In order to post a comment, you need to be logged in as a registered user of the site.
Or Sign up as a ToffeeWeb Member — it's free, takes just a few minutes and will allow you to post your comments on articles and Talking Points submissions across the site.
© ToffeeWeb