Martinez Keeps Moyes Under His Thumb
By Lyndon Lloyd

20/04/2014

Comments (27)
jump

Everton 2 - 0 Manchester United
If Wednesday's disappointing defeat to Crystal Palace, followed by Arsenal's convincing win at Hull earlier today, had knocked some of the wind out of Everton sails, they had two things going for them today that would ensure that, psychologically, they were ready to pick themselves up and win to ensure that the gap between themselves and the Gunners remains a marginal one at a single point.
Firstly, the positive and cerebral management of Roberto Martinez and, secondly, the energy and volume from a packed home crowd determined to make life as uncomfortable as possible for returning former boss, David Moyes, and his Manchester United team. Those factors, combined with an excellent display of containment and counter-attacking football, saw Everton complete the league double over United for the first time in 44 years and kept their Champions League hopes alive.
Moyes, haunted amusingly in the early stages by a supporter dressed in Grim Reaper garb with accompanying sickle before complaints by the United bench forced his removal from the stands, would claim after the match that his team had "played very well" but, in truth, like Arsene Wenger before him, he was played like a fiddle by Martinez. The Scot was given the illusion that his team were in control of this contest as the Blues handed them over 60% of the possession before two rapier jabs dealt the fatal blows that had the visitors on their knees by half time.
The scoreline might not have been as emphatic as against the Gunners and the three-pronged attack lined up slightly differently but it was the same eleven players who had done all the damage to Wenger's men who started this time around, Ross Barkley playing from the first whistle this time with Leon Osman on the bench. The Blues also took a little while longer to really get going but a couple of early bombing raids by Seamus Coleman, who was a constant threat all afternoon, and two early penalty shouts for handball on Chris Smalling and Johnny Evans, both waved away, set the tone for the first half.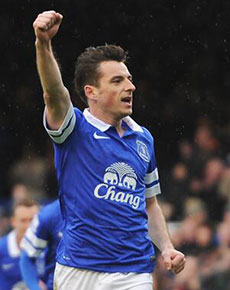 The opening goal would come from the penalty spot by the way of another handball in the 28th minute but it was Steven Naismith who had had the best chance up until that point, Romelu Lukaku showing great strength to nod a long free kick forward into the path of the Scottish international but he rushed his shot and ballooned it into the Park End.
It was Lukaku and Naismith racing away on the counter attack, though, who created the first goal, the Belgian collecting the latter's pass just outside the box and then charging towards goal to line up a trademark left-footed shot, the kind that he had swept past Wojciech Szczęsny a fortnight ago. Phil Jones had slipped in the United box but inexplicably raised an arm as the shot came in and referee, Mark Clattenburg, pointed emphatically to the spot.
Leighton Baines stepped up and stroked home another successful penalty, this time straight down the middle as David de Gea dived in vain to his right. It was the first penalty Everton had scored against Manchester United for 42 years.
The security of a 1-0 lead merely enhanced Everton's gameplan of tenacious containment and dangerous counters and a few minutes after Coleman's low cross had just eluded Lukaku in the six-yard box, the Blues benefited from the advantage given to them by Clattenburg (who waved play on despite Juan Mata's late challenge on Baines) to break away and score the second goal. Naismith worked the ball across field and wide on the right to Coleman who slipped a perfectly-weighted ball through the United defence to Kevin Mirallas. Played on-side by Smalling, he collected the pass and whipped it across De Gea and inside the far post. 2-0 and, as it would turn out, game over.
United, for all their manager's post-game praise for their first-half display, didn't manage an effort on target until first-half stoppage when Tim Howard was fortunate that the ball flew straight at him from a header off a corner but even then it was off Gareth Barry and not a red-shirted player.
The loss of Sylvain Distin to a slight hamstring strain at half time had the potential to destablise a settled Everton back line but with the exception of a brief slip in the first minute, an error for which he immediately atoned by snuffing out a chance for Wayne Rooney, Antolin Alcaraz was an able deputy alongside the ever-impressive John Stones.
Everton's shape and modus operandi remained unchanged, though, after the interval and with a 2-0 lead they merely invited United on, daring them to break them down. They lulled Moyes's side into a false sense of security by giving them plenty of possession 20 yards in front of the home penalty area but then continually and dilligently collapsed the space as the reds tried to pick their way through on the edge of the box.
Whether it was Barry, Stones, Alcaraz, Coleman, Baines or the peerless James McCarthy who covered every blade of grass with a performance that underscored his priceless value to Martinez's team, time and time again there was a blue jersey ready to step in and suffocate United's attacks before they could cause any problems.
Shinji Kagawa did get a rare sight of goal from distance shortly after half time but Howard gathered comfortably at the second attempt, while Mata drove a potentially dangerous direct free-kick into the top of the defensive wall. And it wasn't until three minutes from the end that Moyes's side finally carved the Blues' open when Javier Hernandez played in Rooney but Howard did brilliantly to push his shot over the bar.
In between, it was Everton who continued to forge the better chances and might have compounded Moyes's misery – not to mention padded their goal difference – had Naismith not side-footed another good Coleman cross over the bar from 10 yards out and De Gea not denied the Scot with a finger-tip save to push his shot wide in the 80th minute.
All in all, then, a comfortable and deserved victory for the Blues that delivers the message to Arsenal that we'll be pushing them all the way for fourth spot. After the questionable approach on Wednesday, Martinez got his strategy and team selection spot on to get the Blues back to winning ways and his players responded with a terrific performance of professionalism, power and patience.
The media's attention will continue to focus on the implications of this result on the man in the opposition dugout but a better story is what Everton's new manager has achieved in his own season of transition: 20 Premier League wins, 13 home wins in the League and 69 points, all records for the Premier League era. You could argue that the first three matches of the campaign were more or less a write-off as the Spaniard got his feet under the table without a reliable striker and when you consider how many of the games where points were dropped this season were ones we deserved to win, it's clear that he is just getting started. The Blues will keep fighting for the Champions League this season until it's mathematically gone but the future looks very, very bright regardless.

Follow @Everton1an
---
Reader Comments
Note: the following content is not moderated or vetted by the site owners at the time of submission. Comments are the responsibility of the poster. Disclaimer
Scott Williams
847
Posted 21/04/2014 at 01:14:46
What a result! What an atmosphere!
Matthew Salem
868
Posted 21/04/2014 at 03:15:06
Get in Everton. I hope we can get a result at Southampton and thereby put pressure on the Arse, who play Monday. But let's just enjoy this sweet victory for today. COYB!
Brian Williams
885
Posted 21/04/2014 at 06:27:48
....and Moyes said on MOTD that they were much the better team in the first half..
WTF had he been drinkin'?
Dennis Ng
887
Posted 21/04/2014 at 07:02:38
Brian, that's the Sky 4 way of saying "I don't know how we lost" Heard it way too many times now. Great to see a different yet effective style played by RM and the boys regardless. 3 more wins to go!
Paul Gladwell
895
Posted 21/04/2014 at 07:24:21
The clown said they controlled the play! we let you control what we wanted you to control, this is a man on millions of pounds a week and he could not fathom that, it could have been five, it was "EASY EASY" as the Park End where singing to the Utd fans as we all left the ground and the mancs knew it too, the longer the fella stays with them the more chance we have of keeping above them in the near future.

Peter Bell
900
Posted 21/04/2014 at 08:13:38
Dont know where the penalty stats came from but I can recall Sharpie putting a penalty away at the Stretford end in 84, remember it like yesterday, cos I was in there main stand when I jumped up
Colin Glassar
902
Posted 21/04/2014 at 08:33:10
Paul, he's lost it. He's like a man drowning hoping someone will throw him a life line. You could tell the manc players were going through the motions yesterday. As well as being outplayed, out thought and outclassed the mancs showed no fight, no desire, no interest in getting a result for their manager. Ginger is doomed.
Norman Merrill
908
Posted 21/04/2014 at 08:52:54
I'm sure Moyes, regardless of what he uttered to the waiting media, at the final whistle.
Will have been glad to get out of the Old Lady, just showing a 2-0 score line!!
Outplayed & out thought it was a good display, after the Crystal Palace fiasco, we will need very much of the same, next Saturday, at Southampton, but with better finishing.
Darren Hind
910
Posted 21/04/2014 at 08:56:25
We walked onto sucker punches against the better teams ealier in the season and I was begining to wonder if Robbie had a plan B. I'm not worried now, we have been content to let The Mancs and Arsenal have it and have killed them on the break.
The fact that Moyes thinks they were the better team would suggest Robbie has learned more in ten Months than he did in ten years
Paul Gladwell
912
Posted 21/04/2014 at 09:11:46
Coleman has come out and said Martinez had them practising all week at Finch Farm attacking on the break, it was pre-planned, if Moyes was still manager we would have been running up hills in the lakes followed by a wacky karaoke session in the local boozer, in fact I bet Utd have been doing just that in their eleven day break they had to prepare for yesterday's game.
Colin Glassar
913
Posted 21/04/2014 at 09:14:53
Am I right in thinking that one more win and fifth place is definitely ours? Spurs could only draw level on points but we have a vastly superior GD.
Paul Gladwell
914
Posted 21/04/2014 at 09:17:20
Colin we need 1 more point apparently
Colin Glassar
916
Posted 21/04/2014 at 09:20:03
Thanks Paul. Maths was never my strongest subject at school.
Darren Hind
917
Posted 21/04/2014 at 09:18:31
BTW Gerry Quinn
43 years away : full report please
Paul Gladwell
919
Posted 21/04/2014 at 09:28:35
Just saw the table Colin we must need one more win sorry
Brian Harrison
920
Posted 21/04/2014 at 09:19:38
Great to bounce back from the disappointment of the Palace result. Whatever happens in our last 3 games rm has had a magnificent first season, I am sure has surpassed everybody's expectations. There were a lot of very good performances yesterday, wasn't it great to see Mirallas perform as we all know he can, and Coleman and McCarthy were excellent.
My one and only slight disappointment is I don't think Ross is ready to play in midfield the game passed him by and he doesnt seem to know whether to stay back or join the attack. His natural position is just behind the striker but at this moment in time Naismith plays that role very well. The one time that Ross picked the ball up just outside the box and ran straight into the box and nearly scored is his strength.
Paul Gladwell
922
Posted 21/04/2014 at 09:35:41
Brian, you are right about Mirralas yesterday mate, in defence of Ross, I thought he would have teared Utd a new arse if we had played him through the middle in his natural position, however that would have also been unfair moving Naismth from there.
Christopher Timmins
933
Posted 21/04/2014 at 09:56:58
Lyndon, we play better when the expectation is not so great. Three games to go, no more midweek games, which don't suit given the size of our squad.
We have already created a record points tally, 69, and there is no reason why we cannot finish off with 3 more wins which have us accumulating 78 points for the season. One more win and 5th is in the bag, three more wins and who knows!
Great season and the manager has worked wonders in improving certain players!
Kunal Desai
935
Posted 21/04/2014 at 10:06:27
Could stop laughing at that clown saying they controlled most of the game and deserved something from it, what a fucking delusional twat. He is so far on his way down and in November he will struggle to get a job managing a Championship club.
Paul Gladwell
940
Posted 21/04/2014 at 10:20:14
Kunai, I think the Geordies are holding out sacking Pardew so they can snap Moyes up soon.
Gary Reeves
943
Posted 21/04/2014 at 10:04:46
Brian #920
I wish I could share your optimism in only being "disappointed" with Ross? Personally I'm starting to worry. Occasionally he beats his man and looks dangerous but more often he's anonymous. (If you watch him when the opposition has the ball, he truly hasn't got a clue.) This is a forum for debate, so here goes - I'd take the money!
Tony Abrahams
967
Posted 21/04/2014 at 11:53:07
Paul 912, running up hills at Finch Farm definitely. Moyes came back from America one pre-season and put a great big hill in Finch Farm for the players to run up and down to strengthen their legs, honestly. Well Roberto has already had it flattened and put two five-aside pitches there, also true.
I thought Moyes did a decent job at Everton initially but after watching Man Utd yesterday, I was shocked at how bad they have become. The last time I saw such a decline in a team so quickly was with Aston Villa after they won the European Cup in the early eighties. Let's hope it's an omen for Everton and it's not too long until we're Champions again after such a barren spell!
Kevin Elliott
984
Posted 21/04/2014 at 14:00:37
Wenger and Moyes played like a fiddle by Martinez.
You are a poet Lyndon.
Barry Stevens
223
Posted 21/04/2014 at 21:59:50
Only disappointed we never got the third goal. The ginge would have got it tenfold after that. Perfect gameplan from Sir Roberto.
On the pitch Coleman was immense, as was McCarthy.
Stones looked like he was relishing the challenge of head to head with Rooney. On we roll with the 4th spot still a real possibility. COYB
Ross Edwards
680
Posted 25/04/2014 at 21:34:45
The fact that Moyes couldn't even come up with a plan to beat a team he has the best inside knowledge of out of anyone in English football epitomises his complete incompetence, which he showed not only at Manchester United but in his last three seasons here.
Conn Prosser
666
Posted 28/04/2014 at 12:14:08
Goodison Park is the only place that Moyes didn't actually "get out alive".
The irony is delicious.
Add Your Comments
In order to post a comment, you need to be logged in as a registered user of the site.
Or Sign up as a ToffeeWeb Member — it's free, takes just a few minutes and will allow you to post your comments on articles and Talking Points submissions across the site.
© ToffeeWeb