Roberto Martinez: Re-introducing the School of Science
By Paul Traill

10/05/2014

Comments (35)
jump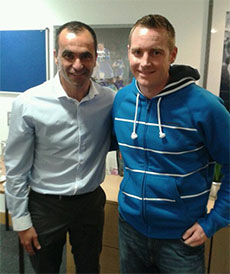 The gates of Finch Farm are usually entered by multi-millionaire footballers in Bentleys, Mercs and Ferraris…so turning up at the entrance and winding my window down in my little Renault Clio to inform security that I was here to interview Roberto Martinez did feel strange. I could hardly believe the words coming out of my mouth and was thrilled when the barrier opened and in I drove into a rainy Finch Farm. Inside, I was greeted at reception and waited with the rest of the assembled interviewers representing various Everton supporters' websites.
Mark Rowan led us upstairs, through the canteen and into the players area where seats were placed in a close-nit circle for the eight of us and Roberto. It was fascinating looking around the vacant players room with something of a mini-cinema there, a pool table and a darts board. We weren't waiting long at all before Roberto arrived, smartly dressed. "Gentlemen" he said as he came in with a polite smile, and walking around the circle greeting everyone and shaking our hands. It's amazing how easy going Roberto is to talk with. He's very pleasant, highly intelligent, and very amiable. He certainly has time for you and you sense he has already developed a real passion for our club.
I asked if we would be utilizing our younger players for our Europa League campaign next term. His answer was pleasing. "We worked with 22 players this season. Next season in the Europa League we'll need 27, 28 players. That means we will work with young players but we'll need to have a bigger squad. This can not be an excuse to drop our standards in the domestic league. We embrace the challenge of Europe, of playing Thursdays and Sundays, but we have to have the right signings; young players will get opportunities."
Will Ryan Ledson, Luke Garbutt and Tyias Browning feature more next season? "Ryan has a great future ahead of him. Luke played against Southampton and it's about measuring what he does next. Tyias is exactly the same. He's ready for the Premier League. He's got incredible talent. That decision is going to be pre-season. I consider these two first team players even though they haven't played that much."
"The Europa League is an incredible competition. I don't agree with people being derogatory or disrespectful to the completion. Juventus, Benfica, Seville, Valencia… all Champions League contenders. I don't understand teams not wanting to play in Europe. You get to play against top teams." ,P> Roberto Martinez is a supporter of Greg Dykes "B league" proposal as it gives young players first team football without having to send them out on loan to an environment beyond your control. He gave an update on how some of our younger players have faired on loan this season…
Hallam Hope: Hit an incredible level at Bury. A good goal scorer and took responsibility when he arrived at Bury. They had to get results.
Matthew Kennedy: Very interesting situation. He went to Tranmere and did very well but when he came back he had to work on other aspects of his game. So we sent him out again to MK Dons and now he's come back with a really good positive report.
Matthew Pennington: I know he's ended up with a negative feeling because of relegation of Tranmere but in terms of experience its an incredible feeling scoring as a right back.
Tyias Browning: Went away and had a bad experience which became a good experience to have him with first team.
Luke Garbutt: Had a great time at Colchester.
Apostolos Vellios: Went out to Blackpool and found it very difficult and it didn't work out.
Francisco Junior: Away in Norway. Also a success.
Speaking of younger players, Roberto spoke very glowingly about our exciting central defender John Stones… and of his role-model, our skipper Phil Jagielka. "He's still a young man and he has to work on his game but John Stones is going to be one of the best centre halves the world has ever seen. His DNA is an elegant centre-half. Phil Jagielka has been an incredible influence on John. Even when he was injured, he would come into the dressing room at half-time and have a word in his ear. I've never seen such a role from a senior player as I've seen with Phil Jagielka and John Stones". He feels Stones would do well at the World Cup if called upon.
There is a chance too that Bryan Oviedo could make the World Cup. "He's been called up to Coast Rica for the first 30 names they've put together so we're happy. Nobody knows if he's going to be ready or not. Now, he's not ready yet but on 19th May he's going to join Costa Rica. One member of staff will go with him. On 30th May we'll know if he's made it but even to be in with a chance is an incredible achievement." I think we can all agree we'd love to see Bryan Oviedo running out against England on 24 June.
So who does Roberto fancy to win the World Cup? "If it was in Europe I couldn't see a winner past Spain or Germany, but it's in South America and I can only see a South American team. Brazil have to be favorites. I'll be going to scout players. I hope they (the players I am looking at) have a shocker so we can afford them!"
There are over 100 players which fit the category of player Everton require but of course there are several obstacles in availability. He re-emphasized how Everton will not be making excuses for any poor league display due to Europa League challenges. "We'll use the loan market. We're going to build as strong a squad as we can because next season I don't want to use the excuse of "Oh we had to travel because of Europa League". Some players will travel, some will stay behind. We really want to embrace it."
He didn't give much away regarding the retention of our current loonies though did suggest it may be "difficult" to keep Gerard Deulofeu and did say Romalu Lukaku would represent a good investment if purchased for £20m given his attributes and that he's already been through a big transfer fee which has not fazed him. He did speak positively about Lacina Traore perhaps staying at Everton for a longer period despite his injury. Lacina has enjoyed life at Goodison Park and prior to his injury in the warm-up at Stamford Bridge was being talked up by Samuel Eto'o and Willian about his credentials. Expect him to feature at Hull City this Sunday.
Big Dunc was inevitably enquired about. "Duncan is not an ex-player. He finished his career, switched off from football, took a little bit of a break and all of a sudden he made a decision that he wanted to be a coach and help players through his own experiences. He's a man in love with the game and he love the club." Will he become a manager? "I hope so. He's a leader. He commands real clarity. He's very clear and that's important to be a manager. He's got everything to be a good manager."
Onto other long-term servants still playing for the club and Roberto spoke glowingly of Tony Hibbert and Leon Osman. "Tony has been very unfortunate a couple of times with little niggly injuries when he was going to play. I hope Tony stays. I know he is out of contract and I need to speak to him but having a happy Tony Hibbert at the club is great for younger players. Leon is an experienced player but very fit, the only player who has been involved in every game this season."
Pre-season plans are yet to be finalized though Leon Osman has his testimonial on Saturday 9 August, against whom will be revealed in due course. Everton's pre-season schedule will be announced after the FA Cup final as it will be clear then if we have to play an extra Europa League qualifying round or not. "Last seasons tournament in USA was fantastic. We will go there again though this pre-season looks unlikely."
Roberto Martinez breeds positivity, that much is clear, but what of this seasons undoubted low-point, the 0-4 thumping at Anfield? Well he somehow turned this into a positive also. "In the same way it was a breaking point for us. It is the first time an Everton team has gone to Anfield and recorded 500 passes. We were very good in many aspects of the game but were so naïve in exposing aspects of counter attack against what is one of their strengths. We were very negative for 50 minutes but from that point on we have always played well. It's taken us to the next level."
Roberto spoke of the importance or recognizing the history and heritage of your football club and he has certainly settled fantastically into the Everton role, even discussing Will Cuff quotes at one point during the interview. He was asked abut the 'Roberto Had A Dream' song. He likes the lyrics as he feels it fits into his philosophy. "I prefer to look at the way we play rather than the results. Look at the goal against Manchester City. It started with Tim Howard playing it out and then Ross Barkley. I love that the School of Science is re-opened."
We love that you've opened that door Roberto. We all chatted for 1¼ hours and you couldn't wish to meet a more pleasant man. He politely posed for pictures and signed shirts and books etc at the conclusion and I was out of Finch Farm and back into the Knowsley drizzle.
A splendid afternoon in great company. Thank you, Everton, and thank you, Roberto.

Follow @PaulTraill
---
Reader Comments (35)
Note: the following content is not moderated or vetted by the site owners at the time of submission. Comments are the responsibility of the poster. Disclaimer
Duncan McDine
1
Posted 10/05/2014 at 07:50:03
This is a great read... love the way you start the article (turning up in your Clio!).
The comment about Stones is on the money in my opinion. My mate and I just kept looking at eachother everytime he touched the ball (against Southampton)... and despite the poor team performance, we both agreed that Stonsey looks a different class.
Matt Traynor
2
Posted 10/05/2014 at 08:17:26
I wouldn't refer to Gareth Barry as a loony... not sure about Lukaku tho.
"I love that the School of Science has re-opened".
For me, that tops the "People's Club" sound-bite in terms of its significance.
Good read Paul, and you lucky bastard!
Kieran Fitzgerald
3
Posted 10/05/2014 at 08:54:10
This seems like a big departure from how things used to be. Allowing various websites and forums in to speak to the manager is very positive and it looks like it was more than just a PR job.
It's just a pity the ToffeeWeb expenses account didn't stretch to buying you a company car Paul. Remember Paul, always get a receipt.
Mike Allison
4
Posted 10/05/2014 at 10:17:43
I agree with Matt Traynor, it is harsh calling them loonies.
I listened to the whole thing, and apart from the poor sound quality it was a highly engaging experience. I don't know if other clubs and other managers do this sort of thing but as a fan it really makes you feel like the club, or perhaps the particular manager, cares about you at least enough to explain some things.
I know it was a very pleasant experience for the interviewers, and you don't want to rock up and be awkward with someone who's had a great season, but for me there have been two major frustrations in our play this season and only one was asked about. Roberto agreed that in fact, sometimes we were too slow in possession and allowed the other team to set up defensively, and he seems aware of the need to play quick transition football at times. He constantly refers to being adaptable, so while possession is clearly his favoured style, I am hopeful that we won't be a team who constantly passes for passing's sake and is unable to find a different gear. Even excellent sides like Barcelona and Bayern Munich have been found wanting in recent years because they're too one-dimensional. His answer was exactly what I would have wanted to hear, and our performance in beating Man United at home showed we were able and willing to change style to suit the situation.
However, with the amount of possession and dominance we have, we win a lot of set pieces near the opposition's goal, including corners. This has been the worst season I can remember for us taking corners, and I don't feel like we have any chance of scoring off one when we got one. In fact, against the better counter-attacking teams, I feel that we're more likely to concede a goal than score one when we've got an attacking corner.
I know Roberto doesn't prioritise set pieces but I don't see what harm it would do to make sure five of our players could hit the right spot every time taking them, and another five of our players were capable of making a run and winning a header. Surely he could assign this to another coach for 30 minutes once a week or something. It wouldn't take much to be better at it than we are now.
All-in-all, for anyone who hasn't listened yet, I recommend you do. Roberto talks openly about the players, and the improvements he expects us to make next season. This year was like a Stage One and he expects us to be able to develop further tactically. He also mentions Aiden McGeady, and how the fact that he wasn't here in pre-season and missed some tactical work which led to him being used less. We should expect a lot more from him next season once he's been through a pre-season with the rest of the squad and understands his role within the team more.
He talks about something which was always a strength under Moyes, which is the quality of the character of our players. We don't have difficult, awkward or selfish players who cause unrest, and the senior players almost seem like Sergeants to his General maintaining this positive and constructive atmosphere. It's clear that, when Roberto scouts then signs a player, he does so on far more than just ability alone. He even mentioned things like looking for clues in how a player celebrates a goal.
Whilst just occasionally the cynic in me wonders if Roberto is an excellent politician who has figured out exactly what we want to hear, it's hard not to be swept up in the positivity of his outlook and the genuine affection for, and connection with, Everton he seems to have developed in such a short space of time. He talks about our history and uses 'we' as he refers to the nine league titles that go back to way before he was born, in a different country. It's got me looking forward to the summer, and transfer activity (when's the last time you felt like that as an Everton fan?) and especially next season, where current players, new players and our crop of young players could all be exciting us and competing on four fronts.
Mike Hughes
5
Posted 10/05/2014 at 10:55:54
Err ...... I think that should be "loanees" not "loonies" !!!
(predictive text my guess)
Very positive article especially on Europa not compromising the Premier League focus next season.
I liked his comment on tracking World Cup players who he hoped would have a shocker so we could afford them.
I'll look forward to next season in good time. I hope Man City win it tomorrow, then happy for the break with a great season completed.
Onwards and upwards.

Raymond Fox
6
Posted 10/05/2014 at 09:58:02
Typical Roberto – what you see is what you get! Dave Whelan said he is the best manager in the world and you can see why he thinks that way.
Martinez encompasses the whole club and gets everyone on board pulling in the same direction. We need to keep him at Everton for as long as possible because, if any manager can overcome our lack of the folding stuff, it's this guy.
It'll be a very sad day for Everton when he leaves.
Dick Fearon
7
Posted 10/05/2014 at 11:08:48
Stones is going to be one of the games great centre halfs, eh? If that is true, why does Distin say the lad is not good enough to play in the World Cup?
Why is Martinez downplaying Barkley's chance of selection by suggesting England should not overplay Ross's contribution to the squad?
In both of the above cases, Sylvain and Roberto could very well be telling it as it is but try saying that to these two ambitious young fellows. With the vagaries of the game, this could turn out to be their only opportunity on the world stage.
When managers and players the world over are promoting the World Cup merits of their players and team mates, I wonder how our two feel about feel about a public take-down from their own club.
Andrew Cunningham
8
Posted 10/05/2014 at 11:45:16
Because Dick when they go to the World Cup, other players get in their ears, e.g., Rooney.
Maybe trying to keep their feet on the ground!

John Daley
9
Posted 10/05/2014 at 11:48:16
'Public takedown'. Way to blow things totally out of proportion Dick.
Roberto Martinez on Ross Barkley and the World Cup:
"I don't think there is another English player that can do what Ross does. Will we expect to win the World Cup because of Ross? No.
"That is what we need to be clear on. He has the potential to be one of the best midfielders in world football at the age of 25, 26, 27 but not now.
"If the role in the World Cup is to carry England, that is not Ross. But if it is someone that will be ready to help the team, someone who will be ready mentally and nothing will phase him; yes, he has that character. He will be 100 per cent behind the team.
"We need to protect a young man who is the best young English talent I've seen and worked with. I hope we can fulfil his potential and give him what he needs over the years." 
How is he 'downplaying' him, Dick? He basically says England and its fickle red-top influenced fans shouldn't overburden the boy with unrealistic expectations only to turn and slate him when he doesn't produce fucking miracles. We've all seen it before, many a time, with the English national team. We've seen it with some of our own support dismissing any sub-par performances as 'a disgrace' or 'shite' like a 20-year-old still learning the game is not permitted to have an off day.
To suggest Martinez is somehow angling for Ross not to make the cut for the World Cup squad is utter crap when you take into consideration the fact that he's been his biggest cheerleader all season. He's effusive in his praise for the ability Barkley possesses and what he could bring to the world stage. All he's saying is be realistic about it.  
John Daley
12
Posted 10/05/2014 at 12:08:21
Oh, and as for Distin on Stones? Did he say he won't ever be good enough to play at the World Cup or just that he is not ready just yet? There's a big difference.
Come to think of it, what does Distin even know about what it takes to perform at the World Cup considering he's never come anywhere near himself?
Mike Childs
13
Posted 10/05/2014 at 12:23:02
I listened to the entire interview yesterday. All I can say is what a breath of fresh air. He got me juiced to learn more history which led me to learning the history of Z-Cars. While checking that out on YouTube, I discovered a movie Reds & Blues: the ballad of Dixie and Kenny. Priceless! I haven't laughed this hard in ages. My new motto is "Bitter, Twisted and Proud".
Colin Glassar
14
Posted 10/05/2014 at 13:27:13
Great article. It sounds like Vellios will be the first one out on his arse next week. I think the lad has potential but it sounds like his attitude stinks.
Terry Downes
15
Posted 10/05/2014 at 14:17:41
I'm a bit worried that Martinez is fast becoming irreplaceable, I can't imagine any manager coming in and doing better. Let's enjoy every minute we have him as I think he's destined for bigger and better things.
Let's hope Roberto decides to stay until he wins a trophy at least....

Brian Denton
16
Posted 10/05/2014 at 14:55:55
Where's Entwistle to piss on the chips?
Eugene Ruane
17
Posted 10/05/2014 at 14:59:28
Raymond Fox (7) - "Dave Whelan said he is the best manager in the world & you can see why he thinks that way"
By the way, did you know Dave Whelan once broke his leg in a cup final?
True!
Mike Allison
18
Posted 10/05/2014 at 15:12:44
That's strange, Eugene, you never hear it mentioned...
Raymond Fox
19
Posted 10/05/2014 at 15:04:05
I didn't know that, Eugene! Are you sure... because, if he did, it's an site more than we could manage between us, sweet Jesus!
Also, in case anyone doesn't know, I'm Roberto's long lost uncle, and his greatest admirer who will support him for evermore up hill and down dale!
Long may he continue!
Dick Fearon
20
Posted 10/05/2014 at 15:14:48
My post about the World Cup, Barkley and Stones — what possible harm could befall them? At the same time, what a tremendous experience.
Si Cooper
21
Posted 10/05/2014 at 15:19:13
Inspiring stuff indeed. I can't say I have a problem with his willingness to engage via all forms of media, and generally I can't fault what he is saying (though I agree with Mike Allison in that it would be nice to iron out a few details).
Just hope Roberto isn't rumbled when he is mixing the Temazepam into the Yerba mate!
I am interested to find out how interviews like this are coming about. Did the fan sites get together and request it, or were they contacted by the club and individually invited? Does this mean the latest Communications Director is in the same mould as his predecessor or is this RM's influence permeating the club?
Matt Traynor
22
Posted 10/05/2014 at 15:53:33
Terry #16 "I'm a bit worried that Martinez is fast becoming irreplaceable, I can't imagine any manager coming in and doing better."
Isn't that what a section felt about the former manager? Managers, like players, and (please!!!) owners come and go: the only constant is the fans.
That said, I hope RM is here for a long time.
Sam Hoare
23
Posted 10/05/2014 at 16:13:45
Not sure Francisco Junior's time in Norway can be accurately described as a success but, apart from that, it all sounds good...
Linda Morrison
24
Posted 10/05/2014 at 16:10:09
Good interview and a very good read.
I think you will find Distin did not say that Stones was not good enough for the World Cup; he did say that Stones was very young and only just made it into the first team and should not have too much pressure put on him, or be thrown in at the deep end.
Next season will be very interesting. The amount of dosh teams will have is going to be far higher than any previous season. This season's bottom club will get more than £60 million — more than what Man Utd received for finishing first last season. I hope, whatever he gets, Martinez spends it wisely; then who knows where we will end up?
Happy Days!!!
Charlie Percival
25
Posted 10/05/2014 at 16:57:31
Dick, remember Rooney in the Euros? There's the answer to your question. The English team's a bunch of muppets and wouldn't want any of our players mixing with them.
Phil Bellis
26
Posted 10/05/2014 at 17:00:59
Whelan broke Roberto's leg! You're making it up!
John Brennan
27
Posted 10/05/2014 at 17:03:07
Terry Downes,
Saw you lose to Paul Pender in the early sixties. Great bout.
EFC to rule next season. COYB !!!
Terry Downes
28
Posted 10/05/2014 at 18:50:14
John Brennan,
Bit punchy nowadays but I'm told I was quite useful in my prime?
Tony Draper
29
Posted 10/05/2014 at 18:49:23
As a comment upon Roberto's remarks regarding certain players' loan experience as both negative and positive...... Maybe what Roberto was tactfully saying was: "WE learned what WE needed to...."
Polite, approachable, erudite, intelligent but most of all Roberto makes decisions. Having learned a modicum of basic psychology, I know that this much is true.
"When someone whom you hold in esteem regularly reinforces you, the moment when they withdraw their approval is a powerful influence upon your behaviour, and you will endeavour to regain their approval."
Roberto is NOT just a nice guy, he's a leader, a BLOODY strong leader.
Danny Broderick
30
Posted 10/05/2014 at 21:39:59
Interesting that he mentioned using the loan market again...
Andy Osborne
31
Posted 11/05/2014 at 11:11:36
Did I miss hear, or did ToffeeWeb not get a mention in the introduction of all the fan sites that were in attendance. If so, why?
Tony Draper
33
Posted 13/05/2014 at 19:42:38
Roberto!
That's it isn't it? The penny has dropped! I get YOU!
Intelligent. Well Versed. Driven. Classical.
And the WORLD will be better...... !
Cervantes!
Roberto, Lord of "Acre de Dios"...
To reach the unreachable! — "Para alcanzar lo inalcanzable!"
Tony Draper
34
Posted 13/05/2014 at 19:52:30
Adelante a la gloria vamos!
Add Your Comments
In order to post a comment, you need to be logged in as a registered user of the site.
Or Sign up as a ToffeeWeb Member — it's free, takes just a few minutes and will allow you to post your comments on articles and Talking Points submissions across the site.
© ToffeeWeb