Theo Kelly: The Rise and Fall of Everton's Secretary-Manager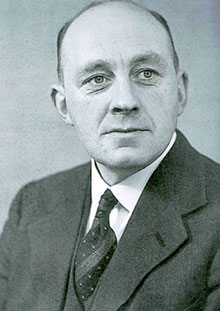 Ask an Evertonian about Theo Kelly and he or she, if familiar with the Club's history, might respond: "He was Everton's first manager who fell out with leading players but created the club crest in 1938".  This statement has much truth in it but fails to do justice to Kelly's influence  over a 21-year period at Everton.
Football was in the blood for Theo:  his father, Louis Kelly, penned sporting articles for the Liverpool Echo for over 20 years under the byline "Stud Marks". Louis was a Manxman, born in February 1870 into an Onchan farming family. His earliest childhood recollections were of his father sharpening and wielding a scythe. The family relocated to Liverpool in 1876 in search of a more prosperous life. At the age of 7, Louis embarked on school education which would point him towards Everton, as he recounted in his newspaper column:
"My first school was Great Homer Street Wesleyan where the Headmaster was Mr S.M. Crosbie – long qualified as the "Father of Everton FC Shareholders". Strange too that the church organist there was none other than George Mahon – famed as Everton's Chairman of Directors. My next school was Walton Lane Council and my third and final school venture was to Brunswick Wesleyan."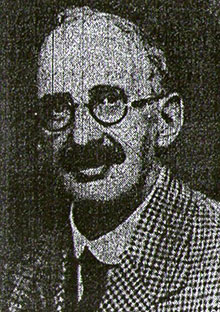 Theo's father, Louis T Kelly
With his father dying when he was 10, young Louis took up a part-time job as a butcher's boy before giving up his education two years later to assist his "rather delicate" brother in the bread and flour trade. His portrait photo suggests that he could have become a Groucho Marx impersonator. Louis died on 2 February 1942; he was living at 84 Newby Street – just round the corner from Goodison Park.
Louis's first son entered the world in 1896; he was christened with a grand name: Louis Alford Theodore Kelly. To avoid confusion with his father, the son would come to be known simply as "Theo". It is reasonable to assume that he was reared as an Evertonian.
In 1911, the 15-year-old  was living with the family in Westminster Road, Kirkdale. Louis Senior must have prospered in business and he was listed as a Baker and Confectioner. During the First World War, the young man served at sea before returning home, presumably, to a role in the family business; in 1925, he married Emily Wilson.
Kelly first came onto the Everton scene in 1929 when he applied, successfully, for an A-Team coaching position. Within 7 years, he had been promoted to Company Secretary, upon the death of Tom McIntosh,  in recognition of his organisational skills – indeed Harry Catterick credited Kelly with teaching him the ropes of football administration in the 1940s.
Kelly was impatient for Everton to adopt the team manager model applied so successfully by Arsenal with Herbert Chapman in the hot seat. Will Cuff, "Mr Everton", was reluctant to adopt such changes, leading Kelly to reputedly label him an "old tyrant". Cuff would not easily forget what he felt was "treachery" by Kelly.
In 1939, Everton moved to ditch the outdated system of the Board and Secretary selecting teams and promoted Kelly to the Secretary-Manager position of the newly-crowned Football League Champions. In fact, the unheralded team captain, Jock Thomson, made team selections with Harry Cooke continuing in post as the Trainer.
Despite his undoubted abilities, Kelly proved a divisive figure: ambitious and talented but perhaps lacking in the "soft skills" to manage the stars of the day. Dixie Dean's relationship with the Secretary turned, in Dean's word, "sour". The striker found himself demoted to the Reserves before being dispatched to Notts County in March 1938 – just one short of 400 league appearances. In mitigation, it could be argued that Dean, by the late-30s, was not the player he once was and had a strong personality that was not easy to manage.
During wartime, Kelly appeared to engineer a club-versus-country impasse with Joe Mercer the pawn in the middle – this led to sanctions being taken against the Club by the FA.  On the other hand, it was a herculean effort by Kelly, aided by a few others, to keep the club functioning – something not widely recognised. Goodison was bombed whilst the footballing programme and attendances were decimated. Both T G Jones and Gordon Watson, who also played important roles in wartime,  claimed that the club would have closed during the War without Kelly's talent and dedication. Indeed Kelly, Watson, Jackie Grant,  and the landlord of The Winslow pub  staffed the nightly fire-watch  to ensure that the stadium did not succumb to incendiary bombs. If any dropped in or near the ground, they put them out with sand.
Having guided The Toffees through the difficult war years, he found himself managing a depleted squad – albeit partly of his own making.  By late 1945, Tommy Lawton was desperate to escape the area due to marital problems – Kelly dismissed a transfer request out of hand, telling Lawton "We've been trying to give you away for months and nobody wants you". This was clearly hokum as West Bromwich Albion, Millwall and others made enquiries before Kelly agreed to sell the want-away striker to Chelsea in November for £11,150 – a compromise to keep the era's best striker at Goodison should have been found.
The loss of Joe Mercer a year later is harder to excuse, as his subsequent impact on Arsenal illustrated. Kelly and the Everton hierarchy failed to appreciate the severity of a leg injury that Mercer was struggling with and even questioned the integrity of "Gentleman Joe". As Mercer told John Roberts:
"It was a terrible blow for me to go, because I was so crazy about Everton. Mind you I wasn't easy to handle. I was Captain of England at the time and had been a Sgt Major, running my own show. Theo Kelly and I had one or two ups and downs. The funny thing was, he wanted me to play centre-half – Me, a wing-half who used to go diving into the action, when the club had T G Jones, the best centre-half of all in my opinion!  Things became so bad between Theo and me that one day I went to see the directors at the Exchange Hotel, where they held Board Meetings, and said 'Transfer me, or I turn it in'. The directors said they wanted to me to stay but I was determined and Arsenal paid £9,000 for me."
The immediate post-war period also saw tensions between Kelly and Cuff re-surface with a bitter battle ensuing over shareholders' voting rights – a battle that Cuff would ultimately lose. There were also suggestions from contemporaries at this time of a growing alcohol intake.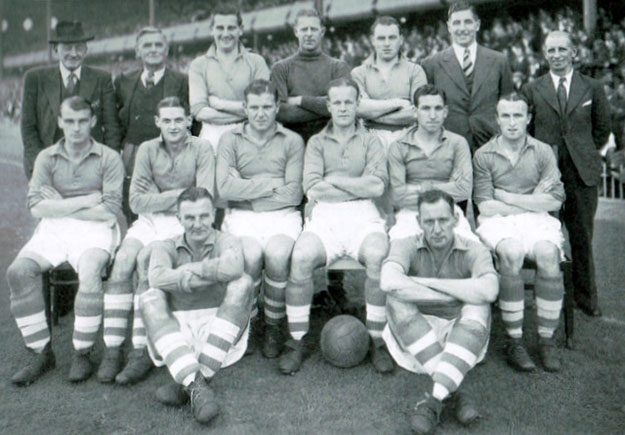 Theo Kelly (top left) with the Everton team in 1947
Whoever was at fault, the seeds of decline and eventual relegation had been sown. Some blamed Kelly for failing to seal a deal to bring Albert Stubbins to Everton from Newcastle – the striker instead moved to Anfield and became a title winner. By September 1948, the Board felt compelled to take action. Former Everton star Cliff Britton had led Burnley to an FA Cup Final in 1947 and was selected as the man to bring success back to Goodison Park. Britton would become Everton's first manager in the modern sense. Kelly reverted  to a purely administrative role as Secretary – the snub must have been felt badly.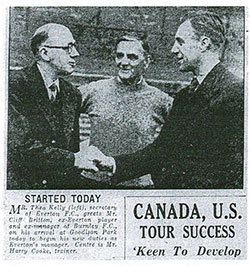 Cliff Britton arrives at Goodison Park
The exact reasons for Kelly's departure from Goodison, just over two years later, are shrouded in mystery but the Everton minute books give some clues.  Kelly was granted a three-month leave of absence on full pay effective from 1 December 1950;  Bill Dickinson covered in his absence. It later transpired that Kelly had spent this period in a Manchester hospital on unspecified health grounds. In a surreal twist, the following month the Board resolved to send Kelly 50 cigarettes per week. Finally, in February, Kelly's letter of resignation, citing poor health, was accepted and a £500 farewell payment was awarded (swiftly amended to a £20 per month payment  – up to a maximum of £500).  In May the Board agreed that Kelly qualified for a Football League Long-Service Medal.
After leaving Everton, Kelly fell off the Goodison radar. In his later years, he lived at 222 Wallasey Village before passing away on 22 April 1964 at Walton Hospital, aged 68. In his Will he left £1,081 to his daughter, Audrey McMurty.
To conclude, Louis Alford "Theo" Kelly excelled at football administration, created our crest, and made enemies too easily; however, he should also be remembered, with eternal gratitude, as the man who saved Everton during the Second World War.
Footnote: If you knew Theo Kelly or his family, please contact the EFC Heritage Society via  paulwhartonefc [at] btinternet [.com]
Credits: Written by Rob Sawyer with assistance from EFC Heritage Society  (Billy Smith, David France and Paul Wharton) and John Roberts
References: The Everton Encyclopaedia (James Corbett); Blue Correspondent website;  Everton in the 1940s (George Orr); Everton – The Centenary History (John Roberts); and The Everton Collection website.
---
Reader Comments
Note: the following content is not moderated or vetted by the site owners at the time of submission. Comments are the responsibility of the poster. Disclaimer
Dennis Stevens
599
Posted 26/02/2014 at 17:27:26
I always thought the credit for the crest was owed to Thomas Keates, although I can't recall where I got that idea from.
Joe Bibb
718
Posted 27/02/2014 at 10:15:33
Hi Dennis, Theo Kelly designed the club tie in Aug 1938 he took Prince Rupert's Tower and the motto nils satis nisi optimum from another director Alfred Wade who stated in 1935 that only the best was good enough.
Everton did in the 1890's use Everton Beacon on their paperwork but this was not the same as the Tower.
Peter Hall
992
Posted 27/02/2014 at 23:23:31
Well, to think I walked past his house on the way to school for 2 years. I could have knocked on the door and asked him about Everton... probably would have been kicked out.
On the plus side, at least we were champions when he died – well, the RS became sure to follow us that very week. Might have been too much for him to bear...
Mike Gaynes
646
Posted 04/03/2014 at 16:56:13
I absolutely love the pen name of Theo's father.
What better name for a footy writer than "Stud Marks"?????
Add Your Comments
In order to post a comment, you need to be logged in as a registered user of the site.
Or Sign up as a ToffeeWeb Member — it's free, takes just a few minutes and will allow you to post your comments on articles and Talking Points submissions across the site.
© ToffeeWeb