Well Qualified to Keep Goal for Everton
By Tony Onslow
26/11/2014

Comments (11)
jump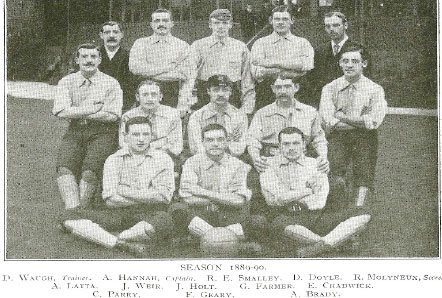 Standing, centre of the back row, on this 1889 Everton team photograph is the man who has been designated to fill the position of goalkeeper. His name is Robert E Smalley.
The goalkeeper did not, in those far-off days, enjoy the protection he does today and it was within the rules of the game to bring him down before he had possession of the ball. This situation produced a tendency to punch it clear to prevent him from being carried into goal by the weight of the oncoming rush made by the opposing forwards. There were, as yet, no nets attached to the framework of the goal and he was grateful to have a couple of sturdy full backs to help protect him. The position of goalkeeper was, in Victorian times, not a place for a faint-hearted football player.
Bob Smalley was born in 1867 at Over Darwen which, in those days, was a township within the parish, polling district and poor law union of Blackburn in Lancashire. Destined to do "well in life", he was the second-born son of cotton-mill worker Richard Smalley and his Fylde-born wife, Jane. The 1871 census records that the family had moved to 9 Walpole Street in the Fishwick area of Preston and they had three children: Walter aged 6, Robert, 4, and Mary who was one year old. Richard, who spent his life in the cotton industry, was missing from 1881 census but Robert had now started work, as an office boy, at a firm of accountants, owned by W F Moore, in Preston. It is around this time that the Smalley brothers began to play association football.
First to be recorded, in the local newspapers, was Walter when he was appointed captain of the second XI side at Preston North End Football Club while Bob, following in his brother's footsteps, played on the wing. He took up, by chance, his side's goalkeeping duties during a game in which he incurred an injury and began to distinguish himself in this position. He played in goal for the rest of his time at Deepdale before moving on to play for a football club who, it would appear, was centred in and on a large motive power railway depot that was situated on the West Coast mainline, to the south of Preston. They played under the name of Lostock Hall.
The club, formed in 1886, were granted "junior status" by the Lancashire FA and entered the county knockout competition where they were drawn against the previous winners of the tournament, a side called Bells Temperance. The Accrington-based side were favourites to retain the trophy. Nonetheless, they found the railwaymen more than a match for them; at the fourth attempt, the tie had yet to be brought to a conclusion and the teams met, for a fifth time, on the home of Fleetwood Rangers. Robert E Smalley, who had played well in each game, was attracting the attention of all the leading clubs in Lancashire.
The game at Fleetwood drew a large crowd of local journalists who reported that Lostock Hall beat the "Watermen" by one goal to nil. The railwaymen then began to look forward to the next tie, against Haslingden Institute, but the game was not to be played. Bells Temperance, clearly miffed by the occasion, lodged a protest against their opponents on the grounds of professionalism. The protest was sustained and Lostock Hall were eliminated from the contest. Bob Smalley, when the season ended, accepted the offer to turn professional, and signed for Everton.
The Everton executive thought long and hard as to what would be the best moment to introduce their new signing and decided on an away fixture against Notts County. The game had been arranged to coincide with the annual "Goose Fair" which marked the "High Spot" on the Midlands town social calendar and to be invited was an acknowledgement of the progress that had been made by Everton Football Club. The game, played on Trent Bridge Cricket Ground, ended in a 1-1 draw. The visitors then enjoyed "High Tea" in the cricket pavilion and then mingled with the crowds attending the "Goose Fair" before rejoining their special saloon carriage, provided by The Midland Railway Company, for their return journey to Liverpool.
Bob Smalley now took his place in the second XI and Charlie Joliffe, the first team goalkeeper, was in the Everton goal when the club became embroiled in the FA Cup marathon against Bolton Wanderers. The tie was about to enter its second replay when Smalley was called in to an Everton side that, eventually, went through to the next round. This took Smalley back to his old stomping ground at Deepdale where Preston North End beat Everton by six goals to nil. He survived the purge on professionalism, implemented by the FA against the club, and continued to keep goal for an Everton club who retained him in readiness for their inaugural season in the Football League.
Bob Smalley was under the home crossbar when Everton began their first league campaign with a win at the expense of Accrington at Anfield. He then went on to keep goal during 18 of the 22 Football League matches played by Everton, who finished 20 points behind the champions, Preston North End. Next season, the club went into the transfer market and brought in a plethora of players from Scotland but the Preston man remained the first-choice goalkeeper.
Bob Smalley, now aged 23, still resided in cotton mill town and traveled to Liverpool each time he was required to play for Everton. He listed his occupation as that of a "Bookkeeper." His father had been promoted to Cotton Mill Manager and the family lived at 254 New Hall Lane in Preston. Robert Smalley, who now had four sisters, was back on goalkeeping duty when Everton began their second season as members of the Football League.
The Anfield club had brought in two international full backs, Hannah and Doyle, and these Scotsmen were, in the course of season, able to give Smalley some excellent cover as they challenged Preston North End for the title. The visit of the reigning champions, who led Everton by one point, produced a capacity crowd when the two sides clashed, at Anfield, on the 26 November 1889. The crowd was estimated at 20,000 with many more people locked outside. Everton began the game, on a heavy pitch, with the pronounced slope in their favour.
The pressure caused the by the capacity crowd, proved too much for the barrier behind the goal, which collapsed, sending the spectators spilling on to the playing area. Play was held up while it was repaired. Everton, with a goal from Geary, took a first-half lead before the visitors hit back in great style. Bob Smalley, in the course of the second half, was beaten at regular intervals as the visitors won the game by five goals to one. Everton, nevertheless, were still in second place when the two sides met again four weeks later, at Deepdale.
Two football special trains left from Tithebarn Street Railway Station and these excursionists were eager for Everton avenge the defeat they had witnessed at Anfield. They were not to be disappointed. Everton, who produced an outstanding performance, surprised their hosts as goals from Geary and Millward gave them a two-goal lead. Preston then reduced the deficit. The Everton defence however, were in no mood to surrender the game and Bob Smalley, in front of his home town crowd, produced an outstanding display which, aided by Hannah and Doyle, helped Everton win the game by two goals to one.
The future was now looking bright for Bob Smalley and his teammates as they began the New Year with 7-0 home win at the expense of Aston Villa. Everton then caused a sensation by beating Derby County, in an FA Cup tie, by eleven goals to two and this winning margin remains, to this day, a club record victory. This in turn was followed by a defeat in the Lancashire Cup before a further disaster occurred, in the next round of the FA Cup, when Everton visited the Potteries.
Stoke City were lying at the foot of the Football League table and the visitors were expected to win the tie quite easily. They had beaten the Potters twice already in the course of the season, one of which was an 8-0 win at Anfield. However, for the home side, it proved to be a case of "third time lucky". Everton, after playing badly, looked to have saved the game when, trailing 2-0, they hit back with two quick goals late in the second half. Their efforts however, proved to be in vain. The Stoke forwards, aided by some poor defending, twice rushed the ball past Smalley to win the game by four goals to two. Bob Smalley then played one more Football League game, a 1-0 win at Burnley, before he was replaced in the Everton team by a new goalkeeper who was a native of Edinburgh.
News had reached the ears of the Everton executive, during their trip to Turf Moor, that the former Burnley goalkeeper, Walter Cox, was out of favour and had returned home to Scotland. Richard Molyneux, the club secretary, caught the train north and signed him at his home in Leith. He then in turn caught the overnight train to London to register his signature with the FA before returning home to Liverpool. Walter Cox, having played for Everton in a couple of friendly games, took the place of Bob Smalley in the next Football League fixture at Accrington.
The game was played on the Thornyholme Cricket Ground and it saw the championship hopes of Everton take a turn for the worse. The visitors, thanks to a couple controversial goals, had raced into 4-goal lead before Everton hit back to make the score 4-3. They then laid siege to the home goal before Accrington made the game safe with a fifth and final late goal. Walter Cox then took part in the three final Football League games of the season as Everton narrowly conceded the title to Preston North End. Bob Smalley, in the meantime, shared the Everton goalkeeping with Cox and, at the end of the season, the following article appeared in a local newspaper…
Friends of the club will be pleased to learn that R E Smalley, who has been so long and honourably connected with the Everton organisation of goalkeeping, made arrangements with the committee on Monday evening, whereby his services have been retained for next season. (Liverpool Daily Post, 21 April 1890.)
Walter Cox had not been retained by the Everton committee and a new goalkeeper, a Scot by the name John Angus, had been signed from Sunderland Albion. Bob Smalley now took his place in the club's second XI that was captained by George Dobson. Angus was now first-choice goalkeeper as Everton, who started the season in style,  won six and drew one of their first seven games and began to look like having a "real chance" of wrestling the title from Preston North End. They then suffered a home defeat, 3-2 at the hands of West Bromwich Albion which in turn was followed by a second defeat, 3-1 at Trent Bridge against Notts County.
John Angus, who had a poor game, was then relieved of his duties and Bob Smalley was brought in for the next game, against Blackburn Rovers, which was to mark the first visit of Everton to Ewood Park. They trailed at half-time but looked to have salvaged a point, with goal from Edgar Chadwick until…
Smalley let a ridiculous soft shot from Southworth roll past him and in to the goal (Liverpool Courier 10 October 1890.)
The visitors lost the game 2-1.
The Everton executive, as their championship hopes began to waver, now paid out £700 to bring in David Jardine from Bootle. The Scotsman, who proved a good purchase, then took over the goalkeeping duties as Everton went on to win the Football League championship for the first time in their history. Bob Smalley then returned to his native Preston where he became involved in several local sporting activities.
The 1901 census reveals that he had become a Chartered Accounted and married a girl called Edith Rosetta Harrison. The couple lived at 2 Newton Road and employed one domestic servant. In 1911, the couple, who had no children, were then living at large house called "St Kilda" on Garstang Road in Preston and still employed a domestic servant. They lived at this address until, following the death of Bob Smalley, a lengthy obituary appeared on 17 January 1947 in the Lancashire Evening Post. A small section of this tribute, which went under the heading of "Noted Sportsman", reported that…
Mr Smalley was a keen active sportsman in his youth and maintained an interest in cycling, football, cricket and bowling through-out his life.  A former director and keen supporter of the North End club, he once kept goal for Everton and had the rare distinction of playing for and against, the Old Invincibles. He was president of the Preston & District Cricket League and a member of the Fulwood Bowling Club. He was president of the Preston Rotary Club, president of the Preston reform Club and president of the Preston & District Chartered Accountants' Society.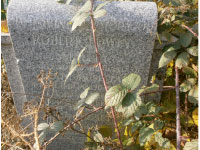 The last resting place of Robert and Edith Smalley
Robert E Smalley, a former Everton goalkeeper, was buried in the Non-Conformist section of Preston Cemetery where he was later joined by his wife, Edith. The gray coloured headstone is today, sadly, almost hidden in the undergrowth. They are, however, now plans afoot to have the plot cleared.
---
Reader Comments (11)
Note: the following content is not moderated or vetted by the site owners at the time of submission. Comments are the responsibility of the poster. Disclaimer
Dennis Stevens
1
Posted 26/11/2014 at 09:23:46
Thanks very much, Tony. I do find these historical pieces fascinating. Maybe it's because these figures from bygone eras of club history somehow seem more real than the plastic superstars of the modern game. I think new specs for your proof reader may be in order though!
Dave Pritchard
2
Posted 26/11/2014 at 09:48:57
I agree, Dennis. Having just read 'The Cannonball Kid' what comes over is how different the game was previously. Dave Hickson felt that he was sold by Everton because of his (in those days) poor disciplinary record. When you see how clubs protect players today, even when they've done some terrible things both on and off the field, it shows a different era.
The clubs called the shots over the players then, rather too much by the sounds of things. It is all changed now but has gone too far, like many other situations.
Tony Onslow
3
Posted 26/11/2014 at 12:16:36
Sorry, Dennis about the mistakes... senses not what they used to be, I will get one of my grandchildren to check my next article before I submit it. Glad you enjoyed it though and thanks for your kind comment.
Dave Lynch
4
Posted 26/11/2014 at 13:20:21
Tony.
Maybe you have and maybe you haven't but have you ever thought of putting these articles together in book form? It would make fascinating reading and I for one would buy it. It would also preserve the memories of some of the lesser known but no less important members of our great club.
Alan Humphreys
5
Posted 26/11/2014 at 13:07:40
Enjoyable read. Having kept goal myself in the past (at a very, very, very low level) and cried 'murder' when someone had the audacity to shove me, you get some understanding of the brutality teams were allowed to get away with... For some reason, I always picture Sly Stallone in Escape to Victory.
Kind of expected him to be bigger than the image shows due to the nature of the game back then. I assume it's modern day football that has created the need for Giants between the sticks.
Dennis Stevens
6
Posted 26/11/2014 at 15:24:59
Dave's quite right, Tony. Enough of these historical articles assembled together would make for an excellent book or, hopefully, a series of volumes over time.
Michael Kenrick
Editorial Team
7
Posted 26/11/2014 at 15:32:18
Another great article, Tony. Apologies as I have been trying to do a read-through before they go up but I did not get to this one in time.
Some interesting points: Nottingham County? I thought they were rather particular about the name of the club being Notts County FC? I can find no indication they were ever called 'Nottingham County', but I could have missed something.
Also, stylistically, I have trouble with switching between present and past tense when talking history... Maybe it's just me – I know this 'active voice' business is all the rage in narrative – but it looks very odd to me when you have both tenses in the same sentence, referring obviously to stuff that happened in the long-distant past!
Anyway, I've cleaned it up now. Let me know pronto if I've messed anything up in the process. And if you do make the book compilation, I'll gladly be your proofie!
Lyndon Lloyd
8
Posted 26/11/2014 at 16:15:04
Sorry, Dennis and Tony. In my desire to get Tony's piece up in a more timely manner this time, I wasn't able to properly proof it. I'll take more care next time.
I'm glad that people are enjoying these, though, and I love that we are building a nice archive of Tony's historical work here at ToffeeWeb. That book idea is a good one for the future, too – I had the same thought.
Tony Onslow
9
Posted 26/11/2014 at 16:06:39
Hmm... start with Dave. I have previously written three books which briefly allude to the brilliant early history of our beloved Everton. I have since retired and now have time on my hands to analyse the lives of the early players in depth. Two years ago I wrote a series of short stories which I published myself and have since replicated many of them on ToffeeWeb.
I enjoy trying to unearth previously unknown facts about our former players because I do not want them to vanish in to pages of history. I have, at this moment in time, no plans for any further publications.
Tony Onslow
10
Posted 26/11/2014 at 17:40:17
Mike, from what I can gather, the game was not against the Notts County club but, as it was exhibition match, the team that opposed Everton was made up of a team of players who represented the Nottingham FA. With regards to the past and present tense, its difficult to write a bio of a former Everton player with out going back to highlight the difficulties he had to endure in relation to how the game is played today.
Alan, Smalley, might not look tall against the two players is stood between because Hannah and Doyle were "taller than average" amongst the inhabitants of Victorian England. However, if you look at the two guys in mufti, you will see all three tower over both of them.

David Ellis
11
Posted 28/11/2014 at 06:39:51
Thanks, Tony.
I really enjoy these pieces too. I don't think many current pros will go on to become chartered accountants!
---
Add Your Comments
In order to post a comment, you need to be logged in as a registered user of the site.
Or Sign up as a ToffeeWeb Member — it's free, takes just a few minutes and will allow you to post your comments on articles and Talking Points submissions across the site.
© ToffeeWeb