The Enterprising Mr Sawyer
By Rob Sawyer

24/02/2015

Comments (15)
jump

The Story of William James "WJ" Sawyer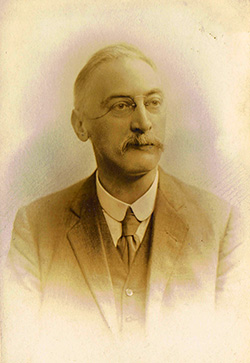 WJ Sawyer [Sawyer family collection]
William James Sawyer, known as "WJ" to many and "Bill" to his friends, was my great-grandfather. He was also a significant figure on the North West football landscape in the first half of the Twentieth Century.
WJ was born in 1870 to William Sawyer Senior, a boat superintendent with the Leeds Liverpool Canal who had migrated from Burscough to Liverpool. After schooling at St Mary's School in Edge Hill, and at Liverpool Institute, WJ followed his father into the canal trade, as did his younger brothers, Walter and Dick. Having studied accountancy he rose through the ranks to become Company Secretary whilst in his 40s. Sport was a passion from an early age – perhaps the links to the canal led to an interest in swimming and rowing but it was football which really touched him. He played as a goalkeeper in the workplace "Canal Recs" team before a broken collar bone, sustained in a match, forced him to switch to the administrative side of the game. Here he found his vocation and by 1910 he had co-founded the Liverpool Midweek Hospital Cup prior to acting as president of the Thursday League.
Around this time he answered the call to help manage the finances of African Royal – a team based in the south of the City. He would be instrumental in the club's reconstitution as South Liverpool FC. As well as being one of the founding shareholders he became Secretary-Manager. South Liverpool would always struggle to compete with the two Mersey giants to the north of the City. There were highlights however: WJ pushed through a move from the sub-standard accommodation at Grafton Street to Dingle Lane whilst a record crowd of 18,000 witnessed the April 1914 encounter with Tranmere Rovers. WJ needed all his charismatic skills to keep the Liverpool County Combination/Lancashire Combination outfit afloat after it was thwarted in its 1914 bid to join the Football League. The outbreak of war would further hamper progress; in an effort to keep costs down his teenage twin sons, William (Billy) and Dan were often pressed into manning the turnstiles.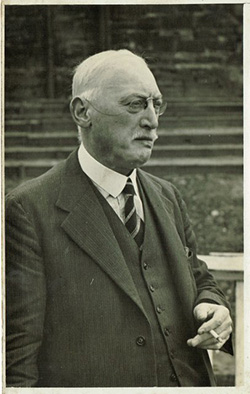 WJ Sawyer, 1920s [Sawyer family collection]
WJ's resourcefulness and entrepreneurial spirit had not gone unnoticed in Liverpool 4 where Everton FC were on the lookout for a replacement for Will Cuff, who had decided to stand down from his position of Secretary. South Liverpool had forged close links with Everton by occasionally playing practice matches against the Toffees to their mutual benefit. Therefore it is inevitable that WJ would have been on good terms with the Goodison hierarchy – perhaps his masonic status also played a part. Overtures were made and WJ came onboard as Honorary Secretary in November 1918. South Liverpool would limp on for two and a half more years before moving - lock, stock and turnstile - across the Mersey to be rebranded (many years before Wimbledon/MK Dons) as New Brighton FC.
Records have WJ listed as Everton's Honorary Secretary-Manager for his period in office but, due to the fall-out from the War, no competitive matches were played under his tenure. Having accepted an invitation to become the full-time salaried secretary of the club he had a last-minute change of heart in November 1919 and elected to remain with the Canal Company. Instead Tom McIntosh joined the club from Middlesbrough to take up the stipendiary secretarial position but WJ's services were retained as a casual talent scout.
By 1920 the downturn in fortunes since the championship success of 1914-15 led to open warfare amongst shareholders. A group of Evertonians, referred to as "The Syndicate", had been hoovering up every share that was made available for purchase. Once in control of the majority of shares they ensured that WJ was elected in to the board at an EGM in August 1920 whilst Frank Coffey, a merchant, became chairman. WJ would wield considerable influence at Everton throughout the 1920s as chairman of the club's Finance Committee.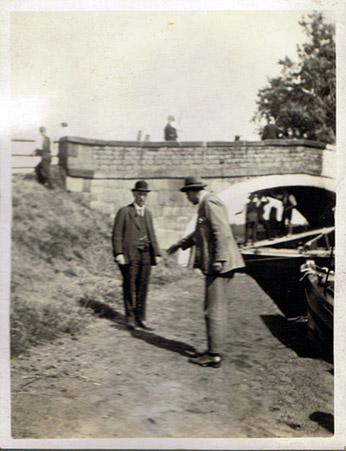 Sawyer at work on the Leeds-Liverpool Canal in the 1920s [Sawyer family collection]
Away from Goodison WJ was instrumental in the reformation of the stricken Wigan United as Wigan Borough FC. WJ's links to the Lancashire town would have been strong through its location on the Leeds-Liverpool Canal – to this end he was given honorary life member status at Wigan Rowing Club. At a public meeting in November 1920 WJ promised to deliver 3 to 4 Everton players to aid the Lancashire Combination outfit. When the apparent conflict of interest was put to him he responded that he was just regarded it as: "a duty because it is the smaller clubs who provide Everton's players of the future". Under the new managerial team at Springfield Park the reconstituted club played its first match, unsurprisingly against South Liverpool. Wigan Borough were elected to the newly formed Football League Third Division North in 1921 but a decade later were wound up in financial ruin. From the ashes rose Wigan Athletic in 1932. WJ's wider interest in regional football was evidenced by him serving on the committee of the Lancashire County FA.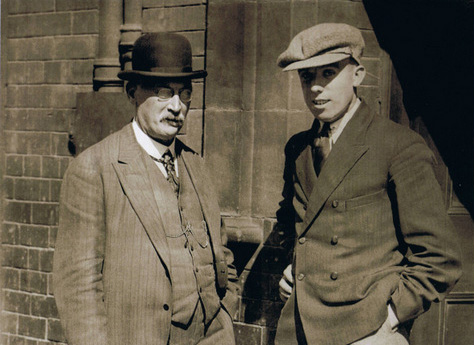 WJ Sawyer with a young Bill Dean in 1925 [Sawyer family collection]
As an Everton director WJ was frequently dispatched to watch other teams and report back at the weekly board meetings on potential player acquisitions. Perhaps his most lasting legacy was his role in the signing of an 18-year-old goal-scoring prodigy from the Wirral. After some haggling over the price the young striker, by the name of William Ralph Dean, crossed the Mersey in March 1925 for £3,000. Shortly after the signing WJ was pictured with "Dixie". Typically the director was looking away from the camera lens, however this apparent shyness was misleading. In fact WJ was quite a force of nature – a man who worked hard but also enjoyed the trappings of his success.
His mischievous sense of humour was often at the expense of his long suffering wife, Sarah. For no apparent reason he listed her occupation on a census return as a "pork butcher". Sarah would accompany her errant spouse to Goodison in May 1928 to see Dixie notch his glorious 60th league goal. WJ was also not averse to self-promotion and the suspicion lingers that many of the glowing profiles written about him in newspaper, and match day programme, columns were penned by his own fair hand.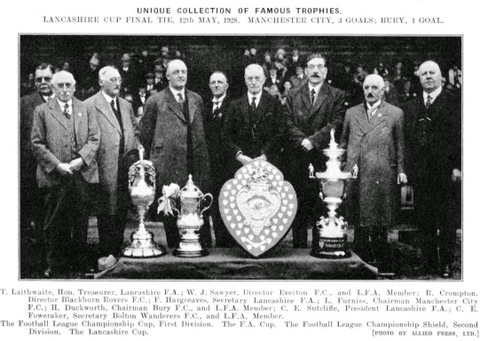 WJ Sawyer with the Lancashire Cup in 1928 [courtesy George Orr]
The high-life would come to an abrupt end at the end of the decade as the Great Crash saw his risky investments in the cotton markets become worthless. In October 1930 he shocked the Everton directors by tendering his resignation – despite being asked to reconsider by Will Cuff he stuck with his decision. A press report in the Liverpool Mercury and Post alluded to health problems – perhaps brought on by his financial difficulties:
A man of particularly large heart and kindly disposed to all forms of sport, Mr Sawyer had taken toll of his strength by helping football and by strenuous endeavour to put Wigan Borough FC on the football firmament. In the last year Mr Sawyer suffered a breakdown in his health and he has now wisely decreed that he must forsake the game in which he had played so great a part.
The Everton board minutes recorded the thanks of his director colleagues as well as numerous subsequent requests by WJ for complimentary match tickets – some were acceded to and others declined. A more surreal encounter, in September 1934, was a successful pitch to sell Everton some Argonite "coal saver" for whom WJ had become an agent. Two cartons of the fire accelerant were ordered at 5 schillings each.
By 1933 WJ and Sarah had relocated from Waterloo to live in modest accommodation at Seabank Road in Wallasey. Joining them was a new member of the family. WJ's younger brother, Edward Irving Sawyer, was a captain in the Harrison shipping line and would bring back parrots from his voyages to give to his family and friends. "Polly" was adopted by WJ and soon learned to shout "Everton!". Less endearing was the propensity to mimic the Sawyer household's private criticisms of a neighbour, Mrs Webber, within her earshot.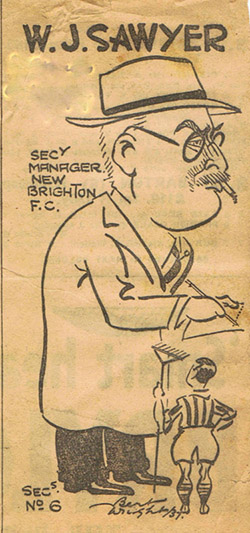 [Sawyer family collection]
The lure of football would soon draw WJ back to day-to-day involvement in the game. In March 1933 he met the directors of Everton and Liverpool FC in order to gauge their reaction to the possibility of a new club being formed to the south of the city. It is unclear if this would be a new incarnation of South Liverpool FC or New Brighton FC moving back to its roots. Predictably neither club welcomed the proposal. Within days WJ was back in football upon being appointed Secretary-Manager of New Brighton FC. A new South Liverpool club was eventually formed in 1935 and settled at Holly Park - it briefly included former Everton winger Ted Critchley in its squad.
The "Rakers", like South Liverpool before them, would always struggle to compete with the football leviathans from Walton as well as nearby Tranmere Rovers. WJ's "keep smiling" mantra was a welcome fillip for the Third Division North Club, as was his eye for talent. In 1935 he spotted a full-back who had been rejected by his home-town club, Bolton Wanderers. That player was Norman Greenhalgh. After 77 league appearances he was sold on to Everton for £3,000 in January 1938. Greenhalgh would go onto to form a formidable full-back partnership with Billy Cook and captained Everton to league championship glory in 1939. New Brighton were not averse to seeking financial assistance from the Toffees – on at least two occasions loans were given by the Blues to the Mersey minnows.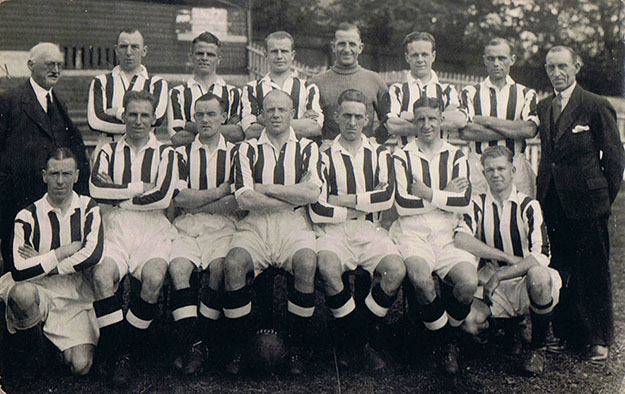 New Brighton FC team in 1937 [Sawyer family collection]
Days before Greenhalgh's departure for Everton, the Rakers, with a squad which cost £100 to assemble, managed to take Tottenham Hotspur to a FA Cup 4th Round replay before lost 5-2 in North London. Everton would repay their debt of gratitude to WJ for his decade of service by playing in a benefit match on 2 May 1938 against the Rakers. 1500 watched a 5-4 victory for the visitors to Rake Lane with Everton fielding an impressive line up of: Morton, Jackson, Greenhalgh, Mercer, TG Jones, Davies, Geldard, Bentham, Bell, Stevenson, and Trentham. The Liverpool Daily post commented on the game:
There was a deal to entertain, the spectators who were keenly appreciative of the clever and precise moves of Everton, and particularly the deft ball control and tricky runs of Stevenson, the outstanding forward in the game. Geldard also, at times, showed his paces to advantage and crossed the ball with deadly effect, whilst Bell, who scored four times, was entertaining in the leadership. Buxton and Jones (TG), the respective half-backs, were cool and neat in their work.
The outbreak of the Second World War brought competitive football to a halt. WJ would soon succumb to illness and passed away at home in June 1940. He was laid to rest alongside his parents in Anfield Cemetery - a stone's throw from Goodison Park. Strangely there was no headstone – an omission put right by my father shortly before his passing in 2012. WJ's son, Billy, inherited his father's interest in Everton's affairs. Having co-founded the Everton Supporters' Federation he stood, unsuccessfully, for election to the Board in the 1950s.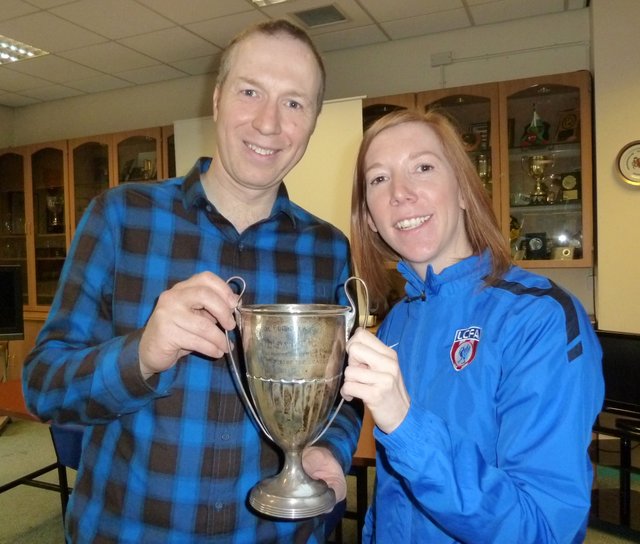 2014 WJ Sawyer Cup held by Rob Sawyer and Alice Watson, County Development Manager at Liverpool County FA
Something which kept the Sawyer name in the consciousness of Mersey football circles was the WJ Sawyer Cup. It is unclear if the competition was founded by WJ or if it was named in his honour. Contested by clubs in the Liverpool League, it was running from the 1930s through to the 1970s. My father often referred to it but occasional enquiries to elicit the fate of the competition and the trophy came to nought. After my father passed away I sent a speculative email enquiry to David Pugh, the Chief Executive of the Liverpool County FA. To my shock and delight he phoned me within minutes to confirm that the trophy was facing him in the trophy cabinet at the head office in Walton Hall Park. In early 2014 I was able to clasp the trophy for the first time, it is now going to be restored and may, again, see regular use. WJ's name lives on.
Acknowledgements:
Hyder Jawad (author of Rest in Pieces – the definitive history of South Liverpool FC)
David Pugh – Liverpool County Football Association
Garth Dykes
George Orr
Everton Collection website
Billy Smith (Blue Correspondent website)
Kenneth Sawyer

Follow @handforth70
---
Reader Comments (15)
Note: the following content is not moderated or vetted by the site owners at the time of submission. Comments are the responsibility of the poster. Disclaimer
Bob McEvoy
1
Posted 24/02/2015 at 22:12:29
Rob,always enjoy your articles .Even more welcome given our current demise . Keep em coming .
Brent Stephens
2
Posted 24/02/2015 at 22:19:33
Nice piece. Especially the final bit re the trophy.
Dave McCoy
3
Posted 24/02/2015 at 23:49:20
Really love your research Rob, thanks.
Phil Walling
4
Posted 25/02/2015 at 00:38:41
Great piece, as usual, Rob. About time for WJ's great-grandson to form another 'syndicate', methinks !
Murdo Laing
5
Posted 25/02/2015 at 09:05:42
Superb stuff Rob, and a timely reminder of what Everton Football Club is really about as well, grounded in local tradition,and perhaps there are parallels of WJ's legacy through to the Moores family in the latter part of the last century? The 1914 attendance of 18, 000 between South Liverpool and Tranmere is a real eye opener, I mean, I know those were very different times, but 18 K! It's also great to see how WJ is remembered, and of how the Sawyer family are keeping it alive , and I hope this continues through the generations.
Nick Entwistle
7
Posted 25/02/2015 at 13:13:51
There are never too many responses to these pieces compared to current topics, but that doesn't mean they're not appreciated or enjoyed. I always take time out to read them with care, rather than scan through on a five minute break etc. Great photos too.
Peter Jones
8
Posted 25/02/2015 at 13:48:52
Most interesting piece, Rob. My granddad always reckoned South Liverpool was his first team ahead of Liverpool. Your stories from those days emphasize how great the gulf is now between the lesser clubs and the Premier League giants compared to then. It is our loss I think.
Gavin McGarvey
9
Posted 25/02/2015 at 20:40:57
A very interesting read Rob, thanks for writing this.
Denis Richardson
10
Posted 26/02/2015 at 01:50:29
Very nice read Rob. Thanks for taking the time writing it and giving us a little glimpse of our past.
Paul Wharton
11
Posted 26/02/2015 at 09:13:38
Rob as usual a great read, you must be rally proud of WJ.
Eugene Ruane
12
Posted 26/02/2015 at 09:16:17
A fantastic piece (as usual).
Jamie Yates
13
Posted 28/02/2015 at 13:06:58
Fantastic piece as always Rob - proud to say there's a link to something I put up a few years ago after spotting an article about the Everton 'Syndicate' in the Glasgow Evening Times archives while doing some genealogical research. Your great-granddad gets a mention although I apologise I seem to have mistranscribed his middle initial (or the Glasgow Evening Times did!).
Not sure if you saw it at the time but worth a read: From the Glasgow Evening Times archives
Sue Brown
15
Posted 28/02/2015 at 18:49:08
Very interesting and a great read Rob, I always enjoy your articles, thanks.
---
Add Your Comments
In order to post a comment, you need to be logged in as a registered user of the site.
Or Sign up as a ToffeeWeb Member — it's free, takes just a few minutes and will allow you to post your comments on articles and Talking Points submissions across the site.
© ToffeeWeb