The Class of '65: Everton's First FA Youth Cup Winning Team – 50 Years On
By Rob Sawyer with David France

25/03/2015

Comments (24)
jump

For the EFC Heritage Society
Foreword (by David France)
What happened to the promising group of lads who won the FA Youth Cup in 1965? I remember some better than others, after all it was 50 years ago. I was 16, keen to leave school and suffering from a mild dose of Evertonitis. I attended all home first-team games and hitch-hiked to as many away games as possible.
Even though we were both avid Blues, I didn't go to many matches with my father. The mid-week Youth Cup ties that season against Manchester United, Stoke City and Sunderland were exceptions. Surprisingly, we missed the final against Arsenal. My absence had much to do with end-of-season pile-up of fixtures when Everton played about five league games in nearly as many days. I remember the eerie atmosphere at the floodlit and sparsely populated Goodison. I loved Mama Blue, that was how my father referred to the Old Lady, empty or full. My dad liked to watch junior football – he admired its honesty.
The FA Youth Cup was in its infancy. The Busby Babes were expected to win the trophy every season. In fact, United had dominated it for the first 5 or perhaps 6 seasons. There was no little talent in the Everton side – I remember being overwhelmed by how good the players of my age were. They were our "Class of '65".
Harry's Game
In the 1964-65 season, Harry Catterick was attempting to refine his Chateau Goodison 1963 vintage into another Grand Cru. The loss of Tony Kay in the spring of 1964 was still keenly-felt despite the sterling efforts of Brian Harris in the № 6 shirt. The key to future dominance, in Catterick's eyes, was the sourcing, and development, of the finest teenage talent in the north of England. This would be blended with a few, key, big-money buys.
Home-grown products Colin Harvey and Tommy Wright had already displaced Championship-winning stalwarts Dennis Stevens and Alex Parker whilst Gerry Humphries and Stuart Shaw were on the fringes of the first team.  Now Catterick's eyes were now fixed firmly on the next tranche of young talent advancing together in the FA Youth Cup and, in some cases, already on the fringes of the first team.  Just two days after Liverpool's debut FA Cup win, "The Catt's" master plan was put to the litmus test at Goodison in the second leg of the FA Youth Cup Final. The Blues' hard-earned victory over Arsenal was the club's first in the competition and blazed the trail for further successes in 1984 and 1998.
Here are the Young Men...
The 12-man squad selected in the autumn of 1964 to launch the assault on the trophy consisted, with two exceptions, of northern lads who had risen up through the apprentice ranks. They lined up thus in a W-M (2-3-5) formation: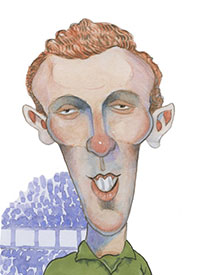 Geoff Barnett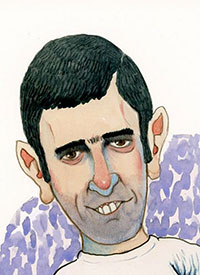 Dave Pearson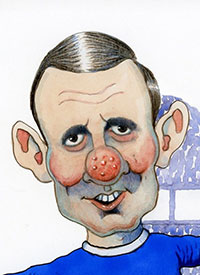 Frank D'Arcy
1 - Geoff Barnett (Goalkeeper): The Northwich-born stopper had represented both Mid-Cheshire and England Schoolboys. He came to Everton's attention when putting in stellar appearances for Mid-Cheshire Schoolboys against their Liverpudlian counterparts in the national schools trophy semi-final at Anfield and the Drill Field. Tea was taken in the Barnett's parlour by Harry Catterick and Matt Busby before Everton won the battle for Geoff's signature – one condition was that club made arrangements for Geoff to receive academic tutoring.
David France recalls: "Back in the good old days, that's right when Everton boasted reliable keepers will feline reflexes, Geoff was impressive. But at the time competition was cut-throat."
2 - Dave Pearson (Right-back): Shotton-born "Mucker" had represented Wales at Schoolboy level and come through as an apprentice at Everton.
3 - Frank D'Arcy  (Left-back): The tough-tackling full-back had starred for Liverpool and England Schoolboys before joining Everton from school at 15. David France recalls, "Even as a Baby Blue the one and only Frank D'Arcy was hard. Seasoned wingers tangled with Darce at their peril."
4 - John Hurst (Right-half): The versatile Blackpool, Lancashire and England Schoolboy had been identified as a star of the future. Initially a forward, by 1965 "Big John" was playing in, what would now be called, a right-sided midfield role. David France recalls: "John made his first-team appearance as the club's first sub at Victoria Ground at the kick-off of the following season. His progress was stymied by Harry Catterick not knowing his best position and the crowd not blessing him with a nickname."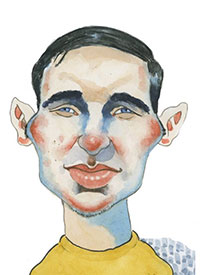 John Hurst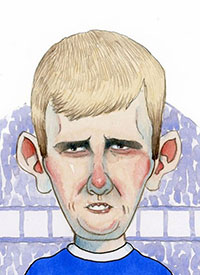 Eric Curwen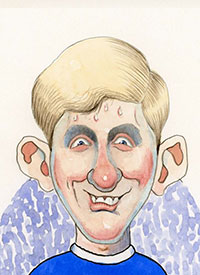 Dennis Yaager
5 - Eric Curwen (Centre-half): Bispham-born Curwen had captained England Schoolboys in the 1962-63 season and, like Hurst, had been persuaded to cross the River Ribble to develop on the blue half of Merseyside. He was chosen to captain the Youth Cup side by coach Ron Lewin. Converted from a right-back, he was unusually small, at just 5'-8", for someone occupying the "pivot" position.
6 - Dennis Yaager (Left-half): The Australian had been invited over to Merseyside on trial in the wake of Everton's post season tour of Oz in 1964. He had exceeded expectations and advanced from the B to Reserve team. David France's recollections focus on the teenager's appearance: "I remember Dennis Yaager simply because he was from Down-Under and looked like a blond surfer dude."
7 - Alex Wallace (Outside-right): Wallace (often referred to as Alec by teammates in order to avoid confusion with Alex Scott and The Golden Vision) was a boyhood Blue who had  attended Holt High School in Gateacre. He represented Liverpool and Lancashire Grammar schools in 1963-64 prior to joining the Blues as an amateur and progressing to the professional ranks.
He recalls that speed was his asset: "In those days if you were a winger you had to be fast enough to catch pigeons just to avoid being killed by full backs. I remember playing once against Gerry Byrne of Liverpool and I could hear him coming to get me from 50 yards. In those days killing a winger was only a booking and not a dismissible offence!"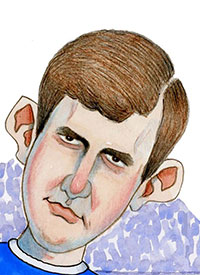 Alex Wallace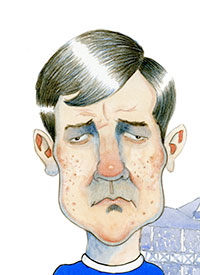 Gerry Glover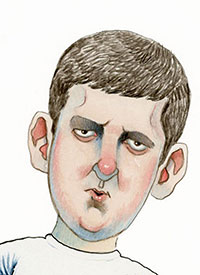 Tony McLoughlin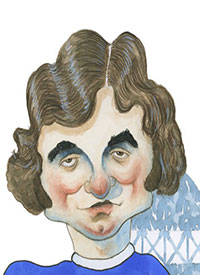 Jimmy Husband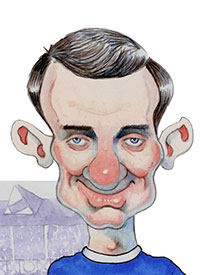 Aiden Maher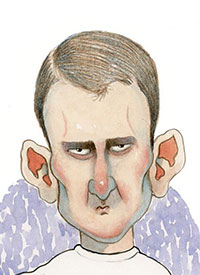 David Grant
8 - Gerry Glover (inside-right forward): Another Liverpool lad who had represented England at schoolboy level in the 1961-62 season. David France recalls Glover as being: "A tidy mid-fielder. He reminded me – a tad – of Colin Harvey. Gerry had made his first-team debut before the final and had done well. However, he had few chances to progress with Colin on the club's books and John Moore's cash at hand."
9 - Tony McLoughlin (Centre-forward): A traditional bustling centre-forward who was at his best in the air. He had joined from South Liverpool FC in 1964 having, reportedly, only taken up competitive football in 1963.
10 - Jimmy Husband (Inside-left forward): A Geordie enticed to Everton by Chief Scout Harry Cook from under the noses of myriad suitors in 1963. He had shared digs with fellow schoolboy international cap, Curwen, upon arriving on Merseyside as a 15-year-old. He formed a mesmerising left-flank partnership at youth level with Aiden Maher. David France: "I recall that Jimmy broke into the first team the week of the final. Immediately, he was "Skippy" – most elusive striker of his era. That was until he was hacked down in his prime by Dave Mackay."
11 - Aiden Maher (Outside-left): A flying scouse left-winger and yet another young Blue to represent England Schoolboys. He recalls: "My strength then was my pace and I was always good at crossing the ball. I scored quite a lot of balls out of nothing – it sounds funny but I scored more goals with my head! Ron Lewin had this thing of having someone on the near post at corners and it was normally me as I was small."
12 - Dave Grant (Twelfth man/wing-half): The son of 1940s/50s first-teamer Jackie Grant. He had grown up just round the corner from Goodison Park on Goodison Avenue and, later, on Winslow Street. He played for Liverpool, Lancashire and England Schoolboys (alongside Eric Curwen in the latter two teams).
The Road to Glory
Having had a bye in the 1st Round, the cup campaign got underway in December with a tie against the title holders. Manchester United's Busby Babes had routinely won the competition in the 1950s but, post the Munich air crash, there had been a hiatus in victories until the trophy returned to Old Trafford in 1964.  United fielded five members of the previous season's victorious team but were blown away by a scintillating display by Everton. Goals from McLoughlin (2), Husband (2) and Wallace, coupled with dazzling wing play from Maher, saw the Blues canter to a 5-0 victory. Not surprisingly the teenagers were promptly dubbed Catterick's Cubs by the press.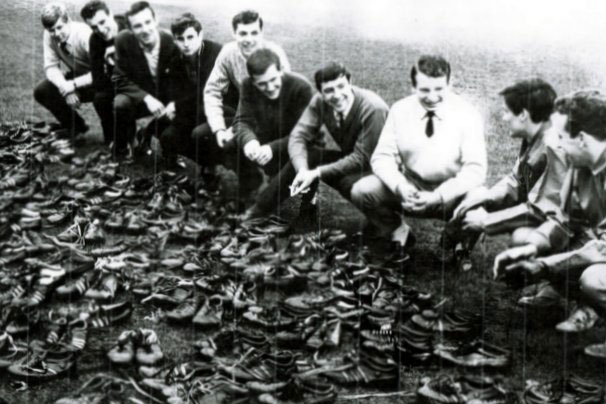 Everton apprentices graduating in 1964 – L-R: Curwen, Rooney (George), D'Arcy, Husband, Pearson, Grant, Glover, Maher, Hurst, Barnett
In the 3rd Round the Blues brushed Blackburn Rovers aside 3-0 on Ewood Park's quagmire of a pitch. McLoughlin, Wallace and Maher were the names on the score sheet.  Next up were Rovers' local rivals, Burnley. Despite their pedigree for developing junior talent the Clarets were annihilated and the Goodison crowd feasted their eyes on a McLoughlin hat-trick and a twenty-yard Maher drive without reply.
Aiden Maher recalls that, although the team was coached by Ron Lewin,  Harry Catterick was paying unusually close interest in the campaign, "In one game the gaffer walked in at half-time, gave us a bollocking, said his piece and walked straight out. We were gobsmacked but we finished up winning. He'd come in and say it and you'd think about it – it was constructive, straight to the point and that was it."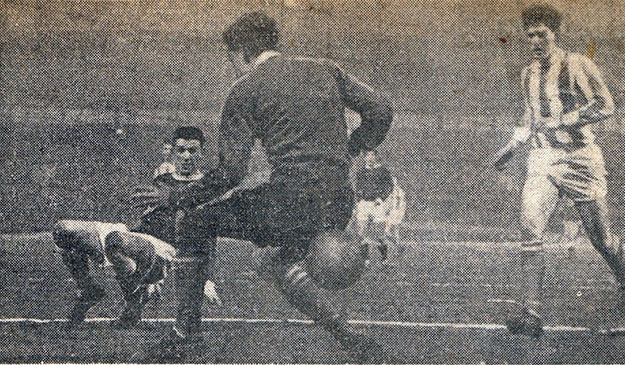 McLoughlin scores the winner vs Stoke City at Goodison
When Stoke City came to Goodison for the quarter-final, the tight-affair was settled in the 24th minute when McLoughlin, stretched to steer Husband's header past Farmer in the Potters' net. Dennis Yaager recalls that in this tie Catterick gave some blunt instruction to Frank D'Arcy: "Frank was a good no-nonsense full back. I'll never forget that Harry Catterick came into the dressing room which he rarely did and said: 'D'Arcy what the fuck are you doing? You haven't kicked that fucking winger once." In the first minute of the second half, Frank put the winger into the Bullens Road crowd!"
D'Arcy confirms Yaager's recollection of Catterick's interval intervention: "Harry did too! The lad was a flyer – he used to hit the ball past you and was travelling at about 60 mph. The only way you could get at him was to foul him."
The semi-final would be a two-legged affair against Sunderland. The home leg at Goodison was witnessed by 13,402 spectators who saw the north-easterners swept aside 4-0. Although deadlocked at half-time, Maher opened the floodgates with a header from a Wallace cross followed by a superb Husband brace past Derek Forster, his school-mate from Newcastle. McLoughlin rounded off the scoring with a trademark header. Maher would score the solitary goal in the 2nd leg at Roker Park to wrap-up a 5-0 aggregate win.  Everton had reached the final without conceding a single goal in any round.
The final, brought the School of Science sixth formers up against Arsenal.  The first leg took place in North London. Alex Wallace's most vivid memory is of the opulence of Highbury and its individual baths in stark contrast to the communal tub on offer at Goodison. A modest crowd of 5,000 turned out on the evening of 28 April to witness a tight encounter. With half-time on the horizon Arsenal's Radford saw his shot beat Barnett before rebounding back off the inside of the post and into the custodian's arms. Moments after this narrow escape Jenkins floated a 20-yarder into the far corner of the Everton net.
The second half saw some improvement with Hurst and Husband in fine form – the mercurial Geordie feeling himself hard done by to not be awarded a penalty kick. That said, Arsenal would have extended their lead were it not for some profligate shooting.  With the match ending 1-0 to the Gunners there was a feeling of quiet confidence in the Everton camp.
Gerry Glover recalls: "Just a few days previously, Liverpool had beaten Leeds to win the FA Cup for the first time so this was the Everton supporters chance to get one back so there was a big crowd at Goodison – it was a pretty exciting night. It was in the stars that this team was going to go a long way – it was never really in danger but the first leg wasn't the result that we expected." 
Aiden Maher concurs: "After we lost the first leg 1-0 at Highbury, none of us felt that we'd lose the home game – we just had that feeling as we'd played together every week and knew each other."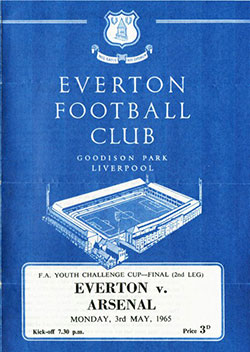 1965 Youth Cup Final programme
29,908 Evertonians (perhaps more in reality) descended on Goodison on the rain-sodden Monday evening of 3 May to see if Lewin's protégés could over-turn the deficit. An injury to Dennis Yaager had opened the door for Dave Grant to wear the № 6 shirt in his first taste of Youth Cup football. Aside from that, the line-up was unchanged from the one which had represented Everton in every round. Grant recalls: "Those lads were the best I've ever played in. There was no clique – everybody fought and worked for each other. When Dennis got injured before the second-leg there was no: 'What's going to happen now?' It was just a case of: 'Granty's in – let's get on with it.' And we did."
Everton started strongly and, in the 41st minute, McLoughlin kept up his record of scoring in every round by following up after the Arsenal keeper had parried a Maher cross-shot. It seemed only a matter of time before Everton would score another to nudge ahead on aggregate. However, mid-way through the 2nd half, Radford struck a beauty to put Arsenal back in pole position. Increasingly frantic Everton attacking failed to bear fruit and, as fans started to stream away, any flicker of hope seemed extinguished.
Then, with little over a minute left, there was salvation. Aiden Maher recalls: "It was very late on. We had a free kick inside our own half –  we sent all the big lads up but I stayed in the half-circle on the edge of the box. The ball came in and I just jumped and headed it. I ended up on the ground and the next thing Jimmy Husband was shouting 'You've scored!'" Sports reporter Ian Hargraves would hail the header as: "...a goal Lawton would have been proud of."
McLoughlin scores the first at the Park End in the final against Arsenal
The last-gasp leveller saw the supporters flock back onto the terraces in anticipation of 30 minutes of extra time. In the first period, Wallace let fly with a swerving shot but the winger's effort clipped the bar and went into touch. With limbs flagging after 111 minutes of action on the muddy pitch,  Husband once again dribbled into the box whereupon he was upended by Adams, the Arsenal captain. Penalty! But who would step forward?
Cometh the hour, cometh the quiet man. Big John Hurst stepped up to the spot. His shot sent Adams the wrong way and flew into right-corner of the net via the underside of the crossbar.  Looking back, Hurst reveals an astonishing statistic: "It was the only penalty I ever took in my professional career. It was a case of: 'It's your responsibility – go and take it.'  I never took another, so I retired with a 100% record!"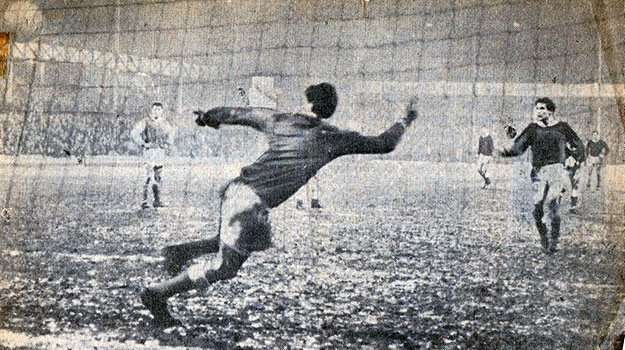 Hurst sends the Arsenal 'keeper the wrong the way to score the winner
In the final minute, McLoughlin conceded a corner from which Barnett pulled off a stupendous fingertip save to tip over Radford's bullet header. At the final whistle, hundreds of fans spilled onto the pitch to acclaim the victorious, saturated, players and chair them off towards  the tunnel. They took the lift up to the Directors Box on the Main Stand balcony. As the jubilant crowd below sang "Ee-aye-addio, we've won the cup", Curwen was presented with the treasured trophy. The Liverpool Echo and Evening Express's Paul O'Brien noted that, after the presentation, it was only the airing of Z-Cars that finally encouraged the crowd to disperse from the pitch.

Left: supporters invade the pitch; Right: Hurst is mobbed after scoring the penalty winner
Back in the dressing room, Frank D'Arcy recalls, "Harry Catterick came in and said, 'Well played. Bring your bags in... you're going on holiday next week.' I told my mum that we'd be away and we thought we were off to Spain." The reality was more mundane as Gerry Glover recalls, "We won the handsome reward of going up to watch Scotland versus Spain. It was dismal – a terrible match – we were all expecting to go to play a tournament in Spain but it didn't come to pass. We had to be content with an overnight stay in Glasgow!"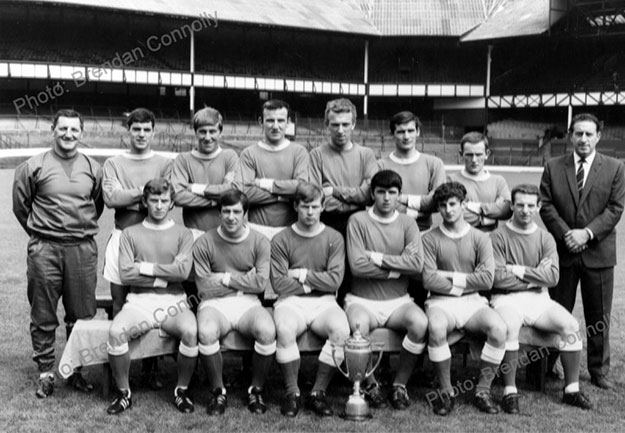 The 1965 FA Youth Cup winning Everton team pictured that summer
Courtesy of Brendan Connolly
Whatever Happened to the Likely Lads?
Six of the winning team would go on to appear in the first team but only two – Husband and Hurst  – would become mainstays in the club's golden years at the back end of the 1960s. 
Jimmy Husband had made his first-team bow at Craven Cottage a few days before the Youth Cup Final second leg. By 1967, he would establish himself as a dazzling, unorthodox, wide striker operating off Joe Royle, the attacking fulcrum.  After "that" infamous tackle from Dave Mackay in 1968 some said that Jimmy was never quite the same – although he begs to differ. Having lost his place in the 1969-70 season to Alan Whittle, in the wake of an injury, he struggled to sustain his peak form and suffered with hamstring injuries – the bane of the pace man.
After Billy Bingham's arrival as manager, he left for Luton Town, having amassed 199 appearances and 55 goals for the Blues. After a spell in North America, Jimmy is now retired and living near Milton Keynes. He did make headlines for making a football comeback with Everton – but it was a village team in Bedfordshire rather than the Toffees.
John Hurst would provide ten years of near-faultless service to the blue cause before being offloaded to Oldham by Billy Bingham. David France recalls: "He made 400 appearances and never played a bad game. Except for Big Nev, he was the most consistent player I've seen. The fact that Howard Kendall was never capped by England is inexcusable. The fact that John was never capped by England remains a national disgrace." Spells running a shop and assisting Joe Royle at Everton and Manchester City followed.
Geoff Barnett made nine consecutive appearances in the 1965-66 season – culminating in the match at Bloomfield Road in which 16-year-old Joe Royle debuted at the expense of fans' idol Alex Young and the subsequent car park "fracas" involving fan and Harry Catterick. He would make one further appearance between the posts before transferring to Arsenal in October 1969. Geoff believes that his performances in the Youth Cup Final helped to put him on the Gunners' radar. After playing in the 1972 FA Cup final, he emigrated in 1976 to play stateside football for Minnesota Kicks.  After a couple of stints as a publican in the UK he now works in car sales in Florida.
Frank D'Arcy was on the fringes of the first-team squad for a number of years. Although his appearances in the first team were sporadic in the extreme his contribution was valued by the manager, as David France recalls:  "He is fondly remembered for his fleeting contributions in the 1969-70 title-winning campaign. He made five of the twelve sub appearances that season and was used as a professional closer. Catterick would introduce Darce to insure there were no surprises in the final 20 minutes of games during the run-in."  Upon transferring to Tranmere, a knee injury sustained at Everton curtailed his career. He went on to work for a building firm and in the Guinness warehouse. Frank has been a regular attendee at Goodison Park until recently.
Gerry Glover, like Husband, had made his first-team debut before the Youth Cup Final but he'd only make a further three appearances. Looking back, he is not surprised that so few of the 1965 failed to cement first team places: "This is what happens. You get to certain levels in the game and for a lot of the lads that was their level. I perhaps went up a level but John and Jimmy went up another and sustained it.
"I was perhaps a bit unfortunate in as much as immediately ahead of me were the likes of Ball, Kendall and Harvey. Those fellas were probably the finest that ever played for the club.  I was dispensable as Everton had this wonderful midfield of legends. These days players can go out on loan and you have 5 substitutes – but you have to trust the judgement of the manager and if he does not think you're good enough who I am to criticise him?"
Gerry followed former Everton trainer, Tommy Eggleston, to Mansfield Town. After an unhappy stay in Nottinghamshire, he slipped into part-time football with Northwich Victoria, Runcorn and, ultimately, Marine. Littlewoods employed him at the company's fleet garage in Kirkby where an understanding boss ensured that time-off for playing football was never an issue. Gerry continues to be involved in grassroots football as a referee. 
Aiden Maher made only one first team appearance. The draw with Manchester City in November 1967 was captured for posterity in The Golden Vision drama on BBC TV. Soon, with John Morrissey still only 28 and firmly established in the starting XI, Aiden was packing his bags and heading for a far-flung football outpost: "The gaffer called me in and said, 'I've had an offer for you from Billy Bingham at Plymouth.'  And I said 'Oh Yeah?'  'You don't have to go,' he said, 'It's entirely up to you but I have to be honest with you in that you won't get a first team spot for a year-and-a-half, depending on how you're playing.'"
After 70 appearances for Plymouth came a spell at Bath City. Aiden remained on the south coast and eventually became a publican. Whilst working as a Devonport dockyard scaffolder in 1977, he leapt from the Torpoint ferry to help rescue a baby girl whose pram had rolled down a slip-way into the River Tamar. They were reunited at Plymouth's Home Park stadium in 2013. Aiden enjoys returning north to attend Everton Former Players' Foundation functions.
Dave Pearson left Everton in 1967 without making a first-team appearance. He joined the cohort of ex-Blues managed by Billy Bingham at Southport. Spells followed with the likes of Rochdale South Liverpool, Burscough and Netherfield (Kendall). His greatest moments after 1965 were winning a Welsh Under-23 cap in 1970 and collecting a FA Trophy winner's medal with Morecambe in 1974. After working at a garage in Southport he was employed by Merseyrail.
Eric Curwen, like Pearson, would switch to Haig Avenue. Finding that he no longer enjoyed playing the game, he undertook teacher training and spent 30 years educating pupils in PE and History at Montgomery High in Bispham, his childhood school.
In the wake of the Youth Cup victory Dennis Yaager was offered a year's professional contract but missed much of the season through injury and was released the following summer.
He picked up his football career back in Australia with Hakoah and gained international caps in 1970. Before leaving Everton he, and the rest of the youth squad, were invited down to London for the 1966 FA Cup Final weekend. Gerry Glover recalls: "Dennis knew lots of Australians – so the evening before the match he had got in touch with his pals and took us to a party in Earls Court. Those Australians know how to enjoy themselves! Then Everton won the cup the next day – it was a memorable weekend.
Alex Wallace saw his football playing days ended in 1968 by a back injury sustained in a Liverpool Senior Cup fixture at Anfield. As with Gerry Glover, Littlewoods came to the rescue. He was offered a position in the organisation's fledgling IT department and subsequently rose to become a director of the company.
David Grant, never quite emulated his father at Everton and moved on to Wrexham where he played alongside Tony McLoughlin. He later appeared for South Liverpool, Bangor City and Porthmadog. His last outfit was New Brighton before knee ligament damage ended his playing career. He trained as a telephone engineer and later worked in transport/distribution. He lives within earshot of Goodison Park.
Even as he clutched his winner's medal on that night in May 1965, Tony McLoughlin had the spectre of Joe Royle on his shoulder. Within eight months, Royle would be debuting for the Blues First team whilst McLoughlin toiled away in the Reserves.
Having fallen foul of  Harry Catterick's strict regime, he was released to Wrexham. His subsequent career took in spells with Chester and Wigan Athletic before he ventured to the USA, winning the NASL in 1971 with Dallas Tornado. Further stop-overs with non-league northern clubs were interspersed with periods spent in Hong Kong and Australia. Whilst working at ICI in Runcorn he continued to play local football until 1982. Having struggled with the onset of Alzheimer's he passed away in August 2012.
Afterword 1 (by "Dr Everton")
Youth development was a key part of Catterick's strategic plan. We had seen Tommy Wright and Colin Harvey advance from the Central League. Tommy's progression was seamless whereas Colin, inexplicably, was a Goodison whipping boy for a short time. How could anyone boo the breathtaking skills of The White Pele? These two teenagers were followed by Jimmy Husband and John Hurst from the Youth Cup winning team.
Catterick continued to scout and recruit sparkling young talent. Joe Royle, a fantastic striker who spearheaded Everton to the title as a 19-year-old, was on the immediate horizon. Also Alan Whittle and Roger Kenyon were only a season or two away. All of these teenagers were well-prepared for the big League. So much so that when you add a few special signings like Alan Ball, Howard Kendall and Sandy Brown to existing seasoned pros like Labone, West and Morrissey, you have our finest side of all time.
Afterword 2 (by Rob Sawyer)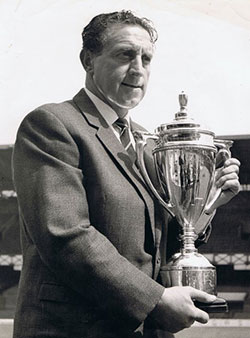 Catterick with the 1965 Youth Cup
Photo care of Catterick family
The Youth Cup triumph was one of Harry Catterick's proudest moments. It affirmed his belief that the "catch 'em young" policy would bear fruit in the years ahead. A few months later, the next piece of his masterplan was completed as the revamped Bellefield training centre was unveiled. Not only would the supreme Championship team of 1969-70 be developed there but many others like David Johnson, Mike Lyons, Mark Higgins and Kevin Ratcliffe would learn their trade in that secluded corner of West Derby.
It has been a privilege and pleasure to speak with The Class of '65 during the course my research for this piece. David and I hope that the club is able to celebrate the golden anniversary of twelve young lads contributing to Everton's rich history.
Postscript
Subsequent to the publication of this article on ToffeeWeb, the Club kindly invited the 1964/65 Youth Cup squad to the final match of the 2014/15 season. On the 24 May the whole squad, with the exception of the late Tony McLoughlin, Geoff Barnett (working in the USA) and John Hurst (on holiday) assembled at St Luke's as guests of EFC Heritage Society. Dennis Yaager had even travelled from his home in Australia, with wife Mary, for the occasion. Many had not seen each other in decades but team captain Eric Curwen remarked: "It was good to meet up again after 50 years and, although we may not have recognised each other, once we got chatting the years rolled away!"

L-R: Gerry Glover, Dennis Yaager, Tommy Roberts (left Everton in Feb. 1965), Aiden Maher, Dave Grant, Jimmy Husband, Frank D'Arcy, Alex Wallace, Dave Pearson, Eric Curwen.
Having taken their complimentary seats in the Main Stand they were introduced to the crowd on the Goodison pitch at half-time. Given a warm welcome from the stands, the lads were on the receiving end of a cooler reception from the pitch sprinkler system which was in full-flow! The below-par performance by the Blues could not dampen spirits as after-match hospitality was enjoyed in the Joe Mercer Lounge. Before the team mates went their separate ways, with promises made to keep in touch, a toast was raised to absent friends.
Credits/Acknowledgements
Members of the 1964-65 Youth Team squad and their families
David France
"PAK" (Peter King)
Billy Smith
Liverpool Daily Post
Liverpool Echo and Evening Express
Daily Mirror
Daily Mail

Follow @Handforth70
---
Reader Comments (24)
Note: the following content is not moderated or vetted by the site owners at the time of submission. Comments are the responsibility of the poster. Disclaimer
Peter Mills
1
Posted 25/03/2015 at 09:15:25
Great article Rob and David. I've got very fond memories of going to the final against Arsenal aged 9, and the thrill of seeing an Everton player lifting a trophy at Goodison under floodlights.
Dave Abrahams
2
Posted 25/03/2015 at 14:36:43
Great piece, Rob, some very good players in that team.
Eric Curwen, defender, was on a TV program about professional football clubs who look after players who failed to make the grade, he was on with his dad. they didn't have much nice to say about Everton.
I think Yaeger the Aussie came back to English football, might have played against Everton, possibly for Blackpool... could be wrong.
Reg Gates
3
Posted 25/03/2015 at 15:13:18
Some very good player's in that team.They must watch today's game and weep the way they go down after being "touched" because God knows none of them have ever been tackled .
Eugene Ruane
4
Posted 25/03/2015 at 16:50:17
Terrific, thank you Rob (and Dr Everton) for another fantastic piece.
Ray Atherton
5
Posted 25/03/2015 at 18:50:05
A great article, Rob. I was one of the hundreds on the pitch after the game.
I grew up in school football with some of those lads, being the same age. From the 50s to the early 60s, my school faced Gerry Glover and Frank Darcy – St John's; Aidan Maher – St Swithen's and St Teresa's.
Darren Hind
6
Posted 25/03/2015 at 19:10:36
Fantastic Stuff.
I never saw the Dave Mackay Tackle on Jimmy Husband, but I've lost count of the number of people I've met down the years who have described it as "That tackle" .
Dick Fearon
7
Posted 25/03/2015 at 19:21:12
To my mind, Jimmy Husband did not regain anything like his huge potential after he was cut down by that Dave McKay two-footed waist high flying tackle. If ever there was a case for police action over on-field brutality, that was it.
Off topic, take a gander at the playing conditions in those days.
Sue Brown
8
Posted 25/03/2015 at 18:03:08
I love reading these pieces, thanks Rob, always interesting.
Peter Fearon
9
Posted 26/03/2015 at 02:55:15
I remember my dad taking me to that match to recover from the torment of Liverpool winning to FA Cup. It was a fantastic night and a reminder that the future was Blue. Even then, you could see that John Hurst and Jimmy Husband were extraordinary players in the making. And when that penalty went in....
Neil Quinn
10
Posted 26/03/2015 at 07:17:17
In the early seventies, I had a job as a programme seller at Tranmere when they used to play on Friday nights. The wages from this used to pay for my ticket to Everton the next day....perfect for a young lad.
I remember Frank Darcy arriving along with a raft of "end-of-career" Liverpool players, during the Ron Yeats era. Us youngsters in those days never appreciated defenders & it was always the flying wingers or strikers who captured our attention. Interesting to read that Darcy was used as a "closer".

Paul Wharton
11
Posted 26/03/2015 at 12:10:43
Great read once again from Rob and David, flying the flag for Evertonia and the EFC Heritage Society. Well done, gents!
Mike Owen
12
Posted 26/03/2015 at 19:29:37
I remember my dad taking me to see that Everton FA Youth Cup winning team play an England Youth XI in what was probably the autumn of '65.
It was meant to be played at Goodison but was switched at very late notice to New Brighton. I think we won something like 4-2. I've done a quick internet search but can find no mention of it.
I've forgotten loads of games but for some reason that one has stuck, a little at least, in my memory. It may be something to do with Everton playing the whole of England.
I think I have the programme somewhere. It was one of those white sheets of the type they did for Central League games.
Steve Carse
13
Posted 26/03/2015 at 19:18:01
I remember that game – particularly the rain. I recall getting on to the pitch and forgetting how muddy it was going to be, with the inevitable fall quickly following.
Didn't Hurst play CF?
He was a superb CB, with the calm of Bobby Moore and the strength of Jack Charlton. Another Blue who didn't get the international recognition he deserved.
Rick Tarleton
14
Posted 27/03/2015 at 09:36:03
I played against Wallace and Maher as a schoolboy and remember Wallace giving me a torrid time; I thought he was a cert to make the grade.
John Francis
15
Posted 29/03/2015 at 17:57:20
I remember that game. The atmosphere was terrific. I seem to remember there were bottles thrown on the pitch from the Gwladys St end.
30,000 crowd, bottles on the pitch, pitch invasion and a trophy at the end of it, what a night. Brilliant.
George Stuart
16
Posted 30/03/2015 at 00:17:01
Wonderful stuff. Reminds me of when football was proper.
In regards of the MacKay tackle, I have heard much of it in retrospect but at the time I remember the wisdom around Jimmy Husband was that he was never the same after a vicious tackle by some Panathinaikos thug in the European Champions league, whoopse, I mean the European cup , which was restricted to the actual champions of the respective nations leagues as indeed we were at that time.
I was at that game and it was filthy. I seem to remember that Jimmy had a blinder the week before the tie and mutterings were being heard that Jimmy was as good as Georgie Best. Am I misremembering or is there some truth in this?
Rob Sawyer
17
Posted 30/03/2015 at 00:51:37
George (16), Jimmy was indeed clobbered in the first-leg at Goodison against Panathinaikos and missed the return leg in Athens.
My thanks to all who have posted warm comments in response to the article.

Mike Owen
18
Posted 02/04/2015 at 14:28:27
George,
Yes, I was sitting in the Lower Bullens that night. Husband had been in brilliant form and seemed to be marked out for special attention. Kicked to bits. And to think that team was coached by Puskas!
That night (not getting a two or three-goal lead to take over to Athens) was a turning point in our history.
There was still a Yugoslav team to play in the semis, but the European Cup final that season was at Wembley.
Brian Harrison
19
Posted 02/04/2015 at 16:01:44
I remember that youth team that won the FA Youth Cup but quite interesting that we are still talking of how few players progress from youth football to first team regulars.
Today, five past England managers have backed Greg Dyke's stance on getting more English players playing in the top league, yet 50 years ago, when we won the Youth Cup, there were very very few non-British players playing in the league then. Just shows how unique were the Busby Babes and latterly Fergies youngsters that came through.
Jason Bogatai
20
Posted 03/05/2015 at 09:49:22
Greetings from Australia. Great article by the way.
I have only recently met Dennis Yagger in a pub in Sydney and being a football tragic I have enjoyed many a chat with Dennis reminiscing over football in Australia in the 60s and 70s. He casually mentioned that he played for Everton in the 1960s but I never had any idea that he actually was a member of this successful Youth Cup side.
He is coming over in a few weeks time as it is the 50-year anniversary and will be at the final game of the season at Goodison. I just wanted to let you know that he is looking forward to it. Dennis and I just talk football all the time and he is still a fan of Everton to the core.
Enjoy the celebrations.
Tom Evans
21
Posted 03/06/2015 at 20:13:50
Just seeing the photo of the programme back in those days invoked strong memories of the start of my association with the club.
I can remember quite a few of the names and of course, seeing most of them play. I had forgotten about the Dave McKay tackle, but not of the first leg game at Goodison against the Greeks. What a cauldron of anger the Old Lady was that night.
Dave Abrahams
22
Posted 03/06/2015 at 21:24:29
So sorry to learn that Tony McLoughlin has passed away. I met him one night in The Marlborough in town, we were watching a match on TV. We got talking with him and my mates (all reds) and he knew his football, loved Everton, and we had a good gab then and a few times later in the Beehive. It wasn't that long ago, so sad.
Dave McCoy
24
Posted 06/06/2015 at 00:00:48
Great article. Jimmy Husband was replaced by David Johnson in the match and scored; game ended 1-1 and 0-0 away so they went into next round on the goal scored at Goodison.I think they got to the final.
---
Add Your Comments
In order to post a comment, you need to be logged in as a registered user of the site.
Or Sign up as a ToffeeWeb Member — it's free, takes just a few minutes and will allow you to post your comments on articles and Talking Points submissions across the site.
© ToffeeWeb