Was This the Birthplace of Everton Football Club?
By Tony Onslow
04/05/2015

Comments (9)
jump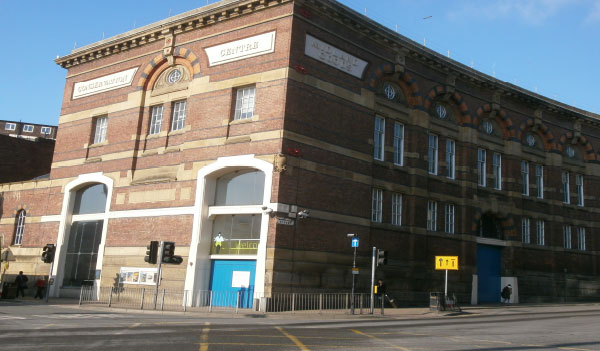 The year was 1874 and the Midland Railway Company had, eventually, managed to lay their track into the town centre of Liverpool where they opened a terminal station. The location, which they named Liverpool Central, was designed to handle both passenger and goods traffic. The Midland Railway next constructed a large warehouse, designed to hold goods in transit, on Victoria Street and it was to here, during the summer of 1875, that a company employee was transferred from his native county of Derbyshire. His name was Thomas Evans. He was an experienced cricket and football player who was destined to play the lead role in the formation of Everton Football Club.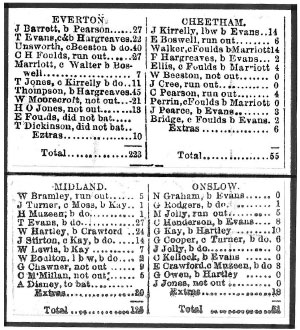 Tom Evans first appears on the Gores Index of Liverpool working as Book Keeper and living at 104 Westbourne Street in Everton. It was a pleasant row of quality terraced housing, which overlooked a small area of parkland that stood between them and Shaw Street. He seems to have quickly adjusted to life in his new home because, in August 1875, Tom Evans appears in the local newspaper playing cricket for both his employers and for Everton Cricket Club. It could be here that he first came in to contact with a family who would later play football alongside him for Everton. Their name was Marriott. The 1881 census reveals that there were five Marriott brothers and all of them were employed in a clerical capacity. They lived, along with their parents, at Grey Rock Street so they could have worshipped at St Saviour's Church.
The Everton Cricket Club had their headquarters on a patch of land that would later become the home ground of Everton Football Club, while the Midland Railwaymen played their home matches on Stanley Park. There are, during the winter of 1875, no newspaper reports to be found of association football games being played in the Liverpool area, only those played under the rules of Rugby School. It does however; seem quite possible that Tom Evans now introduced his fellow cricketers, and other people who were interested, to the game he had played back in his native Derbyshire by organising a series of impromptu association football matches on Stanley Park.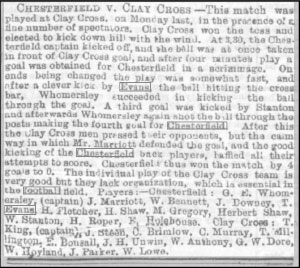 The newspapers of both Derbyshire and South Yorkshire from 1873, reveal a Tom Evans playing football under the rules of the Sheffield FA for Chesterfield. This game, here illustrated, was played 7 November 1874. There were also two brothers, John Henry and William Unwin, playing football in the area at the time and, on 1 May 1877, Tom Evans was wed to their elder sister. The marriage certificate reveals that Sarah was the daughter of a Grocer and she lived, along with her brothers, on the High Street at Clay Cross in Derbyshire. Tom, one year older than Sarah, was 24 and he gave his residence simply as "Liverpool" while he lists his occupation as that of a Clerk. His younger brother, Henry, who was also an accomplished football player, was a witness to the event and added his name to the certificate. The couple, when the ceremonies were over, settled in Liverpool.
They took up residence at 28 Faraday Street and, as records reveal, became members of the congregation at St Saviour's Church on Breckfield Road, North. It was here that they came into contact with a successful local businessman named John Houlding. We know Houlding worshipped at St Saviour's because his name can be seen in the parish records as being in regular attendance at the meetings of the church committee that were held in the vestry. There is however, no mention of the church having a football team.
Nevertheless, the minister at nearby St George's (August 1879) called for all the Anglican Churches of north Liverpool to join together and form a football team that would be modelled on the lines of the one already in existence at St Saviour's. Tom Evans, along with team mates, now appears to have been playing for the United Churches of Everton. It is, as yet, still unknown what year the team was formed at St Saviour's but we might find a clue in an interview that was given by Alex Nesbit, the then secretary of Everton FC, in the December of 1887.
When asked, by a visiting journalist for the origins of his club, Mr Nesbitt replied that…
It was in the year the1878. Mr Watson was then secretary and, through his advice and influence that the old church [St Saviour's?] and the St Domingo club amalgamated under the title of Everton.
Frank Brettell, on becoming the manager of Bolton Wanderers was also interviewed and stated that…
My first connection with association football came in 1878 when the game was played, by the old Everton club [football or cricket?] on Stanley Park. I was of course quite a youth at the time, the club being run by a lot of young fellows for their own amusement.
It was never recorded just who these "young fellows" were but some evidence concerning their identity may be found in the pages of an Everton history book that was written by Thomas Keats.
He describes Tom Evans as:
... a six-foot tall Derbyshire athlete who was never happier than when he was bowling, batting or playing football. He excelled in them all.
He also tells us that Tom played at full back where he was first partnered by his colleague from work, John Douglas. He was employed as a Railway Goods Clerk and, prior to the introduction of Jack McGill, captained the Everton team. John Douglas also lived, along with Marriott Brothers, in Grey Rock Street. He later married and, in 1901, he had settled at Hyde Road in Waterloo.

Tom Evans now settled into an Everton side that soon developed a healthy rivalry with their neighbours, Bootle. They were captained by Scotsman, Robert M Sloane. He was a great organiser who, along with Tom Evans, did a lot to establish the Association Rules game on Merseyside. In January 1882, Sloane, along with other Bootle players, had supervised the erection of a simple enclosure, canvas bound to wooden poles, on Marsh Lane in the hope of "obtaining a gate" for the visit of Everton. George Badgery, a member of the congregation at St Saviour's, took up position in goal while Tom Evans was partnered at full back by Tom Marriott. Around 500 people paid for admission and "looked on" as Everton won the game 4-1. Next Saturday, Tom Evans was back at Marsh Lane in the colours of Bootle.
Robert Sloane had managed to secure a fixture with the second string of players from the famous Queens Park club of Glasgow. He invited Tom Evans to partner him at full back. Sloane had also "brought in" John L Henstock, a local "Oxford Blue" to captain the Bootle side while the Queens Park line-up was strengthened by a couple of Scotsmen who were now playing their football in east Lancashire.
The occasion attracted a crowd, estimated at 2,000, to an enclosure where they watched the first team of football players from Scotland to visit Merseyside. They no doubt expected the visitors to achieve an easy victory but, thanks to some resolute defending by Evans and Sloane, they had to be content with a 2-0 win. The Scots had, nevertheless, introduced the people of Merseyside to the finer points of the game played under Association Rules. Tom Evans made one more guest appearance with Bootle, against the Welsh FA Cup holders, Druids, before returning to duty with Everton.
He did, however, keep in close contact with the Bootle skipper and later put together a team of players that were opposed by a side on Stanley Park that had been selected by Tom Sloane. Both men, in November 1882, were then instrumental in the birth of the Liverpool FA where they represented their respective football clubs on the committee.
That summer, the Evans family left the Anfield area for a new home, within a stone's throw of the Midland Railway Station, in Garston. Tom played his last game for Everton in December 1882 and then retired from football.
Tom Evans next became an official with the FA and took charge of many important games in the North West of England before the Midland Railway transferred him to Stockport where, eventually, he ended his days. The goods depot, where he had first become acquainted with some of the early football players of Liverpool, is now closed but, in March 1975, it was designated as a Grade II Listed Building. Today, it operates as a Conservation Centre.
---
Reader Comments (9)
Note: the following content is not moderated or vetted by the site owners at the time of submission. Comments are the responsibility of the poster. Disclaimer
Dr David France
1
Posted 05/05/2015 at 01:25:18
Tremendous research.
Seb Niemand
2
Posted 05/05/2015 at 08:33:23
You write this like a spicy mystery, unpicked layer and twist! Absolutely outstanding!!
Jay Harris
3
Posted 05/05/2015 at 12:14:51
Great stuff, Tony.
Hugh Daniels
4
Posted 05/05/2015 at 17:29:04
Great work, Tony! Just to add a little to the saga... every family has a black sheep. You mention John Houlding, who was my great uncle on my maternal grandmother's side. He owned a brewery and later became Lord Mayor of Liverpool.
Despite Houlding founding the RS, my family from that day to this has remained staunch Everton supporters. You can imagine how weird it feels to be connected to the founding of both sides!
Paul Joy
5
Posted 05/05/2015 at 19:07:16
Really appreciate your articles, Tony; wonderful stuff.
David Greenwood
6
Posted 05/05/2015 at 21:37:28
Brilliant article, Tony, as always.
Colin Williams
7
Posted 05/05/2015 at 21:48:34
Outstanding... Thank-you!
Tony Onslow
8
Posted 06/05/2015 at 19:55:02
Hugh, I am convinced that, in the summer of 1884, John Houlding saved Everton from going under. I will never say a wrong word about him.
Chris Williamson
9
Posted 06/05/2015 at 16:23:09
Another wonderful and fascinating insight into the roots of our great cricket club.
---
Add Your Comments
In order to post a comment, you need to be logged in as a registered user of the site.
Or Sign up as a ToffeeWeb Member — it's free, takes just a few minutes and will allow you to post your comments on articles and Talking Points submissions across the site.
© ToffeeWeb