Cliff Britton – A Life in Football
By Rob Sawyer (EFC Heritage Society)

26/05/2015

Comments (5)
jump

Part 1 – The Player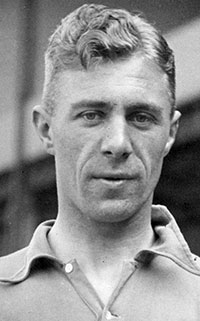 Cliff the Everton player - 1931
(photo courtesy of Britton family)
Cliff Britton was Everton's first manager in the modern sense of the word, yet it is for his footballing feats at Goodison Park in the 1930s that he is most celebrated. His Everton playing career over-lapped that of Harry Catterick, yet their experiences as managers and players at the School of Science contrasted sharply.  Whilst Catterick's modest playing career was a precursor to managerial triumphs. Britton's, ultimately disappointing, managerial tenure at Everton was in stark contrast to a playing career which secured him a place in the pantheon of this country's finest half-backs.
Clifford Samuel Britton was born on 29 August 1909 at the family home in Hanham, Gloucestershire. He was the only child of George, a shoe-maker, and Beatrice. Cliff's parents were active congregation members at the village's Ebenezer Methodist Church and also had links to the Band of Hope " a temperance organisation. These formative years would have a huge bearing on Cliff's adult outlook on life – he developed a strong sense of right and wrong and shunned alcohol.
His aptitude for football became apparent when participating in local Sunday school leagues " he would turn out at right-half for Hanham Athletic, Hanham United Methodists and Bristol St. George in his teens. Nearby Bristol Rovers signed him on amateur forms in 1926 and he turned pro two years later. Cliff would subsequently credit the Rovers manager, Davie Mclean, with teaching him the finer points of half-back play. All the while he was doing his apprenticeship as a carpenter where he demonstrated the craftsmanship and perfectionism which would be replicated on the football field. 
Cliff with his parents in Hanham 1927
(photo courtesy of Britton family)
Once the teenager's precocious talent was on display in Rovers' first team, scouts flocked to Eastville. Everton's board minutes confirm the Cliff was being watched by the Blues from April 1929 onwards and drawing rave reviews. It is decidedly odd, therefore, that when Bristol Rovers wrote to Everton in November 1929 offering to sell the player for £2000 the Toffees' board chose to respond in the negative – stating that they were "no longer interested in the player."
Just six months later Everton were licking their wounds after the shock of relegation from the First Division, a mere two years after "Dixie's 60" had secured the league championship. Whilst, crucially, holding onto stars like Dean, Cresswell and Critchley, the board sought to inject fresh blood to rebuild the squad with a view to a swift promotion back to the top echelon. In came future internationals Charlie Gee and Nat Cunliffe from Stockport County and Adlington FC respectively.  The Everton scout, W. Wallace, had continued to champion Cliff's. His persistence paid off when, at the Football League AGM in London in June 1930, the board entered into negotiations with Rovers for the acquisition of Cliff and Ronnie Dix.  Dix's parents vetoed a move for their son but a deal was struck for Cliff to move north – valued at £1600 (with Rovers taking Arthur Attwood in part-exchange) with a starting wage of £7 per week. Everton did, later, secure first refusal on Dix and, in 1932, collected "compensation' for allowing him to transfer to Blackburn Rovers.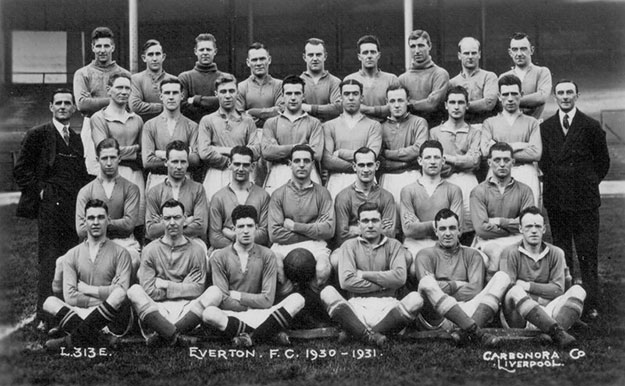 Everton team photo in 1930
New arrivals Gee and Britton next to Dixie Dean
(Photo courtesy Britton family)
Looking back Cliff confessed to knowing little, at the time, about his new club " the glamour club for people living in the South West had been Aston Villa. However, upon arriving on Merseyside, he soon became aware of Everton's heritage and stature. Cliff's Goodison bow, in a pre-season "Blues versus Whites" practice match just after his 21st birthday, was inauspicious.   These trial matches pitted the nominal first eleven (Blues) against the reserves (Whites) –as the participants tried to impress the selectors the on-pitch antics could be brutal. Appearing before 10,000 spectators for the Whites, Cliff collided with Welsh international centre-half Tom Griffiths and came off worst. The resultant  broken collar-bone would delay his reserve debut until late-September but his senior call-up was not long coming. On 25October 1930 he lined up against Spurs alongside Tom Griffiths and John Ross "Jock" Thomson in the half-back line with Ted Critchley ahead of him on the right wing. Pilot, in the Evening Express, was fulsome in praise for the debutant who contributed to a 4-2 victory:
Britton made a debut of which he can justly be proud. He was a willing worker resolute in defence and keen and brainy in attack. He was by no means the inferior of a solid intermediary division, which formed a sound foundation.
Cliff kept his place in the side and, just two games later he was singled out for praise by Pilot after the 4-0 drubbing of Wolves:
Britton Tames the Wolves
Britton was the best half-back on the field –a schemer, a juggler yet tenuous in tackling and intervening. His first double-turn stood him in good stead many a time –it is the move of a giant.
By now Britton was offering severe competition to Lachlan McPherson , the incumbent at right-half. The young pretender made 10 first team appearances as promotion back to the First Division was achieved at the first attempt. Â Fellow new-boy, Charlie Gee, made an even greater impression as he dislodged Tom Griffiths from the centre-half position mid-way through the season and never looking back.
Everton followed their promotion by romping to take the league title in the 1931/32 season – an almost unprecedented feat. However Cliff found himself behind Archie Clarke in the pecking order and was consigned to the Central League for the entire campaign. The reason for this stalling in his progress was the abundance of talent at the club and the belief of directors that Cliff had not developed the physique needed to withstand the top-flight hurly-burly. Bee, writing for the Liverpool Post and Mercury 1932 gave a back-handed compliment: "Britton has not grown in physical strength but has much daintiness."
Looking back in 1970 Cliff recalled: "When I joined the club there were four international right halves and, naturally, I began to wonder when I was going to get my chance...I suppose my asset was more on the ball in a creative sense. I was not a big powerful player – generally my playing weight was a little over 11 stones – but I liked to read the game and come forward."
Cliff's First Division debut for the reigning champions would finally come in September 1932 as Everton entertained Manchester City. The line-up selected to face City was: Sagar, Williams, Cresswell, Britton, White, Thomson, Critchley, Dunn, Dean, Johnson, Stein.  "Dixie" Dean grabbed a brace to secure victory but Stork took special note of the top-flight debutant:
Britton is of the true Everton type and he did extremely well, for he looked up with Critchley and made a fine wing. He seemed to tire late on but, to my mind, was the best of all the half-backs.
With the breakthrough made Cliff missed only one first-team match for the rest of the season. Â In the days of the 2-3-5 (W-M) formation the right-half was an all-rounder, expected to combine defensive graft with more creative, offensive, work in support of the right-winger and inside-forward. Writing in a syndicated piece which appeared in the Tamworth Herald, Cliff outlined the role of the half-back in that era:
To win you must "keep on your toes" nowadays. Half-backs know this only too well. As the game becomes faster and more scientific their responsibilities have increased. Half-backs win matches in this modern game. Not because they score goals but by reason of the support they give to their attackers and full-backs....The modern half-back has to be able to run, tackle, pass, shoot, dribble – and never make a mistake.
43 competitive appearances in the 1932/33 season culminated in the FA Cup Final against Manchester City.  By now Cliff was cementing a reputation as an artist, blessed with sublime skill and distribution skills that few at Goodison have matched before or since. The one aspect missing from his repertoire was goal-scoring – he notched just two in his Everton career. A paragraph from a Mersey derby match report by Bee illustrates the esteem in which he was held:
Britton was outstanding because he did everything by way of a morsel of artistry. He toyed with the ball just long enough to turn it into space of a foot or less and then made his pass or a swinging centre towards goal. Britton had no superior although (Matt) Busby started remarkably well...Britton was an artist.
1933 FA Cup winners
Joe Mercer would observe that Cliff could land a ball "on a six-pence" for the likes of Dean. Cliff would say about the talismanic centre-forward: "Dean was the finest header of the ball I have ever seen. The beauty of his play in the air was his delicacy of touch. He could come to the near post and, with superb judgment of the finest of angles, flick the ball into the net by the far post."   Horatio "Raich" Carter, the Sunderland and England forward,  highlighted Britton's gift for crossing the ball early and with unerring accuracy:
"The most devastating centre must always be the one that slashes into the middle before the defence have had time to set their stall out. The player who often finds himself best placed to catch a defence in such a position of vulnerability is the wing half. Few have demonstrated the force of this argument in such an emphatic manner as...Cliff Britton. I have come across wingers who are less effective with their centres than this cultured wing half-back."
Carter's observations were borne out in the 1933 Cup Final. Wearing the number 4 on the back of his shirt for the first time, Cliff delivered the crosses which led to goals for Dean and Stein in a comfortable 3-0 victory. Lining up alongside him on the right flank that day was Albert Geldard, the Yorkshireman had controversially replaced Ted Critchley in the Wembley line-up. Geldard was 5 year's Britton's junior when he joined Everton as an 18 year-old in 1932. Britton took the younger man under his wing and they went on to form a life-long bond. In matches they forged a devastating combination, profiting from Geldard's phenomenal pace and Britton unerring accuracy with the ball.  Off the pitch, the pair was unique in the Everton dressing room in being teetotallers – a legacy of a Methodist upbringing in Cliff's case despite him not being a regular churchgoer in adult life. They were dubbed "The Vicars" by teammates in a humorous nod to their temperance. On a 1948 visit to his childhood church,  Cliff reflected to reporters that "alcohol and high achievement in sport did not go together."
The bond between Cliff and Geldard extended long after their playing careers ended. – Geldard would be a regular at the dinner table in the 1950s Britton household  - often performing conjuring tricks for the family. When being interviewed in the late 1980s for his biography, Geldard broke down in tears when recalling their friendship. Although never doubting his own abilities, Cliff was self-effacing and quiet. On group photos it is noticeable that he is rarely on the front row and seems adept as being partially obscured by teammates. 
Cliff's club form was rewarded in September 1934 when the England selectors chose him to don the tree lions shirt against Wales at Ninian Park.  He partnered Stanley Matthews on the right in a 4-0 victory. Cliff would go on to make a further eight appearances, scoring one goal, over a two and a half-year period. This figure may seem modest but, in 1970, Cliff recalled the competition for places and vagaries of the selection process: "We went to Cardiff in October and beat Wales 4-0. The next international was against Scotland the following April and about eight changes were made even though we had won our previous match by four... I maintain that you could have had three or four international teams and no one would have been able to say which was best"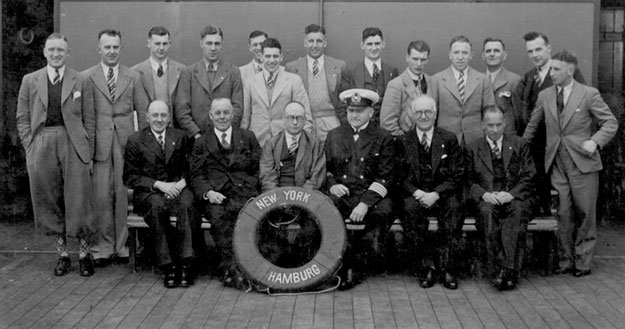 Sailing to Germany 1936 (Cliff standing 4th from left)
In 1937 Charlie Gee lost his "pivot" role to the prodigiously talented T.G. Jones. For an all-too-brief period Jones and Cliff formed an awesome half-back unit alongside one of Jock Thomson or Joe Mercer. Although never close with Cliff off the pitch, Jones rated him and Gordon Watson and as the finest strikers of a ball he played with at club level.  Cliff, meanwhile,  felt that Jock Thomson never received the credit he was due: "Possibly the most underrated player in the team at that time was Jock Thomson. He possibly got less publicity than anyone else but he was one of the most important cogs in the team."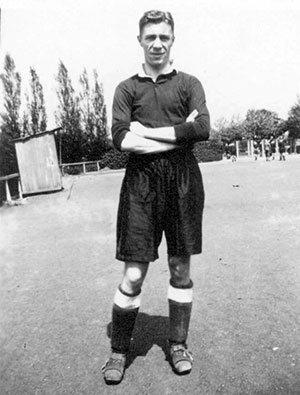 On tour with Everton in Germany
Gee was soon joined on the side-lines by Cliff, Dean and Geldard as fresh blood was injected into the first team. Joe Mercer inherited the number 4 shirt from Cliff with Jock Thomson restored at left-half. Torry Gillick superseded Geldard in the right wing whilst Dean had seen his heir apparent, Tommy Lawton, quickly ascend to the throne. "Dixie" would leave for Notts County in the spring of 1938.  Cliff would be restricted to just one first-team appearance during the championship-winning season: a goal-less draw with Preston in April 1939. This would turn out to be his final football league appearance for the Blues. He would, instead, become a fixture in a reserve team of stunning strength alongside the likes of Gee, Bob "Bunny" Bell, Cunliffe and Watson (the latter usurped Thomson in the first team for the title run-in).
Whilst Cliff was representing his club, alongside Jack Jones, Â in a close-season FA touring party to South Africa, political tensions were rising to breaking point in the northern hemisphere. With the 1939/40 season aborted after just three fixtures had been completed, Cliff enlisted with the Army School of Physical Training in Aldershot (a scheme devised by the FA). Here he joined club-mates Tommy Lawton and Joe Mercer plus the likes of Matt Busby, Frank Swift and Stan Cullis in making regular guest appearances for Aldershot FC. Â Having played in 6 wartime matches for his parent club in the autumn of 1940 Cliff would not be available to play again for the Blues for nearly three years. An appeal in the Evening Express from 17 August 1940 illustrates how difficult it was for clubs to remain in contact with their players in wartime: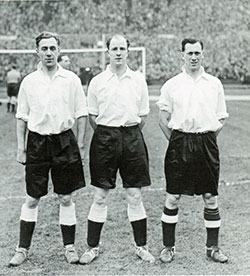 Britton Cullis and Mercer 1944 care of J. Rowlands
Call to Cliff
Cliff Britton, now a sergeant instructor in the army, has apparently been too busy lately to keep in touch with Goodison Park. Mr Theo Kelly, the Everton Secretary, is anxious to get in touch with Cliff but does not know his address. He has appealed to me to help him, so if Cliff sees this paragraph will be please communicate with Mr Kelly?!
When he did re-appear it for the Everton first team in 1943, it was, fittingly, in a Merseyside derby. Present that day where many Everton stars of yesteryear, there to collect benefit (long service) cheques from the board. The beneficiaries included many faces familiar to Cliff such as Torry Gillick, Wally Boyes, Nat Cunliffe, Gordon Watson and Charlie Gee. The latter gave an acceptance speech on behalf of the players. On the pitch Cliff turned back the clock with a starring role in the easy 3-0 Lancashire Cup victory over the neighbours. Â One match report stated:
There has been talk of Cliff Britton being dropped by England. I was told so by one selector some time ago, who pointed out that Britton was getting to the stage where 90 minutes was too much and the time had come when England must look for a younger man. Had the selectors been at Goodison yesterday they would have seen no sign of the "old man" about Britton. He was going as strong at the end as at the beginning, when many younger men had bellows to mend, and played a brilliant and brainy game throughout. 
Cliff would be selected to make representative appearances for the Army – in 1943 he was part of a tour party which visited Ireland. Teammates included Don Welsh of Charlton, Aubrey Powell of Leeds United, Dennis Compton of Arsenal and Jimmy Hagan of Sheffield United.  Away from football Cliff met his future wife, Bridget, in Sussex. They wed in 1944 and brought up two sons. He was subsequently posted to Yorkshire and found the time to make 12 appearances for Doncaster Rovers in the 1944/45 season.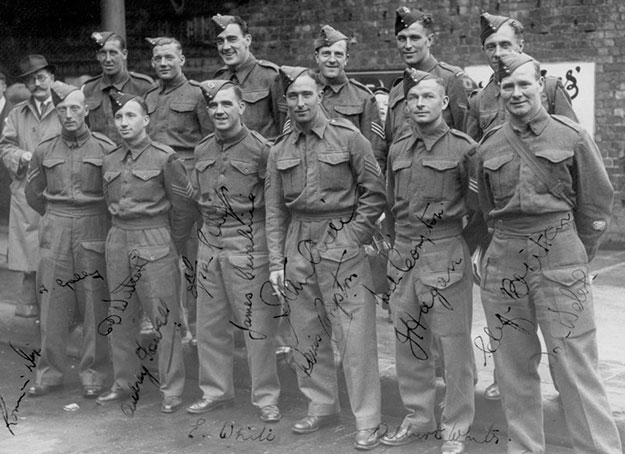 Army Football Team Irish Tour Party 1943
Cliff back row far right
However, that Merseyside derby appearance back in 1943 would prove to be his last for Everton at Goodison.  In February 1945 he was given the board's blessing to seek a managerial position elsewhere, although the club retained his playing registration until the autumn. This drew to a close a 15 year association in which Cliff had made 242 competitive appearances for the Toffees and set the bar high for the wing-halves who would follow. Cliff would return to Goodison three years later in a very different capacity.
Coming soon: Part 2: The Manager
Acknowledgements:
The Britton Family
Billy Smith (Blue Correspondent website)
Steve Johnson (Everton Results website and Everton " The Official Complete Record)
George Orr
David France
John Rowlands
James Corbett
Merseyside newspapers and The Tamworth Herald

Follow @handforth70
---
Reader Comments (5)
Note: the following content is not moderated or vetted by the site owners at the time of submission. Comments are the responsibility of the poster. Disclaimer
Dr David France
1
Posted 26/05/2015 at 17:29:58
Congratulations on another top quality article. I look forward to Part 2.
Dave Abrahams
2
Posted 26/05/2015 at 19:22:31
A well put together article as usual Rob, part two should be interesting as it tells of his time as Everton manager. I met Cliff after the Leeds United game the year of our promotion when we lost 3-1.
A gentleman who had time for the fans, he got a pound note out of his pocket and me and a couple of my mates if we had anything to eat,we said yes thanks, but the offer was there. It wouldn't happen these days.
Dennis Stevens
3
Posted 27/05/2015 at 09:42:25
Ah, the days when 'star' footballers were just ordinary working men - what a contrast to today.
Pete Jones
4
Posted 28/05/2015 at 11:50:30
Great stuff, Rob, I'm still surprised that a man of Britton's artistry only made one appearance in 1938-39. What a team that must have been.
Dick Fearon
5
Posted 31/05/2015 at 05:46:13
Looking very much forward to Part 2 which would cover the start of my own Everton journey.
---
Add Your Comments
In order to post a comment, you need to be logged in as a registered user of the site.
Or Sign up as a ToffeeWeb Member — it's free, takes just a few minutes and will allow you to post your comments on articles and Talking Points submissions across the site.
© ToffeeWeb