Jagielka stunner rescues a point
By MIchael Kenrick
27/09/2014

Comments (179)
jump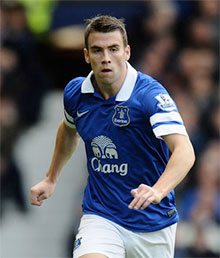 Seamus Coleman: underwent a late check on his recovery from concussion
Liverpool 1 - 1 Everton
With Seamus Coleman still out injured, Martinez resisted moving John Stones to right back, with Tony Hibbert getting a second start (his first Premier League game since December 2012) along with Muhamed Besic, who's aggression was preferred over Osman's weakness in the middle.
Liverpool kicked off and fairly ripped into the Blues, with hardly a touch until Barry upended Lallana inside the first minute, getting a yellow card from Martin Atkinson but Balottelli could only fire it into the Everton wall. From there, Everton got possession and kept it well until Lukaku was dragged down by Moreno as he moved into the Liverpool area, a clear penalty but the wrong side of the referee, who waved play on. Henderson split the Everton defence but Balotelli was marginally offside.
Barry committed another late foul on Balotelli, worthy of a second yellow, but Atkinson was generous and Balotelli whipped in a good shot that Howard bundled behind for the first corner. Lallana got on the end of it and forced an excellent stop from Howard. More Liverpool corners were defended away as Everton resisted the early Liverpool onslaught. Lukaku did get a shot from distance but it was straight at Mignolet.
Everton's control reduced the frenetic pace a little, perhaps too much as Nasimith maddeningly turned and played the ball back on a rare break, with Lukaku free on his right. Everton did well to create a chance for Baines to advance to the byeline and cross low but Lukaku was not where he needed to be.
Howard saved a good shot from Henderson and Mirallas went on an impressive run until he tried a stepover at speed and pulled his hamstring. McGeady replaced him as Balotelli missed a simple looking header. Barry looked to have fouled again but McGeady got into a good position only to cross too close to Mignolet.
Everton's defence looked more confident as they resisted Liverpool''s attacks but the breaks on turnover continued to be disappointing, with Naismith not accurate enough despite his enthusiasm. Skrtel landed awkwardly and needed attention to his ankle, giving the Blues a chance to breath. Balotelli's shot was deflected behind for another corner, headed away by Baines and fired over by Markovic.
A tremendous deep ball from Baines looked to be falling nicely for Lukaku but it was too easy for Lovren to thwart him. At the other end, a shot at Howard was handled well. Sterling did advance threateningly but Howard did well to get his foot on the England star's shot and concede another corner, Howard again ending another Liverpool attack.
Everton were looking better on the ball as half-time approached but slow build-up and loose passes seemed to be their undoing, allowing Liverpool to attack them and pepper Howard with shots — 16 in the first half versus just 3 from the Blues.
The second half started with Liverpool playing a lot slower but a poor backpass from Besic almost gave Balotelli a chance. McGeady won Everton's first corner, headed away. Markovic was well handled by McCarthy when a good ball got over the Everton defence again. But the pace and madness seemed to have gone out of the game, which favoured Everton's more controlled if slow style.
Sterling tried to run through but Stones had the measure of him with a brilliantly timed interception. Everton were looking to paly longer forward balls but most were not coming off, ceding possesion, giving Everton's defenders more opportunities to show their mettle. Naismith got off a good looking strike but again, straight at Mignolet.
Baines caught Balotelli to give away another dangerous free-kick that Gerrard curled over the wall and in off Howard, falling backward in tradenmark fashion into the net, undoing all the good defensive work the Blues had put in. Besic got a good ball in to Lukaku but he completely faled to head it proprerly and Balotelli lashed an open shot onto the top of the Everton bar after a determined run by Sterling. Slo-mo showed Howard's flailing arm had deflected the shot just enough.
The goal had given Liverpool a lift after they had struggled to counter Everton's control but now it was the Blues who had to take the initiative, and that was proving difficult as the match entered its final quarter. But Martinez left changes late, and then brought on Tyias Browning for his debut to relieve Hibbert, rather than giving Eto'o a chance to change the game.
More controlled play from Everton threatened to push Liverpool back but Lukaku again went wide and his cross was abysmally overhit. McGeady was running well but with little effect. Eto'o finally entered the game for the last 10 mins in place of Besic, who not particularly impressed as Balotelli lashed a shot wide. Eto'o did the same at the other end as Everton tried to raise the tempo but could not create the chance needed to get back on level terms.
Naismith won Everton's second corner in the last minute but Baines's delivery was nothing short of pathetic, and was followed by a poor foul throw as the game moved into added time. The game seemed to be ebbing away but the ball bounced across the Liverpool penalty are with nothing really happening, Jagielka lashing an absolute rocket in off the bar from a Liverpool clearance to level the score.
Everton came so close to winning it with the final move, a free-kick brilliantly played in low by Baines with Barry running in for a backheel which went just the wrong side of the post. Honours even.
Scorers: Gerrard (65'); Jagielka (90')
Liverpool: Mignolet, Manquillo, Skrtel, Lovren, Moreno, Gerrard, Henderson, Lallana, Markovic (60' Coutinho), Sterling, Balotelli (87' Lambert).
Subs: Jones, Toure, Enrique, Lucas, Suso.
Everton: Howard; Hibbert (73' Browning), Jagielka, Stones, Baines; Barry [Y:1'], McCarthy, Besic (80' Eto'o), Mirallas (31' McGeady), Naismith, Lukaku.
Subs not Used: Robles, Gibson, Osman, Alcaraz.
---
Reader Comments (179)
Note: the following content is not moderated or vetted by the site owners at the time of submission. Comments are the responsibility of the poster. Disclaimer
Jim Bennings
1
Posted 27/09/2014 at 13:12:29
Surprise, surprise... as per usual, they start so much quicker than us and almost fuck us into surrender whilst we offer nothing apart from the inevitable acceptance that we will be 2-0 down before long.
It just doesn't ever seem to hit home with Martinez that sometimes you have to play a game with tempo, bite and hunger.
Mirallas off injured already, hamstring, another fuckin injury probably knowing us three months sidelined, so predictable.
Ian Adams
2
Posted 27/09/2014 at 13:21:01
Where is the killer instinct, we break and fanny about.
Joseph Clarke
3
Posted 27/09/2014 at 13:23:11
Barry, no longer good enough, Jags the same. Sadly, time catching up. McCarthy doesn't look good enough. Two poor teams.
Michael Owen says it has been pretty even, which I would agree with. Radio Merseyside say it's all Liverpool!
Peter Gorman
4
Posted 27/09/2014 at 14:24:38
Perennial losers.
Bob Heyward
5
Posted 27/09/2014 at 14:24:24
Utterly inept by the manager. 6'3" 㿈 million man with no dribbling ability on the right, with 5'8" free transfer Naismith in the middle. Three time champions league winning striker that Liverpool knocked back (so probably motivated to score) Et'o, sat on the bench, till, oooh, 80 minutes. HOW ARE WE SUPPOSED TO SCORE?!?!?!?
Slow, old Hibbert getting skinned all day by very fast, young RS Sterling, replaced for fast, young Browning on, 75-minutes. Besic - just not the right mindset yet. McGeady...APPALLING - bring back Pienaar.
Not good enough. Not good enough by half. Furious.
Dave Duggan
6
Posted 27/09/2014 at 14:29:56
What a fuckinggggg Goal!!!!!!!!!!!!!
Bob Heyward
7
Posted 27/09/2014 at 14:31:23
Roberto: "Well, it was an amazing sunny day, so we'll take that as a big, big positiive. And Lukaku, what a special talent the designer of his boots are, a real diamond bringing a lot to the team. I would pay 𧴜-million to have such boots playing for Everton. And it was great to see Hibbo, so much experience, playing at a pace that allowed everyone in the stadium to admire our footballing philosophy."
Brad Ayrton
8
Posted 27/09/2014 at 14:39:25
What a STRIKE!!!!!!

Ryan Snyder
9
Posted 27/09/2014 at 14:40:52
Great job stealing a point today. It wasn't pretty, but I'll take it. What a strike by Jags. What a beauty!!!
COYB!!!!
Andy Meighan
11
Posted 27/09/2014 at 14:40:51
I didn't watch it but I'm going to now. Heard a roar while I was sitting in silence and assumed it was for them. Put ToffeeWeb on and seen them one up. Felt sick but can't believe we got a point so late. The wait goes on but it's better than a defeat
Drew Shortis
12
Posted 27/09/2014 at 14:37:57
Sensational equalizer by Jagielka! We played OK, defended better than we have recently and never gave up. A defeat would have left me in a foul mood; under the circumstances a point feels good, even if it just wipes the smug smile off of Steve Gerrard's mug.
We need a confidence boosting win against Krasnodar and then a massive effort against Man Utd. We can still pull things around!
Stephen Brown
13
Posted 27/09/2014 at 14:43:41
Could be a turning point moment!!! That sort of thing normally goes against us!!!
Bob Heyward
14
Posted 27/09/2014 at 14:41:39
Well, that just eclipsed Sharpy's goal against RS. Amazing. BUT – that goal does NOT eclipse the utter dross and poor managerial decisions that preceded it. To get out of jail courtesy of a 30-yard screamer from Jagielka is a lottery win, and NOTHING to do with the way the team were set up.
Martinez has to sort this out. McGeady needs pulling. Hibbert, I love you, but time is up, sorry. Lukaku playing were he should play; Naismith recognised as NOT being the next Messi and that he's merely doing a good fill in job while Ross is injured; Besic returned to the rezzies; Pienaar back in the team ASAP. Use Eto'o as much as possible, and stop, stop, stop messing about with Europa League – prioritise the Premier League.
Dave Abrahams
15
Posted 27/09/2014 at 14:43:10
Everton were absolutely putrid. Fortunately Jagielka has given us something to argue with.
Michael Polley
16
Posted 27/09/2014 at 14:45:33
Christ that was a 'snatch and grab'. Maybe this could be a turning point. But what the hell was RM doing putting Lukaku out wide. He always going to struggle to score from there.Don't understand his thinking.
Gutted for Mirallas - a key player lost for maybe 3 months.
Brad Ayrton
17
Posted 27/09/2014 at 14:47:38
Sitting in my house (Australia) with four Redshites, that was like a win at the end – they just shut up real quick.
Gold, just fucking gold!!!!!!
Gavin Johnson
18
Posted 27/09/2014 at 14:50:45
Goal of the season..COYB
Tony J Williams
20
Posted 27/09/2014 at 14:51:49
I knew my plan would work... Switched off with 5 to go to put the washing out and grab a beer... Come back on to see that beautiful headline...
Get in there, you 'orrible fuckers!
James Stewart
21
Posted 27/09/2014 at 14:53:07
Poor performance overall but we defended well on the whole. Stones MotM and Browning looked great when he came on. Miles better than Hibbert who can retire now. Great moment for Jags after a difficult time.
Max Wilson
22
Posted 27/09/2014 at 14:38:49
This feels like a win! This game is going to go down in Everton history. Jagielka's last minute goal saving the day after so much good work by the lads.
Browning! Where have they been hiding him? Why didn't we bring on Eto'o when Mirallas did his hamstring? He looks quality. Howard was in his Wolfsburg frame of mind, Hibbo worked so hard bless him. We cry for Mirallas – probably wont see him until after Christmas.
Why RM has Lukaku out on the right wing all the time I just don't know? He should be just outside the box. He was unlucky not to have a penalty in the first half, but then so were they thanks to Barry – but he did play well all the game.
I can hardly fault anyone except to say when we lost Mirallas we had a lot of our talent still on the bench. This feels like a win.
Bob Heyward
23
Posted 27/09/2014 at 14:50:00
Sorry, but what on earth are you lot on about? A screamer from Jags does not cover the rubbish for the previous 89 minutes.
This is not 'a turning point' because the problems aren't covered by a Jags wonder goal. This is not 'I'll take a point', because we didn't deserve a point. We got very, very lucky. And the person who nearly buggered it up – again – was Martinez. Can't-dribble Lukaku out right, tiny Naismith in the middle, immature Besic as our play-maker, slow Hibbo against Sterling, and McGeady replacing Mirallas when he's plainly awful. (I'd honestly sooner have seen Atsu or someone from the youth team!)
Joseph Clarke
24
Posted 27/09/2014 at 14:39:54
I am shocked how bad Everton have been this season, including today. It is the whole team performances, not just bad luck and individual mistakes.
Liverpool are not a great side, but we made them look like one today. Our passing, decision making, taking responsibility, lamentable. Fantastic goal from Jags. A very honest player, who like Distin, has done us proud over the years but are now losing a bit.
Besic looked poor today. Stones not yet good enough. I am a big critic of Lukaku, but he played well in the position he was in today.
Andy Osborne
25
Posted 27/09/2014 at 14:51:09
We didn't play well, so great result and what a goal.
Some negatives: Mirallas's injury, Hibbert and Barry look old and slow. Lukaku looked clumsy but did enough to trouble their defence.
Some positives: Browning looks the real deal. Stones looked comfortable, the defence on the whole performed a lot better. Howard put in a good shift.
But one thing stands out for me. We didn't look like scoring before Eto'o came on. After he did, we created chances. I think he and Lukaku should start with Naismith dropping behind them.
Andy Osborne
26
Posted 27/09/2014 at 14:56:36
Max, I agree, why is Lukaku a winger? He's the target man, but he's crossing in to midfielders.
James Morgan
27
Posted 27/09/2014 at 14:59:31
We were very poor today and Jags bailed us out big time! Need to improve massively, the good thing is they will feel like they've lost.
Tommy Coleman
28
Posted 27/09/2014 at 14:59:52
Get in! What a goal!

Steve Jenkins
29
Posted 27/09/2014 at 14:51:04
I'll take that all day long after such a second half performance - thought we were better first half and able to keep the ball but still didn't create much.
Scoring late like that and a screamer always gives you pleasure but much sweeter against the RS.
Feels more like a win for us and a loss for them when you equalise late.
Barry shocking, the midfield.... I've been saying it and saying it is just too pedestrian.
Its one of things that's really surprised me about Martinez as I thought he would be bringing in too many skilful, pacy players and our team wouldn't have balance as we would not have players that were not solid enough.
If anything its the opposite, how many times did we have the opportunity to break and we just checked back nonchalantly and passed it sideways.
Postives - Stones was absolutely outstanding, that boy could have played anywhere on the park. Besic started well first half, our whole midfield disappeared second half and weren't able to get a grip on the game.
I'm annoyed with our tactics of standing off and not pressurising - the teams that have beaten Liverpool, Villa, West Ham pressed with intenstity, high up the park.
What do we do - stand of give them all the time in the world.
We were lucky to get a point, which in itself is disappointing as Liverpool are a shell of the team they were last season without Suarez & Sturridge.
Martinez needs to realise we need more dynamism in the midfield and tactically you can't go to Anfield and expect to win by just letting them play.
Browing was also a big plus point and with Galloway coming through we should 3 pacy, athletic young, composed CB's.
He also showed that he can cover at RB if Coleman is out.
To see the RS fans daunted at the end like that was brilliant and am going to enjoy that but performance wise - that strike was papering over the cracks.

Steve Orchard
30
Posted 27/09/2014 at 15:01:51
Lukaku's touch is appalling. No point in him playing anywhere except through the middle.
Dave Duggan
31
Posted 27/09/2014 at 14:56:47
Agree with Andy, we should definitely start with Eto'o and Lukaku up top with Naismith behind.
Without Mirallas now we don't have enough out wide. McGeady is more frustrating than he is creative. Atsu is more impact player with his pace in second half.
I would've taken 1 point at the start. Not a great performance but maybe just what we needed. A morale boosting late goal when the game looked dead and buried.
Stones though? What a player he is! Absolute class act!
Steve Orchard
32
Posted 27/09/2014 at 15:06:38
I thought Besic did okay; hopefully he gets more game time now.
I can't believe we wasted 㿈 mill on Lukaku – he looks like a donkey at times, his touch is terrible!
Tony J Williams
33
Posted 27/09/2014 at 15:06:39
I thought Besic looked very comfortable and composed, although had a few Ossie knocked-off-the-ball moments.
Stones played a blinder and was standing toe to toe with the Bully Ballerina Ballotelli, he was a diving joke today.
Hibbert was Hibbert, tough in the tackle but is too old to be marking someone of Sterling's pace. Browning looked good.
Overall, I would rather get a point like that than twatting teams and losing the lead or battering teams in possession stats and losing.
Chern Lee
34
Posted 27/09/2014 at 15:08:47
Agree totally with Steve (post 29) that our midfield looked too slow today.
Also losing Mirallas is a big blow - hopefully Barkley's return is not too far away.
Browning had a great debut I thought - a big plus point.
Overall a much improved performance from last week - hope we can at least get another point against Manure next week COYB !!!!!
Gavin McGarvey
35
Posted 27/09/2014 at 15:01:08
I don't agree with most on here that we played particularly badly. I think defending hard and hitting them on the break was the right way to go. Alright, it didn't work out, but they were lucky to get that free kick (Balotelli fouled Barry before 'winning' that free kick).
As for Jags scoring a lucky goal, we worked hard for that as we did all game.
Mike Powell
36
Posted 27/09/2014 at 14:57:32
We got away with that – get in, Jags! We never created a chance until injury time when we could've won it.
So happy with a point... I honestly thought we would get tonked. Much better defending. COYB
Steve Jenkins
37
Posted 27/09/2014 at 15:11:51
Tony J
I thought Besic was very composed as well bar the odd moment. Second half the whole team lost shape but it bodes well for the future with Besic, especially when you consider the moments of class he showed were in a derby match at Anfield in only his second start.
Chris Regan
38
Posted 27/09/2014 at 15:16:50
What's people's rating of Browning? I was pleased with what I saw. Watched online through BT so the commentary and picture was poor.
Kevin Tully
39
Posted 27/09/2014 at 15:12:39
I nearly fooking fainted when that one flew in! Still can't believe it was Jagielka. We need to get the Man Utd game done and dusted, then we can hopefully go on a winning run, even better if starts at Old Trafford. Arsenal, Chelsea, Liverpool and Man Utd in our first seven, not the easiest of starts lads.
Didn't think we did ourselves justice there today, but what's new? Stones was superb, Besic will come good once he gets used to Premier League pace, I also thought Howard should have done better with the free-kick.
Made up for Jagielka, I thought he was back to looking like his old self in defence. We will come good, I've no doubt, but we need to have a little patience.
Chris Jones [Burton]
40
Posted 27/09/2014 at 15:16:30
I actually think Lukaku deserves some praise for having discovered a bit of 'touch' on the ball. In that regard he was so much better today than in recent games. So well done him. Browning looked confident when he cam on, and Besic coped well, starting in his first Derby.
It was typical that Kevin's hamstring went when he was running into the box, and now we must manage without him as well as Ross and Peanuts.
I'd have taken a draw at the start of the game. Howard seems to have got over his jitters and, to be fair, deserved MotM for keeping us in the game. Liverpool ought to have had 3 or 4 today.
Onwards and upwards from here. COYBB

Steve Jenkins
41
Posted 27/09/2014 at 15:23:48
Browning looked a class act, Chris.
Pacy, strong and composed, v impressed!
Did Balotelli dive for their free kick as well? Didn't quite catch the replay clear enough but it looked like he did.
Jay Harris
42
Posted 27/09/2014 at 15:27:59
Positives: Stones Browning outstanding and Lukaku regaining some form.
Negatives: Why do we always turn and look to pass backwards when we are on the break and why do we not create more chances rather than just pass the ball around with no purpose?
Joseph Clarke
43
Posted 27/09/2014 at 15:09:53
Roberto said we are phenomenal going forward. Really!
Liam Reilly
44
Posted 27/09/2014 at 15:22:18
Thought Besic looked good and composed. His first PL start was a derby and he did well.
Browning and Stones the future for sure; both were excellent as was Howard.
Lukaku tried hard all afternoon; really can't understand why he gets so much stick on here. He's still young and he didn't set the price; so stop going on about it ffs.
Steve Orchard
45
Posted 27/09/2014 at 15:32:01
Gutted for Kev, he is quality and one of those players who always looks like he's up for it and provides a spark.
It's gonna be difficult now for creativity going forwards. Let's hope the rest step up or we get some bodies back soon.
Andy Finigan
46
Posted 27/09/2014 at 15:30:41
Yes, Steve, Baines went to tackle but stopped and cheating Ballotelli tripped over his own shoe lasses. Bigger cheat than Suarez, always going down for nothing challenges.
Ian McDowell
47
Posted 27/09/2014 at 15:37:39
Why do we always seem to lack pace.
Alex Parr
48
Posted 27/09/2014 at 15:25:20
I thought Besic played okay and doesn't deserve criticism. I think he showed more than Barry or McCarthy. Jags redeemed himself with an absolute screamer but I thought he and Stones did well. Howard could've done better with Creasehead's effort, got a glove but bollocked it up. Naisy did okay but is in an awkward role that I'm not sure suits him with Rom and Kevin playing that way.
But the overriding issue to me – why buy a 㿈m striker and stick him out wide right to play for hoofs from the back? Shite use of a player.
Peter Mills
49
Posted 27/09/2014 at 15:39:18
There is plenty to analyse after a pretty poor second half performance. However, having so often seen us coming away from Anfield with nothing after playing well, I am going to spend the rest of the day dwelling on the sight of that screamer flying into the kop goal.
James Carlisle
50
Posted 27/09/2014 at 15:35:46
A good team would've put us to the sword today. They're not getting Champions League again next season, I'm happy to say. Their passing and shooting accuracy might just be worse than ours.
As for us, it was another bottling derby display that was almost Moyes-esque in ineptitude. They really were no good but we gave them too much respect as usual. And, for the second week running, Tim Howard cost us a clean sheet. Creasehead's free kick was very saveable.
But amongst all the negativity, the game was definitely worth watching for Jagielka's injury time rocket into the kop. That is every Evertonian's dream.
Les Fitzpatrick
51
Posted 27/09/2014 at 15:29:05
Just got in from match... unable to stay in pub too long – I've got to work on night shift tonight.
My thoughts... We were crap, but Liverpool were not much better. That Sterling kid is one very good player... he won't stay there with that load of shite for long, ha ha. I just knew that gobshite Gerrard would score from that free kick...
I've never seen such a timid laid back Everton team in 45 years of watching. I am just hoping this fluke result can give them a bit of confidence... God they need it.
Make sure you watch that Jags goal on the box or on YouTube. COYB.
Mike Galley
52
Posted 27/09/2014 at 15:44:59
Obviously happy with the point, but performances are a concern. The only thing I can think about regarding Lukaku out wide, is that maybe Martinez wanted to give Hibbo a bit of protection. But I think we want a 㿈 million forward giving us more than that.
John Voigt
53
Posted 27/09/2014 at 15:36:47
Lots of talking points.
Stones was outstanding. His confidence must be high.
Tim Howard made a saving play on 67 minutes when he got a touch on Balotelli's close range shot.
Jags is the hero with a cracker of a late shot.
After conceding late to Arsenal the lads came through with a late goal that stunned the home crowd. Liverpool supporters are going to feel they dropped points after leading lat in the game (and that feels really good).
A point does feels pretty good right now.
I do wonder why Eto'o didn't come on sooner. Having to use a 1st half sub for Mirrallas and yanking a too slow Hibbert and only having one sub available is my best guess why the change wasn't made sooner.
I thought Everton's tactics were pretty good. Everything considered, a good result and one the team hopefully can build from.
Barry Stevens
54
Posted 27/09/2014 at 15:29:04
Thought Stones, Howard, Jags had good games. Besic did well enough to suggest he could become a good premier league player. Browning looked good and should surely become our cover at right back. Lukaku did well in an odd position. Eto'o in his cameo showed his class.
Now the downside. We are far too predictable and easy to defend against. We are missing Ross big time. Corners again today were rubbish. And why oh why are we playing our 㿈 million striker wide. He needs to be through the middle.
James Martin
55
Posted 27/09/2014 at 15:44:47
Must be a different view from the top of the Anfield road. Thought Hibbert did well shutting Sterling down. What more do you expect from him?
Besic also looked decent and had the confidence to get on the ball.
Stones was head and shoulders above everyone else on the pitch. Class player who was let down by static team mates when looking to bring it out.
Jags also shut a lot of the 'fans' up with a solid performance.
Barry, Lukaku, McGeady, Baines all very very poor.
Mike Green
56
Posted 27/09/2014 at 15:46:00
We were poor going forward but they didn't look like scoring particularly and had to revert to their signature 'go down outside the box / Gerrard dead ball" move to beat us. It's been a textbook goal for them for years now, to the extent where I don't even think of them as proper goals anymore.
Thought a draw was a fair result, and we've come away with a Jagielka strike for the scrapbook, which I'll take given the all round performance.
Peter Bell
57
Posted 27/09/2014 at 15:52:09
Seen enough now, Stones is a Centre Half, full stop, don't play him anywhere else Roberto, at times he reminds me of Baresi.
Mike Hughes
58
Posted 27/09/2014 at 15:48:39
Not as good as a win.
But ...... 91st minute sickener for the RS. That'll ding-dang-do for me today.
What a goal that was (just saw it on YouTube).

Chris Regan
59
Posted 27/09/2014 at 15:50:36
Steve (#41), Balotelli did dive, seen it on replay, he went down like a cheap whore.
Ian (#47), I was looking at our team thinking how slow and ponderous we looked. Every time they had the ball, they motored towards our goal, whereas we just seemed to ponderously move it forward.
Agree with all those regarding Lukaku out wide. Protecting Hibbo was the only reason I can see for that.
Barry Stevens
60
Posted 27/09/2014 at 15:57:50
Oh yeah. And McGeady, a player I've defended in the past, was shocking today.
Bob Heyward
61
Posted 27/09/2014 at 15:39:13
Besic is immature and has no place in the starting eleven. Every five minutes he'd goof – caught in possession, over- hit ambitious passes losing possession, appalling back-passes, etc etc. Back to the rezzies till he grows up and realises he's not in Hungary any more.
Lukaku cannot dribble and has poor first touch. We paid 㿈 million for him, and we play him out on the right. Bizarre.
Tiny Naismith is played as centre-forward while Rom is out wide... Unbelievable. Niasmith is a decent player that is covering well for Ross, no more, no less. He is not the new 'false ten' Messi. He should not be playing centre-forward.
Hibbert. Slow Hibbert, against fast as feck Sterling. Right, yeah, that was going to work. Obviously the lessons of the last trip to Anfield not learnt. And he was only subbed after the goal...for a young, fast defender. Hibbo should not have been on the pitch. If Browning was good enough at 1-0 down, he was good enough at 0-0.
McGeady: Just not good enough, even as a sub. He is wasteful, runs down blind alleys, poor in defence, and has no end product.
Eto'o: after the summer, he had a point to prove with Liverpool. Should have played from the start, with Rom.
System: Can we PLEASE stop playing 4-2-3-1 when it is BLATANT that we do not have the players to be able to do it? Today we could have played 4-4-2. Et'o up front with Rom, dropped combative Naismith into an advanced midfield role next to McCarthy, had Barry play defensive midfield, with Atsu (if Pienaar was absolutely not available... something I doubt) and Super Kev on wings. Same back four, except for Browning. McGeady cutting oranges for half-time while talking to his agent about leaving.
A Jags wonder goal is a lottery ticket. Let's not let it cover the cracks. We need to drop the incapable, play players where they ought to play, and find a Plan-B system.
Andy Meighan
62
Posted 27/09/2014 at 15:49:59
No coincidence our back line is a different proposition when Stones is in his right position – the kid is absolute quality. We've got two of the best young players in the Prem with him and Barkley. Howard could have done better with the goal but what a strike to rescue us a point... unbelievable!
I see the Redshite have got themselves another cheat to replace the other rat. I'm talking about Balotelli. Disgraceful behaviour diving all over the place. They probably shaded it but you'd expect that at home. Oh and we should have had a penalty when Lukaku went down early. Mind you, it's been 27 years since we had one there... so what do you expect?
Just a final word on Sterling. Someone said the other day he's streets ahead of Barkley. I bet he's eating humble pie now because he's quite ordinary. Bit like the rest of them actually. Ho ho ho.
William Mctaggart
63
Posted 27/09/2014 at 15:56:32
Let's stop criticizing the team. What was most important of all today was that the defense was strong. Jags and Stones were great all game and Hibbo... Well what do you expect? He did his job and kept Sterling quiet. As this defense improves, we will improve as a team.
Bit concerned with Rom, he looked lazy today, but another sound performance from McCarthy. I'm happy. Let's get behind the team.
William Mctaggart
64
Posted 27/09/2014 at 16:02:58
Also seeing the RS's faces as the ball was going in... priceless!
Peter Bell
65
Posted 27/09/2014 at 15:55:42
Steve @30
Why do you think Lukaku's touch will improve if we play him through the middle?
You either have a good first touch or you don't. That Jose Mourinho is a good judge of a player and we have been robbed.
Steve Orchard
66
Posted 27/09/2014 at 15:59:39
At least we didn't bend over and take it like we have last few times at Anfield!
I think the solid midfield trio probably is the way forward against the bigger teams at least. I just wish Barry would get back to last season's form and protect the back four more – he looks a bit tired and leggy already this season.
Helen Mallon
67
Posted 27/09/2014 at 16:03:25
Bob Heyward,
Besic was very good — best player behind Stones.
You need a stiff drink... Jesus, man.
Fraser Auld
68
Posted 27/09/2014 at 15:33:47
Not much in the first half, they were slightly the better team but we did okay without creating many chances. Second half they were the better team.
In terms of how we set up, I thought Bobby picked a decent team, 4-3-3 with McCarthy, Besic and Barry in midfield offering a bit of extra protection to the back four. It worked, we looked more solid and Besic showed promise, he needs to get used to the pace of the game though as he gets caught on the ball in some dangerous positions, it will come.
With Mirallas left and Lukaku right we tried to hit them on the counter attack, a tactic that has worked well for us previously against some of the top teams. I'm really not sure why some are directing such outrage at Bobby for his selection.
Possibly the only thing I would fault him on was choosing to stick with Hibbert after his horror show against Swansea. However Browning was impressive and I don't think we'll see much more of Hibbo, please God.
The fact of the matter is there wasn't much in the game until Mirallas got injured, McGeady is nowhere near the player and it showed. Bottom line is 2nd half we didn't look a threat as a result and never quite got going.
In the circumstances a draw was a good result. If Mirallas is out for months we really need McGeady, Atsu, Pienaar to step up, they haven't done enough so far. We also desperately need to get Ross Barkley back.
I'm still convinced we'll get better and go on to have a good season, some of the comments being directed at Martinez at the moment are unfair at best and beyond embarrassing at worst.
COYB
Steve Orchard
69
Posted 27/09/2014 at 16:06:41
Peter, we try and play such a patient build-up a lot of the time and he can't hold up play. With that control, he needs the ball in front of him to attack with.
Mourinho was probably snapping our hand off at 㿈 mill!!!
Bob Heyward
70
Posted 27/09/2014 at 16:08:12
Helen re Besic: miscontrolled back-pass that nearly let them in on 55 minutes; the wonderfully well-weighted 10-metre ball to Baines that went into touch; getting caught in possession by Balotelli after slooooooowing down to check who he could cross to. I'm sorry, but I could go on.
He was, as in the previous game, woeful. I know he's new, but it all comes back to his immaturity in the division... He needs to realise he's stepped up several levels, and that he needs better decision-making, faster decision-making, and that his ability to do the Roy of the Rovers moves that he could do in Hungary is severely curtailed in the Premier League.
Three months in the rezzies... maybe a loan would do him wonders.
Anthony Burke
71
Posted 27/09/2014 at 16:11:29
Rooney straight red — is he out next week?
Peter Bell
72
Posted 27/09/2014 at 16:17:14
Helen 67
Bob Heyward criticised Besic, after he said he was glad to see Hibbert back. He does not need a stiff drink — I think he has had a few!
Brian Waring
73
Posted 27/09/2014 at 16:19:19
Yeah, 3-game ban, Anthony.
Julian Wait
74
Posted 27/09/2014 at 16:19:49
He'll be out, poor lamb, unless they appeal, which they would lose.
Will he sit with his kids and wear blue?

Brian Waring
75
Posted 27/09/2014 at 16:20:35
I thought Besic did okay, think some lads need to realise this was his Premier League debut.
Brian Waring
76
Posted 27/09/2014 at 16:21:36
Rooney out, problem is they will just replace him with Mata.
Bob Heyward
77
Posted 27/09/2014 at 16:20:45
Peter (#72): Re Hibbo and me being glad to see him back... you obviously don't get sarcasm and parody, do you? Read my comment again, but in a Roberto accent...
Anthony Burke
78
Posted 27/09/2014 at 16:26:48
Besic played well along with Jags and Stones. I thought we played well and deserved what we got. COYB !!!!
Dennis Ng
79
Posted 27/09/2014 at 16:11:47
Missed the game but saw the 2 goals. Their goal looks a bit easy off Howard but these things happen. I didn't see the preceding foul. Jagielka's goal. Awesome!
Based on the comments, good to hear a few of the players are doing well. We played poor but got a point at a tough place? Great result then!
Ajay Gopal
80
Posted 27/09/2014 at 15:48:17
My quick comments from the TV view:
The free-kick leading to their goal should never have been given, it was too soft, and any case, Barry was fouled before that.
And although Howard should really have stopped that goal (it was about 3 yards inside the upright), the Balotelli miss from point blank range might actually have been a brilliant save by Howard.
Lukaku had a great chance to equalise, but blew it. Other than that, he did play well, but he doesn't seem made out to last 90 minutes.
I thought we had 2-3 good opportunities in the 1st half, but so did they.
On the subs, Barry and Hibbert should have been pulled out around the 60 minute mark for Gibson and Browning. It was really too much to ask Hibbo to defend against one of the fastest wingers of the league. Anyway. Roberto's hand was forced by Mirallas injury, and he had to retain Barry and Hibbert longer than he would have liked.
And those praising Browning, yes he did well on his derby debut, but most of the Liverpool players were dead on their feet by then. So, you can't really slate Hibbert who mostly coped well but did concede a fair bit of corners. Remember, their goal did not come from Hibbert's side.
All-in-all, two very poor teams played each other, and a draw is a fair result. I think Roberto played for a draw and was lucky to get it in the end.
Peter Gorman
81
Posted 27/09/2014 at 16:13:49
This Lukaku on the wing is becoming so predictable. It worked at home to Arsenal where he destroyed the fullback and scored a cracker. Sadly he doesn't always play as well and surely he could be put to better use as the battering ram he was always meant to be.
Glad to hear Tyias Browning didn't disappoint. I never thought he'd make the cut as he often looks under-confident but you don't get much tougher debuts than that. Fair play to him.
Mirallas is a huge loss if this is serious. One of maybe a couple of genuine big-game players for us and on a good run of goals too.
McGeady – utterly hopeless player. Osman is regularly lambasted for surrendering possession cheaply but Christ, McGeady is the absolute maestro.
Jack Cross
83
Posted 27/09/2014 at 16:16:09
The great escape. Good goal. but apart from that the same lack lust performance. If they played any slower be standing still. Were as the fight gone from the team? Howard played better but still caught out by free kick same as in German (Euro) game. And defence more solid. But it was like panic defending without much threat from shite.
Lukaku, one lazy bastard, did nothing and why was he on wing? No touch, no control. Jose, must have laughed his tits off when we handed him 㿈mil.
McGeady shite once more. another probably long lay-off for Mirallas.
The corners disgusting. What do they do at that Finch Farm?
That Barry should have been off, all he is at moment is a liability.
Eto'o, brought on too late.
The only brightness I could see was Browning, when he came on for Hibbert. Looked solid and reliable.
Two bad teams, but the Redshite edged it. I wish I could say we can push on from here but I just can't see it.
Terry McLavey
84
Posted 27/09/2014 at 16:26:15
Isn't that what they call "A Blooter" in Scotland! Had me dancing around the living room. (Wel,l the only room actually!) Good on yer, Jags!
The faces on the Liverpool fans at the end, stunned! FANTASTIC! You'd think they'd just been beaten 10-0!
The commentator said opinion is divided over Balotelli... I can probably speak for all of us that our divide think he's a total cunt? Give him his due, he never stopped trying to get our boys booked!
Still a lot of work to do though, but a much happier Saturday night!
Brian Hennessy
85
Posted 27/09/2014 at 16:31:17
It's quite obvious why RM played lukaku out wide, we were destroyed on the wings in last season's derby, playing lukaku and Mirallas wide kept their fullbacks pinned back for the most part.
Also many of lukaku's goals have come from him cutting in from wide taking a shot.
I'm glad RM has learned you can't approach every game the same way, we have been good going forward all season but poor at the back today that changed
Bob Heyward
86
Posted 27/09/2014 at 16:38:07
Please! a few backing Besic, saying 'he did okay', BUT always with the caveat of 'it was his first start'. WHY of why are we starting him in a game against RS? We nearly got hammered today, and got very lucky indeed thanks to a lottery win.
I'm sorry, but 'did okay' (which he did not) is not good enough against RS. He should never, ever have played. His performance was immature.
I don't blame him because he's not ready. I blame Martinez for not reading the (plentiful) signs from before this game, e.g. that back pass against Chelsea, that he's a bit 'Roy of the Hungarian Rovers'. He may come good, in time, but handing him a start against RS is not the place to start... an opinion that I know is backed by the sub-standard, risky performance he put it today.
Ajay Gopal
87
Posted 27/09/2014 at 16:48:05
Brendan Rodgers' post match comment (from the BBC)
"...and we definitely should have had a penalty in the first half. The ball was shot into the box by Sterling and Barry grabbed it with both hands. That was nearly a save."
I kid you not.
Ian McDowell
88
Posted 27/09/2014 at 16:50:48
Rodgers – a family of Nonces.
Anthony Burke
89
Posted 27/09/2014 at 16:55:58
Jack, really... "Great Escape"? — wake up, lad; we got what we deserved.
Denis Richardson
90
Posted 27/09/2014 at 16:48:17
Not much to say about the game as we were pretty poor. However, we now have Coleman, Barkley and Mirallas out injured, 3 of our best players, so am happy enough to come away with a point.
Performance can be forgotten about but can take some comfort in Besic looking like he could come good and Browning seems to have a future. Stones need to stay at CB - no more fannying about at RB. He also needs to be given a long run.
Barry really had a poor game and was lucky not to have seen red, should have been booked 3 times. Last season he was playing in the shop window looking for a new club as well as the WC - just wondering if he's got the same motivation now with a three year contract under his belt and England duty 100% over - he's also a year older.
Still scratching my head as to why neither Atsu nor Oviedo were on the bench.
Colin Glassar
91
Posted 27/09/2014 at 16:56:17
Brenda must be under a bit of pressure now. After imitating Spurs his grand design looks a bit shaky to say the least. How much did they spend in the summer?
Colin Glassar
92
Posted 27/09/2014 at 16:59:20
Denis, admittedly Barry had a poor first half but second half he was really influential marshalling the defence and MF. He, and McCarthy, don't do anything flash but by god do they put a shift in.
Linda Morrison
93
Posted 27/09/2014 at 16:51:05
I'm a very happy bunny. The players confidence must have been very low after the last few weeks so I was happy that after 10 minutes we were not 2 goals down!
Baines did not touch fireworks man-he threw himself to the floor after he tripped himself up.
The players deserve credit for coming back from a dodgy free kick.
It is a major shame though about Kevin-torn hamstring is usually months as opposed to weeks. Enter baby Bryan and Gibson. Barkley you are probably looking at end of October at best.
The table is very tight at the moment and with the exception of Chelsea all teams are looking dodgy at times.
Win at M.U you'll see providing the team don't get lost in Russia!
Ian Bennett
94
Posted 27/09/2014 at 17:02:30
Labouring performance from the blue boys. Great goal from Jags, and pleasing to see Browning blooded.
Big blow to lose Mirallas, so hope Oviedo, Pienaar, and Barkley are back soon.
Jack Cross
95
Posted 27/09/2014 at 16:52:08
Brian Hennessy. Why didn't he play Atsu on wing and Lukaku in the middle? Atsu fast.
I'm all for Roberto changing play, but it was powder-puff to me.
As for Barry, that should have been pen in my opinion. Just like Lukaku, should have had a pen. If the ref was unsighted, the linesman wasn't.
Why do you reckon Oviedo didn't get on as even sub?
Even after they scored, they looked more like scoring a second other than us getting back on terms. There just doesn't seem any urgency, no matter what is happening.
Steavey Buckley
96
Posted 27/09/2014 at 16:59:10
Great news about Browning playing well, rate him a lot. A class act. And with Mirallas out for awhile, there is no reason why Coleman can't fill in on the right side with Browning at right back.
Paul Hewitt
97
Posted 27/09/2014 at 17:13:44
We got a good point. Normally the RS would have gone on to win by 2 or 3.
Colin Glassar
98
Posted 27/09/2014 at 17:11:58
So many players close to coming back e.g. Barkley, Kone, Gibson, Seamus, Kone, Oviedo, Pienaar etc...plus the young lads biting at the bit to get a game e.g. Garbutt, Browning, Atsu, Galloway, McAleny etc.... We should be feeling confident about the future.
Anthony Burke
99
Posted 27/09/2014 at 17:12:59
Jack, what is your problem? Liverpool were slightly better overall but we turned up and got what we deserved. Last year, we completely folded .
Ian Bennett
100
Posted 27/09/2014 at 17:02:30
Labouring performance from the blue boys. Great goal from Jags, and pleasing to see Browning blooded. Really need him to be pitching for a starting berth given the ageing of others.
Big blow to lose Mirallas, so hope Coleman, Oviedo, Pienaar, and Barkley are back soon.
Raymond Fox
101
Posted 27/09/2014 at 16:33:18
I've been accused of being over positive about the team and the manager in the past. But the conclusion I came to watching this game today is we're simply not good enough as a team. We will probably finish 7th-8th-ish because that appears to be our level at the moment.
Sure we have a few good/very good players like Coleman and Baines, with Stones, Barkley and Lukaku developing, but the rest are below top 4 class. Lukaku, although I was one who was very keen we signed him, is looking far from a 㿈m player at the moment; he's a monster in physique but is he mobile enough, defence nil.
My take on the game is that we hardly deserved a draw, we gave the far too much room to develop their attacks, while there were no real links from the back to the attackers. I'll take a draw sure, but I think we can forget a great season!
Phil Walling
103
Posted 27/09/2014 at 18:04:24
Always good to get something from there but another poor performance orchestrated by a manager who increasingly looks as confused as his players.
Everton have some real talent in their ranks but to my mind are both badly trained and directed.
In short, the ex Wigan mob in charge are not up to the task. I'd give them NINE more games to learn their trade.
Tony J Williams
104
Posted 27/09/2014 at 18:33:10
Don't forget too, this is our 4th game in 10 days.
Followed by a trip to nowhere in Russia and then a lunchtime kick-off on Sunday..
Mark Tanton
105
Posted 27/09/2014 at 18:32:00
For me Lukaku had one of his better games in an Everton shirt - he was a real handful. While Besic clearly has much to learn he was good - looking to move the ball quickly. As a whole though garbage, and worryingly slow.
Brian Denton
106
Posted 27/09/2014 at 18:35:11
Oh come off it, Phil. Nine more games?
Jesus wept......
Sam Hoare
107
Posted 27/09/2014 at 17:59:10
For what it's worth, my ratings:
Howard – 8. Could possibly have done better with the goal but very solid otherwise considering the week he's had. Communication remains an issue.
Baines – 6 Some blood and guts from Leighton despite giving away the crucial free kick. Set piece delivery was poor and didn't get forward as much as usual.
Jagielka – 8. Pretty solid at the back and then of course...that goal. Stunning stuff.
Stones – 9. My MotM. Hugely mature display. Read the game well and brought the ball out beautifully. First choice CB from now on surely?
Hibbert – 6. Did much better than I expected. Got roasted a few times and offered nothing going forward but was expecting worse.
McCarthy – 6. Typical of him this season, some brilliant defensive work followed by some very uninspiring passing. Too often the ball slows with him in midfield when there are potential breaks on. Always puts in a shift but is that enough for teams with top 4 aspirations? Has it in his locker to do more.
Barry – 5. A bad day for Gareth. Should have given away a pen and been sent off as it was he didn't a lot with his reprieve. Will be an important player for us this season and do better than today.
Besic – 7. Thought there were some hugely promising signs from the Bosnian. Energy, some incisive passing and some real pace in the middle of the park. It lagged off a bit and he is prone to errors but I feel confident there is more to come.
Mirallas – n/a. What a crying shame. Our one explosive player who was on form.
McGeady – 4. His worst game so far that I've seen. Really struggled against his full back and gave the ball away more often than getting a cross in. With Mirallas out he will be playing more and must improve his passing and decision making.
Lukaku – 6. At times I thought he looked better today. Some better touches and using his strength to good effect. At times he looked lumbering and tried to do too much. He's not a winger though and beating a man is not necessarily his thing. Like some others I have questioned whether the lad is worth 㿈M but, let's remember, the boy's only 21. Very young for a striker.
Naismith – 6. Toiled honestly but to little effect. Was not able to hold the ball or link play quite as well as usual and had little impact on the game. Is probably better behind or alongside another striker rather than playing the lone role.
Browning – 8. An impressive showing for the youngster. Outstripped Sterling for pace in his first involvement and looks to have great athletic qualities if nothing else. His future is more likely to be at CB than RB but today's cameo suggests he may be better cover there than Hibbert especially if playing a quick winger. Also put in the cross that eventually led to the equaliser.
Eto'o – 7. Could have had a higher rating if on the pitch longer. Like all top class players just seems to have a moment longer on the ball than everyone else. Probably due to superior touch which is sadly something i'm not sure you can teach. Hopefully stays fit as will definitely offer something this season.
Mo Guindi
108
Posted 27/09/2014 at 18:50:21
Stones was outstanding; Howard again near his best. Baines finally getting stuck in as a proper LB and Lukaku showing a good first touch for a change. Given the number of goals given away from open play this was a very solid old fashioned Blues performance.
Jack Cross
109
Posted 27/09/2014 at 18:52:17
Alfred Burke. What's my problem? Sturridge wasn't playing. They have no Suarez. Smallings was shite (although I rate him) and Gerrard is shite apart from free kicks. We had all our fire power and still looked like shite.
Jack Cross
110
Posted 27/09/2014 at 19:19:00
Mo Guindi. You said it mate a solid old-fashioned performance. Maybe Roberto, gave Moyse a ring to ask about advice on how to defend. He should have asked him how to attack while he was at it.
Mark Beech
111
Posted 27/09/2014 at 19:20:19
Many of times in a derby we have played far better and come away with less. We are 6 games in to the season and, no, it's not great at the moment but there are plenty of positives and people calling for Martinez to go is unreal.
We were much better defensively today. I think people still forget, yes, some players today are getting on but against Wolfsburg we looked fantastic going forward. A derby is always going to be a different type of game.
Barkley still to return Oviedo plus a few others I am certainly not worried and very confident things will turn round but start getting behind the team instead of slagging them of at every opportunity. #COYB
Charlie Barrow
112
Posted 27/09/2014 at 19:24:17
Look. We didn't lose and we frustrated the hell out of them - yes we weren't great but considering the run we've had let's take the point and move on!
Keith Glazzard
113
Posted 27/09/2014 at 19:30:07
Fair result in the end. Two pens not given. The foul for their goal should have gone the other way, so a Jags miracle strike evened that up.
Foul throw? When was the last time you've seen one given? I've seen hundreds that could have been, but with a minute to go? Anyway, the ref did OK and we need to do better.
Derek Williams
114
Posted 27/09/2014 at 19:32:31
Pleased with a point at Anfield at any time but especially so when we're behind in injury time.
My thoughts are that Stones must now be the first choice central defender, I thought he was terrific. Distin has looked past it this season and now surely drops down the pecking order.
Hibbo should never start again, other than Europa League games if/when we've qualified. I know Sterling is quick but it looked like TH had concrete boots on... young Tylas Browning looked very composed in his brief cameo and now looks to be the understudy to Seamus. Howard played better (thank God) than he has been recently.
Nais worked hard, Besic/Barry/McGeady didn't do enough for me but hey ho, a point's a point and the look on Gerrard's ugly mug when we scored was priceless.
Brendan Whelan
115
Posted 27/09/2014 at 19:36:37
Wonder goal saved RM's blushes today; we played poorly against a very poor Liverpool side (who were again there for the taking after two successive EPL defeats). RM risks losing all of the good faith he has built with the EfC faithful if our defensive organization will continue being as shoddy.
Mike Corcoran
116
Posted 27/09/2014 at 19:38:18
The reds in the pub were silent til they scores and were then totally obnoxious for 27 mins, gloating and. Itching for a reaction, well they got one and a slinked off sharpish. Id like to think we are classier in the same situation
Mike Gaynes
117
Posted 27/09/2014 at 19:39:53
Sam, your 7 for Besic caused my chin to hit the ground and bounce back up like a basketball.
We must have been watching a different Besic.
Brian Waring
118
Posted 27/09/2014 at 20:17:42
Jack Cross, we had no Coleman, Barkley and played most of the game without Mirallas. The shite may have been missing Sturridge, but they have spent over 𧴜m this season.
Jack Cross
119
Posted 27/09/2014 at 20:18:56
Mick Corcoran. You wrong there mick.
Jack Cross
120
Posted 27/09/2014 at 20:25:23
Brian Waring. Barkley been out for weeks and he wasn't playing brill before he was injured. Maralas, blows hot and cold. The only miss inform I'd say was Coleman. Yes Brian they have spent over a 100 mil and we (according to Roberto) have a top 25 man squad for cover.
Raymond Fox
121
Posted 27/09/2014 at 19:56:39
Phil 104, whoever's in charge of us has to manage with the squad we can afford. Do you not think Martinez would not have liked to have gone out and spent big money on more players? Even our record signing is a reject from Chelsea. The usual top 6 clubs are all clubs that annually spend the most money, it kind of tells it's own story doesn't it.
Man City are a perfect example of how big money can make you a winner. We gate-crashed the party last season, all credit to us; we're the only ones of the rest who put in a serious challenge to them most seasons.
Hope springs eternal for all of us, but the brutal truth is we need to spend a lot more money to stand a chance of being a top 4 club.
Peter Mills
122
Posted 27/09/2014 at 20:47:56
6 hours later and I'm still smiling at that equaliser.
Mike Corcoran
123
Posted 27/09/2014 at 20:58:02
To be honest, Jack – with 30 seconds left, I still expected them to snatch it.
John Raftery
124
Posted 27/09/2014 at 20:03:18
I was pleased Besic played. We have badly needed an extra body in midfield to protect the defence and his presence helped give us a decent share of possession even though we failed to make best use of it. At the back we looked a lot more solid with the RS only ever going to score from a set piece.
The downside was we had little or no threat going forward. Once Mirallas went off, we had no pace on the left and without Coleman no attacking impetus on the right. Oh, and can someone please learn how to take a corner?
Jack Cross
125
Posted 27/09/2014 at 21:09:35
Mike Corcoran. Well there's confidence for you. But hey Mick I think we always have that feeling and that's the problem, isn't it?
Jeff Armstrong
126
Posted 27/09/2014 at 20:59:08
Phill Walling; it doesn't matter how much time YOU give the Wigan mob, it's about BK giving them a contract which will see us down at the bottom of the Championship next November before HE does anything. Or we'll win the cup, stay up and win the league next season.
[Sorry... back in 1983 there.]
Christopher Kelly
128
Posted 27/09/2014 at 21:33:37
My day had just been about ruined. We have lots of problems and that non-call almost brought me to tears as we ALL knew they'd score from that...
Lots of problems in our team. This feels good but we need to improve.
Tony Abrahams
129
Posted 27/09/2014 at 19:25:50
Thought it was Besic who made a great Roy of The Rovers pass to give Lukaku a simple chance just after Liverpool scored? I have never saw him play before but for a foreign player, making his premier league debut, in a derby match at Anfield, I thought he done okay.
I only watched on TV, but I also thought Barry should have been brought off today. He's there to make us play, but I thought the pace was too quick for him at times.
Besic and McCarthy, will make a great pairing in the middle of the park. I think they will compliment each other with there energy, and look forward to Ross Barkley coming back to join them.
I thought second half was awful until they scored, a bit like the Leicester game in the sense that we wasn't even trying to score a goal. But what a goal it was, and one thing I've learnt down the years is, YOU CAN NEVER BE LUCKY AGAINST THOSE RED BASTARDS!!!!
To see the joy and hysterics after Everton scored, was worth all the pain and frustration, that had gone on before. Not saying we're out of it just yet, but hopefully that goal has diverted a crisis.
Christopher Kelly
130
Posted 27/09/2014 at 21:42:25
Amazing!!!! I'll save the griping for later in the week but man, just thinking about all of those older players we've given contracts to really infuriates me. They should be given to younger, hungrier, quicker players to develop. A LOT of wasted money on this roster!
Iain Love
131
Posted 27/09/2014 at 21:07:19
My take defence , If Coleman isn't fit don't play Hibbo play Browning. Stones has to be 1st choice centre back.
Midfield, Barry needs dropping for Gibson or Besic, maybe only for a game or two as I feel he's lost energy and needs a bit of a kick. Gibson is the better passer and Besic is quicker both qualities we need atm. Atsu needs game time from the bench.
Attack, Lukaku to be played up top bullying defenders and creating space for others. Eto should be the one playing just behind, that means dropping Naismith who's energy would be better used as an impact sub.
We really need to start faster in games and press from the off, from results this season [ except Chelsea ] anyone can beat anyone or be beaten by anyone. The best form of defence is attack so the best way to protect our defence is to attack.

Oliver Molloy
132
Posted 27/09/2014 at 21:48:06
We got lucky today, no doubt about that, and we missed a big big opportunity to win the match with the Baines free kick in then last seconds.
If Barry had dummied instead of trying the impossible, he had Lukaku behind him in plenty of space unmarked just waiting for a tap-in.
We wait on the news about Mirallas's injury and can only keep our fingers crossed, because we need him big time.

Kevin Rowlands
133
Posted 27/09/2014 at 22:00:59
PW #104 maybe we should hire back the old Everton mob who did such a great job at Old Trafford last year... After all, they're all unemployed at the moment.
Phil Williams
134
Posted 27/09/2014 at 21:56:52
After 15 years self-imposed exile from that shithole, I forced myself there again. I hate every single fuckin second of being there, but that's now 2 wins, 3 draws and only 1 defeat.
Don't like some of those songs, lads, we are better than that.
Colin Glassar
136
Posted 27/09/2014 at 22:02:57
The big W has spoken. Roberto win the next nine games 10-0 or you're out!!! I bet Martinez won't sleep tonight.
Tom Bowers
137
Posted 27/09/2014 at 22:02:39
Whilst it was great to grab a point the way we did, it is a kind of justice given that we had lost so many derbies by late strikes or other unlucky incidents.
Sadly like the derby at Goodison last season, Mirallas got crocked again. There is always something, right?
As it was, they didn't play well but deserved a point given that they were arguably robbed of taking the lead by garbage officiating which may have altered what happened thereafter.
Defensively they were much better than they have been and with the Manure game coming up (without Rooney), let's hope they have turned the corner.
Tony Doran
138
Posted 27/09/2014 at 22:11:29
Prematch interview with Lukaku. When told about how he had scored more goals than Messi and I think Rooney and Ronoldo, he said that he hoped to score goals like them at the top but felt Everton was a good stepping stone at this time in his career. That's not word for word but very nearly.
Even if he thinks this why, would he come out and say it. The whole point of Everton spending big on him and giving him an opportunity at such a young age is so he can build together with the club and do it with us. If anyone has the prematch interview please review it for me.
Colin Glassar
140
Posted 27/09/2014 at 22:25:34
At least we made Andy Dunn cry today.
Brian Furey
141
Posted 27/09/2014 at 19:41:30
We might be playing shite and had some very disappointing results but a few years back we would never dream of holding Arsenal to 2-2, drawing with those cunts in red and now be seriously considering beating Man Utd.
I think Robbie has let the positivity go to his head a bit too much lately so I think today he went more for a 0-0. I watched final 20 mins in a pub in Cork. A lad went out for a smoke with 15 mins to go hoping they'd score in his absence. So at 87 mins I left and said, "Watch now, they'll score." — I couldn't believe it worked. Again.
Sam Hoare
143
Posted 27/09/2014 at 22:41:08
Mike Gaynes 118. Really? Surely at very worst he was a 6. Had some great moments like that pinpoint ball for Lukaku's easiest chance. I thought for a young player making his Premier League debut he did pretty well. What would you have given him?
Chris Corn
144
Posted 27/09/2014 at 22:44:30
A decent point in the end. All this 'this is a poor Liverpool side and there for the taking' etc,etc. We've been saying that for years yet they still turn us over on a regular basis regardless of who's in charge. And they manage to keep their honours board ticking over. Too many Evertonians are only concerned with what happens against Liverpool. Take the point and move on.
And for no other reason I want us to win something just to shut Phil Walling up because he is pure tedious. Moyes had many horrific starts to seasons during his tenure so his nine more games suggestion is a joke.
Tony Abrahams
145
Posted 27/09/2014 at 22:55:51
Phil The German!
Tony Doran
146
Posted 27/09/2014 at 23:53:13
It was on BT Sports 1 just before game kicked off. He was getting interviewed, but it would easily had gone unnoticed. I never got a recording but hopefully someone did. It's when he was told about scoring more than Messi at the same age.
Ernie Baywood
147
Posted 27/09/2014 at 23:46:17
Joy for a few minutes then relief it's all over for a few months.
In terms of individual performances I could see why Lukaku was played wide. First half him against Moreno looked like a mismatch we could get something from. Second half, Lukaku started touching his toes again and decided he couldn't drive at them anymore. Why was he swinging crosses in?
Naismith did alright. Was always our out ball and did his job. Just lacks what we deep down know he lacks. Pace and creativity.
Stones was immense and Jags next to him had a good game.
Hibbo was on for a hiding against Sterling but gave all he had. That challenge on Balotelli was a beauty... almost as if he thought "OK, I may not be good at some things but THIS is what I can do". Browning's sub performance probably just ended his Everton career which is both sad and great.
The most frustrating thing is that Liverpool are shit.
Mark Andersson
149
Posted 28/09/2014 at 00:06:01
I went against my instincts and decided to watch the game live. Both teams looked laboured, the free kick that led to the goal was enough for me to switch off. So I was thrilled to see on Toffee Web that we stole a point.
What a goal, as for fans' reactions, every game needs to improve but I feel it's going to be a long hard season. At least it will make for some interesting debates. Now to watch the whole match sober.
Kevin Rowlands
150
Posted 28/09/2014 at 00:27:50
CC #145, it wouldn't matter if we did win anything mate, our resident bore Phil Wailling has already made his mind up: Roberto's shit, managed Wigan (where he actually won a trophy, unlike OFM btw) can't coach a defense bla bla bla, it's all so tedious at this point.
Andy Crooks
151
Posted 28/09/2014 at 00:39:29
I think Ernie's post is a spot on analysis. Kevin, I think Phil is simply pointing out that after nine more games our season will be well defined.
Eddie Tully
152
Posted 28/09/2014 at 01:11:49
I can't believe some of the things I'm reading on here! We played pretty well today, the defending especially was 1st class - even Hibbo did well. We certainly deserved a draw.
Their goal shouldn't have stood as Barry was definitely fouled. I agree we never created enough clear cut chances but that's partly down to the tactics employed by Roberto.
The 4-3-3 he used today - with Barry, McCarthy and Besic in midfield ensured we had solid protection for the back four. I thought Besic was excellent today, going forward and defending, anybody saying otherwise wasn't watching the same game I did.
Roberto's plan was perfect in my opinion. Let them have the ball until they reach the box, and hit them on the break, hence why we never pressed them much in their own half. Admittedly it never quite came off but this was far more effective than last years gung-ho approach.
Stones, Jags and Howard were all excellent today. Lukaku also did well, used his strength and also held the ball up well. The reason RM puts him on the right sometimes is because he loves to come inside and get a shot away with his favoured left foot.
I don't think any players deserved criticism today, they all battled and showed fantastic spirit.
In conclusion, a draw that felt like a win and ruined Creasehead's weekend :-)
Jamie Crowley
153
Posted 28/09/2014 at 01:28:35
After considering all that went on today, I think Roberto set the team up in a much more classic "away" style. Frustrating yes, but I think in hindsight that may have been tactical? We turned the derby game at Goodison last season into a track meet and look what happened.
We should be happy with a point as we were outplayed overall and there were frustrating moments to be sure but the positives:
Howard overall was better. Should have stopped that FK but did make a fantastic save in the first half and whereas the FK was poor, it wasn't a howler by any means.
Stones was just fucking gold
Besic looks a player. He did very well early in the game.
Browning looks a player - I was extremely impressed with him.
Jags ripped the shot of a lifetime to steal a point and leave all those rs fans disappointed.
We didn't concede a goal from open play. And THAT is the brightest positive of all.
Jamie Crowley
154
Posted 28/09/2014 at 02:23:42
An aside... can anyone believe the amount of money the rs paid for Lallana?
Money completely wasted. What a joke. He's a 5 mil player tops.
Mike Childs
155
Posted 28/09/2014 at 01:57:27
Thanks Eddie Tully and a few others who were watching the same game I saw. It seemed to me like Atkinson said to himself Balotelli really can't go to the ground 40 times in a match without some reward now can he?
Compare to some of the stuff he let go, I was really shaking my head over that decision. Most bias referring job I have ever seen by him – he usually favors no-one and has both teams angry at him. Happiest I have ever been with a point instead of three.
John Voigt
156
Posted 28/09/2014 at 02:20:08
I get really tired of negative comments towards Lukaku on ToffeeWeb. I thought you rated strikers on how often they score. 32 goals scored as a 19 and 20 year old make up a lot of bad 1st touches. In this game he should have been given a penalty which I thick is close to as good as scoring. (he also chips in with some nice assists).
I'll admit he's frustrating to watch at times but the kid can shoot and has a natural goal scoring instinct you can't coach.
Do you folks at ToffeeWeb realize (that's the Yank spelling for the word) that only one other player scored 15 or more goals both of the past two Premier League seasons? (The correct answer to who the other player is is that biting guy who left Liverpool for sunny Spain).
That's right: Only Lukaku and Suarez scored 15 or more goals in both of the last two seasons (injuries to certain player do factor in why there were only these two).
I think he'll wind up scoring 15+ again this season if he stays reasonably healthy (which he seems to do).
I've read online that Everton have pretty much a wage cap of around 㿲k a week.
Please respond to my post and tell me what other 㿲k per week player you'd rather have playing the #9 role at Everton (and Lukaku is OK with playing out wide where he might not score as much).
2 goals and an assist through 6 Premier League games carrying a toe injury (which I've had an it really makes it hard to keep your fitness level up) is a bit below his form the past 2 years, but not by that much.
OK, You'd maybe like Diego Costa to lead the line for Everton, but that's fairy tale stuff.
Everton as a club of modest means by Premier League standards have to take a chance on somebody that's willing to make wages Everton can afford and not play regularly in the Champions League.
Please tell me what other player you'd like to play the #9 role at Everton (given the fact the player you name is willing to play for a non Champions League team and will take 70,000 a week or less).
Moaning about the 28 million transfer fee doesn't cut muster in my book (it's what you pay for a big time goal scorer).
Everton have gotten a proven goal scorer who is naturally left footed, 21 years old and counts as a home grown player by Premier League rules.
As far as I'm concerned my own mourning over Lukaku will occur when his 1st touch does get better and he's off to a Champions League team (and the fact that he counts as a home grown player makes him more marketable).
Enjoy him while you can because players that have a good chance of scoring 100 Premier League goals before they turn 25 are a real rarity (name me 3 other players you think have a better chance of scoring 100 Premier League goals before they turn 25 and tell me what wages they are on).
Cheers (I think that's a good way for this Yank to sign off to a British audience!)
Kevin Rowlands
157
Posted 28/09/2014 at 03:43:10
Oh please, Andy: ninety minutes, nine games, nine hundred games, nine thousand games, he's shit, he managed Wigan, end of – according to our Phil.
Jack Cross
158
Posted 28/09/2014 at 04:52:17
Well it looks like the Devils club are panic buying again and going after Napoli's striker Gonzalo Higuain for 㿋 mil. Having spent 𧴜 mil already on shite. It's a wonder Henry doesn't kerb Brenda's spending.
Shamus Coleman a target for Chelsea in January.
Paul Kelly
160
Posted 28/09/2014 at 07:44:09
Mr Voigt, you made some good points, previous posts too, keep' em coming.
But oh what a goal, I had just deleted the recorded game up til injury time off my sky box because I was drunk and pissed off, then Big Phil scores goal of the fricking millennium!
Thomas Surgenor
161
Posted 28/09/2014 at 09:28:54
Some people on here must have very short memories!! Complaining about "playing Lukaku out wide" ... When it was only 6 months ago that this was hailed as a "masterstroke" against Arsenal.
It didn't work today! But fair play to a manager who isn't rigid with his game plan and isn't scared to mix it up and try something different.
Brian Furey
162
Posted 28/09/2014 at 09:44:08
Excellent post, John (#157). I was at the Arsenal game last year and whilst he played well in spurts he really isn't a worker. He doesn't like high balls over the top and prefers it into feet a lot more.
I get very frustrated with him but likewise I tell myself I don't care if he keeps getting 15+ goals every season. If he gets badly injured I'd be happy with 10-12.

Colin Glassar
163
Posted 28/09/2014 at 14:43:30
Great post John Voight. I also don't understand all the flak Lukaku gets on here. The lad feeds on scraps during most games but always puts in a shift. I'd rather have him than Beattie, AJ, Bent or any of the other dross we've had over the years.
James Royston
164
Posted 28/09/2014 at 15:08:12
An oldie's opinion... Howard messed up on the goal, as I watched (on TV) all five of us in the room said he will go for the right hand corner because in those situations he is so predictable but honestly pretty good at it. Where was Howard? On the line and, despite getting a hand, diving backwards. Look at the replays, he often does this. He did partly redeem himself with what was a good save from the headcase.
I thought we did OK, if only to see the smug faces wiped clean and see Brenda moaning and looking for any excuse. With Stones & Browning looking so good, that screamer may just give Jags his confidence back...
Paul Tran
165
Posted 28/09/2014 at 15:36:55
Whatever you think about Lukaku (I'm in the 'not sure' camp), we've got to use him more effectively if our money will be well spent. Owen kept going on about all the runs he was making, dragging their back line about. He needs the service, he needs it quicker than he's getting it, and he needs others feeding off him. Yesterday, he started looking for the ball in safe areas – he can't cross it to himself!
I'd be game for going two up-front with Eto'o, replace Barry with Besic, cement McGeady to the bench and give Atsu another go.
Was Atsu injured yesterday? Or did Martinez respond to his shocking performance at Swansea by dropping him?
Colin Glassar
166
Posted 28/09/2014 at 15:44:57
Jack Cross, is it Higuain today? Yesterday it was Benzema and before that, Lavezzi? Either it's paper talk or the RS really consider themselves a club players like that would be interested playing for. Either way, it's totally delusional. They only got Balotelli because no-one else was interested in taking the risk. They'll never replace sewer rat and that will cost them at least 20 points his season.
Despite what Henry Winter writes in the Telegraph today, they are, IMO, going to struggle this season. Give me Lukaku any day over super Mario.
Brian Waring
167
Posted 28/09/2014 at 16:36:05
Just read that Henry Winter piece on Gerrard... fuck me, what a sycophant he is. Gerrard did fuck all apart from scoring a free kick that IMO Howard should have got to.
Such shite like....
"Marti­nez's attack was partly designed with Liverpool's No 8 in mind yet he was still influential."
And this is the best, a description of Gerrard's free kick....
"Balotelli and Henderson moved to one side. Gerrard ran in. Everton sensed the danger. Seven blue shirts attempted to block the way, those of Naismith, Lukaku, Leighton Baines, McGeady, Gareth Barry, Muhamed Besic and James McCarthy. Gerrard struck the ball, going as much for accuracy as power. The ball cleared the wall and curled towards Tim Howard's goal. One of the best keepers at the World Cup, the American stretched out a hand, got some contact, but the ball was too well-placed and carried on into the net."
Oh by the way, someone mentioned Winter ghost wrote Gerrard's book and is lined up to write the next installment.
Jack Cross
168
Posted 28/09/2014 at 17:16:19
John Voigt. John were did you get the idea there was a cap of 㿲k at Everton? Arteta was on 㿷k 3 seasons ago. He took a drop down to 㿞k to go to Arsenal. I know this for a fact.
As for who I would have liked to see instead of Lukaku as our striker, Bonny. He scored 16 goals last year with Swansea. Check his goal record up and you won't be disappointed. And without a shadow of a doubt he is a better all round player, 3 years older. Age don't make a difference. In my opinion. I don't no what wage Bonny is on at Swansea, but I would be surprised if he was on 㿲k.
Also I would have liked Shane Long. And Assomolonga at Nottingham Forrest. A good young strong, knows were the net is striker, who we could have made in to something special. It's all about risks at the end of the day and taking that chance.
Can anyone just remind me who we had to fight off to land Lukaku?
Jack Cross
169
Posted 28/09/2014 at 18:06:01
Paul Tran.
I don't know if Atsu was injured... but I thought with him on the right wing and Browning covering right back, that would have left Lukaku in the middle, with Naismith just behind. And I think we could have beat the Redshite with their dodgy defence. I mean they were there for the taking.
Brian Waring
170
Posted 28/09/2014 at 18:19:20
Jack, why would you have liked Shane Long? It's just looking at his stats: age 27, prem games 151 games, 28 goals, cost Southampton 㾸m.
Lukaku's stats: age 21, Prem games 74, goals 34. Lukaku is not even at his peak yet as well.
Max Wilson
171
Posted 28/09/2014 at 18:27:15
Sam Hoare (#108) most of the Sundays agree with your ratings, as I do (now theres fame!!!). Besic and Browning showed promise. Browning wasn't fazed by the occasion. Some folk are saying we should play Stones in the middle. What do you think?
Jack Cross
172
Posted 28/09/2014 at 18:26:04
Brian. I meant I would have liked Shane Long added to our squad not as a main striker. Maybe I should have explained that, Brian.
Sam Hoare
173
Posted 28/09/2014 at 18:48:29
Max, 172. Thanks; though not sure having papers agree with me is good or bad!
I think Stones looks a very gifted footballer and could well play in the middle but I think he has the potential to be one of the best CBs we have had in a very long time so I would keep him there and start him every game unless injured or in need of rest.
Gary Edwards
174
Posted 29/09/2014 at 07:34:16
I got as far as comment #50 and not one mention of McCarthy; it's like he didn't play. Did he?
Made up for Jagielka, I hope that is the kick-start his form badly needed. We need him on top of his game, leading by example.
Conor Waters
175
Posted 29/09/2014 at 08:28:29
Gary 175 - McCarthy never gets mentioned by commentators but trust me he does great work.
Douglas McClenaghan
176
Posted 29/09/2014 at 09:44:02
Exhibit A: this weekend's match against the Shite at Anfield.
Exhibit B: our previous match against the Shite at Anfield.
And people are complaining?!
Harold Matthews
177
Posted 30/09/2014 at 15:37:09
Conor. Re McCarthy. He was my MotM. Tremendous player. Covered for everyone but you're right. He is difficult to pick out and hardly gets a mention. After one terrific clearance, Owen said, "Good work by Hibbert."
Sam Hoare
178
Posted 30/09/2014 at 15:57:30
Your MotM Harold? I'm not sure I can agree. My feelings are still a bit mixed about McCarthy. He mostly does a tremendous defensive job (although he still gets dribbled around a fair amount) but his lack of ambition with the ball gets on my nerves a little.
Perhaps it's not his fault but so much of our play inevitably goes through him and Barry in the middle and so often I can see forward passes or men in space (particularly on the counter) that he either does not see or chooses not to attempt. Perhaps it is the frustration of playing essentially two defensive midfielders in the middle but I feel we really lack some precision and attacking dynamism in the middle of the park.
It may be that McCarthy would be better as the defensive foil for a more capable attacking holding midfielder if you know what I mean; a deep lying play maker in the mold of Toure or Cabaye.
In short, McCarthy is a hugely industrious and capable defensive player but i'm just not sure he does enough on the ball for me considering how often he is given possession of it. Maybe it is because Barkley is missing but I feel the Barry/McCarthy partnership is not working as well as last season.
Gavin Johnson
179
Posted 30/09/2014 at 15:56:13
Harold, it's interesting you've made that point. I was thinking about it the other week when you were talking about the improvements you've seen. Personally I would have said his form has maybe dipped a little since the Man Utd media speculation. That being said, his hard work can go unnoticed, and I might well be attributing my view to some results that haven't gone our way and connected it to a downturn in McCarthy's form
---
Add Your Comments
In order to post a comment, you need to be logged in as a registered user of the site.
Or Sign up as a ToffeeWeb Member — it's free, takes just a few minutes and will allow you to post your comments on articles and Talking Points submissions across the site.
© ToffeeWeb