We'll take the train next time...
By Paul Traill
25/10/2014

Comments (37)
jump

Lille 0 - 0 Everton
Of the many alternative ways of getting to Lille, we decided on flying to Brussels Charleroi and renting a car to drive to Lille. It was lucky our flight was an early one as the Ryanair flight was delayed three hours. We didn't hear of the delay until we had actually boarded the plane and it was initially announced to us that there was a fault on the plane which the engineer was having a look at – this taking one hour to fix. People were getting really edgy and were worrying about not making it to Lille at all. Obviously people had all sorts of different agendas (trains, buses and taxis to catch) and the lads next to me were seriously considering getting off the flight and catching a train down to London from Manchester Piccadilly. In the end, everyone persevered with the flight.
It was then announced that there was actually no problem with the plane at all and that the only problem was with one of the sensors... so the sensor needed replacing... taking even longer. We even seemed all set to go at one point, the masses of Blues even cheering at the announcement until we were then informed the plane needed refueling, which required the plane to be towed to another destination for fuel. This took another hour; having left home at 4am and boarding the flight at about 6am, we finally left at 9:30am – just the three hours later than we were supposed to. We arrived in Brussels roughly 11:30am local time... a three-hour delay for a one-hour flight. Utter madness.
Thankfully we got through customs pretty quick and I didn't mess around with getting to the car rental. In no time at all we were away in our rented Suzuki Swift. Unfortunately for the others, it was me doing the driving. The roads around Brussels Charleroi are pretty easy to navigate and we were soon on the motorway. We couldn't quite believe how quickly we arrived in Lille and in roughly an hour we'd gotten to the hotel and got the tram towards the centre. Despite the delay, it was about 2pm by the time we'd gotten to a pub so we still had plenty of time. On route to the city centre, I spotted an Irish pub called Irish Corner down a side street and we got off the tram there for a quick pint. It was just as well we did as the pub certainly came in handy later on..
.
On to the city centre, then and we had the bright idea of trying our luck in the first bar we saw outside the train station, though the queue for the bar was huge, so we carried on. There was another bar a bit further along which was fairly busy though somehow a shisha bar right next door to it was practically vacant and they were selling beer. We sat down there and had made our nest for the next few hours. It slowly filled up as other blues got wind of it as we guzzled quite a few beers and smoked a shisha pipe. The pretty barmaid was ever so helpful and everyone was in good form. All blues behaving well. Everybody having a good time...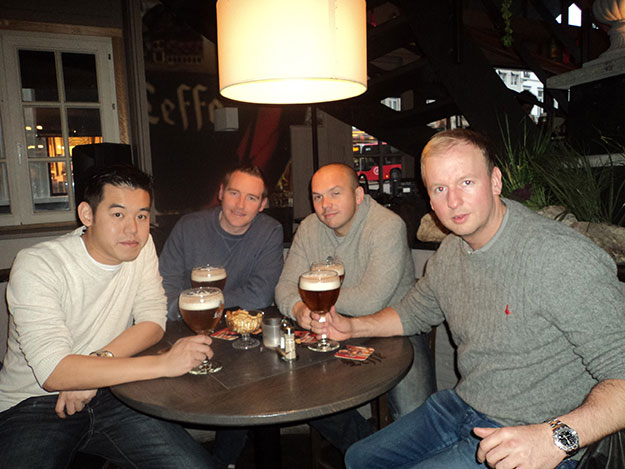 (left to right): Ritchie, me, Ben and Gaz
We were almost having too much fun I suppose and we certainly lost track of time, so when it came to heading onto the Metro for the match, it was just packed. I think we had about 40 minutes until kick-off and, perhaps in a bit of a panic, thought it would be a better idea to get a taxi. We couldn't find one anywhere so headed back to the Metro which was now even busier. Ben then had the idea of maybe getting a tram a few stops away where it was a little quieter and maybe picking up a cab that way... and so we tried that. We were drunken fools if I'm honest. The sight of us running around aimlessly trying to flag down taxis etc must have made a few eyes roll. Ben even went into a pharmacy at one point to ask for a taxi number.
It was now about 10 minutes to kick-off and we were nowhere near the ground. We bit the bullet in the end and went back to the Metro which had now been cleared... all it would have taken was a little patience.
Even when we arrived at the stadium stop, we had a good 10-minute walk. We finally arrived in the ground – Gaz and I in the away end, Ritchie and Ben somewhere amongst the Lille supporters; after a couple of police searches, we finally got to see the pitch. As our seats were separate, we didn't even bother finding them and just perched at an opening which represented an alright view. 27 minutes on the clock when we finally got to the stadium... needless to say we'd missed no goals and not much action by the sounds of things. That's definitely the latest I've ever gotten into a game.
I thought the stadium was fantastic (both inside and out). The atmosphere was also pretty good for such a dire game. Everton resting Lukaku, McCarthy, Coleman and Alcaraz from the starting line up... Leon Osman and Steven Naismith left behind at home. If I didn't know any better, I'd say that Everton came for the draw. I know that's not Martinez's nature and perhaps it was one of those nights when we never really got going but I thought it was a very disciplined effort from Everton. We gave little away and were defensively solid... though pretty powderpuff in attack. Half-time came and went... Gaz emerging with a hot dog each at half-time after patiently waiting through quite a chaotic queue.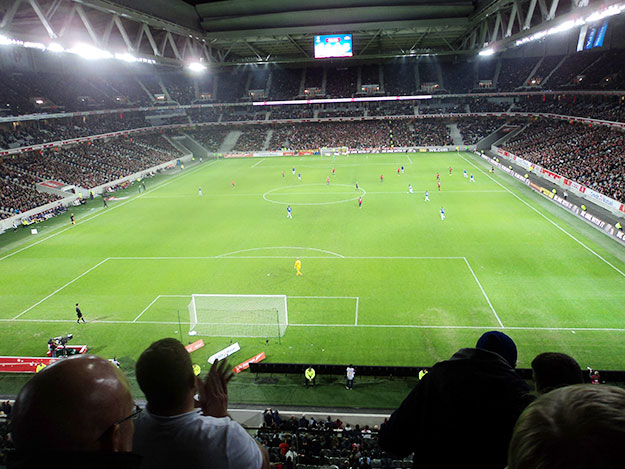 The second half continued in a similar vein as Everton battled hard. It's a shame we couldn't convert one of the two real chances we had in the second half as a win would have put us in a really strong position and with a great chance of qualifying for the next round. Aiden McGeady's opportunity was probably the cleanest though credit the keeper it was a good save by Enyeama to prevent the Irish international from scoring. Samuel Eto'o also put an opportunity just past the post when you'd perhaps have backed him to score.
By the end it was pretty obvious we'd settled for the draw when James McCarthy replaced Ross Barkley on 93 minutes... more game time for Ross... Martinez clearly wants him firing on all cylinders as quickly as possible. Overall, a decent point away from home though the result makes the reverse fixture a huge game for both sides.
We were kept behind after the match for a short while as the crowd dispersed. It was this time much easier and organised when waiting for the Metro and we reconvened with Ritchie and Ben back in the shisha bar. It was a good thing we had stumbled across this place. All the pubs in the city centre were all now completely closed. "over-zealous paranoid policing" was my theory as I was completely unaware of the trouble that had occurred in Grand Square. It was only when chatting to an Evertonian a little later that we heard of it.
"Weren't you there?" he asked. "We were doing nothing wrong and the police just waded in with tear gas. There were kids there. It was a disgrace".
I can't believe we'd been sat most of the afternoon only a few hundred yards away and hadn't heard any of this. Anyhow this now meant all the bars in the city centre were closed for the night. We took a quick walk around and there was nothing really happening, not many Everton fans still hanging around. A little downbeat, we headed back towards the hotel on the tram and thought we'd check if there was anything going on at the Irish Corner as this was a little outside the centre and might perhaps be open. It's a good thing we'd (I'd!) found that bar earlier as we'd have been back at the hotel otherwise for an early night.
The Irish Corner was excellent. Just enough people in there for it not to be too busy, plenty of beers on draft and a great mix of Evertonians in good voice. We spent the rest of the time there before getting the last tram back to the hotel – we didn't want to revisit the taxi kerfuffle of earlier. A good day and a reasonably satisfactory result.
My take on the trouble which occurred – well, I didn't see any of it and can't really comment on anything I haven't seen, but I will say is that I'd be surprised if either incident, particularly the one in the main square, was completely unprovoked.
I imagine there's more to the attack on the Everton fans outside the Australian pub on the Wednesday than has been mentioned. People don't just attack people for no reason surely? Who does that? The lads involved in that one might have been doing nothing wrong, that I can believe but it may have been a consequence of something else that occurred earlier. I'm speculating entirely and might be way off track of course.
Same goes for the trouble in Grand Square. I did see some footage on the French news the next morning and there were plenty of Everton fans throwing bottles and lighting flares etc. A lot of Evertonians are a fantastic bunch, a real credit to the club, though I wouldn't be being honest if I said that was the way it was for every Evertonian.
As the shisha bar got busier and busier come the evening (as there was nowhere else open), not everyone was behaving well and there will always be some who can damage the club's reputation a little bit. Having said that, the police could surely have handled things better than storming in with tear gas? I can't be sure as I wasn't there... Maybe somebody who was there can enlighten us as to what went on?
The next day, Ritchie and I spent an hour or so wandering around the city centre before we headed on to Brussels at about 12pm. We thought we'd stay on in Brussels for a night also and driving through the hectic city centre of Brussels was pretty stressful... probably more so for the passengers than myself! We had a good day and night on the beers there before an early start the next day for our flight home.
I was mighty relieved to get the car back to the rental desk in one piece and get my insurance deposit back... I think I'll use public transport alternatives on the next European trip!
Player Ratings
(From what I saw; I missed the first 27 minutes)
Howard: Was behind most things which were thrown at him. Not one of his more difficult evenings I don't think. 6
Baines:
Did his usual consistent job. 6
Distin: He did well and it was great to see him playing after having quite a tough time lately. 7
Jagielka: Solid. Really doing a good job of leading the team at the moment. Will be delighted with two consecutive clean sheets. 7
Hibbert: My man of the match. Bless him, he'll never score a goal. He just doesn't know what to do in them sort of situations but what he does offer is solidity in defence, good reading of the play, experience and guts. A typical Hibbert display in what was a game when defensive duties were crucial. 7
Barry: Good, solid and professional as ever. 7
Besic: Does anybody know what to make of him because I certainly don't? Only time will tell and he definitely needs plenty of that. 6
Barkley: More minutes on the pitch which is terrific to see... he has a big season ahead of him, I reckon. 6
Pienaar: Was doing OK until substituted on 64 minutes. Valuable game time for him. I wonder if he might be better suited as an impact substitute these days as he reaches the autumn of his career. 6
McGeady: Much more involved than Pienaar and unlucky not score. Played OK but he can infuriate the hell out of you at times as is so over-elaborate. 7
Eto'o: Quite a busy performance. He's certainly always hungry for the ball. A tad unlucky not to score the winner late on. 7
Lukaku (for Pienaar): Did OK attacking in from the left-hand side though nothing spectacular really. 6
Atsu (for McGeady): Didn't really impact on the game. 6
McCarthy (for Barkley): Pointless substitution.
---
Reader Comments (37)
Note: the following content is not moderated or vetted by the site owners at the time of submission. Comments are the responsibility of the poster. Disclaimer
Patrick Murphy
1
Posted 25/10/2014 at 18:42:18
Should have heeded your own advice Paul - donĂ''t comment on something you havenĂ''t witnessed. There are of course always two sides of any story but it seems when large numbers of British football supporters visit the more local European destinations there is often an eager and enthusiastic welcome from the local Police and also from the idiots who decide that they are Ă''UltrasĂ'' whatever that might mean. A 10,000 travelling support of any club is going to attract its fair number of idiots and Everton arenĂ''t, unfortunately, immune from that possibility, however, in general Everton supporters have a pretty good reputation for enjoying themselves in a relatively well-behaved manner letĂ''s hope that continues in Poland in May.

Jay Rollinson
2
Posted 25/10/2014 at 18:50:38
Have to agree with Patrick there. To say you didnĂ''t see any of the Ă''incidentsĂ'' involving fans and so canĂ''t comment on them, only to then proceed immediately to doing precisely that (in a quite judgemental manner with some needless assumptions along the way) I found very strange. Almost as strange as the most generous 7 (7???) ever awarded that you gave to McGeady.
Steve Carse
3
Posted 25/10/2014 at 19:30:06
I wouldnĂ''t like you to be on a jury trying me fella! The most pointless set of ruminations IĂ''ve ever read on this forum.
Dave Brierley
4
Posted 25/10/2014 at 19:51:06
Always like your reports Paul, you must spend a fortune following the tricky blues. As a seasoned fan myself travelling to many away games over the years I see very little wrong in your appraisal of the behaviour of some of our fans. Like most teams we have our fair share of dickheads a percentage of, whom, prior to the alcohol are only slightly less dickheads. It goes with the territory IĂ''m afraid.
CanĂ''t agree with you about McGeadyĂ''s performance. At best a 4.
Steven Flynn
5
Posted 25/10/2014 at 20:22:01
What a load of bollocks, Paul Trail (and Dave Brierley). Well, you should be surprised that there was no provocation from the Everton fans in the square because I was a few yards from where the tear gas was exploded and I can tell you there was women and children running scared from the over-the-top behaviour from French police; Everton fans were not to blame (even though you wonĂ''t believe this with your prejudiced thoughts).
Paul Joy
6
Posted 25/10/2014 at 20:12:33
Paul Traill – as a regular columnist you should be ashamed of yourself. Given that you did not see or hear either event, you then pronounce from on high some three paragraphs of pretentious shite.
I donĂ''t think you could help yourself though as your observations on a regular basis have a theme of "look/listen/read me I am much cleverer than you". You found a funky bar, you got served when the ordinary travelling fans didnĂ''t – well good for you!!!
Do some research, read and watch what many who were at those events have had to say. I have and I was also belted with a riot shield as I left the main square. The provocation you refer to was from the police – not our fans. I know what I witnessed with my own eyes and ears and it does not tally with your account. I have facts – you have opinion.
And finally, how can anyone trust your eyesight as a reliable witness anyway .... FFS – you gave McGeady a 7!!!!!
I rest my case MĂ''lud.
Trevor Lynes
7
Posted 25/10/2014 at 20:29:55
Good article but please drop the Ă''gottenĂ'' — there is no such word! It just irritates me to hear the English language destroyed by Ă''USAĂ'' slang speech.
I worked for years with them and it really grated on me when they called a decent night out Ă''AwesomeĂ'' and asked me if Wales was in Ireland.
The game was forgettable too and I just hope we raise the tempo in the return match at Goodison.
Kunal Desai
8
Posted 25/10/2014 at 20:52:03
You went all that way and missed 27 min of the game. I really donĂ''t understand fans who spend vast sums of money to travel so far for matches yet they donĂ''t watch an entire 90 minutes, granted there was a delay in the journey but shouldnĂ''t something like that be factored in for any unforeseen delays? Surely you would have better off arriving the night before.
Sam Barrett
9
Posted 25/10/2014 at 21:20:10
So Everton fans must have done something as they couldnĂ''t have been attacked without causing trouble first?
Dont bother going to Wolfsburg if your gonna come out with comments like that!
Peter Laing
10
Posted 25/10/2014 at 21:20:55
People donĂ''t attack people for no reason — who does that?
Plenty, Paul... they are called cowards in my book.
Kieran Riding
11
Posted 25/10/2014 at 21:43:43
IĂ''ve read tonight that the French lad who started the kick off on Wednesday night has been jailed.
Gavin Ramejkis
12
Posted 25/10/2014 at 21:54:35
I wasnĂ''t there but, with the multiple pieces of footage I have seen, and from some details from friends who were there, I would say I am disgusted by some of the heavy-handed and outright snide behaviour of some of the French police.
Footage clearly showing undercover police wearing scarves over their faces and clearly wearing pistols on their hips, black leather gloves and wielding snap batons hitting anyone in range, if they were there to police the crowd then why not in uniform like their other colleagues? Why would a police officer choose to dress and appear like a rival fan if not to cause provocation and response?
I have heard Lille have already sent some tickets back for the return leg. IĂ''m partially disgusted at that because the majority of our home fans would not use the same shithouse tactics as payback because they go to watch a match of football.
I am taking my niece to Wolfsburg for her first European away game in November, I am personally satisfied having worked and travelled in Germany before of their civilised behaviour and look forward to enjoying the experience with her and meeting up with fellow travelling blues for what I hope is a great game and visit.
Paul Traill
14
Posted 25/10/2014 at 21:46:19
IĂ''m sorry to have offended. It really wasnĂ''t my intention at all.
Steven #5 and Paul #6 thanks for informing of the incident in the square. I just canĂ''t get my head round any of it... it all sounds terrifying. I canĂ''t for the life of me understand why they would just storm in like that.
As I said in the report, my comments were entirely speculative. Paulm IĂ''m gutted IĂ''ve come across as pretentious... thatĂ''s really not how I want to come across. Oh and McGeady... yeah OK... got that one well wrong to be fair!
Chris Butler
15
Posted 26/10/2014 at 00:41:51
People shouldnĂ''t comment if they werenĂ''t actually in Lille on the day.
We got an escort from the airport to the city centre and the escort to and from the ground. The police took our coach right through all the traffic which meant we got to the ground quickly. I have to praise them for that at least.
Not all the police officers were bad; yes, there were far too many security checks – I was searched twice going in – but you get searched at most away grounds nowadays in Britain.
The majority of our fans behaved impeccably in Lille; however, I do think some fans a small minority went too far. It didnĂ''t justify the use of tear gas but the police in Lille werenĂ''t as bad as the police in places like Athens and Rome.
Andy Crooks
16
Posted 26/10/2014 at 00:53:56
Paul, your reports are never pretentious but give a good matchday experience to those w/o canĂ''t be there. Keep them coming.
Matt Traynor
17
Posted 26/10/2014 at 05:26:43
ItĂ''s no wonder a lot of long-standing posters have deserted this site. I know they havenĂ''t all passed away as I keep bumping into them when I am back in Liverpool and can make the game...
I normally would disagree with PaulĂ''s marking of players, but to jump down his throat for some supposition doesnĂ''t make him a Daily Mail reader! By the way, thereĂ''s a thread on GOT about how some Blues openly scammed a bunch of fans by selling e-tickets that had been printed multiple times at 㿙 a pop, and had the audacity to spend the day drinking with their victims (safe in the knowledge they outnumbered them 4-1).
Cue the usual reposte of "Are you sure they were Blues?", the incredulity that a fellow Blue may be a bit of a shitbag? Well theyĂ''d travelled on coaches with them, and were going the game themselves, so if they werenĂ''t Blues they went above and beyond for the ٤-700 they ripped off fans.
And Kunal #8, thereĂ''s another thread about a wheelchair user who missed the first 30 minutes of the game, if youĂ''d care to post there, or where you still in full on "Mail" mode and forgot which site you were on?
Michael Kenrick
18
Posted 26/10/2014 at 05:28:23
I used to think the same as you, Trevor (#7), convinced that the Yanks had gotten it all wrong with their use of Ă''gottenĂ'' among other things.
"No such word"?!? You probably donĂ''t play Scrabble, then. And you may not want to read this explanation.
Derek Thomas
19
Posted 26/10/2014 at 07:24:06
Fair play to you MK for that... but Trevor and Me ( or is that I?) and others of a certain vintage, whilst knowing that English is the worlds biggest thieving, ever mutating, mongrel of a language. Whatever our Gallic Cousins say to the different it IS by default, the World Language... We just donĂ''t like the Ă''ideaĂ'' of Americanisms, be they true or as you point out, technically false.
So IĂ''ll see your gotten and raise you Aluminum, which was changed by the Brits to fit in with the notion that ALL elements on the periodic table should end in Ă''IUMĂ'' hence Aluminium ... mind you when watching Cricket I have to mentally translate Ceylon and Rhodesia into Sri Lanka and Zimbabwe...old fart-itis.
Steve, donĂ''t change, keep giving us the view from the Spellow
Graham Hardie
20
Posted 26/10/2014 at 08:57:26
Paul, I always find your matchday reports the best read on ToffeeWeb. Keep them coming!
Trevor Lynes
21
Posted 26/10/2014 at 10:34:12
OK Mike, I have read the attachment and perhaps I do not move along as quickly as I used to. But when I worked with USA and Canadian companies in the Middle East I actually had my English spellings changed by management to the American way of spelling ie; Labour became Labor and savour became savor.
I was asked if England has big cities, how did I feel about working in a Communist country and was Wales a part of Ireland. Most Americans and Canadians do not have passports.
If I had used the word Ă''gottenĂ'' during my school days in an English class I would have been chastised. Not everything changes for the best IMO and I deplore some changes. But then I am a senior citizen, so please forgive me!!
Charles Brewer
22
Posted 26/10/2014 at 11:43:00
Actually, "gotten" is an old form which has pretty much died out in English English but survived in the American version. ItĂ''s like "fall" for autumn which I believe Shakespeare used. "Aluminum" is pretty horrible, and Ă''sulphurĂ'' vs Ă''sulfurĂ'' rattles on.
The biggest problem the Americans have is that they only play silly games (netball and rounders) or a softy version of rugby.
On topic, the French CRS are a notorious bunch of semi literate thugs who in a civilised society would be behind bars. If we had been talking about German, Polish or even Italian or Spanish police (even the proper French Ă''flicsĂ''), I might have been willing to believe that the Everton supporters might have started something. However, using sound Bayesian principles, the probability the Blue lots started it is virtually zero.
Brian Denton
23
Posted 26/10/2014 at 12:39:36
CanĂ''t agree that the ground was Ă''fantasticĂ'' - it was a piece of identikit prefab shite of the sort we would no doubt have ended up with had Destination Kirkby gone ahead.
I arrived too late to see any of the trouble, as we went straight to the ground. What I did see was a ludicrous amount of French policeman in riot gear and shields all around the ground. Totally over the top and probably for any fan who was younger than 35 quite bewildering. It was as if they were policing a Millwall v West Ham game in 1983.
Not a patch on Nuremberg as an experience. Although their ground was crap too.
Paul Andrews
24
Posted 26/10/2014 at 12:49:22
Brian,
With that in mind, what type of ground would you be looking at the Blues getting?
I, along with all the Blues I spoke to over there thought the ground was a good one. The view of the pitch was exceptional from all sides as far as I could tell. Viewed from outside all lit up the ground looked very impressive.
Brian Denton
25
Posted 26/10/2014 at 16:55:37
Paul, not a Meccano set dumped in an industrial estate, for sure.
Still, I think weĂ''ll have to agree to differ on this one.
Paul Andrews
26
Posted 26/10/2014 at 18:30:06
Sure thing buddy, itĂ''s all about opinions.
Karl Masters
27
Posted 26/10/2014 at 19:46:09
Paul #108
I was at both the last two games and I beg to differ. We were the better side by some distance in both games. We scored SIX the opposition scored ONE.
Could we be better, yes we could. But is that not usually the case. By the way we achieved the same result exactly as Chelsea.
My view is we have momentum and by Christmas we will be top 4 and in the final 32 of the Europa league. Have some faith the School of Science is back.
Gary Green
30
Posted 27/10/2014 at 15:27:19
IĂ''m only an occasional poster but feel compelled to add my two pence worth on this thread.
I was in the square at the time of the incident on Thursday afternoon. The atmosphere was relaxed, funny, and full of expectation. The normal police were positioned in most of the surrounding streets and seemed to be fairly unconcerned with situation generally.
However, when the plain-clothed police started charging through the square, allegedly chasing a "known English hooligan", who has subsequently been turned out to be a local drug dealer, people, including women and children, were being skittled over causing understandable panic and confusion. This was when the Robocops were called in with the tear gas and rubber bullets which were discharged randomly among a crowd trying to get away.
Everton fans did admittedly start throwing bottles and cans to try to keep their attackers away which in hindsight might have been questionable, but probably understandable.
Lille is a venue for Euro 2016 and in my opinion this is a scenario highly likely to be repeated if the teams with the largest following are drawn here. The local fans, bar staff, shopkeepers, and hotel staff that we met were very friendly, helpful, and aware of the fact that their police were known for over reaction.
On a separate issue I thought that the stadium was superb. I sat in the home end and was able to watch the game in comfort with a great view, got in and out without a problem even though we identified ourselves as Evertonians, and even drank a beer from my seat.
Finally I thought McGeady and Pienaar were both worth at best a 3 out of 10 on the night.
Paul Hardwicke
31
Posted 27/10/2014 at 17:12:42
Paul. We were also in the Irish corner after the game and as you say it was a good atmosphere and good food and beer.
We were also there the night before the game as it was more or less opposite our Hotel. As we approached the bar on the Wednesday we noticed there where 30 or 40 people standing outside so we assumed these would be fellow blues but as we got close to the door we noticed these were all locals all dressed in black and none of them were drinking but we walked past them and in to the bar, it was not a good atmosphere in there.
We decided to stay and figured if we were going to get a pasting we may as well have a few beers fist. A copuple of the gentlemen came in and circled the bar a number of times and maybe they decided to leave us blokes in our late forties/early fifties alone. They all disappered about 10 and we figure these were the guys who later turned up at the Aussie bar and caused the trouble there. Obviously I have no proof of this but it looks like tis may have been their meeting place?
Apart from this everything else was fine we found the other locals helpful. I did not see any other Everton fans misbehaving, we were in a bar just off the square when the tear gas went off and calm was restored very quickly. Thought stadium was great but would have preferred to be closer to pitch.
Richard Farrington
32
Posted 27/10/2014 at 18:33:16
Thoughts on some of the comments on here.
The author of the piece made a mistake commenting on the incident in the square, for which he has apologised for. I was there, the unmarked police brushed past me. Nothing and I mean, nothing had happened to provoke this action. If they were after a specific target, surely this was not the way to apprehend him. Approach him in a more isolated and less populated area.
The stadium – I thought it was awful. Cages upon cages. I posted a picture on twitter and someone commented that it looked like a military facility.
The French Police – my plans to go to Euro 16 are now binned – enough said.
Worst comment of all: McGeady – 7 – that must have been good beer you drank in the afternoon. 3/10 at best.
Sam Higgins
33
Posted 28/10/2014 at 15:19:34
Paul Traill, why you felt the need to apologise to the self righteous soapbox merchants is beyond me because you had absolutely nothing to apologise for. Your match reports are by far and away the best on ToffeeWeb as you always provide an interesting account of your day leading up to the match which is always a good read, and provides a real sense of how much you enjoy supporting your football club.
You also always seem to take grief for your player scores which is nonsense as everyone has a different perception of how they rate a match. It seems for the effort you put in you donĂ''t get an awful lot back where as Ă''the othersĂ'' who more often or not just document exactly what we saw on the Saturday afternoon or whenever are taken as gospel.
So the French bacon got a bit fruity with the travelling support... big deal – itĂ''s not like that has ever happened before. It makes me laugh there are grown men on here crying about it. Maybe the supporters were the innocent victims this time but IĂ''ve travelled with Everton plenty before to know that our supporters have the capacity to behave like proper cunts when they want to. Even inside Goodison Park... Still, I digress.
Paul – keep posting your matchday reports because I love the sense of occasion you provide instead of the usual humdrum. And donĂ''t feel like you have to apologise cause some twat has accused you of being pretentious – you were simply explaining about a good bar you had found. You and your mates are the type of supporter this club can be proud of instead of the clowns who started throwing bottles at the gendarmes Ă''cause they started it, sirĂ''.

Steve Carse
34
Posted 28/10/2014 at 16:07:38
Sam, the core of that post is every bit as invalid as Paul's piece that drew the original criticism. You seem to be saying that just because there have been occasions in the past when Blues have misbehaved then it was valid for the French gendarmerie to launch an attack without there being any such misbehaviour. Interesting. Wherever there is violence it ought to be condemned. And where it is conducted by the state authorities the criticism should be doubled.
Paul Joy
35
Posted 28/10/2014 at 16:03:35
Sam #33
I am the "some twat" you have referred to.
I have found Paul Traill's reports pretentious previously and I felt this was the case for Lille. My opinion was reasonably stated and was supported by the facts – Paul was not there and got called out for being "a self righteous soapbox merchant" to use your term.
I happen to agree about those who threw bottles (some reports say there were three) - there were a couple of thousand in that square.
Was I surprised at the trouble? No, I was not, and nor were the police either – they got what they wanted.
I would like to believe I am also the type of fan Everton would be proud of, just like Paul Traill – not "some twat" that you refer to.
Perhaps Paul apologised because he knew he had gone too far.
Richard Farrington
36
Posted 28/10/2014 at 19:44:01
Sam Higgins - "so the French bacon got a bit fruity with the travelling support"? Innocent women and children were terrified running from the gas and a 70-year-old man got a rubber bullet in the head.
A completely idiotic comment that.
Jay Rollinson
37
Posted 28/10/2014 at 19:49:41
Sam Higgins,
Paul got it wrong. He rightly said he couldn't really comment as he did not witness any of the incidents but then went on to give his speculative version of events regardless. He held his hands up afterwards and apologised for any offence. End of story.
Why you feel the need to weigh in, labelling supporters "self-righteous", "cunts" and "twats", I don't know. If you wanted to stand up for Paul by saying he had a right to comment on events he did not actually see, then fair enough. Do that. Why then try and make out that the French authorities belting travelling fans with batons simply for being amongst a large group is no "big deal", and then go on to belittle those affected as nothing more than "grown men crying" over nothing? You'd be laughing it off and chalking it up to experience if you or a member of your family got fucking lamped, would you?
Add Your Comments
In order to post a comment, you need to be logged in as a registered user of the site.
Or Sign up as a ToffeeWeb Member — it's free, takes just a few minutes and will allow you to post your comments on articles and Talking Points submissions across the site.
© ToffeeWeb