Soft penalty but Everton were second best
By Michael Kenrick
06/12/2014

Comments (183)
jump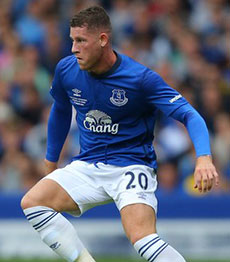 Ross Barkley started on the bench but added some impetus when he came after 55 minutes
Manchester City 1 - 0 Everton
For Sky's televised evening match at the Etihad, Ross Barkley was dropped to the bench after a series of lacklustre performances, while Sylvain Distin played his fourth match in nine days. Coleman, Hibbert and Baines all started with James McCarthy, Darron Gibson and Steven Naismith all out injured.
Some suggestion that Everton would play three at the back, with five defenders named, but Coleman started playing ahead of Hibbert to provide some proper width on the right, with Baines and Mirallas combining down the left, and Eto'o perhaps a little more withdrawn in the middle of the park...
There were some early rather robust challenges from Everton as they looked to defend their lines, Aguero getting sandwiched between Coleman and Besic and going down, clutching his knee. A long stoppage ended with Dzecko coming out to warm up.
Everton got some possession in a very open midfield but farted about with it until Mirallas gave the ball away cheaply and City ran away to win a corner. with 18-year-old Jose Pozo replacing Sergio Aguerio, who looked a forlorn figure as he hobbled slowly around the touchline, back to the dugout.
Lukaku looked lively, but was playing too wide, when he beat Zabaleta but, of course, no-one in the middle to cross to... Coleman got an early card for a rugby tackle on Clichy. City looked unsettled by losing Aguero but Everton failed to take advantage and the home side were soon pressing the Royal blues back toward Howard's goal.
Coleman was getting forward in his new role, and fed in a fair cross toward Lukaku, but not really posing any danger. Meanwhile, City won a dangerous free-kick some way out, that was nicely wasted!
Besic was next to lose the ball cheaply by farting about rather than advancing inot space with the ball at his feet, and Everton were again under pressure, a second corner, headed out by Eto'o as he was taken out by Mangala, a dreadful foot right into his lower back — yellow card... could perhaps have been red as it looked very poor.
Everton were backing off too much as City surged forward but Toure could only fire wide. A nice turnover on a poor clearance form Hart was spurned as Mirallas chose to go backwards rather than turn and attack with the ball, and City were attacking again, Jagielka with soft contact on Miner in the far corner of penalty area... Penalty! Poor from Jagielka as he bundled into Milner, giving Marriner little alternative but to point to the spot, kick duly converted by Toure, despite Howard guessing right and diving full length.
Fernando caught Barry on the head with a horrible high kick: yellow card. The game was pretty open after that, Everton doing better to get forward, but seemingly loosing the ball too easily, and retreating to give away the obligatory corner as City were now able to play more comfortably with their one-goal lead.
Sylvain Distin got in the way of a tremendous Nasri goalbound shot as City started to look more and more dominant, with Everton too unadventurous on the increasingly rare occasions when they did regain possession. Everton were guarding reasonably well off the ball but not really tackling or challenging effectively for the ball, relying on mistakes to get the turnover. They tried the long ball to Mirallas, but he caught the ball on his heel.
Finally, some proper penetration by Everton saw a couple crosses and a fierce Mirallas shot deflected for Everton's first corner of the game but wasted and the play was soon up the other end, another corner for City and a free header for DiMichelis, high and wide... Brief Everton possession before another shockingly cheap turnover in the middle and City pressing again, the ball ballooning up and onto the roof of the net as Yaya Toure rolled around in agony.
An advanced Everton throw-in led to some slightly better play that ended poorly with Barry well offside as 4 minutes were added before the break. Barry was well robbed and City fans were screaming for another penalty but Coleman had clearly chested the ball down.
Everton had another ineffective spell of possession outside of City's area but tellingly the quality was not there to construct, never mind finish a decent chance on goal,
No changes at the break and City were soon on the attack again. When Everton did win the ball, Distin played it long, straight to a City head and the pressure resumed. Breif Blues possession ended when Barry's forward pass to a closely marked Lukaku was lost and the Everton goal was under attack in seconds, Howard miraculously blocking a blistering finish by Pozo. A very poor first 5 mins for Everton.
Barry was slow into Milner, picking up his 5th yellow of the season, the 99th of his Premier League career. Mirallas close to a yellow for booting the ball away in anger after getting called offside again. Barkley structured something approaching an attack, Hibbert getting forward and Mirallas set to lash home, got totally underneath it. Barkley came on to replace Besic, rather than the ineffective Eto'o.
Everton won their second corner played high and too easily into the arms of Hart. At least it beat the first defender! But it meant the City were attacking again. Barkley was playing in the middle of the field, and was playing some lovely forward balls but their recipients struggled to do much with them, one to Mirallas almost getting a sight on goal, Fernando getting his body in the way of his final shot as Everton finally looked a match for their illustrious hosts until Eto'o ball as too much for Hibbert to trap.
But City just responded with even higher tempo, pressing Everton back. Barkley tried a long run, tripping over Zabaleta's foot at the end of it and City back on attack again, winning yet another corner. Mirallas got called for a foul but the danger was snuffed out. However, Lukaku couldn't keep the ball yet again, Barkley the out-ball but this time he turns back instead of running forward. On the next move, he did get Eto'o into the area, but Sam overran it, then Barkley set him up for a strike that was blocked wide but the short corner was wasted with another high cross gifted to Hart.
The next Everton attack summed everything up, with great advance play that suddenly stopped, ball played backward, impetus completely lost... maddening. But the move did win a free kick that Mirallas clipped off the top of the wall, the corner though was back to normal service, easily picked off by the first defender. Absolutely criminal, as City surged forward again.
Coleman was clearly fouled but nothing given by the homer ref, and Everton defending again, Baines doing well to block out any cross, at the expense of another corner. Barkley tried another run, giving Eto'o a chance to shoot from long range, high over the bar.
Lampard came on and played a clever reverse pass that allowed Dzeko to play in Milner who blasted over when it looked easier to score. Into the last 10 minutes, and still not one decent effort to speak of on Hart's goal, despite better outfield play by Everton. But that shot would come when Eto'o played a beautiful flick that Lukaku lashed goalward and was astounding to see his snap-shot parried away by Joe Hart, a tremendous save.
It was spoilt though by some really sloppy giveaways that soon allowed Nasri to fire straight at Howard, and really felt that Everton's single solitary chance had been repelled as it seemed to galvanize City up yet another gear, and teat another corner the reward.
Eto'o did well to fight off Toure but then lamely passed straight to a Sky Blue shirt. Everton attacked with more verve as is the custom with the clock ticking away. Toure booked for repeated fouls on Eto'o as Osman replaced Mirallas for the last couple of minutes, Milner getting treatment for a head wound.
Into 5 mins of added time and a much better corner whipped in by Barkley but all too little too late to change the destiny of teh 3 points. Barkley was finally getting hemmed in by City as he tried to make something happen from his favoured central position but it just wasn't happening for Everton, who no doubt will be lauded with glowing praise for their effort and energy when in truth it was never really enough to change the script, despite a very late corner taken by Eto'o.
Everton's performance was a lot better than recent games, mainly because they were given far more room to play the ball around than v Spurs and Hull. But the extra freedom was poorly used, with only one chance of any note that was repelled by Hart.
Manchester City: Hart, Clichy, Demichelis, Mangala [Y:18'], Zabaleta; Milner, Fernando [Y:26']; Toure (c), Navas, Nasri; Aguero (12' Pozo (62' Dzeko)).
Subs not Used: Sagna, Kolarov, Caballero, Lampard, Boyata.
Everton: Howard; Hibbert, Distin, Jagielka (c), Baines; Barry [51'], Besic (56' Barkley [91']); Coleman [Y:10'], Eto'o, Mirallas (89' Osman); Lukaku.
Subs: Robles, Garbutt, Alcaraz, McGeady, Pienaar.
Kick off: 5:30pm

Referee: Andre Marriner
---
Reader Comments (183)
Note: the following content is not moderated or vetted by the site owners at the time of submission. Comments are the responsibility of the poster. Disclaimer
John Audsley
1
Posted 06/12/2014 at 16:32:30
Hmmm...
Coleman Right Midfield then?
Mike Corcoran
2
Posted 06/12/2014 at 16:35:25
Or is it 3-4-3, 3-4-2-1?
Mike Corcoran
3
Posted 06/12/2014 at 16:45:17
I've been waiting for three at the back all season, just to see if it can work. Hope they're up for it.

Jim Bennings
4
Posted 06/12/2014 at 16:53:45
Fucking hell... so when we go a goal down, what do we have to attack them with?
So much for bold fearless attacking football, that to me is just waiting to be lambs to the slaughter. It's all well and good having loads of defenders out there but the way we lose the ball on the edge of our own box so much, it's not going to matter.
I fear we could lose 5- or 6-0 today, depends what mood Man City are in and if we start that usual self-destruct bollox again, like last week at Spurs. (I see Palace held them with simplicity easily today eh?)
I applaud any Evertonians willing to watch this next two hours, happy suffering lads!
Trevor Lynes
5
Posted 06/12/2014 at 16:58:52
I just wonder why Kone and Oviedo are not on the bench.They both had good outings for the Under-21s against Sunderland, each scoring a goal.
Mick Wrende
6
Posted 06/12/2014 at 17:01:58
How is that team 3 at the back - looks like 5 to me.
Jim Bennings
9
Posted 06/12/2014 at 17:14:01
Good point, Trev.
They or at least one could have made the bench no?
I know they will probably play on Thursday against the Russians but tonight's team pretty much says to me we'd be happy with a narrow loss.
The mentality has changed a lot.
Jim Bennings
10
Posted 06/12/2014 at 17:53:07
Here we fucking go... okay it wasn't a penalty, no way at all, but fucking Gareth Barry AGAIN GIVING THE FUCKING BALL AWAY.... WILL WE EVER EVER LEARN??????
For Christ's sake, Everton, show some fucking attacking threat PLEASE!!!!
Man City have no Aguero and no Kompany so please at least look like a team!!!
Dave Duggan
11
Posted 06/12/2014 at 17:59:14
This is fucking shite! No creativity what so ever. You just know we have lost this already.
Jim Bennings
12
Posted 06/12/2014 at 17:55:59
God we really are fucking impotent going forward.
A midfield that includes Barry and Besic for me is a complete recipe for non-event attacking football.
Barry had a great season last term but the fact is he looks way way too slow these days, the amount of times he loses the ball is embarrassing to be honest now.
Man City starting to dominate now, it's almost like we are just here to admire City and accept defeat. I'm seriously starting to doubt whether Martinez can motivate this team anymore.
Anto Byrne
13
Posted 06/12/2014 at 18:02:24
Clueless football... we can't string anything together.
Jim Bennings
14
Posted 06/12/2014 at 18:03:09
Joe Hart hasn't yet been tested has he? We haven't had a shot, we didn't test the Hull keeper in the second half on Wednesday.
So much for fearless attacking football, we don't even look as good as fucking Stoke as an attacking force.
Where was Martinez when Bojan went to Stoke?
This is a bad Everton team, forget injuries or what, we are poor, we have been poor all season in the league and I'd be amazed if we are not looking over our shoulder at the bottom four or five come the end of January or February.
There is quite simply nothing there.
Jim Bennings
17
Posted 06/12/2014 at 18:16:37
Oh my God how many times do we lose the ball without being under real pressure, I'm sorry I got talked into watching this mundane shite.
Pass, pass, pass... lose the ball... pass, pass going nowhere.
This is as bad as the worst season's under Moyes and I challenge anyone who even is ignorant or clouded enough to argue with that.
Punchless dire crap.
Paul Andrews
18
Posted 06/12/2014 at 18:20:42
Big improvement on Wednesday. A lot more energy and movement.
I am looking forward to a Besic - McCarthy partnership in front of back four. Barry off, Barkley on, playing deep after another 10-15 minutes .
Eto'o. Lukaku and Mirallas should take turns in making Mangala face his own goal. Red card waiting...
Dave Pritchard
19
Posted 06/12/2014 at 18:24:20
If those 2 studs in the back/face challenges had been made by us we would be down to 9. If Jags tackle had been by a City player it would be no pen. 2 simple facts
John Voigt
21
Posted 06/12/2014 at 18:32:09
2 Big calls and neither go our way.
I get tired of "big clubs" getting calls.
Dave Duggan
22
Posted 06/12/2014 at 18:28:16
No change? Pathetic
Bill Gall
23
Posted 06/12/2014 at 18:27:31
Regardless of the penalty decision, that I have seen given and not given, that the referee did not send off Mangala for the kick in the back against Eto'o and Fermandino's kick in the head against Barry simply to me shows that this referee must have got his certificate off the top of a box of Kellogs.
This by far is one of the worst displays by a referee this season, and that is being generous.
Jim Bennings
24
Posted 06/12/2014 at 18:35:16
Big improvement from Wednesday?? Really??
It looks the same can't be arsed running attitude from us again.
We are not closing City down with any aggression or vigour.
We are moving the ball so slowly again.
Nobody is willing to run with the ball just walk, pass it sideways and backwards.
We are a poor pointless team to watch this term.
City haven't got Aguero or Kompany and basically haven't even had to get out of first gear, if they do then your looking at 3-0..
At least Moyes could fucking motivate them at times, what's the point of Duncan Ferguson as coach?
Jim Bennings
25
Posted 06/12/2014 at 18:40:38
Question is how long do we put up with looking so blunt?
And how big is that QPR home game going to be next Monday?
Lose that (even draw it) and the vast majority of the natives will not be happy.
Anto Byrne
27
Posted 06/12/2014 at 18:32:36
Barry on a yellow and he takes off Besic.
Martinez is becoming Moyes. Dour and predictable.
Jim Bennings
28
Posted 06/12/2014 at 18:52:19
To be honest Dave, Barry probably should have went off because he was on a yellow (suspended anyway now) and he has been slow but Besic not much better really, looks to get caught too often napping and hasn't played a forward ball all night.
The problem is what we know, the centre of midfield has no variety, it's all much of a muchness.
We must be one of the most boring sluggish sides along with Sunderland to watch, it's woefully slow, we hardly put a good noteworthy move together.
For fucks sake these haven't even got Kompay in defence.
Have a real go Everton, play like your lives depend on it, play it like it's a cup final.
Jim Bennings
29
Posted 06/12/2014 at 19:00:20
Our corners are totally dreadful, why is Leighton Baines still allowed to take them?
He shouldn't be allowed anywhere near another corner until he spends hours on the training ground.
Neil Roberts
30
Posted 06/12/2014 at 19:17:05
It is an incredible performance with great energy levels... we passed and passed and... ermmmmm.... passed.
It's boring crap – really very slow.
Dave Duggan
31
Posted 06/12/2014 at 19:20:07
The ref is nearly as bad as us!
Tony Hill
32
Posted 06/12/2014 at 19:16:04
Osman on at 87 minutes, Besic taken off when this is possibly the worst game I've seen from Barry. Clueless surrendering of possession throughout. Barkley loses value with every appearance. Baines and Coleman hopeless.
No-one seriously expected victory here but we remain toothless and the manager's responses are increasingly baffling.
I am becoming very concerned indeed about our Premier League form, this is starting to look like a dangerous rut we're in.
Brian Waring
34
Posted 06/12/2014 at 19:28:20
The strange one for me is Mirallas being pulled off, a player who can produce something out of nothing.
Paul Andrews
35
Posted 06/12/2014 at 19:30:25
The lads got their pride back there after the performance on Wednesday.
Eto'o Man of the Match.
Ian McDowell
37
Posted 06/12/2014 at 19:30:22
Right, where to start.
First the penalty. It never was and Jagielka, you are never a captain! Your reaction should've been one of Terry or Gerrard to jump in the ref's face and protest; however, you reacted like "Oh well..."!
The team in general: no fight, no passion, no pace, imagination or flair. Fucked off if I will pay to watch that whilst you all live like kings. Tonight, I am ashamed to be an Everton fan.
Colin Glassar
39
Posted 06/12/2014 at 19:32:50
I'm a massive Martinez fan but even my patience is being tested. Several players were anonymous e.g. Coleman, Barry, Eto'o etc... but he pulls off Besic and Mirallas two of our better players.
And what was that all about playing Hibbo up front? This was almost like watching a ginger team – oblong pegs in diamond shaped holes.

Brian Burns
40
Posted 06/12/2014 at 19:33:49
Why the fuck did he bring Osman on? Total shite again! Oh and if he doesnt come on and slaughter the ref, he wants fucking
Colin Glassar
41
Posted 06/12/2014 at 19:36:49
Also the most biased refereeing seen since the clatterberk show in the derby game.
Jim Bennings
42
Posted 06/12/2014 at 19:32:32
Pride back?
Fucking hell talk about easy pleased.
City were without their two most influential players, had one eye on Roma away and didn't get out of first gear.
Everton??
Well we centered through the majority of the match at walking pace until Barkley came on and we realised City were actually there for the taking, we managed to force one save out of Joe Hart...wow.
Oh a take a succession of bollox corners (what's new there) summed up by Eto'o with the last kick.
Its another loss.
Four wins in 15 now, and no doubt against QPR next week we'll turn up thinking like our usual cocky selves only to come up against a side that will play defensively for the point and stifle us easily.
What a shite shite season.
Mike Green
44
Posted 06/12/2014 at 19:33:48
Absolutely Paul, Eto'o was fantastic. Thought we deserved a point, one of the softest penalties you'll see. Shocker.
Still, City defended as a team throughout, mixed it up and control us in the areas it mattered.
I love Distin but his pace has gone and increasingly will struggle, Barkley looked great but unfortunately wasn't when it came to the final boil / making a tangible difference.
Need McCarthy back and a result or two to get us on the up, still not firing. And Baines corners - JESUS!!!
Phil Head
45
Posted 06/12/2014 at 19:30:25
Yet another disgraceful performance, excepted yet again by Martinez, as soon as Aguero went off, Martinez should have had the balls to take Hibbert off, put Coleman back to full back and bring Barkley on, the game was there to be won then, the whole spine of their team was missing. Every single player continually failed to show for the ball throughout, resulting in us giving the ball away all night because they're was never more than one option available for the person on the ball. A cowardly performance from a team managed by a coward. But don't worry, we'll get to hear how incredible we played yet again, and the players will learn nothing from the experience, yet again.

William Tone
46
Posted 06/12/2014 at 19:37:51
Good effort, deserved a point. Andre Marriner was the difference. Terrible performance by the ref in a season where refereeing has been generally abysmal. I thought Besic looked more comfortable, am very excited to see the player he'll be after a season to adjust.
Phil Rodgers
48
Posted 06/12/2014 at 19:38:32
We really could end up in a relegation battle, the team has no fight in them.
Brian Hennessy
49
Posted 06/12/2014 at 19:35:01
Shocking display by the ref, got decisions wrong for both sides but we faired worse. They should have neen down to 9 men in first half and that was never a penalty.
I really cannot get what people see in Besic, he was terrible again today and Osman would have offered more.
Barry too had yet another very poor game, Coleman and Baines need a kick in the arse cant remember the last time either played well.
Plus points - Distin had a very good game and Eto'o showed more fight than any other player on the pitch.
Barkley made a difference when he came on but he is paying now for that dive against West Ham, harshly booked today but refs have him marked.
Lukaku got one chance and would have scored but for a brilliant save, imagine how many goals he could get if he got decent service.
Martin Farrington
50
Posted 06/12/2014 at 19:31:03
Another appalling performance. So we're the oldest side in the premiership on the pitch huh ? No shit. God it shows. Pedestrians move faster.
So much for RM's promise of youth being given an opportunity. Even most of the bench have zimmers instead of shin pads.
Our Manager has obviously worked hard studying tactics from the Ray Wilkins book of "Backwards & Sideways passing".
Inept at best and lazy at worst sums up most of that side. Then we brought on the saviour of English football ! When he wasn't diving he was giving the ball away simply and looked like he was running in treacle.
No Plan B and no clue.
City were there for the taking and like on every other occasion that we have needed to show heart and bottle, we choked - and badly.
The only decent thing on show there today was the amazing Everton fans.
I hope that team, RM and all his staff are suitably ashamed.


Brent Stephens
51
Posted 06/12/2014 at 19:45:32
In fairness, Sky and Jamie now slating those two non-red cards.
Ian Riley
52
Posted 06/12/2014 at 19:29:40
Its getting worse!
I fear if the manager does not change the friendly match style of football then staying in the league will become our main aim.
The passing at the back is causing goals to be conceded as the defence is to slow to get out and press. The penalty came about today due to our players pissing about at the back. Sadly we have been caught out again and that must change.
The manager did not change his beliefs at wigan and we know how that ended up!
Andrew Keatley
53
Posted 06/12/2014 at 19:42:36
The squad is strong. The eleven on the field are strong. The players on the bench are strong. The ability to change to a different game plan is weak. Martinez showed some ingenuity playing Lukaku out wide against Arsenal at Goodison last season; I'm not sure he's shown much since.
William Tone
54
Posted 06/12/2014 at 19:41:30
Wednesday was as painful as it was because I knew we should expect nothing today. So I really don't get the whining and crying about today's performance. Yes, Man City were missing key players, but they were at home and they aim to be a European superpower so even their third string is probably paid more than our first XI. We held our own and were victimized by poor decisions. Get it together, people. Eto'o was fantastic, and having him around for Ross and Rom to learn from will be great for the future.
Ian McDowell
55
Posted 06/12/2014 at 19:48:05
William @ 54. Yes Eto was fantastic but why didn't he pay on Wed or at least come on as sub?
Ernie Baywood
56
Posted 06/12/2014 at 19:33:27
Always disappointing to lose but they gave it a decent go. That City have a better side than us isn't the shock to me that many on here seen to think it is.
I'm sure Baines does actually practice set pieces for what it's worth.
Ross' reputation now cemented it would seem. That's a free kick for a player without a history of diving.
Gabe of narrow margins decided by a 'home penalty decision'.
Joe McMahon
58
Posted 06/12/2014 at 19:45:20
Another great thing about Barry, is that he signed to a 3-year contract!
I don't know what has happened to Martinez this season, but we are bad. We don't seem to have any drive, look at Stoke today. I'm concerned with most of the dross he has brought from Wigan, and the future doesn't look good. We are just plain awful to watch.
If our stadium and Chairman weren't embarrassing enough, our football is shocking, utterly shocking. This takes me back to the worst of Moyes's tactics and Smith before him. We are about as quick out of defense as a constipated sloth.
Colin Glassar
59
Posted 06/12/2014 at 19:51:14
Don't know why you say Eto'o was fantastic. He got in Lukaku's way all game, misplaced easy passes, was caught napping several times etc... He's a great player but today he was poor.
Denis Richardson
60
Posted 06/12/2014 at 19:52:53
Well, marginally better performance compared to Wednesday and the last 70 mins of Sunday but still nowhere near where we should be. Man City had Silva, Kompany and Aguero missing, arguably 3 of their top 4 players, and we still didn't really make a dent.
Lukaku was unlucky with his chance, world class save from Hart, but other than that one shot I cannot remember anything else that we did that came close to threatening a goal, never mind being a decent chance.
Spurs away, Hull at home and City away and we've got one point to show from it.
Hmmm...
Clive Rogers
61
Posted 06/12/2014 at 19:49:10
We need an injection of youth. We lack pace and stamina. Martinez has gone for too many old men. Howard, Hibbert, Osman, Distin, Barry and Eto'o are all past it. Signing Barry and Eto'o in their mid thirties is proving to be a disaster. We really needed three good younger players in the summer.
Patrick Murphy
62
Posted 06/12/2014 at 19:52:39
Watching the Blues this season it's becoming apparent that the glass ceiling has been replaced by the invisible wall that surrounds the opponents penalty area and has an extension which covers the last five yards of the pitch. How often do we get to the byline or swing in a cross that beats the first man?
Not a totally bad performance but not a very good one either. I'm not arsed about the Europa League at the moment and RM keeps mentioning that we top our group. We need bread and butter points in the PL otherwise we will be in a dog-fight at the wrong end of the table.

Ian Bennett
63
Posted 06/12/2014 at 19:56:52
Our passing is too slow, but also poor quality. I lost count of the number of passes going behind the man. Pass it ahead of the man for some much needed pace FFs.
Dave Pritchard
64
Posted 06/12/2014 at 19:51:10
With a half decent ref we would have got a point. However, it doesn't excuse the poor performance of the team and the manager.
So many players performing badly. Coleman and Baines both awful the last 2 games. Barry so ponderous. Distin looking knackered. Mirallas starts OK then disappears.
Too many don't seem bothered. At least Eto'o got angry and looked like he wanted to win. Lukaku didn't do much but why don't we get the ball in front of him more? One time it happened and it was our one chance.
Paul Andrews
65
Posted 06/12/2014 at 19:54:50
We have just been unlucky to not get a point off the Champions of England. A phoney penalty denied us a point.
Some bollocks getting talked on here...
Colin Glassar
67
Posted 06/12/2014 at 19:58:30
At least we've got the 2nd half of the season to look forward to.......apparently.
Paul Andrews
68
Posted 06/12/2014 at 19:58:57
Colin,
Are you watching the game in the boozer?
Eto'o had a great second half especially.
Brent Stephens
69
Posted 06/12/2014 at 19:59:55
Colin, I think he means that it's in the future therefore we look forward to it not back on it!
Brent Stephens
70
Posted 06/12/2014 at 20:00:55
Paul, I thought Eto'o tried a few things in 2nd half. They might not have come off but he had me a bit more on the edge of my seat.
Brian Waring
71
Posted 06/12/2014 at 19:56:25
After only giving Mangala a yellow for his kung-fu kick, Mariner knew he had fucked up because he knew he could only give Fernando a yellow for his assault.
Denis Richardson
72
Posted 06/12/2014 at 19:58:02
QPR at home next, if we don't get 3 points from that with a relatively decent performance then I'm going to start questioning whether Martinez is the right guy to take us forward.
Other than Stones and maybe McCarthy, he'll have everyone back and rested.
Europa aside (both Wolfsburg games and an element of luck), we've been shit since April, lets be honest.
Colin Glassar
73
Posted 06/12/2014 at 19:59:47
I suppose we just need to get to those magical 40 points first then concentrate on having a decent run in a cup comp.
We ain't going to have a great season so I suppose it's a question of getting to safety and start planning for next season.
Brian Waring
74
Posted 06/12/2014 at 20:03:11
Eto'o was the only one who looked like he gave a fuck, he was having a go at everyone, even slating Toure to death.
Brian Waring
75
Posted 06/12/2014 at 20:04:52
That's the worst thing Colin, it's like when Moyes was here, just getting to that 40 points
Ian McDowell
76
Posted 06/12/2014 at 20:04:14
Imagine Chelsea where playing there and City got awarded that pen and Mangala, and Fernando got away with yellows for those challenges. Can you imagine the reaction from Terry and Jose?
Neil Wood
77
Posted 06/12/2014 at 20:00:34
Colin I'm with you.... I was getting so angry at Mariner I nearly switched off. Referees get things wrong I accept that.... But he's booked Barkley today purely because of his dive the other week. He can not hand on heart say he saw him dive. Disgraceful.
James Carlisle
78
Posted 06/12/2014 at 20:07:12
It's December and we've only got 18 points. Terrible really. And to think this time a year ago we'd just beaten Man Utd and drew to Arsenal in a game we dominated. What happened? They look like a shadow of themselves.
Patrick Murphy
79
Posted 06/12/2014 at 20:07:18
I pretty much had given up on European qualification when I found myself hoping that Arsenal and to a lesser extent Chelsea would get an equaliser in their matches today. Normally that defeat by City by the only goal of the game wouldn't have really mattered but our failure to despatch Spurs and Hull who were both held at home by Palace and West Brom respectively puts those performances and results into perspective. Bobby get the videos of those games and have a look at what the problems are.

Rory Houghton
80
Posted 06/12/2014 at 19:59:57
My first post on here and thought I had the need to share my assessment of the game.
Firstly, the ref has had a shocker – not a penalty, at least one Man City red, Barkley yellow etc come to mind. Bar his performance, we would have got a point which we probably deserved but Man City really were there for the taking...
The biggest negative for me was Gareth Barry. He once again gave the ball away for the goal, like he did at Spurs last week. In the past, he has also given away a penalty in the FA Cup at Arsenal and two free kicks that led to two goal in two of the previous three derbies. Not to mention injuring Barkely and Lukaku... I think he is one of the clumsiest players I have ever seen as well as the slowest and I think it's time to play Barkley in central midfield. There isn't much to lose from trying this out and it means we can have Eto'o in the #10 position.
People on here criticising Eto'o but I thought he played well today. He beat men, tried things and while it didn't always come off, at least he looked like he cared, unlike some.
Lukaku is also turning the corner now too. His one chance would have beaten most goalies and he will score many a goal if given the chances.
Overall, an indifferent performance with some positives. My biggest gripe though again involves Garreth Barry. Moments after the final whistle goes, the cameras catch him laughing away with Milner. Not at all what I expect from an Everton player who has just lost and arguable was our worst player on the day.
John Ford
81
Posted 06/12/2014 at 20:06:55
We did ok tonight, esp second half, against a team who can compete against anyone in Europe and who are right on form. Barkley tried to be positive, we had numbers going forward and Eto'o looked like he might create something. We still need more creativity though. Chances were limited.
The ref was a dog. It could easily be argued he cost us a point.
Mike Childs
82
Posted 06/12/2014 at 19:55:22
MotM – Hibbert; at least he didn't get beat and only gave the ball away once. Sure would love to see Garbutt get more minutes. Baines needs to loose his position so maybe he'll play with some fire again.
We loose to QPR next week the fans will tear down the mural.
Totally agree with you Colin on Eto'o's performance. MotM for City had to be Barry.
David Barks
83
Posted 06/12/2014 at 20:00:58
Martinez starts with 5 defenders and 2 defensive midfielders. I remember a certain ginger taking that approach and getting slated, and rightfully so. Martinez refuses to give youth a chance, instead sticking with the old legged regulars who have consistently been poor this season. I remember a certain ginger who also took that approach and was slated, rightfully so. He refuses to make subs until very late in the game, and often doesn't even use all his subs while the team is struggling and losing.
We go to the so-called big clubs just looking for a draw, with the manager giving post match interviews talking about how we were "close" after losing 1-0, with one shot on goal. A piss poor Summer preseason. And now we sit closer to relegation than anywhere European places.
And I'm sorry, if people don't think that relegation is even a possibility, you're deluded. The team shows no cohesion, the manager sticks to his favorite old timers regardless of form, we struggle to even get a shot on goal, regardless of whether we're playing Hull or City or Spurs.
Everton are a poor side, period.
John Voigt
84
Posted 06/12/2014 at 19:49:23
We gave it a go today and Martinez did try something different. Hibbert at right back with Coleman in front of him.
Bias to the big teams was in full effect today. An intentional studs up needless challenge is a yellow card not a red if you're Man City. Jags goes in strong on a ball that isn't going anywhere near goal is a penalty. Lampard pushes Barkley with TWO hands in the back and it's a yellow card for Barkley. Yes Barkley went down easily, but he was pushed.
For Christmas I'm wishing for an Everton player that can take corners.
City looked like Everton for most of the game. A team that values possession, but can't create much. I wasn't impressed with City today.
At some point in the season Everton will catch a break or 2, but it looks like it will be to little to late to amount to much.
Patrick Murphy
85
Posted 06/12/2014 at 20:19:24
The mural has already been replaced by the club and the Holy Trinity have been on display for the last month or so.

Mike Childs
86
Posted 06/12/2014 at 20:21:48
Thanks, Patrick, for the update.
Alex Fox
87
Posted 06/12/2014 at 20:13:51
Martin (50) – are you really criticising Barkley? His introduction transformed the game. Besic and Barry were dire, plodding and imprecise. We suddenly had someone willing to drive forward and attack.
It proved that he is more than capable of playing central midfield against the top teams. His booking was ludicrous and the cherry on top of the season's most embarrassing refereeing display.
Mark Frere
88
Posted 06/12/2014 at 20:11:42
I thought we played decent in the second half – much better than Wednesday. It's tough enough to come away with anything from the Etihad at the best of times; it makes it impossible when a fuckwit of a referee gives them a cheap penalty!
Our League campaign already looks finished in December. I'm just hoping for a good run in the Europa League and FA Cup... perhaps even win one of the them.

Christopher Wallace
89
Posted 06/12/2014 at 20:23:31
The players all need a hit with a cattle-prod.
Marriner needs a hit with two Kung Fu kicks to the face with studs showing to get him up to speed with the "dangerous play" rule.
Brian Hennessy
90
Posted 06/12/2014 at 20:15:15
Normally I hate seeing teams surround a ref for decisions but I think we are a soft touch.
Whatever about the penalty which should never have been given, our players should have thrown a few handbags when Malanga did his kung foo kick on Eto'o and there should have been the same OTT reaction to Barry's kick in the head.
Can you imagine how Chelsea or Arsenal would have reacted to two incidents like we saw today.
Our own players non reaction gave the ref an easy way out just showing yellow cards.
We need to toughen up, to be honest I think our softness comes from our captain who, while he is a decent defender, quite simply never shows any leadership qualities you need in a captain.
Nick Entwistle
91
Posted 06/12/2014 at 20:27:04
I don't care if Man City were better. I'd rather be on the end of a 5-0 tonking than lose 1-0 to a dive... or rather collapse.
Footballers are supposed to remain strong, and that's really what Milner does on a limp shoulder-to-shoulder challenge?
Fuck, shit, balls, cock and fuck again.
Jim Bennings
92
Posted 06/12/2014 at 20:28:49
John Voigt
You may get quite a few surprises for Christmas but I very much doubt an Everton player that can take a corner will be one of them...
You're talking more about a fucking miracle there, John.
Tony Twist
93
Posted 06/12/2014 at 20:21:46
Plain and simple: given time, Martinez will send us down. The main trouble with that is that we have a chairman who will give him time.
I think we will be okay, just, this season but this type of form will not be a flash in the pan. The way the team is playing, Martinez and his staff are not doing their jobs on the training pitch. Our set piece plays are embarrassing and it is a very narrow-minded manager who doesn't try and get the most out of them.
Phil Roberts
94
Posted 06/12/2014 at 20:30:03
Seems like a knife to a gunfight today.
And that was the oldest team RM has ever put out. There were 6 guys over 30 and the average age was over 30. So much for the excitement of a youth policy.
Geoffrey Feeney
95
Posted 06/12/2014 at 20:28:54
Sickens me seeing what Man City have become, getting the decisions that the "big clubs" would get at home like Man Utd and the Redshite. Bad enough a snide club like Chelsea getting dough and becoming big but a relegation team like Man City takes the piss.
Christopher Wallace
96
Posted 06/12/2014 at 20:28:48
Mangala and Fernando are tremendous athletes, with most of their power in their legs.
Hurtling through the air at speed, with their whole weight and force behind some blades, into flesh and bone – bloody disgrace.
Ref saw them both in order to book them. He gives a 50/50 penalty that was impossible for him to see. I can't post what Id like to do to that man.
Yes, we were poor – just like last year at Etihad. And we were robbed of a point or three by ref, just like last year. He was awful in 2nd half as well, just no massive decisions. Yaya shoulda been booked for trip outside area and then sent off.
I'm sick of getting beat by shit teams, but that's another matter.
John Voigt
98
Posted 06/12/2014 at 20:33:09
Jim (post #92). I wrote Santa about my Christmas request. I'm patiently waiting for a reply.
Since beating the first man on corner kicks isn't rocket science I may get my wish.
Brian Waring
99
Posted 06/12/2014 at 20:35:51
Someone made a good point earlier: as soon as Aguero went off, Martinez should have took Hibbert off, moved Coleman back and put on another attacking option because first half it was like a training match for City.
My mate has just give me a good laugh, according to him we should sack Martinez and give Joe Royle the job.
Bill Gall
100
Posted 06/12/2014 at 20:11:56
I do not think that even when we get all of our injured players back that we will see a lot of differences our style of play will not change.
Today the Manager did try something different with Coleman moved up and Hibbert supporting but mainly defending. Did it work? To me it did for about 20 min after that City stepped up the pressure and Coleman was forced back. This move proved to me Coleman is no midfielder.
Martinez is still believing that the slow build up from the goalkeeper to the defenders 4 more passes and then to the midfield 4-5 more passes to get to the forwards is the way to go having worked last year.
These last three games have proved that other teams are well aware of this style and either press hard in Everton's half or simply retreat and get 90% of their team behind the ball win it back and move quickly towards Everton's goal.
One of my last comments was:- The time for you Mr Martinez is to show if all the hype you received from last year is fully deserved and get this club back on track. So let's see what you have to offer.
Yes, it was a soft penalty and I fully agree that Man City should have had one or two red cards but they did not, but this still did not change the fact we continue with a style of play that is now too late to change.
Peter Cummings
102
Posted 06/12/2014 at 20:34:48
This was business as usual. As I said yesterday, if we can stop Aguero and Toure, we might have a chance... but ref Marriner had other ideas. Milner and Jags came together shoulder to shoulder with the ball running out of play and I lost count of the times their players muscled into the backs of ours without a whistle.
Like the Man Utd game, we were denied a point by superb 'keeping even though we were largely outplayed, but one shot on target is far from good enough, when a so-called Premier League ref doesn't give reds for the horrendous high kicks that could cripple players, the game stinks.
Paul Smith
103
Posted 06/12/2014 at 20:48:59
So many people saying "We gave it ago" & "If it wasn't for the ref".... Bollox! One shot on goal!!! Not fuckin' good enough.
I felt sorry for Mirallas, you could see the contempt he had for Barry every time he gave him the ball and Barry proceeded to give it back to Shiteh!
I need to lower my expectations; it's easier.
John Voigt
104
Posted 06/12/2014 at 20:44:39
Everton just don't have enough attacking options. I just looked at the game stats and possession was almost 50/50.
What stood out to me was the fact that only 3 Everton players attempted shots (Mirrales, Eto'o and Lukaku). City had 8 different players attempt shots. My point is Everton are way too easy to defend (and this is not likely to change).
Somehow Everton have failed to score in only 2 out of 15 Premier League games. Scoring today would have produced an away point at the 2nd-place team, but it wasn't to be.
Brian Waring
105
Posted 06/12/2014 at 20:52:41
The interesting thing will be against QPR, Bill, because they will come and do what Spurs, Hull etc tactically did to us.
David Hallwood
106
Posted 06/12/2014 at 20:47:26
IMHO, the problem is that we're low on form and confidence; take Coleman & Baines, how many times last season did they pass to each other in the opposition penalty box, and they were generally seen as the best pair of full backs in the Prem.Because they are both struggling, we've lost 60-70% of our attacking threat, and there is no outlet ball.
Today was a poor display, but even against the Citteh billionaires, we didn't get a tonking – something I was expecting after the lacklustre display midweek.
It will come good, there's a good team in there dying to get out.
Roman Sidey
107
Posted 06/12/2014 at 20:38:47
Mike Childs, you're taking the piss right? Hibbo man of the match? He was disgraceful; perhaps the worst I've seen him play in a very long time. The final ball before Milner ran for the penalty saw Hibbo simply stand there watching the ball like a kid over a birthday cake. There was his run forward where he played the ball across the defensive line right at a centre half. The worst though: a ball from one of our centre halves out to his wing and he let it go behind him and out for a throw in. I watched it a couple of times to figure out what he was doing, and I still don't know if he was expecting Coleman to sprint 25 yards in half a second or if he was, himself, actually at top speed (he was lightly jogging so maybe) and knew he couldn't stop and turn.
Add to that the fact that City players were skinning him all game. The bloke has had some good games for us while he's had this reserve player role, but today was a hark back to the bad old days of Hibbo being absolutely diabolical in nearly every aspect of the game.
Over to the other fullback, and I think it has now been about three years since Baines delivered a decent corner, and now his crosses are equally as shit. I lost count of how many didn't even clear the first man. With his only just adequate defensive ability, you take away his crossing and set pieces, and you're carrying another player. Hurry Oviedo back to full fitness and move on with our lives.
Eto'o could be seen in the warm up barking at the players, really giving it to them, and then he was probably the only player on the field (until Barkley came on) who looked like he gave a shit. He needs to start every match – his age isn't an issue yet, he's a professional footballer so could still play two matches a week.
Jags needs a kick up the arse and to actually re-learn the game as what he did for that penalty was pointless. As has been said already, he doesn't do the job like Terry or Gerrard, and in football, nice guys finish last.
On Martinez, I will be hoping Kone has a world beating game on Thursday, as he's is always mentioned in the manager's interviews. For a player we paid quite a lot of money for, he has so far been a real dud for our new manager.
Tom Bowers
108
Posted 06/12/2014 at 20:56:03
The expected result but isn't it galling when it's always a bad refereeing decision etc?
The experiment of Coleman back in midfield was not what I expected but at least they didn't have Silva.
Everton are not scoring goals and it is proving costly. The Sunderland, Spurs, Hull and Man City games have yielded very little offensively so consequently they have paid the penalty (excuse the pun). Surely to God they will score some goals soon?
Patrick Murphy
109
Posted 06/12/2014 at 20:53:43
Paul,
I also think that Roberto would do the team a favour if he told them that we have to ensure enough points to retain our PL status then and only when we achieve that tally can he start to make noises about other things.
It isn't only our fans and players who hear his positivity. The English League being what it is, sometimes it is better to keep your ambitions in the dressing room, rather than in public view. He doesn't have to sweet talk Evertonians – they are capable of assessing situations on their own – so why give opposition managers and players added incentives to make it more difficult for Everton?
Another issue I have with the club at the moment is this necessity to involve the players and staff in all of the community activities and PR events. It is time to batten down the hatches and re-group and ask the players to concentrate on what they are paid for – giving of their best out on the football pitch in an attempt to win points.
I'm not against public spirited activity per se but there have been many family oriented, public spirited clubs who have fallen out of the PL in the past. Ipswich, Charlton, Norwich all spring to mind, it might just be coincidence but I'm a believer that a business should concentrate on its core activity and at a football club that is winning football matches.
Jimmy Kelly
110
Posted 06/12/2014 at 21:03:54
Paul Andrews, please tell me you'er joking?! Unlucky? How exactly? The penalty was soft but fair, we had one decent chance to equalise where the keeper made a good save. The ref was poor, we did better than I thought we might, but there's no doubt the better side won. At least Moyes took a knife...
Jamie Crowley
111
Posted 06/12/2014 at 20:53:11
OK.... trying to be level-headed....
We didn't play THAT poorly (TY Helen you level-headed woman for shinning the light).
That was THE WORST PERFORMANCE BY A REF I've ever, ever seen. Total shit pen robs us of a point at a very difficult venue. Studs to the kidney COMPLETELY INTENTIONAL results in a yellow (red!!). A kick to the face gets nothing (red!!). Should have been 11 men v 9 men but we are on the short end of the Marriner stick.
Andre Marriner is the worst ref at this level I've ever seen. Clattenburg is a fucking genius in comparison! Marriner has always been against us and it bordered a fix today.
Martinez simply must look at what he's doing. I do love the man but taking Mirallas and Besic off is inexcusable. And leaving Barry on when he's having the proverbial "mare" is just baffliing!
I'll scream this to the rooftops – our CBs can't play the ball out from the back. It reminds me of the shite last season – their weakness was not being able to play the Brenda way and play it out from the back. Same fucking thing with Bobby.
We got fucked by the ref, but Bobby has a lot of retrospective analysis to do. We can't play his style with Distin and Jags. And if he's gonna persist he MUST make changes in the back line.
Frustrated. Disappointed. But overall we defo deserved a point against a very, very good side.
Tony Marsh
112
Posted 06/12/2014 at 20:55:20
Shocking game... shocking starting 11... shocking tactics.
The average age of this team is now beyond a joke. What was Marinez thinking playing Hibbert and Coleman? Why did Eto'o start again? We all know he is more effective as an impact player in the last 25 minutes.
Why wasn't Barry dragged off? Barry's age has caught up with him overnight. Absolute dreadful, he is.
We all know football is a young man's game that needs a touch of experience within the side but putting out a Dad's Army eleven every week is starting to cost us badly There are zero energy levels after 30 minutes. We cannot compete with the amount of OAPs in our squad.
I am losing the will to live watching us. It's all very Moyes-esque and very worrying. I thought Martinez had something special but it appears he has started to doubt himself. The Hibbo - Coleman right wing axis being a clue to his inability to fix things... Very disappointed and very confused.
Tom Flower
113
Posted 06/12/2014 at 21:11:14
Just got back from the Etihad. What a tit of a ref that was. I was at the Clattenburg derby but this bellend takes the biscuit. Never a penalty in a million years, Eto'o taken out at the waist and then a booking for Barkley for getting fouled by Lampard having done him for pace.
Having said that, Everton were average in the first half before improving considerably in the 2nd. Very frustrating since Citeh never really got into gear and were there for the taking if only the team had a little more conviction and confidence in possession.
I thought Eto'o had a really good game as did Besic. Barkley also played well when he arrived and created space through the middle and we looked dangerous when he was on the ball. Barry looked laboured and for me I would like to see Besic and McCarthy paired or McCarthy and Barkley in the middle.
Ernie Baywood
114
Posted 06/12/2014 at 21:11:09
We have little choice but to leave Barry on. If he went off, we'd never play a forward pass out of midfield. Besic might be very active and look a bit exciting but, right now, he flatters to deceive – basically he plays defensive football with the appearance of verve.
That's the reality of our options in central midfield. One too old, one just learning, two injured.
We might look slow and ponderous, and we are by our own standards of last season, but to some extent that's the league we play in. For all the abysmal performances (apparently) only one team has given us a bit of a tonking. Watch the rest of the league... It's par for the course.
Anyone who thinks we'll be battling relegation is deluding themselves. We're a far better team than most. Playing a bit shit right now but we'll finish comfortably in the top half.
Jamie Crowley
115
Posted 06/12/2014 at 21:24:45
Ernie,
We have plenty of choices other than leaving on a ineffectual, dross Barry on the day.
Here's one: We make a substitution in Osman, we leave Besic on who was having a good game, and we pull Barry off the pitch because he was cack today.
Tom Flower
116
Posted 06/12/2014 at 21:23:49
Citeh are now up there with the Redshite, Manure and Chelsea for getting all the refereeing decisions in their favour. The game is bent imo.
John Williams
117
Posted 06/12/2014 at 20:22:56
I think Everton fans should take stock and realise we hit decent heights last season but are in a period of transition. An ageing team and the gulf to the promising youngsters we have is massive. We haven't got big money to invest so this is going to take time.
We play our best football when Coleman and Baines are bombing forward and creating (Baines in the top five for assists) but when this is nullified we don't look as near as potent.
So look elsewhere... Midfield... Barkley has got to start every game and if it was my choice with McCarthy. He's 21 now and has got to push on and prove his undoubted potential because for me he will top class. I just wish we had a No 10 of quality because this ageing team wouldn't be far off.

Lee Whitehead
118
Posted 06/12/2014 at 21:46:34
Another weekend ruined!!!!!
Daniel A Johnson
119
Posted 06/12/2014 at 21:49:59
For me its our aimless passing at the back which is killing us. City in 3 passes were up to our 18-yd box where the damage can be done.
We take 7-8 passes just to reach the centre circle and then guess what......... pass back again.
No movement whatsoever no outlet ball nothing. Were just a static formation waiting to play, to me-to you-to-me-to you. My old subbuteo kit had more movement...
Andrew Ellams
120
Posted 06/12/2014 at 22:22:09
So much for Senor Sin Miedo. We are dull, boring, ineffective and verging on embarrassing.
We are looking at going into the second half of the season in the bottom half and fighting for mid-table mediocrity at best.
Tony Dove
121
Posted 06/12/2014 at 22:52:16
The decision to play Hibbert at RB and Coleman in midfield in front of him was unbelievable. Coleman is completely out of form anyway so it only made it worse to play him out of position. City had a field day down that flank- Milner looked like Messi.
Only bright sign was Ross. All he needs is full fitness and some confidence. What happens to him will make or break Martinez.
Michael Penley
122
Posted 06/12/2014 at 22:56:07
I thought we were decent. That penalty was more than 'soft', it was outrageous! And so was Barkley's card in the late stages - he did exactly what Milner did: moved across the ball and bumped into an opposition player, falling over in the process. That's not a foul nor a card for simulation, it's just physical football. If you give Milner's as a foul you have to give Barkley's, though neither should have been given as anything. Incidents like these make it seem to others that football is a non-contact 'wuss' sport.
We did seem incredibly lethargic though, as if everyone's drinks had been spiked with a sedative. Only in the last 10 minutes did it look like anyone cared about the result and we wasted most of the first half.
Mike Price
123
Posted 06/12/2014 at 22:50:42
I said a while ago, this squad is too soft and too nice; Jagielka's and team's reaction, or lack of it, to shocking, game-changing calls, being a good example.
We have no hard, nasty players and very few winners. We need some size and aggression in the middle, and pace throughout the team.
The last few days have been an embarrassment to Hibbert, Osman and Barry, and the squad compilation suddenly seems a bit shambolic... almost as shambolic as the pre-season.
We need a quick run to remove any talk of lower half battles; we need to accept that we've no chance of top 4 this season, hope that we can hit form and do something special in the cups, and hope that Roberto is learning some big lessons and has the balls to sort it in the next few windows.
Dave Williams
124
Posted 06/12/2014 at 22:37:38
The team was way too old – six over 30 plus Baines almost there and 3 more on the bench. Last season we had the makings of a bright and vibrant young side but this season the older players have declined quickly and younger ones like Ross and Stones have either been slow to blossom or injured.
Why no striker on the bench? Kone could surely have done 20 minutes, what about Long or McAleny? We need some youthful energy supported by a few experienced players not a dads army side which has echoes of Walter Smith fielding Gazza, Ginola etc.
Very disappointing and as someone above said the sight of Barry having a laugh with Milner at the end speaks volumes. Alan Ball and Peter Reid never smiled after a defeat but would hold an inquest to find out why teammates did not perform. There is a worrying lack of pride in this team(a few exceptions)and complacency too. Baines has been ordinary and I would give Lukaku a run in the side now. Barry is way too slow and clumsy and has aged quickly.
Roberto needs to get his act together as he has been poor since the debacle of pre-season. A combination of Duncan and Joe Royle is waiting in the wings – at least they would field a team which would fight.
Brian Denton
125
Posted 06/12/2014 at 21:11:00
Interestingly that MOTD coverage was quite fair. If we had been playing against Chelsea, Arsenal, Shite, Man U or Arsenal, those refereeing decisions wouldn't have been criticised as much. Shows that City aren't quite media darlings yet.
And it was nice to see Sharpy's goal. I was on the Kop that day, but then so were loads of Blues.
Guy Hastings
126
Posted 06/12/2014 at 23:13:43
Tony Marsh - spot on. Right, best have a little lie down after that.
Steve Carse
128
Posted 06/12/2014 at 23:29:48
Michael, shame on you... so Marriner had "little alternative" but to award the penalty... looks like our players' weakness in questioning refs decisions carries over to our match reporters.
Dave Lynch
129
Posted 06/12/2014 at 23:30:16
Tony.
You are now starting to sound like you did under the Moyes reign.
Martinez is no different to Moyes in that he is a limited manager with limited understanding of the game, like OFM he will not bend and adapt his tactics.
He is playing his favourites and like OFM I don't think I would trust him with a decent transfer kitty either.
I'm depressed.
Bobby Thomas
130
Posted 06/12/2014 at 23:28:36
Everyone is banging on about getting a winger in recently but our midfield options are unbalanced.
We have 4 holding players, if you count Gibbo, we badly need to get an attacking mid or two in who can play all across. The kind of player who can knit it together and feed Mirallas and Lukaku, a Santi Carzorla type. Its the reason the sides he's picking are frequently unbalanced.
We are supposed to be taking Europe seriously and attempting to re-qualify through our league position and the ball playing attacking mid options are Pienaar and Ossie, who are are 32. We have nothing else apart from Ross who is up and down, as is to be expected at his age.
Long term this needs addressing as both Ossie & Pienaar have had their best days. We miss Pienaar massively.
Si Cooper
132
Posted 06/12/2014 at 23:10:39
There were a lot of faults in our play today, but the fact is that we were in with a chance of getting something out of the game all the way through. I am not particularly happy with the overall performance today (nor with our general form this season) but it didn't amount to a capitulation or being tactically outmaneuvered.
Going at teams may result in more chances to score, but against teams like Citeh it also increases the opportunities for them to rip you apart on the counter. The manager has to try to set up the team to both offer a threat and negate that posed by the opposition. He has not been helped by the fact that a fairly large percentage of our players aren't producing their best during games.
Barry was terrible in the first half but I thought he improved in the second and wasn't an obvious choice for the hook by the time the substitutions were made, and we didn't really lose any impetus by keeping him on.
I've seen refs pressured into changing their minds when a decision has been made based on input from one of their assistants, but I have never seen one any decide that what they think is a foul suddenly isn't one when ranted at by a player. Why do people think Jags needed to be more rabid when Mariner gave a penalty for his challenge on Milner? Just what do people think would have been achieved? The referee's mind-set comes from any bias he has before the game has kicked off. If you are not already favoured then getting in his face is only likely to get you additional punishment and actively turn him against your team. Terry and Gerrard get away with their antics because of the perceived pre-eminence of their teams.
Ernie Baywood
133
Posted 07/12/2014 at 00:28:10
Jamie #115 your solution is, to my mind, bring in another over the hill midfielder and still have one who is predominantly defensive in his passing. My answer would be to force Ross to take some responsibility in a midfield role alongside the more defensive Besic. I'll acknowledge the limitations of that but I just don't think we have a ready made solution in JMcC's absence.
Jamie Barlow
134
Posted 07/12/2014 at 00:14:35
Si, I don't know who had a go at Jagielka but I agree that that's the case when a referee has already gave his decision, as in the penalty today. There's no point in arguing and getting in the refs face as he won't overturn it.
I don't believe it is the case when the referee has a choice to make regarding whether or not it was a dangerous tackle and worthy of a yellow or red card. I can guarantee that if Barry and Besic would have made the challenges that Mangala and Fernando made, the City players (Captain and all) would have been all over the ref and they would have been off.
We should have had players surrounding the ref telling him what a ridiculous challenge it was and he has to go!! We're far too soft.
If I remember right, the only player to have a go at the ref when Barry got kicked in the head was Eto'o. It's as if they're just going through the motions at the minute. There doesn't seem to be any aggression or passion.
Mike Price
135
Posted 07/12/2014 at 00:53:04
Si #132 the point for Jagielka to go mental is to put doubt in the referees mind, which if you're very lucky, may lead to a consultation with a linesman and it may get overturned. Remember Sunderland going mental and that was stonewall but the ref went and checked.
The other reason is that it may influence future decisions our way, and the other is, it shows a bit of passion and aggression which will hopefully transfer to the rest of the nice boys in our team FFS!
Si Cooper
136
Posted 07/12/2014 at 00:38:16
Jamie, if ref's aren't capable of assessing an incident dispassionately or are actually swayed by being shouted / moaned at then they aren't the calibre of person who should warrant salaries of 㿲k upwards. Justice should be objective and meted out equally on all occasions, but we are dealing with confirmation bias again.
I don't think referees are swayed by players complaining anywhere near as much as they are by the opinions they already hold before stepping onto the pitch. Ross Barkley's yellow card is a case in point. Andre Marriner obviously already had him labelled as a diver because there was no way he would have booked him otherwise. Lampard's positive reputation probably didn't help either.
I think the reason some teams seem capable of swaying a ref's decision by getting after him is simply due to the fact that the officials are already conditioned to view these teams / players as better and therefore more likely to be sinned against by weaker teams trying to balance things out. If you make a mistake that doesn't really alter the course of a game then it is less likely to be remembered than one which delivers a shock result, so the clubs that are reckoned to be real title contenders will always get more than their fair share of dubious decisions.
The favoured teams get positive results from hounding the refs and so carry on doing it at every opportunity, safe in the knowledge that they will never really be punished for their disrespectful and aggressive antics. I don't think 'also-ran' teams like us (which is how most neutrals will view us) stand to gain anything but contempt from decent football fans if we ape this bad behaviour.
Geoffrey Caveney
137
Posted 07/12/2014 at 00:46:57
Dear Merseyside Blues,
Is it always this maddening to support Everton? How can a side as talented as ours have only 4 wins in 15 matches?? 4????
I have been Mr Positive all season but now I am beginning to understand why others have less patience and optimism. I am banging myYankee head against the wall over here. We are too good for this!!
I can see it now, we'll go on a nice run in the second half but it'll only get us up to 7th because we threw away too many points in the first half. But you all told me that already in August, didn't you? [SIGH!]
Your Loyal but Frustrated New American Blue.
Colin Gee
138
Posted 07/12/2014 at 01:23:09
Haven't read the whole thread, but all I will say Mr Marriner made Clive Thomas look like a decent ref.
Andrew Hawes
139
Posted 07/12/2014 at 01:15:43
I agree 100% about Jagielka not being captain material. Moyes said as much when he left. I don't care what he's like off the pitch; on it, he's like a lamb.
Coleman is the only player I see with anything that resembles aggression – someone you can see actually giving out a rollicking.
Remember Phil Neville near cutting Ronaldo in half?? It set the tone not only for that game but the rest of the season. Two player types we have never replaced... Gravesen / Carsley and Arteta... we aren't getting top four until they are replaced.

James Stewart
140
Posted 07/12/2014 at 01:30:30
I watched the game after work. I had taped it so I already knew the outcome... but suffered it anyway.
I've totally lost faith in Martinez. He wasn't my choice initially but I gave him the benefit of doubt. He looks way out of his depth.
Tactically, this was a train-wreck again with shocking subs. The age of that team is alarming. It looked more like Eto'o was managing things than RM. For three games in a row, we have been worst than we were under Moyes... Depressing.
Eric Myles
141
Posted 07/12/2014 at 01:41:32
Phil #94, the worrying thing is we don't have money in the winter or summer transfer windows to replace the old guard. And it doesn't look like we have any youngsters coming through to replace them. Looks like it's going to be another sell to buy summer.
Questions the wisdom of blowing 㿈 mill on one player when we need reinforcements all over the pitch.
Michael Penley
142
Posted 07/12/2014 at 02:50:41
Si, refs aren't machines and neither are court justices. I've reffed at the amateur level and there's almost always doubt in your mind over a decision. If it isn't over the events of what happened it's over interpretation of the rules.
The FIFA rules are some of the broadest of any sport and that's why football is so behind other sports in bringing in video replay technology. In no other sport do players argue nearly as much, and that's because it works to put doubt in the ref's mind that he may have been unfair on a team. If so then you think twice about dishing out the next yellow or calling the next offside. Nothing to do with bias.
Will Firstbrook
143
Posted 07/12/2014 at 03:37:26
Let's face it, last season was an anomaly. We brought in some different players, changed our style a bit and it threw off most of the league. However, teams had sussed us out in the final few weeks of the season. The only thing that has really changed this season is that a good number in the squad seem to have aged rapidly. We are playing the same style everyone figured out by the end of last season and seemingly unable/unwilling to change it up.
We've had a bad spell with injuries, no doubt. But doing the same things over and over and expecting a different result is, well ... madness!
Most worrying is that most on the squad don't seem interested. There is a complete lack of intensity and grit. BBS and others have tried to pass this off as fatigue. I say BS. There is clearly something missing in the mental makeup of this team at the moment. Who and how that will be addressed is a complete mystery to me.
Harold Matthews
144
Posted 07/12/2014 at 04:13:36
Cheers Will. You've said it all for me. The system was sussed a long time ago and it's killing us. Apart from Eto'o, no-one appears to be particularly bothered and the situation is becoming quite serious.
Neil Gribbin
145
Posted 07/12/2014 at 08:29:20
The referee was a disgrace, and I actually think we odd ok. Not the best performance, definitely not the worst. Biggest disappointment is the manager sticking with Barry. He has gone downhill very fast. We may have injuries, but Besic and Barkley should have started. Need a big win and a big performance against QPR now.
Mike Berry
146
Posted 07/12/2014 at 09:44:32
The ref consulted Clattenburg's new book, 'How to Referee an Everton Match'.
Eddie Dunn
148
Posted 07/12/2014 at 09:57:22
Martinez is picking players on reputation...Baines( did nothing of note and can't take a corner), and Barry (another poor show, caught on the ball regularly and sooo slow).
Too little too late again, not enough urgency in the play. They should mix it up more, and lump a few long balls overhead for Rom to run after.
Rom has one real chance and was unlucky that Hart puuled-off a great save.
Our defence was ok, but we only looked descent once Ross came on, and ran the show.
Nais would have joined things up a bit more, but Eto was too greedy.
The other big downer was Coleman, absolutely dreadfull.
Going to the Champion's you would have thought that all these lads would be pumped full of adrenaline and giving everything, all on their "A" Game. Half our team were on their "C" or "D" games.
Laurie Hartley
149
Posted 07/12/2014 at 09:03:09
After watching the full replay of both games this week I have to say this was in my opinion a far better, more committed, performance and I took heart from it.
It's interesting to see the huge difference of opinion between us fans about certain players. Here is my two shillings worth:
Coleman was our worst player - not his fault he was played out of position. McGeady should have started in front of Coleman at fullback. Hibbo on the bench.
Besic is made of steel - ask Aguero and Toure. He should be second on the team sheet after wait for it:
Samuel Eto'o. I don't care if he's 50. As Harold pointed out he showed that he really cared about what was happening out there.
He proved to me in this game beyond a shadow of doubt that he is at Everton to earn his chaff. He went the whole 90 minutes and was the player who found the pass that nearly brought us an equaliser which I think would have just about been deserved.
By the way that was after a player who will play in the next African Nations Cup tried to take him out of the game. I have no doubt in my mind that that is what Mangala intended when he buried his studs in Eto's kidney's in our penalty area in the first half.
Eto'o showed what he is made of by getting on with it.
Here we have a very special footballer - and former captain of a national side. We should be making the most of him while there is still time. The manager should start Eto'o in every game and pick his team and his tactics based on him being on the pitch for at least the first 70 minutes.
Colin Malone
150
Posted 07/12/2014 at 09:55:33
We play Barkley against a team who have 11 men behind the ball, Hull. Then leave him on the bench when there is acres of space to play in. Coleman and Hibbert should never happen again. It took Fanny Redknapp to get the, on screen magnynifying glass to prove it was a penalty, prick. Maybe its time to put Eto up top,who can control the ball when it comes to him and Lakaku behind. Has it all gone pear shaped since big Dunc came on board? hope not.
Bob Parrington
153
Posted 07/12/2014 at 10:55:28
Patrick Murphy #109. Very sound analysis IMO.
Ray Said
155
Posted 07/12/2014 at 11:28:11
I think some of the fault is persisting with 4 2 3 1 when he don't currently have the players for it.
Yes , it works ok when MCarthy and Barry are fit and in form but it forces Barkley out of what I think is his best position. It also relies on those two covering when the full backs attack and that seems beyond Barry at present
In McCarthy's absence I would like to see us go with 4 3 2 1 with Besic and Barry holding/covering along side Barkley who would drive forward from deep. I would have Etoo as the point of attack with Lukaku and Mirallas in behind and running at the defenders.
Frank Crewe
156
Posted 07/12/2014 at 13:11:06
Too many playing out the seen it, done, got the T-shirt end of their careers and not enough playing the beginning of theirs.
Why would so many players finishing their last contract in PL football before they retire or swan off to America or the middle/far east to get money for old rope knock themselves out for Everton where they are getting money for old rope already?
Howard, Barry, Pienaar, Osman, Hibbert, Distin, Kone, Eto and probably Gibson, McGeady are finished as players at Everton. It would also appear that Mirallas is beginning to look elsewhere. Come the summer this elephant in the room has to be seriously addressed.
Anto Byrne
157
Posted 07/12/2014 at 13:08:20
Without a third umpire video replay, nothing will change. How easy would a referral to some contentious decisions be. Tennis, cricket, rugby, hockey, baseball, gridiron... even basketball. FFFS – when is football going to adopt the technology?

Steve Carse
158
Posted 07/12/2014 at 14:24:58
Geoffrey (137), yes.
Si Cooper
160
Posted 07/12/2014 at 23:00:20
Michael Penley (142) - you are missing the point. All refs need to do is call it as they see it and, short of evidence to the contrary, stick to their decisions and they have my respect. If someone is weak willed enough to simply be swayed by players moaning at them then they don't deserve to be reffing at the top level (and certainly shouldn't be presiding over a court room!). It is not about not having any doubts, it is about acting professionally throughout and treating all equally.
We all have biases, it is part of how we deal with situations that we don't have the time to dissect and make unhurried decisions for. These biases are the result of our direct experiences or information we have received. Confirmation bias refers to the tendency to view and assess situations in a way that matches our innate biases.
I am not expecting referees to be superhuman, but I think they need to be more objective than your average joe to deserve the money they get paid.
Dave Abrahams
161
Posted 08/12/2014 at 08:40:28
Read referee Graham Poll slate Marriner in the Daily Mail this morning. Not that Poll was a great referee but usually they stick together... referees, that is.
Colin Glassar
162
Posted 08/12/2014 at 11:04:03
Just seen Roundy on the telly. He's confident that we'll go on a good run in the Xmas period and we will back up there. Thanks Roundy.
Patrick Murphy
163
Posted 08/12/2014 at 11:10:33
Just read Dave Prentice's piece about the referee's performance and the reputation that Ross Barkley has 'earned' for himself. Quite a hard-hitting article, but I notice he didn't deem to mention any of the players who ply their trade over the park, when listing those other players who have been accused of diving during recent years.
Derek Thomas
164
Posted 08/12/2014 at 11:20:38
Barkley has two things going against him, First he is the worst, most obvious, shite diver ever, Second he is not (yet) playing for a Sky darling. Also why isn't Roberto both publicly and in privately all over this and clamping down on it?
Colin Glassar
165
Posted 08/12/2014 at 11:42:28
Maybe he needs to watch some creasehead dives on YouTube. He could improve his technique.
Tony J Williams
166
Posted 08/12/2014 at 12:21:20
Especially the one for the penalty against Leeds, Colin, or the one for the "intent" against Sheff Utd...
Or any single dive by Stirling, Wilshere, etc.
Tony McNulty
167
Posted 08/12/2014 at 12:53:29
If that was a penalty, my arse is the Bayeux tapestry.
Terence Tipler
168
Posted 08/12/2014 at 12:36:34
Ross was in his own half of the pitch when he when down, not in or around the penalty box trying to win a penalty. He also in one movement was up and playing on before the ref blew for a foul. All very strange... I've watched it back several times.
Then I spotted who the player was coming in to tackle Ross, it was the same player who was sued, and settled out of court for a 6-figure sum, for near finishing the career of another Everton youngster, namely victor Anichebe, with a disgusting tackle.
George McKane
170
Posted 08/12/2014 at 14:43:41
Hi Tony
I was in Bayeux last year and bought a long long copy of The Bayeux Tapestry for my wall... I will have a new and more detailed look at it tonight. (Oooh Eerr, Missus)
Tony Waring
171
Posted 08/12/2014 at 16:35:50
Terence 168 - where is there more info about the tackle on Anichebe? I was not aware of it.
Terence Tipler
172
Posted 08/12/2014 at 19:10:54
Tony. Several articles. just Google "Nolan Anichebe tackle"
Tony Waring
173
Posted 09/12/2014 at 10:01:12
Thanks Terence but is old age catching up on you mate? Nolan plays for West Ham not Man City. Wasn't it Lampard who pushed Ross?
Tony McNulty
174
Posted 09/12/2014 at 11:22:10
Thanks George (170) although I am now a bit worried about the length of your wall.
Terence Tipler
175
Posted 09/12/2014 at 11:06:01
Okay Tony. A few of the previous comments were referring to why Ross may've unjustly received a yellow card for the Lampard incident against Man City – because, the previous week against West Ham, he was caught diving. It was that incident I was referring to.
As the person coming in to tackle him that day against West Ham was Nolan, and it was a Nolan tackle while playing for Newcastle that put Anichebe out of the game for almost 1 year. For which he sued and received a 6 figure out-of-court settlement.
Anichebe said at the time that he thought Nolan had broken his leg, and would never be able to play again. Bearing in mind that Ross suffered a double broken leg while he was 17, and seeing what Nolan had done to Anichebe, it was no wonder he dived.
Gary Carter
176
Posted 09/12/2014 at 20:23:43
Martinez and his backroom staff have now had nearly a season and a half to get us playing how they want, and it doesn't look good frankly.
We don't close teams down, don't look fit, overpass the ball to satisfy his fixation with possession statistics that in the grand scheme of things mean less than nothing, play around with the ball at the back when the defence and Howard are clearly uncomfortable with it, we lack any form of cutting edge and spend so long passing the ball sideways that all the opposition have to do is remember their defensive training drills to set up against us and all this is overseen by a man that will blindly point to possession statistics and call our play phenominal !!
The sheer arrogance Of Roberto Martinez is the only phenominal thing about Everton at the moment, that and his total blindness to what is wrong. Is it phenominal to have only had 3 teams concede more goals than us this season, is it phenominal to have won just 4 games out of 15 this season, is it phenominal to have dropped 12 points from winning positions this season, is it phenominal to have a team like Aston Villa above us, is it phenominal to have won just 2 home games out of 8 at "fortress Goodison" this season, I could go on but I wont.
Martinez started to get found out for being out of his depth from about April last season and its got no better since despite him desperately clinging to UEFA cup results against poor to average sides. Our pre season was poor, he has been poor in the transfer market, poor with team selections and rotation, poor with substitutions and his tactics this season have been abysmal and arrogant. he is following all the same traits he did when he got Wigan relegated and whilst I don't think he will quite manage that with us I fear for the club under his tenure.
He is an arrogant clown and out of his depth and I just hope BK finally shows he has a set and gets rid of him asap, sadly this will not happen until we hit rock bottom
Matthew Mackey
177
Posted 10/12/2014 at 12:21:43
I guess when you play teams that have 12 men on the field, the twelfth one being Andre mariner then it is inevitable that you will lose no matter what your team selection and game plan is. Bitter?.....you bet I am.
Matthew Mackey
178
Posted 10/12/2014 at 12:22:37
Please don't tell me that our officials are the best in the world and the most honest. Bollox, complete bollox. We were stitched up last Saturday evening good and proper.
There was absolutely no way the PL and refereeing alliance were going to allow Citeh to drop points after Chelski had lost earlier in the day. They have a product and a brand to sell all over the world and it would not be good for business if Citeh didn't close the gap and make it exciting for all those plastic fans the world over.
How dare the riff-raff of Everton have the audacity to challenge their plan. This game and the totally inept performance of the man in black reminds me very much of the derby game in October 2007 and a certain Mr Clattenberg. Remember that?
Patrick Murphy
179
Posted 10/12/2014 at 12:44:49
Mathew,
Guess who was the fourth official at the Etihad?
A certain Mr Clattenberg.

Matthew Mackey
180
Posted 10/12/2014 at 12:50:47
Patrick, thanks. I didn't realize that. It makes it even more laughable. Am I right in saying that Andre Marriner has not been given a PL game this coming weekend? I've heard that he is doing a League One game.
Steve Carse
182
Posted 10/12/2014 at 13:42:14
No compensation to us though is it? And why should a lower league have to suffer him? Talk about elitism. If he's a poor ref, he's a poor ref and shouldn't be anywhere near the professional leagues.
---
Add Your Comments
In order to post a comment, you need to be logged in as a registered user of the site.
Or Sign up as a ToffeeWeb Member — it's free, takes just a few minutes and will allow you to post your comments on articles and Talking Points submissions across the site.
© ToffeeWeb