Roller-Coaster Replay Ends In Penalty Agony
By Lyndon Lloyd

14/01/2015

Comments (37)
jump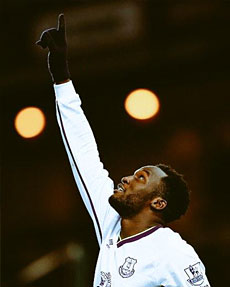 Lukaku salutes the memory of friend Junior Malanda after putting the Blues into the lead
West Ham 2-2 Everton
West Ham win 9-8 on pens
20 years on from their last FA Cup triumph, Everton will not be returning to Wembley to hoist the trophy for a sixth time this coming May. The magic of the famous old competition teased and tormented the Blues tonight throughout an evening of escalating drama at Upton Park, raising Roberto Martinez's depleted team up on the back of a revelatory performance by Joe Robles and a mesmeric contribution by Kevin Mirallas until passage to the Fourth Round was in sight... before snatching it away from them at the end of a gut-wrenching penalty shootout.
There was understandable agony in defeat, not least for Robles, who had kept his side in the tie with a series of excellent saves but then crashed the Blues' last spot kick off the crossbar. And for Romelu Lukaku, whose goal in the first period of extra time, dedicated to his fallen friend Junior Malanda by way of a poignant finger to the sky, looked to have completed a stunning reversal of the tie after Aiden McGeady's dismissal just 10 minutes into the second half.
And yet, the manner in which Everton not only fought back but would often dominate and outclass their hosts despite being a man down for over an hour of this thrilling contest means that, even in defeat, this is a match likely to reverberate for weeks through a season that looked to be imploding but which is now slowly turning on the back of a timely revival of team spirit and unity of purpose.
The hole they found themselves in after 56 minutes was largely of their own making. But the difference between the way this team, knocked down by Enner Valencia's 51st-minute goal and McGeady's second yellow card five minutes later, responded to that adversity and the one that crumbled to four successive defeats in twelve days over Christmas could not have been more stark. Much of the credit should go to Mirallas, who showed no ill effects from his bothersome ankle as he swept home the equaliser eight minutes from the end of the regulation 90 and then twisted the Hammers defence into knots to lay on the goal for Lukaku. But there was a collective will and determination that ran right through the Blues' ranks, one that either dispels rumours of disharmony in the team or suggests that such discord is well and truly over.
Martinez's plan for this replay was established by his first unchanged starting XI of the season. Presumably because of Mirallas' admission that he is still feeling the effects of an ankle injury he sustained against QPR a month ago, McGeady retained his place in the side and lined up on the right side of an attacking foursome rounded out by Lukaku, Steven Naismith and Ross Barkley.
Settling into what was an open game from the outset, Everton looked the brighter, tidier and sharper of the two sides in the early going but seemed to lack confidence when it came to the final ball. A number of promising situations called either for an earlier cross, release or shot on goal but Martinez's men seemed to hold back, trying to walk the ball into the Hammers' box at times.
McGeady, whose ebbing confidence would have benefited from a goal, had two early efforts when he finally decided to try his luck from outside the box, one that he choked tamely wide and the other more accurate shot that he fired into Andy Carroll following a corner.
That early promise from Everton was almost undone, though, by an uncharacteristically awful error by John Stones who was caught trying to dribble away from his own area by Valencia but was saved by Robles who closed the angle on the Ecuadorian as he danced past Phil Jagielka and made a one-handed save to divert the shot wide of goal. The Hammers generally seemed content to hang back and try and hit the Blues on the break, though, and apart from a Stewart Downing shot that slid a yard wide they were largely being contained in the first half.
Indeed, their better moments came from cheap giveaways by Everton players. First they countered following Naismith's poor layoff but Alex Song drove his shot into Valencia instead of troubling Robles; then Barry passed straight to Matt Jarvis in midfield and McGeady clumsily brought him down earning his first yellow card of the evening and providing Allardyce's men with an opportunity from the set-piece.
The best move of the half was engineered by the visitors, though, when Naismith collected Lukaku's well-weighted ball to the left channel and he almost played McGeady in but Aaron Cresswell got across well to force the Irishman into prodding wide.
With no changes at the break, the same pattern of play continued into the second half but when Lukaku was caught offside for a third time, the Blues completely switched off as West Ham took the resulting free kick quickly through Song. Noble threaded a pass through a huge hole in midfield to Carroll who in turn found Valencia's run and the striker took a touch beyond Stones before tucking the ball past Robles.
And what could easily have been the early death knell for Everton arrived shortly afterwards when McGeady went flying into a sliding tackle on Mark Noble and earned himself an early bath. Slow motion replays would later show that Noble had craftily pulled both legs clear of the Irishman's boot to avoid all contact but then proceeded to sell the foul with aplomb prompting the referee into brandishing the dreaded second yellow. "Shit-housery" of the first order from a seasoned professional but it was a stupid challenge by McGeady that would have earned him a yellow regardless.
Martinez would respond with two positive substitutions, removing Ross Barkley, who had had another tentative and ineffective game, and the less fortunate Muhamed Besic who had been committed and purposeful but whose inexperience relative to Barry often means he is the one to make way. Bryan Oviedo and Mirallas were introduced and the Belgian looked to have pulled the Blues back into the tie when he popped up in front of goal to meet Lukaku's square pass. His side-foot shot was blocked miraculously by James Tomkins, however, who prevented a certain goal.
Valencia then had a carbon-copy chance to the one from which he'd scored earlier but Coleman was wise to it and he blocked it behind before Robles made a one-handed save to deny James Collins from the resulting corner.
Two minutes later, though, after Collins had taken Lukaku down right on the edge of the box, Mirallas did equalise with another fabulous free kick. The Belgian cleared the wall and swept a wickedly curling ball into the left side of the goal, clear of Adrian's despairing dive and the Blues were back in it but, a man down, were now facing 30 unwanted minutes of extra time. To get there they had to withstand a late assault by the home side which saw Cresswell fire over from a free kick and Robles push Nolan's over-the-shoulder shot over the crossbar.
It is to Everton's enormous credit that they carried their ascendency despite being a man short into extra time and, after Robles had been called into action once more to deny Noble, they would stun Upton Park by taking the lead. Lukaku really should have scored when Seamus Coleman's low cross deflected into his path inside the six-yard box but he somehow mis-kicked in front of the goalkeeper. He made amends, though, from the ensuing throw-in following quite brilliant work by Mirallas who jinked around two defenders with the ball seemingly glued to his feet and slid it across for Lukaku to stab home from close range. Both Belgians celebrated in the huddle of players by saluting their international teammate, Malanda.
For a long period afterwards it seemed as though there would only be one winner as Everton pressed for a killer third and Mirallas wreaked havoc on the panicky Hammers defence. Teammates Noble and Tomkins almost came to blows in a bizarre exchange as the Hammers threatened to buckle. First, he drove towards their box but had his shot charged down by Collins and then he fell under a challenge by Tomkins as he skipped into the area from the right flank two minutes into the second half of extra time.
Referee Swarbrick, whose personal performance had been deterioriating as the match wore on as he persistently ignored the elbowing and barging meted out on Everton's defenders by Carroll, initially signalled a goal kick but was forced to recognise an infringement by his assistant's flag. He gave a free kick despite the infringement having clearly taken place a yard inside the box. With West Ham rocked back on their heels, a successfully converted penalty at that stage would have killed the tie but Oviedo fired the resulting free kick into the wall.
And after Mirallas had seen an attempted curler from 20 yards bend wide, West Ham equalised from another poorly-defended corner. Tomkins rose above Jagielka and the ball dropped to the feet of substitute Carlton Cole who couldn't miss in front of the Blues' goal. 2-2 and penalties seemed inevitable but both sides would go desperately close to winning it.
Lukaku's impressive drive through the West Ham defence with just two minutes left presented him with a gilt-edged chance from the angle but he dragged his shot across goal with the away fans behind the goal ready to leap together as one at the winner. And, after Robles had palmed Amalfitano's shot away and the match now in stoppage time in extra time, Valencia was released into space behind the Everton defence but he chose to square it to Cole and that gave Stones and Robles time to smother the chance.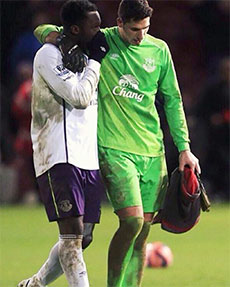 Blues brothers: Lukaku consoles Robles following the Spaniard's penalty miss
That just left the lottery of penalties, one Everton looked destined to lose after Adrian had pushed Naismith's spot-kick over and West Ham successfully converted their first four penalties. However, having guessed the wrong way on each of the preceding kicks, Robles went the right way for the fifth and prevented Downing from winning the tie then. Unfortunately, Everton's and the Spaniard's misery would be delayed another four kicks when, with the score level at 8-8, Robles saw his own powerful penalty cannon off the bar and in front of goal while Adrian swept home the winner.
There was equal pain and pride for Evertonians at the end as Lukaku ran straight to his crestfallen 'keeper to console him and the army of travelling Blues, who had put their rival fans to shame by eclipsing their number at Goodison last week six-fold, applauded what had been a remarkable performance despite the man disadvantage.
Yes, the Wembley dream is over for another season, potentially extending our trophy drought beyond the 20-year mark. And, yes, both West Ham goals were poorly conceded from an Everton perspective, with the passage from Leon Osman's biography about the team not training for corners still resonating with those who are baffled by Everton's weakness on set-pieces. You also wonder if a Moyes-style defensive substitution in the second half of extra time might have helped preserve the lead.
But amid the sad exit from the competition solace can be taken from some very pleasing aspects. The straight-back-at-'em" attitude that has driven the Blues to claw back deficits in each of their last three games after such a galling absence in the four games before that was pleasing to see and something that will stand Martinez's team in good stead in the coming weeks.
The goal now, of course, is to finally put a first win in 12 on the board when West Brom visit Goodison next Monday and follow that up with a run of good results timed with the resumption of the Europa League campaign which, together with ensuring Premier League survival, is now the central goal of the season. Show the kind of indomitable spirit they displayed this evening and Everton could go deep into Continental competition this season.

Follow @EFCLyndon
---
Reader Comments (37)
Note: the following content is not moderated or vetted by the site owners at the time of submission. Comments are the responsibility of the poster. Disclaimer
John Gee
1
Posted 14/01/2015 at 06:47:16
We showed character and guts last night. Jagielka was outstanding in defence, Mirallas likewise upfront. Robles had his best game for us and McGeady, although still wasteful, found space well and gave balance to the left side. Besic and Oviedo should be starters as they show the desire and tenacity that Barkley doesn't.
Martinez has got to ditch the wingback play. All it does is narrow us when we attack and leave players out of position when we're attacked. I can't think of any team in the PL era who have used wingbacks with any consistent success. Baines and Coleman are much better with a give and go approach typified so well in the Bainaar partnership.
Andy Carroll elbowed, pushed, backed in and generally donkeyed his way through 120 minutes last night with the referee's full approval. Yellow card challenge after yellow card challenge. The standard of officiating has been deteriorating recently and we're getting new lows every week. Martinez should cop a fine and highlight this. It's costing us too much in games to be ignored. Every borderline decision went against us. It's either incompetence or corruption and I can't wait for the day when an investigation is launched into this.
Dave Pritchard
2
Posted 14/01/2015 at 07:13:36
Mirallas showed last night just how good he can be. Let's hope he can carry this through to the league and produce similar standards for the rest of the season. Rom looked hungry again if a little wayward with his finishing.
Stones is a great prospect but has to be questioned for the two goals I think. A young player has to be given some leeway. Had that been Distin, Alcaraz or Jags there would be a lot of stick flying around.
Adam Luszniak
3
Posted 14/01/2015 at 08:28:39
Went to my first Everton game last night and came back heartbroken! It was made worse by the fact that I was sat with some mates who were West Ham fans in the home stands. We did play well, although both of Mcgeady's yellows were abysmal the second especially so.
Barkley was rightly brought off, and I don't know if it's juts in comparison to Mirallas who was on fire, but Oviedo seemed totally anonymous.
I've said it before on here, I cannot wait until we get Mcarthy back. Our midfield is so much more solid with him in it. Oh and Robles, some real world class saves last night.
Milos Milenkovic
4
Posted 14/01/2015 at 08:24:10
Lukaku needs to practice one on one situations. He missed two chances against City and last night he had a game in his hands near the end. I know it's easy to say but top player usually must score from these positions.
Martinez must make decision on Barkley now. His only good game was against Q.P.R. when he played in central midfield position. Other than that he was a player less on the pitch for most of the games. RM gave him freedom and time, yet his contribution is negligible.
Craig Walker
5
Posted 14/01/2015 at 08:42:03
Last night's game was a microcosm of being an Evertonian. Nervousness, frustration, pride, joy, excitement, bad luck and ultimately, disappointment.
Was proud of the boys last night though. Fair play to both teams for treating the FA cup with some respect.
Hopefully we can take that fight into our next games. I'm not going to bash any players but I'm not a fan of McGeady. I think he has talent but is too wasteful. He reminds me of James Mc Bad'un.
David Morgan
6
Posted 14/01/2015 at 09:24:43
Please can we get rid of McGeady, I personally can't stand him. He was already having a shocking season before last night. Winger that doesn't get assists, never beats the last man, hardly scores and turns over possession about 20 times a game.
He is 27 is he not, so that's maybe 5 more seasons of this clown, because no-one will take him off us. Not sure what its going to take to see him gone. While he is in the team we are always going to be playing with 10 men.
Peter Carpenter
7
Posted 14/01/2015 at 10:03:40
Maybe I'm just a miserable git but having kicked the imaginary cat to death last night I went to bed thoroughly pissed off and I still am. Stuff the pride in a defeat, it's still a defeat and it shouldn't have been. If I had caught a shirt at the end, I would have thrown it back and said, 'Save that for when you have won.'

Did I catch RM saying we needed the cushion of another goal? No we didn't. We needed proper defending for the last 7 minutes of extra time. We needed more commitment to shoot, get in the box and create chances early in games, not out of adversity when it's nearly gone. We needed players with the brains not to do what McGeady did when on a yellow card. We needed someone organising at corners.

There was a brief shot on their equaliser of Oviedo looking around anxiously as if he didn't know what to do - I thought of f*** - trouble here. We needed someone in the useless referee's face until he started penalising that twat Carroll every time he went for a header and shoved the defender out of the way. We needed someone to point out that the free-kick for offside which led to that corner was taken 15 yards further up the field than it should have been.

It should have been a win. I'll save the positives for the next one.
Dave Abrahams
8
Posted 14/01/2015 at 10:21:09
John Gee. (1),I agree with everything you say, in Barkley's case is he holding back mentally from making a tackle, maybe his previous injuries have left him frightened from going in with purpose and desire, he needs to give a bit more, unfortunately he is a handicap to the team at present and I'm a big fan of him.
Phil Walling
9
Posted 14/01/2015 at 10:36:19
For all the heroics of the much maligned (by me !) Robles and the all-out effort by all our players (apart from Barkley), we can now add exit from the Cup at the first hurdle to our woeful league form.
The blood and guts performance was great television ( I felt for all the travellers trying to get home before work time ) but had little to do with what lies ahead in the fight to keep out of the bottom three.
It is interesting to read many postings of confidence on this issue - not least by the editor - but seeing 36 points as a haven of safety ceased to be classed an achievement by Evertonians very early in the last manager's reign.
The fact remains that Martinez - just like his predecessor - has both made a success of Everton in his first season and a bollocks of his second. But with all these green shoots popping up we are asked to believe that our man is on the right path to salvation because he is listening to his players !
Well, they put in a good shift for him last night but a little more leadership, organization ( and practice ?) is required before those shoots bear fruit. If it's not forthcoming, this critic for one will continue to apply the manure.
Mark Andersson
10
Posted 14/01/2015 at 11:20:12
Nice one Phil made me laugh. That Manure is it bullshit from Bobby.
Great game but nothing again. I'm not getting caught up in the hype, of well we showed guts and belief, it's what we didn't show remains the problem.
I can't add anything positive or negative that has not already been said. But I think history is about to repeat it's self (Wigan last season) – hope I'm wrong.
Dave Abrahams
11
Posted 14/01/2015 at 11:34:28
Phil I think we have all got the message and maybe you are right and Martinez will not be the manager we all hoped he would be but turn the record over you are just becoming boring now, and I know you are not but that's what you have become.
Craig Walker
12
Posted 14/01/2015 at 11:49:29
Phil. We had some not-so-glorious 3rd round exits under our last manager's reign. Oldham at home. Shrewsbury away
Phil Walling
13
Posted 14/01/2015 at 12:25:05
All comments judged to be anti Martinez should be withheld, eh ? Our last manager was crap in the Cup ? Just what those comments add to a debating chamber I am at a loss to understand.
The perception that all is coming well on the back of 3 draws defeats me !
Kase Chow
14
Posted 14/01/2015 at 12:32:13
I saw Carlton Cole warm up and thought 'bring on a 3rd centre back'
Why is defence always an after thought, a dirty word for Martinez?
Chris Leyland
15
Posted 14/01/2015 at 12:16:23
Dave, to be fair to Phil he didn't mention the 'W' word once in his last post and he is making a valid point that reaching 36 points (or whatever the number needed is) should not be considered an achievement and is not other than failure for this club.
I think that it is fair to say that, unless things pick up soon, this season could be our most dramatic decline in living memory when compared to the previous season and one of the worst in our history.
The Moyes 7th to 17th was a pretty poor recent benchmark as we finished 10 places and 20 points worse off overall season on season.
Before that, the previous worst drop was from winning the league in 1969/70 with 66 points (which would translate to 95 points under the 3 points for a win system) to finishing 14th with 37 points the following year (which would have translated to 49 points under 3 for a win).
The only other 2 periods in our history when we have suffered such a dramatic drop in the league are 1927/28 and 28/29 when we went form 1st to 18th and 1931/32 and 32/33 when we went from 1st to 11th
We currently have 22 points form 21 games and I appreciate and accept that there are still a lot of points to play for so this might not make it into our top 5 all-time worst declines . But, we really are going to have to pick things up pretty quickly not only to ensure that we don't actually have the worst drop year on year in memory but also, and more importantly, to ensure that we do not dragged into a relegation fight.

Jim Hourigan
16
Posted 14/01/2015 at 12:47:52
A glorious failure, but a failure none the less against a side that has also not won in a long time. Some decent performances but does it not say it all when 2 of the best were the goalkeeper and the centre half (Jagielka's best game this season for me), - last ditch defending and too many strikes on goal. Will the penny ever drop with Martinez that you win nothing without a good defence and that at times pragmatism and reality take over. Going for a third sounds great, but lets be honest if he had 'shut up shop' for the last 10 mins instead, we might be in the next round, and would any of us have complained? Would Mourinho or Ferguson kept on attacking? Looks good, sounds good but wins nothing.
Jay Harris
18
Posted 14/01/2015 at 13:13:39
Spot on report as usual Lyndon.
I am not RM's biggest fan but would not criticise him for going for the win.
If Lukaku had converted either of the chances to make it 3-1 we would all be complimenting RM on going for the throat while they were under pressure and arguing with each other.
What I will criticise however is his total disregard for defending corners.
That for me will be the nail in his coffin.
However I think we should all welcome the obvious upturn in team spirit and energy and compliment the lads for doing so well with ten men.
As others have mentioned Carroll deserved to be off the pitch more so than McGeady and I don't know what we have to do to stop the obvious bias among referees against Everton.
Maybe we are too soft and should surround the referee and demand action like other teams.
Steve Guy
19
Posted 14/01/2015 at 13:14:21
It took me half an hour to calm down after last night. Great team effort and not to be underestimated in terms of creating a fortress mentality to get us out of the hole we dug in December.
It was without doubt 12 v 10 at times as the ref was awful. As RM said all you can ask for is consistency and we got none of it. Carroll might not have stayed on the pitch with someone else officiating...two yellows at least. The ref ought to have handed a yellow to their goalkeeper for his blatant attempt to intimidate Naismith before his penalty (and which unfortunately seemed to work).
West Brom now the next test of whether there is redemption for this Everton side in the last five months of the season.
Justin Harvey
21
Posted 14/01/2015 at 13:56:51
A brilliant game of football, a gutsy performance from us and an abysmal performance from the ref, by the end of the game even the linesmen looked fed up of his incompetency.
Mirallas sparkled, Lukaku looked like the beast he should be and most of our players played their hearts out but McGeady and Barkley should hang their heads for differing reasons. Mcgeady is just not a premier league standard players and needs to be moved on ASAP, both his tackles were rash and stupid and just about the only thing the referee got right. Barkley showed none of the fight that his teamates did and I hope he has the integrity to take a look at himself and realise "I didn't do enough"
Sean Patton
22
Posted 14/01/2015 at 14:52:13
Just to further add to the officials incompetence did anyone see a replay of the build up to the equaliser as it looked like Cole had run the ball out for a goal kick before it hit Stones.
Lee Gorre
23
Posted 14/01/2015 at 15:15:10
As good as Robles was in the 120 mins, he dived too early for every penalty and never really sniffed one other than the Downing save obviously. No particular criticism of the player but more of the goalie coach who should be working on that with him given pens was a realistic outcome last night.
David Holroyd
24
Posted 14/01/2015 at 16:15:05
Lee (#23), I just watched highlights and you're right: Robles got nowhere near to any of the penalties except the one he saved. Let's not kid ourselves: he is not the answer to our goalkeeping problems,
Saying that, what a great game of football, we need to find another Mirallas, someone who can play the first half then Kevin can come on.
Twenty years is a long time without winning the FA cup, please let us win something soon.
John Gee
25
Posted 14/01/2015 at 16:45:11
On the penalties, I can't understand why keepers are coached to try to save in the bottom corners. They would be much better off playing the percentages by only trying to cover a third of the goal to either side. Any penalty straight down the middle or nervously/badly taken would have a good chance of being saved.
It could be masked by an attempt at a save whenever the penalty is well taken. Or even if the opposition know the strategy, it increases the pressure on the taker by putting in their head that their penalty has to be near enough perfect.
Ray Roche
26
Posted 14/01/2015 at 17:08:44
John, if either of the goalies had stayed in the centre of his goal until the taker took the kick they would have saved half of the shots against them. As penalties go, they were woeful, far too many of them straight down the middle.
Dave Abrahams
27
Posted 14/01/2015 at 17:05:20
Phil (13)can you honestly say you have not seen a big improvement in the last three games, because I have, at least in terms of effort, spirit and more attacking play. I think it has been obvious there have been shots on goal and three excellent chances where missed by Mirallas and Lukaku were missed to put the game beyond doubt.
Phil I always take note of what you say because it's obvious you know your football it's just if you keep saying the usually the same things it really is boring and Iknow like all of us on here that Everton's position is very serious and there is the distinct possibility that we can go down.
Do me a favour and wait until Monday and if we lose then I might join you in a rant, just let's wait and see.
Phil Walling
28
Posted 14/01/2015 at 17:30:26
You are right,Dave, there has been great improvement in effort and player's demeanour over the last three games. And thank gawd for that ! This is, I suspect, because these players have, to some extent,'taken ownership' of tactics and style.
Whether effort alone will see us through to less troubled times is debateable because such bursts of energy and enthusiasm can often be short lived. Then, other factors will come into play and the manager will again need to be earning his money !
Mike Green
29
Posted 14/01/2015 at 18:01:33
You're right Phil (Walling) - I take my hat off to the players for their endeavour last night but something in me felt they looked like they were throwing themselves against a brick wall, lots of perspiration but not enough inspiration. I've got a horrible feeling they will burn out soon trying to find a way to make this work and if they don't it will really go sour then. Hope I'm wrong.
Dave Abrahams
30
Posted 14/01/2015 at 18:40:59
Phil, fair enough, I hope that a couple of experienced players are brought in to further help us to stay in the premiership, they will certainly be needed, but it's debatable whether there is any money for such deals.
I just hope we stay up and then we can debate where the club stands with regard to whether Bobby stays or goes,I hope I'm able to say I want Bobby to stay.
Darren Hind
31
Posted 14/01/2015 at 18:51:12
Maybe, but theres only ever been one way out of the sort of hole we are in. Work, work and then work some more
Colin Glassar
32
Posted 14/01/2015 at 19:00:17
I didn't watch the first five pens, I just couldn't. Went out into the garden to look at the stars (and pray) but when I got back in they were still taking the bloody things!!! Proud as punch of the lads despite going out on bloody pens.
Norman Merrill
33
Posted 14/01/2015 at 19:39:06
All the talking in the world is not going to sort out EFC problems on the pitch.
Team selection & tactics should work hand in hand, hopefully Roberto will get it right & quick.
We also need a bit of the rub of the green, but having said that you make your own luck in football.
Let it start versus Pulis's WBA at home Monday.
I hope Goodison is rocking?
Colin Glassar
34
Posted 14/01/2015 at 19:50:54
Expect Mr. Anti-Football to shut up shop from the off. He'll be quite happy to put 11 men behind the ball and try and catch us on the break.
I've always hated WBA since '68 (although I liked Big Ron's team with the three degrees) and under this trackie wearing knob I dislike them even more.
Max Wilson
35
Posted 15/01/2015 at 09:56:42
I havent been able to post because following our live feed I tried to watch the match on a free sports site-something Olive, and got loads of virus's and malware. No I didnt click on any ads either!
Anyway, we were magnificent, most of the team that is,and the message is we are back to being very hard to beat. Interestingly, on the tippy tappy debate, against City they had 60% of the ball,first WH game they had 55%,and the second was 50:50. In my opinion we had better players still on the bench and while he ran his heart out,McGready was given 4 out of 10 in the papers, and Naismith, for someone who really wants to be a striker, can't do a penalty. In our league, any weaker players pull you down and I'm sorry to have to keep saying it, but amongst us supporters, these two are constantly
critiscised, not for effort but intelligence and technical skill. But we are hard to beat again, so lets keep showing it.
James Lauwervine
36
Posted 15/01/2015 at 09:57:55
We totally deserved to win this game. We played an hour away from home against one of the form teams of the season with 10 men and it looked like we were the ones with the extra man. The ref was a fucking idiot and a coward. We should have had a pen (I was sure the bastard had pointed to the spot after he'd spoken to the lino) and that streak of shite Carroll should have had about 12 yellow cards. He jumps for every header leading with his elbow. McGeady was an idiot for the second tackle though - what was going on in his head to slide in like that when already on a yellow. Mirallas was just brilliant. Oh if only Lukaku had scored that last min chance!
I'm proud of a very good performance. Yes there are still concerns but definite signs of fight and quality. We will climb the table and have a real crack at the Europa now.
Dave Burke
37
Posted 15/01/2015 at 10:59:50
Very unfortunate not to win this game but again defensive mistakes cost us. We seem to have rediscovered some fight which is a positive and this coupled with some luck should see us improve.
I would start the same team next week with the exception of Mirallas replacing McGeady. Barkley needs to learn when to offload the ball or shift it to shoot. He is constantly being caught in possession and with our inability to defend the counter attack this is proving costly.
Overall some positives to take out of the game but yet again it's another loss, albeit in a penalty lottery.
---
Add Your Comments
In order to post a comment, you need to be logged in as a registered user of the site.
Or Sign up as a ToffeeWeb Member — it's free, takes just a few minutes and will allow you to post your comments on articles and Talking Points submissions across the site.
© ToffeeWeb