Dismal Everton as Mirallas squanders spot-kick
By Michael Kenrick
19/01/2015

Comments (330)
jump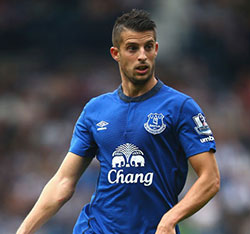 Mirallas usurped penalty-taking off Baines only to smash the ball wide off the face of the post. He failed to reappear after the break, apparently due to a sensitive hamstring...
Everton 0 - 0 West Bromwich Albion
Roberto Martinez named his strongest available team for the visit of West Bromwich Albion, with fit-again Kevin Mirallas coming in for the suspended Aiden McGeady as the only change from last Tuesday.
Tony Hibbert started on the bench where he was joined by Arouna Kone, Luke Garbutt and Bryan Oviedo. Samuel Eto'o was absent from the squad as he awaited confirmation of his pending move to Sampdoria...
Everton kicked off but the game settled into a predictable pattern with Everton building a slow attack with laboured sideways passing, West Brom sitting in. A good pass from Barry picked out Baines and that move ended in a corner that was defended away.
Mirallas did have a shot from far out, easy meat for Foster. Baines was next to take a good hard potshot from distance as Everton searched for a way through the solid WBA defence. They looked to be more direct as the game developed, but the accuracy and timing of the forward/diagonal passes was not good enough as The Baggies increased in confidence and involvement.
Gardener went right through Barkley but no yellow card and the pattern resumed, with Lukaku being well marshalled and unable to get any space or decent ball. The crowd were getting agitated at the slow ponderous build-up until Naismith hoofed a dreadful aimless ball to no-one upfield.
More pointless circulation down the right broke down and WBA were in the Everton area, Wisdom so close to firing in a decent shot. Baines finally took the initiative, running forward at pace, drawing the foul. Mirallas almost repeated his West Ham trick but Foster had it covered all the way.
Barkley was tentative again when forward motion was needed. The ball did get through to Mirallas who was crowded out. Besic shot from wide right, deflected for a corner, taken short and maddeningly an Everton player offside! Ridiculous nonsense.
At the other end, a free-kick and the ball then came through to Gardener, just offside, forced a great save from Robles. Stones got right down to the other byeline and crossed brilliantly but Lukuka was static on the 18-yard line, miles away from the goal area.
There was finally some attacking action, the ball pinging around, ending in a shot that Naismith tried to defect goalward but it flew over. Lukaku seemed set to get a chance off a forward ball to feet from Barkley, turning his man, but his shot was immediately closed down. Mirallas looked to find Lukaku with a great pass but he allowed Lescott to step through him and collect the ball with ease.
Coleman almost got caught in possession at the back. Mirallas then crossed perfectly for Lukaku who made no attempt to beat Lescott for the aerial ball and the chance was gone.
Nothing was really happening as Lukaku chested the ball down and Lescott seemed to control it with his arm, PENALTY! Baines conceded to Mirallas, who smashed the ball onto the outside of the left post... Unbelievable!
Mirallas did not reappear, and there was a suspicion that taking (and missing!) the penalty was against team orders, Oviedo on in his place. Coleman crossed well after saving a goalkick but it evaded everyone. A stupid misplaced pass by Barry was followed by a stupid needless block and a stupid yellow card.
WBA won their first corner, headed away at the near post. Oviedo was then demolished by an apparently fair Jacob challenge. Oviedo tried to be too clever with a backheel for Barkley, then fouled in frustration: yellow card.
Lukaku was fouled and the free-kick whipped in by Baines but headed clear. More completely silly nonsense passing just outside the Everton area almost ended in tears before another toothless passing session ended in another blind turnover.
Barry played Lukaku forward as Lescott slipped but Lukaku was selfish trying to shoot, blocked, and Barry took the ball forward, fouled, Barkley took the free-kick, terrible delivery into the heart of the wall
A period of slightly better pressure ends with a corner after the second cross headed behind. Naismith ran into Jacob and collapsed before it was taken, then a scramble as the corner came in, Naismith going down again, Jacob rugby tackling him. More pressure got the crowd roused but the clear-cut chances just weren't happening as another corner was defended away.
Baines ran offside before getting the ball as another attack failed. The next one failed when Besic anticipated a run that never happened. Coleman got out wide and crossed well to Lukaku whjo missed it completely. Then, the big man got himself hopelessly offside, as only he can.
In a rare West Brom h, Anichebe crossed well and Stones cleared. Besic tried another shot that earned a corner which came to Jagielka but he could not power it goalward. Barry powered forward but his pass was easily read. Finally a great move, Stones bringing it out of defence ball out to Coleman, then Naismith and crossed in for Lukaku to shoot... wide.
Besic picked up a yellow card for a late foul and was then replaced by Kone, to a round of boos... presumably because Besic was one of the few showing a bit of bite, drive and intention. West Brom put together a chances that Sesegnoon should have at least hit the target, and sub Ideye was next to surge at the Blues, who tried to counter but just so slow getting forward. Kone's ball in was poor.
Barkley finally tried to run in on goal but no conviction, no confidence and the ball bounced off a defender to a chorus of groans. A little more promising play but the quality from Kone was poor as the clock ticked away in to the last five minutes of this horribly painful game.
Baines resorted to a hoof and it did get the ball into the area but it was Foster and not Lukaku or Naismith who got on the end of it as the faithful started to make for the exits.
A late free-kick whipped in low from Baines, just a really poor delivery. The Blues had huffed and puffed to no meaningful effect, another 'must-win' game not won.
Everton: Robles, Coleman, Stones, Jagielka, Baines, Besic [76'] (80' Kone), Barry [Y:48'], Barkley, Mirallas (46' Oviedo [50']), Naismith, Lukaku.
Subs not Used:Griffiths, Garbutt, Alcaraz, McAleny, Hibbert.
West Brom: Foster, Wisdom, McAuley, Lescott, Baird, Morrison (65' Sessegnon), Yacob, Gardner, Brunt, Berahino (70' Dorrans), Anichebe (79' Ideye).
Subs not Used: Myhill, Pocognoli, Dawson, Samaras.
Referee: Michael Oliver
Attendance: 34,739
---
Reader Comments (330)
Note: the following content is not moderated or vetted by the site owners at the time of submission. Comments are the responsibility of the poster. Disclaimer
David Booth
1
Posted 19/01/2015 at 19:20:37
Much as I love Naismith in his ratting around role, I wish Martinez would give Oviedo a game: both to give us a better balance across the pitch and bring Baines into the game.
Sending Naismith or Barkley across to the left wing every 10 minutes is not working and reducing our left flank to one of almost total ineffectiveness. It is also not their position and negates them AND Baines at the same time.
Barry or Besic also be dropped in favour of such a move.
Great to see Mirallas back in the starting line-up though. He is such a matchwinner and teams up wonderfully with Lukaku.
Look at the goals they've scored with and made for each other this season.
This is a real GOT to win game.
COYB!
Mark Tanton
2
Posted 19/01/2015 at 19:27:22
We've been saying this for months but Barry really is due a rest.
Nigel Gregson
3
Posted 19/01/2015 at 19:32:49
How Barkley gets a start today I will never know. But IRIT .. COYB
Oliver Molloy
4
Posted 19/01/2015 at 19:33:57
We need to start at 100mph and keep it up WITHOUT exposing ourselves at the back.
Pulis will have his team well drilled in how to beat us or get a draw,they will be up for it and we must match them all over the park.
Big Rom has to show big Vic how to stick the ball in the net,and not the other way round.
We need to be first to every ball tonight and take our chances ,100% commitment from every player in a blue jersey on the pitch and no messing!
Three points,nothing less will do.

Stephen Brown
5
Posted 19/01/2015 at 20:13:08
Hope I'm wrong but got 0 0 written all over it!
Alexander O'Brien
7
Posted 19/01/2015 at 20:45:59
I like Mirallas and he's been bright in that first half but going for individual glory over the team was out of order. Let the regular Penalty take do his job for the team!
Roger Helm
8
Posted 19/01/2015 at 20:47:45
Baines has scored 15 out of 15 pens but Mirallas fancies a go - complete lack of leadership on the field.
Steven Telford
9
Posted 19/01/2015 at 20:42:04
Based on the success we have had this season, Martinez decided to tactically CHANGE NOTHING.
What the fuck has he got against players running with the ball.
DESIGNATED penalty takers being not taking penalties = zero leadership!

Terry McLavey
10
Posted 19/01/2015 at 20:47:40
Looks as if they've parked the bus!
Nick Entwistle
11
Posted 19/01/2015 at 20:47:46
Pullis looking to do the same job on Everton as he did last season when with Palace. Not surprising. Strange atmosphere though. Like Goodison is waiting for the turn of the thumb.
Spragg Johnson
12
Posted 19/01/2015 at 20:51:59
If we can't go on to win this it spells BIG trouble ... can't believe Jagielka/Martinez whoever let Mirallas take the penalty ahead of Baines. Rudderless.
Kevin Rowlands
13
Posted 19/01/2015 at 20:49:02
FFS that right there just sums up our season, here's a lad who's put his contract talks on hold, decides he's taking every free kick, now taking the penalties, in the meantime our record assists fullback who's 15/16 in penalties, superb at free kicks is left twiddling his thumbs, what the fuck is going on?
Bill Gall
14
Posted 19/01/2015 at 20:49:01
Jagielka as captain should have took the ball and gave it to Baines and told Miralles in this team Baines is our penalty taker. Miralles is aware of this and should be benched for the second half. Martinez has got to be firm before the players take complete control and start telling him who to subtitute
Oliver Molloy
15
Posted 19/01/2015 at 20:48:19
I don,t understand why Mirallas was even allowed to take the spot kick. Can someone please tell me what is going on?
Basic, Baines & Stones best players for us once again, the rest need to step up a few gears if we have any chance of winning this!
Pulis will be in there now telling his players the longer they keep it scoreless, the more disparate we will become, I can hear him now.
I wonder what our manager is saying to Mirallas.!
Brian Hennessy
16
Posted 19/01/2015 at 20:53:12
Exactly Spragg, you could even see Coleman gesturing to his "captain" Jagielka to get him to get involved in what was happening with Mirallas taking the penalty. Our toothless captain then turns away and starts fooling around with his socks.
This all just adds to the lack of leadership from Jags and more importantly from Martinez, we have the best penalty taker in the league and glory hunnter Mirallas takes the penalty.
Barkley has been terrible strolling around like he couldnt give a dam.
Looks like the passion shown at West Ham and City was a temporary blip, back to the shite we have seen for most of the season
Ian Riley
17
Posted 19/01/2015 at 20:55:17
Who is in charge of Everton fc? Disgrace! Baines should have grabbed the ball and taken the penalty. The captain should have come and took charge.
Did Kevin do that to get a move away?
Dave Cook
18
Posted 19/01/2015 at 21:01:38
Well, at least Roberto may get some transfer funds this month after all
Nick Entwistle
19
Posted 19/01/2015 at 21:02:03
Bill, you got your way! Didn't think it would happen, but RM is having to get the hairdryer out now. Not everything is incredible!
Trevor Lynes
20
Posted 19/01/2015 at 20:57:38
We are playing without confidence and Mirallas taking the penalty instead of Baines has left us totally open to ridicule. I did not even watch the penalty as I felt sure he would miss.
West Brom are a really poor team and I am sick to my stomach at the ponderous play and lack of initiative throughout the side. Barkley seems to have lost direction and has actually gone back IMO. This is virtually a cup final for us and yet there seems no energy in the play.
Kevin Rowlands
21
Posted 19/01/2015 at 21:04:12
WELL DONE Roberto Martinez, just showed that selfish Billy big time twat who's boss here and the team is more important than the individual, I hope we fuck him off in this window.
Tom Cuffe
22
Posted 19/01/2015 at 21:23:09
If Mirallas, had scored would he still be on the pitch ?, easy make him the scapegoat, but he's still are most creative player, sad if this is the end for him, I agree he can be greedy at times, but he can be damn good at other times.
Oliver Molloy
23
Posted 19/01/2015 at 21:27:56
Tom @ 22
He missed and you have to ask why he wanted to take the penalty and even worse why he was allowed by his team mates and our captain.
James Power
26
Posted 19/01/2015 at 21:33:29
Do something Martinez!!!! Use a sub!!!
Spragg Johnson
28
Posted 19/01/2015 at 21:33:03
Mirallas probably benched himself ... grasped a hamstring and got on the phone to White Hart Lane.
James Power
29
Posted 19/01/2015 at 21:37:21
Jesus this is desperate
James Power
30
Posted 19/01/2015 at 21:41:18
Every time we attack, they have ten men behind the ball.
Bill Gall
31
Posted 19/01/2015 at 21:38:40
I feel sorry for Besic, one of the best players on the pitch and he gets substituted.
Dave Duggan
32
Posted 19/01/2015 at 21:36:51
Frustrating. It's hard when teams just park the bus. You only have to look at city yesterday even with some of the best players in the world.
Taking besic off is frustrating but hardly affecting the outcome. Barry has been a bit better again. There was no need to leave both on when it was clear they only wanted a point. Martinez should have been brave enough to make a change midway through first half to take one of them off.
Worst atmosphere I've seen though for such an important game. So much for support. Oh sorry I forgot it wasn't a sky 4 team were playing.
James Power
33
Posted 19/01/2015 at 21:42:08
Where is the kitchen sink? We are attacking like a koala attacks a eucalyptus branch.
Spragg Johnson
35
Posted 19/01/2015 at 21:54:33
Genuine relegation contenders for sure ... if we can't beat shite like this at home ... where do our points come from?
Frank McGregor
36
Posted 19/01/2015 at 21:52:48
I am afraid that Roberto a real nice gentleman is not the right man for running this club if we survive till the end of the season he has to be replaced.
My main fear at this point is that we will be come the Norwich of this season and finish up being relegated.
Tommy Coleman
37
Posted 19/01/2015 at 21:53:46
Only one team tried to win this game. Football would be dead if all teams had West Broms attitude.
Mirallas, what a dickhead.
Terry McLavey
38
Posted 19/01/2015 at 21:54:12
At least we have something consistent, Barry and Besic getting booked every fukin' game !
Passing a ball to a player into a congested box gets us nowhere, I honestly can't see were our goals are going to come from?
Nick Entwistle
39
Posted 19/01/2015 at 21:53:50
Difficult to judge given I haven't seen a bus parked like that since Chelsea were a man down in the Bernabau.
Roberto, win at Palace or its hasta luego.
Mike Hughes
40
Posted 19/01/2015 at 21:57:37
Match report: complete and utter toss
Mike Powell
41
Posted 19/01/2015 at 21:55:53
Woeful. I hope when I get up for work in the morning that Martinez as been sacked. Please get rid off this buffoon before we are relegated.
Brian Hennessy
42
Posted 19/01/2015 at 21:51:58
Pathetic.
Apart from the obvious shambles for the penalty, it was glaringly obvious that Barkley should have been taken off, Besic had been one of our best players.
I am not blaming Ross alone, the kid's confidence is shot, every time he got the ball he just passed it backwards or to the nearest player, a good manager would have seen this.
I never for a minute thought we would score and only kept a clean sheet because West Brom never tried to push forward.
Martinez needs to go, make no mistake about it, this guy could get us relegated, shocking considering the players at his disposal.
James Power
43
Posted 19/01/2015 at 21:46:36
One win in 13 games. 3 wins at home all season. The side that has conceded the most goals at home in the league. Four points off eleventh. I haven't felt so frustrated at this team since Walter Smith's days. I think the fans can see when the manager is lost and we can sniff out a bad one.
Martinez hasn't shown that he knows what he is doing for a long time now and for a side that was known for its unity under Moyes we look a sorry bunch now, especially when a weevil like Mirallas can ride roughshod over established players and no one stands up. We are in dire need of a leader on and off the pitch.
Chris Gould
44
Posted 19/01/2015 at 21:56:20
Did their keeper have a save to make?
At home to the mighty WBA!!!
Oh yeah, we're really turning things around.
Roberto Martinez, shithouse. (John Malone, 2015)
Get rid now!!!!
Bill Gall
45
Posted 19/01/2015 at 21:53:21
I hope Mirallas is given a heavy fine. I doubt if there is anyone who has played organized football either in amateur, semi-pro or professional that before the game they are aware who takes the penalties. If he has gone against Martinez's instructions, he should be benched.
It is starting to get to a situation were the players are in control and Everton have enough problems without having the manager's instructions ignored.
Tom R Owen
46
Posted 19/01/2015 at 22:02:53
RM first home game in charge was against West Brom: Score 0-0.
Have we moved on?
Leslie Dunkwu
47
Posted 19/01/2015 at 21:57:54
After what happened today with the penalty today, I wonder if Martinez is really in control of the dressing room? If the rumour is true, how can Mirallas go against the whole team? Where was team captain, Jags, when things were going wrong. And why does Besic, by far our best player always have to be compromise. I hate to say it, but we got big problems.
James Byrne
48
Posted 19/01/2015 at 22:00:01
Why the fuck are players allowed to decide what they want to do on the pitch; some players take corners, some take free kicks and only ONE player in our team takes pens if he's playing.
Has that knob Mirallas played his last game for the club; we just can't afford to be fucking about while we are so close to the relegation zone. The margins are too fine and those 2 points lost could kill us at the end of the season.
Jamie Sweet
49
Posted 19/01/2015 at 22:00:05
Just seen the clip of Roberto's reaction to the Mirallas miss.
He looked ANGRY!
"WHAT THE FUCK IS THAT?!" clearly spewing from his mouth.
The fact that Mirallas even thought about stepping up shows a team in disarray.
Well the Big Time Charlie can just fuck off now to Kev FC which is all he cares about. We need team players at times like these, and that is something he has never been.
Saw a call to bring back Big Joe Royle.
Starting to look like a pretty good idea.
Watching some Dogs of War suddenly seems quite appealing again.
David Cornmell
50
Posted 19/01/2015 at 22:05:28
That was unmitigated rubbish.
Nick Entwistle
51
Posted 19/01/2015 at 22:04:31
Naismith saying Mirallas came off with injury, Baines is not 'official' penalty taker and Martinez gave a usual half-time team talk.
Personally I think he was putting a lid on things.
Milos Milenkovic
52
Posted 19/01/2015 at 21:56:42
Baines was terrible with his penalties this season. He was very lucky to score last two so he should have been removed from that duty. As soon as I saw that Mirallas is not playing second half it was clear as a day that we will not win this game. Most importantly we didn't create one single chance for the entire game! Not a single chance, at home against very poor side.
Can anybody tell, when is the time to say, this is decisive moment, we must react? It is so, so evident that Martinez lost it completely, there is no way back with him. Will we wait until it's to late? Yes, he is here just year and a half but we are sinking unstoppably and I can't see any positive signal that we will turn this around with him.
Keith Harrison
53
Posted 19/01/2015 at 22:01:22
Roberto has to sub his love-child Barry, and leave our best player, Besic, on the pitch. Barkley looks like the ball is red hot and he doesn't want to melt his shiny boots, and if his head goes any lower he'll be doing Robbie Fowler impressions. Why oh why doesn't he see what is going on around him and pick the good early pass.
Baines should have taken the penalty, as he sure as hell isn't going to sky it over the bar. He didn't beat the first man all night to my recollection, although he might have slipped a decent corner in when I dozed off.
We are seeing less action in the box than in a heavily censored porn film and unless someone at the club has a word in Bill's shell-like, Roberto's relegation experience might just see us get there too. You have been warned!
By the way, one of my brothers backed us tonight, so it was odds on we wouldn't win!
Gavin Johnson
54
Posted 19/01/2015 at 22:11:15
Mirallas playing for himself, putting himself in the shop window. What a Twat!!
Chris Gould
55
Posted 19/01/2015 at 22:09:34
At least three players told Mirallas to give the ball to Baines. What a selfish twat. He's getting ripped apart by Neville and Carragher. We're now a total joke as well as a shite team. Embarrassing beyond belief.
Jamie Barlow
56
Posted 19/01/2015 at 21:59:38
That was tough to watch. I knew it would be watching a Pulis side trying to keep out a clueless bunch of bottlers.
Barkley needs to be taken out of the firing line before he gives up and fucks off. The lad is a nervous wreck. You can see him trying so hard to keep hold of the ball and not lose it and he isn't seeing anything else. In fact, they all look wrecked.
The penalty incident says everything about this side. No leaders. Captain Jags, Barry, Baines, Naismith? Why didn't any one of these pull that cheeky fucker up and tell him to put the fuckin ball down.
I'm not liking the way I'm feeling about my club at the moment. They're giving me absolutely fuck all.
I Tell a lie. Stones and Besic. Class acts those two and as cool as two Fonzies.
Ian McDowell
57
Posted 19/01/2015 at 22:10:45
28 million pound for that bumbling idiot up front. Jose must be laughing. This team needs a bloody clear out.
Mike Corcoran
58
Posted 19/01/2015 at 22:14:51
Bullshit Bertie
Terry Nolan
59
Posted 19/01/2015 at 22:11:10
That was woeful to watch – who the hell does Mirallas think he is???Bloody show pony who thinks he's better than he is get rid ASAP. We have no idea how to break teams down we need a play maker who can spot a pass and deliver.
I feel sorry for all supporters who went tonight no wonder plenty of boos at end of game... sooooo frustrating. Hard relegation battle lies ahead for rest of season.
Mike Corcoran
60
Posted 19/01/2015 at 22:16:32
He's looking sweaty
Denis Richardson
61
Posted 19/01/2015 at 22:08:58
For the first time this season I'm looking at the next fixtures the teams below us have. Luckily next round of games looks like all the bottom 3 will lose and Sunderland play against Burnley and Villa should lose to Arsenal so none of the bottom 6 should make up much on us....shame there's another 15 games after that!
Next 10 days will be interesting.
Kunal Desai
62
Posted 19/01/2015 at 22:14:42
Got to laugh at Martinez. 'Yes Mirallas was allowed to take the penalty because he felt confident' You are the manager you say who takes the penalty, put your foot down you fool. This man has lost the respect of the players it's so clear to see. Moyes managed to regain the dressing room. This fella has lost it totally. Relegation dogshite it is
Mike Corcoran
63
Posted 19/01/2015 at 22:16:58
He'd deffo get the glove at customs
Gerard Carey
64
Posted 19/01/2015 at 22:15:30
If Martinez gets the bullet who will take over
Chris Leyland
65
Posted 19/01/2015 at 22:17:36
Martins out. Nothing more to say
Mike Corcoran
66
Posted 19/01/2015 at 22:17:29
Bend over sir
Jamie Barlow
67
Posted 19/01/2015 at 22:16:07
"Most importantly we didn't create one single chance for the entire game! Not a single chance, at home against very poor side."
We had 17 shots according to the Bbc.
Mike Corcoran
68
Posted 19/01/2015 at 22:19:04
Sir why are you smuggling your own head
Keith Harrison
71
Posted 19/01/2015 at 22:19:54
You appear to know too much here Mike C.
LOL
Brian Hennessy
72
Posted 19/01/2015 at 22:16:05
Well that confirms it, just watched Martinez interview and this guy is a cowardly prick. Does he take us for fools, have the balls to stand up and say what Mirallas did was out of line and players who step out of line will be disiplined.
Can you imagine Ferguson, Big Sam, or Jose coming out with that drivell.
Sack him, Joe Royle in temporary until a suitable replacement is found.
Lee Whitehead
73
Posted 19/01/2015 at 22:17:19
I have just watched Bob on Sky !!! I wasn't worried up to now.
But fuck me he is talking a load of shite – why doesn't he come out and tell the truth?
We are becoming mushrooms "Kept in the dark a fed on shite."
He is losing the plot – we are doomed.
Keith Harrison
74
Posted 19/01/2015 at 22:20:57
If Martinez got the bullet, prise Koeman away from Soton, or even Sean Dyche - at least his teams arse wouldn't drop out when the going got tough.
Ernie Baywood
76
Posted 19/01/2015 at 22:17:17
Not going to slate Jags over the penalty. The one thing you don't do before a penalty is hold a fucking debate. If Baines is the nominated taker then this is all on Mirallas and he deserves whatever comes his way.
Ian McDowell
77
Posted 19/01/2015 at 22:23:59
Ok if we lose at Palace what do we do?
Chris Gould
78
Posted 19/01/2015 at 22:22:22
Honesty from Pulis, bullshit from Martinez. I would much rather have Pulis in a relegation dog fight.
Ian McDowell
79
Posted 19/01/2015 at 22:24:43
Don't just sack him, who comes in?
Neil Pickering
80
Posted 19/01/2015 at 22:22:18
Never before have I seen a bigger shithouse than our manager. No excuses, he should have at least said he wasn't happy with Mirallas so he came off, and leave it at that.
He has got to go now in the next fortnight, and take that fucking selfish rat Mirallas with him.
Get him out NOW
Keith Harrison
81
Posted 19/01/2015 at 22:23:32
Jamie (67) - if we'd been shooting at John Lennon, he'd still be alive.
Steve Barr
82
Posted 19/01/2015 at 22:19:44
Does it matter who takes over if we sack Martinez? At the moment a gibbon could do better... and in any case, any club/business should have a plan B just in case.
How can a professional team look so inept when they should be training/practicing every single day. Us Joe Soaps work at least 8 hours a day come what may, plus plenty more hours if work is busy, we're under target and have to hit our numbers or else!
What the hell are this lot up to?

Nick Entwistle
83
Posted 19/01/2015 at 22:24:13
If Mirallas isn't playing at the weekend we'll know the story. Having 'issues' with a hamstring isn't something you get over in five days, is it?
Denis Richardson
84
Posted 19/01/2015 at 22:24:44
Ian - not if but when. WBA were completely toothless up front and hardly bothered attacking us and still could have scored. A rejuvenated Palace at home will score against us.
I'd take a point away to Palace now.
Jamie Barlow
85
Posted 19/01/2015 at 22:22:49
I don't agree with that Brian. He has to deal with whatever has gone on himself first. As long as we find out what happened and if he will be punished soon I'm not bothered. Rather that than blabbing out what happened on Sky Sports for fuckin Carragher to pick over.
Kevin Rowlands
86
Posted 19/01/2015 at 22:22:16
NBC here in the States has showed the whole penalty situation from an overhead camera in slow motion, the players reactions at the time, RM's reaction, it's plainly obvious that they were all pissed off with Mirallas at the time, I'm sorry but Martinez is talking bullshit in that presser, I'm now very worried about this season and losing confidence in this manager game by game.
John Audsley
87
Posted 19/01/2015 at 22:23:42
The lack of strength in the squad is really worrying.
We have lost a full midfield to injury/suspension and have nothing left.
Tonight was woeful and the amount of running around we did in front of the opposition box without passing forward was shocking.
Anyway, another point towards safety.
Chris Gould
88
Posted 19/01/2015 at 22:25:15
Ian Mcdowell: "Don't just sack him, who comes in?"
The fucking tealady, a ball boy, maybe the mascot?
Anyone that isn't a total twat!!!
Ian Riley
89
Posted 19/01/2015 at 22:19:27
Does anyone think we can win 5 games?
A draw is a point and a clean sheet but my god its going to be a long 4 months till this season is over!
Keith Harrison
90
Posted 19/01/2015 at 22:25:36
Put Big Joe in temporary charge with Sheeds and Dunc helping out - with Unsy showing the defense how to defend.
Simples.
And phenomenally incredible.
Mike Corcoran
91
Posted 19/01/2015 at 22:26:03
Better put a bid in for Barry Horne now just to be on the safe side
Neil Pickering
92
Posted 19/01/2015 at 22:26:56
No other manager in the league would have spouted that shit after what Mirallas did. Saw Gary Monk the other day slating Shelvey for not being fit enough in his after match interview. Imagine our nobhead doing that?
David Hallwood
93
Posted 19/01/2015 at 22:18:57
Just come back from the game; Miralles shouldn't have taken the pen but FFS we didn't put WBA under any pressure whatsoever, I don't think we had a single shot at goal, and Ross didn't get into the box-what the fuck is going on.
For the first time I'm beginning to think about the 'R' word, because if we can't beat a piss poor WBA side who didn't even attempt to play football. what chance against the RS or Chelsea.
Nick Entwistle
94
Posted 19/01/2015 at 22:27:47
To be fair though, WBA did a brilliant and disciplined job at what they came here to do. The combined talents of City, Chelsea and Barca would find it difficult to break that performance down. Only with individual excellence perhaps, but then that's what they can afford to have.
James Power
95
Posted 19/01/2015 at 22:22:48
I like Stones but he spent a lot of time on the right wing going diagonal from cb out to the wing and then passes the ball inside, forwards to the middle of the park. From a positional perspective that was too risky for my liking and he did it a LOT. A better side would have torn us a new one. I like his confidence in the ball but what is he being told? I would struggle to find an identifiable shape tonight (or any other time in the season for that matter). This is going to the wire.
Tim Locke
96
Posted 19/01/2015 at 22:29:15
Stephen Brown I hope you 㿞 on it
Daniel Joseph
97
Posted 19/01/2015 at 22:25:49
James #20, I counted 20 behind the ball......!
69% possession and 4 shots on target and to be honest I can't remember a save from their goalie.
The first time in many years I am fearful for our top flight status. Get it sorted Bobby and sharpish
Dave Lynch
98
Posted 19/01/2015 at 22:23:39
Why the fuck would Koeman leave a well run, well managed club like Soton to come to is Keith.
He gets a half decent transfer kitty every season, he would get the equivalent of the change in BKs arse pocket here, people need to realise we are a club on the slide in every dept.

Keith Harrison
99
Posted 19/01/2015 at 22:31:44
Nick,
We didn't need individual excellence, we just needed to put that friggin penalty in the net and then pick them off second half when a Tony Pulis side tried to play football.
Gavin Johnson
100
Posted 19/01/2015 at 22:32:21
What was Roberto's response to the Miralles question any one??
Martin O\Sullivan
101
Posted 19/01/2015 at 22:27:22
I just can't watch this crap anymore. Slow piss poor football and greedy players with no leadership to take control!!! I mean what is mirralas doing??? Think I need a break from football till the end of the season!! I'm of fishing for a few months!!!
Neil Pickering
102
Posted 19/01/2015 at 22:30:55
Give me big Dunc right now till end of the season and I guarantee you we will finish mid-table. The dressing room is the problem, not the ability of these players.
It's the manager. He's sucking the life out of them with his shite
Mike Green
103
Posted 19/01/2015 at 22:26:40
Keith #81 - thank you for cheering me up :D
Funny that if Mirallas had put that ball a foot and a half to the right we would probably have won the game, he'd be hailed as a hero and a leader and the green shoots of recovery would be confirmed. However - he didn't and instead banged a nail into our season and both his and his managers potential future at the club. It's a funny old game.....
Lose to Palace and get ritually thumped by Liverpool and I think that will be that. What a mess.
Keith Harrison
104
Posted 19/01/2015 at 22:33:41
Because he'd swallow Billy's bullshit like we all have done at some stage or another Dave.
Good to hear from you again mate. Years since we conversed on here!
Brian Hennessy
105
Posted 19/01/2015 at 22:32:42
Nick you have got to be joking, yes they defended pretty well but we created nothing.
Cant remember one decent piece of skill or killer pass from us. Barca, Chelsea or City would have found a way I am sure.
Mike Corcoran
106
Posted 19/01/2015 at 22:33:50
Gavin - Bert sweating like a kid outside the heads office waiting to get caned. Lied saying KM was not feeling 100%, and that if he felt like taking the pen whatever.
Tony Marsh
107
Posted 19/01/2015 at 22:24:55
Speechless watching that shit. It was as bad as the Walter Smith days for tactical nous and as poor as anything Moyes served up entertainment wise. Yes, we missed a penalty but, apart from that, we didn't create a chance. For years we have had to put up with mediocre players but Naismith takes the piss.
I don't know what to make of this mess other than I have been staying away because my stress levels can't take it. I will end up having a heart attack in the ground. Besic taken off – FFS.
We are 3 weeks in to the window and all that has happened is we are losing Eto'o? WHY? Another player leaving and none coming in? It's a joke. We are now definitely relegation candidates. Our current form is abysmal and worrying..
Please get someone in before it's too late. I was a big fan of Roberto last season but that ship has long sailed... Let Dunc and Sheedy take over for now. They can't do any worse than this fella.
James Power
108
Posted 19/01/2015 at 22:34:53
Big Dunc is there now. He should already be adding value.
John Daley
109
Posted 19/01/2015 at 22:35:58
A manager can't come out on live tv and hang his own player out to dry, no matter how much he deserves it. To do that would only earn him a share of the ire Mirallas is probably facing from his own team mates. Shit like that needs to be sorted out behind closed doors. It was obvious, from his reaction at the time of the incident and the fact Mirallas failed to reappear for the second half, that Martinez wasn't happy with what had gone on. If he slammed Mirallas then he'd basically have to hang a 'for sale' sign from his neck first thing next morning.
Mike Corcoran
110
Posted 19/01/2015 at 22:37:28
I know john, but I'm torn on this. Like a hamstring
Dave Lynch
111
Posted 19/01/2015 at 22:37:01
Cheers Keith, hope your keeping well mate.
Milos Milenkovic
112
Posted 19/01/2015 at 22:24:14
Jamie, yes, we had 17 shots, but not a single chance. Penalty was howler by Lescott...
If Mirallas was not injured, it was big mistake to take him off. I am sure he would be determined to make amends.
Some of you are saying Mirallas deserved to be taken off, but what about us, fans, what about the result?

Keith Harrison
113
Posted 19/01/2015 at 22:37:34
Four Four Two, Four Four Two, Four Four Two, Four Four Two, Four Four Two, Four Four Two, Four Four Two, Four Four Two, Four Four Two, Four Four Two.
Did I mention we should play a different way?
Gavin Johnson
114
Posted 19/01/2015 at 22:34:11
I've done a U-turn on Martinez and Barkley after tonight's performance. I'd snap City's hand off if they were stupid enough to bid 50m and use it as the transfer kitty for a new manager.
Wayne Smyth
115
Posted 19/01/2015 at 22:34:30
Gavin, he gave the kind of non-committal response you'd expect in the situation.
He played the situation down by saying Baines is the taker, he'd prefer Baines to have taken it, but he's happy for Baines and Mirallas to discuss and decide.
I suspect he's pissed. I suspect the players are pissed at Mirallas too. He can't publicly hang Mirallas out to dry given our situation....but I wonder if the odds of Mirallas being sold in the next week or so has dramatically increased.
Based on the body language of the players when Mirallas kept hold of the ball to take the pen, I reckon Mirallas is a bit of a big-time charlie who thinks he's too good for us. Despite his ability, that kind of divisive attitude is not what we need in our situation.
Kevin Rowlands
116
Posted 19/01/2015 at 22:37:18
Question for our manager, if he had a hamstring problem like your alleging WTF was he doing taking the penalty? The lies and bullshit are really starting to piss me off now, very worrying next few months ahead for sure.
Neil Pickering
117
Posted 19/01/2015 at 22:38:30
John mate, every fucker in the ground and around the world watching saw what happened, so to deny it is a fucking slap in the face. He should have said Baines is pen taker and we will deal with it in due course. That's all, but he didn't. He takes the fucking piss this clown and we can no longer defend him. He's fucking wrecked those players and needs to go as of half an hour ago.
Nick Entwistle
118
Posted 19/01/2015 at 22:38:50
Brian, they put every man behind the ball and were positionally excellent.
Admittedly when they did make the occasional foray into our half there wasn't an extra man kept forward to attack with greater pace. It was if, 'ok, we're now allowed to lump it to Lukaku, that's what we'll do every time'. Hardly like the Newcastle match of last season.
But given they really did properly park the bus, having Messi on the bench wasn't an option. Could have done with some long diagonals to the far post, but then who do we have to get on the end of them?
Mike Corcoran
119
Posted 19/01/2015 at 22:41:09
Put himself in the a hop window last week, fire sale tomorrow. And RM?from pep guardiola to peppe mel in 9 months wtf
Joseph Clarke
120
Posted 19/01/2015 at 22:35:15
Ferguson should never be at the club, never mind giving him the managers job. Look at the his history when he was playing. The man is a cheat
Keith Harrison
121
Posted 19/01/2015 at 22:40:55
Not bad Dave, apart from the depression brought on by the finest displays since the dark days of Walter.
Aging (mostly) team walking into the (relegation) sunset.
Peter Jansson
123
Posted 19/01/2015 at 22:40:46
I hear some of you are talking about individual excellence.
I don't see any individual excellence at the moment (exept for Mirallas against west ham).
What we don't have is team excellence. And we don't have a manager that knows how to play his players.
It is to obvious that this team does not manage to play the play that Martinez wants to play.
Why do we keep on with this passing game? It is so Clear that we don't have the individual skills needed to play like this. Look at the Chelsea goals against Swansea. That is what we are trying to do. But seriously. Then we need to buy 15 new players.
When things do not work you need to play a more simple game. Get People in the Box, shove the ball in and fight.
Mike Green
124
Posted 19/01/2015 at 22:42:20
James #108 - correct. Crackers appointment.
Lee Boylan
125
Posted 19/01/2015 at 22:43:42
What a knob that Mirallas is... maybe he and Eto'o are the trouble makers that have wrecked our season. Feck em both off and Martinez needs to grow a pair or feck off with em.
Mike Oates
126
Posted 19/01/2015 at 22:41:32
If the fans carry on like this the club will implode. Every time Barkley got the ball the crowd were waiting to pounce on him, scream , jeer him , if I was him Id bugger off now. He's 21 playing in a team short of confidence, missing half the bloody midfield with injuries, people who can make things happen, McCarthy, a fit Pienaar and Osman who for all his failings can pass a ball.
Martinez took Belic off and got absolutely slated, he was the one who should have gone, Barry was playing well and we needed the likes of Naismith, Barkley, on the pitch who can score goals Besic cant - why the hell did the crowd react like they did.
Its poor , the team are poor, the manager is struggling and the crowd are baying for blood , what a club
Roman Sidey
127
Posted 19/01/2015 at 22:29:40
Some points:
We were lucky to get the penalty in the first place. It was a penalty, but it's not like we would have scored (or even had a shot) if Roger had not used his arm. Lukaku had effectively lost possession.
Mirallas was obviously way off the mark doing what he did. AND to add to that, if you have put yourself in that position with pressure, you can't then go and shoot the penalty across your body. Blast it straight-ish.
If Baines wasn't going to take the ball out of Mirallas' hands and take the penalty himself, he shouldn't have approached him at all. I think Baines definitely SHOULD have taken the ball and told Kev to fuck right off, but the last thing the bloke taking the penalty needs is someone standing there talking shit in his ear.
Naismith said Baines isn't the official penalty taker, but that he just takes them, and then Martinez said Baines IS the penalty taker. One of them is lying.
Jagielka is a coward.
Lescott "couldn't care less, to be honest" about Everton.
We need a new corner taker. I've just celebrated the third anniversary of the first time I said that.
Kone. Last time he played I said The Straq couldn't have been worse. I should have started with a better player comparison because there is a serious lack of players bad enough to compare with this bloke.
We've probably seen Mirallas' last game for Everton, which is a massive shame, and in a week where Eto'o is probably gone too, we need to get someone in of a level that can support our attack. Or just sign another free-agent looking for a retirement fund.

James Marshall
128
Posted 19/01/2015 at 22:43:19
Just back from the game. Shite again.
From the lower Gwladys I don't remember Foster making a save of note second half.
Martinez has lost it. Taking off Besic instead of Barry was beyond all of us. Same shit passing sideways, slow slow nobody shooting. Barkley is in bits. The kid offers nothing on or off the ball. Very frustrating and as a team were horrible to watch.
It's gonna be a long coupla months. I'm just glad that's my last game until May, or possibly next season. It's just too painful to sit through at the moment.
James Marshall
129
Posted 19/01/2015 at 22:43:19
Just back from the game. Shite again.
From the lower Gwladys I don't remember Foster making a save of note second half.
Martinez has lost it. Taking off Besic instead of Barry was beyond all of us. Same shit passing sideways, slow slow nobody shooting. Barkley is in bits. The kid offers nothing on or off the ball. Very frustrating and as a team were horrible to watch.
It's gonna be a long coupla months. I'm just glad that's my last game until May, or possibly next season. It's just too painful to sit through at the moment.
Neil Pickering
130
Posted 19/01/2015 at 22:43:51
And take Lukaku (aka Anichebe lite) with you. Potentially world class my fucking arse.
28 fucking million. I'm going to draw a fucking big cock on that fucking stupid Kim Jong Un picture hanging up at Goodison first thing tomorrow.
Who's coming?
Breandan Clarke
131
Posted 19/01/2015 at 22:21:47
For me the main blame still lies at the feet of the players - there is I feel absolutely zero confidence within that squad at the minute.
Too many times players slowed it down. Too many of our established players hid away or took the easy pass and isolated a team mate. Last season we played some great one touch, two touch stuff at pace and that is all about confidence. The poor atmosphere obviously doesn't help but Martinez has got a real issue on how to motivate this team and I know some may say that is of course his job but ultimately it is up to the players when they cross that white line onto the pitch.
I agree it's hard to defend some of RM's questionable decisions. I am baffled by the substitution of Besic as he was the only player moving the ball at speed and into space, while of course his comments to the media are frustrating. Sometimes a spades a fucking spade, but what should he say in reality - that we played shite, the players are shite or my philosophy is shite? People hated the defeatist attitude of a knife to a gun fight before a ball was even kicked previously. They hate this positive outlook. I personally dislike it but I commend him for trying to look at the positives when it is far easier and more to the point to just say we were shite.
Usually our bad form happens at the start of the season, albeit never this bad, and we are never this close to the bottom like we are now. I think the pressure is getting to the boys and the heads are dropping far too easy. Again some may say its upto RM to stop this but the players need to get together and have a really good look at themselves.
We have a warm weather break and then we play Chelsea, Liverpool and Young Boys. We usually raise it for the big boys. It may be just the tough set of fixtures to kick start some winning form. If not then things look very worrying.

Mike Hughes
132
Posted 19/01/2015 at 22:33:22
If we'd have swapped managers at half time, we'd have had more chance of winning that.
First time I've said it - but RM has got to go.
This is getting more desperate by the week.
We're sleep-walking to disaster.
25/1 for the drop.
No hope in sight. Crap performance and decisions.
He shouldn't wait to be sacked if he has any decency.
On the basis he's out of his depth he should resign now.

Brian Hennessy
133
Posted 19/01/2015 at 22:39:07
I don't agree with the idea that a manager cannot speak the truth when his player steps out of line.
What would be wrong with RM saying -
"Leighton is our penalty taker, what Kevin did was wrong, thats why I took him off. The matter has been dealt with now and we will move on to the next game".
If Mirallas cannot deal with that then quite frankly thats his problem.
Here is another point, look at the pressure Mirallas has now put on Baines. Even if we had a leader for a captain instead of Jags and he demanded Baines take the penalty look at the added pressure that needlessly puts on Baines.
Even now there will be extra pressure on Baines the next time we get a penalty.
The message Roberto has put out now is that if you step out of line here we will protect you.
I don't often agree with Carragher but him and Neville spoke the truth about what Mirallas did tonight.

Ernie Baywood
134
Posted 19/01/2015 at 22:48:39
Peter Jansson I agree. The problem we have is who is going to attack these crosses? I can't think of a single threat? We're not built to win these games.
Paul Smith
135
Posted 19/01/2015 at 22:35:15
I can't take much more of this spineless manager and all his backroom staff yes men. Besic was our best player by a mile and he gets dragged off and even then none comes on and doesn't get near the box.
This fella looks out of his depth and if we don't act quickly we are in big trouble I fear. Its time for Kenwright to grow a pair and show some leadership as there is none at the club whatsoever.
Jay Harris
136
Posted 19/01/2015 at 22:43:49
No shape, no sense of purpose, no motivation and not a single shot for their keeper to make all night and now player disharmony in the dressing room..
Is this amateur hour at GP.
This clown needs to go before the end of the transfer window and I don't mean KM.
Keith Harrison
137
Posted 19/01/2015 at 22:51:31
Mike 132 - 25/1 for us to go down?? Fuck me, I'll have some of that!!
Every cloud has a silver lining. Wait a minute though – you don't think M and M (Martinez and Mirallas) have been got at by an Asian betting syndicate do you???
Jay Harris
138
Posted 19/01/2015 at 22:54:56
And BTW we are the only premiership club to not win a single game in the last 6.
Milos Milenkovic
139
Posted 19/01/2015 at 22:47:13
Mike, crowd reacted like that because Besic, was by far our best player in the second half and willing to go forward and do something. I can agree with you that he is not a goal threat, but he did much more than Barkley, Naismith and Lukaku together and he looked hungry and eager for victory.
Ralph Basnett
140
Posted 19/01/2015 at 22:48:42
Can't be bothered writing anything, I will just rate them as follows:
Robles - nothing to do slow distribution 6/10.
Coleman - headless chicken 5/10.
Jags - so so, still prone to a mistake 6/10.
Stones - solid performance 7/10.
Baines - poor first half better second, 6/10.
Mirallas - Penalty, say no more.
Barkley - headless chicken, lost his way, 4/10.
Naismith - as above.
Barry - Good 60' then tired 6/10.
Basic - Good 70' then mysteriously subbed 7/10 (MotM).
Lukaku - shit first touch, no service 5/10.
Oviedo - Looked keen, 6/10.
Kone - ? 4/10.
Martinez, wrong team selection followed by bad subs. I never wanted him in the first ace, backed up my thinking with his performance.

Mike Oates
141
Posted 19/01/2015 at 22:52:22
Don't blame Jags, he was tieing his boots on halfway line first he knew Mirallas had put ball on spot, and you don't go up and have an almighty row in front of 2 million viewers. for all we'll ever know Jags might have made Martinez to sub the bugger at haltime .
Martin O\Sullivan
142
Posted 19/01/2015 at 22:52:38
Wells said Brian Hennessy 133
I would of hung him out to dry and let him come back with his tail between his legs, if he didn't then bye bye.
Anthony Lamb
143
Posted 19/01/2015 at 22:30:21
It is a most painful thing to say about a club one has supported for over 60 years but while there have been poor teams during that time since we last came out of the second tier and although there have been poor players representing the club I can honestly say that I have never before felt as though a "smell of death" pervades the team.
I did not see the game tonight due to family circumstances but my son phoned to give me run down on the sorry saga that seems to have been the case. During his sorry recounting of the game I am sure he quoted a statistic that said Everton had 190 passes in the first 20 minutes and managed four shots on target in the whole game! Whatever the truth or merits of statistics such as these the undeniable truth is that one simply cannot see this team beating anybody.
The next six games will surely cement the team in a serious struggle to keep out of the bottom three. Can anybody see any evidence of a wholehearted team commitment or indeed ability in avoiding such a scenario? There is a derby match coming up. Steven Gerard's last (thank god) when no doubt he will be truly relishing the thought of plundering this sorry excuse for a team. The manager, in whom I did have great hopes, may well need to be removed soon, he certainly needs to be removed from any more public statements as he is in serious danger of taking boiling points to unprecedented levels! I do not know what the answer is but I did write elsewhere that the only focus now should be aiming to survive. It is the one sole objective. Get out of this ludicrous Europa Cup, try and get out of the bottom three. If successful (!) then get out of the club those unfit for purpose either through limited ability, shocking levels of fitness or physical capacity to do their jobs, ludicrously obvious mercenaries on reported 㿼,000 per week and those whose age should have seen them excluded from anything other than a contract to the end of this season never mind the next three (fill in names at your leisure) . And if they do survive the season and intend to keep the present manager then sit him and his laughable team of assistants down to the most serious professional grilling they could ever imagine and leave him/they in no doubt that they have betrayed the trust of the club in allowing this shambles to occur. And make very clear public statements of such to the whole support base (who deserve to hear it) together with concrete proposals for change and that Everton FC is starting again from scratch. Now then......as for this sorry excuse for a Board of Directors, I will leave until after I have taken my tablets!
Mike Hughes
144
Posted 19/01/2015 at 22:56:55
Keith #137 - yeah Paddy Power can't have updated their odds. I'd put us at 7/2 for the drop. The point is, it was around 200/1 before Christmas and that was less than a month ago.
Joseph Clarke
145
Posted 19/01/2015 at 22:46:44
At the beginning of the season, Mirallas said he had changed his mentality, when discussing his improvement. He said he used to think that all he had to do was turn up for a game.
Hard to fathom how deluded some of these footballers are. But then we seem to have a deluded manager too. None of the truly great players think they just have to turn up, they know they have to work hard every game.
Time overdue for a taxi for Roberto. But I can't see it happening.
James Power
146
Posted 19/01/2015 at 22:53:42
In his interview Martinez said he liked the way we played in the first half because we were patient, but as the game continued, we "forced it too much". I think we need to force it more, show some urgency, some speed of thought both in and out of possession, I am struggling to see where we can pick points up. We can't beat West Brom at home, we can't beat Hull, we can't beat Palace, I am very, very worried.
Kieran Riding
147
Posted 19/01/2015 at 22:59:56
Losing the dressing room, recoverable.
Losing the crowd, your fucked.
Neil Pickering
148
Posted 19/01/2015 at 22:58:16
Just seen Mirallas signing autographs then outside goodison. Cheeky fuckin bastard.
Mike Green
149
Posted 19/01/2015 at 22:56:09
1 in 13 Jay......1 in 13......
Brian Hennessy
150
Posted 19/01/2015 at 22:57:12
Mike #141 - I quite clearly saw Coleman screaming at Jags to tell him what was going on well before Mirallas took the penalty and he bottled it by bending down a fooling with his socks/boots.
If this was a once off lack of leadership by him I wouldn't be saying it. The role of a captain is often exagerated but on this occasion he clearly should have stepped in.
Let me ask you this, if Jags wasn't wearing an armband and going up for the coin toss, can you tell me one time during the last 2 years of an incident that would have suggested to you that he was our captain?
Christopher Wallace
151
Posted 19/01/2015 at 22:29:04
If Banes had taken the penalty, we probably would've won 3 or 4.
Awful performance though. If all the lesser teams come and park the bus, and considering our defensive record, we'll lose more than we win at this rate.
Kevin Rowlands
152
Posted 19/01/2015 at 23:01:48
On another note, Besic and Oviedo have to be in the 1st eleven every game now, best players on the pitch by a mile tonight and hearts of lions, we need them to stay up!
James Marshall
153
Posted 19/01/2015 at 23:07:45
On a more positive note.... We got a point and we're now effectively 5 points off the relegation zone with our goal difference. Chin up chaps!
Mike Corcoran
154
Posted 19/01/2015 at 23:07:20
Or we'd have lost 2-1 like a gang of shithouses. I'm losing all sense of reality here
Kevin Tully
155
Posted 19/01/2015 at 23:04:34
Apologies, I haven't read through this thread, but in regards to what I want to say, it doesn't matter.
I was totally, and utterly disgusted by some so-called 'Evertonians' booing Ross Barkley after that substitution tonight.
I really couldn't put into words how low some 'blues' can sink sometimes. Fucking cretinous twats does not convey my disgust. Just fuck off and take your 'support' elsewhere.
Brian Hennessy
156
Posted 19/01/2015 at 23:08:10
Neil@148 - was it a fan looking for his autograph or a certain Mr Leevy with a contract...
Brin Williams
157
Posted 19/01/2015 at 23:09:29
Just as a matter of interest what happened with Sylvester Stallone?
Tony Hill
158
Posted 19/01/2015 at 22:56:57
I am sorry to say that this has to stop and Martinez must go. The substitution of Besic was absurd; Barry was not playing well at that point, as always he was finished after 60 minutes. If Barkley cannot handle crowd pressure - most of which he brings on himself - then he should not be playing.
Lukaku was appalling, same old miserable failure to hold the ball up and his lack of strength is a disgrace.
What can be said about the penalty fiasco and reaction to it? Utter chaos, and Jagielka's captaincy or woeful lack of it is a major factor in our demise.
As for a Martinez, I have tried to support him but cannot any longer and I am afraid that the recovery of commitment by the players in the last 3 games has disappeared again.
We do not play for 12 days and Kenwright must act immediately given our next fixtures. My fear is that he will do nothing.

Neil Pickering
159
Posted 19/01/2015 at 23:10:01
Brian #156 the way I feel right now I would personally drive him down to Spurs myself.
Steve Orchard
160
Posted 19/01/2015 at 23:02:41
James 129, I don't think it would've mattered who was on the pitch mate I just couldn't have seen us scoring after that pen miss. We're just too bloody slow in possession with players getting on the ball and looking up and seeing no movement around them at all.
I agree with Barkley his confidence is shot to bits, he doesn't get involved at all, he's just giving the ball to others instead. I think that was the saddest part of tonight's match – watching a kid who is a shell of himself frightened to get on the ball and maybe make a mistake. It's gonna be a long rest of the season.
Mike Corcoran
161
Posted 19/01/2015 at 23:09:17
When he's getting paid 2 to 3 years of a supporters wages every week you can understand the frustration Kevin.
If they were a band, only their mums would turn up to watch them
James Marshall
162
Posted 19/01/2015 at 23:12:52
Kevin, we were booing Martinez for not taking off Barry. It had nothing to do with Barkley stinking the place out again.
Brin, the Stallone thing was an embarrassment. He piped up on the big screen then we all sang a few songs about the RS for the cameras. I hope it makes the movie!
Kunal Desai
163
Posted 19/01/2015 at 23:13:46
Aside from the penalty, we didn't test Foster throughout the 90 minutes. That in itself is embarrassing.
Kevin Tully
164
Posted 19/01/2015 at 23:14:21
Booing your own player Mike? You've lost it pal, if you want to defend that shit.
Eddie Dunn
165
Posted 19/01/2015 at 23:03:24
Only saw the second half of this pivotal game ( playing 5-a-side) and could not believe the lethargy against a team that showed no intention of giving us anything to worry about.
It shows that if a side parks the bus, then we havn't got a clue what to do.
We looked good at West Ham and at home to Man City, as they tried to attack us and we could counter them in attacking open games.
However, once we have 2 banks of four in front of us, we freeze and run out of ideas. Lukaku is useless in these games, his hold up play is awful. He doesn't have a lay-off in him, and the wing backs seem to have boots full of lead.
As for the penalty, we have all had arseholes playing in teams who want to grab the glory. They are not team players and as someone said earlier, whatever then happens, the pressure on everyone increases. It showed, as Mirallas bottled it.
Martinez has got it wrong, subbing Besic again, what sort of an example is that? The lad is showing more guts than anyone else, and that's his reward?
It is truly depressing, just dreadful.
Will we show up against the bigger teams who will at least take the game to us?
We certainly have no idea how to boss the lesser ones.
Kevin Tully
166
Posted 19/01/2015 at 23:16:12
James, where I was sitting (the main stand) they were booing the lad when he touched the ball. The gobshites were on his case from the first minute by the way. Fuck all to do with the substitution.
Bobby Thomas
167
Posted 19/01/2015 at 23:16:02
Theres only 16 games left and 4 out of the next 6 are away.
I haven't expected us to win a game for months now.
This cant go on. Last time I remember a run like this Jimmy Gabriel was in charge post Kendal Mk 2. Or Walker.
Before Xmas I said to people in work we would be in the bottom three by the end of Jan .
He has to be sacked. He is going to take us down.
Jay Griffiths
168
Posted 19/01/2015 at 22:28:42
Dreading going to Croydon in two weeks.
Watched Gareth Barry dropping between Stones and Jags with Baines left and Seamus to the right every time the Baggies hoofed a dead ball. A back 5 to cope with W.B.A.!
There's nothing dynamic about Barry, Ross cannot deal with the weight of responsibility, the kid needs a break for his own protection. Bob should of been on this 2 or 3 games past. Nais is honest but surely lacking in the tight. Misplaces passes too much. Lukaku is trying but a lot of the service he's getting are fight balls. Hoping this period allows us to get Mc sorted along with Peanuts and Leon. We miss forward creativity. Please, please drop Barry and not Besic when Mc is ready. Our path is a hard one to tred but the one we are on now is well worn.
Kevin Rowlands
169
Posted 19/01/2015 at 23:18:05
Darren Griffiths has tweeted that Besic left the ground with a flip flop on his left foot which was injured, I guess it explains the sub, still not happy with the penalty bullshit and Martinez's explanation though.

Gavin Johnson
170
Posted 19/01/2015 at 22:52:15
Mike #132, It's the first time I've said it mate. Roberto needs to go! One of his biggest attributes last season was to get players the players onside and want to do well for him. He's lost that this season and it makes you ask what else other than positivity does Martinez have in his armour.
Like with Moyes at OT last season, the shadow of Fergie hung large and I'm starting to believe that Moyes's shadow looms over Martinez. I think the senior pro's in the team are questioning Martinez's off-the-wall ideas on possession and set-pieces in the same way as Vidic and Ferdinand responded when they were told they needed to defend like Phil Jagielka by Moyes.
So my point is that I believe that Martinez no longer as the full respect of his players
James Marshall
171
Posted 19/01/2015 at 23:19:56
Kevin, agreed there's no need for that. People in the lower Gwladys were frustrated at him but I didn't hear any booing. He was shit again though.
Roman Sidey
172
Posted 19/01/2015 at 23:15:38
Kevin Rowlands, or to look at it another way, if those two players play every game for the rest of the season, they will probably get the attention of better teams and leave. That's what kind of day this is; not even Oviedo playing well can put a smile on my face.
Ian Riley
173
Posted 19/01/2015 at 23:13:32
Mr Tully, quite right, booing Barkley is unforgiveable. The manager needs to take him out the side at present. All of us are expecting to much from him especially in a team lacking confidence.
However, Mr Tully the booing may be the realisation and frustration that going down is highly likely.
Brian Hennessy
174
Posted 19/01/2015 at 23:14:31
Kevin @155 - I think the fans frustration was with Martinez decision, they clearly can see that Barkley's confidence is shot and Besic was having a very good game.
I know booing him will not help but I will say this again,
- a good manager knows when it is time to take a player low on confidence out of the team for a few games. If Roberto was stuck for players I might uderstand, but it is glaringly obvious that you cannot play Lukaku, Barkley and Naismith in the same team.
Ross should have been put on the bench 2/3 games ago, I still think he will in time develop into an excellent player if he has the correct manager to guide/protect him.
Sadly RM is not that manager
David Barks
175
Posted 19/01/2015 at 23:24:15
When he took Besic off that was an intense reaction from the supporters. The camera picked it up very well showing the disgust at the manager for taking Besic off, and it caught Besic letting Martinez know that he did not approve. It's getting ugly.
Mike Corcoran
176
Posted 19/01/2015 at 23:24:33
Kevin Tully, I'm not defending the booing but I can understand that it would happen. I'm more an utter under me breath, groan sort of fella.
Kevin Tully
177
Posted 19/01/2015 at 23:24:52
Can I make myself clear here? AFTER the substitution, and when Barkley had possession, there were pricks booing their own, young, local player. A player they loved to bits a few games ago. Horrible cunts is the only phrase worthy.
Neil Pickering
178
Posted 19/01/2015 at 23:20:08
Upon reflection I actually feel really sorry for the players tonight. Different game if that pen is converted, and it obviously affected them all second half.
I am on my 4th cornetto as I type this.
Stu Barnes
179
Posted 19/01/2015 at 23:07:17
Dear bobby
Please please take Ross out of the firing line. Give him a breather, don't destroy his confidence, his career and his rapport with the fans. And while you're at it, take a long hard look at yourself in the mirror.
Yours sincerely
35,000 bored, annoyed, disinterested, frustrated and pissed-off fans.
Ernie Baywood
180
Posted 19/01/2015 at 23:14:24
I don't see an issue with Martinez, after the game telling us what really happened. Which makes me suspicious.
Is it unrealistic to suggest that KM could have had a conversation with RM along the lines of "now Leighton has missed can I go on penalties?" and either got a positive answer or a wait and see answer?
Maybe Roberto didn't drag him... maybe Kev has seen his arse with Roberto. And now Roberto is hiding.
I'm not saying that's what happened but we really don't know until someone tells us.
What's certain is that you don't have a debate before a penalty - it's all sorted out before the game.
KM's miss is a product of that stupid debate. Someone takes responsibility for that... so who is it?
Kieran Riding
181
Posted 19/01/2015 at 23:29:29
Roberto saying we miss Pienaar and Osman. Bantz.
Jim Hourigan
182
Posted 19/01/2015 at 23:04:06
Absolute garbage - pass it square, keep possession and do nothing seems to be his one and only philosophy. Coleman is terrified of either going past the opposition or putting a cross in, I suspect his lack of a 'football grounding' means he takes Martinez's possession mantra to extremes. Barkley is a pale shadow of last year and needs a rest. Naismith shows what he really is - a runner and chaser with no quality on the ball and who can't pass water let alone a football. Besic is a grafter but doesn't know how to play an attacking pass. Barry is the same but slower and more cumbersome.
However, the real problem is Martinez and we are sleep walking into relegation. Its Wigan all over again, keep possession and pass the ball but get beat regularly. He wants us to play the Spanish way - what he manifestly fails to realise is that passion and commitment is the English way and I for one want my team to show drive and passion not pass the f....ing ball 200 times for no purpose whatsoever other than for its own sake. If he wants Spanish football there are plenty of flights from John Lennon and the sooner he catches one the better.
Michael Kenrick
183
Posted 19/01/2015 at 23:28:46
I don't think there's any call for that, Kevin (#177). Booing has to be a personal choice. It's also perhaps the only way many have of expressing their opinion on proceedings.
It's shocking what's happened to Ross. The fans who are booing are, I believe reacting to that, and to a gameplan, tactics, instructions, whatever it is that has destroyed the lad's confidence, zest and verve to run at the opponents.
Steve Barr
184
Posted 19/01/2015 at 23:09:39
Let's dispel this desperate concern from some posters regarding "who can we recruit" if Martinez is sacked?
Anyone will do based on our recent past. No matter who we have employed we have won nought since 1995. 20 years of nothing for such a great club!
In fact, I hate to say it but Everton has significantly underperformed over the past decades given our history and standing in the game.
My opinion is that these charlatans who earn mega pounds in the guise of football managers/coaches are overestimated in the extreme.
We the paying public play into this adoration, just like the fools who religiously watch reality TV programs. By doing so we elevate these nomarcs to a level whereby their opinions and dubious talents gain some unjustified level of status and gravitas.
I'm fed up listening to the drivel these so called "great coaches" come up with in defence of their profession. So clearly self serving, and we the paying public have fallen for it.
I would concede that in years gone by a coach/manager was King, probably up to the early 90s but now player power rules and our players should be able to lead us out of this mire and kick on.
The penalty fiasco today is a fine example of our total lack of leadership on the field. Something we have lacked for years.
Put it right and we might begin the climb back to the top.
Kevin Tully
185
Posted 19/01/2015 at 23:31:17
"I am on my 4th cornetto as I type this."
Thanks Neil - possibly the finest line this season. Cheered me up mate. A little bit.
James Joseph
186
Posted 19/01/2015 at 23:04:05
Just got back from the game to find the predictable reaction on here. Mirallas goes from hero last week to zero tonight. Personally, I'd never slag any player off for having the bottle to take a penalty and I couldn't care less whatever Carragher and Neville were spouting at half-time. Mirallas had the balls to take the first one in the shoot out last week and scored, had the balls to take it tonight and missed. That's football. Leighton missed one at Old Trafford - like this one, right on half time - then squeezed a dodgy one under the keeper's body at Sunderland. He's tended to put all his recent pens in the same area so there's a possibility he might have missed tonight too. Still, I agree that if he wanted to take it he should have; from where I was in the ground all I saw was him speak to Mirallas and then pat him on the head.
All of that shouldn't disguise the fact that we had to sit through another sterile, toothless performance. No lack of effort from the players but a distinct lack of confidence. Barkley looks totally shot, not helped by the crowd getting at him every time he plays a square pass. Lukaku must have a bad toe again as the ball kept bouncing off him, Naismith gave his all as usual but seemed to have two left feet. Besic was terrific until he was hauled off - can only think the booking a minute earlier might have influenced the decision, as I don't think he can stop himself diving in if he sees the ball there to be won. Barry was better tonight than of late, but then West Brom didn't have anyone with any pace bursting past him. Stones looked good but the game was crying out for a bit of invention - how we miss a fully fit Pienaar. I can only remember one occasion when someone actually ran at the West Brom defence - Baines in the first half and he won a free-kick on the edge of the box - taken by Mirallas who tried to repeat the magic of last week - something which, fatally, he tried to do again on the stroke of half time.
Neil Pickering
187
Posted 19/01/2015 at 23:32:33
5th Cornetto now..
Tony Hill
188
Posted 19/01/2015 at 23:24:17
I am a great fan of Barkley but he has been very poor for a very long time. Whether that is due to confidence or not hardly matters at this stage, he is contributing nothing and must be dropped.
The display tonight convinces me that the manager is just paralysed. If Besic was injured it still leaves a need to explain why Kone was introduced at 80 minutes when Barry had been dead on his feet for 20 minutes before that, as was Naismith.
Let there be no doubt now that we are in the shit. Does anyone, given that performance tonight, expect us to beat any other team in the PL? I don't. We have Liverpool, Chelsea and Arsenal approaching. If BK doesn't act, I think we will be relegated, I really do.
Charlie Burnett
189
Posted 19/01/2015 at 23:26:38
The questions I have to ask is who would've said Kevin would've missed? I could of bet my house on it. He is one of the advance players..... Jags has never been a captain at all but we can't blame him for the mistake.
Baines does ask "Are you sure?" then says "Go on then," and pats him on the head, so that to me is permission.....
I'm getting fed up of RM: he keeps defending players, Barkley he always defends, Stones was in the wrong driving the ball out of defence but RM defends him next day.
We can see there was a problem today with the penalty but RM defends him – this is why the players are controlling the team: he hasn't got any balls.
I watched Man City and West Ham: when we got a free kick, it was all different takers ,like as if it was "Go on, you can have a go now!" — it isn't kids football....
Also I think the wage bill upsetting people: Eto'o on 㿼,000 hardly kicked a ball... players must be thinking WTF.... I read getting him off the wage bill saves us ٤mil in wages – that's a joke.
West Brom parked the bus we all knew what was going to happen.

John Williams
190
Posted 19/01/2015 at 22:39:41
Again not enough quality to breakdown teams who come here with no attacking intent whatsoever. Barkley looks totally shot and offers absolutely nothing going forward or anything else. Naismith had a stinker, has no class no pace and is not a premiership player in my eyes. Problem is no one on the bench to replace these two because they wouldn't get a shirt if there were. No game changers to come back ... Pienaar, McGeady Atsu...fuk sake!!!!
This some people say is the best squad we've had in years and Martinez we've got quality in depth.Take Mirallas out the equation ,full backs nullified
we are very average going forward with no pace or attacking guile.
I would love to see us bring in at least a couple of players in this window but can't see it . Maybe though Martinez might try and bring in a defensive midfielder the clown he is.
Denis Richardson
191
Posted 19/01/2015 at 23:18:50
Regardless of the penalty miss, we didn't look like creating a decent chance against a team that came to get a point. Attacking wise we had very little to offer and most of the team looked a shadow of their normal selves.
Main question is how the fuck do we change this? The likes of Besic, Baines (apart from corners), Stones and Mirallas (before the pen) looked to be trying to get at WBA but too many others were poor or just didn't even look like they wanted the ball or knew what to do with it.
Barkley for his own sake needed to be benched. Why the manager couldn't see that is beyond me. Naismith was very poor but played the full 90 instead of being taken off. Coleman seems like a completely different player to last season. WBA came to park the bus so did we really need two DMs from the start?
Right now I'm more worried that Martinez doesn't have what it takes to drag the team out of this slump and just doesn't know what to do. 11 days 'till the next game - BK's got a decision to make but I just cannot see him sacking the manager. Having just given him a 5 years contract 6 months ago, worth supposedly 3m a year (admittedly from the daily mail). Even if he's 'only' on 2m a year and not 3m, it would cost the club 9 million quid to sack him now! That's presumably 9 million reasons for BK to pray that he can turn it round. (Even though the cost of relegation would be catastrophic.)
It's looking rally grim at the minute.....I'm glad we don't have a game this weekend to be honest.
Kevin Tully
192
Posted 19/01/2015 at 23:33:15
MK - I can honestly say I can't recall one of our own being booed during a game? Totally surprised you would even dream of defending that?? Especially a young player who has come through the ranks.
What's happened to us all?
James Marshall
193
Posted 19/01/2015 at 23:35:44
I'm of the opinion that we're better against the better teams because they attack us, so all the talk of us struggling against Chelsea, Arsenal and the RS are unfounded IMO. It's against the shit teams we struggle more.
We're effectively 5 points off the relegation zone with our goal difference but I'm probably the only person still not that worried.
David Cornmell
194
Posted 19/01/2015 at 23:33:00
This bad run has started to assume a life of its own. Football is a game of momentum and we all know in which way our momentum is going.
The players look like they've been beaten before the game starts. Martinez looks lost, and I've a hunch there's a schism between the Moyes brigade and those brought in by Roberto.
Jagielka's equaliser at the tin mine was supposed to kick-start our season. Romelu's cup equaliser was supposed to kick-start our season. The Citeh draw was supposed to kick-start our season... sensing a pattern here?
We're in it neck deep.
Brian Denton
195
Posted 19/01/2015 at 23:39:04
Stu (179) the fans may be UNinterested, but the present shambles leaves us far from DISinterested. The two aren't the same. Uninterested means 'does not interest us' which is probably true of our current play; disinterested means 'is of no concern to us' which is hardly the case......
Colin Gee
196
Posted 19/01/2015 at 23:26:22
Don't know where to start.
Barkley needs to be taken out of the team for his own good, far too much is expected of him, the crowd is starting to get at him, I watched him closely tonight, he still wanted the ball, but everytime he gave it away there was moans and groans, although to be fair to the lad, half the time he had three men around him and there was no one to pass it to...
As for the Besic sub, it should have been Barry that was taken off, Besic was apart from Stones our best player tonight, listening to the phone in on Merseyside in the car on the way home and one caller summed it up for me Gareth Barry has turned into Phil Neville!
Why did Mirralles take the pen? Baines said something to him as he walked up put the ball on the spot. Couldn't see proper as it was down at the Park End. If Baines is the penalty taker then he takes them, if the two players are arguing over who should take it the Jags is Captain, he should be bollocking Mirralles and telling him Baines that he is the penalty taker.
Looks like the crowd is turning against Martinez, not heard a Substitution booed like that since Moyes brought on Tony Hibbett against Spurs when we were 1-1.
The whole team looks leaderless, next three games Palace A, RS H and Chelsea A, can you see us getting anything out of them? The way things we are going I can't.
Kenwright has now go to make the decision that could make or break the season, either he sacks Martinez now and brings in someone, or he sticks with Martinez and gives him some money to spend in the window.
No point sacking him if we lose our next three games.

Michael Kenrick
197
Posted 19/01/2015 at 23:37:08
Sorry, Kevin, but booing is a reaction that some Everton fans do of their volition. If you don't accept that for yourself, I can understand that.
But I've just found your earlier post (#155) which I find totally unacceptable. We do not tolerate anyone telling Evertonians they are "Fucking cretinous twats... Just fuck off and take your 'support' elsewhere" — whatever the circumstances or excuses offered, that is unconscionable.
Dave Abrahams
198
Posted 19/01/2015 at 23:01:09
Baines, Jagielka, Besic, Oviedo, had good games but everything was done without any plan whatsoever all individual, no movement, the energy of the last three games was gone, everything was flat a nd even though WBA came for a draw and parked the bus we were very, very poor.
It is so obvious that Barklay is suffering a complete lack of confidence, he shouldn't be playing, he looks like he is playing with blinkers on.
Something has to happen soon, we need players brought in now, this squad is small and it is patently obvious we are going to be very close to going down if everything stays as it is now.
Andy Chase
199
Posted 19/01/2015 at 23:40:21
Just returned from the game. Agree the booing of Barkley was terrible, however he pulled out of every challenge and seemed scared of getting hurt in a tackle. Can forgive him passing it sideways due to a lack of confidence- can't accept him not putting a shift in.
I can't understand how Barry gets a game and the reaction of the crowd when RM sub'd Besic instead spoke volumes.
Lose against Palace and I'm firmly in the Martinez out camp!
Kevin Tully
200
Posted 19/01/2015 at 23:42:30
Can I ask - does any Evertonian who posts here agree that booing Ross Barkley in possession is in any way defensible?
Simple question Michael. If anyone agrees with your standpoint - I would be shocked mate.
Kevin Rowlands
201
Posted 19/01/2015 at 23:38:06
JJ #186, I think you need to look at the footage surrounding the penalty incident mate, Baines, who btw has scored15/16 penalties was obviously not happy as was the case with a lot of the other players, Mirallas was well out of order. I agree with your other points though btw.
Gavin Johnson
202
Posted 19/01/2015 at 23:41:27
James #186 It's not about Miralles having balls to take the penalty. We have a designated penalty taker who has missed 1 in 15. So why would Miralles want to take it?? It's because he's a player plays for himself and doesn't play for Everton insofar as he just wants to put himself in the shop window. Players like that don't care if the team wins, losses or draws as long as they score a goal or have a man of the match performance.
Kevin Tully
203
Posted 19/01/2015 at 23:45:30
What can I say MK? I was totally disgusted. Worse than any racism, sexism or homophobia. Am I allowed to be upset by a crowd wanting to ruin one of our best young players?
Neil Pickering
204
Posted 19/01/2015 at 23:40:54
On Barkley, I firmly believe if your manager is spouting off every 5 mins about you being 'phenomenal' and 'the best player England have produced' it does you no Favours at all in moments of adversity such as what Barkley is going through now.
I personally have never rated him, but I hope I'm wrong. So 'Manuel' aka Martinez needs to take 'Russ' out the firing line for a month or so otherwise he will be playing for Marine in 2 years. Personally I think we should sell to whoever is interested.
Oliver Molloy
205
Posted 19/01/2015 at 23:21:30
There is no way Besic was subbed unless it was necessary. A few minutes before he came off,he didn't look comfortable.
Somebody on here said he left the ground in flip flops if that is a clue for us.
Mirallas was only thinking about himself,and not the team with the penalty.
Decent player but not as good as he thinks he is,and not at all consistent. If we get good money for him I say take it.
We are shot in confidence right now,and it looks like it will be a roller coaster to the end of the season.
Marcus Kendall
206
Posted 19/01/2015 at 23:28:50
If Andy Gray is interested I'd give him the job personally. Untried yes but his enthusiasm is what is needed within our club at the moment. Was never one who wanted Martinez in the first place but was pleasantly surprised last season. But any manager who is capable of relegating a squad with players like Stones, Baines, Coleman, McCarthy, Mirallas, Barkley, Lukaku, Besic, jagielka etc is clearly out of his depth!
Kieran Riding
207
Posted 19/01/2015 at 23:47:54
I agree with Kevin Tully, but the sub of Besic is what changed the crowd tonight and heaped even more pressure / expectation on Barkley.
Brian Hennessy
208
Posted 19/01/2015 at 23:42:16
James @ 193 , I wish I had some of your optimisim.
We had everything in our favour tonight.
Practically a full strength 11 except for McCarthy, almost all the teams below us dropping points at the weekend, a big crowd at home in Goodison – and that was the best our manager could get from his players.
Apart from the Mirallas penalty fiasco, I think the most shocking thing tonight was it took Martinez until the 79th minute to make a change when we were creating nothing.
Martinez is out of his depth here.
Gavin Johnson
209
Posted 19/01/2015 at 23:48:14
Sorry typo error, meant, who plays for himself. It's been a long night.
Tony Hill
210
Posted 19/01/2015 at 23:44:29
James 193, the problem is that we've been poor against the top sides too, apart from 60 minutes against Arsenal. Chelsea was a horror show, we got out of jail against the RS, City should have been out of sight last week in truth.
I wish I could share your serenity, we just don't look capable of putting sides - any sides- away and in our position that's a very big worry indeed.
Charlie Burnett
211
Posted 19/01/2015 at 23:49:23
I believe basic was chosen because he got the yellow; RM prob didn't wanna chance it.
Peter Z Jones
212
Posted 19/01/2015 at 23:36:24
This team has underachieved more than any other I've supported in professional sport maybe ever, unless we go on an improbable 16 match win streak or something. Also, Mirallas can fuck off. Most successful penalty taker of the last decade on the team in Baines and you want steal that away too, as if undeservedly taking away his free kicks earlier wasn't enough. But by all means, earn that 'dream' move to Spurs or whatever. Jackass. Martinez subbing him off immediately might have been the first bit of management he's done all season. Unreal this team.
Kevin Tully
213
Posted 19/01/2015 at 23:52:33
Fair crack, MK - I'm blazing about the lad's treatment tonight. Honestly, the crowd expect him to do so much every time he gets the ball. It sends me crazy.
Kieran Riding
214
Posted 19/01/2015 at 23:54:01
Peter, even if we win all our remaining games, we still won't have as many points as last season.
Gavin Ramejkis
215
Posted 19/01/2015 at 23:45:03
Regards booing its the same as respect, its not a god given right it has to be earned, you play shite, pull out of tackles continually waste opportunities or play into blind alleys then you will get the wrath of guys who earn less in a year than this kid earns a week kicking a football about.
The sub of Besic was the last straw for me with Martinez, he has lost the plot, he keeps on with his OCD madness
Jags not comfortable playing the ball out from the back and is millimetres from fucking it up royally at least once every game
Baines cant get a ball past the first man from set pieces and corners yet Garbutt cant get a game and will walk - a gift for another team
Coleman doesnt look arsed because Martinez has removed the winger from in front of him he needs to do his job
Barry gets a game no matter what and no matter how shite he still never gets subbed
Barkley has lost it, he needs dropping to sort out his head or use him sparingly as a sub BUT NOT EXPECT HIM TO WIN A GAME SINGLE HANDED
Naismith all over the pitch turned from an attacking mid to a useless utility player chasing shadows and making too many mistakes
Lukaku gave us a burst of what he is capable of playing him facing the goal running at decent passes reverted to playing with his back to goal and looking utterly garbage
Eto'o given away but don't worry we have Traffic Kone and McAleny to replace him - seriously WTF
Wingers, how can you play a lopsided game with one or no wingers and have wing backs on the pitch expected to do anything of merit beyond leaving the centre halves abandoned to their fate on a counterattack
Where do the points come from? I cant see any points if we cant even turn up for games like West Brom or Hull or other shite we have had to endure, Christ I thought Gollum's football was tedious this is samaritans inducing
Rob Dolby
216
Posted 19/01/2015 at 23:01:10
Frustrated. Roberto is putting the noose around his own neck and standing on the chair. Just for once come out and say something the fans want to hear. I have no doubt that Mirallas got bollocked at half time and then spat his dummy out.
RM only had to say to the cameras that Baines is Number 1 and that he isn't happy with Mirallas, but he didnt. When asked about the performance, again he gave us some flannel about being good in the 1st half but forcing it in the 2nd half, that isn't good enough at home to a poor WBA.
Any team in the top half of the table will beat us in this form. There isn't any direction on or off the pitch, there isn't any will to win. There isn't any will to win the 1st ball never mind the 2nd. We are in serious shite with this fellow. If we suffer a heavy defeat against Palace on Saturday it could be taxi for Roberto time.
I don't even know who could I want to replace him but whoever it is will wont spout as much shite.
Kevin Rowlands
217
Posted 19/01/2015 at 23:49:44
Not defending the booing of Barkley, but Martinez did him no favors when publically saying he was going to be an England all time great, he's not even anywhere near an Everton all time great and will never be as good as Rooney who could have been an Everton legend, sigh, sobs.
Paul Smith
218
Posted 19/01/2015 at 23:37:20
I said it about the Boxing Day performance. There was an air of resignation about the gaff (Goodison), possibly due to the lack of belief permeating the fan base passed on from performances by the team. The chickens are coming home to roost, re: lack of investment, bad buys, old squad, etc. I have faith that salvation will come in the form of the present incumbents of the bottom 3 slots and maybe Villa, being worse than us.
Mike Green
219
Posted 19/01/2015 at 23:49:37
Oliver Molloy on Mirallas - "Decent player but not as good as he thinks he is, and not at all consistent." Spot on – and you can add injury prone to that.
He was great against West Ham in the week but for me regularly flatters to deceive – over his time with us has never consistently delivered on the promise of his significant talent.
Fur coat, no knickers.
Phil Gardner
220
Posted 19/01/2015 at 22:07:06
Toxic atmosphere at Goodison tonight I'm sad to say. Things are clearly not getting any better. At least the customary breakaway winner for Albion never came... if they'd been a little more adventurous though I've got no doubts that it would have done, and that really is how sad our state of affairs are looking.
I just hope that there are 3 sides worse than us but I honestly feel it's gonna be touch n go for the rest of the season. Gutted.
Peter Laing
222
Posted 19/01/2015 at 23:57:11
1 win in 13 games, the writing is on the wall. I have backed Martinez throughout this terrible run expecting Everton to turn the corner, get a bounce and extricate itself from the 'false position' the pundits would have us believe we are in. Such a poor run of form would not be tolerated at any other Club with or without aspirations.
James Joseph
223
Posted 19/01/2015 at 23:54:09
Kevin (201) Ok mate I accept that Baines wasn't happy - couldn't see that from my seat. Like everyone else I expected Baines to take it and only realised Mirallas was taking it when I saw the two talking and Leighton appear to pat him on the head.
Gavin (202), you might well be right about Mirallas - I wouldn't know whether he's more interested in himself than the team as I've never met the man - who knows how any of these millionaires think? I will say, though, that all players, especially strikers. need a bit of arrogance and it's sometimes a fine line between that arrogance being for the benefit of the team or spilling over into selfishness.
Brian Hennessy
224
Posted 19/01/2015 at 23:50:21
Kevin @200, I do not accept that any player should be immune from booing at some stage in his career.
I was screaming at Ross through my TV on several occasions tonight, particularly in the first half for his lack of effort and I agree with an earlier post on here that he did pull out of quite a few tackles.
Fans pay a huge portion of their income supporting their team. The minimum they ask for is effort and if they feel that these overpaid players are not giving their all, I believe they have the right to voice their feelings, if this means booing a player. then so be it.
For the record I believe Barkley's perceived lack of effort is because of his lack of confidence and I repeat, Martinez is 100% to blame for not taking him out of the side for a few games.
He is ruining this lad
Michael Kenrick
225
Posted 19/01/2015 at 23:56:58
Kevin, it sounds like you are conflating different episodes of booing. My take was that there was loud booing when Besic was taken off. I believe that was directed at Martinez's decision to take off one of the more committed players (apparently he may have been injured). Nothing to do with Barkley.
You've mentioned fans getting on Barkley's case for not driving forward with the ball. These are two different things, surely?
And just to clarify: some Everton fans boo when they feel so inclined — it's a fact of life. And they get on a players case when they feel the need. Personally, I think it is their right to do so as paying customers. I'm sorry if that upsets you but you're not going to get them to change — certainly not by abusing them verbally and telling them to "fuck off". THAT is totally unacceptable.
Paul Hewitt
226
Posted 20/01/2015 at 00:04:01
Anyone who booed Barkley hang your heads in shame.
Charlie Burnett
227
Posted 20/01/2015 at 00:08:25
㿨 mil? I'll take him there myself! He is 2 years behind, like Moyes always said. Half the player Rooney was at a young age

Lewis Barclay
228
Posted 20/01/2015 at 00:05:22
We really are quite shit at the moment. Funny, we probably need to be playing Europa League games again to start winning!
Darren Hind
229
Posted 20/01/2015 at 00:09:06
I heard no booing for Barkley but the manager was getting slaughtered from those around me in the main stand especially when he dragged Besic off.
John Malone
230
Posted 19/01/2015 at 23:44:42
What did people really expect from a Tony Pulis West Brom battling for points it was always going to be one of them were we needed a piece of magic or a bit of luck to get in front we got the pen and blew it!
As for the fans what a disgrace! It's like people now go the game and can't wait to moan rather than cheer, rally and support their own we are so quick to get on the players' backs when they were plugging away trying to find a way through against a bank of nine men!
The treatment of Ross Barkley was disgusting, he's a young Evertonian heaped with too much pressure and expectation he's now lost his confidence and couldn't wait to pass the ball square and too scared to pull the trigger in case he missed, to boo your own is bang out of order and is counter productive. The lad needs resting but there is no one else due to injuries and shit signings!
What has happened to Martinez's tactics and subs that worked so well last year? I wasn't convinced last year and I'm definitely not now we are well and truly in the shit with this guy!
Kieran Kinsella
231
Posted 20/01/2015 at 00:05:19
The way we play, tip-tappy stuff that's sloooow isn't good enough to beat the top teams. On the other hand, the mediocre teams can contain us by shutting up shop. Either way, we're not winning any games. Looking ahead we have Ars, Che, Liv and a resurgent bogey team CP. I'm thinking maybe 2 pts from 4 games which would leave us with 25 from 27 games. Five wins all season is simply unacceptable. Clearly RM has lost the team. Garbutt said no one knew the tactics or the team until they arrived at Goodison. Osman said "if I was manager I'd practice set pieces" but RM doesn't. Naismith and Lukaku have both said they asked RM to go more direct. Mirallas showed his thoughts on this things tonight when he defiantly took the penalty. Poor Ross Barkley has now become the boo boys new favorite because RM built him up as the next Maradona while he's looking like a poor man's Ravel Morrison. McGeady? what a signing he was. 28 y/o and unproven at this level. Can't teach an old dog new tricks. Eto'o? he quickly saw the ship was sinking and Howard's gone off the boil ever since Chris Woods left. Then we have the much vaunted youngsters. The not so young McClenny is 22 and looks like a tier 3 player. Long and Browning can't get a game. Lundstram and Green have evolved into second rate players and so RM builds up 16 y/o "diamonds" like Dowell who looked like a rabbit in the headlights. All style and no substance. Next he'll be putting a sun tanning bed in his office and painting RM on a parking spot. Shame Mark Ward and Big Nev aren't there to knock him off his perch.
Kevin Tully
232
Posted 20/01/2015 at 00:09:00
Another clarification (am I talking Dutch?)
There were 'Evertonians' booing Ross Barkley, after Besic had gone off. This was when the player was in possession. Not because of his choices with ball. Admittedly, not hundreds, but definitely audible, every time the ball came to the player. What is that about?
Peter Barry
233
Posted 20/01/2015 at 00:09:32
Phenominal
Colin Malone
234
Posted 19/01/2015 at 23:45:11
We are trying to walk the ball through 11 men time and time again, we have seen it so many times this season,with little success, as everyone has said, we have been sussed.
Why do we keep on doing it? Because we have no one to win the ball in the air, in the oppositions box. We need a big strong Drogba type forward as well as Lukaku.
By the way we are missing Osman.
Kieran Kinsella
235
Posted 20/01/2015 at 00:17:39
Kevin I heard it too every time Barkley had the ball
Lewis Barclay
236
Posted 20/01/2015 at 00:19:37
Sack Bobby and getting Koeman in from Southampton.
David Hallwood
237
Posted 20/01/2015 at 00:13:39
Kieran#231, can't argue with anything you've said; I was at the game tonight and its hard to wonder what the fuck is going on. Watching Chelsea destroy Swansea on Saturday, took me back a year ago when some of our approach play was as inventive and exciting as that.
Pienaar aside these are the same players and they just look like shadows of their former selves. As the tagline put it a dismal draw with the only plus point a clean sheet-mark you that wasn't very difficult against a team that didn't play football. A frustrating time and whare's the next win coming from
Colin Glassar
238
Posted 20/01/2015 at 00:10:19
Dear Meg,
I've defended Martinez to the hilt this season but Christ, that was awful tonight. It's too late to go into any detail about how upset I feel so I won't.
Yours truly,
Shattered in Bromley.
Paul Smith
239
Posted 20/01/2015 at 00:18:37
Robbie Earle sums up the penalty saga here. Got it spot on for me (poor pun I know)
Victor Jones
240
Posted 19/01/2015 at 23:41:49
So much for the bright new dawn that people thought would happen after a few better performances of late (albeit we did not win). I've seen these slumps before (as we all have). But this one seems different. This one is unfolding before our eyes with a so called gifted manager and with supposedly the best squad of players we have had for years.
Tonight West Brom came looking for a draw. And that was their prerogative. We couldn't break them down. But this season we can't break any team down. Cannot even get a penalty right. Bloody awful.
Did I say that Martinez was a gifted manager. Shoot me if I ever say that again. He needs to be removed now. Nobody can defend this run of form. And he doesn't seem to know how to turn things around. We are very close to becoming Wigan Mk 2.
Crystal Palace have been watching this rubbish tonight. And they can score the odd goal. I am worried.
How long should Martinez get to turn this around? IMO he should be shown the door now. Get someone in to stop the rot. But who do you get I here people saying. Who cares. Can another manager be any worse right now. Give D.Ferguson a go. Anybody but Martinez. Before it is too late. No more excuses for this man, and no more talk about how well Everton did last season. That's gone.
I also said before this rubbish tonight (as did many others)that Barkley and Naismith should be rested. But Mr.Martinez knows his stuff.
Here's hoping that Martinez and his Wigan backroom staff get the boot. Because we are now in a dog fight and I just don't trust Martinez to do the right things for Everton. Expect the same old shite to prevail in two weeks time. ps: We could have done with a little guile from a wily old head tonight. But for whatever reason Eto'o is on his way out. Martinez would probably have played him alongside Barry anyway.
Michael Kenrick
241
Posted 20/01/2015 at 00:16:22
Kevin, I think by that point of the game, the booing was an expression of total and utter frustration. If they were booing the lad, it was because he has been simply and sadly ruined compared with the tremendous potential the lad has.
Yes, we all know booing the lad doesn't help him get through this... but – in the context of the game and what Martinez has done to him, and to this very talented group of players – I personally feel it is understandable.
What is not understandable to me is you questioning the allegiance of Evertonians who, like you, paid to go to the game, just because they express their frustrations in different ways.
Jamie Sweet
242
Posted 20/01/2015 at 00:25:21
I'm absolutely dreading the derby. I think I will just hide under my bed for 24 hours on 7th Feb.
Darren Hind
243
Posted 20/01/2015 at 00:27:11
Kevin Tully.
Just to Clarify, I was not disputing your account of what went on I was giving an account of what was happening in the main stand.
You have no reason to lie and if you say their were people near you Booing Barkley, I believe you are saying it because it happened
Tony Byrne
244
Posted 20/01/2015 at 00:11:40
I went to the game tonight,I am now fully convinced RM needs to be replaced asap, the usual tippy tappy bollocks with no urgency,tempo or any real forward penetration.
WBA came for a point & really didn't have to work that hard for it.
The penalty "fiasco" was just as embarrassing as the half time entertainment, which funnily enough created more atmosphere than our team served up all game.
Besic being brought off really summed up the ineptness of our manager, if I'm not mistaken,Besic had more shots at goal tonight & was our MOTM by a distance. Why not Barry???
I witnessed something for the first time in many years going to goodison tonight, when needing a goal & the injury time board goes up, a roar goes around the ground willing the players on, not tonight, the roar was replaced by the sound of seats being vacated with hordes heading for the exit,it was sickening to be honest,losing the crowd is a major no no.
Can anyone see us getting any points in the next 3 games under this clown, I can't.
Kevin Tully
245
Posted 20/01/2015 at 00:30:06
I think Denis Straqualursi was possibly the worst player I have ever witnessed wear a Blue shirt in the Premier League. (We all have our favourites)
Boo him during a game?....absolutely never. But that's just me.
Michael Winstanley
246
Posted 20/01/2015 at 00:09:13
Amazing to see how much influence Pienaar and Osman have had on our team over the last few years.
The Baines and Pienaar partnership was a joy to watch at times. Osman for all his critics can keep the ball, pass it forward with purpose and gets the odd goal. They know how we play.
Today we've witness the farce of our penalty. No leaders on the pitch, what was our captain doing? Leighton Baines, you bottled that. When the rest of the team look for leaders on the pitch they look to Baines and Jags. Neither of them come out in a good light for me. I'd make Coleman captain for the next game.
When folk talk about getting rid of the deadwood, Pienaar, Distin, Howard, Gibson, Kone, Alcaraz, Osman, those players aren't playing. Essentially we have a new team and up front in wide areas we're lacking quality.
I think how Martinez handles this situation will define him. This season has been dross and I'm being polite but I hope he's given time, if we start next season like we're playing now then it's clear it's not working (it's not working now I know but... patience and all that).
Minik Hansen
247
Posted 20/01/2015 at 00:11:55
Sylvester Stallone should do some inspirational speech like this http://m.youtube.com/watch?v=D_Vg4uyYwEk
Neil Hutchinson
248
Posted 20/01/2015 at 00:07:47
They huffed and they puffed but still couldn't blow the wall down......all too familiar Individuals playing as individuals but trying to raise the team. No result there...
Okay, let's try and mix it a bit... no result there. Give me the ball, I will take the fucking pen... No result there.
What the heck do we do now... well one needs to step up to the plate and give direction (captain/manager):
1) Play as a team
2) Run at the opposition, don't do it crab style
3) Those that are ineffectual passing sideways then penetrate with with their bodies, others penetrate with the ball.
4) Have the opposition guessing where you are coming from or running to
5) Be quicker in thought, comes from practice in training for longer and harder.
6) Use runners to deflect as in patinando (fencing) – speed and deflect either fast step and lunge i.e season 2013-14 or get a slow response from your opponent (Everton) and fast lunge (break by opposition).
Unfortunately both captain and manager are being ineffectual, There is only trouble ahead whilst others jostle for their leadership style as being the correct way i.e. pen taker/transfer talk/I'm off to Italy. Let's just see what happens after the away day warm weather training sessions, that may be just better late than never.
Remember our team's confidence is shot at. They need to be nurtured and not expect natural ability/form to come to the rescue. We will overcome and be victorious. Just hold your nerve Evertonians and press on.
Steve Barr
249
Posted 20/01/2015 at 00:32:41
Booing is part of the deal.
They get the plaudits when they turn up and perform. Even if they lose their touch, at the very least they must try. How many times have the Everton faithful turned up and supported sub par performances. Countless!
These players are all big boys now and have to man up and take personal responsibility. We are treating footballers with the kid gloves just as every aspect of our life seems to be treated today. Political correctness, don't upset anyone etc. etc.
Whatever happened to personal responsibility, pride and self esteem.
These guys are paid a fortune and they have to get off the pot and assume the responsibilities they have signed up for.
Bloody hell, I read somewhere today that Bournemouth could be in the Prem next season and we could be in the Championship.
Now there's a team taking ownership and personal responsibility!
Simon Lloyd
250
Posted 20/01/2015 at 00:18:14
From the Top Balcony I was not aware of anyone booing Ross. There was some frustration that he seems to turn around and come inside every time he gets the ball, rather than driving forward.
I feel sorry for him. I get the impression that his natural instincts are being coached out of him. It's like he is too scared to play with freedom........"must play the safe pass, don't give it away".
He, like many of the players , are not comfortable with how they are being asked to play. Do they get their legs spanked for putting the ball in the box?
We need a change in management in my view. We have a talented squad but are drifting aimlessly. Bobby Bollocks needs to take his philosophy elsewhere.
Paul Dark
251
Posted 20/01/2015 at 00:38:00
Besicbauer asked to come off (injury), so at least we can let Roberto off for that one.
The penalty incident is an embarrassment; RM should be honest. I have to say we feel like a rudderless ship.
I'd like to see Michael Laudrup in. Roberto seems a really nice person (unlike our last manager), but I think he's ill-equipped for the task ahead. It's very sad.
Sean McCarthy
252
Posted 20/01/2015 at 00:15:38
Gavin #114.......㿞m for Barclay??? I wouldn't give you half that amount. If he was half as good as the "experts" (who rarely see him play) claim he is then he'd be twice as good as he actually is!!! The new "Gazza" or a natural successor to Steven Gerard???? I don't fucking think so!! Over rated and over hyped.
Mirallas is angling for a champions league move. Reminds me of what Pienaar was saying a few years back and that really worked out for him didn't it??!!!
Martinez is clueless and quite clearly hasn't the ability to turn this car crash round. We are in deep shit and can you seriously see us getting out of it anytime soon???
Colin Williams
253
Posted 20/01/2015 at 00:27:54
"Barkley needs to be taken out of team".... "NOT BEFORE"...at least 6/7 other useless feckers! Out on the pitch!
Just look first at our senior players "WHO" have not lead by example on the field.... And are a fecking disgrace to our club at present!
Why is it always easier to pick on the Evertonian in the team? "Fucking dicks"
Colin Glassar
254
Posted 20/01/2015 at 00:47:58
Michael Winstanley, I couldn't agree more with you except for naming Coleman captain. I'm sorry but he's been awful this season and tonight he was particulaty bad. Has his head been turned? Who knows? But he's definitely not captain material.
Victor Jones
255
Posted 20/01/2015 at 00:38:13
Just a little point about the loss of form of Barkley, Baines and Jagielka for almost all of this season. Surely their England places must be under threat. At this rate, only Stones would warrant an international place. Martinez is doing these players no good at all with his total mismanagement. Just saying.
But to be honest, I am only worried about Everton Football Club. And Martinez is not exactly filling me with much confidence that he can turn this slump around. I bloody well just knew that this would happen. Winning no pre-season games. No momentum. No bloody ideas. No Plan B. No bloody nothing. And still Bungling Bill dithers.
What did I do in a past life to deserve this crap??
Joe Clitherow
256
Posted 20/01/2015 at 00:43:23
Back from the match.
I didn't hear any booing of Barkley around me, plenty for the Besic sub (including me) in the Paddock except one guy who got shouted down. I felt sorry for Ross, I thought he was genuinely trying to put a shift in tonight but his confidence is shot and he hesitates every time he gets the ball like there is a conflict in his head.
Martinez just has to go, and the pressure needs to move to BK now, because I think it is a given that Martinez is just hopeless so pointless having a go at him from now on really. I can't see where any points will come from with this idiot.
By the way, had Tony Pulis had 3 more games to drill his team we would have lost tonight. He has fixed defence (it's that easy Roberto with discipline and organisation and a plan - a real plan I mean, not a bollocks pie in the sky one), a little attack effort would have sunk us. We nearly were when Jags nearly gifted Victor. But luckily it was Victor.
The Stallone thing was surreal. Go Everton!!!
Brent Stephens
257
Posted 20/01/2015 at 00:55:32
I don't like Ross's lack of tackling / heading nor his lack of running back to help with defensive duties. BUT Roberto has ruined the lad's forward play: no width in our play means a packed centre of the pitch; Ross can't run through a wall of players (very few can) and he hasn't yet developed an eye for a killer pass. So we just see him crab sideways and eventually pass sideways.
Joe Clitherow
258
Posted 20/01/2015 at 01:01:55
Agree Brent. Everything gets funneled into the packed centre and reduces to sideways passing along the 18 yd line. Meat and drink to Pulis. We only ever have one player on the touchline. Where has our overlap gone?
Ernie Baywood
259
Posted 20/01/2015 at 00:53:25
Booing isn't an act of frustration MK. You make a decision to boo... You do it to let someone know what you think.
I terms of natural reactions, I think every time Ross got the ball in the second half I was compelled to shout "go on, get at them" generally followed by "for fuck's sake". Yeah, multiplied by thousands that's going to get to Ross. But it's not booing. If people were booing Ross at the ground then I'm with Kevin Tully. We don't need that kind of support.
Pete Owen
260
Posted 20/01/2015 at 00:36:23
Kevin Tully, 155
Really glad someone else here see's the awful "support" from half the "fans", disgusting, absolutely disgusting and they should be very, very ashamed of themselves.
I've supported this club for near on 40 years, but the majority of blues fans I talk to are so ignorant/stupid/uneducated imbeciles, that I fear the club is literally going to the dogs.
Wise up you horrible morons.
David Israel
261
Posted 20/01/2015 at 01:20:56
Having now watched all 20 teams in the PL this season, this lot that we've just played hosts to are certainly the worst of them all. If we play them again next season, it could mean the unthinkable has happened.
After the Man. City and West Ham games I was certainly expecting some fire in our team, but it's all gone back to the sad, slow, unimaginative build-up.
Roberto is probably happy that we've finally kept a clean sheet, though.
The penalty scene was unbelievable and it is indicative of how low things have got.
They must be fancing three points down at Selhurst Park.
I was talking the other day to a friend who supports Aston Villa and he said we'll both be all right in the end. "Be all right, man? We were 5th last season, for heaven's sake!" , I replied.
Gavin Johnson
262
Posted 20/01/2015 at 01:41:52
Pete #260. if you feel your fellow Evertonians are ignorant, stupid and uneducated for the most part, you are really marginalising yourself. Those kind of comments paint you in a very bad light, and probably say as much about you as anyone having a groan about an inept performance at Goodison.
Michael Kenrick
263
Posted 20/01/2015 at 01:44:58
I'm sorry, Pete, but I don't care if you've been an Evertonian for 4 years or 40 years — nothing gives you the right to question the allegiance or commitment of other Evertonians.
We each have the right to follow our team in the way we choose. I will not accept the use of this website to call other Evertonians ignorant/stupid/uneducated imbeciles and morons.
Sorry, but that's the bottom line. There is no excuse for turning on fellow Evertonians, no matter how much you disagree with their position or opinion.
Ernie Baywood
264
Posted 20/01/2015 at 02:13:07
Take a walk around any city in England and you will come across a ridiculous amount of imbeciles. My Facebook feed is full of them, many of them close friends.
Goodison is too. I'm not sure if it was ever a sanctuary but the nobhead quotient has increased.
To be clear, if anyone on here thinks the best way to support Ross Barkley is to boo him when he gets the ball, then they are thick as shit.
Gavin Johnson
265
Posted 20/01/2015 at 02:30:00
Maybe, Ernie, but anyone who is a fan is entitled to articulate their views anyway they please. Tirades like "I've been a fan for 40 years.. yada yada" just sounds like a grumpy old man saying it wasn't like that back in his day... but it was! Every generation says the same thing.
Paul Kelly
266
Posted 20/01/2015 at 00:49:20
Kev Tully – remember Earl Barrett getting booed?
As for us now, God help us all if he remains in charge.
Michael Polley
267
Posted 19/01/2015 at 23:23:52
Depressing and so sad that a great club full of tradition is in such a bad shape. Thought we had turned the corner with our performances against Man City & West Ham, but we slipped right back to been shite again.
OK West Brom parked the bus, but we should of broken them down.
The penalty was a fiasco, and just sums up our season.
Mark Andersson
268
Posted 20/01/2015 at 01:32:46
As usual, I spent the first part of the morning reading every singele post.
How can there be anyone left still behind Martinez. Yet there is, contrary to the evidence on and off the pitch, Everton have become a fucking joke.
I posted on a another thread that the crowd needed to be behind the team 100% for the full 90 minutes. I watched the match live at 4am in the morning with headphones on, so as not to disturb the missus. I need not have bothered such was the lack of atmosphere. I could quite clearly hear Pulis barking out instructions.
I also said we wont get anything out of this game. I will say it one more time, I was taken in by Martinez but wised up at the beginning of the season when listing to his after match comments.
Phil Walling calls him a charlatan, I have to disagree. A charlatan knows he is lying and deceiving to get what he wants. Martinez really does believe in what he is seeing and saying. That is deluded with a capital D.
I already think it's too late, as the board wont pull the plug on this manager and wont give him any more funds to fucking waste either. We are in the shit, because the player are not doing there job regardless of how the manager wants them to play. The good ones don't give a fuck as they will just jump ship if we go down. The fans are left with the mess and the indignation of being also-rans.
I will not bother watching anymore games or contributing to TW. I will read others post as it's sort of become a addiction now. Good luck guy's to the die hards that go to the matches I hope miracles do happen. I live in the real world unlike the manager.
Conor Skelly
269
Posted 20/01/2015 at 02:02:11
I was watching the match tonight on Sky. This team, this manager, this chairman. Whats the point. I'm trying to think of something constructive to write but there is so much wrong I don't even know where to start.
We're at a pivotal moment now. We have two options as far as management is concerned.
Option A – We act now. We're still in Europe. Still have our best players and still have 2 weeks of the transfer window left remaining. So we're still a fairly attractive option for most top'ish managers.
Or option B – Survive this season. Just. Go out of Europe. Keep playing the most boring football I've ever witnessed. Lose fans and gate receipts. Ruin players reputations, confidence and thus market value. Deal with the mass exodus of depreciated playing staff with half the money raised disappearing into a black hole of operating costs and give Bobby a chance to turn it around next season. We will then most likely follow Wigan the following season into the Championship.
So basically we either change now and stabilize the club or stick with Bobby and risk everything. Thing is, he won't be sacked and I have my own theory on why.
When Moyes was manager here he did a great job all in all. Some disagree but as far a BK was concerned he almost guaranteed safety every year and therefore BK and his shareholders could sleep at night safe in the knowledge that massive personal funds weren't required to buy players to keep us there. The happy clappers would be kept clapping and groups like the Blue Union would remain marginalised.
Anyway, Man Utd came calling and that was that. So now BK needs a new manager but more importantly he needed a Spin Doctor. Someone to tow the party line. A salesman who would indulge in the romantic fluff of the club and not complain publicly about the lack of transfer money. Martinez saying he had a plan that didn't need money to be successful was all BK needed to hear. It was a quick interview and the rest is history.
Recently, I read the Alan McLoughlin book. For those of you who don't know, Alan was a journeyman player with several caps for the Republic of Ireland who late in his career played for Wigan with incidentally our Bobby in midfield. In the book he tells a story of how he looked up in the stands during a game and could clearly see Dave Whealen talking on the phone to the then manager in the dug-out, telling him to take off a player and replace him with such and such. He recalls that to his disgust the manager did as he was asked.
Dave Whealen basically picks the team at Wigan. Would any Manager with any integrity let this happen? Many managers didn't and Whealen got rid. Except our Bobby who Mr Whealen couldn't speak highly enough of which is even more unsurprising after Martinez lined his pockets with more than 㿀 million for players as soon as he arrived.
Martinez Out but more importantly long term Kenwright Out.
Peter Barry
270
Posted 20/01/2015 at 04:12:54
Like I said about TGT: it's not the players' fault, it's not the Board's fault, it's not Billy Liar's fault, it's not the referee's fault... it's the manager's fault.
He picks the team, he decides on the tactics, he supervises the training, he gives the half-time pep talk and makes the substitutions and the tactical changes necessary, and he is the one who is supposed to motivate!!!
It is patently obvious, and has been all season, that – just as TGT was near the end of his tenure – Roberto is failing abysmally on all those counts. He has to go now or else we as fans must be prepared to accept Championship football at Goodison Park next season.
Jackie Barry
271
Posted 20/01/2015 at 04:30:47
And Billy Boy Blue and his board chose the manager. The buck stops with them I'm afraid.
Steven Telford
272
Posted 20/01/2015 at 03:57:41
Conor # 269 - that is a tragic story indeed. I hope it's not true, a fair amount of what makes it into bios is not. It's too pathetic to think about.
Well, the problem is not the players, very clearly it's the tactics. And to have the wrong tactics is one thing, but to consistently refuse to change them is another.
Last night Mirallas showed about as much class as you would expect from a man who fawkes out for a golden Bentley. Somebody buy him a fur coat and tall hat with a feather.
Will Firstbrook
273
Posted 20/01/2015 at 03:54:47
If Roberto really cares about Barkley and his future, he needs to sit him down and keep him out of the spotlight for a spell. The lad is shattered and is not going to play himself out of this funk. Not under these circumstances. Unfortunately for him, he seems to be the flashpoint of fan unrest at the moment which is not especially fair considering the dross being served up by his teammates.
As for the penalty fiasco, just a symptom of a much larger problem with this club - no leadership on or off the pitch. Completely rudderless at present.
Paul Ward
274
Posted 20/01/2015 at 03:04:20
A lot of truth in (Steve Barr 184) article. "who can we recruit" if Martinez is sacked? Anyone will do based on our recent past.
I think the main concern the directors are confronted with is how much it will cost to pay Martinez out. The simple answer to this is too much. So we are stuck with Martinez until we escape or are relegated. Martinez has no plan B, no new tricks or alternative thoughts on our present predicament. If we had a chairman willing to invest in the club, he would see that RB and his band from Wigan has been a total disaster. I think any caretaker manager would suffice to take us to safety as long as RB's philosophy was killed off and we returned to the basics of defending and attacking set pieces. The last straw for me was the false dawn that ended last night after 2 decent performances. Martinez has created a cancer in this club.

Steve Jenkins
275
Posted 20/01/2015 at 05:18:38
I've backed Martinez all the way and through all criticism and tough times believing he'll get it right.
After a few things last nt - he's starting to lose me and if he doesn't do the following from here on out and we continue not to get results then he will.
Start with two up front particularly at home against lesser sides - with Rom and Kone, around 60 mins everyone was screaming for Kone to come on, he didn't till nearly 80 mins.
Wtf not - it wasn't as if West Brom were going to over run us in midfield if we had two strikers up front.
Besic was outstanding again last nt - the boo's when he came off were unbelievable and merited. Naismith, Barry, Barkley any of them should have come off before Besic.
Naismith - like everyone else I like him a lot, he always gives everything, can score important goals, but I've said it before he can be largely anonymous and ineffective in some games and last nt was one of them, he should have come off as all he did was give the ball away.
Service - Garbutt has by far and away the best service. we need that as at times when we have team with so many players behind the ball we need a quality delivery and Garbutt's is as good and dangerous as anybody's out there.
I don't care Baines plays in front of him in left midfield or in Lahm role, Garbutt needs to start.
I agree he should have been told in no uncertain terms by Baines and Jags to do one - if they did tell him then I didn't see it.
Wtf was KM doing wanting to take the pen?
Even if Baines has taking it, It creates unnecessary tension in moment where its really not needed. Baines is the main penalty taker - penalty awarded he steps up and takes it end of.
It clear KM ego is bigger and more important to him than the club.
Wanting to take the pen - who the does he think he is - he can do one.
He wants to leave at the end of the season so what right does he have to take the penalty over Baines the main penalty taker.
Its moment like that that give you momentum back in your season, a 1-0 penalty win gets the ball rolling.
He'd done this, stepped up and missed, brilliant, cheers Kev now fuck off.
Brian Hill
276
Posted 20/01/2015 at 05:41:45
If Kenwright cares half as much about Everton as he claims, then Martinez has to be dismissed immediately.
James Joseph
277
Posted 20/01/2015 at 04:49:55
Simon (250), wrote, "I feel sorry for him (Barkley). I get the impression that his natural instincts are being coached out of him. It's like he is too scared to play with freedom........"must play the safe pass, don't give it away"."
I agree with you about that being part of the problem and maybe the start of the problems for Ross. During the World Cup we all saw Hodgson having a go at him for losing the ball the first time he touched it after coming on as sub, something he never seems to do with the likes of Sterling. I said then that he's trying to turn Ross into another Tom Cleverley - keep possession, play it square, get it back, play it square again - and was glad when England got knocked out and we could get him away from such a negative influence. I always felt Martinez encouraged him to be more positive and not to worry too much if he lost possession, unlike Hodgson and, for that matter, OFM. Even this week he was going on about his acceptance of mistakes made by young players. And yet now we have Ross performing with all the predictability of a Cleverley, his natural instincts all but disappeared.
To me, though, it's more of a confidence thing and I agree with those who say he needs to be taken out of the team for a spell. I think he's struggling with the expectations placed upon him, by being judged, maybe even inside his own head, as not only an England player, but as an England world cup player, rather than as a promising 21 year old who's still learning the game. Let's be honest, in most other eras he would not have yet got near to the national side but such is the paucity of English players at the top clubs he's been promoted ahead of his time. Add to those doubts a struggling team seemingly in disarray, a crowd turning on him for the first time in his career - I didn't hear anyone booing him last night but there were plenty of groans each time he played the ball square or didn't dive into a challenge - and the ingredients are there for someone to start doubting himself.
This is what Martinez said the other night in the Echo: " When Ross is at his best he plays with a smile on his face and he doesn't worry about "what if" and he has an instinctive way of showing his talent. he has taken too much responsibility into his play, he is considering every pass before he does it, or every touch, because he doesn't want to miss it or be negative, and that has affected his play a little bit. But it's (the team's poor run) affected him for the right reasons because he is a responsible, proper Evertonian and he knows how the crowd feels and he suffers more than others."
I can't disagree with any of that. Let's hope the winter sunshine break does Ross, Martinez, and all the players, including Mirallas, some good and they come back refreshed and ready to go against Crystal Palace.
Terence Leong
278
Posted 20/01/2015 at 05:40:48
The bigger question to me is, what is the best/ most effective a fan can do right now?
I'm not talking about the rights of any fans to voice their frustrations, support etc.
Do we
-petition/badger Kenwright to sack Martinez
-voice our displeasure and frustrations at the screen/in stands
-vote with our wallets and do whatever type of protests we plan to do (heard that Villa is doing an 82 minute support, skip the 1st 8 minutes, using the reference point of their 82 European Cup exploits)
I'm sure we can go on and on about how a bunch of millionaires should be able to take it on the chin, motivate themselves to play for the shirt that most of us would be happy to pay to play for etc.
But what is really going to help our club get through this period?
To me, it's about supporting and giving that 200% to the players each time they take to the field, encourage them if you ever get to see on in the streets etc.
Ultimately, it's about the 11 man plus 3 substitutes who's gonna do the business on the pitch, make the right decisions.
I guess we can argue till the cows come home as to whether it's better to cut our losses right now and sack the manager, or give him time to get through the 2nd season syndrome.
I say, our energies are much better spent on willing the team on. Whether you think they should be able to motivate themselves better or not, isn't the main point.
The main point is that the club should go on, and we want the best for it (right now, at least not being relegated!).
So what if whoever is vindicated e.g. "see I told you, I'm right about this, or that". Save that for the end of the season. Save your energies for what we as fans can most directly effect i.e. and that is the performances of the players on the field when the rubber meets the road, by cheering them on relentlessly.
Be that 12th man to keep believing that it ain't over till the fat lady sings (or when the ref blows the whistle).
So, those of you who have the privilege to afford to be at the Old Lady watching the team (of course some will argue that at the rate it's going, it's not)...
Nil Satis Nisi Optimum.
cheer your heart out.

Andy Walker
279
Posted 20/01/2015 at 05:21:59
When you have a manager showing clear favouritism to certain players like Jageilka, Baines, Barry, Barkley it will create resentment and division in the dressing room as other players like Oveido, Mirallas, Besic feel marginalised. This sick environment will have symptoms, some players not as committed, not enjoying playing and the 'I will show you' action we saw from Mirallas.
I do not blame Mirallas for the incident, he was frustrated by the situation and wanted to take responsibility and 'show them'. A perfectly natural reaction from a competitive sportsman.
The idea this was to help a move out of Everton is driven by personal bitterness towards someone who some feel let them down. Does anyone really think scoring a penalty will have any effect in making other clubs want to buy him? Those clubs that are interested will already have let his agent know.
Of course if he'd scored this would have been a different story, just as much as if Baines had taken it and missed, like he recently did at OT. Then we would no doubt have been complaining about why didn't they let Mirallas take it as he obviously felt confident.
The fact that we are now in a situation that a missed pen at home to WBA creates so much furore is testament to the bigger, much darker picture created by the lack of management skills of Relegation Roberto. A proven failed EPL manager appointed by a chairman taken in by media spin and his judgement reinforced by so many others who simply ignored the facts and listened to the hype.
Donald Neville
281
Posted 20/01/2015 at 06:29:18
As a new fan here is what I see and say. You can agree or disagree.
1) Besic was the best player in blue, and that's saying something bad because at times he rushed a pass or decided to take to long to pass.
2) why are the boys slowing down on the pitch when they have numbers the other way. I counted two or three times WBA was outnumbered and running backwards only for Naisey or Coleman to slow it down. Why??
3) to the guy earlier, can't remeber who cause of all the comments, who said that £28mil man is a waste, no one is getting him the ball. All passes are at his feet or behind him or when he is double coverage. I saw three times today Besic put a pass into double coverage trying to break Lukaku.
4) Baines should have taken that penalty, take the armband off Jags and put it on someone else.
5) let Miralles go, but you need someone with pace. I'd settle for Lennon at least for now. He is quick down the line. Loan in Januzai or however you spell it.
6) if RM needs to go I have a short list that I like to replace him:
Klinsman (I'm American so don't shoot me. He has done wonders with the U.S. team and may light a fire under Howard)
RDM: he took Chelsea to CL and wants back into the PL. Maybe a long shot bough as he is having a good season now.
Laudrup: why not, he made Swansea a threat, won a cup, kept them up and built the foundations of that club.
Moyes: maybe Bilky not should never have let him leave. At least under him the damn defense played better.
Derek Thomas
282
Posted 20/01/2015 at 06:52:21
Steve #184 It's not about who will replace him the real question is, somebody needs to stop the rot soon if not now.
If Roberto can't or won't ( based on his no change Interview the other week ) somebody needs to...up to a point anybody in the short term who can come in and weld a patch will do, the ship is leaking. We need somebody to get the ship back to the dry dock
While that is happening get the yellow pages out and book a 'Coded Welder' to start in the summer.
Or, Get a Para-medic with a set of paddles now to revive us. Then pass us over to the Experts for the proper cure.
*cuts to opening scenes of M.A.S.H.
Simon George
283
Posted 20/01/2015 at 07:51:37
Not since the Mike Walker days do I remember Everton being this unable to get points. For me, I've seen enough. I think it's apparent now the club made a mistake with Martinez. It was a gamble and for awhile looked like it was paying off. All season he's looked out of his depth and for as good as he was last season he's been worse this one.
Even on luck alone we should be winning points by now which suggests he's doing a very bad job indeed. If there were a vote, for me he's had long enough now and needs to go.

Jeff Hughes
284
Posted 20/01/2015 at 07:38:53
#241 Michael Kendrick is spot on. Booing a player during the game is likely to do nothing for his confidence but the booing does reflect total frustration of fans. Besides, if you believe that Barkley is good enough to play he cannot hide behind the tag of 'talented kid' for ever. Quite frankly, his performances this year have been woeful and his languid style does nothing to convince fans that he even cares. I am sure he does care but I am certainly not sure he has the all round game to secure a regular game for us let alone England. The booing comes from the frustration of fans, knowing that we have talented players performing way below their capabilities. The manager has to take responsibility for our sudden implosion this year and the booing is always a fans perogative. They pay their money! It also is a means to show they care about THEIR club and if shared by a large number of other fans it is a strong message to those in power at the club to take action to sort things out. I believe that the home game against the Reds will be the final opportunity for Roberto and could signal the end of his and our dreams.
Steve Pugh
285
Posted 20/01/2015 at 07:34:07
"Who can replace him?"
I remember this being asked a couple of years ago too. At least then we were a consistent 'best of the rest' finisher and had something to lose. Now we have lost it and we can replace the manger with just about anyone and it can't get much worse.
On a plus note I have come up with a way to secure out premier league status. I'm off to the bookies to put £50 on us getting relegated, who's with me?
Eddie Dunn
286
Posted 20/01/2015 at 08:37:32
If we had a poll now on whether Martinez should be sacked, it would be very interesting.
Is there anyone who still has faith in him?
John Gee
288
Posted 20/01/2015 at 09:16:25
This team is crying out for a 4-5-1 formation. Coleman and Baines are totally wasted the way we're playing. If Barry has to play every game then we need another 2 in midfield to compensate for his lack of mobility. Mcgeady isn't my favourite player but he adds width on the left. Mirallas was an embarrassment to himself last night. His crime has actually become his punishment Raskalnikov would be proud.
Martinez has had 20 odd games to sort this out and hasn't yet, nor looks like doing.
Derek Thomas
289
Posted 20/01/2015 at 09:34:11
There have had 3 Polls on GOT after the Stoke, Hull and WBA games.
For the sack was (approx ) 25%, 35% and 45%...It's growing
James Marshall
290
Posted 20/01/2015 at 10:57:48
We're effectively 5 points off the relegation zone with our goal difference. I don't think we'll be relegated because there are at least 3 teams shitter than us!
Simon George
291
Posted 20/01/2015 at 11:50:20
If there were signs that he was adressing the problems then I think fans would give him more time, but it's that we're continuing to do the same thing over and over regardless that it's not working. That's not only a sign of stubborness but idiocy also.
I think every Evertonian now understands that we are now in a relegation battle with one of the best teams on paper that we've had in years and thats why Martinez position should now be changed because he's hugely underachieveing.
Just imagine how bad we'd be doing under Martinez if we had a poor team!
Gavin Johnson
292
Posted 20/01/2015 at 11:43:30
It pains me to say it but he needs to go. He looks totally out of his depth.
Dave Abrahams
293
Posted 20/01/2015 at 12:14:24
Unless something dramatic is done before the end of the transfer window then the people in charge of the club will face the biggest enemy any club or business can face APATHY.
It's not far away and when the fans turn away the club will surely realise, as they should now, how desperate the situation is.
Steve Carse
294
Posted 20/01/2015 at 12:07:04
Do we go for a short term fix and bring in someone who can organise the side better and get us playing with more conviction? Or do we hang in there with a view to relieving RM of the post at the end of the season and replacing with someone proven and who can take us where we want to go over the next few seasons?
Well, how about meeting the two objectives simultaneously? I give you Neil Lennon.
John Voigt
295
Posted 20/01/2015 at 12:16:29
The rot will likely continue if there aren't changes.
Barkley needs to be dropped. He does nothing to influence the game. A couple games off could be a positive thing.
James M. needs to be back in the lineup. Stones needs to play every game. Garrett needs to play.
Play Naismith behind Lukaku or play Lukaku and Kone. Why Kone didn't come on earlier yesterday was a mystery to me. West Brom weren't coming forward so play 2 strikers.
I thought the movement off the ball yesterday was terrible. Players just stand in place. Nobody makes a run for others.
At the start of the season Everton were scoring around 2 goals a game, but now you wonder how they will score once a game.
The Europa League is also a real issue now. Everton need to concentrate on staying up, not chasing European glory, but I figure Martinez doesn't see that way.
Simon George
296
Posted 20/01/2015 at 12:31:15
@Dave 293 I think that's part of the problem though, even if we do sign someone I don't think it will hugely influence anything because we have a really good team. The problem seems to be solely with how we play rather than who with. And I really don't like admitting that because I want Everton to be a passing attacking team, I'm just only now realising that I don't think Martinez knows how to turn us into an Effective passing, attacking team.
Simon George
297
Posted 20/01/2015 at 12:38:41
Based on form, we are now bottom of the league. I think it's gone beyond giving a manager time. If we don't act fast then we will be relegated. Now is not the time to be ignorantly playing passing football assuming we are better than the opposition, now is the time to play nasty and grind out results.
The future of Everton should be more important than this. We could easily survive if we just played to our strengths and not to one persons ideals. But I fear that we will now be relegated with this style of football. All confidence is gone and we are lacking leadership, all the while with a really good team.
If we sacked Martinez now, no big club would ever take a risk on him again yet we are risking our very future on his vision. Even if we survive, do we really want to risk another season playing football to an ideal, rather than what's in front of you on the field?

Nick Oakley
298
Posted 20/01/2015 at 12:45:34
Potentially we have got a great player of the future in Ross Barkley. For me, his issue is not poor decision-making on occasions when he has the ball but his fundamental lack of ability in two other key areas:
1) He appears to have no idea about how and when to press. This is vital in a key midfield player. One player not doing this properly means the whole pressing concept breaks down. Just watch how often he is caught out, too far from the player he should be pressing and sadly this happens over and over again. There is no instinct to "rush" an opposition like McCarthy, just a general amble to take up a non-position.
2) He never ever runs beyond the front player. He is a fantastic athlete and if only he were completely knackered at the end of a game – dare I say it, like Gerrard – we could have a world beater. I hate the Redshite with a passion, but Martinez needs to get Barkley looking at some old videos of Gereard in his pomp. Look at Lampard etc, see how often they get in to the box and beyond the striker.
Come on, Bobby – let's up the anti and help some of the youngsters develop in other stuff than tippy-tappy.
Terence Tipler
299
Posted 20/01/2015 at 13:40:23
Spot on, Simon @ 297.
Dave Abrahams
300
Posted 20/01/2015 at 13:39:29
Simon (296) I think we have a decent team but I don't we have a strong enough squad,last night's team was possibly our best team minus McCarthy but look at the bench, Oviedo looked good and maybe Hibbert could do a job but then you are struggling.
There are quite a few out with injuries and if they ever get fit enough they might help.
I keep saying we need two experienced players now.
Kieran Riding
301
Posted 20/01/2015 at 14:05:22
If mirrallas taking the pen was solely down to having the name of his mate who died last week on a tshirt under his everon shirt, then I give up. I really do.
Gavin Johnson
302
Posted 20/01/2015 at 13:59:48
I get the feeling now of not "if" but "when" Martinez goes, we need a manager who is a great motivator and has some flexible tactical awareness. I know all the usual suspects like Koeman will be mentioned, but realistically he isn't going to leave Saints.
I'd go for Steve McClaran. He's a great motivator and his teams play attractive football. I realise he has his critics but the guy knows the European leagues winning the Dutch title with FC Twente which was the equivalent of Fergie winning the Scottish league with Aberdeen. He took Boro to the Uefa Cup final against Seville and won the league Cup. I have a couple of friends who are massive Derby fans so I pay attention to their results and they are playing great football with a group of players who were treading water under Nigel Clough. So imagine what he could do with some of the underachieving talent we have.
Also we'd have a good chance of getting Will Hughes off them then who is a great young Midfielder and just the sort of player we need to sign.
Andrew Ellams
303
Posted 20/01/2015 at 14:14:31
Oh for a Brian Clough type to come in, kick arse, strip out the deadwood and take the team forwards.
Personally I'd like Bilic but I know he wouldn't be too popular on here and whisper this one, but maybe Benitez too.
Craig Walker
304
Posted 20/01/2015 at 14:14:11
If Steve McClaren becomes Everton manager then that's me done with the Blues until he's gone.
Colin Gee
305
Posted 20/01/2015 at 14:21:27
Benitez? You're having a laugh there, if he thought he was hated at Chelsea then that would be nothing compared to what would happen if he was appointed Everton manager!
I personally don't think Kenwright will sack Martinez, he hasn't got the bottle, it's like Walter Smith all over again.
Andrew Ellams
306
Posted 20/01/2015 at 14:30:35
Well Colin, the last thing we need is a manager with a record of winning trophies and qualifying for the Champions League. Football fans are the most fickle people on the planet and if Rafa came in and won something here all would be forgotten.
Gavin Johnson
307
Posted 20/01/2015 at 14:35:04
Why Craig? He's a got a great record and has the right qualities to turn things around. Better than your beloved Moysie. I know McClaran is forever remembered as 'the wally with the brolie' but the England job is a thankless task. It sounds like a personal prejudice you have against him rather than his ability to manage. It's like my own against Benitez. Yes, he's a great manager but I could never warm to a manager who called us a 'little club'
John Keating
308
Posted 20/01/2015 at 14:39:11
At this stage in the season we have as much chance of getting a full time manager as Martinez has as winning a game.
Time for someone, anyone including Hibberts dog, to take over until the end of the season.
Anyone must be better than this clown Martinez.
Until the end of the season, Peter Reid - will take no shite from the players.
Matt Traynor
309
Posted 20/01/2015 at 14:44:14
Andrew #306. Our current manager had won a pot, but the fact that people will quickly jump on the fact that he got Wigan relegated is the reason why the club shouldn't go for Benitez.
Like Martinez, he divides opinion. Kenwright's lasting legacy will be fracturing a fanbase over failed stadium moves, the last one being particularly toxic. Maybe the advent of the keyboard warrior and troll means the idea of appointing a relative unknown/untried as Moyes was in 2002 is going to be a challenge, but to appoint a manager who doesn't have majority support of the fanbase would be a ludicrous step to take.
I therefore fully expect it to happen by the end of January!
James Marshall
310
Posted 20/01/2015 at 15:55:34
He won't get the sack. Bill will stick with his man, you watch. We won't get relegated anyway, because there are at least 3 teams shitter than us in the division. Nobody seems to notice this despite me saying it about 4 times now.
Liam Reilly
311
Posted 20/01/2015 at 14:58:04
Benitez - please god no.
If he managed to do anything of note, he'd be off quicker than a Ched Evans contract offer.
No doubt back to the RS when they bore with Brenda.
Norman Merrill
312
Posted 20/01/2015 at 16:22:06
I wonder if 24/7 is losing any sleep? I doubt it, because he gets plenty while watching the team start an attack.
Dave Lynch
313
Posted 20/01/2015 at 16:51:30
James.
You can say it as many times as you want, infact use it as a mantra.
Still doesn't change the fact we can and will go down if we carry on with this form.
Wooooooont goooooooo doooooowwwwwnnnnnn.....
Repeat this for an hour none stop and you begin to sound like a didgeridoo, quite calming really but fucking useless in the great scheme of things.
Joe Clitherow
314
Posted 20/01/2015 at 17:02:18
Colin 305
Err Kenwright did sack Walter Smith (eventually)
David Graves
315
Posted 20/01/2015 at 17:11:05
No booing of Barkley in the Park End that I could hear but, as someone says above, several thousand groans of frustration every time he dragged the ball back and turned away from goal or passed 5 yards sideways.
However he hasn't hidden and still goes looking for the ball. The fact that his manager is playing him out of position is the major contributor to his current lack of form.

Keith Harrison
316
Posted 20/01/2015 at 17:54:07
Did I, in any way shape or form, mention 4-4-2 ???
And playing people in their correct positions would help enormously.
Steven Telford
317
Posted 20/01/2015 at 17:28:49
I'd certainly take Benitez over Mclaren. No contest
Yes, would be hard to swallow, but as things look at the moment........
Imagine Klopp (To dream does not cost a thing)
There is a talented young Scot making a name for himself at Real Sociedad, took 3 points of Barca

Paul Burns
318
Posted 20/01/2015 at 18:14:05
Still find it incredible that some people are behind Martinez or think there are worse teams in the league than us.
It's like watching a car crash in slow motion and, for me, too many of our fans are asleep behind the wheel.
It may already be too late.
OUT NOW.
Dave Kelly
319
Posted 20/01/2015 at 17:56:25
Anyone remember the period after we won the F.A.Cup in 1966. An ageing squad was broken up and home grown youngsters were given their chance. At first it didn't go brilliantly, however, the team that emerged was the best Everton side I have ever seen (over the years 1967 to 70). We bought a few young 'uns too, Ball and Kendall who had the energy and talent to drive the team on, but Harvey, Wright, Husband, Hurst and Whittle, not forgetting Tommy Jackson, were all introduced quite quickly and rapidly quelled the groans. Okay maybe we aren't confident enough of our youngsters, the old shite about them being eaten alive would be bandied about, but it's amazing how quickly and positively young players respond. Garbutt should be in from now on, let's try out Leighton Baines as a wide midfielder in front of him. I really think players should be fast-tracked to the first team now and given a run of games instead of second rate purchases( yes you Aiden and you Antolin!) . I realise most of you would say 'youngsters' will only take you down' but I'm more inclined to think this current lot will take us down, definitely, the way they ( and the manager) are shaping. Hope we get a couple of youngsters on loan in the next week or two who will re-vitalise the current squad.
Anyone remember Deulofeu ?
Callum McNab
320
Posted 20/01/2015 at 18:51:32
Just watched the pen on telly again. The arrogance of Mirallas is astounding. He jogs away from nais and Lakaku as he tries to get the ball from him and just ignores Bainesy. To jeopardise 3 points and even worse relegation for his own self importance is unforgivable, and for the Clown Martinez to defend him afterwards is just as bad.
Nigel Gregson
321
Posted 20/01/2015 at 19:08:09
Steven Telford : Klopp ?? you realise that Dortmund is actually sitting on relegation zone right now, second to last place, and has done so all season despite him having a far more talented squad than Everton at his disposal.
Andy Crooks
322
Posted 20/01/2015 at 19:52:29
Kevin Tully, I agree with you. Booing a player just shatters his confidence and achieves nothing. However, I accept that is easy for me to say sitting in an an armchair several hundred miles away not having paid good money to watch a dreadful show.
Rob Dolby
323
Posted 20/01/2015 at 19:40:35
You pay your money you boo or cheer who you like. Someone earlier mentioned not booing The Strack saying he was the worst he had ever seen and I would agree with him but the guy gave effort in spades most this current team don't break sweat.
We can only carry 1 luxury player in this current squad, pick one from Barclay, Mirallas, Mcgeady, Eto or Naismith then up the work rate of the others its not rocket science. I would love to see youngsters coming through but going by what I have seen there is only Garbut anywhere near ready.
He has 2 weeks to save his job in my eyes, a heavy defeat in the derby could be adios!
Tony Rutherford
324
Posted 20/01/2015 at 20:35:25
What worried me last night more than anything was the fact that he couldn't get the players up for a must win game. They should have come roaring out of the traps and really have gone for West Brom in the first 20 minutes, but there was just no tempo. Secondly not once have I seen Martinez do something during the match that has influenced it in anyway, whether that be substitutions, formation change or a change to the style. Another thing I noticed was that he was shouting at players only a few yards away and they were just blanking him, which really does show that not all is rosy in the camp! Only positives last night were Stones and Jagielka, Robles (not a lot to do to be fair) and Besic. How Besic got taken off when Barkley stank the place out was a complete mystery. Posters who say we at too good to go down need to look at the form table and at who has beaten us over the last few months. I'm very concerned!
Roger Helm
325
Posted 20/01/2015 at 20:22:23
I posted before that this bad run is a testing time for Martinez and it looks like he is failing the test.
Whatever your job, don't reinforce failure. In Everton's case, clearly the players have not got the confidence just now to play possession football.
So like Big Sam says, keep it simple - play forward quicker, and try to play in their half, where any rebounds, deflections, mistakes or bad bounces are in our favour, not theirs. Also at GP, it gets the crowd noise going which is good for the team.
Re Barkley - I read one old player (I forget who) say that Evertonians will forgive any player who puts in a good shift - I have to say that Ross gives the impression of not trying too hard. I can't remember him ever making a tackle. If we had two or three more Besics we'd be sound.
Brian Wilkinson
326
Posted 20/01/2015 at 22:30:43
Rest assured if we enter the relegation zone Kenwright will sack him, if theres a chance of Everton losing premiership money or Kenwrights share prices plumeting, he will get rid, letshope he does not act too late, get big Joe in short term and let the dogs of war show some fight.
John Voigt
327
Posted 21/01/2015 at 00:28:28
Everton are one big slide down. It could change, but there's nothing to suggest anything different than what we've seen the last couple of months.
Ross Barkley needs to be dropped. It's obvious to most that watch but he plays every game now it seems. He doesn't drive forward, he stops, passes the ball backwards or sideways and trots (not runs) to a different position. He's hardly ever running when he receives the ball. His through ball attempts amount to nothing. You might as well have someone who puts in the odd tackle play in his place.
Stones is very good. His overlapping runs were one of the bright spots.
Why Everton can't get behind defenses and cross the ball from the end line is beyond me. It happened earlier this year and last year, but not now.
Most of all it's to easy to play against Everton. They value possession over quick movement and it's killing this team.
James Marshall
328
Posted 21/01/2015 at 11:19:28
Paul Burns
329
Posted 21/01/2015 at 11:45:00
When we endured the Mike Walker debacle, Joe Royle came in in November 1994, I think, made an immediate difference with a few back-to-back wins, and improved the performances massively. At the end of the season, we still barely stayed up.
As I've said, it may already be too late. You can hardly see where a goal or a win is coming from, even against teams in the bottom three.
Drastic action is needed NOW and Kenwright is fiddling while Goodison burns and must expect to take full blame for his inaction or his name will forever be detested whenever Everton FC is discussed.
Harold Matthews
330
Posted 22/01/2015 at 11:43:42
Colin G. BK has swum with sharks in the entertainment world for many years. He is, in fact, a major predator. He hires and fires every day. A fearsome great white who will snap anyone in half if they dare to threaten his lifestyle.
If he decides that Martinez must go, it will be a swift kill.
---
Add Your Comments
In order to post a comment, you need to be logged in as a registered user of the site.
Or Sign up as a ToffeeWeb Member — it's free, takes just a few minutes and will allow you to post your comments on articles and Talking Points submissions across the site.
© ToffeeWeb