Everton Soar On Belgian Rom's Hat-Trick
By Lyndon Lloyd

20/02/2015

Comments (47)
jump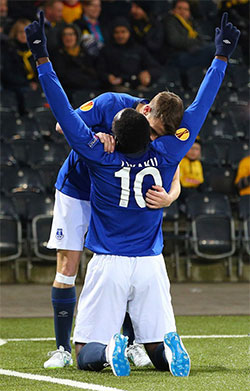 BSC Young Boys 1 - 4 Everton
As Everton have stumbled their way through a soul-sapping season on the domestic front, Evertonians could be forgiven for forgetting all the promise of Roberto Martinez's first season, when the Blues often passed and entertained their way to the brink of Champions League qualification.
Bristling with confidence and flair under the new manager, the Blues looked during their best moments like a team made for Europe, and while they struggled to establish any momentum in the Premier League between August and November, their group-winning performances in the Europa League at least seemed to bear out those Continental credentials.
In the twelve weeks since their head-turning 2-0 win in Wolfsburg and the resumption this evening of the European campaign, Everton had dropped preciptiously into the bottom half of the league table and won just twice in 16 games, leaving many fans apprehensive about the team's Europa League chances.
Like a footballing Jekyll and Hyde, though, the Blues returned to Europe tonight in almost unrecognisable form from the hesitant and pedestrian outfit that slogged through a demoralising Festive period and was dumped out of the FA Cup at the first hurdle. Romelu Lukaku caught fire in the Stade de Suisse as the Everton that took Group H by storm in the first third of the season roared back to life, the Belgian grabbing a "perfect" hat-trick and passing up two more gilt-edged opportunities that would have given Martinez an even more unassailable first-leg advantage to take back to Goodison Park for next week.
John Stones may have capped what was generally a disappointing personal performance by conceding a second-half penalty and earning a somewhat contentious straight red for hauling back Guillerme Hoarau with the score at 4-1, but it was a night filled with positives for both this competition and the remainder of the season. Not least a performance worthy of his £28m price tag from Lukaku, a pleasing return to form for Ross Barkley, and the cushion the scoreline gives the team for the second leg.
Much of the build-up to the visit to Bern surrounded the playing surface at Young Boys' home ground – Everton's record on plastic pitches prior to today reflected just two wins in 15 games between 1981 and 1991 – but Martinez's men dispelled any notion that the turf would be a major factor almost from the first whistle.
They dictated the tempo and possession of the match from the outset and offered indications of the goal glut to come with an early chance for Lukaku that had Yvon Mvogo flying across his goal to turn a header away in the third minute. Bryan Oviedo's miscued cross then rattled off the outside of the post as Everton settled quickly and promisingly.
It was the home side who scored first, though, with a goal out of nothing from Hoarau that he curled well beyond Tim Howard's reach from 25 yards as the Everton defence failed to close him down. It was a potentially significant setback for a team that has been struggling so visibly for confidence and impetus of late but the Blues merely resumed their control of the contest.
Where space and speed of thought and action have appeared so restricted in the League, here Everton were creating and finding lots of space in and around the box and Lukaku forced another one-handed save from Mvogo with a low shot with a quarter of an hour gone. And the Cameroonian 'keeper had to be at his best to turn Barkley's shot behind from the subsequent corner before the same player found himself on the end of a fortunate ricochet but he wasn't able to guide the loose ball back to a teammate.
The visitors' mounting pressure told, however, in the 24th minute. Gareth Barry, enjoying a pleasingly effective performance, clipped a teasing cross into the box that Lukaku steered into the far corner of the goal via Mvogo's glove and Everton were back level.
Four minutes later, they had turned the game on its head with a beautifully-worked goal that was finished off by a rejuvenated Seamus Coleman at the far post. Steven Naismith, profiting from the absence of an offside flag in the build-up, played a one-two pass with Barkley before fizzing a low ball through the 'keeper's legs and across the face of goal for the Irishman to slide in to make it 2-1.
And Everton's luck held at the other end, too, as the Swiss side tried to respond quickly. Hoarau, a handful all evening, fired a volley from the edge of the box that Howard could only push into the path of Raphael Nuzzolo but, thankfully, the ball ended up in the goalkeeper's arms. And Hoarau went very close again when he flashed a header wide of Howard's left-hand post as Young Boys tried to press forward.
They were undone by another impressive Everton move at the other end, though. Oviedo picked out Barry's over-lapping run with a neat backheel and the veteran midfielder's low cross took a fortuitous deflection to take it into the path of Lukaku who couldn't miss from close range to make it 3-1.
A late flurry by the home side threatened to halve the deficit going into the break but Howard palmed Milan Gajic's shot from distance away to safety before McCarthy somehow denied Sekou Sanogo's seemingly goalbound effort by deflecting it onto the post.
Pleasingly, Everton carried the same pattern of play into the second half, controlling possession where possible and looking increasingly to hit the Yellow and Blacks on the counter-attack. Kevin Mirallas, one of the few disappointments in Blue on the night lashed an early shot well wide after a bout of "handbags" had broken out over an incident between Sanogo and Barkley, and Oviedo was forced off with an injury just before the hour mark.
The Costa Rican was replaced by Luke Garbutt and the England U21 man had barely had time to settle in before it was 4-1. James McCarthy had gone down in a heap in the centre circle but Everton played on and, picking up a ball cleared forward by Stones, Barkley sent Lukaku away behind the Young Boys defence into a one-on-one showdown with Mvogo. As was the case in Wolfsburg, the striker made no mistake and clipped the ball over the on-rushing 'keeper to seal his first hat-trick for the Blues.

An eventful five minutes ended with Stones grappling with Hoarau and the gangly Frenchman going down under his challenge as he tried to bustle his way through, leaving referee Manuel de Sousa with little option but to point to the penalty spot. The young defender was also sent off for an early bath for denying, in the official's opinion, a clear goalscoring opportunity, even though Howard had closed down the angle and Phil Jagielka had positioned himself behind his 'keeper near the goalline to block any incoming shot. Hoarau scooped his spot-kick over the bar, however, thereby spurning the chance to reduce the Blues' lead to two goals.
And despite being a man light, Everton continued to look the better side and to carve out good chances to add to their tally. Garbutt swung a perfect cross in to Lukaku who looked odds-on to score in front of goal but the ball just ended up bouncing off his shins and behind. The Belgian also planted a free header from a Coleman cross wide, his blushes saved by the offside flag, and saw one last chance to notch his fourth of the evening denied by Mvogo. He had been put clean through once more but a crucial moment's hesitation as he checked for offside allowed his marker to catch up and put him sufficiently off his stride that he shot too close to the 'keeper who batted his effort away.
The hat-trick hero left the field with five minutes to go to give Christian Atsu a first run-out since December and Everton saw out the closing stages with more composed passing football that will have supporters purring over the possiblility that a corner has now been turned.
In the vacuum between the defeat at Chelsea eight days ago, sport media's column inches, website commentary and social media punditry was focused on Lukaku for all the wrong reasons following the comments he made about his long-term goals and his desire to one day be playing for a "top club" again.
Thanks to his three goals – he becomes the fourth player to score a hat-trick in Europe for Everton after Alan Ball, Andy Gray and Yakubu – and as complete a performance as he has put on since joining Everton 18 months ago, he will be fodder for football talk for all the right reasons over the next few days. As should Everton. Young Boys had won all five of their Europa League games at Stade de Suisse this season – including a 2-0 win over Napoli who were the other team to hit four goals on the road this evening – and conceded just once; the Blues obliterated that proud home record and planted one foot in the round of 16 with a truly handsome result.
Martinez's men have found themselves to be in their element in Europe this season and if they can translate that barnstorming form to the Premier League, then perhaps a late run on the Premier League's European qualifying places isn't out of the question. Play like this in the remaining rounds of the Europa League, though, and they could yet find themselves in Warsaw come May...

Follow @Everton1an
---
Reader Comments (47)
Note: the following content is not moderated or vetted by the site owners at the time of submission. Comments are the responsibility of the poster. Disclaimer
Paul Johnson
1
Posted 20/02/2015 at 01:04:47
Even down to 10 men, we were the better side. I believe we can go all the way in this competition. As long as the squad stays fit.
McCarthy is the key for me. I don't think that it is a coincidence that Barry has his best performance of the season and young Ross was on fire. 㾹 million, a snip.
Mark Andersson
2
Posted 20/02/2015 at 01:07:15
Fantastic report, nice to wake up to good news. Now we need to take heart and get a good run and climb up the table. How many games will Stones miss now?
Andy Crooks
3
Posted 20/02/2015 at 01:17:24
Lyndon, good report. I often disagree with you as you tend, in my view, and understandably, to see the positives. Tonight I see plenty of positive stuff. Even with Stones that might just be a good lesson. Lukaku is going to be great.
David Hallwood
4
Posted 20/02/2015 at 01:18:58
Great report, Lyndon; about the surface, it looked perfect, and as someone who went to Luton and QPR where the pitches were bleedin' awful, that looked like a proper playing surface.
Apart from that, the whole team, Mirallas excepted (and if he wants to play CL football maybe he should start by playing ordinary football), were as you state, unrecognisable from the dross we've witnessed in the Prem; and actually putting crosses in the box!! Whatever next.
Jimmy-Ã…ge Sørheim
5
Posted 20/02/2015 at 01:39:49
This result was telling. I have suspected that Roberto Martinez has been telling the players to go all out in Europe, and it seems to be working.
I still think we lack Del-boy for when we meet a really good team, but hope is still alive.
Ajay Gopal
9
Posted 20/02/2015 at 06:10:55
When we have our key players back and without the pressure of the Goodison atmosphere, our team seems to play more free-flowing football. Barkley looked freed of his shackles and had a great game.
I think Mirallas needs to be benched on that performance. Besic, Garbutt, and Lennon - the changes for me against Leicester.
The team for Sunday:
Howard
Coleman Jagielka Stones Garbutt
Lennon Besic McCarthy Naismith
Barkley
Lukaku
SUBS: Joel, Oviedo/Browning, Alcaraz, Gibson, Atsu, Mirallas, Kone

Bob Parrington
10
Posted 20/02/2015 at 06:29:34
Having not seen the game I wonder if this performance is a case of having more time on the ball compared with EPL because of a lower grade opponent. Perhaps some of you could comment on this. I hope it was a good performance against a similar opposition standard to EPL
Brian Hill
11
Posted 20/02/2015 at 06:35:24
A marvellous and unexpected result, but still worrying defensively – they had several attacks down our left side where Coleman was nowhere. It was also too easy for them to put in crosses on their right.
Howard yet again beaten by a long range shot which he could have taken a photo of before it passed him.
I know this seems negative, but we are miles better than them and our weaknesses remain obvious, and will not be missed by better opponents in the next round.
Neil Pickering
12
Posted 20/02/2015 at 06:49:41
A great win no doubt about that, but if we think Leicester will allow us this much time to play with pressing the ball then we will get a shock. I would give up this win for 3 points Sunday.
A word for Lukaku who I have slaughtered on here. He had his best game for us and looked like the player he reckons he is. Hope he goes on a run now.
Chris Wilson
13
Posted 20/02/2015 at 06:49:39
I know long distance shots have caused Tim Howard some problems. But to be fair to him, the goalscorer Hoarau had about ten days to settle the ball, have a look, adjust his body, and curl a really nice shot that bent around Tim and into the net. Sometimes it's just a really good shot.
Robin Cannon
14
Posted 20/02/2015 at 07:29:35
@Chris (13)
Yeah, I think the criticism of Howard over that goal was a little harsh. While we know that Howard does have an occasional weakness on long shots, that doesn't necessarily lead to the conclusion that every long shot that beats him is his fault. As you say, nobody closed Hoarau down at all, and he had an age to pick his spot... which he did well.
Andrew Clare
15
Posted 20/02/2015 at 07:43:39
Marvellous to win by that margin away from home. In the next round teams will be of a different calibre and we won't get as many chances.
Lukaku is not a 㿈 million striker. If he was, he would have scored at least six goals last night. I'm sorry but I have gone off him since his recent comments, the same goes for Mirallas.
If we beat Leicester it will have been an excellent week.

Christopher Timmins
16
Posted 20/02/2015 at 07:48:18
A fantastic result but it has to be followed up with another win on Sunday!
Graham Holliday
17
Posted 20/02/2015 at 07:41:01
Firstly, I think the pitch suited us. The ball visibly zipped around much faster making our passing more crisp and giving the oppo less time to reposition. I also think there's an element of PL teams defending deep and narrow against us, because they know the threat we posed last season when teams are open. Young Boys were a bit more open and naive and we exploited it. I'm still unconvinced we have the nouse to breakdown a stubborn defensive opposition, and we remain prone to counter attacks because we throw so many men forward.
Another interesting point is the way we played with 10 men – and I don't mean how we were still so composed and dominant, Young Boys were visibly beaten by that point. I mean the midfield diamond that we played, with Barry at the base, Naismith and Barkley as wide-ish central midfielders and Mirallas behind Lukaku (until he went off). It actually seems to suit our players quite well when you think about it.We get width from Coleman and Baines/Oviedo/Garbutt, and having three deeper central midfielders gives them a platform to play higher.
We don't have any natural wingers other than Lennon really (Mirallas often looks better when playing centrally just off the forwards). Barry and Basic are suited to playing just in front of the back 4, McCarthy is perfect for a shuttling position with Besic, Naismith, Barkley or even Baines all able to fill another CM role. Mirallas, Barkley and Naismith are all able to play as a № 10 and Lukaku with one other (Kone or Mirallas?) up top. Ideally you'd have one more forward for options but it seemed to fit us quite nicely, especially as we've been bemoaning our lack of wingers recently.
Finally, I'm starting to feel as though Baines isn't our first choice LB any more. This isn't reactive and wanting to see change for change's sake, but I genuinely feel like he's not the player he was a couple of years ago, and Oviedo and Garbutt look much more positive going forward. None seem that great defensively, but it would be a shame to see Oviedo or Garbutt not be rewarded for good performances when Baines's displays have been average at best for a good spell now.
My twopennies anyway!
Denis Richardson
18
Posted 20/02/2015 at 08:13:21
Thanks for the report, Lyndon – gutted to miss the game as my plane was delayed and was in the air for most of the game!
It sounds like it was a cracker and a 4-1 win pretty much guarantees our passage to the last 16. It would have to be a complete disaster for us to concede 4 goals at home in the second leg knowing what we need to do.
Really pleased for Rom, he's been getting a lot of stick but at the end of the day a striker's main job is to score goals and he's doing that for us – is that 13 now for the season? Give him decent service and he'll stick it in, hopefully he can take that into the Premier League.
We sound like a completely different team reading the report, hope we can take that and a huge boost of confidence into the Premier League game against Leicester. Where has this Everton been for the last 6 months?
Good day to be a blue.
Mark Tanton
19
Posted 20/02/2015 at 08:25:08
I agree on the Baines point – has he lost the pace he had? He often seems to bring the game to a standstill when on the ball. I think perhaps we should have made a killing on him in Moyes's first month at Man Utd.
Kieran Fitzgerald
20
Posted 20/02/2015 at 08:23:13
Graham, injuries often open a door for players that would never get a look in otherwise. Baines could be in dreadful form and still be the first name on the team sheet. As awful as it sounds, I'm nearly hoping he's out for a while as it will give Garbutt more of a chance to establish himself in the team.
The biggest thing we can take from the game last night is confidence. The performance and the result could not have come at a better time. Our Premier League opponents between now and the end of the season are not to be feared. I would include an ordinary Man Utd and a dodgy Arsenal in that group. Spurs are the last game of the season, I think, and that game would be my only big concern. I think we have a huge chance to climb up the table now.
Mike Allison
21
Posted 20/02/2015 at 08:33:18
Graham, we've got loads of wingers, Atsu and McGeady are natural wingers as well as Lennon, and Pienaar and Mirallas have played out wide for pretty much their entire Everton careers. Add in Oviedo and that's six players for two positions, which makes it all the more frustrating that Osman, Naismith and Barkley have been crowbarred in there this season.
Baines is quality, I can't believe Everton fans are seriously saying they wish they'd sold him. What right do we have to be even remotely upset about Mirallas and Lukaku talking about leaving if that's our attitude to our best and most loyal players?
He's been slightly off form, although not disastrous, but he still leads the league for assists from a defender and he'd have a few more goals as well if Mirallas would clear out of his way at free kicks and penalties.
He also suffers from Pienaar's absence, they're such a good combination and no-one else who plays on the left is able to replicate it. Mirallas doesn't even look for a full-back overlapping.
Trevor Lynes
22
Posted 20/02/2015 at 08:49:32
No mention of Atsu who I thought linked well with everyone once he came on and passed the ball positively and accurately. I think he has the pace and dribbling skills to be a big asset if used in home games.
I also cannot understand the critics of Baines who has been lacking a player in front of him who actually complements his runs. He is the top defensive player in the Premier League for assists and it is no coincidence that his game going forward has suffered in Pienaar's absence.
Eddie Dunn
23
Posted 20/02/2015 at 08:54:21
Graham 17, good points, I particularly agree on Baines. Oviedo made a big difference going forward, and his crosses from the left were giving Lukaku the sort of service he has been so starved of .
A good performance but defensively we looked all at sea, Howard was far from convincing early on but improved, and Stones wants to take too many touches ( but he will learn).
Macca back helped the team gel, and the only man who had a poor game was the selfish oaf Mirallas.
Paul Thompson
24
Posted 20/02/2015 at 09:11:42
Don't agree with some of the comments on Baines. What was noticeable last night was that we were doing the kinds of overlaps and triangles that used to be commonplace under Bainaar. It can be done again, though it's great to have other players (Oviedo, Garbutt) who can do similar.
What we won't get from PL teams as is the amount of space Young Boys gave us. But we still played well and at the very least it will be a confidence boost, especially for Lukaku and Barkley.
Two negatives: Stones did stupid things all night and someone needs to have a clear word. Mirallas was alternately disinterested, ineffective and greedy. Let's see Atsu and or Lennon given a run.
Rahman Talib
25
Posted 20/02/2015 at 09:48:12
When Jamie Mac is firing on all cylinders, we are a different team altogether.
Iain Love
26
Posted 20/02/2015 at 10:04:30
Fantastic result and a great team performance. Stones is still young and will learn from that and we all know Kevin is a greedy twat.
Aside from that Young Boys aren't a good team despite what their home record says, more to do with the pitch I think, but we comfortably put them to bed.
I was disappointed Besic wasn't playing but must admit our midfield played very well for that game. I'm hoping that this is another step in the right direction on our road to recovery.
Andrew Ellams
27
Posted 20/02/2015 at 10:26:14
Stones made a mistake last night but he was very hard done to with a red card. Garbutt was on the line so Stones wasn't last man.
Jimmy Salt
28
Posted 20/02/2015 at 09:41:33
Good performance, hopefully Lukaku and Barkley can take some confidence into the weekend. (They will both be very good players by the way, only 21 and all that.)
We seem to be stuck in a transitional stage at the moment, we lack the confidence to play the total dominating possession football of last season. But haven't committed to dumping it in favour of anything else.
Apart from the obvious comments about Mirallas, I thought Barry still looked labored, And, for all his effort, Naismith is an ordinary player at best, playing well.
Paul Smith
29
Posted 20/02/2015 at 10:56:38
I have been quite critical about our play for the last few months but last night was the first time in ages we showed glimpses of last seasons form.
I give credit where its due and if we can keep that level of form and more importantly desire then the manager may still have a chance to succeed. Both Barkley and Lukaku put in improved performances and we created as many openings last night as we have in 2 months.
This needs to be done on a more consistent basis before I trust the manager again though. Let's hope this is the start of some good performances between now and the end of the season.
Dennis Stevens
30
Posted 20/02/2015 at 10:57:31
Nice report, Lyndon - like the Whitesnake reference!
Let's hope this performance, following on from the more solid displays recently, is a sign the team have really turned that corner. If so, I expect to see us rampaging our way back up the table to respectability and the prospect of a bonus trip to Warsaw! Can Martinez get us into CL in his second season?
Keith Harrison
31
Posted 20/02/2015 at 11:16:43
Brilliant headline Lyndon. Must be a closet Whitesnake fan eh? Fabulous all round performance to make next week a formality. Come on, Besiktas.
Tony Marsh
32
Posted 20/02/2015 at 12:05:08
I have asked this question a few times now to various people but no-one has given me an answer.
Does winning the Europa League guarantee the victorious team an automatic place in the group stages or a place in to the qualifying rounds of the Champions League? I can't find any info on this matter.
As for last night, we looked like the Everton from last season. Fantastic performance..
Ian Doyle
33
Posted 20/02/2015 at 12:09:38
I like Stones and to be honest not many that age play center-half week-in and week-out.
I just think he needs to listen to what Tony Adams (who I thought was over rated) once said: "Defending is not hard... just clear the ball up the field as far and as quick as possible."
Seems to make sense to me
Adam Carey
34
Posted 20/02/2015 at 13:33:03
For whatever reason, we seem to be set up more as a European team. Point in case when playing in the EPL is the West Brom game where they came and defended for a point. In European competition, you have to go for the win and that suits us better.
Okay, we were a little fortunate with some offside calls but you could argue Sanogo should have been sent off for the face kick and John Stones was unlucky to get a straight red for the pen, so it balances out. Talking of Stones, he is still young, and I'd rather he work these mistakes out of his game when we are 4-1 up and not chasing from 2-0 down...
Barkley looked hungry, even his reaction to the kick showed something extra is back. Also, Garbutt just slots in effortlessly at left-back and his crossing is first class. If Martinez wants Baines to take over from Barry as a defensive mid, he needs to start the process now and let Oviedo and Garbutt fight it out for left back.
Pity the Reds got the marque treatment, and ITV would clearly love them to win it, but I think we can go far in this competition.
Daniel A Johnson
36
Posted 20/02/2015 at 14:02:45
Credit where credit's due – a great performance.
BUT
How come our Premier League form is so woeful????
Roy Steel
37
Posted 20/02/2015 at 13:57:00
Good report, Lyndon, and what a result for us! But, IMO, we still need a big strong commanding CB cos that team could have scored a few themselves.
We're still suspect at the back. I would still have Robles in goal and Garbutt at left-back, even when Baines is fit.
But a great encouraging performance. COYB

Lee Gray
38
Posted 20/02/2015 at 14:52:36
I am our biggest critic at times; however, that was terrific... no excuses for the rest of the season, for me.
And agreed – McCarthy is up there with the best in the country.
John Gee
39
Posted 20/02/2015 at 15:23:34
Tony, it depends what colour shirt you wear.
Great result, most of would probably have been satisfied with a score draw. Martinez got his game management spot on last night. I've been very critical of him and Barry but they got it right.
Also, great to see Ross with a bit of fight in him. The day he goes straight through the back of someone like Nolan is the day he will become undropable. (Not a word, but who cares.)
ITV outdid themselves yesterday. Two interviews with Sturidge bookending our game? Liverpool on the main channel? It was satisfying that their game was so drab. Although, another late penalty gives them a result. How many times does that happen? That can't be a coincidence. I can't wait for the day when clubs are properly investigated for throwing games.
Paul Rimmer
40
Posted 20/02/2015 at 16:09:56
Tony - this is from the UEFA site...
The team that triumphs in the final in Warsaw on 27 May 2015 will gain a UEFA Champions League place, at minimum entering in the play-offs. If the UEFA Champions League winners qualify automatically through their domestic competition for the 2015-16 group stage, the UEFA Europa League title holders will also enter at the group stage.
So likely a group stage entry. Everton currently 14/1 to win it with Wolfsburg 8/1 – it's a funny old game.
Mike Childs
41
Posted 20/02/2015 at 18:56:06
Great report, Lyndon. On to Sunday where 3 points is a must or last nite's utopia will become a dagger.
Darren Hind
42
Posted 20/02/2015 at 19:07:49
Good to be a blue today: decent football, fantastic result, and decisions finally going our way.
Only negatives: Tim Howard was so far away from stopping an infinitely stoppable shot.
And Stones having his inexperienced exposed – something we are going to have to accept from time to time.
Brian Garside
43
Posted 20/02/2015 at 21:50:27
A note about the left-back debate. Yes, Oviedo played well, as usual. Yes, Garbutt did well, as usual. But they played against a team set up in a way which allowed them to find space rather easily. Do the Baines doubters not think that he would have got forward as least as much against this opposition?
I suggest that he would have found even better passes and better angles. To play against PL teams who are fully aware of the threat you pose, with at times two-man marking/closing down, nor having a winger to combine with is a rather harder nut to crack.
I am not yet willing to cry that The King is Dead despite my liking of both Oviedo and Garbutt (who I rate already as at least as good as Shaw). Knee-jerk reactions I leave to our malodorous neighbours.
Graham Holliday
44
Posted 21/02/2015 at 07:49:47
Having started the LB debate on this thread, I'd like to point out that Baines is probably still our highest quality player in that position. But I do think there's been an extended spell where he's not performed to the level he was at one or two years ago. Oviedo and Garbutt have come in and been as good, if not better than Baines has been for 6 months or more (I'd be surprised if many dispute that but feel free!), therefore they should be given the chance to hold down the spot.
It comes down to an issue that both Moyes and now Martinez seems to have of sticking by players for, arguably, too long when they're out of form and other players come in, play well but are turfed out when the first choice returns.
I'm not saying that the manager shouldn't stick by a player in a poor run of form, but not for extended periods. The recent example of Barry playing every minute when in woeful form is one example. Hopefully he's getting out of that rut now but like many, after the QPR game I thought he'd stick with Barkley and Besic in the deeper roles. Or play Baines there and give one of the two in form deputies at LB a few games.
Likewise playing Ross, Naismith and Eto'o at LW when they'd been awful there for 10+ games.
I'm not being overly critical here, just pointing out that in my view, it may have reached the point with that one position that the time may be right for a change of approach. Baines has been okay recently, but not brilliant for quite some time. These guys have been very good when they've deputised, so let them have 4 or 5 games in the position and let Baines come on off the bench or give him a go as a CM, if Roberto really thinks he's capable.
Aidy Dews
45
Posted 21/02/2015 at 08:42:36
Great result but Sunday will be a different kettle of fish!
The Europa League suits us to a tee as most teams in Europe don't "park the bus" and suffocate space as a lot of teams do in the Premier League, they do give you room to work in and certain players in our team, likes of Lukaku, Barkley & Mirallas (although he didn't have the best of games) do their better work when facing the opposition goal with space to go into and on Thursday we looked a different animal, we looked like the Everton of last season.
In the Premier League, teams sit deep, don't open up, and don't surrender space easily; that's why we've looked really pedestrian, being forced square and backwards. We've found it hard to cut open teams but things like that will come in time when we've come more accustomed to being patient and finding a way through. But even the best teams like Barca & Bayern struggle to break down teams sometimes, even with the quality in their ranks!
But hopefully Thursday night can be the shot in the arm to get our Premier league campaign on track.
Brian Garside
46
Posted 21/02/2015 at 12:14:02
I agree with a lot that you say, Graham. I have been irritated by the constant sledging of both Baines and Coleman. No, they are not as effective as under DM or even last season. This is due to the fact we are playing in a completely different way, a point missed by many on these pages, which means that one cannot expect the same type of performance from any of the players. They are under different instructions now. If anything, the manager should be getting the grief for the set-up/tactics not the players tying to make it work.
Add Your Comments
In order to post a comment, you need to be logged in as a registered user of the site.
Or Sign up as a ToffeeWeb Member — it's free, takes just a few minutes and will allow you to post your comments on articles and Talking Points submissions across the site.
© ToffeeWeb