Blues give up two horrible goals
By Michael Kenrick
09/05/2015

Comments (192)
jump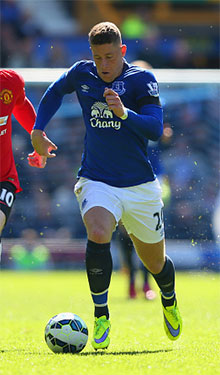 Ross Barkley was recalled for the visit of Sunderland
(Photo by Alex Livesey/Getty Images)
Everton 0 - 2 Sunderland
The penultimate game of the season at Goodison Park and Roberto Martinez named a strong side with Osman and Barkley back in the starting XI. It was something of a scrappy start as Everton looked to kick off with the required intensity, a number of players trying to get forward passes in play, but it was Sunderland who almost got behind the blues when Stones failed to clear on the stretch.
Sunderland were determined to defend solidly and the Blues needed to be inventive to create their first chance, Osman curling his shot just wide in a crowded area. In the next attack, Defoe fouled Baines wide left and the Everton player curled in the set piece to the far post but with too much pace and height for Stones.
A lovely ball over the top from Osman seemed to fall perfectly for Lukaku but the big man maddeningly failed to attack the ball allowing Pantilimon to intercept it. Osman followed up with a weaker shot that went wide.
Everton were dominating possession and eventually got behind Sunderland when McCarthy played a great ball for Coleman to run on to but the cross did not find Lukaku who had three defenders in attendance and Barkley could not strike the follow-up properly.
A lot of midfield possession and slow build-up saw Osman finally cross after a sequence of intricate passing but again the ball evaded any Blue shirts and Sunderland had a spell of attacking that saw Defoe lash in a shot which flew off Wickham. Off a throw-in, it was Wickham who turned and fired well wide of Howard's far post with little pressure on him from the Everton defenders.
Some slick passing down the right on the half-hour produced Everton's second corner that was delivered in nicely to Barry who was well marked by Graham. Then, a lovely move featuring Lennon should have been another corner as Osman's shot was blocked wide.
Sunderland were defending deep, and making it as difficult as they could for Everton to structure an attack that would produce anything like a decent chance for the increasingly frustrated Blues. Osman almost got the ball through to Lennon but the space was quickly closed down.
Coleman won another corner down the right that Baines flicked off the first defender to the far post but it was too crowded for a clean header. Another corner from the other side but this one also found a defender and was cleared.
After some very patient passing around, Osman saw an opportunity to play in Lukaku who once again could not dominate a glorious opportunity, playing his first touch just too far ahead and Osman, set up with a brilliant chance to power home, fired in a shot that was slightly deflected straight to Pantilimon. Brown was carded for his foul in the move.
Barkley found Lukaku in the are but Jones was too tight on him for for the turn and the big man could not dig it out, summing up Everton's frustration in a first half they dominated with some good if at times too patient build-up play against the Sunderland parked bus.
Barclay's annoying tendency to return forward balls straight back put Everton under early and unwanted pressure early in the second half but Coleman took the ball in the right direction, to win a corner that Osman tried to get to Barry, winning another corner. This one headed in by Jagielka and Lukau redirected it wide when it seemed easier to score. Jagielka headed the next one in, but it was deflected just beyond the angle. Five corners in all before Everton mounted a more conventional attack that... won yet another corner. This one picked out Lukaku perfectly but a dreadful attempt to head it saw the ball fly off his shoulder.
At the other end, Graham could not control a hard ball driven in by Larsson, but in the next lively attack, Sunderland plundered the ugliest goal imaginable, Gomez powering in a shot and Graham sticking out a leg that caught the ball and sent it careening off the ground, up beyond Howard and in off the post. Unbelievable, and yet almost too predictable.
Cattermole took out McCarthy as Mirallas was readied to come on, Baines curling in a good delivery that Osman headed wide with Lukaku failing to get a second bite of the cherry. Barry gave way for Mirallas.
The Blue shirts seemed to be getting better penetration in into the Sunderland area but strange decision-making and a lack of ideas to penetrate some obdurate defending, with the corner count getting into double figures without end product saw the Blues continually frustrated. Coleman did some clever keepie uppies to create a shot that flew wide with almost every attempt blocked or deflected.
When Everton broke from Sunderland's first corner, McCarthy's ball to Lennon was too high and hard for him to control and the chance was gone.
Yet another Everton corner, taken by Mirallas, came to nothing. McCarthy then lashed in a great shot that finally got through the forest of red and white shirts but smacked off the face of the post. Luke Garbutt came on to replace Baines, who had picked up a knock.
A nice move through the middle found Lukaku well offside and he still couldn't finish. The Blues kept probing away,hoping that something would break for them. Lennon got free of Brown but could not profit as lukaku continued to demonstrate the most bizarre of first touches. He did cross in to Coleman who seemed to go down off Defoe's trip but no real penalty shout, and then fire in at Pantilimon, but given the service he ad often failed to see this season, all the big man's faults and limitations were on full display
After sustained Everton pressure for almost the entire second half, it was Keystone Cops in the Everton area, Fletcher falling over before Johnson's wayward shot came off Coleman and then Defoe to bounce behind Howard and underline a dreadful, dreadful result for Everton.
To underline the desperation, McGeady came on for Lennon, who had been less effective, to run around as Everton continued to try and score but they simply didn't have the guile to beat a thoroughly entrenched Sunderland side.
Scorers: Graham (53′), Defoe (85′)
Everton: Howard, Coleman, Stones, Jagielka, Baines (74' Garbutt), McCarthy, Barry (62' Mirallas), Lennon (87' McGeady), Barkley, Osman, Lukaku. Subs not Used: Robles, Besic,Naismith, Kone.
Sunderland: Pantilimon, Jones, Coates, Brown [Y:42'], van Aanholt, Larsson (84' Bridcutt), Cattermole, Gomez [Y:62'], Wickham (84' Fletcher), Graham (73' Johnson), Defoe [Y:66']. Subs not Used: Mannone, Reveillere, Vergini, Buckley.
Referee: Lee Probert
Attendance: 38,246
---
Reader Comments (192)
Note: the following content is not moderated or vetted by the site owners at the time of submission. Comments are the responsibility of the poster. Disclaimer
Phil Smith
1
Posted 09/05/2015 at 14:31:21
Well, that game sums up our season - frustrating, frustrating, FRUSTRATING!!!
David Price
5
Posted 09/05/2015 at 14:40:17
One of those games. Shit happens. Not Bobby's fault this time.
Trevor Lynes
6
Posted 09/05/2015 at 14:40:53
These are the best players at the manager's disposal and it was the same starting side that beat Man Utd.
Football is unpredictable and results like this happen from time to time. Who can make his players score goals? Sunderland were very, very lucky!
John Gee
7
Posted 09/05/2015 at 14:38:55
Apart from Garbutt and McGeady, that was a good performance. Pace, power and invention.
We lost that game because of the officials. Wickham was overly aggressive and the ref just ignored it. Defoe should have seen red for the trip on on Coleman and it was a handball for their second goal. But Stones was tripped in the build up.
Even my missus, who knows little about football, was pointing out the ref was dodgy. Is this a BT sport thing? Are the PL manipulating results to get rid of the bar code embarrassment? Something is rotten in Denmark.
Allan Board
8
Posted 09/05/2015 at 14:45:02
Same rubbish, same result. Stones at fault for 2nd goal.
Ross Edwards
9
Posted 09/05/2015 at 14:38:16
We lost 2-0 at home to one of the worst teams in the league. A team that lost 8-0 to Southampton. 8-0.
And yet again it shows how easy we are to play against.. We're just incapable of beating relegation fodder like this who put 10 men behind the ball. 15 corners, 73% possession, whatever it was is irrelevant. We could have carried on playing for the whole afternoon and we still wouldn't have scored.
All you need to do against Everton is stick 10 men behind the ball and break. Sunderland did that and scored twice. We just faffed around for 90 minutes wasting shit corner after shit corner with endless tippy tapping that was defended easily by Sunderland.
There was no Plan B again. And as for the 'Martinez, he's learnt' argument we've heard for the past few weeks, he clearly hasn't. We've reverted back to type.
Frank McGregor
10
Posted 09/05/2015 at 14:41:22
The board needs to be proactive and have a short list of potential candidates for the manager's position and make their move to replace Martinez after the first eight games of next season if these performances continue.
The next bit of business would be to take the first 㿈 million pound bid you can get for Lukaku – he is a waste of space.
Surely the board cannot look at the present situation with much confidence for the future..
Kevin Rowlands
11
Posted 09/05/2015 at 14:45:18
I actually thought we played decent; they were very lucky. Coleman had his best game of the season but Lukaku was fucking awful. I really hope someone is gullible enough to give us our money back for him this summer. Not good enough and never will be... don't believe me? Ask Jose Mourinho.
One last point: C'mon West Brom!
Paul Andrews
12
Posted 09/05/2015 at 14:48:49
Only negative today is no points. Really unlucky to not get 3 points, 22 shots 73% possession, quick passing football played at a good tempo.
Two fluke goals, one clear handball, clear penalty denied.
A very encouraging performance for me.
Patrick Murphy
13
Posted 09/05/2015 at 14:46:41
If your main striker hasn't scored a Premier League goal in open play since December 3rd last year and it's now May 9th, the team is bound to struggle, whether all the blame should fall on the player's shoulder is debatable but surely spending 㿈m should have given a far better return.
I also agree with somebody who said that Barkley has gone backward in his development and looks more like the rabbit in the headlights player he did when he first broke into the first-team.
I thought the attitude today was far better but in the first-half Sunderland looked a terrible outfit and should have been blown away, but unfortunately we had 'one of those days' which hasn't always been the case this season.
I don't think Martinez is the answer and I don't expect him to do any better next season, but I don't see how he can be blamed for today's efforts either.

Colin Glassar
14
Posted 09/05/2015 at 14:55:33
Very frustrating, and disappointing, to lose that game. They got two dodgy pens last week and two jammy goals this week. When luck is on your side......
Brian Porter
15
Posted 09/05/2015 at 14:54:17
For God's sake, Sunderland should have been dead and buried by half time. Lukaku couldn't hit a barn door from two yards.
Martinez should have read the riot act at half time, but doesn't have the motivational skills so yes, we can blame him. Come on BK, get rid of this clown NOW!
Ian McDowell
16
Posted 09/05/2015 at 15:01:17
Well I have had enough for this year. Sick of watching the same old over and over again. A few points:
1. Lukaku – what is the point of him??? Absolutely nothing from him today. Can't head, can't pass... can't hold the ball – and doesn't work hard. I would have either tried Mirallas up top like for Belgium at the World Cup or Naismith for 60 mins as at least he works hard.
2. Barkley and Osman both produced nothing today.
3. Organisation in defence – there was none and the Sunderland goals came easy.
We need to do something drastic this summer.
Joe Clitherow
17
Posted 09/05/2015 at 14:58:18
Back from the game.
Disgraceful against a poor team. Utterly disinterested Everton and I do blame the manager because he is incapable of motivation. This is not an isolated scenario as he cannot beat lesser teams.
Lots of chances created by Everton but yet again their keeper did not have a serious save to make (hitting the post is a shot off target – as we always pointed out to the RS).
Same old, same old hard luck story getting beat against teams we were supposedly better than in the game. Well to those satisfied with that, they scored two, we scored none. When that keeps happening, it is not bad luck but a pattern.
Martinez Out!!
Ian Hollingworth
18
Posted 09/05/2015 at 15:01:52
30 years celebration today for the 1985 team.
For those of us that remember it, we are very fortunate and I feel so terribly sorry for all Blues under 40 as, under this regime and manager, we are a very long way from getting anywhere near the joy that the 1985 side gave us.

Tahir Abdullah
19
Posted 09/05/2015 at 15:09:57
Well said, Joe @17.
Nev Renshaw
20
Posted 09/05/2015 at 15:04:20
Why do I feel so despondent?After all, we Evertonians have become so used to disappointment season after season. Is it because I'm of an age that I can remember us being one of the best teams in the land many moons ago???
James Martin
21
Posted 09/05/2015 at 15:09:15
Martinez has no clue how to attack. Camping outside the opposition box and passing it sideways before having a punt from distance is ridiculous.
Never mind KITAP1 – Martinez's master plan is "pass it round and hope something happens." That is why we look better against teams who are better than us because all we can do is play on the counter.
This is the most boring Everton side I have seen since the late 90s. Our keeper is a clown, the defense only turns up one game out of two, the midfield can't pass forward, and our striker is abysmal.
Jamie Barlow
23
Posted 09/05/2015 at 15:14:56
I must have been watching a different game. I thought we played some good football and in no way whatsoever deserved to lose.
Ray Said
24
Posted 09/05/2015 at 15:16:26
With regard to the '30 Years celebration today for the 1985 team' – I thought the presentation for the legends was pathetic. Kenwright is supposed to be a showman, a producer, well he let the side down badly here.
These men deserved better and any other club with history like ours would have treated the men and the crowd to a proper show of respect.
Geoff Evans
25
Posted 09/05/2015 at 15:20:53
Not too great.
Matt Traynor
26
Posted 09/05/2015 at 15:21:57
At least he's consistent:
Everton boss Roberto Martinez to BBC Sport:
"We knew it would be difficult but I thought we completely controlled the game. You have to score goals when you are so dominant. That gives you the game. Sunderland had great belief, were waiting for their opportunity. The first goal is an unfortunate deflection, the same with the other goal.
"The downfall of our performance is we couldn't take any of the chances we created. Goals are the difference.
"In terms of the effort and the attempts, we tried our best to create something that could give us a goal. If we play that game 10 times, we will win it nine times."
Denis Richardson
27
Posted 09/05/2015 at 15:04:26
Sunderland obviously came to park the bus and look to hit on the break and would have been happy with a point. They rode their luck and got two lucky goals although the defending left a lot to be desired.
We had the lion's share of possession and made half-a-dozen odd decent chances but couldn't take them. Lukaku being guilty of missing a few.
Penalty shout was a decent one but I would have been unhappy had that been given against us to be fair. In real time it didn't look like a pen to me. Still it's very disappointing that with 70%+ possession and 16 odd corners we couldn't get a goal against one of the poorest sides in the league. Martinez take note – possession does not mean anything if you can't score..
Conclusion – just one of those strange games that happens. Had it been a one-off, I could live with it but it just gets added to this pathetic season that's finally coming to an end. We've ended the goal drought of so many strikers and teams this season, it's ridiculous.
There is a decent striker in Lukaku somewhere, just wish it would come out. This game shows we need an another striker as competition and back up and a creative CM who can help to unlock defences who come to park the bus – for whatever reason that creative CM is not young Ross at this time. With Osman and Pienaar approaching their career ends, the manager better have a CM as one of his top priorities next season.
So, two games left and realistically only 10th place to aim for although West Ham away will not be an easy game. I believe we will probably finish where we are now, 11th. Stoke just taken the lead against Spurs so 10th looking a pipe dream right now.
The two bookings also won't help for fair play, and that is really the only tiny thing we can cling onto.
Roll on next season. So much time wasted watching Everton this season with no joy – why do we even bother.
Colin Glassar
29
Posted 09/05/2015 at 15:21:44
BK's waiting to celebrate his 30 years in charge without a trophy Ray. I've heard he's got the Dallas Cowgirls, Sly Stallone and Sir Paul McCartney lined up for that one. That'll be a biggie.
Jim Bennings
30
Posted 09/05/2015 at 15:19:02
Watching that bog standard shite today makes me so so comforted at the thought of saving 𧺬 on a season ticket.
I may be a mad Evertonian but I'm not stupid; this is the worst performing Everton team I have ever seen – not playing staff-wise but certainly performance-wise.
I don't think I have sat through as much dross during one season. Martinez just doesn't do running football, it's walking football, pre-season training session football.
No more for me.
Tom Magill
31
Posted 09/05/2015 at 15:14:24
New manager please!
Tony Bourbon
32
Posted 09/05/2015 at 15:16:05
We practiced 15 corners today! We should practice running forward into space any day now, you'd think...???
Tony Rutherford
33
Posted 09/05/2015 at 15:13:07
James, I totally agree with your post. My son said exactly the same while sitting next to me at the game. We just don't seem to consistently start the game with a high tempo and it almost lulls the home fans into a stupor!! Give the fans something to cheer about and we will, just look at the Man Utd game.
While we did play some decent joined up stuff today, a pattern has emerged. Lots of poor teams getting a result at Goodison where we haven't been able to break them down. 14 defeats already this season.
I hope we can shake off the malaise before next season... as it could be another long one!

Joe Clitherow
34
Posted 09/05/2015 at 15:19:28
Sunderland worked harder than us and showed more desire. Luck often tends to follow those virtues.
A work ethic and will to win is the absolute minimum I expect from my football team – I'm in agreement with the Newcastle fans last week. We have better players than most teams but they stroll through games under Martinez. We still seem to think we only have to turn up.
However flukey the finish for the first goal was, it was another mistake due to poor concentration and poor decision-making from Stones. A great raw talent – both of these flaws in his game could be coached out of him but clearly not by this regime. I fear we will only see what John Stones will achieve as a footballer when he gets polished by another club.
Victor Jones
35
Posted 09/05/2015 at 15:10:53
Well said, Joe. I cannot switch off from Everton Football Club. They are part of my DNA. But I have well and truly switched off from Roberto Martinez. What happened to the 4-4-2 formation (that seemed to be working for a few games)? And thank god that it did. Why did Martinez revert to 4-5-1 or 4-1-3-1-1? Why change?
A good performance every 6 months is not good enough for me. We should be beating teams like Aston Villa and Sunderland. And it is the manager's fault. No-one else.
Do people really think that Martinez will do anything at Everton next season? In fact, I fear for Everton next season. I fear that we will be scrabbling for points at the bottom half of the league. And I don't think that Martinez will ever reach the heady heights of last season. It is criminal that he never managed to build on that. And I don't believe in second season syndrome. That IMO is nonsense.
The fact that we missed chances today means nothing. We still lost the game. We have lost far too many games. I really am gutted today. It is lucky that we are safe. Very lucky. So once again, well said Joe. Martinez Out!
Jamie Barlow
36
Posted 09/05/2015 at 15:31:13
Stones needs to know when to get rid but we can't stop him playing out from the back, Joe. It's going to happen every now and again if we want him to be the player he can be. I don't want that coached out of him.
I don't agree that Sunderland worked harder than us either. They defended more than us but they had to, didn't they?
Roger Helm
37
Posted 09/05/2015 at 15:26:40
It's not just one of those things when it keeps on happening. We don't have the quality to unpick an organised defence. We only look any good on the counter.
A 㿈m striker who takes 4-5 seconds to get the ball controlled and can't get a free header on target? A winger who in 90 minutes can't plant a cross on head of said striker? A manager who has to play 2 defensive midfielders against a relegation candidate side? An ageing DM who keeps giving the ball away?
The players need to do a lap of apology next game.
Everton are so dull to watch these days. I'm watching rugby league in future.
Jason Murray
38
Posted 09/05/2015 at 15:29:31
Their two goals were stuffy as fuck but we were pathetic. No passion, no desire. They should be ashamed of themselves.
Coleman was my MotM closely followed by McCarthy. Losing at home against a struggling Sunderland team in consecutive seasons is not good enough.
Tony Hill
39
Posted 09/05/2015 at 15:34:36
We simply should not be losing to a woeful side like Sunderland, lucky goals or not (in fact both goals were traceable to bad work by us: Osman and Baines for the first and Stones for the second).
Yes, we started okay and had one or two moments but it's the same ponderousness and lack of drive which are affecting us. Lukaku remains awful as does Barry and I am sorry to say that Barkley, whom I have consistently supported, is starting to look a lost cause.
A great deal of work needs to be done if next season is not going to be another big struggle.
Jim Bennings
40
Posted 09/05/2015 at 15:36:43
Hull City... Home and away
Stoke City....Home and away
Sunderland...Home and away
Leicester...Home and away
So Roberto thinks if we played this game again 9 times out of 10 we would win it???
Really Roberto??
How come we didn't win home or away against any of the above mentioned teams??
Can't motivate them mate!!
Andy Crooks
41
Posted 09/05/2015 at 15:40:01
It's "not Bobbys fault", good God almighty, that comment should win an award.
Andrew Presly
42
Posted 09/05/2015 at 15:25:29
Surely worth giving Klopp a ring? This isn't working out.
Chris Butler
43
Posted 09/05/2015 at 15:41:40
Typical Martinez performance – exactly why I'm not renewing. He's happier just to pass the ball around going nowhere rather than do anything useful with it.
We've dropped 5 points against Sunderland this season in 2 games that we should've won. I've never seen an Everton team look so happy to lose games. How many times in the game did we get into go positions and waste it?
Sunderland showed us that you need to play fancy football to win matches – you just need to create chances and take them.
Ian Riley
44
Posted 09/05/2015 at 15:25:44
I don't think you will be the only one, Mr Bennings. The team have not got out of pre-season football all season. I thought it would change after the first 10 games but no! I cannot even blame the Europa League in the last two games!
Sadly fans pay the 𧺬 season ticket, petrol, and club merchandise. Fans pay thousands and go without. If the manager can't get them up for a game v Sunderland at home... time to go!
I just hope fans are not basing their renewal of a season ticket on today's game! I don,'t see the style or pace of football changing under this manager. He has his beliefs and he is sticking to them!
Mike Childs
45
Posted 09/05/2015 at 15:30:28
What a maddening season it has turned to be. Ayoze Perez of Newcastle ٠ million Rom 㿈 million sad very sad indeed.
Jon Cox
46
Posted 09/05/2015 at 15:33:23
Terrible game, not sure what the ref's brief was either. We didn't get an awful lot from him, did we?
Not much hair left now as it's been mostly pulled out watching Everton.
As for the manager, I think it's best that he goes. Said it before, will say it again: it has to be Bilic for me. Surely it can't be any worse than this turgid dross, week-in & week-out.
RM out asap!
Jim Bennings
47
Posted 09/05/2015 at 15:50:36
As someone said to me at the match, the media hype surrounding Barkley and Lukaku going for 㿔 million each, I doubt at present we would get 㾶 million combined. They are basically grossly over-hyped.
Barkley is and has been outperformed lately by Charlie Adam. As for Rom...??? Fair enough, no service... but the lad can't do the basics.
Martinez, I wouldn't trust him to run a Sunday league team, clueless and no passion.
We seem to have or hear the same thing after every game this season "not good enough" or "can't get any worse" or "no end product and littered with defensive mistakes".
I can't see how this will get any better between now and August unless we get Messi, Iniesta, and a couple of proper old fashioned centre halves who defend first and foremost. Failing that, a new manager would do me nicely.
Terence Tipler
48
Posted 09/05/2015 at 15:53:50
One down, two to go. We have another two poor performances to go before the end of the season, then 7 or 8 more at the start of next season, before we get rid of this clown.
As I pointed out at the time, the performance against Man Utd was a one off, and down to the players ignoring Martinez.
Chris Sillett
49
Posted 09/05/2015 at 15:52:39
It was so obvious we would lose today even before the match, we have nothing to play for and Sunderland are fighting for survival. "If you are desperate for a win, then play Everton" has always been a saying of mine. The players are now on their holidays after the Man Utd win.
We didn't play terribly today but after 30 mins I thought "This is gonna be one of those days." Then they got the goal and that was it for me.
It was almost like we were playing with 10 men as well, Lukaku was that bad... hopefully he'll want a move in the summer and we get 㿊 million [*chuckle*] but do we trust Martinez with that money?
It's a bleak summer ahead in my opinion, after all we only need 2 or 3 non glamorous signings according to Martinez....
Andy Crooks
50
Posted 09/05/2015 at 15:57:52
The recent comments from Duncan Ferguson are quite disturbing. I would never have expected him to buy into the Martinez myth. We have the worst coach in our history by some distance (Walker got sacked, at least) surrounded by self-serving sycophants.
This man will destroy our club and fuck off with the speed at which he fucked Wigan.
He is an arrogant, shameless nonentity who should have been sacked months ago. Is he the best we can get?

Terry Downes
51
Posted 09/05/2015 at 15:57:58
Can anyone tell me shy we do two defensive midfielders on the pitch against a team like Sunderland when there's nothing but pride at stake?
I've always supported Martinez but patience is getting very thin.
Matt Traynor
52
Posted 09/05/2015 at 16:07:09
Andy #50 FFS will you stop sitting on the fence and tell us how you really feel?
Joe Clitherow
53
Posted 09/05/2015 at 16:02:43
To the question of who would replace Martinez, when we discount the obvious answers (i.e.the tealady etc etc), I believe Dick Advocaat will be available in a couple of weeks.
Tony Twist
54
Posted 09/05/2015 at 16:09:26
I am disgusted by that result. Nothing to play for but pride. Sums us up really: lack of professionalism with a manager who is poor – and that's being kind.
Frank Crewe
55
Posted 09/05/2015 at 16:05:14
Yes, 9 times out of 10 we would win that match – if we had a finisher on the park. If you found a big lump on your body, you would go to the hospital and have it removed. Lukaku is a big lump.
Virtually every half decent CB he comes up against out jumps and out muscles him. He makes hardly any decent runs, and he can't hold the ball up. A 㿈M sack of uselessness.
If RM intends to do anything next season, Europa or not, we need a proper striker. We had enough opportunities to score 3 or 4 goals today but nobody to take those opportunities.
Get rid of Lukaku and let some other club mollycoddle him and sooth his furrowed brow because he's doing nothing for us at all.
Brian Harrison
56
Posted 09/05/2015 at 16:09:10
Yet another game which resembled a pre-season fixture; some neat football at times but no end product.
I despair watching us under RM, he continually goes on about how great Barkley and Lukaku are, but in truth both are very very average players. Lukaku I believe hasn't scored a league goal in open play since 3 December 2014, and Barkley's goals are as rare as hen's teeth. So our strike force which started this game was a strike force with hardly any league goals between them.
And today I think we saw the real Lennon – a lot of running around but created nothing – and his goal tally throughout his career is pitiful. So maybe we shouldn't be surprised in our lack of goals.
Tony Hill
58
Posted 09/05/2015 at 16:20:13
Yes, Lennon was bad today and he is certainly not worth ٧M – though he has still done a very good job for us. I'd probably take him for ٤M but I suspect he won't be here next season.
John Keating
59
Posted 09/05/2015 at 16:27:29
No Plan B. Our play is so lethargic, it's sleep time.
I watched Martinez today and he is clueless. Every time he ventured to the byline, it was the same half-daft signal, index fingers of each hand in some line or other. Not sure what it means but he did it in the first minute and he did it in the last minute. Maybe it's some Masonic thing.
Our play is so predictable it's phenomenal. I booed at the end and bollocks to anyone who says it's wrong !
Harold Matthews
60
Posted 09/05/2015 at 15:55:40
Defence very disorganised. Stones too casual again, Garbutt not up to it.
Lukaku needs a pair of specs.
Not sure what to make of it. We played some nice stuff but created little against a brave, packed defence.
Darren Hind
61
Posted 09/05/2015 at 16:18:17
"The only negative today is no points."
I ask you. What chance do we have? The entire football community will be pissing themselves watching us on MotD... Yet we've got people telling us they are "encouraged"?!?
Maybe you do get the team you deserve after all...
Pete Edwards
62
Posted 09/05/2015 at 16:30:42
Martinez can't be blamed for this defeat. People moaned that he changed the side from the Man Utd win last week but the same side just lost.
Positives from what I saw: we played pretty well, Barkley was looking for the forward pass most of the time, Coleman played like the player he was last season.
Now the two goals are as jammy as you will see, Graham looked to be trying to get out of the way of the shot he deflected in and Stones was fouled in the box and Defoe handled (not to mention he should have been off for the trip on Coleman).
Just one of those days and part of me is smiling as it's one more nail in the Newcastle coffin!
Oh and the ref today well, the less said the better on that!
Trevor Peers
63
Posted 09/05/2015 at 16:31:52
With Roberto we have a phenomenal desire to lose, no way will he improve any one who thinks different is damaging our great club.
Tom Cuffe
64
Posted 09/05/2015 at 16:32:11
For all his shit talk during the week, i really expected more from us today... i don't know why but I did. It leads me to question: "Are these players really playing for the manager? Or are they just hoping he does the honourable thing and calls it a day once the season is over, now we're safe?"
A season for all to wipe from the memory bank.
Roll on next season.
Andy Crooks
65
Posted 09/05/2015 at 16:32:08
If places in the league are worth a million plus, then Martinez should surely be sacked without compensation for gross incompetence.
Sorry, I've just heard the coach on final score and need to vomit.
Stephen Brown
66
Posted 09/05/2015 at 16:31:10
Awful season really, lots to be concerned about and not a lot of hope on the horizon, I fear!
However today's result was down to some very bad luck as can happen in football. Can't wait for the season to end.
I normally dread the pre-season as generally I fear our best players could potentially be sold but to be honest there are none of the team who are irreplaceable! I've been making excuses and hoping Ross Barkley comes good but the realisation has hit me that he probably won't! Maybe time to cash in before everyone else realises?!
Lukaku has a good scoring record on paper but we all watch him every week and the truth is he's not that good either and he's under the misapprehension that he's doing us a big favour playing for us! Wouldn't lose too much sleep if he went as long as we got our money back!
Mirallas is a mercenary and can go! I like McCarthy very much but is he irreplaceable?! Baines? Coleman? I'm not advocating selling all these players but I don't have my normal fear of players leaving!
Frustrating season – where do we go from here?
Roger Helm
67
Posted 09/05/2015 at 16:40:32
It's not just one of those things when it keeps on happening. We don't have the quality to unpick an organised defence. We only look any good on the counter.
A 㿈m striker who takes 4-5 seconds to get the ball controlled and can't get a free header on target? A winger who in 90 minutes can't plant a cross on head of said striker? A manager who has to play 2 defensive midfielders against a relegation candidate side? An ageing DM who keeps giving the ball away?
The players need to do a lap of apology next game.
Everton are so dull to watch these days. I'm watching rugby league in future.
Andy Meighan
68
Posted 09/05/2015 at 16:17:47
Looking at it, we were unlucky today; key decisions went against us. But what a sorry shambolic mess this season has been.
I'm seriously thinking of not renewing our season tickets and just picking my games next season because I really don't know how much more of this dross I can take. We lack flair guile and pace we haven't got a schemer who can put a ball through the eye of a needle... although, to be fair, Osman had a good first half today – but disappeared in the 2nd.
I really thought this season would be the one for Barkley. How wrong was I? I've defended the kid constantly. I can't no more... his decision-making is atrocious and has gone so far backwards it's untrue.
And as for "I'd have paid a 𧴜 million for him" Lukaku... what a waste of space. Yes, the service into him is poor at times but his overall game is lacking terribly. Awful first touch, can't read the line, and looks like he's got his boots on the wrong feet. If someone really is gullible enough to give us our money back, you'd have to snap their hands off.
I see someone said the board should have a short list ready in case the Spaniard gets the tin-tack after 8 games; admirable words... Unfortunately, our board don't do contingency plans. and there's not a prayer he'll be sacked – no chance. We're stuck with the fucking moron whether we like it or not. I'd love it to happen – I really would – but just can't see it.
I can't wait to see the summer signings. This has been the worst season football-wise since the Walker days – and that's saying something!!
Ian Riley
69
Posted 09/05/2015 at 16:24:29
I would take the Burnley manager, Mr Bennings. Burnley don't have great ability but have great hunger and fight. The players don't have the urgency to score goals, following managers orders!
As for Barkley being sold for 㿔 million or Lukaku for 㿏 million. Take the money with a new manager, fresh blood all round!
Never a big Moyes fan but he would have never let them play with no desire! Need a manager to put back the desire playing for Everton FC!
Players this season, don't look too bothered, win or lose!
Tony Hill
70
Posted 09/05/2015 at 16:39:23
I know we're not supposed to talk about the manager being dismissed after the endless debate we've had over the course of this season, but I do start to wonder if BK is having a think. Can he afford to hope that it all somehow goes right in time for August?
That side today, even allowing for the position we're in, looked directionless and it will need much more than a few signings to improve it. It needs a change of heart and spirit, very quickly indeed, and I don't think RM has it in him. More importantly, I don't think the players do either.
David Harrison
72
Posted 09/05/2015 at 16:39:49
Jamie #23. You can't have been watching a different game. We've all been watching the same game for most of the season.
Paul #12 " a very encouraging performance". Sorry mate but I'm really struggling to see any positives in such a limp, toothless and passionless display.
Jim Bennings
73
Posted 09/05/2015 at 16:44:12
Can anyone remember the last time we only won 11 games at the end of the season?
I'm having a debate with my dad, I say it was the horrendous 2003-04 season but he's saying 1997-98.
It has to be one of the seasons where we were in a relegation battle... right?
Tony Bourbon
74
Posted 09/05/2015 at 16:32:10
Barkley needs a lot of peripheral vision training before he can progress any further. If you're going to run with your head down you need spatial awareness for when you eventually pass the ball. He also gets robbed from behind many times because of this.
Get help, Ross.
Brian Porter
75
Posted 09/05/2015 at 16:15:17
Sad to say, but under Roberto Martinez, our beloved club is going down the tubes faster than castor oil off a spoon.
Equally sadly, it being obvious that BK either doesn't read or just doesn't care what supporters think or say on forums like this and others, it appears to me that the only way he will ever listen is if the supporters vote with their feet and stay away from Goodison until Martinez is gone. After all, we're not missing much are we?
A few sub 20k attendances might just make him realise that the fans have had enough.
Peter Barry
76
Posted 09/05/2015 at 16:51:17
If Roberto is still in charge next season, as it seems certain he will be, then be prepared for a relegation fight.
Brian Porter
77
Posted 09/05/2015 at 16:54:12
Oops, pressed send in error. Meant to finish my previous point by saying one of the reasons Newcastle can do nothing positive about their situation is that the sheer loyalty of their fans sees them filling the stadium every week and as long as that goes on their troubles will continue. Pretty much the same with us. As long as Goodison is full or nearly full every week and the cash is rolling in, BK will do nothing.
Jamie Barlow
78
Posted 09/05/2015 at 16:57:44
David@72 We've been horrible to watch this season. Today I didn't see that.
Brian Porter
80
Posted 09/05/2015 at 17:07:04
Jim Bennings #73. In 1997-98 we won 9 and 2003-04 we won 10. Sorry mate, your Dad's the winner in that one.
Jim Hardin
81
Posted 09/05/2015 at 16:53:31
Stones continues to make the same mistakes over and over and over. Wonder if Distin not being there to teach him has anything to do with it.
As for the second goal, errors by Stones and by Garbutt. He is standing behind Defoe watching. Why is he not goalside? There was no other Sunderland player to mark and he became a spectator. This is basic defending and he again cannot seem to be bothered to do it. Maybe he thought he was still on the bench.
Patrick Murphy
83
Posted 09/05/2015 at 17:02:02
I think that our owners should realise that Roberto is never going to get the support of the majority of Evertonians and likely not even the support of half of the fans. Given that situation, they have to get together and ask themselves: Is Roberto really the right guy to be in charge at Goodison? And if they have doubts, they should bite the bullet now and replace him with somebody who will get the supporters onside.
Everton cannot afford to have the fans not on board as they play such a huge part in the fortunes of the club and the negativity towards Martinez will (if it hasn't already) adversely affect the performances of the players.
I'm not blaming the fans for the poor performances of the team, but we could easily find ourselves in a crisis situation come the Autumn and personally I think a fresh start before the transfer window opens would be the best thing for the club and indeed for Martinez.

Bill Gall
84
Posted 09/05/2015 at 17:01:52
This performance is a reflection of the whole season as when the players and manager suddenly realized that we were a relegation battle they rolled up their sleeves and showed some effort and desire. Since we became safe they have returned back to what has been normal dross this season.
A top manager has to have the ability to at least motivate the players before they go a goal down. The only change I saw today was how quickly he brought on Mirallas instead of waiting for the 75th min.
Ian Brandes
86
Posted 09/05/2015 at 17:14:27
We will soon reach a situation where players will not want to come to Everton because Martinez is still in charge. There has been a big debate on here about the possible arrival of Cleverley from Villa. He won't come, would you?
Then there are an increasing number of 'divisive' influences in the dressing room. Difficult players, or obstinate hopeless manager? I know which option I would choose.
Keep this guy in post, and our era of Premier League football will definitely come to a close.
Eddie Dunn
87
Posted 09/05/2015 at 16:58:54
Before the game I said that this match would give us an idea of just where we are going under Martinez. A motivated team visiting with a need for three points, but likely to park the bus. The question was going to be "Could we unpick their defence?"
The answer is No. We played the first half at a slow tempo, and always looked shakey at the first hint of a Sunderland break. Jags and Stones were getting in a muddle, just like at Villa, and Barry was coming deep to pick the ball up. We were easy to defend against.
In fairness, we did play better football in the second half and some nice interplay should have got us a goal or two, and Coleman was super. However, we defended poorly for both of the goals, too much indecision from Stones, Coleman... and what was Howard doing? Am I being unfair? But don't other goalies save those deflected shots travelling at low speed?
The biggest reason for our loss was the hopless performance of our lumbering great sloth of a striker. Poor heading, poor decision-making, poor shooting and poor movement. Every time a team-mate had the ball in the final third he could be seen pointing to where he wanted it. This action was repeated whenever someone else had a shot.
He stood often static waiting for crosses. It was absolutely awful, and I hope we sell him in the summer. Get in a player who can do the basics, and is mobile. Gomis at Swansea showed what a real centre-forward should do.
One more thing: 22 shots, only 4 on target and 15 corners that nobody got on the end of.
It sums up our whole pathetic season really.
Oh, and is it just a coincidence, but it seems that Lennon has gone shit just as it has been mooted that he is going to be too expensive for us! I wonder?

William Cartwright
88
Posted 09/05/2015 at 17:04:18
Another unhappy day and another round of for and against Martinez arguments with a few abstentions. Like most supporters, I am upset, more than I realized a grown man should be at this season. Trouble is Martinez has landed at the club where he will do most damage because he will be given the time to do so.
Sometimes, when a situation is not working, the only positive thing is to change it . There are no guarantees but the chances of improving are better than same old, same old, same old... The trouble is, it is the club that is unravelling before our eyes and in our situation the team's performance is everything.
Today's performance wasn't too bad (compared to the utter shite we have put up with before) but the reality is you make your own luck or not, as the case may be. McCarthy hitting a post wasn't 'bad luck'. It happens all the time in football. Good teams and professionals put it out of their mind and keep on pushing until they hit the target.
What upsets me is the fantastic team spirit is dissolving, the backroom staff changes are too many, BK's silence is ominous, the press have moved from ignoring us to focussing on our shenanigans, players are gossiping, and we do not know what to believe. We have not had so much latent disharmony for years. Who is to blame? We all know so why restate the obvious.
What to do? Follow the Villa example; fresh investment and management the sooner the better. How and when will that be achieved? I haven't a clue but I have supported Everton for nearly 60 years and now I feel simply disinterested. Thank you, Roberto...
Jim Bennings
89
Posted 09/05/2015 at 17:30:13
Cheers, Brian.
I knew it was one of those seasons for obvious reasons with relegation scares.
Barry Jones
90
Posted 09/05/2015 at 17:08:59
It was obvious at the time of the transaction that to invest 㿈M in a largely unproven striker was a brainless piece of business, especially as Wilfried Bony was available for considerably less at the time, just to mention one option.
Martinez is stubborn and consistently plays the players that he brought in just to try to justify himself. It seems that Kenwright is equally as stubborn and is trying to justify his selection too, which means that Martinez is going nowhere soon.
This does not bode well for next season. I read comments here that suggest the manager may be at blame for one game and then faultless for another. These observations are taken out of context. You have to judge the manager over many games or even the entire season, as this is then a fair judgement on his ability to motivate, set up a team well and make good selection decisions.
Consistency is the key and sadly under Martinez we do not have it. I personally believe that he has lost the faith of the squad and it shows in the performances. Too many quality players are under performing and the team in general looks lost for creative ideas. Even commitment to win the ball is lacking.
I also find his hollow rhetoric galling, and it is largely an insult to the intelligence of the fans. Replacing Martinez before next season is the preferential option but I cannot see it happening.
Michael Kenrick
91
Posted 09/05/2015 at 17:33:40
Good calls, Eddie (#87). I was livid at that 'performance' by the lumox up front. I didn't want to say too much as I was prepared to believe I was being overly critical, but he was just absolutely awful. A total and complete waste of space. Talk about going backwards... it's as if he has no idea what a striker is supposed to be doing.
Jim Bennings
92
Posted 09/05/2015 at 17:32:45
One thing I guess we would all agree on is that we would accept ruefully an Everton team that was having a bad season as long as the fight and passion was always there.
That's the one key factor which throughout this season has hurt most, watching us start games so slowly, no passion or tempo, the only game all season when we have displayed that quality was the Manchester United game, and guess what? We won comprehensively!!
The whole season has seen us play about like a training session, we haven't been outplayed by the likes of Hull, but outfought.
We desperately need to see Everton play with a desire for the badge again, this bunch under Martinez is too spineless, too easy to score against, too easy to beat.
Richard Pike
93
Posted 09/05/2015 at 17:47:07
My god, that was ugly. You knew it wasn't going to be our day when they fluked their first goal, Jimmy Mc hit the post, the penalty wasn't given for Defoe tripping Coleman, and then Stones was fouled in the build-up to them fluking their second.
Or maybe the writing was already on the wall before kick-off. Apart from that cup tie at Stevenage when Oviedo broke his leg, have we ever won on BT Sport?
Neil Roberts
94
Posted 09/05/2015 at 17:43:04
Martinez really has got to go. Sell Barkley, pull out all what we can to keep Mirallas – he really is the most dangerous forward-thinking player we have... and that nob uses him as a bit-part player.
Ian Smitham
95
Posted 09/05/2015 at 17:23:54
Just got back from the game. There has to be change. It looked a bit like we are hedging the fair play place. Aside from after the first goal I saw no passion and drive and bloody minded will to win.
They were ordinary at best and we did have a lot of possession and control of the game, but in areas they were not going to be threatened in. About 20-22 yards out they put up a wall that they were content to defend.
TBH, and maybe looking through blue-tinted glasses, I feel a bit sorry for Ross. He is clearly good and will go on to be even better, but I feel he is being heavily coached and that is bringing a bit of indecision and our losing the good bits. He looks a little lost. Watching LB today I felt the same.
The lists we will all compile of players who can go will be getting longer; my worry along with a few other posters is that if we do let some go, do we trust Mr Martinez with the money and ability to sign better players?
Difficult times, the team and club need direction.
Andy Crooks
96
Posted 09/05/2015 at 17:40:00
Michael, Lukaku was poor, but, in my view, Martinez is utterly clueless in how he should play him. A 㿈M striker should be the first name on the team sheet. Then, our "coach" should be deciding how to maximise his strengths. He doesn't because he doesn't know what he is doing. He is inept, bereft of imagination, tactically clueless and has destroyed the confidence of players we have hopes for.
Sam Hoare
97
Posted 09/05/2015 at 17:51:48
Unless Martinez starts next season with gusto then surely he has to go. We look to be on a steady course to mediocrity or worse with very few signs of anything significant being built.
He seems like a good guy but has just failed to get the best out his players too many times this season. There's no way that team should not be in the top 10 and lethargic performances like today make me fear that he is no closer to fixing the problems.
Perhaps a Summer of rest and reflection will mend things and I hope he can get it right as he seems a good guy with some positive ideas but if we are sat in the bottom half after 10 games next season then I think it will be time to bring in a new option as it looks horribly likely to me that he has lost the players.
Paul Smith
98
Posted 09/05/2015 at 17:49:53
It wasn't terrible, but the Makem's defence was much superior to ours.
Dick Advocaat for assistant anyone or would his ego get in the way?
Anyway, I can't wait for this season to finish; first, I'll be at the Boelyn next week with the long suffering....
Looks like the Spaniard's here until next season. Surely he can only get the first 10 games to show he's got something? Over to Bill again. Was he at the match today anyone?
Trevor Peers
99
Posted 09/05/2015 at 17:51:24
I agree, Andy, you can criticise players all season but the fact is DM, who may not be the best manager around, did know how to get the best out of the players, both collectively and individually.
Roberto is the opposite he ruins players' reputations and the team is laughed at throughout the country. Worse will follow next season.
Mike Powell
100
Posted 09/05/2015 at 17:51:57
Abysmal. Martinez will harp on about 73% possession and 20 corners – guess what, you buffoon, we did fuck all with it.
Sunderland are a poor side and they just beat us 2-0 – that is a joke.
There are no excuses; we were poor again... how much more off this crap have we got to put up with?
Will Firstbrook
101
Posted 09/05/2015 at 17:53:15
Significant overhaul is needed as players are either too old, disinterested or incapable of playing consistently to the required standard. Not good enough, full stop.
We have a manager who usually says the right things (when you can understand him) but more often than not fails to execute properly (not unlike his charges). Hard to figure out where to start fixing this mess.
Tough being an Evertonian!
Terence Tipler
102
Posted 09/05/2015 at 18:08:16
It's not coaching Lukaku needs... it's a bomb up his arse.
Jim Potter
103
Posted 09/05/2015 at 18:03:10
Two fluke goals. Defo pen denied. Post hit. Chances missed. No rub of the green.
Sometimes it's not your day. But ...
Lukaku needs to go if we can get our money back. He has all the drive of a lethargic sloth; the mobility of Stephen Hawking; the killer instinct of Tinker Bell and probably the loyalty of Lord Haw Haw.
Kunal Desai
104
Posted 09/05/2015 at 17:52:28
Everton have found their new level under Martinez. This is where we are likely to finish under his leadership, give a place or two. Forget top 5/6 finishes – it aint happening. Those days are gone under this clown.
Sunderland had not won at Goodison for 17 years prior to last season. Now we haven't scored a goal at home against them in 2 visits. I'm not holding out any hope of a good summer and pre-season. Next season will be much of the same.
If Athletico or someone else wants to offer 㿊+ million for Lukuku then bite their hand off. He's got the touch of someone whose downed about 3 bottles of JD. Personally I don't think he'll make it to the very top. I'd rather see two experienced strikers.
Brent Stephens
105
Posted 09/05/2015 at 18:27:55
Paul (#98) – I heard at game today that Kenwright's brother has cancer.
Terence Tipler
106
Posted 09/05/2015 at 18:26:34
Kunal. your right, a bread and butter striker like Shane Long or Darren Bent would have scored some of them Lukaku chances today.
Paul Hewitt
107
Posted 09/05/2015 at 18:32:40
Kunal — we hadn't won at OT since the early '90s; we did last season.
Ray Roche
108
Posted 09/05/2015 at 18:36:42
Paul, correct, but when we won at OT we were playing good football and deserved it. Sunderland were outplayed today but still won.
I personally think that last season was more of a mixture of Martinez and the legacy of Moyes's defensive system and fitness levels. This season is pure Martinez. And, boy, does it show.
Patrick Murphy
109
Posted 09/05/2015 at 18:45:00
That's the first time that Sunderland have won 2 league games in a row at Goodison since 1924.

Paul Smith
110
Posted 09/05/2015 at 18:49:21
Thanks Brent; that explains things.
Kunal Desai
111
Posted 09/05/2015 at 18:37:36
Terence - I believe we would get better quality than Bent or Long with 㿊 million. There is the world to scour around for decent players – not just the UK.
Paul. True. But we haven't even mustered a goal against these lot at home in 180 minutes of football. A team who got battered 8-0 by Saints and conceded 4 against both Palace and Villa.
Allan Board
112
Posted 09/05/2015 at 18:42:12
I quite understand why the majority of our players can't/won't perform for Mr Pretentious. Like us fans, they haven't a damn clue what the halfwit is talking about!! Quite how he is STILL manager baffles me even more!
A proper coach who can motivate and select players on merit, not his favourites, will put us back in the top 8. And our striker needs to shed a bit o'tub, methinks. Shockingly unprofessional, Everton, and 2 fingers up to STILL the best fans out there.
Dave Abrahams
113
Posted 09/05/2015 at 18:22:42
I think there is a lot of frustration on here at the moment and understandingly so: lot of decent play, lot of poor play. Sunderland showed why they could go down, but Eddie Dunno summed the match up for me, Lukaku was the main reason we lost.
This striker never scraps, battles or fights for the ball, you watch him completely static waiting for the ball from corners, centres and free kicks; no movement, he had three good chances today and with more effort he would have done better, he will not do it for us.
I heard voice after voice today saying they would be happy if we could just get our money back on him. I'm so glad the season is nearly over.
Andy Walker
115
Posted 09/05/2015 at 19:07:29
Don't talk about bad luck, we've been very lucky to avoid a relegation battle. Look at our recent wins:
Newcastle at home when we were hanging on at 2-0 against 10 men.
QPR away when we were outplayed.
Southampton at home when we were totally outplayed.
Burnley at home against 10 men and couldn't score against 10 for over half the game.
Man Utd at home when they were in a run of 3 straight loses.
We've either played badly and won, played teams with 10 men or out of form. We've been incredibly lucky.
Results have come our way, but this shouldn't disguise the rubbish that's been played in the main. This really doesn't bode well for next season.
Martinez hasn't a clue how to build a team with a consistent style of play. Just look at the team selection for starters.
I'm sick of people making excuses for him week after week. He's not up to the standard required to manage Everton.

Eugene Ruane
116
Posted 09/05/2015 at 19:26:15
Everton football club are represented by the owl on the right.
We are represented by the owl on the left.
Patrick Murphy
117
Posted 09/05/2015 at 19:22:22
Andy - You are so right, we got those results at a time before the real pressure of a possible relegation battle became a reality. However, any team can only beat what is in front of them, so the points gained are just as valuable against out of form teams as they are against in form teams.
But I wouldn't have fancied our chances if we had needed a set number of points from the final five fixtures, because the mind-set of the players isn't correct, the Man U game aside.
That is my biggest worry for next season, what on earth will this manager do to raise the tempo, increase the passion and get the players to perform? So far the evidence suggests that he will not be able to improve those aspects next season and without them Everton are a very average team, devoid of a proper threat up front and prone to silly mistakes at the back, a recipe for a bottom half finish and even if we do start the season well, those same faults will in all probability see us fall short of Europe or trophies.

Patrick Murphy
118
Posted 09/05/2015 at 19:35:50
Nice one Eugene - But at least the Owl on the left didn't have to pay for the privilege of sitting in that speck.

Clive Lewis
119
Posted 09/05/2015 at 19:28:53
Lennon is terrible, Lukaku is deluded, he actually thinks he is world class. Martinez is out of his depth. Same old Wigan type inconsistencies, cannot defend, players look lost without proper leadership due to bad coaching practises.
Eddie Dunn
120
Posted 09/05/2015 at 19:34:31
On the subject of Lukaku again. He reminds me (older posters may recall) of heavyweight boxer Joe Bugner, who had all the tools, was an adonis of a man in his early days, but was a very frustrating boxer. He could barely get up a sweat, and my dad (an amateur boxer in his youth) used to get so irate, that this great hulk of a man seemed incapable of utilising his superb assets.
When I watch Rom, this is how I feel. I am 54 and still play 5-a-side twice a week, and if I am up front, I move about trying to pull defenders out of position to open up space for my team-mates.
I don't think the thought ever even enters the lad's head. He is like a big spoilt brat, sulking at his wingers/midfielders if they don't present him with the ball in his (much indicated) preferred place.
Boy does he annoy me! Move! For Christ sake, make the centre-half work for his money! Use your power, your strength, and move up at least two gears please... then you might score a goal or two.
Alan Bodell
121
Posted 09/05/2015 at 19:52:27
㿈M piece of a Belgium lump? I don't want him any more.
Just watch when one of ours (not him) scores and he can't be arsed to go celebrate, the guy is a massive waste of money.
Roberto go and take this massive waste with you please.
John Keating
122
Posted 09/05/2015 at 20:01:25
Dave from Moneysupermarket has a fat an arse as Lukaku but moves twice as quick.
Andy Crooks
123
Posted 09/05/2015 at 19:56:54
Eddie, I followed Bugner' s career . It is best summed up by his comments after his defeat by Frank Bruno. Most fighters berate the referee for stepping in too soon. Not big Joe, he ridiculed the referee for leaving it late."I could have been hurt in there" he mused.
I did ,though, see what might have been. During his comeback he fought a journeyman called , I believe, Dino Dennis.As usual Joe had lumbered safely but aimlessly round after round. Then Dino made the mistake of punching Joe way below the belt. Perhaps for the only time in his career Joe got mad,transformed into Mike Tyson, and despatched Dino immediately.
What could rile Lukaku?
Peter Mills
124
Posted 09/05/2015 at 19:58:07
The only positive I can put on today is that, in the past, we have been the team at the bottom, performed like that, and seen those two poxy goals go in against us, leaving us panic-stricken.
Not a lot to cling on to.
Phil Walling
125
Posted 09/05/2015 at 19:48:11
Rumour has it that the criteria for victory is to replace goals scored and conceded with the Opta facts on possession. Bad luck, deflections, disputed refereeing decisions and the manager's utterings will also be taken into account as will Colin Glazzar's constant positivity.
If this proves not to be the case, I predict Everton will eventually be relegated but only to provide 'learning opportunities' for manager and all the phenomenal playing talent he has at his disposal.
Gavin Johnson
126
Posted 09/05/2015 at 20:10:34
I think this game might have been one of the occasions where a 4-4-2 might have done the trick.
To Sunderland's credit they parked the bus and closely marked Rom. For all our possession - it was 90% at one stage for five minute period. Despite that, and the countless corners, we were very predictable. I think Kone would have given them something else to think about. He could have made a nuisance of himself and created a little more breathing room for Rom.
A very frustrating game which was indicative of the season.
Bill Gall
127
Posted 09/05/2015 at 20:14:31
Major Major problems coming up . Most supporters realize that we need a influx of new players for next season and with the manager's recent comments we either do not have the finances to purchase decent players or we are going to be stuck with what we have with a couple of journeyman players.
As it is pure speculation to the amount of money the manager may be given, going on his comments, we may not see a big change next season, and even if we sell some of our better players, that money will most probably be gone down what is laughingly called, the black hole.
Myself I do not believe you give the manager 8-10 games next season to prove himself, he is either good enough now for Everton or he is not good enough, and if he is not good enough, you replace him as soon as possible. Take his record in the Premier League and he should have not been hired; even though myself and a number of other supporters were willing to give him a chance, he is letting us down.
This is his first season that it is his team and tactics and he is failing badly and I can not see him improving.
Jay Harris
128
Posted 09/05/2015 at 20:35:56
As usual we looked pretty and dominated possession but the truth is we pass it twenty times when one or two incisive passes are more likely to yield goals.
Also we seem to have given up on man marking as both Sunderland's only efforts on goal were scored by players standing in free space with a defender nowhere near them.
Man City have just booted Pellegrini and hired Pep Guardiola while we put up with this Championship Manager.
Sir John must be turning in his grave.
Patrick Murphy
129
Posted 09/05/2015 at 20:46:44
Bill - Greg O'Keefe says that paying ٧m for Lennon may not be the right way of spending what he described as a 'large chunk' of Everton's transfer kitty. So I would expect it to be circa 㾻m - 㿀m which in today's market is small change.

Max Murphy
130
Posted 09/05/2015 at 20:46:44
If the situations were reversed, and it was Everton going to Sunderland (with Martinez as manager) to salvage their Premier League survival, would we have come away with a victory? Absolutely not!
How long have we got to put up with this charlatan, this phoney and most inept manager we have ever witnessed? I just cannot bear to lo look at the man or listen to his utter tripe any more.
God Help Everton!
Patrick Murphy
131
Posted 09/05/2015 at 20:52:23
Jay - That must be breaking news as I've just been on the BBC website and no mention of Man City changing bosses.

Peter Mills
133
Posted 09/05/2015 at 20:56:09
I do not believe Roberto is a good manager. I truly hope I will be proved wrong, but doubt it. I fear the inertia that grips our club will prevail, he will remain, he will spend our limited budget, hand out unwise contracts, land us in trouble next season, then take a handsome payout. If I was in charge I would pre-empt this and dismiss him now – whilst it might seem expensive, the alternative could cost a whole lot more.
David Harrison
134
Posted 09/05/2015 at 21:22:11
If Roberto stays it won't be long before we're all looking back at the Moyes years as a golden era....hey son I remember when we used to be a top 6 side!
David Holroyd
135
Posted 09/05/2015 at 21:15:48
Anyone can see Martinez is not the coach for us. He is totally out of his depth. We have to get someone with substance. More of the same for next season unless somebody does something. Just listening to comments he has made regarding recruits for next season, I wouldn't give him sixpence.
Jay Harris
136
Posted 09/05/2015 at 21:22:41
Patrick
it was on NBC sports (read Sky) about an hour ago, confirmed by Neil Ashton at the Daily Mail (so make of that what you will).
Patrick Murphy
137
Posted 09/05/2015 at 21:28:45
Jay,
I didn't mean to infer that I didn't believe you - perhaps they are more on the ball or the guys who run the BBC have gone home for the evening. I believe that I predicted that Pep may leave Munich and be replaced by Klopp – I should have put a couple of bob on that when Klopp left Dortmund.

Andy Walker
138
Posted 09/05/2015 at 21:23:41
It interests me that we seem to have performed better against better teams. Liverpool (2 draws), Man Utd (1 win), Man City (1 draw), Arsenal (1 draw), Chelsea (we lost in last minute at the Bridge but played well and had a mad game at Goodison).
It's like Martinez has a small club mentality, where when he's the underdog he knows how to set teams up against better opposition and play on the break. A skill learnt at Wigan perhaps which he has now transferred to Everton?
When up against teams we should win against on paper, ie, take control and attack, he just doesn't have a fucking clue.
Roger Helm
139
Posted 09/05/2015 at 21:34:14
So Martinez has had one good season (in part thanks to Moyes) and one poor season (all his own).
The clear trend is downward but the worry is that the board, which is to say BK, seem to be asleep at the wheel. No investment, no new stadium, tolerance of mediocrity.
Unless there is a turnaround this summer and autumn, we may be doing a Villa/Newcastle next season.
Colin Williams
140
Posted 09/05/2015 at 21:44:15
Our offensive play in the opposition's last third is shocking!... Mainly due to the most awkward/ useless striker in the Premier League!... Watching this guy playing up front for us and doing absolute feck-all!! (Sad to see!)
We have lots of issues concerning this club, but Martinez's stubbornness to play a centre forward who is totally lost within this environment is causing a massive problem.
Patrick Murphy
141
Posted 09/05/2015 at 21:57:33
It's not all bad; at least the Sunderland fans enjoyed their visit to Goodison and they also seem to prefer us to the Candle Lighters from across the park. One fella asks What do you call a nice Scouser?
Answer:- An Evertonian.
Michael Smith
142
Posted 09/05/2015 at 21:51:33
I don't think Martinez is probably up to it and the players have been below par. But can anybody actually see it getting better in the future?
Unless a new owner or stadium happens it will be the same again. Depressing.
Kevin Rowlands
143
Posted 09/05/2015 at 22:12:53
Alan Boswell 121, 100% agree mate, I think of all the world class players that have played for Everton in our history and this useless lump is our record signing???? it beggars belief. I particularly liked his highlight today when he 'headed' the ball with his shoulder ten yards wide, Duncan Ferusonesqe, big Vic Anichebe is better than him, I really hope we get rid this summer!
Neil Quinn
144
Posted 09/05/2015 at 23:16:57
We've played a lot worse than that & won, this season.
15 corners
Hit the post
Stonewall pen
Two deflected goals for them.
Compare that lot to the dire performances against Hull, Stoke & Southampton and I would say it's not as bad as the bare result suggests. However with the possession & chances we had, we should have won comfortably.

Ernie Baywood
145
Posted 09/05/2015 at 23:20:39
Lots of possession but who didn't expect that there was a real chance of a smash and grab?
Generally we moved the ball too slowly, and always to whoever had the most space. Football isn't that simple a game that you can break teams down without having the ball in tight positions. You're playing the ball where the opposition wants you to.
You can see the ability in the team on the rare occasions we stumble onto playing first time, quick football. That's the frustration, they can do it.
Obviously the goals and the penalty claim were bad luck. We just didn't give ourselves enough opportunities for the luck to go our way.
Phil Gardner
147
Posted 09/05/2015 at 23:52:18
In a nutshell... Fuck off, Everton. Fuck off with your season ticket renewal offers, fuck off wth your 50 years worth of nearly hard luck stories, fuck off with your shitbag capitulations against Sunday League standard teams, fuck off with your guaranteed nailbiting finishes.
At the age of 52, after scrapping, arguing and fighting for the cause, I have had e-fuckin-nough! Fuck off Everton... I'm sick of heroic failure and days like today. Kiss my arse, Kenwright, you utter disgrace. I'll re acquainte myself with this club when there is some hope and vision and these bastards are run out of town.
40 years+ and sick of the place... fuck off Everton... the lawn is more important now.

Nicholas Ryan
148
Posted 10/05/2015 at 00:19:00
Ed Miliband is a very nice man; but he's not up to it, so he resigns.
Nick Clegg is a very nice man; but he's not up to it, so he resigns.
Roberto Martinez is a very nice man; but he's not up to it, so ........er...!

Ant Dwyer
149
Posted 10/05/2015 at 00:31:32
Hahaa, Phil, I know the feeling mate, it's getting tougher to stomach this shit! We are now going backwards after years of building by Moyes on a shoe string budget granted to him by Kenwright.
For me, Moyes's Everton side was a top 4 squad minus a 㿀M striker; now we're a dog shit side with a 㿊M striker.
Fuck Roberto off asap.
Bob Parrington
150
Posted 10/05/2015 at 00:45:10
Er...! Clueless performance with what is supposedly our strongest 11. The manager selected them but they looked unmotivated and listless.
Egg Flip sent his team out to do a job. They didn't look very exciting but they executed the job with the bonus of 2 incredible pieces of luck.
Egg flip 10 Martini 0 unfortunately!!!
Andy Crooks
151
Posted 10/05/2015 at 01:10:18
Phil, believe me the lawn will seem less important tomorrow.
Isn't it just insane that hugely paid men, with whom we have nothing in common, can fuck up our weekends. This is the most ridiculous addiction in the world.
Kevin Rowlands
152
Posted 10/05/2015 at 01:17:51
Sorry AB, got your last name wrong. Anyway, just to reiterate, you're spot on. It pisses me off when I hear and read he's only young, we're not playing to his strengths, bla bla bla, he's fucking pants.
Ambramovich and Mourinho should be locked up for robbery stitching us up for 㿈 mill. He's a human pin ball machine who can't head the ball, can't hold it up, has no awareness of offside or where he should be position-wise during the game, sulks like you said, thinks he's way better than he actually is, basically an overpriced waste of time. Martinez should be sacked for the decision to pay that kind of money for him alone, never mind the shit season we have had.
My ideal summer... Martinez, Lukaku, Mirallas, Naismith, Kone, Alcaraz, Barry and Howard GONE, Eddie 'Evertonian' Howe in, with a couple of them Bournemouth players, Gestede from Blackburn, Austin from QPR, now we're talking!
Jim Hardin
153
Posted 10/05/2015 at 01:49:23
Eddie at 87,
Wow took longer than I thought for someone to try to blame Howard. Really? He should have stopped deflections? How about had the ball not been deflected the first one was headed wide and the second was twice deflected although finally off of Defoe's hand. How is a Keeper supposed to stop that? No you are right of course no other keeper lets in deflected goals.
How about this. If Stones had cleared the ball early or Garbutt had been goal side of Defoe the second goal wouldn't have happened. If the center backs could ever mark someone then maybe the first one wouldn't have happened either.
I am not that disappointed in the performance in that at times Everton looked dominant. 5 corners in a row and we just couldn't get a goal.
Phil Smith
154
Posted 10/05/2015 at 02:56:20
Woah there people. Can't believe some of the stick big Rom is getting on here. The last few weeks he has been holding up the ball well and bring others into play. Some of his first touches and movement today were top drawer. Don't blame him for the teams/managers inabilities to get the side playing well.
Mark Andersson
155
Posted 10/05/2015 at 03:54:11
Tried my best to watch the game with a open positive attitude. But you just knew we would be let down AGAIN.
It's all been said, and like many or most on here I feel the club is on a downward spiral.
Some of us gloated last season at the demise of David Moyes, well looks like karma for those of us who did.
How anyone can still have faith in this manager and team is just mind boggling.
I'm lost for words.
Jim Harrison
156
Posted 10/05/2015 at 03:56:58
Sorry, I don't get all fuss here. Lost to two outrageously lucky goals, the second a handball scored by a player who should have been sent off for conceding a penalty not two minutes prior. Not to mention that Stones is fouled by Fletcher, he looks like he grabs his legs.
Better team in the match. Yes Lukaku was shit, but overall there wasn't a great amount wrong with that performance. There was however a lot of luck on the side of the visitors.
Sack the manager before next season? This has been a massively disappointing season, but for me there is enough credit in the bank to let him try again next term. Hope he has learned some lessons from this term, move out deadwood like Distin, Alcaraz and Kone.
Ernie Baywood
157
Posted 10/05/2015 at 04:26:48
Jim, take those two goals away and we draw 0-0 at home to a Sunderland team who weren't particularly interested in doing anything but letting us have the ball in safe positions.
In 90 minutes of basically doing whatever we wanted we managed one decent chance and a long range effort.
You can't judge our performance on possession stats when it's exactly what the other team wanted.
Awful? No it wasn't. Good? No, we didn't break from the script Sunderland wrote.
Jack Cross
158
Posted 10/05/2015 at 04:17:33
Jim Harrison. The problem is Jim, we played them off the park. Had them hemmed in, in their half for long periods. 15 corner's, 73% of the play. Yes, they might have scored two fluke goals but we couldn't penetrate them could we? From what I saw Sunderland are shite, but this shite team beat us, didn't they. Apart from a good shot (post) by McCarthy and a decent effort from Ossie and a few scuffed chances, that was it. We were at home for god's sake. But then that has been the story of our season, hasn't it mate.
I'm no lover of Lukaku, but there are 11 players on the pitch and not him alone.
Jim Benning, hit it on the nail when he said it's as if the heart as been sucked out of the whole team. Yes, the heart and the pride is nowhere to be seen. That's what's hard to take, more so than the defeat.
Peter Barry
159
Posted 10/05/2015 at 04:50:53
㿈 Million for Lukaku and he can't even trap a ball and score against relegation fodder. I cannot see next season being any better than this if we keep the same Manager and his crap tactics. If we don't have an infusion of talented players, and we all know thats not going to happen, then we will struggle all season.
Peter Barry
160
Posted 10/05/2015 at 04:55:14
If you have a Manager and many players and all the coaching staff from Wigan, you wont play like Barcelona but you will play like Wigan, and we are.
Jim Harrison
161
Posted 10/05/2015 at 05:20:37
Jack and Ernie, when teams park the bus, even Chelsea, City and other teams with stella strike forces struggle to score. The difference being that the really top teams can afford to have misfiring centre forwards replaced. City not doing so well with Bony? Bring on one from Dzeko or Jotevic, not world class but when you consider our back up option is Kone or Naismith it seems pretty handsome, especially as odds are they will be playing with Aguero. Chelsea have been scraping to 1 - 0 victories with a 37 year old as principle forward, but they have Hazard, Oscar, Willian & Fabregas all more than capable of pitching in with goals. In contrast, our first team midfield combined scores less than Hazard and the back up options of Besic & Mcgeady are hardly the most intimidating of prospects. This situation wont change too much next season, there isn't the money to overhaul the squad available no matter how we as fans see the increase in revenue being used
The performance was arguably better than anything the new champions have put together in a month.
At 1 - 0 the game was still within reach, any team can get hit by a flukey goal by a team which offers more than the occasional break.
Two minutes before the second goal there should have been a penalty and arguably a sending off. So, lets just say for the purpose of debate the ref sees it that way and Rom steps up and bangs in the penalty? Down to 10 men, back to all square in a game they really needed to win and the whole complexion of the match is different. Even if he doesnt give the penalty, it could be reasonable to expect that he sees one of the two infringements from the second goal
I appreciate thinking like this is moot, but my point, although rather long winded, is that in this match the team played decently but unluckily ended up on the losing side. A loss is a loss however it is dressed up, but in the context of how the team performed there was a marked difference between what was on show yesterday and the dross against Hull and Stoke.
Finally Peter Barry, how many ex Wigan players were on the pitch yesterday? I make it four, one of the best left backs in european football over the last 5 years signed by the previous manager and one of our most consistent players over the past two seasons who is still being linked with moving on to "bigger" clubs and came inches away from equalising with a decent strike. The other two were playing for Sunderland.
Peter Barry
162
Posted 10/05/2015 at 05:57:24
Jim Harrison your post was full of 'woulda, shoulda, coulda'... If my Aunty had balls, she'd be my Uncle.
Steavey Buckley
163
Posted 10/05/2015 at 05:55:03
Too many players played yesterday who are just ineffective, that goes for Osman, Barkley and Lukaku. Why have one of the best left backs in the world in Baines and there is no one with him? Instead, Martinez plays Osman on the left who plays in the middle.
The right side has been promising with Lennon and Coleman, but no Lennon type player on the left. A team can play 4-4-2 or even 4-3-3 but will be the most effective with 2 wide men, because a good striker constantly needs crosses into the box from both sides to also be effective.
Paul Ward
164
Posted 10/05/2015 at 05:25:07
I won't elaborate on who should take the blame for yesterday's pathetic excuse for entertainment. My concern is far more important than one game. It is the whole club itself.
Everton Football Club has cancer. From the directors, manager, coaching staff and players. You must start to kill this cancer at the director and or manager levels. When we come to the players, there has to be a wholesale clear out. But as one of our posters said you can't do it all in one go.
Martinez has had such a bad effect on some of our players, the damage could be permanent. So many of them are consistently played out of position and others like Barkley fail week after week until they lose what confidence they have left. Unless the upper levels of this club are fixed, it will fester and die.
Paul Gladwell
165
Posted 10/05/2015 at 06:46:59
Jim, sorry mate but that performance was not decent. I don't call seeing thousands of angry paying customers heading for the exits early with steam flying out of their ears, effing and blinding, as was the scene in the Park End after witnessing a goal straight out of a primary school scene.
My Tranmere-supporting mate was one of the early leavers with his newly formed Everton son at his first ever Everton game, "Welcome to Everton" I commented, I had just spent 90 minutes trying to keep my own six-year-old son interested in 90 minutes of utter dross, pass, pass, pass, another slow pass back, another slow pass side-ways, its absolutely woeful and this manager's style of play will and has lost punters for next season after a season of sell outs.
My Tranmere mate knows shit when he sees it; he has a soft spot for us hence getting his lad to support us rather than his own club or the other lot, his words were "it was dreadful from start to finish." My reply back was that's been nearly every home game, Stoke, Hull, Palace, Swansea, Leicester – the list goes on, watching garbage against garbage.
What made it harder too was the comment from a few leaving Blues "I wonder how the idiot will glam that up" and lo and behold he told us we defended magnificently!!!!! Just once will this utter clown come out and say, "That was rubbish and not good enough for Everton Football Club"?
His after-match bollocks is speeding up the dislike for the man, he's fast tracked me from hanging off his every word to not reading or watching any local media so I can keep away from his utter drivel. I was sick to death of Moyes but, as someone once said on here, at least sometimes Moyes spoke like he'd watched the same game as us all whilst this fool seems like he's been watching a video of 1985 in his brain for 90 minutes.
As for enough in his tank, I would say you are right, but that fuel is the current playing staff he inherited and not his own ability and I worry, when that gets broken up and we are left with his team, where the club will end up. I hope I am proved wrong but this clown is scary.
Phil Sammon
166
Posted 10/05/2015 at 07:35:53
I got a bit of grief for saying 'Thank god for that performance and result' after the Villa match, but I sort of feel the same way after this latest showing. I've had enough of the manager and I'm not in the minority.
When you get pundits like Gary Neville calling fans 'mindless' and 'idiotic' for wanting Martinez out then it really is insulting. He doesn't have to watch 90 minutes of this guff EVERY week. So many of the mainstream media STILL go on about this attractive brand of football we are trying to play. Where is it?! This is the most sedate garbage I've ever had to endure and it's about time everybody started to wake up and smell the steaming turd.
I hate seeing us lose. But a loss and another dire performance hopefully sees another black mark against Martinez's name. Out, out, please get him out!
Mike Connolly
167
Posted 10/05/2015 at 07:40:17
The worrying thing is that Martinez said the Europa League did not affect us. He is spot on, we're not in it and still crap. I really fear for next season. I'm sure BK is happy as long as we stay in the Prem.
Jim Harrison
168
Posted 10/05/2015 at 07:58:32
Peter Barry, with modern medical techniques that could still be a possibility
Paul Gladwell, I believe in his BBC interview Martinez mentioned that he believed this performance was respectable, unlike previous performances which were not of a high enough standard. Which managers come on and criticise their teams? You fancy John Carver style rants?
Then Paul Ward, "Unless the upper levels of this club are fixed, it will fester and die." No it won't! Next season will be what it is and what has happened this season will not necessarily have any effect, just as last season's success has not played out this year. People on ToffeeWeb have been professing doom and gloom for as long as I have been coming on here. Funnily enough, the club is getting healthier financially due to TV revenue and remaining in the Premier League.
I am not denying the manager's failures or shortcomings, or trying to claim that yesterday's performance was incredible and flawless. But it wasn't anywhere near as bad as people are making out and on another day, without doing a whole lot different, the result could well have been positive. First half against Villa last week was truly woeful, with little to defend.
Paul Gladwell
169
Posted 10/05/2015 at 08:45:18
Jim, never in a million years would I want a manager who slates his players week-in & week-out but, as you said, what manager does? But I will say that over the years all the good managers have come out at times and said that was not acceptable and had a rant, including Moyes, but this fella is beyond belief with his post-match garbage.
We will have to agree to disagree, mate, but as I said I don't think okay performances are met by thousands of blues rushing down the steps to an early exit shaking their heads in disgust like happened yesterday, At least last week we got beat by a team in form; yesterday, we got beat by absolute garbage.
Phil Walling
170
Posted 10/05/2015 at 08:47:05
Good to see you are still a happy Evertonian, Jim Harrison! Your aspirations for the club are even more modest than my own perennial 'seventhish'.
I'm sure Martinez will not disappoint you next season, Jim. Relegation should once more be avoided.
Eric Myles
171
Posted 10/05/2015 at 08:53:11
Jim #168 "I believe in his BBC interview Martinez mentioned that he believed this performance was respectable, unlike previous performances which were no of a high enough standard."
That's because yesterday we had the greater possession stats. Martinez is OK with losing as long as we have great possession but hates winning with inferior possession, like against Man Utd.
Phil Rodgers
172
Posted 10/05/2015 at 09:02:26
As if Sunderland are still playing Johnson. He's been charged for having SEX WITH AN UNDERAGE GIRL!!!!!!
Football has no morals at all.
Eddie Dunn
173
Posted 10/05/2015 at 09:13:51
Jim 153. Am I too hard on Timmy? Perhaps, but he would help himself if he tried to actually save the shot instead of his waving at the lino before the ball has even gone in, on both the goals!
Chris Feeley
174
Posted 10/05/2015 at 09:36:58
No desire
No ideas
No points
No surprise
After walking out early for the first time this season, I decided to cool off before posting my view.
The obvious has already been said many times about the limp-wristed, lolling about from the lazy, impotent lump up front. The turgid, pointless, sideways passing is back for all to see. The lopsided and unbalanced formations are still being rigidly adhered to, despite the insistence from the manager that he is tactical flexibile. The status quo has clearly been resumed.
Any attempt at a 'lap of honour' after the Spurs game will be very uncomfortable for all concerned.
Callum McNab
175
Posted 10/05/2015 at 10:59:25
Chris, like so many Blues we feel your pain. Sadly nothing will change as Kenwright is more concerned about how much it would cost to get rid of this clown, than the performances on the pitch.
Regarding the lap of honour that they will do. It would be a good idea for every Evertonian to walk out of the stadium just as it's about to start. May not be nice but in my eyes will be the only way that this Board can see the feelings about what's going on from the fans.

No doubt many will disagree but what else can be done. The lack of noise coming from the so called Board,and the persistent way in which Martinez keeps playing this style of formation and football, says to me no one gives a crap as to what's happening at our club.
Anto Byrne
176
Posted 10/05/2015 at 10:43:55
Against Man Utd, who came to play and we played on the break, it shows just what happens when a team is set up to defend.
Sunderland came for a point and grabbed 3; lucky or not, you still have to get forward to make a chance. We could have played on till midnight and I doubt we would have scored.
All season, the Chelsea team has been set up to defend and do it properly. All season, Everton have been set up not to defend except in the four or five games before we reverted back to the norm at Villa and home to Sunderland. Even when we had that mini-revival, it was not pleasant football.
The team needs an overhaul; if Cleverly is available, he and Barkley could well be just what we need. Lennon is as everyone can see is pretty inconsistent and McGeady just not Premier League standard. Ossie is no longer first choice, Mirallas occasionally turns up in one of his many Ferrari's and can't be arsed getting out of neutral. Tim Howard has been a great keeper but is not as good as 41-year-old Shay Given. Robles has to be given the No 1 position. Baines has hit 30 and his best days are behind him. Coleman is an enigma: he can be world class one day pub team the next. Jags should be a right back due to lack of height in the middle, pushing Coleman forward as a winger.
The Distin and Stones partnership never got a chance; Distin has so much experience it's no wonder he got mental at the non defensive tactics Martinez employs. Has Alcaraz played since the Kiev fiasco? Kone should be loaned out for the rest of his contract or sold. The likes of Garbutt, Pennington, Browning, Long, McAleny, Ledson and Green need to be blooded. We do need a playmaker in the Arteta mould. If we have offers for Barry, McCarthy, Coleman, Baines and Howard, we should be looking to offload. Hibbert should retire along with Ossie and Pienaar. Rant over
Chris Feeley
177
Posted 10/05/2015 at 11:19:03
Callum - I won't be walking out, as it'll let them off the hook far too easily. I'll be letting the players, manager, and board know exactly how phenomenally poor this season has been.
Tony Hill
178
Posted 10/05/2015 at 11:17:43
Yes, settle for mediocrity and that is what you will get. Time after time.
Andy Crooks
179
Posted 10/05/2015 at 11:28:13
Phil, 172, he's not been found guilty yet.
Chris Gould
180
Posted 10/05/2015 at 12:08:57
Phil 172, being charged is one thing, being found guilty at court is something else completely. It's completely irrelevant in regards to yesterday's result.
The only thing you should be outraged about is our shite manager and the piss poor performances from our players.

Lukaku is becoming as sulky as Ronaldo at front. Constantly pointing to where he wants the ball, each time an impossible pass. His runs are badly timed almost every time. We need a bustling, all action centre forward who makes intelligent runs.
Tony Hill
181
Posted 10/05/2015 at 12:18:00
Barry had another shocker. One of the mysteries this season is why Besic has been cast out, on the bench again yesterday but not given a run.
Yes, he had a couple of poor games but Mo is one of the bright sparks of this awful season in my opinion and someone who offers real hope for the future. He has been one of the few players, indeed I would say the only one, who has looked properly committed every time he has played and who has the bite which the other players lack.
Let's hope he's not another one who gets fed up and starts to look elsewhere. I know not everyone agrees, but I think he's a potential gem for us. Why, having bought him, does RM not play him far more?
Jim Harrison
182
Posted 10/05/2015 at 12:19:51
Phil Warring, What a crock of shit!! Where have I made any suggestion that the season as a whole has been satisfactory? I am simply surprised at what I see as on over reaction to yesterdays game. Even when watching the replays on TV the commentators came to the conclusion that it was just one of those days, Dick Advocaat admitted that we were the better team but was just happy to get lucky!
Other games this season have been so dire that it has been unbelievable. For me this wasn't a bad performance, but it was a fucking unlucky one.
Peter Barry
183
Posted 10/05/2015 at 12:37:22
Jim Harrison the increase in TV fees has got absolutely nothing whatsoever to do with Roberto and Everton's dire season but what will have an effect is how much we get because of of league position and Roberto ineptitude and his Prima Donnas lacklustre performances are ensuring that wont be any higher then 11th and maybe not even that high.
Terry McLavey
184
Posted 10/05/2015 at 12:42:12
Tony #181 With Besic I wonder if it like a lot a workplaces , it's about faces fitting, we know for a fact if you go up against the manager in football your dead meat. Sir Alex a prime example, these decisions are made regardless of the effect on the team. We have Distin in our own camp for example.
But there have been some great posts on this thread, Joe#17, Tony#32 , Jim #103 Phil 147 (made me smile, it's a pity the team don't have your obvious passion) and Chris #180.

There are obviously other great comments in the thread but these in particular I'm in agreement with. I really think it all comes down to the great expectation of last season not being built on and fulfilled in this one ?

That's how I see it anyway.
Paul Tran
185
Posted 10/05/2015 at 13:10:15
We can talk all we like about 'controlling the game'. The simple truth yesterday was that they were better in both penalty boxes. Just as we were on numerous occasions last season. Why not this season, Roberto?
For the umpteenth time this season, we had very little conviction going forward and no guile to break down a well - drilled stubborn defence.
11th place + poor football + no blooding of youngsters = sack.
Phil Rodgers
186
Posted 10/05/2015 at 13:15:59
This season needs nuking. I can barely watch us anymore, its so tedious and predictable. The only player I like is Stones, the rest of em can do one, along with the manager.
Tom Bowers
187
Posted 10/05/2015 at 13:17:59
This was a game that Everton should have won but how many times have we said that this season? Everton's offensive qualities are poor to say the least. Unless Lukaku gets space in or around the box, nothing happens.
Osman had 4 chances in the first half and should have scored at least once but then again he is not the recognized striker. Having said that, why was Mirallas left out?
Everybody knew that Sunderland would park the bus and rely on the breakaway and they looked dangerous on the few occasions they did but, with Everton playing twice as many passes as they needed instead of someone having the guts to run with the ball, it made it easier for Sunderland.
Sadly there are many unanswered questions about this season which only Martinez can enlighten us on but I suspect they would not be acceptable. He has lost the plot and does not give any of the fans confidence for next season but I suppose all the season tickets will still be sold, endorsing BK's decision to keep him around for a while.
Although they dominated yesterday, most games (particularly at Goodison) have underlined Everton's mediocrity this season.
Jim Hardin
188
Posted 10/05/2015 at 21:34:49
Eddie, 153. I excuse your comments as they are obviously based upon ignorance and your dislike of Howard. But try not to let that interfere with your analysis of the game. The second goal you blame him for was ultimately the fault of first Stones, and then Garbutt.
Play goal for one time and see how easy it is. You are claiming as a matter of routine that a goalkeeper should react to the first threat, set himself, and then from a deflection which is usually 4-8 feet, not yards, away, try to react again for a deflection that you initially have no idea where it will go. Crawl back under your anti-Howard rock please.
Mark Andersson
189
Posted 11/05/2015 at 05:11:30
Callum I think a better way the Goodison faithful could show how disappointed they feel is for everyone to stand up backs to the pitch and drop their trousers.
Of course only joking, simply standing their in complete silence is a option, but then you would hear Colin Glassar shouting his undying love for Roberto... haha.
Ian Jones
190
Posted 11/05/2015 at 09:02:07
Hi Mark.
With apologies to previous comments, yours is the first comment I have read. I start at the bottom and go up. Nearly like Everton's season.
I was at the match Saturday. First one in a couple of months. You mention standing there in silence. Without reading all the other posts, I assume you are talking about the crowd. Wasn't that what they did. I cannot remember hearing any singing. All coming from Sunderland fans.
I appreciate that there may not have been much to sing or cheer but it always seems quiet. At half-time they had some footage of the 85 team on the screen with Howard Kendall I think or Peter Reid saying that the Gwladys St End fans used to win games by sucking the ball in. Perhaps they could try it again
Tony J Williams
191
Posted 11/05/2015 at 13:19:27
Sounds good, Ian, until you realise we have a 㿈m bubbling bag of shite up front for us.
I was like Howard on Saturday, as I thought I had tourettes. Fucking diabolical performance by a forward, 10-bob head... and if he points to a space 10 seconds before considering moving there again, I swear I may not be held liable for what I do.
To top it all off, the daft twat in the dugout brings on the match saver: McGeady.... FUCKING MCGEADY!!!!!
Michael Polley
192
Posted 11/05/2015 at 21:22:49
Shameful result. yes, they got very lucky goals, but we never looked like scoring. We could of done with a couple of deflections.
Once again not clinical enough in the final third.
I will be glad to see the back of this season. I'm already worried for next season as I think Martinez lacks the ability to do anything. A very important summer lies ahead for us.
---
Add Your Comments
In order to post a comment, you need to be logged in as a registered user of the site.
Or Sign up as a ToffeeWeb Member — it's free, takes just a few minutes and will allow you to post your comments on articles and Talking Points submissions across the site.
© ToffeeWeb