Swansea City vs Everton
League Cup Latest Third Round Preview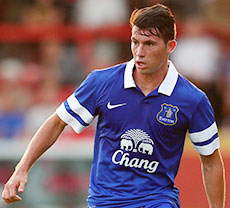 Bryan Oviedo joins Muhamed Besic, Tony Hibbert, Luke Garbutt and Antolin Alcaraz in making his first start of the season
Everton's response to Sunday's disappointing result against Crystal Palace and, indeed, their ability to cope with juggling Premier League commitments with cup campaigns at home and abroad in general will come under serious examination over the next 12 days, starting with a potentially tricky trip to Swansea City this evening in the Capital One League Cup.
The Blues, who suffered what their second home defeat of the season when they went down 3-2 to Palace, now face four consecutive matches away from Goodison Park with the trip to Krasnodar in Russia sandwiched between League fixtures at Anfield and Old Trafford before Aston Villa come to Merseyside after the international break.
Hardly charitable conditions, you wouldn't think, under which to try and stabilise a team that has made a disappointing start to the season despite some very promising signs, many of which have been buried under the headlines about that porous defence. Knowing Roberto Martinez, however, he will no doubt be relishing the challenge but while there is huge opportunity to advance on all three fronts over the next 12 days, this next part of the fixture list is littered with landmines that could derail a season that still holds much promise.
The manager continues to see spanners thrown into the works by injury, though. Seamus Coleman is again ruled out with the injury that forced him off in injury time against Wolfsburg and last week and which kept him out if the side on Sunday. His replacement at right back, John Stones, struggled against Palace and was eventually withdrawn in the second half, prompting an inquest as to why, after such magnificent displays against the German side and at West Brom before that, the young defender was pulled out of central defence in the first place.
Tony Hibbert's recent back injury and the general lack of options in that part of the field are the most likely answers but James McCarthy acquitted himself as a makeshift fullback at the weekend and could be asked to do a job there again if Hibbert isn't fit enough to start. U21s graduate, Tyias Browning, is also an option there but his lack of any first-team experience means he would be a big gamble.
There is better news elsewhere in the side, though, with Bryan Oviedo and Arouna Kone named in the squad for the first time since January and last October respectively. Both players have endured long roads back from serious injury and will be hoping to get some playing time off the bench this evening as they look to break back into the side. It's unlikely either will be risked from the start, particularly as Martinez has no need to given the cover he has for their positions.
Indeed, Martinez has a number of options open to him in the midfield and forward areas and his willingness to make changes to a winning team on Sunday in the name of squad rotation makes predicting his starting XI difficult. Kevin Mirallas and Steven Naismith are strong candidates to return after starting the Palace game on the bench and then helping improve what had, Romelu Lukaku's early goal notwithstanding, been a fairly impotent attacking display up that point.
Lukaku is a due a rest and, should his manager elect to give him one, Samuel Eto'o would be a good shout to replace him as the main front man given that he was less effective in a predominantly wide role on Sunday and that he thrives through the centre.
Swansea, who started the season with four consecutive wins in all competitions, have now lost twice in succession, including a 1-0 home defeat to Southampton on Saturday, and they will be without main target man Wilfried Bony who is suspended.
Those factors, plus the Swans' poor record against the Blues in general — they've never beaten Everton in 84 years of meetings between the two clubs, including the three meetings in all competitions last season — should be cause for optimism among Evertonian ranks that we can negotiate this third-round tie and push on into the next round of a competition we have yet to win.
Reader Comments (33)
Note: the following content is not moderated or vetted by the site owners at the time of submission. Comments are the responsibility of the poster. Disclaimer
Amanda Huddleston
1
Posted 23/09/2014 at 18:08:23
Is the game on TV or $KY?

James Stewart
2
Posted 23/09/2014 at 18:07:29
Seeing as we are nearly averaging 4 goals against in every home match, playing away might be a blessing!
Clive Lewis
3
Posted 23/09/2014 at 18:17:40
I predict a 4-4 draw. Then, during penalties, Howard gets sent off.
Bob Heyward
4
Posted 23/09/2014 at 18:27:34
Kone hat-trick, finishing 5-2 to the Blues...well, it's one of those seasons, right?
Mike Hayes
5
Posted 23/09/2014 at 18:41:41
Any links available
Paul Ferry
6
Posted 23/09/2014 at 18:44:44
Scroll down Mike there's 5 or 6 here - http://www.footballstreaming.info/streams/todays-links/index.html
James Carroll
7
Posted 23/09/2014 at 18:49:29
Everton:
T. Howard A. Alcaraz B. Oviedo S. Distin T. Hibbert A. McGeady D. Gibson L. Garbutt M. Besic C. Atsu S. Eto'o
Substitutes K. Mirallas A. Koné J. McCarthy R. Lukaku J. Robles L. Osman T. Browning
Simon Smith
8
Posted 23/09/2014 at 18:49:17
try here later if not I think it could be the live game on talksport.
http://www.wiziwig.tv/competition.php?part=sports&discipline=football

Srdjan Sekulic
9
Posted 23/09/2014 at 18:55:49
http://www.wiziwig.tv/broadcast.php?matchid=281212&part=sports
Mike Williams
11
Posted 23/09/2014 at 18:57:33
I've found a few links but this one seems to be playing premiership footage adverts at the moment.
http://tv.footygolo.com/p/channel-10.html
There are more at :-
http://livefootballvideo.com/streaming/england/league-cup/swansea-city-vs-Everton-2
The wisiwig links are usually "watchable" though. Not sure on the ones I've found???
Any others?
Linda Morrison
12
Posted 23/09/2014 at 19:01:32
I know I'll be shot down in flames but if we had not lost on Sunday I would not give a fig about this match!
However we did lose so I hope for at least us getting to pens!
James Martin
13
Posted 23/09/2014 at 18:53:59
I'm sorry but if we don't win that team line up is a disgrace. How many of those players have played together? And we are expecting to go away to a decent premier league side and win? Hibbert, Oviedo, Alcaraz and Garbutt have barely played top level football recently. You can add Gibson and Besic to that number as well.
We do the same every year then every year we wonder why we don't win the league cup. If we get spanked we're out and on a massive downer for the derby. If we win we've learnt nothing for next week and the shaky team from last week have not got it out of their system.
Only saving grace about the line up is that it suggests Stones will partner Jags in the derby. Oh and great to see Oviedo and Gibson starting (even if really they should be slotting into a first team not a fringe one).
Like Moyes there's a rhetoric about wanting to win but to me this is gambling with our cup chances just like Moyes used to and just like we did last season. Here''s an idea, if you want to win the cup play your best team, get through the first rounds and give yourself a chance like we do with the FA cup, a final a semi and two quarters in recent times with teams who weren't as good as this one. We could win either cup with this team if we give ourselves a chance to get to the latter stages.
I hope Martinez makes me eat my words.
Nick Entwistle
14
Posted 23/09/2014 at 19:02:54
That's the team? Jeez. Why did he not play the first XI against CP? Were that many in need of a ten day rest?
Linda Morrison
15
Posted 23/09/2014 at 19:14:22
Mark my words we will win tonight I hope!
Jay Wilson
16
Posted 23/09/2014 at 19:12:22
He only made3 changes on Sunday, One was enforced (Coleman) one we all wanted ( McGeady) the only player rested was Mirallas. I don't mind the team, it is only two days since the last game and what's the point of assembling a strong squad if only 12/13 players ever have a chance of playing.
Mike Allison
17
Posted 23/09/2014 at 19:13:50
Very bizarre line-up. Is Oviedo in midfield or Garbutt? This is a must win after Sunday, you can't lose two in a row then go into the derby expecting much.
Also, the one change everyone expected, in goal hasn't happened. Is Martinez admitting Robles isn't good enough?
Ged Simpson
18
Posted 23/09/2014 at 19:11:52
Stop moaning - some who said we have a bigger squad now just want same old. Play best team every game? Doesn't work. Let's moan together when we kick off. Until then you have no idea how well we will do. Better ways to fill next 1/2 hour than just gripe. Try musical theatre.
Jimmy Last
19
Posted 23/09/2014 at 19:12:56
Well, we have spent the last few weeks going on about how good our squad is, its time we found out.
half of us would have half of these players in our regular starting 11, so let's see what they can do
Mike Green
20
Posted 23/09/2014 at 19:10:44
Have to agree with much of what James Martin says. We threw away our League Cup challenge early doors v Fulham away last season and don't look that serious about it tonight.
The only caveats I would have on that are - who knows, they might slaughter Swansea, Swansea might be putting out the equivalent and if it means we win at Anfield on Saturday then so be it.
Lots of ifs there for a Cup we've never won (which given our honours is a space in the cabinet that we should have filled) and have the best chance of winning. Perverse that we don't give it more respect.
Oh well, no doubt I'm going to be proved wrong by all of that, we'll know within three hours.
Mark Frere
21
Posted 23/09/2014 at 19:13:04
Martinez has had his hand forced with this line-up... too many games coming thick and fast. Swansea have made 5 changes from the Weekend.
I'm actually excited to see this bunch of players play. I just hope they don't let us down as this is a competition most of us would dearly love to win and it represents our best chance of silverware IMO.
COYB!
Ged Simpson
22
Posted 23/09/2014 at 19:18:38
I think we may agree Jimmy
Sam Hoare
23
Posted 23/09/2014 at 19:19:33
Strange looking team. Presume Hibbert, Distin, Alcaraz, garbutt at back with Gibson and Besic holding then Oviedo and mcgeady on wings with atsu behind etoo?
Sam Hoare
24
Posted 23/09/2014 at 19:21:08
Or McGeady behind Eto'o? Lots of left footers.
Ian McDowell
26
Posted 23/09/2014 at 19:27:10
Christ god knows what to expect tonight. All I know is the pressure is building and with the games to come things could get very tough. If we don't beat Man U or Liverpool and lose tonight the Villa game at home will be massive. They are particularly good on the counter attack and our players don't seem to handle pressure or expectation. I am getting a little concerned at the moment.
James Carroll
27
Posted 23/09/2014 at 19:32:22
We'll be fine.
George Bethell
28
Posted 23/09/2014 at 19:31:39
At last a chance to see what Besic can do.
Bob Heyward
29
Posted 23/09/2014 at 19:55:10
McGeady can cross, passes to Atsu who fannies around, passes back to McGeady, who then passes to Atsu...and FINALLY Hibbert crosses. These tricky wingers are great, eh?
Dominic Tonge
30
Posted 23/09/2014 at 19:58:17
What a poor side. Martinez has got to front up if we get beat tonight because there will be questions asked. Especially if we get beat in the derby too. Fingers crossed but I have a bad feeling about tonight. I can see us getting beat badly.
John Malone
31
Posted 23/09/2014 at 20:06:34
Dominic wind your neck in mate! What did you expect with a derby looming Saturday!
It's a team full of international's which I think could and should be good enough to get a result.
Clive Rogers
33
Posted 23/09/2014 at 20:09:32
Thank god Bony is not playing.
Dominic Tonge
34
Posted 23/09/2014 at 20:20:00
What did we expect really, a team of rezzies to win 6-0.
The side tonight is not good enough. Fact. Curious to see how this sham gets spun . This side has no cohesion or natural balance at all. It is shite.
Bob Heyward
35
Posted 23/09/2014 at 21:26:59
Maybe in the long term better to go out of one cup, because Roberto's assertions on the joy of four competitions are proving to be utter BS; we just can't handle this many games if that's what our B-team are like. The only shame it had to be this cup because, as we all know, it's the easiest one to win, has the fewest games, and it's the only domestic cup we've never won.
On the performances, I thought McGeady and Atsu were awful, while Rom and Et'o both looked disturbingly bad. the Besic question is answered; he makes poor decisions and rash in the challenge. Garbutt was the sole positive.
Overall, something is rotten in the management...coaching, motivation, team selection, physical conditioning, substitutions...all have been issues this term, and we're only six games in!!! Hope Roberto sees this result for what it is - A BIG ALARM BELL. Time to get out the hair dryer and stop referring to a clean sheet a West Brom/flattering win against Wolfsberg.
Bob Heyward
36
Posted 23/09/2014 at 21:50:20
Everton manager Roberto Martinez: "The scoreline reflects the team that took the chances. During long spells we stopped Swansea from playing. It was an important game for us - for players who haven't played many minutes and to see where they are.
"If you analyse the chances Swansea had, they were few and far between. We had two or three very good situations. In many aspects, I was fairly pleased with that."
Err...strikes me as garbage. Don't know how everyone else feels? 43% possession and 2 shots on target is what the stat's say, and having watched that toothless display, I just can't agree with Martinez's post match comments.
---
Add Your Comments
In order to post a comment, you need to be logged in as a registered user of the site.
Or Sign up as a ToffeeWeb Member — it's free, takes just a few minutes and will allow you to post your comments on articles and Talking Points submissions across the site.
© ToffeeWeb