Everton roll on with comfortable win over Lille
Everton 3 - 0 LOSC Lille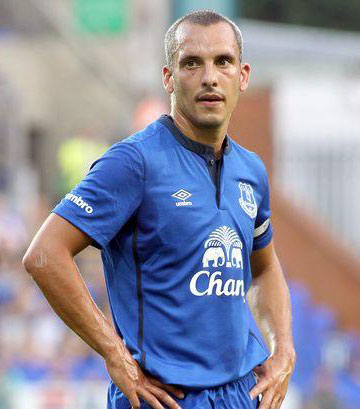 Leon Osman celebrated his new contract extension with the opening goal in a comfortable victory

Everton have one foot in the next phase of the Europa League thanks to another impressive home win, this time over Lille.

Leon Osman marked the news of his one-year contract extension with the opening goal after 26 minutes and Phil Jagielka made it 2-0 at the break with a header off an Aiden McGeady corner.

Steven Naismith put the icing on the cake, finishing an excellent move with a thumping shot, leaving Roberto Martinez's men to coast to victory and virtually assured qualification for the knockout stages.

Sylvain Distin returned to the starting XI and Romelu Lukaku was also in the line-up as Samuel Eto'o watched on from the bench. With no Seamus Coleman in the squad, Tony Hibbert was at right back and Leon Osman is selected ahead of Ross Barkley who is among the substitutes.

Everton started well and carved out a lovely move in the first minute, Naismith touching Leighton Baines' cross on to Lukaku whose shot looked destined for the far corner until Victor Enyeama got a crucial hand on it to divert it behind for a corner.

Two minutes later, the two forwards combined again as Naismith raced on to Lukaku's flick on but the Scot couldn't lift the ball over Enyeama as the 'keeper raced off his line and McGeady was unable to steer the loose ball home as it bounced awkwardly in the box.

McGeady was fouled by Souare near the corner flag with a quarter of an hour gone but Naismith headed his free kick over the bar at the far post as the Blues continued to have the lion's share of the possession.

Lille didn't have their first attempt at goal until the 17th minute when Frey headed well wide from a corner from the visitors' right but Mendes forced the first save from Tim Howard six minutes later with a powerful shot from the angle.

Everton took the lead, though when McGeady's cross found Osman at the far post and he rammed home from 10 yards out.

Hibbert had to be alert soon afterwards as Balmont swung in a dangerous cross looking for Origi but the fullback headed safely over his own crossbar.

The action swung to the other end and great footwork by McGeady gave him room to pick Lukaku out unmarked in the middle but the Belgian made poor contact and his header drifted well wide of the target.

He did better 12 minutes, before half time driving past Enyeama but he was correctly flagged offside and the "goal" was disallowed.

The Blues did double their lead three minutes before the break, though after Enyeama's excellent stop denied Naismith. Jagielka broke free of his marker from the resulting corner and headed home.

In the second half, Lukaku won a free kick 25 yards from goal and elected to take the set-piece himself, forcing a flying, two-handed save from Enyeama with a well-struck effort.

A brilliantly worked and taken goal made it 3-0 with an hour gone, however. Impressive hold-up play by Lukaku preceded a perfectly-weighted pass down the channel that Baines centred to Naismith. The Scot still had plenty to do after deciding not to hit it first time but he took one touch past Basa before slamming the ball into the roof of the net.

Tempers flared a little when Barry left his feet in on a heavy challenge with Corchia, a collision that left both players down on the pitch injured. In the meantime, Christian Atsu replaced McGeady who left the field with two assists and Barry was also withdrawn in favour of Darron Gibson.

Lukaku was denied a deserved goal with 13 minutes left when he was flagged offside in a very marginal decision as he latched into another defence-splitting pass.

The win keeps Everton top of Group H, a point ahead of Wolfsburg who hammered Krasnodar 5-1 at home.

Full coverage: ToffeeWeb Match Reports



Reader Comments (155)
Note: the following content is not moderated or vetted by the site owners at the time of submission. Comments are the responsibility of the poster. Disclaimer
Linda Morrison
1
Posted 06/11/2014 at 19:04:16
Very Interesting selection. What is the issue with Coleman I ask? He isn't even on the bench.
I expect us to win now folks.
Lyndon Lloyd
2
Posted 06/11/2014 at 19:07:19
Roberto said there were no new injuries but Seamus appeared to pull up with a leg injury late in the Swansea game and apparently left Goodison limping so...
Kevin Rowlands
3
Posted 06/11/2014 at 19:07:35
Linda, one of the lads who runs Toffee TV tweeted on Saturday that Coleman got injured and left the ground wearing flip flops clearly limping, looks like he was right.
Dave Duggan
4
Posted 06/11/2014 at 19:02:21
After seeing the team I will be suprised if we come away with 3 points. Heart is saying 2-0 lukaku. Head is saying another struggle, 0-0 or 1-1. Hope to be proved wrong of course. COYB!!
Ian Jones
5
Posted 06/11/2014 at 19:10:52
Anyone know what the issue is with Browning? I liked the look of him against Liverpool. Thought he might have had a run out again
John Malone
6
Posted 06/11/2014 at 19:05:16
Coleman must have knock. I love Hibbo to bits but him and McGeady gave us nothing going forward in Lille. Hopefully with Lukaku starting Hibbo will have someone to aim his pin point crosses to.
Lukaku needs to turn up tonight. Less of the talk, more of the action please!
David Milner
7
Posted 06/11/2014 at 19:11:35
No problem with the team selection, just the bench. Why no defenders, surely it is worth having one of Browning-Pennington-Galloway just in case. Either you have Pienaar of Gibson, not both. Gibson is just as likely to pull a muscle and be out for 2 months. The other option is Chris Long for his pace.
Stephen Brown
8
Posted 06/11/2014 at 19:20:16
If anyone surely needs a break its Barry ?!
David Booth
9
Posted 06/11/2014 at 19:24:15
Oh god: Hibbert and Osman both in the team, again. Lovely fellas, but that's us down to nine men from the kick-off! They should never, ever have been picked again after the Chelsea cup final - and here we are, five years later. Worried now...
Mark Frere
10
Posted 06/11/2014 at 19:26:47
This means either Osman or Naismith on the wing - FFS! Would've liked to see Besic and especially Browning start. Hibbert offers little going forward.
Paul Dark
11
Posted 06/11/2014 at 19:33:27
Unimaginative selection (again). We could lose with that team.
Peter Z Jones
12
Posted 06/11/2014 at 19:35:41
Sigh. Really with Hibbert again? No recognized defender on the bench? I just don't get Roberto's moves this season. Here's to praying we squeak it out 1-0...
Bill Gall
13
Posted 06/11/2014 at 19:47:05
The player I would have liked to see on from the start that brings out the best in Baines is Pienaar.
Craig Fletcher
14
Posted 06/11/2014 at 19:53:52
Hardly an inspiring team. I guess Roberto isn't thinking this game will be played at pace. :)
Bobby Thomas
15
Posted 06/11/2014 at 20:34:16
Well in Ossie!!!
John Paul McGurk
16
Posted 06/11/2014 at 20:38:43
McGeady doing alright, Brillant quick feet
Tony Hill
17
Posted 06/11/2014 at 20:37:58
Very pleased so far. Crisp, confident, attractive stuff. Hibbert, as he has done in most games he's played this season, has been very solid indeed.
Nigel Darling
18
Posted 06/11/2014 at 20:44:41
Tidy finish by Ossie
Nigel Darling
19
Posted 06/11/2014 at 20:45:22
Get in Jags, score from a corner, well I never.
John Paul McGurk
20
Posted 06/11/2014 at 20:50:38
Another goal scored from a corner
Peter Z Jones
21
Posted 06/11/2014 at 20:52:45
We are on it! We score on corners! Ok buzzing now :)
Jim Knightley
22
Posted 06/11/2014 at 20:54:09
Incredible level of negativity before a ball is even kicked. What is wrong with so many of you?!
Lukaku has done well with the link up play, but could really do with a goal for his confidence. We are playing well, and are in control. Baines has played some great balls, and Naismith is as inspiring as ever.
Christopher Wallace
23
Posted 06/11/2014 at 20:57:04
David Booth
We're 2-0 up at h/t with 9 men. Not sure who scored the first - looked like an invisible man - smart finish all the same.
Kevin Rowlands
24
Posted 06/11/2014 at 21:00:56
Best half of the season so far? for me, it's a yes.
Paul Mackie
25
Posted 06/11/2014 at 21:11:56
Shit player that Osman lad ;)

Stephen Brown
26
Posted 06/11/2014 at 21:10:55
McCarthy - outstanding
Tony Hill
27
Posted 06/11/2014 at 21:16:49
Superb McCarthy tonight, at his very best.
Nigel Darling
28
Posted 06/11/2014 at 21:06:32
How good has James McCarthy been, breaks up everything from Lille.
Denis Richardson
30
Posted 06/11/2014 at 21:32:34
Three points and well clear of Lille and the riskies.
Great effort so far. 3 up, time to rest a couple.
Gerry McGuirk
31
Posted 06/11/2014 at 21:42:43
McCarthy outstanding. Naismith superb again......what a turnaround from early last season. You can only admire the lad for keeping going and becoming one of the first on our team sheet. Nice to see there's one team in Liverpool which is prepared to treat Europe seriously and not betray their tradition and their fans!
John Paul McGurk
32
Posted 06/11/2014 at 21:53:52
When Everton are in trouble, they don't dial 999 — they call 16.
Christopher Wallace
33
Posted 06/11/2014 at 21:56:38
Gerry
If you read some of the comments before the game, you'd have thought Roberto was taking a page out of Brenda's book - ridiculous!
Ossie was good first half and scored a great (and crucial) goal.
Hibbo didn't put a foot or head wrong.
Great performances from McCarthy, Barry, Baines, Lukaku, Naisy... rest of the boys were very good also.
Peter Z Jones
34
Posted 06/11/2014 at 21:56:50
Classiest performance of the season. Stress free with Baines doing back heels for fun just because. The link up play between Baines, Osman, Lukaku, and Naismith was definitely on point. They had no answer for us down the left. McGeady was dangerous again too. Good to see us realize that Lille can't score and turn up the heat.
Kevin Rowlands
35
Posted 06/11/2014 at 21:59:05
Best performance of the season by a country mile, for the posters who come on here and say Jamie Mac isn't attacking enough, doesn't score enough goals etc, have a word with yourself will you, the lad is outstanding and world class at doing the job he's supposed to do, very encouraged by tonight.
John Paul McGurk
36
Posted 06/11/2014 at 21:55:56
Imagine who didn't start tonight:
Coleman,
Stones,
Browning,
Alcaraz,
Galloway,
Garbutt,
Ledson,
Oviedo,
Barkley,
Pienaar,
Gibson,
Mirallas,
Atsu,
Besic,
Kone...
Did I miss anybody? Sorry Eto'o, anyway my fingers are tired typing...
The future is bright, the future is BLUE! COYB
Dave Duggan
37
Posted 06/11/2014 at 22:00:00
Had doubts before the game but that was very impressive! Can't fault anyone on that performance. Best game so far.
McCarthy tho? Superb that lad!
Patrick Murphy
38
Posted 06/11/2014 at 22:04:00
One of Lukaku's best displays in an Everton shirt - Paul Dark honestly I am as anxious as the next Evertonian but really have a word with yourself. Good performance good result and another win should seal the place in the knock-out phase.

Paul Andrews
39
Posted 06/11/2014 at 22:07:39
It's all coming together. As most of us knew it would. Not quite there yet but that is a hint of what we can do given time.
One goal conceded in 5 games? The dire predictions of how many goals we would concede over a season may have to be reviewed.
Paul Mackie
40
Posted 06/11/2014 at 22:09:44
Wonderful performance tonight. We dismantled the 2 European heavyweights at Goodison. Qualification is pretty much nailed on and the squad me be absolutely buzzing after a performance like that. Ross, Seamus and Eto'o are all fresh now for the Sunderland game too.
Pretty hard to think of any negatives tonight to be honest!
Colin Glassar
41
Posted 06/11/2014 at 22:15:57
Only Howard had a quiet game, the rest of them were, well, phenomenal.
Kevin Rowlands
42
Posted 06/11/2014 at 22:13:41
Oh, and if the deluded kopites think this Origi lad is the answer to their 'Suarez' problems, please! On another note was it me or did that goofy rat look overweight and unfit playing for Barca last night?
Brian Abbott
43
Posted 06/11/2014 at 22:10:43
Never really thought that was in doubt and we could have gone up at least two gears. Best performance so far but they were poor. Onwards and upwards. Oh and by the way, Osman is by far the classiest player we have so can we please cut the crap. And Macarthy is pretty good too!!!!
Sue Brown
44
Posted 06/11/2014 at 22:10:06
For all you cynics at the beginning of this thread that was an excellent team performance. Hibbo put in a very strong shift, McGeady was threatening and Baines, Osman, and Naismith worked well linking up. McCarthy was outstanding again. The 3 goals were all taken well from some great play.
John Malone
45
Posted 06/11/2014 at 22:18:50
And by the way how solid is Hibbo in defence!?!
Great win — well done, the Blues... even Lukaku played half-decent and got robbed of his goal with a dodgy offside call.
Up the blues!
Paul Mackie
46
Posted 06/11/2014 at 22:23:10
Hibbert was great tonight. Didn't put a foot wrong and looked like he'd been playing week in, week out. Would have loved us to get a penalty so that he could finally have a decent shot at scoring!
Tony J Williams
47
Posted 06/11/2014 at 22:27:40
Comfortable is definitely the correct word.
John Hughes
48
Posted 06/11/2014 at 22:27:03
All been said on the performance tonight but as an aside how refreshing to witness a competent performance from the Official. Well done Ref!
Paul Thompson
49
Posted 06/11/2014 at 22:23:30
Well played the 'nine men' (see above). Hibbert played very well against Lille away, so no surprise he was picked tonight. Lovely goal from Leon, but it won't stop the usual knockers claiming in a few games time - Osman can't shoot.
Aside from obvious top performances, some nice minor pluses tonight. Distin back and looking good; Gibson spraying the ball around confidently; McGeady beating men and putting in decent crosses and not least Lukaku showing he can do good link-up play.
John Voigt
50
Posted 06/11/2014 at 22:32:11
Just the kind of game Everton needed. It's starts with a home WIN!
Everton only need a draw in either of their other games to get through to the next stage. Win a game and they pretty much win the group.
Hope Barry is OK. We need to get through these games without further injury concerns.
Christopher Wallace
51
Posted 06/11/2014 at 22:42:53
Paul Mackie
Bad idea that - we'd end up getting kicked out of Europe for rioting!!
Phil Walling
52
Posted 06/11/2014 at 22:42:36
Excellent night all round. For once I stayed at home to ease my snuffles with a few scotches and the medicine worked.
Made up for Ossie – and Hibbo too – and team selection, tactics, application and result all spot on.
Well done Blues – manager included. More of the same, please!
PS And I won a few bob as well!
Michael Upton
53
Posted 06/11/2014 at 22:42:59
Is there anything more laboured on a TW thread than a comment slagging off Osman and Hibbert. So old, so tired, so wide of the mark.
David Booth, Osman is a stronger, more confident player than he was five years ago and banging on about Wembley 09 is just pathetic. He links play well, has great feet, passes intelligently and has a goal in him.
RM has faith in him and he often repays it. Sure he can be lightweight but no-one ever said he was a man mountain.
Next time, save yourself from embarrassment and save your negative comments until after the game, eh?
And as for Hibbert, just look at his performances in the two games against Lille and think again..
This was a welcome, solid, comfortable performance with a couple of cracking goals. And McCarthy was outstanding.
Neil Wood
54
Posted 06/11/2014 at 22:44:17
Just logged on and read through all the comments from before the game, during and after. It does appear that a few doubters have been kept quiet seeing Hibbo playing solid as a rock again and Osman being instrumental in a very good victory.
It does frustrate me sometimes when I read people on hear slating Osman. Yes, he's soft and pushed off the ball at times... and yes, he makes mistakes. But technically look at his game, his movement, his clever little passes and link up play.
He is a fantastic talent and whilst I agree he can't often last the full 90, he is an integral part of our team/ squad and I for one congratulate him on another great game in a blue shirt.
Neil Wood
55
Posted 06/11/2014 at 22:55:31
My post seems to mirror Michael's! You must of typed it at the same time!
Christopher Wallace
56
Posted 06/11/2014 at 22:52:06
Hibbo is noticeably more comfortable on the ball - gets his head up and picks a pass, rather than hoofing up the line. He's also looked better going forward, though not particularly in this game.
Great header from him in first half. That was an awful ball to deal with as it dipped late and he had to stoop to get it over the bar.
For some to say we were playing with one or two men down before the game started is beyond pathetic. We all know what to expect from Hibbo and there's more than enough attack minded players in the team to cope when he fills in for Seamy.
Dave Abrahams
57
Posted 06/11/2014 at 22:46:40
The last 20 minutes, the ground was as quiet as a church, the supporters were streaming from the ground at the same time. I stayed only because I had to wait for my lift, or I'd have joined them.
The most boring 20 minutes I think I have ever witnessed in all the time I have been going to Goodison Park. Yet everyone seems to be happy on here... I'm afraid that kind of boring football is not for me.
Iain Love
59
Posted 06/11/2014 at 22:55:36
Hibbert isn't good going forward but is an excellent defender which he proved yet again tonight. Osman is a bit lightweight for the Prem but is suited to the European game as he said postgame.
Well played tonight, Gibson looked good when he came on and McCarthy was everywhere.

Steavey Buckley
60
Posted 06/11/2014 at 22:57:59
All that Lukaku has to remember, to keep his game as simple as possible, just stay up from on the shoulders of the last opposing defenders, because there are enough Everton players in mid-field to thread a ball to him. Tonight, Lukaku could have had 2 goals tonight if the linesman had not raised his flag on both occasions, by playing on the shoulders of the last defenders.
Jon Miners
61
Posted 06/11/2014 at 23:01:15
Well said Micheal and Neil!

Ernie Baywood
62
Posted 06/11/2014 at 23:00:04
Cracking performance. Which is why the poor ones are so frustrating - there's nothing fundamentally wrong with this team. Just needs to click and stop doing some silly things. For once it was great seeing Lukaku's first-time passes around the box. He'll miss some but I'd rather he tried to create there than on the halfway line.
About the only negative I can think of is that Lukaku should have put Hibbert clean through in the first half and turned back inside.
On Tony, is it just me or is he getting forward more than he used to? I can't remember seeing him in the box much in past seasons yet this season he's got there in a few appearances. Maybe highlights that tactics contributed to his lack of a goal.
Patrick Murphy
63
Posted 06/11/2014 at 23:08:08
Obviously there must be a different game being played 'live' in front of the die-hard supporters than that those of us who are unable to attend get to see on TV. When Phil Walling praises the team and manager it must have been a good performance – mind you like me he had to sit in his lounge and watch it on TV.

Tony Marsh
64
Posted 06/11/2014 at 23:09:14
The winner of this season's Europa League gets entry to the Champions League.
Does that mean directly into the group stage or the Qualifying round? If it's the latter then it's a con. If it's the former then it's worth throwing all we have at it now we are almost through to the knockout stage.
Colin Glassar
65
Posted 06/11/2014 at 22:57:27
Well, if big Phil W is happy, then Roberto must be doing something right. Long may it continue.
Mike Green
66
Posted 06/11/2014 at 23:08:51
Solid all-round performance from front to back, played like a team, fought for each other and kept a calm grip on the game throughout.
McCarthy was excellent but plaudits to Lukaku, he was far from perfect but contributed from start to finish, created plenty, could've scored a couple on another day and had several important touches which helped open up the opposition – just the sort of display we need from a young, developing striker.
Also good to see us hoof it out of defence now again when required, rather than getting caught out tapping it around.
The only problem with tonight is we dominated the game without Barkley – had he played, something tells me he may have served only to clutter up the midfield. Tonight's team worked, Roberto's task is to create more permutations that get the best out Barkley, Mirallas and Eto'o and then we've got a powerful squad.
All of this with no Coleman, or Stones. Great stuff.
Keith Glazzard
67
Posted 06/11/2014 at 23:17:09
Just to add congrats. Very good all round, Jags at both ends, v good Ossie goal and Naisy's ... he's coming on quite well that lad, don't you think? Euro-Hibbo goes on and on, and so could I .... Thanks lads.
Brent Stephens
68
Posted 06/11/2014 at 23:21:56
Ah Hibbert! Origi was supposed to be the threat but Hibbs had a very good game against him. Still has something to offer, it seems.
Christopher Wallace
69
Posted 06/11/2014 at 23:23:59
Dave 57
I'll take a boring last 20mins in each and every game for the rest of my life, having gone 3-0 up.
We won the 2nd half in 2nd gear and have a big game to think about Sunday.
Cheer up ffs.
Steve Orchard
70
Posted 06/11/2014 at 23:13:48
Very good solid performance. Barry and McCarthy really controlled the midfield, both must of covered almost every inch of that hallowed turf, especially McCarthy.
I've also given a lot of stick to Lukaku on here recently but fair play to him he had a fantastic game tonight. Linked up well, held the ball up much better and was aways involved . Let's go on and win this group now .
Thomas Surgenor
71
Posted 06/11/2014 at 23:27:57
Earlier in the week, we were told that Dunc is helping Lukaku with his hold-up play .... Wow... he seems to have learnt quick!! I thought his hold up play was ten times better than it's ever been!
He could have had 2 goals tonight and he would have deserved them for all his hard work.
ps: McCarthy was great again!
Brent Stephens
72
Posted 06/11/2014 at 23:33:40
Well played the 9 men!
Steve Orchard
73
Posted 06/11/2014 at 23:32:52
Dave (57) I cant believe you're moaning after a great professional victory over a disinterested side that, had we gifted them some kinda goal with that 20 mins to go, could've suddenly sprang back into life. Top of the group with it all in our own hands... what more could you want?
Gavin McGarvey
74
Posted 06/11/2014 at 23:16:33
Regarding Hibbert, under Moyes he was mainly asked to cross when going forward, whereas now he's being asked to exchange passes. It does seem to suit his game.
Ron Sear
75
Posted 06/11/2014 at 23:49:43
Two glaring weaknesses:
Atsu, even when the ball was delivered to his feet, just about anybody could push him off the ball without any difficulty at all. Z
The more serious one was the Goodison crowd, you could have heard a pin drop it was so quiet, yet the away support is amazingly vocal. Perhaps the time has come to pick out an area of the ground next season that will only be allocated to the Everton away supporters after a quick vocal test of course.
Apart from that, games at Goodison should not be that comfortable – it goes against years of carefully nurtured tradition.
Jim Knightley
76
Posted 07/11/2014 at 00:02:24
Is there something wrong with Dave's and David's? First we have "After seeing the team I will be surprised if we come away with 3 points. Heart is saying 2-0 Lukaku. Head is saying another struggle, 0-0 or 1-1. Hope to be proved wrong of course. COYB!!"
Then we have: "Oh god: Hibbert and Osman both in the team, again. Lovely fellas, but that's us down to nine men from the kick-off! They should never, ever have been picked again after the Chelsea Cup Final – and here we are, five years later. Worried now..." – My personal pick for idiot of the week.
and then: "The last 20 minutes, the ground was as quiet as a church, the supporters were streaming from the ground at the same time. I stayed only because I had to wait for my lift, or I'd have joined them. The most boring 20 minutes I think I have ever witnessed in all the time I have been going to Goodison Park. Yet everyone seems to be happy on here... I'm afraid that kind of boring football is not for me."
The Dave club must be great fun.
The next match will be interesting: Barkley and Barry will occupy the holding roles, and Lukaku will start, but then what? Both Barkley and Eto'o were rested today, but can we drop Naismith after this display? And what about Pienaar, who might well be in line for a return? It will be interesting to see how Martinez approaches the Sunderland game.
Mike Keating
77
Posted 07/11/2014 at 00:06:31
Dave @ 57
You must have been shopping at IKEA during the Swansea game. That was 90 minutes of pure shite
I can't believe some of the negativity on here after a very good performance and especially from Ossie and Hibbo.
BTW – someone owes the Greg Greeidge Trust a tenner: Atsu came on – so do the decent thing.
Brent Stephens
78
Posted 07/11/2014 at 00:16:46
Jim #76 "my pick of the week". Did you spell that correctly?
Sam Hoare
79
Posted 07/11/2014 at 00:16:32
Yes, Mike. That bet was with me. Though I can't remember who made it with me! It was a silly bet by them at any rate...
Brian Wilkinson
80
Posted 07/11/2014 at 00:09:15
I said a week ago, "Mark my word, Ossie has a goal or two left in him yet"; not only does he score but plays 90 mins
Poor lad gets unfair stick, so I'm made up he's stuck two fingers up to the knockers tonight. I really do believe some actually hope Ossie screws up so they can have a rant on here.
Hibbert was excellent tonight, hard to find a fault with anyone tonight.
Stones, Barkley and Mirallas to come back as well as Pienaar... things are looking good again!
Mike Keating
81
Posted 07/11/2014 at 00:21:05
Sam – being a season away from a concessionary season ticket, I rely on Google to make up for memory loss.
If I can discover the original bet, I shall 'name and shame' but I'm sure I won't have to as Evertonians are always 'fair and square'.
Kevin Tully
82
Posted 07/11/2014 at 00:21:54
I personally thought it was a big mistake to offer Hibbo a new contract, especially two years.
Sorry, Tony – you were immense tonight.
You can tell Lukaku is getting back to his best. I believe he had to play with injections in his foot for the first few weeks of the season – but don't let that get in the way of the knobs calling him a waste of money.
McCarthy will take this team places, but again, you wouldn't expect most to notice the running, tackling, and general breaking up of play that all great defensive midfielders get through.
Controlled and clinical. Love it.
Steve Jenkins
83
Posted 07/11/2014 at 00:45:41
Fantastic performance tonight!
I thought McCarthy was outstanding and McGeady had his second good game in a week.
Roll on Saturday and 3 points.
COYB!
Christopher Wallace
84
Posted 07/11/2014 at 00:43:31
Arsenal were 3-0 on Tuesday night and gave their fans an exciting last 20 mins.
See how stupid your post is, Dave @57?
Phil Walling
85
Posted 07/11/2014 at 00:57:10
Stand out question from tonight's thread: Just where and how would you fit Barkley into that team and improve it?
Not trying to be controversial. Just asking!
Jackie Barry
86
Posted 07/11/2014 at 01:42:04
We played well tonight, good all round performance. However, Lille are hardly setting Ligue 1 table alight are they, we have a much stronger team than this available to us. Barkley will fit in just fine thanks to our starting eleven.
Sam Hoare
87
Posted 07/11/2014 at 02:15:48
All in all that's the Everton I want to see. Hard-working but incisive, creating chances aplenty but also solid at the back.
How much is due to our own brilliance and how much was due to a mediocre Lille team is difficult to say but you can only beat what's in front of you and the boys did that well.
My ratings for what it's worth.
Howard – 7. A passenger mostly but alert for one chance and distributed a bit better than usual.
Hibbert – 7. Never going to offer the same threat as Coleman attacking-wise though he did pass the ball well. Very solid at the back against Origi.
Jagielka – 8. Playing as well at the moment as he has ever. Dependable.
Distin – 7. No signs of rustiness and was seldom beaten to anything.
Baines – 7. Clean sheet and an assist. A few misplaced passes but that's niggling.
McCarthy – 9. Immense. Was everywhere at all times somehow. Good to see him driving forward a little more. His best game of the season.
Barry – 8. Looking infinitely better than at start of the season. Faster passing and partnership with McCarthy was dominant.
Osman – 8. Probably gets an extra point for the crucial first goal. Linked play well and still running by the 90-min mark. Great way to celebrate the contract extension.
Naismith – 9. Dunno where him and McCarthy get their engines from but I need to go there. Great movement, endeavour and goal.
McGeady – 8. Looked our most creative player. Got two assists and should have been 3 if Lukaku had put away that header or left it for Naismith. More of the same please, Aiden.
Lukaku – 7. Much better from the Belgian. Held the ball better and was unfortunate not to get a goal. It's vital to our play that he retains the ball when it gets played up to him and he mostly did that well tonight.
Roll on! Sunderland...some tough team selection decisions for senor Bob.
Harold Matthews
88
Posted 07/11/2014 at 00:46:31
Lille have only won one of their last eleven games so I'm not getting carried away. That said, despite their poor current form they don't often concede 3 and it could have been 5 or 6.
The energy and ability of McCarthy made him an absolute standout but everyone played well and Lukaku looks to be regaining his form.
Trevor Lynes
89
Posted 07/11/2014 at 02:17:25
In the '60s we used to go in at half-time two- or three-up and then declare. I watched us stuff Man Utd five-nil by half-time and then coast the 2nd half winning five-one.
There are lots of games to play and once we were three-up we just made sure we kept a clean sheet.
This evening was a very good team effort. We did get sloppy in the 2nd half but I was impressed by Lukaku. His movement on both flanks kept two or three defenders on him all through the match thereby creating loads of space for others.
The lad deserved a goal and some of his link up play was top drawer. I noticed Jags encouraging him throughout the game.
Susong Hermawan
90
Posted 07/11/2014 at 02:53:20
Classic goal by Naismith... Congrat Blues!
Andy Meighan
91
Posted 07/11/2014 at 06:36:45
Quite a routine win but you can only beat what's put in front of you and we did it with something to spare. A good performances from McCarthy, Naismith and especially Lukaku who I thought was excellent and deserved a goal. Let's hope that becomes the norm for him from now on.
Darryl Ritchie
92
Posted 07/11/2014 at 06:43:02
Got home from work and had a chance to watch the game, 6 pm my time, 2am Mersyside. Almost everything that could be said about the game has been said; including being "bored" by 3-0 win...WTF!
A few observations:
Gibson was in control when he came on. His ability to switch play, right and left and make the long pass up the centre is eye opening. We've really missed him. Hope he can string some games together.
Phil Jagielka....goal scoring machine!!!
McGeady ... MOTM. I've personally criticized him before for being a bit lax defensively, but not this time. This time he put in a full shift, as well as being our most dangerous attacker.
Not the stiffest opposition, but a solid win, nonetheless.
Ian Bennett
93
Posted 07/11/2014 at 07:33:40
Thought Lille were awful.
Better game for Lukaku, whilst Gibson looked really bright. His passing quickens our game so much more, just wish he was fit.
Ajay Gopal
94
Posted 07/11/2014 at 04:43:41
Probably the happiest thread on TW in ages, just goes to show (a) how good our team played last night and (b) how fickle football fans are ! Like many have pointed out before, the most positive thing for me is that we have so many players yet to return from injury and full fitness and yet we are getting good results. The league has been a bit iffy, but looking at the struggles around us, we are not doing too badly. And I do think Martinez has crafted his strategy for this season carefully - in terms of squad rotation, and game tactics (conserving energy) - he has sometimes got the tactics wrong (spectacularly in the Arsenal game) but overall, I am optimistic that we will see progress made at the end of the season. For me, I revise my targets for this season as: a 'reasonable' performance in the Europa - at least reaching the QF stage, a Top 6 finish in the league (so that we compete in the Europa again next year), a 'good' performance in the FA Cup (reaching the semi-final would be nice). Of course, I hope for better, but would be satisfied with this.
Ajay Gopal
95
Posted 07/11/2014 at 07:41:04
The only point of worry is that 2 of our key players - Jagielka and Baines have played an awful lot of games (including England duty) and our season could be screwed if something were to happen to them (touch wood!).
Ian Jones
96
Posted 07/11/2014 at 06:33:32
Enjoyed that match. Hardly any worrying moments in defence which was good and good attacking threat. Nothing really new to add to previous comments....however
I understand Tony Hibbert and Leon Osman being selected causes some people to lose the plot with some on here but they are both solid professionals and know what is expected of them.
They may be getting on a bit but so am I and I also have off days at work. At least I don't get thousands of people criticising my every performance.
Yesterday they both along with the team did really well. Even Phil Walling has posted saying how well the team played so good on you Phil. Glad you enjoyed the match.
Even though I said I had nothing new to add to comments I will mention that I did enjoy some of the very occasional basic defending that was on show.....the good old fashioned clear your lines variety. I appreciate that it's Roberto's and now the players way to keep possession and play your way out of trouble but from time just hoof it miles into opposition territory and then re-organise the defensive lines. Not pretty but effective......if used occasionally and when in need!
Anthony Hughes
97
Posted 07/11/2014 at 07:48:44
A good performance all round against a poor side. We should have a repeat result against Krasondar in the next game then it's a much harder game to beat Wolfsburg to decide group winners.
Mike Iddon
98
Posted 07/11/2014 at 08:21:13
Great comment from Phil Walling about Barkley; I was wondering the same thing watching the match. The only thing you could do is change the players and tweak the system for various games but we don't really like that do we....
Dave Abrahams
99
Posted 07/11/2014 at 08:37:44
Mike Keating(77).
Yes, you're right. I was at the Swansea game and it was pure shite – the same as the last 0 minutes of last night's game. I know why they played like that, to conserve energy and play out the game, but it was, as I said, boring. If you and others are happy with that, fair enough; I'm not.
And while Everton played the game out in almost total silence Wolfsburg scored three in the last few minutes. This will improve their goal difference which could make a top-of-the-league finish harder to achieve.
Mike Keating
100
Posted 07/11/2014 at 08:59:47
Sam @79 - Google is technology's way of dealing with dementia; a quick trawl reveals the identity of your online punter.
http://ToffeeWeb.com/mobile/articleitem.php?submissionID=28436
Let me know when he gets in touch.
Tony Abrahams
101
Posted 07/11/2014 at 09:30:20
It obviously depends which Barkley turns up because when the kid is on form he would improve any side in this country.

Peter Morris
103
Posted 07/11/2014 at 09:41:28
Previous reference to Ossie and Hibbo's performances in the 2009 Cup Final v Chelsea is ridiculous. I sat with that sun beating down on me for most of the game and is was at least 40 degrees in the stadium that day. Poor Hibbo was up against a French player, Malouda I think, who as well as being at the peak of his game, hails from some tropical former colony, so was always going to be at an advantage in those conditions. Most of our British players wilted under the heat that day.Remember how England's best suffered in the Brazilian jungle, well Wembley was as bad as that. The sight of poor pink Tony Hibbert wilting and blowing in that sauna, but still trying to do his job, only increased my admiration for him to be honest, and he deserves the Indian summer he is enjoying at the moment, doing what he does best, breaking up the play and giving the ball to better footballers to get us on the offensive. Good for you Tony.

Paul Burns
104
Posted 07/11/2014 at 09:36:30
That's the way to play in Europe. Pace, intent and intensity from the first minute and good performances from most players. McCarthy and Barry were brilliant, Jagielka back to his best and a good show from Hibbert, Naismith, Osman, in the first half especially, and Baines.
McGeady showed that there is more to come from him although infuriating at times and loses the ball far too often. I'd like to see him encouraged to carry the ball through midfield more often because he's capable of doing it at good pace which makes defences back off and lose shape.
I think the way you start these games is vital and too often in the past we have tiptoed into them leading to a flat, lazy show but this was spot on.
Tony Abrahams
105
Posted 07/11/2014 at 09:41:44
Chris, why is saying that you were bored such a stupid comment?
Football is both a results and entertainment business and, although I think I can see the bigger picture for someone in his seventies who has missed less than a dozen matches in over 68 years at Goodison, that was a big shout to make.
Not getting on anyone's side here – because I think Martinez is a clever manager who is always thinking ahead – but, whilst conserving energy in November is something I agree with on a professional level, it does sometimes make for a boring end to a game.

Andrew Ellams
106
Posted 07/11/2014 at 10:30:10
Tony Marsh, I'm not sure Uefa have decided what stage the Europa League winners will enter the Champions League next year. The cynic in me says it depends who it is.
Phil Walling
107
Posted 07/11/2014 at 10:35:39
Not to many responses to my Barkley question which tends to indicate Martinez got it just right all round last night.
Of course there will be a place for him from time to time but if McCarthy keeps putting in games like that, JB might only get in the way ?
Brent Stephens
109
Posted 07/11/2014 at 10:46:51
Sam #87 - player ratings about right for me.
And Darryl #92 rightly IMO adds to that what Gibson's passing, and ability to switch the angle of play, brought to the side.
Paul Burns
110
Posted 07/11/2014 at 10:44:43
Jim, we've played better than that with Barkley in the team. We've also played worse. Every game is different and different qualities are going to be needed at different times, even during the same game.
As for people saying Lille are shite, these are the team's that Man Utd, Arsenal and Liverpool get credit for beating, so don't diminish our performance.
Gavin Ramejkis
111
Posted 07/11/2014 at 11:02:09
Phil W as you don't have anyone biting, I think Wolfsburg will be a whole different kettle of fish, 2nd in the Bundesliga and flying, Barkley possibly in for Osman with Osman the potential sub? That would negate Naismith's preferred and stronger position in the hole though.
What did strike me last night was the left hand side was a whole lot weaker for the absence of a winger, McGeady had a decent game and Baines should take note – a corner and a goal from it, rare as hens teeth at Goodison these days. Atsu came on and didn't get much change from the Lille left back who was twice his size.
Wolfsburg game is going to need our strongest possible eleven to gain at least a point.
Ray Roche
112
Posted 07/11/2014 at 11:13:32
Peter Morris @103
Peter, I too was sat in the sun that day, the tv claimed it was 107f at pitch side and what people are forgetting is that gobshite Howard Webb booked Hibbo after about 10 minutes for a fairly innocuous foul, after which Hibbo was crapping himself in case he got a red card.
Hibbo had a good game yesterday, as did Osman. The tools on here need to get off the players backs for a while..
Colin Malone
113
Posted 07/11/2014 at 11:28:09
Gibson was like a breath of fresh air, always looking for the forward runner, the passes Laukaku thrives on, ok we were cruising at the time but in my opinion, its a massive plus in this team.
Andrew Clare
115
Posted 07/11/2014 at 11:43:35
Excellent performance against a poor Lille team. Wolfsburg will be the real test but I think that we will qualify for the next round anyway but it would be great to finish top.
Does anyone know the attendance for last night's game.
Brian Harrison
116
Posted 07/11/2014 at 11:42:51
Phil W, I hope that RM doesn't break up the Lukaku and Naismith partnership for the game at Sunderland. Naismith is the one forward who is always looking to make runs into the box where Barkley never seems to want to make those runs. I don't want to see Naismith moved out wide because, although he will always put a shift in, just like under Moyes he looks less effective out wide.
As for Barkley, if he is to play anywhere on Sunday, then it has to be wide left or right. Although the boy is a talent, I don't think he has a football brain, by that I mean all the very good players know when to pass when to shoot but most of all what positions to take up on the pitch.
He has good dribbling skills and a good shot in either foot, which is rare these days, but for me his decision-making is sadly lacking. I am sure many will disagree with me, but although he has showed glimpses of his potential, can anybody tell me a game he has played were he was our best player?
Gavin Johnson
118
Posted 07/11/2014 at 11:55:02
Peter #103 Malouda was born in France and is French, nothing more, nothing less.
John Armstrong
119
Posted 07/11/2014 at 12:02:39
Was anyone else really impressed with Gibson when he came on, spraying the ball around? I only counted one misplaced pass by him, and I think he may be the best passer of the ball in the whole squad. Good to have him back.
Brent Stephens
120
Posted 07/11/2014 at 12:06:02
John #119. Definitely. What impressed me was the pace with which he made a decision, the pace with which he switched the direction of play, and the actual pace of the pass (and not behind the man!).
Andrew Ellams
121
Posted 07/11/2014 at 12:11:39
Peter #103, what happened to our Australian and South African on that day then? That is one of the most ridiculous things I have ever read on this site.
If we get to the FA Cup Final this year, Lukaku and Eto'o should run riot.
Ernie Baywood
122
Posted 07/11/2014 at 12:14:01
Gavin 118. I was surprised by the post about Malouda so I checked it.
You possibly should have too. He was born and raised in a French colony in South America. French Guiana.
Graham Mockford
123
Posted 07/11/2014 at 12:17:37
It's always dangerous to start drawing conclusions from one game in isolation, although I am aware it is stock in trade for some on here.
We are now three months in and have played 15 games which gives you a better perspective. I think we are still in a good position to build on last year's progress despite a slower start than we may have wished for. I think that was largely due to a difficult fixture list and the players not really being at 100% at the start of the season. Whether the latter is a tactical master stroke as we get stronger and stronger or poor pre-season planning, I suspect views will be divided.
The biggest positive for me is the return of defensive solidity which served us well last year. We have only conceded one goal in our last five games. Goals are coming at a good rate, about two a game and from a variety of sources.
Also, the fact that the Premier League is very close means we are still in contention for a top 4 place and it looks like the Europa League knockout stages are very likely.
However, we will still need to strengthen come the January window. I would love Shawcross and Milner personally.
Sam Hoare
124
Posted 07/11/2014 at 12:46:36
Thanks Mike Keating @100.
Mike Gwyer! You owe 㾶 to charity!
Anyone see him on a thread, please let him remember this:
http://ToffeeWeb.com/mobile/articleitem.php?submissionID=28436
James Stewart
125
Posted 07/11/2014 at 13:18:06
Barkley could fit into that system easily in the Naismith position. I think it's one or the other, though, to get the best out of them
Mike Childs
129
Posted 07/11/2014 at 14:53:53
That was enjoyable. Had plans yesterday so I taped it for watching this morning. Nothing to add all points made already. Barkley sure looked like he wanted in, never took his eyes off the action.
Michael Kenrick
130
Posted 07/11/2014 at 15:23:23
Andrew @115, I looked for the attendance. Most of the usual sites gave nothing, which is unusual for an Everton home game, but seemingly normal for Europa League games... apparently. (Why?)
One site says "32,000", which sounds like an estimate. It's a very good question: what was the official attendance?

Conor McCourt
131
Posted 07/11/2014 at 15:13:21
It was a great performance against a good defensive team with no forward threat. We must be consistent in our analysis though because there wasn't a great deal of difference between that and the Swansea performance except that we didn't score when on top against a team that operated in the same way as Lille, although the Swans carried more of a threat on the break thanks to Bony.
Great point made that Jags will be crucial over the next 2 months and we should all pray that nothing happens to him as he is vital.
With regards to Gibson he came on against Germany and dominated the midfield and helped earn that crucial point, which was quite a compliment considering he was up against Kroos and Co. He still needs to improve his fitness but still is our most talented passer and will be vital over the course of the season.
A final point: someone suggested Shawcross and Milner. No thanks — they are Moyes signings and not what we need. Dellboy should be our number 1 priority as once again Atsu looked woeful when he came on and I know he has a lot of potential but I think it was against Palace is the only game I've seen glimpses in an Everton shirt as he does have electric pace. Apart from that he has been very disappointing.
Jay Rollinson
132
Posted 07/11/2014 at 15:46:42
I think with Atsu it could be a confidence problem rather than a lack of ability. I was waiting for him to try and take the fullback on the outside last night but he seemed to constantly cut inside or take it backwards.
To be fair, he's not had much time on the pitch so it's surely a bit too early to write him off just yet.
Conor McCourt
133
Posted 07/11/2014 at 15:46:29
Ps Phil I was so happy after the game but the highlight of my night was when you were beaming on here with positivity. In response to Barkley he is easily our best player in there and when we play Naismith we get more goals but lose his link play and change of gear. Ossie can look class in a team when we are dominating the midfield but especially away from home he struggles to make an impact and offers little drive.
Barkley is poor wide and must be played in the hole against the best teams but will be rotated. We have good options all over midfield.
Mike Childs
134
Posted 07/11/2014 at 16:26:34
Poor Atsu does he even weight 7 stones?
Peter Morris
135
Posted 07/11/2014 at 16:18:06
Gavin (118), Andrew (121) – All about opinions gents. I made no comment about Pienaar's or Cahill's performances – I was talking specifically about Tony Hibbert (born and raised in Huyton if I'm correct – not in the tropics but it can get a bit steamy there at times). The point I was making (a legitimate one and far from being ridiculous), is that players born and raised in tropical climates can withstand tropical humidity better than players born in temperate climates – no matter the colour of their skin. Last time I looked, French Guiana is in the tropics. If I'm wrong, why do athletes travel to hot climates or places of altitude to acclimatise for conditions they will experience in competition?
Graham Mockford
136
Posted 07/11/2014 at 16:36:05
Conor McCourt
You refer to Shawcross and Milner as 'Moyes signings'. That will do for me.
Don't forget seven of last night's team were 'Moyes signings'.
Add in Coleman, Stones and Mirallas to return and maybe your use of the phrase as a derogatory term looks a bit ridiculous.
Paul Andrews
137
Posted 07/11/2014 at 16:47:28
It's not the players Graham.
It's how you use them
Conor McCourt
138
Posted 07/11/2014 at 16:51:52
No Graham you have taken my words and twisted them. I think Moyes record in the transfer market speaks for itself and if Roberto is as good in that department I will be a very happy man. My point is that Shawcross is woeful on the ball and we already have Jagielka as that type of player. If he does decide to look for a centre half it is more likely to be a left footed ball playing centre half.
Likewise Milner is a hard-worker , has a great cross but has little imagination, incisiveness, electricity or flair which are the attributes he normally goes for in a wide player ie Maloney, Moses at Wigan and McGeady for us. Those signings you mention would be perfect for a Moyes team built on industry and competitiveness but not for the way in which Roberto operates.
I didn't use the term in a derogatory fashion so its not me that's looking ridiculous by misinterpreting my point.
Bob Heyward
139
Posted 07/11/2014 at 17:24:39
Conor! I'm sorry young man, but I think Graham has you bang to rights. It is wrong of you to use the term 'Moyes signing' as a divisive, colloquial pejorative, while your later obfuscations denying this are just plain pitiful. Why not just get behind the WHOLE team, eh?
Let's all just support this team, ignoring pseudo-intellectuals and their sophistric, absolutist attempts to inject paradigms amidst the transcendentalism of our great team. In other words, just button it, Conor - they're all Blues, whoever bought them.
Graham Mockford
140
Posted 07/11/2014 at 17:31:40
Conor
He must rate the 'woeful on the ball' Jagielka given he is captain. Shawcross is for me an underated player who has been tarred unfairly as a bit of a yard dog. I think he is better than the similair Cahill. Call me old fashioned but he is a cracking defender, something I value in centre halves.
Milner is a mile better than McGeady and the others you mention. He would undoubtedly improve our squad.
Good players are good players regardless of a manager's philosophy. Roberto has shown that by holding on to the core of the side but making us a more attacking and adventorous side.
Graham Mockford
141
Posted 07/11/2014 at 18:11:26
Paul Andrews,
Hadn't seen your post but exactly.
Gavin Johnson
142
Posted 07/11/2014 at 18:17:38
Ernie (#122), I've just checked out where Malouda was born, and I was wrong and stand corrected. That said, I still think it's a ridiculous statement to say that someone can play football better in hot weather, if they were born in a tropical climate.
Colin Glassar
143
Posted 07/11/2014 at 18:26:11
Like many on here, I wasn't too convinced by the announced team but I was pleasantly surprised by the skill and adventure shown by the lads. The three oldies (Ossie, Distin and Hibbo) were superb and played with renewed vigour and aplomb.
I just hope we don't go and huff and puff against Sunderland but play with confidence and get at them from the off. Unfortunately, we have another international break which seems to disrupt our rhythm so it's a must to get those 3 points on Sunday.
Rob Halligan
144
Posted 07/11/2014 at 18:39:40
For anyone interested, the 12 group winners in EL are all seeded for the first knock out stage, While the four best placed teams finishing third in the CL are also seeded. The other four teams dropping from the CL, along with the 12 runners up in the EL are not seeded. So while it might be better to finish top of our group, we could still draw a team dropping from the CL. We cannot be drawn against another English team, nor the runner up (hopefully) from our group. The last 16 is then a free for all where we can be drawn against anyone.
Colin Glassar
145
Posted 07/11/2014 at 18:51:32
Thanks for that Rob. I've got a horrible feeling we'll get the rs at some point.
Brian Harrison
146
Posted 07/11/2014 at 18:47:23
I actually think that the Europa League will be very competitive this year. In previous seasons teams dropping out of the Champions League have shown little or no interest in this competition. But with a Champions League place up for grabs for the winners then that will put a completely different emphasis on this competition.
Looks like Man City and possibly the other lot might be in the Europa League as well as a couple of very good teams. So for those clubs not in a Champions League spot could possibly view this competition as their best chance to qualify for next seasons Champions League.
This will make it an extremely tough competition to win.
Duncan McDine
147
Posted 07/11/2014 at 18:53:15
We were talking about the seeding last night at the game and neither me or my mate had much of an idea, so thanks for the info Rob.
I was shocked at how poor Lille played, but we are starting to steadily look a bit more like the Everton from last season.
Hopefully Barry and Coleman with be fit for Sunderland, though I thought both Gibson and Hibbert looked in good shape if needed.
John Voigt
148
Posted 07/11/2014 at 18:53:23
Rob (post #144) is spot on.
I went out to the Europa League website to see how the draw is determined yesterday.
To top our group a win/draw against Wolfsburg is essential. A win would top the group and make the last game meaningless. A tie would keep us 1 point ahead with a positive goal differential.
As far as January signings go I'd only like to bring in a new player if they could make a difference in the starting 11. Finding someone who could make the 1st 11, is affordable, is available, an wants to come to Everton is a long shot. They also have to be a "good egg" and fit into the current Everton dressing room.

Rob Halligan
149
Posted 07/11/2014 at 19:05:55
I agree Duncan. Starting to score a few goals and defence not leaking as many goals. Get a positive result in Wolfsburg and I think we can start to look at potential opponents in first knockout stage, as I'm certain we will thump Krasnodar!!
John Voigt
150
Posted 07/11/2014 at 19:12:56
I don't know why it's taken so long for the Europa League to offer a Champions League spot to the winner.
I really think there will be more interest because of this new change.
If I were in charge (which I'm not!) I'd take it much further in this regard.
I'd offer a Champions League group stage place to the winner, a Champions League final stage qualifier (like the 4th place Premier League team gets) to the loser of the final and I'd have a 3rd place game at a neutral site where the winner also gets a Champions League final stage qualifier spot.
If these were the Europa League perks teams would really take the competition more seriously.
Christopher Wallace
151
Posted 07/11/2014 at 21:40:42
No sign of the pre-game doom merchants coming back and admitting they were wrong.
Hindsight is 20/20 and all that, but I'd like to think most of us can come and hold our hands up when we're wrong... not that it would excuse the particular bs at the start of this thread.
No doubt they would be on saying "I told you so...blah blah". Makes you wonder what these people actually want to happen during the game.
Anyway, it seems that things are starting to 'click' with the first team. If we can rattle off a few wins, gain momentum, keep the defence solid, get Mirallas back asap – could be a great season!
COYB
Conor McCourt
152
Posted 07/11/2014 at 21:47:33
Graham, are you winding me up or what? Once again I said Shawcross is woeful on the ball not Jags I believe he is a much better version of Shawcross as is as brave as him but is a much better footballer and if you read my post before that one I said how important he is.
With regards to Milner once again you are misinterpreting my point. The players I highlighted he bought for Wigan and I never suggested he should buy them for us, was just pointing out the type he goes for.. Roberto bought McGeady because he can win a match and has that little bit of magic and was on a nominal fee.
Milner would cost more than 㾶 million and has little value or shelf life for that kind of money. I would love Dellboy as he has so much potential and would cost about ٤ million yet he could end up being the best wide man in the league.
Colin Glassar
153
Posted 07/11/2014 at 22:10:31
Christopher, they'll be back after the first slip-up. Some seem to think that players never make mistakes, that we have a god given right to batter every opponent by 5 or 6 goals.
The live forum seems to bring out the best and worst amongst some of us but there's 2-3 who just seem to be willing Martinez and certain players to fall flat on their faces.
Christopher Wallace
154
Posted 07/11/2014 at 22:32:39
I've never had the pleasure of the live forum Colin, but I'll take your word for it!
It is ridiculous when people are admitting defeat because we start with a solid, old school, local lad, who has been with the club through a period of resurgence after the gloomy 90's, and a cultured midfielder in his testimonial year, who has had more good days than bad.
Football managers often get it wrong, but they know more about the game than any of us posting on here. There are many reasons why Osman and Hibbert have been at the club for so long. Ossie can def still do a job and Hibbo looks as good as ever.
I'll take an ugly win on Sunday (although I fancy us for a comfortable 2-0) and kick on from there.

Colin Glassar
155
Posted 07/11/2014 at 22:45:28
I know many of us are cynical after so many barren years and false dawns but I'm just happy with the direction the team is taking. After years of hoof ball and no ball football I love the new style. Once we acquire a cutting edge we will be right up there with he best.
Tom Bowers
156
Posted 07/11/2014 at 22:11:05
Whilst the Blues play some good stuff, they have not yet excelled in a way that makes me think they can be rated up with some of the top teams yet. The two best wins this season have come in the Europa league. However, we have to admit that Wolfsburg had a lot of chances and Lille had very little up front.
That being said, the Blues are still unbeaten and the only blemishes are the two home defeats to two London clubs and giving away points when 2-0 up against the Gooners. We hope those ''hiccups'' are well behind them as they need to get into a run of winning games and Sunderland has to be the start despite the Black Cats' win at Crystal Palace.
Maybe it will turn out that the away games may yield more points than the home games.
Jon Cox
157
Posted 07/11/2014 at 23:49:27
Pete Morris, 103,
"The sight of poor pink Tony Hibbert wilting and blowing in that sauna, but still trying to do his job, only increased my admiration for him to be honest, and he deserves the Indian summer he is enjoying at the moment, doing what he does best, breaking up the play and giving the ball to better footballers to get us on the offensive. Good for you Tony."
Personally, good for you Pete, the best comment on the thread. COYB

Paul Holden
158
Posted 08/11/2014 at 00:03:58
Anyone booked Warsaw yet?
Conor McCourt
159
Posted 08/11/2014 at 00:12:13
Bob Heyward you obviously don't read a lot of posts on here. I am as supportive about our team as anyone and I will express my opinion as I like.
Are you always rude and condescending to people whose opinion you know nothing about? I have praised our players and manager more than most on here and I'm constantly defending the direction in which the team is going under Roberto. So you can put the dictionary away and perhaps heed your own advice.
Mike Gwyer
161
Posted 08/11/2014 at 07:29:14
Sam Hoare #124.
Thought my bet was trashed earlier, didn't Atsu play against Lille at their place (sub). Anyways, let me have the bank account details and I will pay up.
Graham Mockford
162
Posted 08/11/2014 at 07:44:55
Conor
I'm Not winding you up at all. You say I'm twisting your words.
#138 "My point is that Shawcross is woeful on the ball and we already have Jagielka as that type of player."
#152 "I said Shawcross is woeful on the ball not Jags"
Not hard to see how I interpreted your post. However I accept it's just poor syntax.
There is nothing wrong with two similair centre halves and it certainly doesn't prevent you playing football. City won the league last year with Kompany and Di Michelis, Chelsea lead the league this year with Cahill and Terry. None of whom I would describe as ball playing centre halves.
As for Milner, well we all have opinions. He is 28 at the peak of his career with at least four seasons ahead of him. He has also not signed a new contract which runs down at the end of this season. He would be available for less than 㾶m in January I suspect.
Conor McCourt
163
Posted 08/11/2014 at 12:12:34
Sorry Graham you are making wrong assumptions there. I agree that Jags, Terry and Shawcross are of the same ilk however Terry is really comfortable on the ball and rarely gives it away on either foot despite not being what you would call a ball playing defender. Jags is much more limited but he picks the smart option but when he plays against top teams he does concede possession very cheaply. For me Shawcross is a really sound defender but mostly hoofs it when in trouble and takes safety first option. He would be fine under Moyes imo but Roberto likes to play from the back and needs the centre halfs to carry into midfield and Ryan does not possess the tools to do that.
With respect to Cahill and Kompany they have always been good on the ball. Kompany was a central midfielder before converting and when O'Neill got rid of Cahill at Villa it was his defensive qualities he questioned and thought he was too elaborate in possession. It wasn't until playing with Terry that he has become more of a warrior and better defensively.
I don't know how much you watch of Milner but I've seen him quite a bit this season and he has been terrible. Against CSKA he started on the left and gave the ball away so much, it was so bad, 10 times worse than McGeady. He was kept on and moved to his favoured right wing and got less change out of the full back than on the other side .He is such a predictable player that he is easy to mark. He's no doubt excellent defensively but again Roberto doesn't ask his wide men to play that way, he gives them freedom to hurt the opposition.
The purchase of Shawcross will be at the expense of Distin? So if that's the case we will have only 1 left footed centre half in Alcaraz who has been out for a lot which would mean Jags would play on the left where he is much left comfortable as he has no left foot. My suggestion if we need a centre half at the end of the season would be Virgil Van Dyke of Celtic. He's a leader , really good on the ball and is lethal from set pieces which we don't have except for Alcarz who can pop up with a goal or two. He would also be within our budget.
Mike Keating
164
Posted 09/11/2014 at 08:58:01
Well done Mike Gwyer @161
My promise still stands BTW
If Sam decides to donate the tenner to the Greg Greenidge Memorial Trust, I will match it
COYB
Mike Keating
165
Posted 09/11/2014 at 11:21:42
Conor - he looks good but I think Arsenal are after him. Not sure we could get into a bidding war with the likes of them with bids starting around ٥m.
---
Add Your Comments
In order to post a comment, you need to be logged in as a registered user of the site.
Or Sign up as a ToffeeWeb Member — it's free, takes just a few minutes and will allow you to post your comments on articles and Talking Points submissions across the site.
© ToffeeWeb