Blues are held again as Baines earns a point from the spot
Sunderland 1 - 1 Everton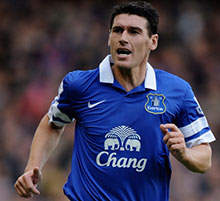 Gareth Barry had to be stretchered off with suspected ankle ligament damage after being caught by Jordi Gomez
Everton came from behind to record a second successive Premier League draw thanks to Leighton Baines's penalty with a quarter of an hour to go.
The fullback buried a spot-kick after Seamus Coleman had been felled by Conor Whickham, cancelling out Sebastian Larsson's goal from a direct free kick 10 minutes earlier.
The Blues side featured three changes from the team that beat Lille, with Samuel Eto'o starting up front with Romelu Lukaku, Ross Barkley coming in for Leon Osman and Coleman returning from an ankle injury.
A neat interchange between Lukaku and Eto'o served up a great chance for the latter in the third minute but the Cameroonian fired wide while Wickham headed a couple of early chances wide for the hosts.
The Blues were rocked by another early and serious-looking injury before 10 minutes had elapsed, though, when Jordi Gomez caught Gareth Barry with a late tackle and the midfielder, who had undergone a late fitness test on his ankle before being named in the starting XI, had to be stretchered off to be replaced by Darron Gibson.
Gomez somehow avoided a second yellow card before half an hour had elapsed when he was whistled for trying to deceive referee Lee Mason into giving a penalty against Phil Jagielka. Meanwhile, Aiden McGeady flashed a shot narrowly wide and Lee Bridcutt blocked well to deny Ross Barkley at one end and Tim Howard saved from Gomez at the other after hesitation in possession from Gibson.
The second half was just five minutes old when Lukaku had a great opportunity to open the scoring when he intercepted Bridcutt's backpass but he tried to round the goalkeeper and Pantilimon smothered the ball to snuff out the chance.
And the Belgian was foiled again by the Romanian five minutes later when he tipped Lukaku's powerful drive onto the post as Everton tried to make the breakthrough.
It was the home side who scored first, though, after Gus Pouyet had introduced Will Buckley in place of Adam Johnson and the substitute's direct running prompted a clumsy foul by Baines in a dangerous area. Larsson stepped up and smashed the ball through a gaping hole in the defensive wall leaving Howard with no chance.
The Blues responded with increased tempo and got their reward when Eto'o, pulling strings now in the no.10 role, threaded a beautiful pass through the Sunderland defence for Coleman who was chopped down by Wickham near the penalty spot. Once more referee Mason failed to produce the red card, this time for the denial of a clear goalscoring opportunity, but Baines levelled things up by firing under the goalkeeper.
The big push for a winner never really materialised from Everton, though, despite largely dictating the final quarter of an hour, while James McCarthy, hobbling with an apparent upper leg muscle injury, hooked the ball off his own line in injury time as Sunderland had one last go.
The point leaves Everton 10th in the table, above Liverpool now on goal difference, but still with just three League wins from 11 games.
Full coverage: ToffeeWeb Match Reports
Reader Comments (98)
Note: the following content is not moderated or vetted by the site owners at the time of submission. Comments are the responsibility of the poster. Disclaimer
Kunal Desai
1
Posted 09/11/2014 at 18:01:31
Same old story yet again more points dropped. This time it's a case of our record signing not shooting on goal instead of trying to be clever in rounding a huge keeper. We love shooting ourselves in the foot when we're in total control, give a needless foul away on the edge of the box and then wall to allow that freekick to go through like that was atrocious. Sunderland were garbage today should have been put them to the sword, but the final third by us was equally garbage, no movement upfront whatsoever.
Christopher Wallace
2
Posted 09/11/2014 at 18:22:25
Kieran Fitzgerald
Lukaku was dropped the last EPL game, then had a great game on Thursday.
Yes, he was rubbish today, but not sure where you're getting this "Roberto won't drop him" nonsense.... Surely your memory reaches 8 days back?!
James Morgan
3
Posted 09/11/2014 at 18:23:17
As usual we don't capitalise on other teams' poor results.
Luckily for us, there are only two consistent teams this year, meaning we are only four points off top four.
Steven Jones
4
Posted 09/11/2014 at 18:22:49
Martinez recognised today we lacked the cutting edge in the last third but overall another good building game for us as a team.
Barkley another game of fitness and showed signs ... Coleman more time to get fit ...
Good McGeady performance, covered Coleman quite a few times and looked to put in good crosses, getting a habit with him .....
And my own first choice centre midfield will perhaps get a run of Gibson and Besic ... I have felt for a while that combination could produce a strong title challenge in a couple of years.
Draw away against difficult opposition in a good run of their own – I am happy with a draw. Above LFC ...
Now to make a move on Top 4 by Christmas!
Gavin Johnson
5
Posted 09/11/2014 at 18:07:35
The game wasn't great in the final third. I can think of countless times when Ross made a good run and had to 'shoot and hope' because nobody else was there for the pass. This brand of football we're becoming accustomed to flatters to deceives at times. We can sometimes look like we're controlling the game but it's pointless if there is no impetus to make incisive passes in the final third.
It's certainly a disappointing result for a team with aspirations of getting in the top four, especially given that the elusive 4th spot looks open for the taking this season. I'm actually more disappointed that we couldn't beat Swansea at home. I'm going to try and put a positive on today's result in that we got a draw away from home on the back of a Europa game (Spurs lost their game today) even though Sunderland are a team we should really be beating regardless of any mitigation surrounding playing on Thursday.
One bright point in an otherwise frustrating game was James McCarthy's performance today. Today was the first time I've really noticed him making attacking runs and it's an encouraging sign that he is growing in confidence on this side of his game.
Christopher Wallace
6
Posted 09/11/2014 at 18:35:37
I don't think there were too many complaints about starting team before the game. I woulda liked to have seen Naisy but was happy enough.
Then the players, that shoulda been more than enough for an average side, don't shine and it's Roberto's fault all of a sudden (from certain quarters on TW).
Some decent play but no real intensity. We missed Barry big time. I'm loathe to blame Europe, as we cruised against Lille and could've kicked on.
Players must stand up and be counted. Mirallas is really being missed, and the team should be set up around Naisy, at least until we get a quality playmaker in.
Helen Mallon
7
Posted 09/11/2014 at 18:15:27
I just hope someone can get hold of Roberto and shake him by the collars shouting, STOP CHANGING A BLOODY WINNING TEAM and play your players in their CORRECT POSSITION'S. If that means leaving the likes of Barkley out then so be it.
Also play Besic not Gibson. Besic is young dynamic and needs games Gibson is an injury waiting to happen and another bloody safe sideway passer.
Absolutely gutted by today's result. Below is a list of our 84-85 team and their total games played that season:
Big Nev 63
Ratcliff 61
Trevor Steven 61
Mountfield 58
Gary Stevens 58
Bracewell 57
Reidy 55
Sharpy 46
Pat van den Hauwe 42
Sheedy 31
Andy Gray 31
Adrian Heath 26
John Bailey 21
Kevin Richardson 18
Alan Harper 15.
Settled teams that are winning keep winning. You very really see Real Madrid change their team.
Kieran Riding
8
Posted 09/11/2014 at 18:46:13
Helen, so you would have played Hibbert ahead of Seamus today then ?
Helen Mallon
9
Posted 09/11/2014 at 18:48:25
Kieran I would to be honest because we played 4 4 2 and Hibbert did have a good game. I know Seamus got the pen but do we really need to drop players who have been involved in a winning game. Sunderland was a perfect game for Hibbo.
John Voigt
10
Posted 09/11/2014 at 18:58:29
I saw a replay of the goal we conceded. We can't keep a decent wall. The ball went through a spot that never should have been open. Pure crap.
Martin Mason
11
Posted 09/11/2014 at 18:50:41
Frustrating today wasn't it but Sunderland had a game plan to frustrate Everton and it worked. I thought after 10 minutes that there was no way that Everton wouldn't win but the chaos of the "wall" that gave them their goal meant in the end that the draw was the only result. This was playing against a parked bus at the away ground unfortunately and they frustrated it. It won't be the last team that does it to us this year but believe me we are one of the top sides in the division and even the very best, Chelsea apart, are struggling too. Once again I thought that Jags was great, McCarthy brilliant but we did badly against a crowded defence and a side that broke quickly although with limited skill.
We're gong to have to get used to the frustration I'm afraid and perhaps learn to be even more controlled with the tempo of the game to break down teams who are intent on stopping us scoring. There is no magic wand or silver bullet that can help us only hard work. Lukaku's first and even second touch cost us again today as he was clear and should have produced the winner but he touched the ball too far and had no choice other than to go around the keeper, he must learn but there is a good player that just needs developing. The wall gap trick was good play by Sunderland and schoolboy error by us which lost us the 3 points.
We were far and out the better side and the only one with class, we will come good when we can stabilize the injuries and RM can really decide on what his best team is.
Kieran Riding
12
Posted 09/11/2014 at 19:09:44
Fair play Helen, that's what this place is all about.
Lee Whitehead
13
Posted 09/11/2014 at 19:07:49
Poor Performance today against a poor team!!! Lukaku was really really poor today – no pace, fight, aggression etc.
Still, we're above the RS!!!
COYB !!!!
John Keating
14
Posted 09/11/2014 at 19:17:03
Thank God we had more possession and passes!
What was the result??
Christopher Wallace
15
Posted 09/11/2014 at 19:23:45
John, the wall was pathetic. It was set up wrong by the keeper, and then disintegrated soon after.
Helen, Coleman was our main threat today. I think Hibberts been great, but Coleman was our only real chance of winning (or drawing) that game.
Tony Byrne
16
Posted 09/11/2014 at 18:48:10
So frustrated after watching today's game,on seeing the team picked admittedly I was pleased but in hindsight the only change should have been Coleman for Hibbert after the Lille result.
We just don't seem to take advantage of other teams around us dropping points, I thought Sunderland were shite & these type of average teams should be beaten with the squad we have.10th in a very average league (besides Chelsea).
The ref was a shithouse, to consult his linesmen when we got our pen just summed him up (why did he consult him???), it should have produced a red card.
Their goal was so poor it was laughable, if you're in a wall and they put two players in it, stand in front of them ffs! For me, any set-piece free-kick that goes through/over our wall usually ends up in the net anyway 'cos Howard just cannot get over quick enough.
Swansea City, Stoke City, Newcastle Utd, West Ham Utd, Southampton etc all above us in the league... I know it's early days but the points we have dropped already tells me we will drop many more on this showing.
I could be talking bollocks here but I'm gutted yet again seeing us drop points to another average/shite team.
Colin Glassar
17
Posted 09/11/2014 at 19:24:31
I would've Kieran. Seamus is easing his way back into the game. I wouldn't have started him, eto'o or Barkley but Hibbo and Nessie and probably Ossie on the left side. Ross is wasted playing wide.
Stephen Brown
18
Posted 09/11/2014 at 19:27:29
We need to develop a partnership and stick with it – my choice is Barkley and Lukaku . Eto'o and Naismith ready to deputise. Wide players should be picked from Mirallas McGeady Pienaar and Atsu. Hopefully this area can be significantly strengthened in January! Trying to fit too many players into unnatural positions!
There are enough games to keep all players busy but in their positions please! Also less chopping and changing is needed let the players develop partnerships!
A couple of good results and we are back in the race for 4th due to the very unpredictable season! I'm trying hard to be optimistic (it's difficult).
Kieran Riding
19
Posted 09/11/2014 at 19:31:28
Colin, like I always say, it's opinions isn't it.
Seamus had a slight knock on his achillies, and for me, especially against 'a weaker team' if he can play, he must play. I thought we should have beaten Lille over there, and so us spanking them at Goodison wasn't news to me, and leaving Seamus out didn't hurt us.
Ross is a bit different. He actually seems a fair bit off the pace.
Colin Glassar
20
Posted 09/11/2014 at 19:43:55
It is about opinions Kieran. I didn't watch the game but. Saw a few comments saying Seamus was sloppy with his passing and was caught napping a few times. I love the lad and hope he's back to his best ASAP.
David Hallwood
21
Posted 09/11/2014 at 19:44:57
I'm with Helen (#7) on this one; yes bring back Coleman, but Nais was MotM contender on Thursday. In addition, Barkley & Eto'o (& Naismith for that matter) are at their behind the striker.
Okay, they had a game on Thursday but FFS they've got a week off next week. Yet another 2 pts dropped with none of the contenders (Chelsea apart) setting the place on fire.
Jim Bennings
22
Posted 09/11/2014 at 19:29:04
I don't think we learnt much more today than we did last weekend..
What is glaringly obvious is that the Premier League this season is of poor quality, the top 4 is up for grabs, sadly it probably won't be us because we are just another part of a poor inconsistent league.
Where are our goals from midfield?
Where is the real end product of the constant passing game?
Where is the plan B?
Now Barry is missing for a while who is going to offer something a little different?
Do we have anyone who even can offer something different other than a safety first keep it simple way?
The season just hasn't got going for us yet whether it will who knows. We have two games against teams who are probably going to challenge us in terms of position this season in West Ham and Spurs at the graveyard ground White Hart Lane.
The Hammers will be far from easy and it's just the kind of home game where we are likely to have real struggles in, they will sit deep and invite us to attempt breaking down a well organized unit. Can we do it? ... At the minute, I'd have to say I'm quite doubtful.
Patrick Murphy
23
Posted 09/11/2014 at 19:54:10
I still think we could do worse than push Baines and Coleman further up the pitch and bring in Hibbo and Garbutt at the back, at least until we have Mirallas and Pienaar ready to play. It would give us more bite in attack and on the break and plenty of cover at the back when we need it.
I don't think that RM will agree with me though.

Colin Glassar
24
Posted 09/11/2014 at 19:53:50
Let's hope Roberto learns from this and stops making all these bloody changes. I think he, like OFM, isn't sure about what his best starting XI is and also wants to keep everyone happy and involved.
So, Roberto, here is your best XI so stop pissing about.
Howard
Coleman
Stones
Jagielka
Baines
Mirallas
McCarthy
Barry
Pienaar
Naismith
Lukaku
Subs: Robles, Distin, Oviedo, Barkley, McGeady, Ossie, Eto'o
Sorry if I've missed anyone out.
Brian Burns
25
Posted 09/11/2014 at 19:56:51
Barkley, Eto'o, Naismith and Osman aren't fucking wingers so don't play them there. We had two wingers in the squad today so he should've played them.
Sort it, Martinez. We had enough of this shit with Moyes so don't go down that route — Please!!!!!! And drop Lukaku!
Christopher Wallace
26
Posted 09/11/2014 at 19:59:59
Not sure if you're taking the piss or not Colin?
I'll not mention the injuries in that line-up. I've been a big defender of Lukaku's, but Eto'o is the better option at the moment. Rom reacted in the right manner on Thurs after being dropped, so maybe a few games won't hurt.
We obviously need Mirallas and Barry. I would love Stones back, but thought Distin was decent today.
We're not a million miles off being the 2nd best team in the league (after Chelsea), the players just need to step up. I don't blame Roberto – he's replacing good players with good players... they just need to be more ruthless and on it.
The sharing out of points in the league this year means a decent run (which we usually put together at some point) will catapult is into contention. Up to the boys to go make it happen.
Colin Glassar
27
Posted 09/11/2014 at 20:15:03
Not taking the piss Christopher, that, IMO, is our strongest team when all fit. I think Lukaku has to be our first choice striker with Nessie playing off him. Eto'o is a fantastic player but we can't have him starting every game can we?
I totally agree with the rest of your points. If only we could get some consistency and stop arsing around in front of goal, top 3 could be on the cards.
Stephen Brown
28
Posted 09/11/2014 at 20:26:33
I'm pretty much with Colin with maybe Ross for Nessie! Although in reality how often does a team have no injuries?
I think it is more a case of players in their proper positions. Don't try to squeeze in all the good players in the wrong positions. No room for Ross, Nessie and Eto'o for example
Steve Orchard
30
Posted 09/11/2014 at 20:26:32
This fella Atsu looks like he has the pace to tear the pitch up! Why aren't we trying to draw teams out a bit sometimes then get the ball out to him in the open? I reckon you're looking at Walcott /Lennon type speed here.
Roberto changes personnel a lot but expects them to play the same way everytime!
Mark Griffiths
31
Posted 09/11/2014 at 20:30:11
I wonder what our points tally of last season would have got us this season? Such is life!
Colin Glassar
32
Posted 09/11/2014 at 20:38:25
At home I'd play Nessie in the hole and put Ross next to Barry or McCarthy. I don't see why we have to play two defensive midfielders against the so-called weaker teams at home.
Christopher Wallace
33
Posted 09/11/2014 at 20:37:44
I'm with you as well Colin but the "when fit" is taking 4 players out of that team at the moment. With our luck, it'll get worse rather than better during the international break.
The manager isn't stupid. He's putting players out there to win the game. He can't make the passes or take the shots for them (I know this might come as a shock to some).
He can throw a jab/straight right/fake/right hook combos in the dressing room to get these boys on their bloody game though!
Paul Dark
34
Posted 09/11/2014 at 20:39:36
I dare say today's game might look like a decent point at the end of the season, but today it looks like another two points dropped.
We didn't look too much like conceding until the free-kick, and I thought the defence did well today, especially the two central defenders.
McCarthy is so good at cleaning up and even defending deep often, but his offensive momentum is not there - perhaps it doesn't need to be. I do feel that Barry and he do one person's job in the final analysis and would I therefore play Besic there as a forward-moving force.
Mirallas and Pienaar are our best bets on the wing by far, followed by Atsu, even Coleman with Hibbo behind him (though McGeady did his best today, even put in a few tackles and made an impact of sorts in a one-dimensional way – he was one of our better players ...).
Rom, Sam and Nace (possibly Ross) can alternate up front (2 or 1+1). We do need a settled team, and we need to address the passing issue. Players must hold the ball and not just pass to a free player but pass with a view to a forward shape where possible. This was happening at points last season (before Christmas) – but not this. We're playing Martinez-Moyes football this season.
First we must plug the defence – today's back four is our best by miles, in my view. Hibbo can come in where necessary, maybe Browning and, of course, Stones (will be relieved to have him back). I do think the goals will come. If Rom is injured, please rest him; he looks so sluggish.
Unless something changes, we will be lucky to get an EL place this year – and we won't win the EL on current form, not even close.
Just my tupp'orth.
Paul Hewitt
35
Posted 09/11/2014 at 21:03:53
Poor performance today. We need to be beating teams like Sunderland if we to finish in top four. Also, was a bit harsh on Lukaku today with my comments, sorry.
Christopher Wallace
36
Posted 09/11/2014 at 20:58:58
Paul,
With Bainesy and Coleman attacking at every opportunity, Barry/McCarthy do closer to 4 jobs, rather than the one job you state.
Pienaar has been great for us, but I'm not sure he still has the legs to be effective going both ways. No problems putting him in against teams like Sunderland though, and I reckon he could be decent in a free role (though Barkley, and particularly Naisy are prob better options).
Defence weren't bad today, and at least we're not leaking as much. I was hoping for an ugly 1-0 today, and not too far off.
A painfully obvious below-par still looked a few classes above Sunderland today, although a draw was fair on balance of chances.
We need a bit more grit and hard work to grind out these games where our flair is missing.
Tony Hill
37
Posted 09/11/2014 at 21:18:09
Why won't he play Besic? Baffling. Is he unpopular with the others, is RM frightened of discipline problems? He is being wasted.
Paul Dark
38
Posted 09/11/2014 at 21:15:33
Christopher:
Interesting – and noted re GazBaz and Macca.
I thought Nace did well when he came on – always looking to go forward fast, and he gave the Sunderland defence the slip a few times. I'd like to see him link up more (not necessarily on the wing) with Seamy whose directness and pace would complement his.
I have no doubt, by the way, that Rom is a class act, and we should encourage him. I do get the impression (and I have no idea, not being an insider) that RM, the man with a degree in physiotherapy, doesn't always allow players injuries to heal properly before re-introducing them to first team football – baffling, if so.
Christopher Wallace
39
Posted 09/11/2014 at 21:46:14
None of us (myself included) know what these boys are doing in training.
They may have looked like a worldy in their last game, and then been an embarrassment in training.
We've got goals in the team, especially when Kevy returns. We now know we can keep it tight. A bit of balance and a lot more bite, we can start blowing these teams away.
I was gutted not to win today. Not a bad point though...
Aman Kanji
40
Posted 09/11/2014 at 21:41:51
One thing to blame – TIKA TAKA football. 60 or 70% football in your own half. Whoopy Do.
Sideways passes in midfield. We need creativity just behind the forwards. Ossy should have started in place or Ross. It's now 3 games on the trot that he's been useless with moves breaking down with him. Burnley, Lille, Swansea and today. (sorry, four!)
Ross needs to fight for his place. Pienaar should NOT be dropped in his place.
Colin Malone
41
Posted 09/11/2014 at 22:01:11
Round pegs in square holes don't work.
Christopher Wallace
42
Posted 09/11/2014 at 22:06:47
Excellent analysis Colin Malone!
What team would you have started with?
Christopher Wallace
43
Posted 09/11/2014 at 22:13:48
Also, who was the square peg?
McGeady is a winger who played on the wing.
Barkely and Eto'o slotted in when Sunderland had the ball.
Eto'o is one of the greatest attacking player I've seen in my lifetime, and Ross is the young pretender - they should easily be able to interchange in order to baffle the opposition and exploit space when we have the ball.
John Voigt
44
Posted 09/11/2014 at 22:04:59
If you check the current Premier League table you will see Sunderland have lost 3 of 11 games. The reality is winning a game on the road against them is what you want, but isn't easy to get.
Everton had their chance but they blew them. Eto'o in the 3rd minute. Barkley around the 30 minute mark and a gift wrapped chance for Lukaku.
Fluff those chances and you are wind up in the situation that Everton were in today.
It's not one player to blame or the manager. It's up to the team to get better results in games like this.
Between the Premier League and Europa League Everton don't have a single game where they have won by a one goal margin in 15 games. They either win by 2+ goals or get draws in the games they get anything.
My point is to keep a really good run going you need to win some games by a 1-goal margin. Chelsea and Southampton are leading the league in a large part by having games that might have been draws turn out to be 1-goal victories which get you the 3 points you need to keep you at the top of the table.

Colin Glassar
45
Posted 09/11/2014 at 22:27:42
John, I'm still sick over those four points we blew against Arsenal and Leicester. Today's game was similar to the games against Palace and Swansea, just farting around in front of goal. We should be about 3rd right now not 10th.
Patrick Murphy
46
Posted 09/11/2014 at 22:31:09
John - I must admit I hadn't realised that and when you see that the top 3 are the only clubs to have won more than 50% of their games it really is a very strange season indeed. The problem is whilst it continues in this vein and whilst we keep picking up injuries rather than victories we can't really tell how the campaign is going to pan out we'll just have to hope that we can pick up plenty of points in the next month or two.

John Malone
47
Posted 09/11/2014 at 22:37:59
Christopher Wallace, maybe play the same team that romped home a 3-0 win a couple of days earlier.
Why change a winning team???
John Voigt
48
Posted 09/11/2014 at 22:49:28
One thing that stands out in this Premier League season is the number of draws.
This keeps down the number of points teams accumulate. If this keeps up, the number of points it will take to make the top 4 will be less than last year.
Right now, Southampton have a really good chance of finishing in the top 4. I watched their game this weekend and they looked really good. With only 5 goals conceded through 11 games, they have the foundation of a winning formula. With 25 points through 11 games, they don't have to average 2 points a game to reach the 70-point level.
Brent Stephens
49
Posted 09/11/2014 at 22:54:14
Paul #34 "McCarthy is so good at cleaning up and even defending deep often, but his offensive momentum is not there."
Paul,
I think you get a view on a particular player and then let then colour your view of them evermore. McCarthy was excellent, IMO, today in going forward – he carried the ball forward with pace and directness, he was almost up on their goal line at times. A noticeable difference.
Gavin Johnson
50
Posted 09/11/2014 at 23:01:35
Just watching the Stoke game on MotD. Does anyone agree we loaned the wrong winger from Chelsea in the summer?
Patrick Murphy
51
Posted 09/11/2014 at 23:03:44
Gavin – I'm more worried that we bought the wrong centre-forward, watching the highlights again on Sky, Lukaku's body language is completely wrong – he looks like somebody who is being asked to do a job that he is incapable of doing.
I think Mason got it right on the penalty by not sending the lad off, but has that bloke got a sense of humour as he looked really peeved when Macca knocked him over by accident.

Jim Bennings
52
Posted 09/11/2014 at 22:54:01
Have we actually recovered from blowing those late leads in the first two games? The Arsenal game in particular was mentally galling. It seems to me that we haven't even performed well in a game since the first hour against Arsenal in August.
We were okay at West Brom, we were shocking at home to Palace, awful at Anfield but saved with seconds remaining thanks to a great goal, awful in the main against a rookie shit Man Utd team.
It improved slightly against two poor opponents in Aston Villa and Burnley but the last two have again been poor.
Colin Glassar
53
Posted 09/11/2014 at 23:07:00
Not Jermaine Pennant surely, Gavin?
Jim Bennings
54
Posted 09/11/2014 at 23:08:50
By the way what has happened to Oviedo??
I thought he was meant to not miss any game time and the screw removal operation was a simple one??
Jim Bennings
55
Posted 09/11/2014 at 23:13:18
Victor Moses he means.
I have to admit that Moses is playing better than I have ever seen from him, didn't really think he had it in him.
It wouldn't surprise me in the least if Atsu was back at Chelsea in January to be honest, and then loaned out over-seas, maybe a weaker league, Holland etc.
Patrick Murphy
56
Posted 09/11/2014 at 23:11:50
Jim,
There has obviously been a shift in mind set since the opening weeks of the season as the wheels were threatening to come off big style after conceding so many goals... but the price we have had to pay to shore up the defence is that our attack is a little less potent – although we still created enough chances today, but so too did Sunderland in the first half.
Injuries have hindered us and they are continuing to do so and we'll just have to be happy to grind out points as and when they arrive. I know you want Everton to win games in style but this is going to be a tough old season and Evertonians aren't the only set of fans perturbed at the lack of victories.
I thought that Thursday's win would set the team up for today and they would go there with confidence but it is a ground that we rarely seem to display our best qualities even when we have won there in the past.

Peter Gorman
57
Posted 09/11/2014 at 23:16:28
Steve Orchard #30 - because Atsu is shite
How bad was Baines's penalty today! Could have easily been a loss.
Phil Rodgers
59
Posted 09/11/2014 at 23:25:40
We just cannot get going this season. It's difficult to see exactly what is causing the issues. At first, it was fitness and defensive issues. Now, I honestly can't say. We just don't seem capable of putting a run together.
On today's game, they should have had 2 straight reds and to be fair Poyet admitted it. That Gomez tackle was disgusting and cowardly.
Patrick Murphy
60
Posted 09/11/2014 at 23:36:05
Gomez should definitely have walked, it was a far worse tackle than I had first realised – he's one of Roberto's ex-players as well.

Mark Taylor
61
Posted 09/11/2014 at 23:12:30
We had two poor bits of refereeing against us, first of all it has to be a red card if you trip someone up for a clear penalty 6 yards out, secondly I am 95% certain that their free kick was taken many yards away from where the foul actually too place. It was about 3-4 yards further back and more to the right side of the pitch than where it ended up. Larsson would not have scored from there.
Otherwise, it was a mediocre performance against a poor team. We suffered from having several who are not at all match fit and played that way (Coleman, Barkley, Gibson), and as usual, we often failed to some bodies in the box when in a good position. McGeady had another decent game by his standards, so maybe there is some hope there. McCarthy was excellent and Eto'o continues to look class and makes Lukaku look like the very rough diamond he is, albeit one with a potent shot on him.
One final point, the commentator on Sky was making out that Howard's falling on the ball outside the area was some kind of genius moment. To me, it looked like another one of Tim's periodic brainstorms; he had ample time to get a boot through it and I am also pretty sure that the ball was played last by a Sunderland player, so he could also have just dribbled it back into the box and fallen on it.
Frankly we have been poor this season by the standards we aspire to and the only reason we remain within 4 points of CL positions is that this looks like it's far from being a vintage EPL – you only have to look at the embarrassing recent performances in the CL for proof of that.
Gavin Johnson
62
Posted 09/11/2014 at 23:19:14
Jim, if Chelsea put a clause in, not wanting the same thing to happen to Atsu as Moses with the RS last season then I think you're right. We've been linked with getting Burma on a loan again in January from Galatasaray again (18-/19-year-old) but to be honest the only kid winger I hope we sign is Delboy (we know what we're getting). I think that it's too much of a gamble bringing a kid in considering that Roberto's teams rely on wing play so much.
Jim Bennings
63
Posted 09/11/2014 at 23:52:33
Gavin
Definitely I'd love Delboy back here in January, I'd snap Barca's hands off, trouble is if they want to loan him to us again, apparently they weren't too pleased.
What on earth goes on in Tim Howard's mind?
First question should be "why was he even outside his area when Jagielka had the situation under complete control???"
The man is in my opinion mentally unstable.
One Flew Over Howard's Nest..
Colin Metcalfe
64
Posted 09/11/2014 at 23:20:25
Will the real Everton team please stand up? Today's performance was just baffling from start to finish. We were slow and to be honest "so predictable".
I really thought we had turned a corner Thursday when we completely outplayed Lillie – okay, a mid-table French team, I hear you say but are Sunderland a better team? A team that got stuffed 8-0 a few weeks ago... Not for my money!
Now I am a big fan of "tika taka" football because, when it's played properly at a fast pace, the opposition are chasing shadows and they tire; however, what we play is slow laborious pass about in front of their 22 yard line – it's so easy to defend against!!
And when we do hit teams on the break they get across the halfway line then slow the whole thing down again, one of the worse culprits of this is Baines, he sprints past the halfway the always checks and looks for a sideways pass! I just wish he could be a bit more direct when we break...
In fact, I would like to see Oviedo as wing back and Baines ahead of him! We are badly missing Mirallas and the sooner he's back the better! He's always looking to get a shot off and is positive in his movement.
As for our "star" 㿈M man Lukaku ... if he puts in another performance like that again, he may as well fuck off and do Panto this winter because he was woeful today.
Apart from the odd good performance, our general play has been poor this season... but, then again, apart from Chelsea and Southampton, everyone else has been unpredictable as well, with the players we have, we should be further up the league, no doubt. I just hope Bobby can turn it around.
Sam Hoare
65
Posted 10/11/2014 at 00:10:41
Not much has changed. We had plenty of possession and territory and all we needed was someone to finish off some of the chances we created. You would think that 㿈M might buy you that man but apparently not.
In short, most Premier League games are close run things at the moment, often settled by a moment of genius or an individual mistake. We manage to have cut out most of the individual mistakes that were killing us early season but don't seem to be getting quite enough moments of genius.
Eto'o almost had one today early on and McGeady had a great shot that was just wide. Barkley and Lukaku had the best chances but neither could find the end product and that is what we are missing.
Lukaku I hope gets a goal or two off his backside and gets back the confidence that every striker needs. Barkley is perhaps a more complicated matter as his position in the team is not so clear and there is more competition in the AMC roles. I think Etoo looks best suited there as he showed with another sublime assist today. Perhaps Eto'o behind Naismith with his movement would be a combination worth trying...
Christopher Wallace
66
Posted 10/11/2014 at 00:05:50
John 47
Not sure how that answers my question @ 43.
Anyway, Eto'o and Coleman came in and were undoubtedly our most effective players going forward.... so your "keep a winning team" pint is fair enough, but doesn't tell the story of the game.
Naisy was missed though, as was Barry.
I took exception to the square round peg hole bs that the other guy posted, without any suggestions as to how he would've improved things.
Steavey Buckley
67
Posted 10/11/2014 at 00:09:40
It was baffling when discovering Naimith was left out of the team at the beginning of the match, because he provides so much movement and energy up front, that gives Everton a real cutting edge. In the first half, Everton never really got out of 3rd gear.
It was also baffling why Barkley was playing wide left, when he is more useful playing down the middle, that provides Lukaku extra space to move about in. In all, Everton were dreadful in the first half with only McGeady showing any form from the sparkling win against Lille.
Eto'o again in this match played too deep, to give Lukaku (who had a dreadful match) any real support, although he played a beautiful through ball to Coleman, who won the penalty.
Oscar Huglin
68
Posted 10/11/2014 at 00:28:21
I would have taken beating Lille and a point from this every time. Tricky away game following an important European night on Thursday.
Hopefully the international break will give us a chance to rejuvenate, sort out some of our injuries, and come back stronger at the end of the month.
COYB.
Michael Polley
69
Posted 10/11/2014 at 01:18:23
Saw the highlights on MotD2. Disappointing – another 2 points dropped. We really should be beating these teams. We played great against Lille, only to put in a crap performance on Sunday. We've got no consistency, or cutting edge in the final third. It didn't help that the ref was also crap.
On a more positive note, there is only 4 pts separating 10th spot from 4th, but losing these type of games could cost us long term.
I hope Barry makes a good recovery
Harold Matthews
70
Posted 10/11/2014 at 00:38:52
"Baines earns a point." Why not "Baines costs us 3 points."? That tackle with his near leg on the edge of the box was absolutely moronic. It was going to be a trip all day long. Normally Barry would have blocked the bloke off... so where was Gibson?
The wall. What wall? It was too far to the left of the right footed free kick taker and the big fellas and little fellas were all in the wrong place. No excuse. Coaching? What coaching?
Hope McCarthy is okay. He was limping at the end. Wouldn't like to be without him and Barry.
A difficult game that turned into a battle. The lads up front are not getting it together. They know it. We know it. It has to be sorted. Two good chances wasted. Can't do that in the Premier League.
Ant Dwyer
71
Posted 10/11/2014 at 01:27:12
I think Roberto has got many many decisions wrong this season already but today I think you have to say his (our) players let us down.
Jags Distin and McCarthy played to there ability other than that we had far too many sub standard performances. Yes, maybe Naismith should have started but we had enough on the park to blow Sunderland out of the water.
I'm a big fan of Lukaku but he was shocking, he seems to struggle to find a place when Eto'o is up with him although on paper Sammy should be a perfect foil for him. Ross is still nowhere near his best, McGeady is one of the worst passes of a ball I've ever seen, and two holding midfielders is too much versus any Sunderland sale team. whether we are home or away.
Very very poor game all round, shocking considering Thursday's performance.
Roger Helm
72
Posted 10/11/2014 at 01:41:31
Like the All-Blacks say, never change a winning side, always change a losing side.
Gary Neville wrote an article recently that when he was playing, 80% of the coaching was defensive – positioning, body posture, how often to look at the ball when marking, defensive walls, one-on-one practice etc. But he gathers from talking to the Academies that defensive coaching isn't done so much now. It certainly seems that way at Everton.
Ernie Baywood
73
Posted 10/11/2014 at 01:47:47
It's all a bit to predictable at times. It kind of looks like we know things can click but have no idea of how to make it happen.
You watch Nais when he came on. Limited footballer but he passes the ball and then bombs into the box. Doesn't come off so he comes back out. I watched Fletcher do the same all day... always an option centrally.
Lukaku played wide – both sides. To the point where there is simply nothing central when the likes of Eto'o, McGeady or Ross get the ball in a half-decent position. So we play wide again. Still nothing in the box.
What's the point of all these good attacking players if no-one wants be anywhere near the goal? Jamie Carragher could play these attacking roles if all you have to do is shuffle the thing from wing to wing all day.
Lukaku – don't go wider than the penalty area. If we get the ball wide... his only job is to be in the box ready to attack that ball if it comes in. Run!
Ross – did he set foot inside the penalty area all day? He's an attacking midfielder! Stop being so scared of being out of position and get in there. It's part of the job.
McGeady – at least he had a bit of a go. Instinct to skin his fullback is wasted when he gets there only to realise there's no bugger in the centre. It's just an elaborate bit of skill before we start shuffling it back and forth again.
O'Shea and Brown won't have had many easier games than that. No-one played on them. They just held position all game.
Tahir Abdullah
74
Posted 10/11/2014 at 03:29:48
"Shit rolls downhill" – Meyer Kahn. The amount of externalising on here is unsurprising; RM once again comes off relatively scot free in the postmortem of this match.
If you are forced to play central midfielders instead of wingers then adapt the game plan accordingly. Barkley (as is often the case) looked lost; running into brick walls and blind alleys, with little aim in the final 3rd. No wonder Eto'o and Lukaku were at times not available for a pass from Barkley.
Lukaku's miss aside, that poor performance was entirely down to RM. Sunderland offered absolutely nothing offensively; thank goodness Cattermole and Giaccherini were unavailable for them as well. The end result could have been much worse.
Eric Myles
75
Posted 10/11/2014 at 04:48:33
Spot on about the wall, Harold @70. I told the missus the same thing and where they'd put the ball to score. Completely Howard's fault.
Max Wilson
77
Posted 10/11/2014 at 09:33:34
Oops! RM this season has dithered about with his team selection and still is. Meanwhile, his teams have dithered about in the final third. We are missing Mirallas badly. We need legs, better, faster passing and we need to hold onto our two best strikers playing together – they are Eto'o and Lukaku.
Their supply yesterday was crap and they were feeding on scraps. The thought of McCarthy being injured just sends me into depression. It is too much to contemplate. Do you think we'll beat the Hammers at the moment?
Geoff Evans
78
Posted 10/11/2014 at 10:38:42
Excuses, excuses...
Boring, boring safety first crap.
Eddie Dunn
79
Posted 10/11/2014 at 10:42:12
Brian, you are spot on, mate – wingers on the wing please and make a choice on who is playing in the No 10 slot.
Howard at fault for the goal – crap organisation, and he was moaning at them afterwards, but it seemed to me that the taller lads were at the other end of it.
He also nearly fucked-up with Jags in the strange lying on the ball incident. That could have cost us, it wasn't clever, and another example of his poor judgement of late.
Jim Bennings
80
Posted 10/11/2014 at 11:07:38
Eddie,
As I have said, I honestly believe Howard has some kind of mental problem; either that or he's hyperactive because over the year's there's been too many incidents of manic unexplainable behavior from a so-called professional keeper.
How many times has he cost us goals with rushing out fouling players for penalties over the years? How many times has he ended up behind the line BEFORE the ball has even crossed it?
Yes, he's a good shot stopper now and again but his overall behavior is ridiculous.
As I state, why is he even outside of his area yesterday with regards to the "lying down " incident?
Jagielka had the situation under control, then he sees that halfwit standing behind him like some kind of lost poet rambling the Alps and a potentially dangerous situation could have arose.
Then there was the Crystal Palace penalty incident this season, the Old Trafford balls-up by bullying the ball down the pitch instead of out of touch knowing his goal was empty, because for some other manic reason he's by the corner flag.
Even the Gerrard free-kick at Anfield, weak wristed, he should have kept it out because it wasn't in the corner of the goal.
We need to get shut of the fella, how long can we keep calling him Number 1 anyway? At his age we are going to need to start looking for a REPLACEMENT – not just amateur back-up.
Derek Knox
81
Posted 10/11/2014 at 10:24:36
I reckon I am as disappointed as everyone else on here, with the result from another game where we have had the lion's share of possession, but not the spoils.
As Colin @45 so succinctly stated, albeit in the past, that we have 'wasted' points against Leicester and Arsenal from a winning position. Okay, that was not the case yesterday, but still I feel that a game that was possibly 'winnable' was made harder by reckless defending, and a lack of guile in the final third.
Couple this with injury to Barry, and then later McCarthy, for once we are thankful for the International Break. I still can't help feeling, and I have mentioned it before, that Bobby's substitutions are bewildering at times. That game was crying out for Besic to replace Barry, and Atsu to replace McGeady who (although decent against Lille) was generally a passenger yesterday.
West Ham next, who also seem to be on an upward curve, will also prove to be a testing game, and I think team selection and availability of key players will be critical, if we are to get three points.
I know it's painful at times but we have got to keep the faith, and hope we get back to winning more regularly.
COYB
John Audsley
82
Posted 10/11/2014 at 12:19:10
Jim@ 80
Tim H has Tourette's Syndrome
You did know that, didn't you??
The fact he has been a class goalkeeper for club and country is pretty amazing considering what he has had to master/deal with etc.
He does make mistakes but can be utterly brilliant at times and let's be honest – HE ISNT GOING ANYWHERE!!!
RM loves the guy and I cannot see him being replaced in the next few years. Unless he gets injured and Joel becomes the No 1...
Colin Malone
83
Posted 10/11/2014 at 13:14:09
Christopher Wallace.
I'm talking about Barkley playing on the left, Why??? To accommodate either Naismith or Eto'o. Ross and Lukaku have a great understanding when Ross is in the number 10 position. How many times have they started in them positions this season?
Paul Dark
84
Posted 10/11/2014 at 15:55:30
Thanks Brent, point taken re McCarthy. I suppose I just feel he (or Barry) could do much more of that and I'd like our team to have a midfield general. He's young and may not be that man, I appreciate.
I have a high regard for McCarthy and Barry – but I would like to see Besic start much more than he does. I really think he could become a top world-class player. I emphasize 'could'.
Tony Marsh
85
Posted 10/11/2014 at 16:04:00
What ever you might think the rights and wrongs are from yesterdays performance the facts are that Europa League qualification has a detrimental effect on teams who are involved. Playing games Thursday/Sunday the added fatigue and the disruption to players routines equates to loss of form in the League.
Dont take my word for it its a statistical fact as shown by Gary Neville on Sky Sports.Those teams from the Premier League who enter the Europa suffer loss of the League form every time with no exception.
If you want the European adventure be prepared for the fallout.No good blaming managers or players it goes with the territory.
Brent Stephens
86
Posted 10/11/2014 at 16:24:33
Paul #84 - agree about Besic. Maybe as we get more into the season and an extended run in the FA Cup (smiles) as well as the Europa, then we'll see more of him.
Mike Powell
87
Posted 10/11/2014 at 17:56:29
Woeful performance. How bad was Lukaku? I'm sick off all the excuses for him. He should be dropped.
Why are we so slow when we attack? It's pass, pass, slow, pass, pass, slow. And why take McGeady off? He was having a good game.
It's incredible how Lukaku was still on the pitch.
Mike Childs
88
Posted 10/11/2014 at 18:12:23
I agree re: Besic. The problem I guess is that the position I think RM envisions for him is currently held down by Barry.
Peter Z Jones
89
Posted 10/11/2014 at 18:25:35
Colin 83. I think I brought this up in the Swansea game. I get that we've had all these injuries to wingers and what not. But all I ask is that we not jam square pegs in round holes like you say.
Naismith, Barkley, and Osman are all players that are best used directly behind the striker rather than out wide. Regardless of what anyone's opinion on these players is, I think we can all agree on that. If we want to get two of those players on the field at the same time, we need a change of formation and go wingerless. I like McGeady, but when Baines and Coleman are causing this much havoc, they're basically wingers anyway.
If we play a 4-4-2 diamond, I think we'd really take teams apart while Mirallas is away.
Howard
Coleman Jagielka Distin Baines
McCarthy
Besic Barkley
Naismith
Lukaku Eto'o
Baines and Coleman bomb forward like always. Bring on McGeady and Atsu for pace out wide if you want to change the formation to something more conventional. Whatever.
I just hate seeing Ross Barkley being criminally wasted to accommodate someone less talented. It isn't an either or situation. Play them all. And play them where the hell they belong!
Alan McGuffog
90
Posted 10/11/2014 at 19:12:17
Harold @70. Spot on, mate. I was fuming at that excuse for a tackle... totally stupid. We have been doing this sort of kamikaze defending for years... on the edge of the box, defenders using their arms, ankle-tapping.... and all in plain sight of the ref.
I thought we'd got rid of the worst for that, Fellaini, but yesterday I was so pissed off with that pathetic challenge. Two points thrown away!
Andy Walker
91
Posted 10/11/2014 at 20:09:36
I think a point out of this game was a good result in the end, 1-0 down with 15mins to go was a good recovery. Expectations firmly realigned, 40 points the target now Martinez is manager.
Tony Abrahams
92
Posted 10/11/2014 at 20:53:11
If Besic is earmarked to replace Barry, then why didn't this happen yesterday? Did Besic have a poor game when he came on last week, or did it look like he could do a good job if given a run of games?
Seems to me that the manager has been thinking about the second half of the season before a ball had even been kicked.
First we weren't fit for the start, and now all this rotation and accommodation is stopping us from building up a head of steam.
I was more interested in Europe this season, but it would definitely be a chance missed if we don't get top 4, when you judge how bad the league is shaping this year.
Chris Sharples
93
Posted 10/11/2014 at 22:26:27
Well done, Mr Marsh, only said the same today. All sides suffer who play in Europa League from Premier League. Spurs never get a result and Swansea nearly got relegated last season.
Would love to know reason why but stats don't lie!!
Jimmy-Ã…ge Sørheim
94
Posted 10/11/2014 at 22:21:06
I agree with Peter Jones.
We need to cut out the wingers and go 2 up front.
Harold Matthews
95
Posted 10/11/2014 at 23:47:54
This game definitely caused my faith to waiver.
Howard's antics, the non-existent wall, the stupid Baines tackle, the two missed chances, losing Barry, the non-tackling, slow-tracking Gibson knee, no togetherness up front, the big fella looking confused and little Ossie brought on for the last few minutes when all the rough stuff was going on.
In the meantime, they brought on a lanky guy called Buckley who tore us apart and seemed to know more about attacking than our lot all bunched together. What a nightmare. Let's hope we learn from it.
Steavey Buckley
96
Posted 11/11/2014 at 01:58:17
Everton's inconsistencies have a lot to do with changing the team so often and not being able to bring on the right substitutions at the right time. There is nothing wrong with Everton's passing game, because over the season, players don't want to be flogging themselves to death running after the ball all the time, but it is about togetherness, and knowing each player's playing style, which comes about when the team is not changed so much. If a player gets tired during match, that's the time to change the team, not after winning in convincing style in the previous game.
Harold Matthews
97
Posted 11/11/2014 at 04:29:56
Yes Steavey, there's probably a lot of truth in what you say. Chelsea are certainly not big on rotation. Unfortunately, Martinez may not know his best team. It was always difficult but with Barry and McCarthy out, his problems have gone through the roof.
The slow build-up is causing us to face a packed defence and we don't seem sure about the players who are best equipped to deal with it. Eto'o and Coleman showed the way but a better solution would be a faster forward tempo all over the pitch.
Laurie Hartley
98
Posted 11/11/2014 at 08:31:43
The bright spot in this game for me was McGeady. He looked dangerous, got some good crosses in an bailed Coleman out in our box on 3 occasions.
Unfortunately Lukaku is sadly out of form at the moment. I don't know what the answer is for him but, if it was up to me, Eto'o and Naismith would be starting every game.
Also Pienaar and McGeady would start every game on the flanks. McCarthy and Besic in midfield.
Back four picks itself at the moment. I personally am glad to see Distin back in the side.
To my simple and perhaps old-fashioned football mind to me that is square pegs in square holes.
Steavey Buckley
99
Posted 11/11/2014 at 09:52:18
Harold Matthews: Martinez did know his best team at this moment, his best team beat Lille 3-0; he then changed it against Sunderland and drew 1:1.
Harold Matthews
100
Posted 11/11/2014 at 11:58:45
Laurie, I like your post.
Jason Lam
101
Posted 13/11/2014 at 01:57:10
I agree with Mike Powell 87, we are passing for the sake of passing. There is little end product and doesn't appear to be any constructive purpose other than see who's first to lose the ball. We are not Barca and never will be, passing is not second nature and instinctive to most of our players.
The opposite look much more threatening with the ball and it's all hands on deck throwing desperate bodies around in our penalty box. I don't know if it's injury-related or confidence issue we need to sort out Rom he's not the same player we signed. If he's injured don't play him; if it's in his head that's Bob's job.
---
Add Your Comments
In order to post a comment, you need to be logged in as a registered user of the site.
Or Sign up as a ToffeeWeb Member — it's free, takes just a few minutes and will allow you to post your comments on articles and Talking Points submissions across the site.
© ToffeeWeb