Attacking prowess endlessly frustrated
By Michael Kenrick
09/11/2014

Comments (146)
jump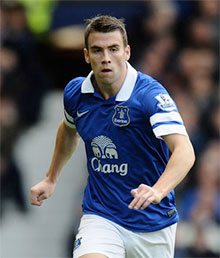 Seamus Coleman passed a fitness test and won the penalty from which Everton equalised
Sunderland 1 - 1 Everton
Roberto Martinez named a lively-looking side with an attacking spearhead of McGeady, Barkley and Eto'o behind Lukaku. Coleman was declared fit and Distin secured his first Premier League start for almost two months.
The game started brightly with Sunderland winning a corner that was headed just wide. Barkley then ran the ball down the left touchline but launched a fairly tame shot direct at Pantillimon although the next move saw some wonderful inter-passing through the middle between Lukaku and Eto'o, the Cameroonian firing hard but high and wide when he might have taken a split second to make sure his shot was on target. A second corner for Sunderland, Wickham heading onto the roof of the net.
Barry's ankle was clipped hard in a late challenge by Gomez that saw the Sunderland player get an early yellow card but Barry's injury led to a long stoppage and turned out to appear very serious, the physio calling for a stretcher, with Gibson coming on in his place inside 15 mins.
This disrupted Everton and they took a while to regroup, but started to press the home side with some intent but no real end product, Gibson and Lukaku lashing shots well away from the goal, as Sunderland adopted an increasingly packed defence. Lukaku had a comedy moment, his first touch deserting him along with his balance as the big man stumbled on the ball and fell over flat on his back.
Sunderland demanded a penalty when Gomez ran into Jagielka and threw himself to the ground: simulation a correct decision by Mason who then booked McCarthy for some challenge after Barkley had fashioned a good moved down the right this time, but Lukaku's header off his cross was weak. Sunderland then got behind the Everton defence and Distin had to clear as the cross evaded Howard. At the other end, a fierce effort by McGeady just curled away from the far post at the last second.
Barkley then ran through the middle in a move that looked for all the world like the opening goal but he struck the return ball from McGeady straight at the heels of a defender blocking the line to goal. Gibson was guilty of horrible indecision in the Everton area and had his pocket picked, a a good shot needed a remarkable save from Howard and another corner conceded.
Everton were doing a good job getting to the edge of the Sunderland area, but the final shot or ball in seemed to be always lacking something; Pantilimon had not really been troubled despite the stats saying the Blues had a number of shots on target. Sunderland seemed buoyed by Everton's inability to score and attacked with decent pace when they had the chance, putting the Everton defence under some good pressure.
In the four minutes of added time, Barkley got himself in a great position to do some real damage but Lukaku was mysteriously way away from play, out on the left and the young star had only the option to spoon the ball well over the goal. The first half incredibly ended goalless, Everton, a side with brilliant attacking potential that were totally devoid of meaningful attacking tactics, as if Roberto Martinez had just told them simply to go out there and enjoy themselves, but with no real plan or discipline for actually scoring goals.
The second half started with a frustrating spell of non-progressive Everton passing in midfield that after an interminable time finally saw Barkley advance only to fire well high and wide yet again. Some nice work down the left and this time Lukaku laid the ball back nicely for Barkley but his shot lacked any real power. Bridcutt played Everton's best incisive pass of the game, playing in Lukaku for the opening goal, only for the big man to hesitate at the crucial moment rather than shoot, and Pantillimon was able to bundle the ball away from him.
Coleman did well to get the ball off Reveillere but went down easily as he laid the ball back to a red & white shirt and the frustration continued, Baines finally getting forward with Barkley but his cross hits the defender. Baines got a better cross in, right to Lukaku's feet but, instead of trapping the ball, it flew back off him at twice the velocity! Lukaku then got in a good position on the left of the Sunderland area and lashed another shot off the outside of the post.
The second memorable highlite came when McCarthy took out Lee Mason, who got in his way. Buckley tempted Baines into giving up a dangerous free-kick that Larsson fired well through the less-than solid Blue wall to give Sunderland a precious lead, Everton with only themselves to blame. Naismith replaced the frustrating McGeady with 20 minutes to salvage an impending disaster.
Finally a decent Everton move: Eto'o playing in Coleman who's cross to Lukaku was intercepted. But Baines's corner was floated in high, too easy pickings for Pantillimon. More brilliance from Eto'o played in Coleman who looked to fire home but Wickham scythes him down, just catching the ball with his leading foot. But no red card for denying a clear goalscoriing opportunity. Sunderland were furious but the decision was correct and Baines hammered it in beneath the diving Pantillimon to put Everton back in the game.
Jack Rodwell replaced Gomez. The Blues played it well through the middle in another promising move that end up clipping off Lukaku and out for a goalkick. Osman then replaced Barkley and Sunderland really should have scored when Buckley got in behind the Everton defence, but thankfully Fletcher was a foot behind it.
The ball continued to bounce off Lukaku, and then, one of the most bizarre pieces of goalkeeping by Howard sent the Stadium of Light into apoplexy, falling on a slow backpass just outside the penalty box, pinning the ball momentarily with his body, not his hands, much to the anger of the home crowd and side. Everton advanced again but the move broke down again with Lukaku's dreadful hold-up play, passing the ball backward again but this time to nobody.
Sunderland looked to have secured the winner but McCarthy was in the right place to scoop a goalbound header off the Everton line with Howard beaten. A tremendous run by Coleman, the length of the field won a corner at the death that Everton could not convert. A crazy game full of frustrations that will go down as another opportunity for Blues advancement spurned. Very much the story of the season so far...
Sunderland: Pantilimon, Vergini, Reveillere, Brown, O'Shea, Bridcutt, Larsson, Gomez [Y:12'] (82' Rodwell), Johnson (62' Buckley), Wickham, Fletcher.
Subs not Used: Mannone, Altidore, Mavrias, Graham, T Robson.
Everton: Howard, Coleman, Baines, Jagielka, Distin, McCarthy [Y:20'], Barry (12' Gibson), McGeady [Y:57'] (70' Naismith), Eto'o, Barkley (86' Osman), Lukaku
Subs not Used: Robles, Hibbert, Besic, Atsu.
Referee: Lee Mason
Attendance:
43,476
---
Reader Comments (146)
Note: the following content is not moderated or vetted by the site owners at the time of submission. Comments are the responsibility of the poster. Disclaimer
Derek Knox
1
Posted 09/11/2014 at 13:00:56
If the team news is correct, and I have no reason to doubt otherwise. We will be able to see Master and pupil in the flesh today, and just see how much has rubbed off or been ingrained into Lulu.
I will be happy for a win today no matter who gets on the scoresheet, but if either, or the luxury of both scoring would definitely be the icing on the cake, and make a statement to the Prem. that we are back!
Hope I am not in 'Cloud Cuckoo Land' but see no reason why, with that team, we can't.
COYB
Paul Andrews
2
Posted 09/11/2014 at 13:15:34
A very attacking team, picked by a very positive thinking manager.
3 points for the lads today..
Phill Thompson
3
Posted 09/11/2014 at 13:31:20
Disappointed not to see either Browning or Galloway on subs bench. Either could be required if another central defender gets injured, it's time to start exposing them even if Bobby thinks Barry/ Besic may provide cover.
Bobby Thomas
4
Posted 09/11/2014 at 13:47:23
Just seen the team. He doesn't mess about does he?
Bit worried it's a return to the beginning of the season when the emphasis was wrong and he was over loading it attacking.
I guess we will find out! Can't say we ain't going for the three points, that's for sure.
Jim Bennings
5
Posted 09/11/2014 at 13:51:37
Looks like Gaz Barry is going to be out for some time, shame we will miss you Barry lad.
Pretty subdued game of football so far, no real atmosphere no real tempo or pace to our play or the game yet, you could arguably say the first quarter has been the season in a nutshell so far this season, slow passing and a potential long term injury .
Jim Bennings
6
Posted 09/11/2014 at 13:54:48
This game has become very untidy now, a lot of scrappy football being played, not helped by that clown in the middle masquerading as a referee.
I am disappointed at times the way we rarely show our class in these type of games, we seem to just get embroiled in a battle when we don't need to.
The attacking players we have should be putting some more pressure on a poor defence that Sunderland have.
Hate to say it but Lukaku is letting Brown bully him a bit too much the last 10 minutes or so.
Jim Bennings
7
Posted 09/11/2014 at 14:13:00
One goal will win this game either way.
We don't look good going forward, these are basically shit and there forthe taking but we are too slow and ponderous again.
I'd be disappointed if we don't win this.
Anto Byrne
8
Posted 09/11/2014 at 14:21:06
Very lethargic first half no vitality up front, hope they can step it up a bit.
Bill Gall
9
Posted 09/11/2014 at 14:30:42
With a chance of moving up above the other lot some one better light a fire under Everton the second half as we are playing around at walking pace in the final 3rd of the pitch.
Andrew Hawes
10
Posted 09/11/2014 at 14:53:27
Another long-term injury!!!
Christ is it impossible for us to get through a game without us losing a player for weeks??
This is a must-win, I hope Bobby puts a rocket up them at half time!!
Jamie Barlow
11
Posted 09/11/2014 at 15:26:38
God it's hard work watching Everton. Boring boring boring. It's like watching paint dry.
Brian Burns
12
Posted 09/11/2014 at 15:28:50
I know hes 21 but Lukaku, in my opinion is 㿈M down the drain.
Jim Bennings
13
Posted 09/11/2014 at 15:28:55
Load of shite.
Shite referee, shite performance against a shite team and, to end a shite day day, Barry breaks his leg.
Lukaku??? 㿈 million really eh Roberto?
"we play attacking football, exciting football" Do we really??
Load of shite, we won't get near a top four challenge playing this slow mundane crap week-in & week-out.
Tony Hill
14
Posted 09/11/2014 at 15:30:14
This was poor I am afraid. We remain in a solid position in the league but we have to develop the killer instinct.
You just know when we are going to flop, several good results means that we follow with a pudding of a performance like this one.
We were smooth in a lot of what we did but I never felt confident. This is what blights us and has done for years and we have to get over it.
Nev Renshaw
15
Posted 09/11/2014 at 15:32:20
Too much pit-a-pat football (we're not Barcelona). We needed to be more direct, more urgent. Lukaku had a great chance to score but tried to go round the keeper, opportunity gone. Disappointed.
Si Mar
16
Posted 09/11/2014 at 15:36:16
Honestly thought Rom had turned the corner on Thursday but I'm totally flabbergasted by his performance today.
"Give him time", "he's only young"... That's his 3rd season in the Prem and if anything he's getting worse!
㿈 million hasn't bought us a great deal, Costa was only 㿌M!!!!
Joseph Terrence
17
Posted 09/11/2014 at 15:40:02
Dreadful performance.
Gareth Fieldstead
18
Posted 09/11/2014 at 15:35:05
You said it for me Jim. I am also finding Martinez condescending post match script a bit tiresome. Lukaku utter rubbish. Howard lucky boy as was McCarthy. Mirallas cannot come back quick enough. Unbeaten in 6 but again unable to pick up wins against average sides. Like last week, 2 points dropped.
Brian Harrison
19
Posted 09/11/2014 at 15:33:01
I said before the game no need to change the team from Thursday, but I knew the tinkerman wouldn't leave well alone. Why rest Naismith he has been our best forward this season, and we have no game next week? Instead, he brings back Eto'o and Barkley. Only change a winning team when injury forces you to change... Quite ironic the Newcastle fans wanted Pardew sacked a month ago now they are 2 points ahead of us.
As many have said, we are boring to watch and I am sure the players can't be enjoying this style of football, as every passing game gets worse. I thought maybe the way we started against Lille with good attacking intent that maybe the philosophy had changed... but no – back to boring possession football with hardly any attacking intent.
Paul Andrews
20
Posted 09/11/2014 at 15:42:42
2 goals concede in 6 games. Vast improvement.
16 shots today 7 on target, on another day it's 3 points
Steve Barr
21
Posted 09/11/2014 at 15:36:05
The players must have been told not to get in the box. I lost count of the number of times, after yet another most ponderous build up, to see all our attackers dotted around the box, out wide or picking daisies off the pitch!
If that's the result of great coaching and insight then give me a clown as coach any day.
Fed up with all this hype about great coaching etc if this is the end result!
Don't start on about playing in Europe. This just isn't good enough.
Time to get a grip and start playing.
I've already booked flights to the UK and plan on going to the Man City game. If this is what I have to look forward to I might make a detour and watch Scunthorpe United instead!
Jamie Barlow
22
Posted 09/11/2014 at 15:44:30
No way should Naismith be dropped for Barkley in this form.
Anto Byrne
23
Posted 09/11/2014 at 15:36:29
I think we would be better off conceding possession and hitting them on the counter. They had a wall of red shirts sitting deep, we have to play with some smarts, a few long balls to chase, mix it up a bit; crab football at its worst.
Howard never gets it right at free kicks, was five minutes late getting across. Barkley is so off the pace it's going to be a while before we see the best of him, not out wide either.
Take a point from a poor performance, closer to safety and 40 points and then kick on.
Michael Kenrick
24
Posted 09/11/2014 at 15:45:49
Utterly frustrating garbage for much of the match... and when it wasn't, we played a nice move, only for it to end in utterly frustrating garbage of one form or another.
Absolutely maddening considering the potential on the field.
Jim Bennings
25
Posted 09/11/2014 at 15:49:20
Barkley is clearly not match fit but he needs to start becoming a player that is not just about the odd wonder goal here and there, he just doesn't smack me as the creative force we badly need.
We never get goals from midfield, the return from the likes of McGeady etc is woeful. The season just hasn't got going.
It's all well and good saying on another day all those shots would go in, trouble is we have too many days when they don't.
Unless things change we are playing for nothing other than top 10 this season. That's a sad but true fact, I say sad because the Premier League this year is fucking crap.
Mike Powell
26
Posted 09/11/2014 at 15:46:06
Lukaku was abysmal today – that's got to be one of the worst performances from a centre-forward I have ever seen. Why oh why he did not get taken off is beyond me.
Martinez has some explaining to do. McCarthy was outstanding today... MotM by a mile.
And why was that not a red card for the penalty he was the last man?
Karl Jones
27
Posted 09/11/2014 at 15:48:02
The referee just wasn't good enough today. Gomez should have walked for two yellows (if not a straight red for "studding" Barry), and why wasn't their defender sent off for denying Coleman a clear goalscoring chance?
PL referees overall are really poor and don't have the bottle for the big decisions unless it's a money club, and they make up their own rules regarding the added time.
He's probably cost us the three points today.
Bill Gall
28
Posted 09/11/2014 at 15:42:39
The performance against Sunderland demonstrated that Lukaku and Eto'o cannot play together in the same team set-up. Eto'o is the better footballer but I do not think that Martinez (the same as Rogers) is willing to admit he made a mistake and will drop Lukaku.
I stated on another TW thread that in any sport what the top teams or individuals have to make them winners is consistency.
Brent Stephens
29
Posted 09/11/2014 at 15:57:34
I think I've become reconciled to the fact that if we lose one or two key players (Mirallas the latest saviour we are missing), then we are always going to struggle against teams whose manager is a bus driver and good at parking.
On that basis, I fear we're looking at a position outside the top four and possibly as low as 7th / 8th.
It's so frustrating because there are games when our play is so faster and more inventive and more varied through the game – as in the Lille game.
John Voigt
30
Posted 09/11/2014 at 15:56:11
Everton had their chances. Eto'o didn't score in the 3rd minute when he and Lukaku combined really well.
Barkley had 1 really good chance in the box and failed to hit the killer ball.
Lukaku blew a gift wrapped chance from a turnover with a heavy 1st touch.
I've posted before that Everton aren't winning scrappy games by a one goal margin (none in 11 Premier League games). Games where they have a chance to win turn into draws which keep you in the league, but don't threaten the top places.
We will miss Barry. Gibson wasn't very good. Besic is an option, but Everton are running out of top class players.
More than anything the injury bug is killing Everton's chances of making this a special season.
Kieran Fitzgerald
31
Posted 09/11/2014 at 16:03:27
I listened to a lot of the game on an Irish radio station, Newstalk. Pat Nevin was co-commentating. He spoke about Lukaku making absolutely no effort. McGeady also sounded like he had a good game and yet he was the one to come off for Naismith instead of Lukaku.
I would agree with Bill in that Martinez is unwilling to drop Lukaku at present.
Bill Gall
32
Posted 09/11/2014 at 16:00:50
Sorry I did not finish my last comment my computer went haywire and shut off. To finish what I was saying.
I stated on another TW thread that in any sport what the top teams or individuals have to make them winners is consistency. Everton are inconsistent as today's performance showed compared to Thursday's display. I am aware that we are playing two different teams but on Thursday the players seemed full of confidence in both movement and ball control but today the confidence did not seem to be there.
I understand that we have to rest players at some times but to me the manager seems to be making changes for every game and to me this is why our games since the start of the season are inconsistent.
Brent Stephens
33
Posted 09/11/2014 at 16:09:43
Kieran, that point about Lukaku's lack of effort at times – I noticed one occasion when Eto'o was play-making a few yards behind Rom, and the ball went towards their keeper 0 who got there first to try to close it down? Eto'o. In fact, not got there first – he was the only one to get there.
Sometimes think Rom should have been christened Jack, to go with the lumber.
Dave Abrahams
34
Posted 09/11/2014 at 16:02:04
No energy or urgency (again). The play is far too slow. It's not tippy tappy football it's sleepy time Bo-Bo football.
it's got to change quickly or the fans will get bored — that's if they are not bored stiff already.
Kieran Riding
35
Posted 09/11/2014 at 16:15:32
Barry's injury may not be 'that' bad.
Tony Twist
36
Posted 09/11/2014 at 16:09:22
Two very ordinary sides playing very ordinary football, a scoreline that didn't surprise. We will have to expect this from the manager who really is average at best.
We should be beating teams like Sunderland home and away with the so-called stars that we have. Christmas period will very much be the making or breaking of our season with a manager who hopes to make a name for himself in the Europa League rather than in the Premier League. Besic surely should be playing regularly now, whether that's in defence or midfield.
Colin Glassar
37
Posted 09/11/2014 at 16:18:50
Martinez, Rodgers, Poccetino. Common denominator? Young, highly regarded managers who are going through a sticky patch right now.
Jamie Barlow
38
Posted 09/11/2014 at 16:24:09
"It was a fascinating game" said Martinez.
Maybe I just don't get it.
Peter Jones
39
Posted 09/11/2014 at 16:21:10
Martinez is playing square pegs in round holes: Barkley, Eto'o, Naismith, Osman. It may be down to injuries but to me it looks like he does not know what to do for the best. And substitutions? Osman for 5 minutes? McGeady off? His thoughts are a mystery. I wouldn't mind if we were winning.....
Kieran Riding
40
Posted 09/11/2014 at 16:28:06
When I say, Barry's isn't that bad, it's not broken, but it is a ligament injury.
Matt Muzi
41
Posted 09/11/2014 at 16:23:42
Disappointed is an understatement. Abysmal decisions went against us, we should've been playing 9 men. That said, we were too slow with our passing, too many side passes and not enough movement off the ball.
Ever since Lukaku cut his deadlocks he's been poor, but today I don't think I've ever seen him play so poorly. Why RM took McGeady off and not Lukaku is beyond me. Yet again, that's another long-term injury to a key player.
Does anyone know how bad Barry's injury is?
James Martin
42
Posted 09/11/2014 at 16:27:49
If Mourinho managed Everton would we be where we are in the league? The talent of this group of players is beyond question but the mentality, tactics, and general attitude to trying to win consistently is so poor.
Slow dirge-like football. We pass up so many opportunities to pass forward in order to maintain possession yet, when we get to the edge of the box, we have centre-backs trying to thread eye-of-the-needle impossible balls.
Yet again, our ridiculous keeper was beaten by another direct free kick, is he trying to set some sort of record this season, that's three now. Poor, poor, poor. We will lose out on possible our best ever squad because we can't get out of our classic "Everton choke whenever we have a chance" mentality.
Above one of the worst ever Liverpool starts on goal difference alone, and behind Man Utd's worst ever starts. All of this with a settled squad and manager. No doubt when we've drawn enough games and put ourselves out of contention for everything, we'll go on an amazing winning run right up until we get back in touch then we'll soil ourselves again and get beaten at home by some no-mark side like Wigan or Crystal Palace. Sometimes it feels like nothing has changed from how it was under Moyes.
Paul Kelly
43
Posted 09/11/2014 at 16:25:52
Jamie #38 Don't worry mate, none of us do, same with the subs, Besic? McGeady coming off early again – best threat?
Surprised he hasn't come out and said Rom's touch was "phenomenal".
Ajay Gopal
44
Posted 09/11/2014 at 16:13:14
Bill (32), I understand your frustration, but getting the balance between league and Europe is tricky – just ask Borussia Dortmund (that team which seems to be in favour for the past few seasons). Comfortably leading their Champions League group, but firmly planted at the foot of the Bundesliga.
For sure, Roberto is struggling to get it right between Europa and the EPL, but at least you can see what he is trying to do. I don't think he is rotating the squad because 'that is what managers feel they have to do', as some here have suggested, but because he wants to make sure that the squad is kept as fresh as possible while maintaining an optimum level of results.
We should have done much better in the league, but the league is just unbelievably unstable right now – Villa got off to a flyer, but are now 2 points off the relegation zone, Newcastle were in the relegation places, but they are now 2 points off the Champions League places! As for ourselves, we are 4 points off the Champions League, but 5 points off the relegation zone. As the Americans would say – go figure!
James Martin
45
Posted 09/11/2014 at 16:36:46
Ajay, our rotation policy has led to a ridiculous number of injuries and inconsistent results. How has it helped? Chelsea have played virtually the same team every single game and they barely have any injuries and are in good form.
Only Ferguson ever truly mastered rotation. All of the others like Benitez, Ranieri and now Martinez are just made to look stupid with it. Ill eat my words if we start thrashing everyone in the second half of the season but somehow I doubt that will happen.
Amazingly professional athletes who only have to play at most two/three times in a week will still be fit enough to run around for 90 minutes then, the same way they still are after we've 'tired them out' with 80 minutes of mind numbing pointless possession.
Phil Smith
46
Posted 09/11/2014 at 16:34:17
How many times did Gibson give the ball away today? Has to be Besic in place of Barry is he's gonna out for a while. Sunderland played well (defensively) and deserved their point. We just didn't do enough to win today.
Patrick Murphy
47
Posted 09/11/2014 at 16:32:49
James - there is a lot of truth in what you say and I think we have both mentioned it before but there seems to be an unwritten law that states Everton shall not be ahead of those clubs whose profile is higher than the Toffees. Mind you, it's a good job for the players and the manager that (with the exception of Chelsea) every team seems to be unable to put a sustained run together... and Newcastle United might find themselves dreaming of a CL spot if they continue to win games.
Unless something drastic alters on the injury front and we get ourselves a run of victories, this season's Premier League campaign may well have to be consigned to experience as Roberto and his troops seem to have more of an appetite for the Europa League. In my opinion, that is a dangerous thing to do and it might well come back to bite Everton and Roberto on the bum.
There are still 27 Premier League fixtures to 'endure' and hopefully we will see a bit of the team we saw in patches last season and less of the performances we have witnessed so far in 2014. It wouldn't be so bad if we knew we had a poor team that had to scrap for points at places like Sunderland and at home to Swansea but the truth is we know we are capable of so much more... It's up to the players to show how good they are and stop going through the motions.
James Martin
48
Posted 09/11/2014 at 16:43:07
3 wins out of 11 league games though. You can dress that up anyway you want but with the talent in this squad that is absolutely disgraceful. Whilst Roberto should take his portion of the blame I always come back to the players the same as under Moyes.
Not holding out against Leicester, the collapse against Arsenal, Baines' penalty miss v United, the no show at Anfield yet again, and the same against Swansea when we had the chance to go above everyone else, Lukaku's miss today. Mental weakness that costs us time and time again. This group of players are just not winners. We desperately need an Andy Gray figure or Peter Reid type to come in and instill a winning mentality. I thought Etoo might be that player but it doesn't seem to have made a difference. If there's an opportunity to be had Everton never take it. We don't turn up for big games and we only win when the pressure is off. Mid table is where these players are comfortable. The thought of putting Arsenal or Liverpool's nose out of joint by staying ahead of them does not sit naturally with Everton - absolutely miles away from being a top club at the moment and considering the talent of the players some of the performances this season have been a disgrace. The best full backs in the league, two of the best young midfield talents anywhere, and a 28 million pound striker upfront supported by Samuel Etoo and we can barely win a premier league game. Of course in the Europa league when it not yet the knockout we've been flying under no pressure - typical of Everton. As soon as we get to the knock out stages of that we'll choke too.
Al Reddish
49
Posted 09/11/2014 at 16:40:03
I can't see why possibly our best player (and top scorer) Naismith gets rested every two games, yet Barry, who badly needed a rest after being ony 50/50, plays virtually every game. Baffling sometimes.
Conor McCourt
50
Posted 09/11/2014 at 16:32:56
For me this was our second worst performance this season after Palace. I don't think anybody has mentioned it but Pienaar's injury had a big bearing on the game. Roberto is being accused of putting round holes in square pegs but unfortunately today he has only 2 wide men available to him and I think he now realizes that signing Atsu on loan was a mistake.
Whichever player he tries Naismith, Eto'o, Barkley or Osman is just natural and negates each player's weapons to the team. I think all four of them prefer to play in the hole.
I don't think too many did themselves any favours with their application and, while Lukaku is rightly getting pilloried, there are a few others like Baines who were equally poor. I think only the marvellous McCarthy and McGeady and our two solid centre-halves can be happy with their day's work.
We miss Kevin and Dellboy so much in these tight games where a bit of magic can turn a frustrating afternoon into a winning one.
Kevin Tully
51
Posted 09/11/2014 at 16:48:00
We were extremely poor today. I did say a few weeks ago that the gulf in class is not as wide as it has been in the past between certain sides. As I watch Arsenal and Swansea, they both look very evenly matched. Look at Southampton, sold all their star players and have never looked so good – how does that work?
Some Evertonians need to realise we can't just turn up at established Premier League sides away from home, and expect to walk away with three points.
Yes, we were awful, but I think a draw was a fair result. Not the end of the world.
Phil Walling
52
Posted 09/11/2014 at 16:45:34
I said a few days ago that like nearly all these managers these days, Martinez just wouldn't resist fucking about with Thursday's winning side. Whether they do it to show how clever they are or to appease the re-action of those who missed the last game I know not, but it hardly ever pays off.
Up front, we were a 'bugger's muddle' – however much the manager talks up those behind them – they, too, had absolutely no cutting edge. He talks about how exciting was the team in the build-up - well, those moments must have occurred on the occasions my stream went down.
Let's face it, we are an ordinary side with an ordinary manager. I can't see us winning anything.... but what's new?
Mike Price
54
Posted 09/11/2014 at 17:00:11
We've got to get rid of Howard he's a total liability.
We're just not playing to Lukaku's strengths at all, he needs to go at players like when he hit the post, but is shocking with his back to goal trying to play first time balls.
Referee was intimidated by the home crowd today and was a total disgrace.
Jamie Barlow
55
Posted 09/11/2014 at 17:01:34
Don't agree with that Kevin. I think we should be expecting to go to the likes of Sunderland and get 3 points if we're serious about claiming a top 4 place.
You're right about a draw being a fair result though. We were just as bad as Sunderland.
Linda Morrison
56
Posted 09/11/2014 at 17:01:16
I listened to the game on the radio, it was sheer torture!
I just don't understand why he didn't stick with the lot that won and played very well on Thursday.
Even though Hibbert and Osssie are knocking on I'm sure that they would have coped.
Barkley should not go to the Internationals as he isn't match fit.
At least we made chances and McCarthy cleared off the line to at least get 1 point.
I thought this would be our transition season and was right.
As for Lukaku he'll get there you will see.
Barry should be out for about 2-3 weeks and 2 of those are Internationals.
As for Kevin and Bryan hopefully they will be back after the International break
There were positives today.. The defence played well and Disitn can still play 2 games a week. McCarthy is a future captain. I'll be very surprised if we don't see another player up with McCarthy in the next game against West Ham as Gibson was poor..
If you look at the table and the form of teams apart from Chelsea everyone is having a poor season. So it's not just us folks
Mark Wilson
57
Posted 09/11/2014 at 16:50:17
Really, really tired of seeing opportunities to progress go sailing by with some low key lacklustre "performances". The squad tinkering is driving me crazy. Roberto's endless positivity was I thought a big plus....until this season when he delivers it in auto mode as if he hasn't just watched the game at all. I thought we did ok against an utterly dreadful Lille team midweek. But all it takes to derail us at present is a bit of they-shall-not-pass mindset and a deep back line and with the bus well and truly parked were screwed.
For me it comes down to a few things......how can the manager see Ross B as a left winger ? He's utterley lost there and hugely ineffective compared to playing in the hole behind a single centre forward. How can Lukaku be worth his place at present? Stand by to be flamed but I'd rather see Chris Long get a game right now. I certainly think Eto'o should be given a run at centre forward with Ross behind him and until Mirallas is fit you just have to pick between Pienaar, McGeady and Atsu to give you some width.
Similarly Besic isn't a learner......he's played in the World Cup and tho I'm worried he's a red card liability every game Id just give him a run alongside McCarthy rather than Gibson because I think we need his box to box style.
But overall for me the standout issue right now is that the Europa experience has simply re enforced Roberto's inherent desire to make numerous changes and keep it "fresh" when our small squad hasn't got the depth thanks to the fact that we all got a bit excited and spent 㿈m on one player.....and it doesn't really matter whether his form is crap right now or whether he's coming good any game now.....we needed two, possibly three instead of one......and they just needed to be quality tho not world beaters......and please don't tell me that x 2 㾺m attacking players wouldn't have given us something extra right now ?
Hugely disappointing but not yet terminal in terms of top four and going crazy well in Europa with FA Cup to come. All is hardly lost but expectations of a consistent top notch run in the league look far off the mark.

Michael Kenrick
58
Posted 09/11/2014 at 17:11:00
I can't quite make your comments scan, Kevin.
If we were awful, then that means we could (should) have played better, yes? Anyone 'expecting a win' or 'walking away with 3 points' is indeed foolish but expecting us to play a lot better football than we did, especially in the final third, and perhaps making some decent shots at goal — is that really something we shouldn't expect? That might have increased our chances of winning — especially with the phenomenal talent out there on the field wearing Blue shirts.
And no-one (except you!) is suggesting it's the end of the world. Just incredibly frustrating.
John Williams
59
Posted 09/11/2014 at 16:42:36
I remember some 20-odd years ago going to see us play Blackburn away with the lads. Standing behind the goal, our great hope at the time was a strapping lad called Daniel Amokachi. Cries of "Amo, Amo, Amo!!!" were ringing around.
Early on, the ball was fed to him at no real pace, hit him on the shin and bobbled away with Amo cluelessly chasing after a lost cause. We all looked at each other and said, "What the fuck have we bought?"
Okay, he did score a few important goals like in the FA Cup semi-final but was eventually packed off... never able to do the business for us.
Roll on 20 years or so and I look at our No 9 now. It's not the missed chances he gets and doesn't take, like today, but the very basics of a centre-forward play he lacks. No control of the ball whatsoever,very little awareness of teammates, and doesn't even win much in the air from long balls.
I really hope this lad can improve because we spent all our savings on the strength of his goals the last two seasons.
Watching this today reminded me of the dud Amokachi was — heaven forbid, I hope we ain't bought another!!!

Colin Glassar
61
Posted 09/11/2014 at 17:14:43
Great post Linda. If you think listening to the game on the radio is bad try the TW live forum. It's a mixture of Monty Pythons Flying Circus, a UKIP policy committee meeting, Depressives reunited.com and the Romulo Lukaku fan club.

Ian Bennett
62
Posted 09/11/2014 at 17:17:48
Didn't watch it, but I assume the Barkley left wing experiment failed again. Can we please stick with playing our best players in the positions they play best in, rather than shoe horn them in elsewhere. Another 2 points squandered in a Premier League season limping along.
Kevin Tully
63
Posted 09/11/2014 at 17:16:42
MK - I suppose it's up to the players and manager to explain why they kept giving the ball away in the final third - they literally seemed to pass to a Sunderland player on countless occasions.
Paul Tran
64
Posted 09/11/2014 at 17:17:18
James Martin. Nail. Head.
Sunderland showed why they don't lose very often (check the stats before you start!). We showed why we don't win very often. We defended well, passed badly and had a non-existent striker up front. If Naismith played like Lukaku he would have been drummed out of the club a long time ago. I thought Eto'o's approach play was great today - you could see his frustration at the lack of movement in front of him. Watching Eto'o and McCarthy sprint past Lukaku to get a forward pass summed it all up.
This is a league with two consistent teams, Chelsea and Southampton. The rest are much of a muchness. It's all very well saying we're four points off the top four, but this is a league for the taking this year and we're not taking it.
To me, this is a team that's scared of succeeding. At the moment Martinez isn't making enough of a difference.
Michael Kenrick
65
Posted 09/11/2014 at 17:24:38
That is indeed a mystery, Kevin. I know some readers don't like us mentioning mistakes by Everton players but you're dead right – they're killing us in games like these.
Matt Muzi
66
Posted 09/11/2014 at 17:19:34
Mark @57, completely agree, we put pretty much all our eggs in one basket in the summer and it hasn't paid off, hopefully it will, but I still wish we'd gone for Bony instead!!
Andy Crooks
67
Posted 09/11/2014 at 17:17:07
Everton having a rotation policy is arrogant, pointless and utterly ludicrous. I admire Roberto but I fear he admires himself a touch more. He is not Barcelona coach yet.
James Byrne
68
Posted 09/11/2014 at 17:10:58
Is Martinez becoming a Spanish David Moyes?
We just seem to play these lesser perceived teams at their level; we just seem to get sucked into the same tempo and end up struggling to create anything. Sunderland, particularly in the first half where terrible but we couldn't capitalise at all.
WTF was Howard doing with the wall for the Sunderland free kick - the ball was in the back of the net before the lad had kicked the ball; he won't score an easier free kick all season.
Lukaku! I gave the lad some stick in the week on another thread after the Lille game and I stand by everything I said; we played to his strengths in parts against Lille but again his touch and vision is shot to bits. How a professional Prem footballer can't kill a touch first time astounds me. Martinez has to get the lad off after 60 and give Naismith a shout.
The Ref was a disgrace today and his performance is ranked with the Clattenburg horror show against the shite.
Darren Hind
69
Posted 09/11/2014 at 17:31:50
And the managers mistakes, Ed?
Kieran Riding
70
Posted 09/11/2014 at 17:28:53
After Sunderland won earlier in the week, this was always going to be a very tough away game, after us playing on Thursday. (See Spurs for how tough playing Sunday after Thursday clearly is.)
We didn't lose, we have a break and we are top of the Europa League and above Liverpool and Spurs in the Prem. If we still are above those at the end of the season, we will be fine.
Rom and Ross are using actual game time to get fit due to the schedule and I'm confident that both will be flying soon.
I'd have played Naisy today myself, but hey, what do I know.
Colin Glassar
71
Posted 09/11/2014 at 17:31:29
Martinez is indeed making mistakes this season with his chopping and changing. It's his first time in European football and I suppose he feels obliged by his peers to follow suit and rotate the squad. He needs to forget this and play his strongest team and only make changes when they are tired or injured.
Brent Stephens
72
Posted 09/11/2014 at 17:26:41
I've had my negative whinge. So on a positive note - again McCarthy surged forward (forward!) several times today, direct and with pace. More of that, please. This guy is being coming the all-round midfielder not just defensive mid? What price on his head now?
And Arsenal 1-2 down to the Swansea jacks.
Steve Pugh
73
Posted 09/11/2014 at 17:26:07
Really don't understand the criticism of Howard today. Their goal was the fault of the players in the wall who allowed the Sunderland players to push them out of the way and leave a whacking great hole for Larson to shoot through. If they'd stood their ground the ball would have hit the wall and no goal.
Add to that a really good save or two and a quick piece of thinking to stop them getting a goal scoring chance and he probably saved us the point we ended up with.
Goalkeepers get beaten, it's a fact of life. But it isn't always their fault.
Jim Bennings
74
Posted 09/11/2014 at 17:41:31
Kieran
You can't seriously be suggesting Lukaku is still playing for fitness??
Frigging hell – are we going to be making that excuse all season whenever he has an absolute stinker?
Nearly every player is looking for fitness or carrying a knock but I tell you what: I watch the likes of Southampton and see how well every single one of their players is playing and how much work they are putting in then I watch Lukaku and it's makes me cringe...
I don't know who I'm more angry with at present though: Lukaku for barely breaking sweat and making trapping a ball look impossibly hard or Martinez for being shagged by Mourinho and paying 㾻 million too much for him.
Kieran Riding
75
Posted 09/11/2014 at 17:47:58
Jim, I'm not blinkered with regards to Lukaku mate.
I've said many times that his first touch bothers me. You can't teach that, and that won't improve much with age.
With regards to his injury, I'm giving him the benefit of the doubt, for now.
Steve Brown
76
Posted 09/11/2014 at 17:49:52
I wonder if the team gets up more for European games than league games. What else could explain another inept attacking performance against a poor team when we impressed so much against Lille?
Also, Martinez really does have his favourites. Lukaku and Barkley should have been subbed in the second half. Instead, McGeady is hauled off after yet another decent performance.
Kevin Tully
77
Posted 09/11/2014 at 17:55:53
What a strange League table - after 11 games, we are 5 points away from the relegation places, or 4 points off a Champions League spot.
The optimists are looking forward to an exciting season, but the pessimists are worried!
Dave Abrahams
78
Posted 09/11/2014 at 17:22:55
The only position that hasn't been tampered with is goalkeeper...
Robles isn't my favourite player but surely he deserves a game now, given the poor performances of Howard?
Incidentally how many times has Robles played for any Everton team this season?
Andy Meighan
79
Posted 09/11/2014 at 17:43:25
I think James (48) pretty much summed it up with his post. Martinez's comments about Lukaku, saying "I'd have paid 𧴜 million for him" look sillier with each game.
I thought he may have turned the corner after the Lille game. I was wrong. Just because he paid a massive amount for him doesn't give him the right to start every game.
He should be benched; he's not doing it so drop him. As someone earlier pointed out, give the kid Long a chance. Let's be fair – he couldn't do no worse.
Michael Kenrick
80
Posted 09/11/2014 at 18:07:04
I guess I'm pretty lenient on the refs... was Mason really that bad?
The questionable decisions I recall all went in our favour — and some of them could have been absolutely disaster for us if they'd gone the other way.
Slo-Mo proved Mason was spot-on with the penalty that was, with their penalty claim that wasn't, and the bizarre Howard "Armadillo" move outside his penalty area. And he get's smacked down by a rampaging McCarthy to boot!
If you're a Sunderland fan at the game, without the benefit of those replays, I could well understand you slamming Mason — but I think he may have gotten almost everything right this afternoon.
[Tin hat donned...]
Steve Jenkins
81
Posted 09/11/2014 at 18:06:49
McCarthy outstanding again.
I've said it and it days like today that again bring the absolute obvious to the fore.
We lack pace and creativity from midfield and wingers.
I'm sure Martinez can see it and intends to do something about it in Jan or summer.
Players with real skill & pace that can unlock defences and beat defenders.
There are days when we get by and then days like against Swansea & today where you can see it is required.
Players like Bolaise, Redmond etc.
Looking at the Swansea Arsenal match - Montero is one we haven't gone for - a real classy player with skill & pace.
Barrow who we were linked with looks a really dangerous player skilful with pace - why didn't we take a gamble on him.
We have enough DM's, CM's etc - we need players to stretch and open up defences, that is what this is squad is missing to take us onto the next level.
Atm we are relying on players to take us to that next level - that have never been able to achieve it before and are getting older as well.
Kieran Riding
83
Posted 09/11/2014 at 18:17:43
FFS Tony.
I bet it was you who come up with " Roblerto Fartinez " before he'd even taken charge of us ?
Kevin Tully
84
Posted 09/11/2014 at 18:16:38
Clear red card for the Coleman penalty MK, he was the last defender and 'denied a clear goal scoring opportunity.'
Don't think the defender even got a yellow, did he?
Christopher Wallace
85
Posted 09/11/2014 at 16:10:30
Fuck it, if we keep getting draws away in Europe and winning at home, we've a good chance of getting into the Champions League and winning the Europa League at the same time.
I'll settle for that!
ps: Our 72 points last season could well be good enough for 3rd this season.
Kieran Riding
87
Posted 09/11/2014 at 18:21:17
Christopher #85,
I'm actually fuming the FA Cup final is only 3 days after the Europa Cup Final.
Shades of 85 isn't it.
Mike Price
88
Posted 09/11/2014 at 18:10:56
Howard should have saved the free kick, it was obvious where it was going, his positioning is terrible and he should have saved it anyway. When he fell on the ball he was lucky but it was his ridiculous mistake in the first place, he's a total liability.
Lukaku doesn't look fit to me, he's carrying too much weight for sure. He's blowing and drenched in sweat after 10 minutes and we can all see he's not doing that much. Losing 10 lbs would give him an extra yard of pace and that would make a huge difference to his effectiveness, but let's face it, he's never going to be a skillful technician.
Dave Duggan
89
Posted 09/11/2014 at 17:56:34
Martinez has really frustrated me this season. I still firmly believe that we will have plenty of success under him eventually but for me he is trying to be too clever this season.
Rotation isn't the answer. I could understand if it was a dead rubber in a cup or if it was to give someone like baines who plays every minute a little breather but changing the team constantly is going to be our downfall this season.
The other thing is the squad and transfer policy. We have 4 players vying for 1 spot on the pitch behind the striker, yet the options out wide and up top are basically non existent! So we have gone back to square pegs in round holes again. It's not only affecting the team cohesion but it clearly must be frustrating to the individuals who's form seems to suffer as a result of being played out wide. Barkley is the biggest example. Yes he isn't exactly up to speed yet which is understandable but when he played against villa he was superb. Since then he's been rested (he needs match fitness btw) played wide left, rested then played wide left. It's like staring a game with 10 fuckin men.
Why didn't we recruit in the positions we needed to! Everyone knows Pienaar is struggling these days and cannot be relied upon. McGeady is and always has been hit and miss and Mirallas can never avoid a long term injury every season. So what do we do? Bring in Atsu who hasn't had the slightest chance to impress at all. One game here and there simply isn't enough. If they cannot contribute NOW then why the fuck bring them here in the first place?
The other thing is I thought Martinez is supposed to be a tactical manager, yet he refuses to change the shape of the team. If we don't have wide players then don't use a system that requires natural wide players! It's not fucking hard is it?
It's not been a terrible season so far but it makes it harder knowing teams like Southampton and West Ham are taking advantage. Sort it out, Everton!
Chris Leyland
90
Posted 09/11/2014 at 18:24:54
Can someone actually explain to me what the difference is between playing Thurs and Sun against playing Wed and Sat?
People trot it out as some sort of reason as to why teams playing in the Europa don't win but I don't actually know what the difference is as it seems that there is a 3 day gap between either scenario. Or how about teams playing Sat/Tues or Sun/Wed which some teams have to play their fixtures on due to live TV? Isn't this also a 3 day gap too?
I'm honestly interested as to why it is somehow a reason.
Chris James
91
Posted 09/11/2014 at 18:22:18
Glass half full: Arsenal, Utd and Liverpool (i.e. our real challengers for a top 4 slot - no offence Southampton and West Ham but it's unlikely to be maintained) are all within 3 points after 11 games despite our dreadful form.
Glass half empty: If we'd played halfway near our form of last year or had any sort of attacking edge to our possession game we'd already be in 4th looking down a few points clear. We've only won 3/11 matches and Southampton are an astonishing 11 points clear of us (yes a point per match!!)
Philip Yensen
92
Posted 09/11/2014 at 18:30:03
There is an advert on telly regarding an idea for walking football for the elderly. Clearly Everton are advocates of this, today looked slow, lethargic lazy. Our final pass was poor, slow, sloppy and lacked any zip. Too many negative passes.
Why bring Gibson on? He didn't move or run more than 10 yards. So boring, so predictable, so crap, we need too wake up get somefire in our bellies. Get us out of our Spanish Siesta.
James Martin
93
Posted 09/11/2014 at 18:24:15
Mike, you're exactly right on Howard's positioning. It's not the first time either. I called goals before Suarez's and Gerrard's free kicks in recent derbies. He just stands too far to one side. Anything over the wall (or through the wall in a lot of cases) is going in.
Gerrard's ended up mid height in the middle of the goal yet Howard let it in. He's now conceded directly from three free kicks this season and its only November. If we're serious about top 4 we need a better keeper simple a that.
The first few weeks it was the defense that was all over the place. Now we're looking solid but have stopped scoring. Any Everton could turn up at home against West Ham. We could destroy them 4-0 or lose 3-0. We have 0 consistency at the moment.
Kevin Tully
94
Posted 09/11/2014 at 18:28:44
There was an interesting discussion on Monday Night Football the other week, Chris.
Basically, Neville said the drop in performances were down to the fact the players aren't used to playing twice a week, both mentally, and physically. He said it was something you got a feel for over time, and you had to perform twice a week whist playing for a Man Utd, or Chelsea. Obviously they mentioned bigger squads etc, but the failure to produce twice a week was down to the individual players.
Kieran Riding
95
Posted 09/11/2014 at 18:33:05
Phillip #92
'Why bring Gibson on ?'
Really ?
Kieran Riding
96
Posted 09/11/2014 at 18:36:40
I wish you could create a poll for this site, as I'd love to know what other posters thought was the bigger game this week, Lille or Sunderland.
Michael Kenrick
97
Posted 09/11/2014 at 18:31:39
Yes, I guess you're right, Kevin: two red cards not given. Tough to argue with in terms of the letter of the law...
I believe the referees should be allowed some latitude, however, and maybe that's what Mason was doing. A second yellow for Gomez would have been harsh... and a straight red for the Coleman penalty would have caused a riot. The penalty was penalty enough.
I know the rules say different, but I think such decisions should be entirely down to the referee to call.
Tom Bowers
98
Posted 09/11/2014 at 18:28:40
Everton seem to be lacking that extra turn of foot up front since Mirallas got injured. He plays well alongside Lukaku but McGeady, Eto'o and Naismith don't seem to have the same chemistry That is not to say they don't all have ability but rather the understanding needed to bring out the best in Lukaku.
McGeady has speed and trickery but generally only out wide and the other two lack acceleration but are employed further back. The only other with the pace of Mirallas is Seamus who has been nursing injuries of late.
It would be nice to have a settled midfield but injuries have taken their toll as now Barry is gone as soon as Gibbo comes back. What next?
Having said all that, the team should still have beaten woeful Sunderland and, despite going above the Redshite, it does not erase the frustration of dropping 2 points again.
Patrick Murphy
99
Posted 09/11/2014 at 18:38:32
Every game is important to the fans and should also be to the club; when players, managers or staff start picking and choosing which game is a priority it spells trouble.
The truth of the matter is we won't know which of the two games has been the most important until the end of the season – the point today may help us get into Europe or god forbid keep us in the division – the game against Lille will be relatively meaningless if we somehow fail to qualify for the knock-out stages of the Europa League or exit the competition in the first knock-out round.
Dave Lynch
100
Posted 09/11/2014 at 18:39:10
I just knew we'd fuck it up...
Steve Carse
101
Posted 09/11/2014 at 18:19:48
Kieran (70), I can't believe you're putting up the game on Thursday night as a reason for yet another of our lethargic, pedestrian, soporific performances. Christ, St Mary's Girls XI would have beaten Lille. The players we had out there never broke sweat. They could have played games as easy as that for 7 consecutive days and it wouldn't have made them tired. In fact given that a few of them are still patently some distance from full fitness we should only be seeing such games as a Godsend.
Sam Hoare
102
Posted 09/11/2014 at 18:31:30
A point away from home is decent but disappointing really against a very limited Sunderland when again we mostly bossed posession and territory.
My ratings for what its worth:
Howard- 5. Free kick was decent but Howard's positioning was questionable. It was always going where it went if you know what I mean. Diving on ball thing was not clever...it was very nearly a total howler.
Coleman- 7. Very rusty at the start but came into it more as the game wore on. Won the equaliser or would be on a 6.
Jagielka- 6. Not quite as in control as in recent matches. Didn't do much wrong though. Would like to see him a bit more vocal as skipper.
Distin- 7. Did pretty well in his second game of the week. Won a good amount of headers.
Baines- 6. Pretty average I thought. Few good crosses in and gave away silly foul for their goal. Penalty was pretty terrible and lucky to go in.
Barry- n/a. Hopefully not too serious. Was missed.
McCarthy- 9. Outstanding. Was everywhere and crucially for me drove the ball forwards at times, beating men and getting forward. That's what I want to see more of, to compliment his relentless running.
Gibson- 6. Mostly tidy apart from getting criminally caught on the ball in our box. Not too shabby for someone who's had so little game time but he's a poor man's Barry.
McGeady- 8. Thought he looked our most creative player with Etoo while also doing some great tracking back. Has proved doubters wrong and been very good his last 3 games. Well done Aiden.
Etoo.- 8. Classy player, too often looking for absent movement from his striker. Brilliant through ball for Coleman's penalty. Shame he didn't score early chance, would have been a beauty.
Barkley- 6. To be fair he's playing out of position and may not be fully fit yet. But we expect more. Went on a couple of trademark runs but needs to be more precise and effective in the final third to justify a starting place.
Lukaku- 4. Deary me this was a woeful display i'm afraid. I can forgive the very heavy touches and seeming lack of mobility so long as he puts away his chances but today he missed one gilt edged one and a few other possible ones. Happily for him Martinez has more patience than me.
All in all we are only 4 points of 4th. But equally we are only 5 points above the relegation zone.
Definitely not found our groove yet in the league. I'd be tempted to try playing Etoo, who looks to have the best vision and touch in the playmaker's role behind Naismith who looks to have the best movement. Or what about Ross Barkley as striker, crazy perhaps but he has the power and strength and certainly a better touch than the present incumbent....
2 weeks to work it out Roberto before West Ham come to Goodison. Win that and things will be looking all right.
Sam Hoare
103
Posted 09/11/2014 at 18:58:59
The only real disaster this season has been Palace at home. Win that and we are on 17 points probably in 6th which would seem about right.
Kieran Riding
104
Posted 09/11/2014 at 19:04:10
Steve #101
Fair enough, but only Chelsea who played midweek in Europe (and didn't win) actually won this weekend in the Prem, I believe?

Steve Carse
105
Posted 09/11/2014 at 19:10:37
Kieran, I wouldn't generalise from a sample of one weekend's results.
Kieran Riding
106
Posted 09/11/2014 at 19:21:31
I genuinely don't think I'm generalising Steve.
If we were not in Europe, we would be higher in the league. Deffo. And that would achieve what? Getting into Europe! We ain't winning the league ahead of the billionaires, so why not try and win a European Cup?
Frank Crewe
107
Posted 09/11/2014 at 19:02:49
Over this weekend four allegedly top class strikers have been on display, Lukaku, Origi, Wellbeck and Ballotelli. 㿲,000,000 quid spent on them by their respective clubs. Yet not one of them scored nor looked like they would score. Whatever happened to strikers? In my lifetime I have seen off the top of my head Royle, Sharpe, Lineker, Gray, Latchford, Ferguson, Dalglish, Rush, Shearer, Cole, Sheringham, Van Nistelrooy, and others who lived to score goals. Proper strikers who could guarantee 20+ goals every season.
All we get now are these lousy overrated and overpaid lumps who spend more time on their hairdo's than on their game.
Another blank and all the excuses are wheeled out. They're young, they're carrying injuries, their heads are not right, they're getting no service. Maybe they are just crap players who take their enormous pay packets but don't do the work. They look the part but they almost never produce. The rest of the team tries everything to get them into a position to score and they invariably fluff the opportunities they get.
If another club offered the money we paid for Lukaku I would bite their hand off and say good riddance. 㿈,000,000 and he can't even receive a straight forward pass without ballsing it up. It's a joke. Apparently now that he has his five year deal he doesn't have to impress the team he's on loan to or on loan from so it would appear he's forgotten how to score a goal.
Kieran Riding
108
Posted 09/11/2014 at 19:39:00
Frank. Sharp was gash when he first came down from Dunbarton.
James Martin
110
Posted 09/11/2014 at 19:43:18
Sam I just don't understand this 'The only real disaster this season has been Palace at home. Win that and we are on 17 points probably in 6th which would seem about right.'
Why is being 6th about right? Southampton are second. Is their squad seriously better than ours? I would say not but they do the basics properly like defend well and hold on to leads and take chances when they come along and most importantly....win.
We miss easy chances and we only seem to play well once we've conceded which we seem to do from the few chances we ever give the opposition. Plus we more often than not draw. Being in the top ten though, or picking up a point here and there to keep an unbeaten run going seems to get heralded as a massive achievement by these players.
Every season we say the top 4 is too difficult blah blah but every season someone leaves the door ajar, we just never want to go through it. With a better mentality (and dare I say keeper) we could have been top 4 in the last two seasons. The door is wide open this season but we will let one of the worst Liverpool or Manchester United sides in Premier League history take a spot because we're spluttering along too scared to grab it ourselves. They will both kick into form later on in the season and we will rue the fact we haven't built up a lead when they have been in turmoil.
We'll kick into form as well but not enough to do anything significant of note. Depressingly predictable and familiar.
Dave Williams
111
Posted 09/11/2014 at 20:13:13
Kieran, yes he was but he was also very young, as is Lukaku. His control can be shockingly bad but at his age he must be given time. I thought he had a great game on Thursday and young players are known for being inconsistent.
We haven't really hit our stride yet but only 4 points off third and should progress in Europe so let's see where we are in January.
Steve Orchard
112
Posted 09/11/2014 at 20:12:44
I think that we should give Europe everything we've got. A club like ours doesn't have the money or resources to guarantee it every season so we should be making the most of it.
I would love to see us win the Europa League and I would take middle of table in the Prem at season's end and victory in the Europa over ending up 6 or 7th in league any day .
Sam Hoare
113
Posted 09/11/2014 at 20:23:52
James, I mean it would be right given that we have clearly not hit form yet not in terms of where we should be aiming for.
Phil Walling
114
Posted 09/11/2014 at 19:41:44
John at 59 - You've nailed Lukaku for me. I've been struggling to think of the player he reminds me of and long ago dismissed Anichebe as his doppelganger!
But, of course, it was Amokachi! He was never as prolific as Romelu, scoring only 10 goals in some 40 appearances but was certainly of similar physique and inconsistency. I remember a game against Newcastle when he netted two and the papers talked of his 'silky skills and finishing power'. On other – most – days, he couldn't trap the euphemistic 'bag of cement.'
I think Lukaku is better than ever he was but the one great thing they certainly have in common was that neither man's skills ever extended to being able to string half-a-dozen good games together!
Joe McMahon
115
Posted 09/11/2014 at 20:34:21
Christopher Wallace – the problem is we have won one league game at home this season.
On another note why did we blast the biggest transfer window budget we have ever had on a 㿈 million striker who can't even trap a ball? Martinez has blasted millions away on several players, and only James McCarthy seems anything like the standard we need. We are too old, too slow and boring to watch.
Christopher Kelly
116
Posted 09/11/2014 at 20:34:02
I don't even know where to begin... But I agree, I lost count of the amount of times we came towards the goal with absolutely no-one in the box??!!! I said we needed Coleman back and he'd get us a goal and he did.
Besides that I've never seen a center forward look so bad. Tripping over himself like a muppet, can't even get a shot off on a one-v-one. Martinez's passion is there and people seem to think he is this demi-god but I think he has us all fooled.
Nigel Gregson
117
Posted 09/11/2014 at 20:56:35
James Martin @110,
Southampton benefit from having to only compete in the Premier League and from a very generous fixture schedule. Not to mention having their players fresh and away from the World Cup. You can see that many top four 'contender' teams are struggling this season including Spurs, Liverpool, Man Utd and even Man City and Arsenal. This is no coincidence.
Let's see what the table looks like at the end, and whether Southampton, which is being held as the new ideal, retain their spot.
Phil Walling
118
Posted 09/11/2014 at 20:55:15
I think the secret is not to despair but to lower our expectations. As I have said frequently, this is a pretty decent side with about half-a-dozen really good players. The trouble is inconsistency and the situation is not helped by the manager trying to be clever with his rotation policies.
Given that he is unlikely to change his vanity on this matter, we must accept the problem will continue and the result will be no better than a mid-table finish. Settle for that now and enjoy the good days.
For the days like today, we've got ToffeeWeb to moan on!
Christopher Kelly
119
Posted 09/11/2014 at 21:07:01
Michael K, I totally agree regarding Lee Mason. Thought he favored us to be honest.
James Martin
120
Posted 09/11/2014 at 21:09:10
Nigel, I'm not holding Southampton up as the ideal, I fully expect us to finish ahead of them, it will have been a disastrous season if we don't. I was railing against the notion that somehow 6th is where we should expect to be which is why I brought up Southampton being in second.
We've had 5 years without Europe but it hasn't helped us shake off inconsistency. If Europe was such a big deal then the sides who played in it would have a massive disadvantage every season yet the champions league sides still qualify for the champions league every year and sides like us and Tottenham still get to the Europa. Its freak qualifiers like Stoke, Swansea, and Wigan who have brought up this myth that European football affects your league form.
Southampton have taken advantage of good fixtures, something we find very difficult to do. They probably won't get top four but at least they are punishing the problems of Liverpool, Man Utd and Spurs in a way that we are too mentally weak to do so. Instead we're seeing second tier teams like Newcastle Swansea and Southampton all cashing in whilst they can. We should be ahead of all of these and in the top 4 by a long way if we had any sort of collective attitude and desire about us whatsoever.
Kieran Riding
121
Posted 09/11/2014 at 21:13:42
Phil #118 – "days like today, we've got ToffeeWeb to moan on." Superb post.
I can't wait until the pre-season game versus Moyes's Real Sociedad side gets announced and a proper old school bitch fest can happen on here!
Mark Frere
122
Posted 09/11/2014 at 21:07:54
Coleman for Hibbert
Eto'o for Naismith
Barkley for Osman
He was hardly radical with the changes there, was he Phil?
Most people on here were delighted with the starting line-up... but hindsight is a wonderful thing to use as a stick to beat RM with.
Phil Walling
123
Posted 09/11/2014 at 21:17:53
Mark; Two of them were key changes and, in my view, spelt trouble as soon as the team was announced. I said so on the Forum so where is the bloody hindsight in that?
Mark Frere
124
Posted 09/11/2014 at 21:28:11
Yes, if only Naismith and Osman would have started instead of them useless twats, Eto'o and Barkley, we would have sailed to a 3-0 victory... and Lukaku's display and all the other players would've been as good as the Lille game.
Cretin that Martinez!
Geoff Evans
125
Posted 09/11/2014 at 21:20:01
Safety-first boring football with only a penalty saving a point. Slow possession football with no penetration. Ordinary bordering on boring team playing drab football. Tenth is about as good as it's going to get. If this is the Martinez way, enough said.
Tony Abrahams
127
Posted 09/11/2014 at 20:33:58
Maybe it is hard playing twice a week but we are not being helped by our manager at the minute. I keep waiting for us to be let off the leash but it just doesn't seem to be happening for whatever reason.
Last season, Martinez won us a lot of points with his substitutions, whereas this season I feel it has been the complete opposite and he's costing us points instead. It shouldn't be hard to coach a big 13-stone centre-forward how to control a ball unless the kid just isn't good enough.
Stop the fucking ball, instead of trying to knock it off first time, is how I would begin. Then I would get him to start backing into defenders to keep some space, instead of running towards the ball at 100 miles an hour which closes down his own space. I would also play to his strengths and knock the ball over the top now and again to stop him from getting lost, because all this constantly coming towards the ball seems to be making him a worse player.
I honestly think if we could get our best team on the pitch, all playing in their correct positions, and we could have a great season, but I'm not sure it's going to happen at the minute. A team has to play together to achieve consistency, but all this chopping and changing is leading to a lot of frustration instead at the minute.
Michael, you should have heard the Sunderland fans moaning about the ref walking away from the stadium, saying he gave at least 80% of all decisions to Everton. Can't remember the last time I saw a good ref, but it can't be easy when you have to try and please the both teams!
James Martin
128
Posted 09/11/2014 at 21:52:26
My problem with the football at the moment is that it is in many ways representing the 'football lottery' we used to complain about under Moyes. When it was good under Moyes, we would have our creative players setting up chances for each other and a strong defense. When it was bad, it felt sometimes like the game plan was for Baines to just keep crossing it in and hope something bounced our way, or for our centre-backs to keep hitting it long in the hope that we would profit from one of them. Keep a clean sheet and you have your win.
With Martinez, the plan seems to be, hog the ball as much as possible; this way we won't concede, and at some point in amongst all the passing we will probably score from a moment of individual brilliance. That's what a some of the wins were based on last year: brilliant free kicks, brilliant solo goals, wonder goals.
The problem is that when you lose those individual talents from the team, ie, Mirallas, Pienaar and Barkley, you can't keep going with the same system and hope it works. At the moment we're just passing it around but the likes of McGeady, a rusty Barkley, and an out-of-position Eto'o or Naismith cannot come up with these same game winning moments. Then, when you concede, you've got a mountain to climb.
When it was good last season, there was a purpose and rhythm about our attacking play as though we knew exactly what we were doing offensively and defensively. Now, we just seem to be passing it around relying on the theory that, if you have the ball, the opposition won't score and by some chance you might at some point. To me, this is just a different type of football lottery and proving equally as ineffective as previous years' vintages.
Phil Walling
129
Posted 09/11/2014 at 22:01:31
Yes, Mark, the changes were most effective, weren't they?
But perhaps you shouldn't be too hard on your hero!
Chris Fisher
131
Posted 09/11/2014 at 23:15:38
Newcastle are fucking above us!! Maybe we should put the pressure on the manager like Newcastle fans did to Pardew!!!
Colin Glassar
132
Posted 09/11/2014 at 23:28:29
Just goes to show what a couple of wins can do for you, Chris.
Steavey Buckley
133
Posted 10/11/2014 at 01:07:34
It's going to be a long hard season, and by Christmas, many Evertonians will want to wish the Premier League was over by then. Everton seem to be going nowhere fast in the Premier League.
Harold Matthews
134
Posted 10/11/2014 at 01:42:06
Chris L #90. If you play Saturday you're not playing "catch-up.". According to various ex players, this can become mentally exhausting.
Jay Harris
135
Posted 10/11/2014 at 03:14:07
The league is a marathon not a sprint so it is still early days. My only concern is RM's team selection this year. He keeps insisting on playing forwards instead of forward midfield players.
Away from home we should just play one up front with a strong midfield presence to pick out passes and move up the pitch quickly. With the likes of Eto Lukaku McGeady and Barkley all playing right up front they cause more problems for themselves than the opposition.
They are running into each others space and frequently running back onto the ball with their backs to goal rather than charging forward facing the goal. That is why we are tip-tapping at the back or backwards and sideways to each other because there is no midfield to link up play and build momentum.
Brian Dagnall
136
Posted 10/11/2014 at 04:40:34
Disappointed...
1. Silly free kick to give away and then a pathetic wall.
2. Lukaku well off his game... give him a month off.
3. RM going on about Sunderland should have 2 men sent off. Even if "Rules are rules" this is not Everton style... more suited to Brenda across the park.
4. McGeady substitution... he was doing better than any of the other forwards.
Paul Andrews
137
Posted 10/11/2014 at 06:41:03
Harold,
With the greatest of respect to you, one of my favourite posters on ToffeeWeb... Mentally exhausting?
What and who we are remembering and honouring at this period of time would have been mentally exhausting for the brave lads who were there. Not a football match.
Anthony Hughes
138
Posted 10/11/2014 at 08:00:44
Martinez needs to find the right balance with the players he has availble. It not always about having all your best players on the pitch at the same time but having the right blend where each individual can fit into a role to which he can perform and also bring about the better qualities in his teammates.
At the minute, I think most of us are identifying the issue of who best to fit in the hole behind Lukaku whether it be Naismith, Barkley, Pienaar or Eto'o.
Tommy Davis
139
Posted 10/11/2014 at 07:48:54
James Martin (128) Excellent post & I have to concur! Great label for it too "Football Lottery"!
I only care about Everton ultimately, although I watch numerous games over here in the USA, not only am I baffled by the so-called football we are... erm, producing, but Spurs & the pinkies across the park are also producing similar dross, I think Spurs have lost 4 prem games at home now?!?
The Liverpool v Chelsea game at Anfield at times was awful (not as bad as ours today), I actually fell asleep a couple of times & was so bored; I alternated watching Derby v Wolves, so is there a connection? Well Liverpool, Everton & Spurs did really good last season in the Prem, but this season, we all look closer to mid-table or worse!
We know our cousins lost their crown jewel in Suarez & had injuries to their other goal scorer Sturridge, but what a transformation, not unlike ourselves, with losing key players like Barkley, Mirallas, Stones, Coleman, Oviedo, Pienaar etc, also Rom with his toe injury, plus some other issues he had (has), World Cup etc... he looks almost like a different player – although we are not playing to him, like we did last season (another topic entirely).
It seems like our defensive issues have 'improved' as of late, only 2 goals conceded in the last 6 games, compared to the early part of the season.... so why oh why, are we playing like we are?!?
The European hangover, could be one reason, it certainly does seem to haunt most Prem teams that compete in it, no matter what we think of it as fans?!?
I refer back to James Martin's post (128), we appear to have lost that purpose & rhythm to our attacking play from last season; now, we keep possession of the ball, the theory being that the opposition can't score if we have it! I think had McGeady scored with that swerving shot, Barkley's shot that was blocked by Bridcutt(?), or Rom's shot that was tipped onto the post... had either of them gone in, perhaps it would have been the catalyst we needed?!?
Lee Mason has always been a prick with us, that tackle by Gomez on Barry was awful, he could easily have broke Barry's ankle & if you notice, Mason only issued the yellow card & not red, when he realised Gaz was seriously injured! Gomez most certainly should have gotten a 2nd yellow for his pathetic dive for a penalty!
Even the penalty on Seamus was a fiasco, once he pointed to the spot, he had no choice but to issue a red card to Wickham, as he prevented a goal scoring opportunity, but what does Mason do..... probably apologised to the lad that it was a pen & not even give him a yellow card....... WTF??
I think I could write a tome on what could be, needs to be, has to be, should be, wanna be..... I think a creative midfielder is urgently needed, someone in the Coutinho mould, so he could creative, knock through-balls to our striker(s) & take shots too. (He does get subbed a lot, go get him Roberto!)
Rant over [sigh]... apologies for rambling!
Eddie Dunn
140
Posted 10/11/2014 at 10:12:06
The problem with Everton is a seemingly laid-back attitude. This must stem from the boss. We only seemed to go for it after going a goal down.
Howard organised that wall, and it proved inadequate once again. Also the shot should still have been saved.
Thank God for McCarthy, he was a true example of how they all should have been performing, and even when he was strapped-up and lame he got back and saved Tim's bacon with that goal-line clearance.
Wake-up Blues and start playing from the kick-off.
Phil Gardner
141
Posted 10/11/2014 at 10:35:57
A very frustrating afternoon at the Stadium of Light. We couldn't breakdown a very poor Sunderland side who elected to defend, all hands behind the ball from the kick-off, at home.
We're pretty easy to work out, I'm afraid.... no 'Plan B'. Having said that, my heart sank when I saw Mason was the referee... and I wasn't wrong. I can handle the fact that this buffoon is one of many in this league, if, just occasionally, their incompetence benefits us. It just never seems to work out that way.
What the fuck was Gomez doing still on the field after that assault, in front of Mason, on Barry? Intimidated in his decision making by an almost silent home crowd ffs!
And don't get me started on Howard... the man is clearly mentally unbalanced at times.... come January we should go all out to get Begovic from Stoke because Timmy-Boy is fast becoming a frightening liability. 2 points against utter rubbish, comprehensively dropped.....
(We did have more 'possession', however!)
Geoff Evans
142
Posted 10/11/2014 at 11:04:57
Is Pullis available?
Brian Waring
143
Posted 10/11/2014 at 15:15:22
James Martin, I think another point in regards to Southampton is they have picked the same 11 players nearly every week.
Wayne Smyth
144
Posted 10/11/2014 at 18:27:04
Eddie (140), I would absolutely agree with you about the laid back attitude we often play with; but I'm fairly sure that we often used to play like that under Moyes too, so I'm not sure it comes from the manager.
To me, the underlying problem is that some of our players are just not good enough and we lack balance. Losing Barry was a massive loss, because Gibson showed himself to be half the player, too many loose passes from him.
Then we had Lukaku, Barkley, Eto'o and Naismith taking it in turns to play on the wing. Of our players who played on the wing yesterday, only McGeady is a proper winger and it showed... yet even he often looks to come inside rather than use the space.
I find it difficult to criticise Martinez too much for playing players out of position because, with Mirallas out, he has no decent players able to play there, with Atsu so far proving far less effective than Deulofeu.
As we found under Moyes quite often, when the balance is not there, the team looks disjointed and slow. There is a lack of options, a lack of players occupying space, making runs, making defenders think.
As for Howard, I agree with Phil Gardner and others that he is too often a liability. He looked pleased with himself when he made that sliding challenge to protect the ball outside his area. Stupid fucking thing to do, to give a clearly incompetent referee the chance to award them another free kick and let Sunderland benefit again from Howard's useless wall organisation.

James Martin
145
Posted 10/11/2014 at 19:57:50
Wayne, what I don't understand is how Howard was going to get beaten by that weak header that McCarthy cleared off the line. Looked as though he could have caught it whenever he wanted to yet it would have looped in if McCarthy hadn't have saved him.
Howard is symbolic of a lot of our players. At times can reach excellent standards but doesn't have the mental fortitude to sustain them game after game. Also doesn't have the mentality where anything other than a win is enough. You would never see Howard throwing a Southallesque strop. He's part of the group of players laughing and joking with each other at the end of another game of needlessly dropped points. The sort that think a point away from home is a good result and that its really difficult to beat teams like Arsenal Liverpool and Spurs home or away. Then comes the inevitable Echo headline 'we'll bounce back, we'll win the next one, blah blah blah', all talk no walk.
I honestly think some of the team of the past, although possessing significantly less talent, had better 'Everton' mentalities. Players like Carsley, Stubbs, Ferguson etc. whilst they are not in the same league talent wise as some of the current team they took losing the same as the fans. I can't think of many players in the current squad who has that extra bit of passion, maybe Coleman and McCarthy, and Mirallas at times in the big games. The rest seem content to allow 80 minutes of a match to float by, concede one, then equalise and walk off with themselves absolutely made up for not losing. I would say maybe its a bit of Moyesitis but a lot of the players are new now.
Harold Matthews
146
Posted 11/11/2014 at 18:02:49
So true James. I watched us near the end and only Coleman, Eto'o, McCarthy and Naismith were going the extra mile. For too many, dropping points was not the end of the world.
---
Add Your Comments
In order to post a comment, you need to be logged in as a registered user of the site.
Or Sign up as a ToffeeWeb Member — it's free, takes just a few minutes and will allow you to post your comments on articles and Talking Points submissions across the site.
© ToffeeWeb