Everton insist "nothing imminent" regarding Eto'o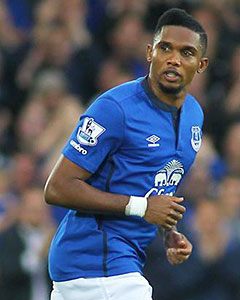 Samuel Eto'o's move to Sampdoria remains in the balance after Roberto Martinez reiterated that Everton will likely take until the end of the transfer window to decide the player's future.
The Cameroonian's move back to Serie A appeared to be close to completion after he struck an agreement with the Italian club last week. Comments by his agent, Claudio Vigorelli, last week and from both Sampdoria's director of sport, Carlo Osti, and president, Massimo Ferrero, over the weekend served to confirm that the formality of a medical was the last step in concluding a deal involving a nominal £1m fee to Everton.
Everton appear to be blocking the transfer, however, perhaps because Martinez is hopeful of persuading the veteran striker to stay or because he is looking to have a replacement lined up before he will sanction the move.
Vigorelli told Italian media that his client "[has] chosen Genoa and he's really motivated. In the last few hours, an offer arrived from Santos, which was greater from a financial viewpoint, but he isn't interested in it."
Osti told Telenord, meanwhile, that "Eto'o should be in Genoa on Tuesday," where he was expected to undergo a medical.
Ferrero meanwhile told reporters that, "Eto'o will arrive and he will score many goals. The Everton President will soon give us the all-clear."
That consent has thus far not been forthcoming from Bill Kenwright and Eto'o remains a Blues player even if he is not in the line-up at the moment. The 33 year-old was seen at Goodison Park for last night's draw with West Bromwich Albion but is not playing while there is interest in his services from other clubs.
"The Samuel Eto'o situation is something that we're going to make sure that the next two weeks is a period of reflection and see what's the next move in that respect," Martinez told evertonfc.com. "[By the end of the window] we'll find out one way or another if Samuel is part of Everton going forward or not and we'll announce it [if there's anything to say]."
Ferrero remains hopeful, though, telling Rai Sport: "We are working hard [on the deal] and I am in close contact with the [Everton] coach."
Reader Comments (19)
Note: the following content is not moderated or vetted by the site owners at the time of submission. Comments are the responsibility of the poster. Disclaimer
Dave Southon
1
Posted 20/01/2015 at 19:25:19
Very odd behaviour.
We have a player all packed ready to go and I'm guessing if we pull the plug at the very last minute we are going to have one angry man on our hands.
Colin Glassar
2
Posted 20/01/2015 at 19:34:54
If they cough up the ٟm we are asking for, he can go tonight.
Brian Hennessy
3
Posted 20/01/2015 at 19:33:51
Another mess. We are paying this guys wages while he or Everton decide what to do with him.
Unless a player is moving imminently (ie 48 hours or so), he should be in the squad if fit to play.
At this rate we will pay Eto'o for the whole month of January while he twidles his thumbs.
Crazy behaviour by our club
Pete Edwards
4
Posted 20/01/2015 at 20:45:08
Hardly crazy behaviour Brian, I think its what they call a transfer! Not a lot different to others really
Robin Cannon
5
Posted 20/01/2015 at 20:58:39
Would've been nice to see one of the best strikers of the past fifteen years ago played more than once as, I dunno, a striker.
Len Hawkins
6
Posted 20/01/2015 at 21:22:49
When it comes to transfers Eto'o, Henen, have Everton got an Orange Utan from Chester Zoo to do the business?
Colin Glassar
7
Posted 20/01/2015 at 21:29:50
Yes Len, his name is Robert Elstone.
Tom Loughrey
8
Posted 20/01/2015 at 21:36:58
Orange Utan!! Lmfao!! :-)
Ian Jones
9
Posted 21/01/2015 at 08:55:31
Apart from the financial aspects involved it could just be a case of Martinez and Everton deciding when the player can go and not Eto'o and his camp deciding when. We can be a stubborn club when we want to be.
Ian Jones
10
Posted 21/01/2015 at 08:55:31
Apart from the financial aspects involved it could just be a case of Martinez and Everton deciding when the player can go and not Eto'o and his camp deciding when. We can be a stubborn club when we want to be.
Brian Porter
11
Posted 21/01/2015 at 09:38:04
So why not play him in the meantime? Sam is still an Everton player and could make a vital contribution before, (and if) he goes. Or is this another instance of the manager's intractability? Martinez says no new blood is coming in so why are we offloading anyone when our squad is so sparse and injury prone? Seems there's no sense in this as in so many aspects of this useless season.
Peter Barry
12
Posted 21/01/2015 at 09:54:25
Orangutan is an Indonesian word meaning 'Man of the Jungle' 'Orang' = Man or person 'Utan' = the Jungle. They are so called because the locals when asked 'whats that animals name' told them 'Orang Utan' man of the jungle.
Clive Rogers
13
Posted 21/01/2015 at 10:42:45
We've always been pathetic at incoming transfers, now it's spread to getting rid of players who are busting a gut to leave.
Tony Abrahams
14
Posted 21/01/2015 at 11:58:42
I agree, Ian, and if Eto'o has been the nightmare that I'm led to believe, it could just be Martinez acting the cunt, to give Samuel a taste of his own medicine?
James Stewart
15
Posted 21/01/2015 at 12:17:00
The whole thing stinks. All we are doing is getting rid before he plays 15 games and triggers the clause of another year. Which begs the question: Why sign him in the first place?!
Meanwhile, we continue to pay his wages and he isn't available to play. Amateur hour open 24/7 at Goodison.
Will Firstbrook
16
Posted 21/01/2015 at 13:35:05
Management posturing as if they are in control of the situation here. Please.
Will Firstbrook
17
Posted 21/01/2015 at 13:40:49
Eto'o has ruled himself out of matches of late claiming not to be in the 'right mind' to contribute. Bobby could use the same excuse if he wanted - nobody would question it.
Conor McCourt
18
Posted 21/01/2015 at 15:42:14
It looks to me that they want Eto'o out but have another target which may not be in his position. I just hope its a winger or a centre back. Even if this useless board don't release funds I hope that they will at least sanction a loan or two.
What is the point of having 3 left backs in the club when we have only had 2 wingers in the squad for nearly all the season?? I hope his statement about going with what we've got is designed at putting a bit of pressure on these money pinching idiots above him.
Brian Waring
19
Posted 21/01/2015 at 16:45:26
Rumours coming out of Italy are that we want to bring in a replacement before he's allowed to go, makes a lot of sense to get someone in first.
---
Add Your Comments
In order to post a comment, you need to be logged in as a registered user of the site.
Or Sign up as a ToffeeWeb Member — it's free, takes just a few minutes and will allow you to post your comments on articles and Talking Points submissions across the site.
© ToffeeWeb