Chelsea vs Everton
Match Preview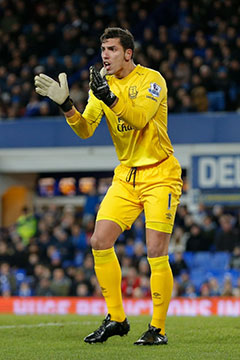 Tim Howard's lack of match fitness might delay a decision over who starts in goal for another week
While Roberto Martinez was able to inspire Everton to the double over Manchester United and a hugely creditable draw at The Emirates in his first season in charge, two increasingly galling away hoodoos that can be erased in the next month remain intact.
It's 19 years since the Blues last beat Arsenal on their home turf and now 21 years since an Everton team won at Stamford Bridge in the Premier League, lingering legacies of the dark 1990s and the infamous pschological hold the old "Sky Four" appeared to have over David Moyes.
Last season saw a spirited performance from Martinez's men in West London that never looked like earning a long-awaited win but surely deserved the point that was denied by John Terry's late intervention. Jose Mourinho's team never really got past third gear last season but the Portuguese presides over a well-oiled machine right now. The fact that Chelsea have a seven-point lead over their nearest challenger at the top of the table, combined with Everton's record of just one win seven games makes this midweek trip to the Capital almost seem like an exercise in futillity.
Strange things happen in football, though, so while there's opportunity there is hope. And with each deliberate step the Blues take away from that nightmare run of results over Christmas and the New Year, the confidence grows so that, hopefully, Martinez can get back some of that fearless approach that was a hallmark of 2013-14.
It's unlikely to be today, however. The fact that he is likely to adopt the same approach for this game as he did in Saturday's anaemic Merseyside derby — one predicated on a shored-up midfield and defensive solidity at the expense of attacking intent — probably means this won't be the occasion where some of the shackles come off. But then we'd probably all take a draw before a ball is kicked, even if it will make for another frustrating spectacle.
With Aiden McGeady ruled out with a knee injury and Leighton Baines also highly doubtful having not trained for a week, any desire on Martinez's part to go "same again" for this one will largely depend on the fitness of James McCarthy, Muhamed Besic and Steven Naismith. The Irish international played the full 90 minutes on Saturday despite having played no football since the end of December and his manager indicated in his pre-match press conference that the condition of the his hamstring will be assessed before a decision is made. Besic, meanwhile, was carrying "a knock" according to Martinez and Naismith suffered a neck injury in an early fall against Liverpool but but both should be fit to play.
Should any of them fail fitness tests, the door would be opened for Ross Barkley or Aaron Lennon to step in after both started the derby on the bench but came on to make positive contributions in the time available to them. That would certainly give the side a more creative outlet and, hopefully, help bridge the large gaps between Romelu Lukaku up front and the rest of the side.
With something to prove to his old boss now that he is eligible to face them again at Stamford Bridge, Lukaku will have extra motivation to add to his tally of seven League goals but he will need service to do so.
The question of who starts in goal is one of heated debate among supporters following Martinez's comments about the first-choice spot being Tim Howard's to lose but this game might come too soon for the American who only resumed full training a few days ago. That would give Joel Robles one more match in which to stake his claim for a berth many fans believe he has already earned with three successive clean sheets.
Despite their dauntingly impressive League form and the likely return of Cesc Fabregas, Chelsea are not infallible and, like any team, can succumb to an opposition that comes ready to have a go and push them to the limit. Just ask Bradford City. They will also be without chief mark, Diego Costa who is suspended for his stamping antics on Emre Can in the League Cup semi-final the other week, but Loic Remy has shown himself to be an able deputy.
While there was plenty of that spirit and attitude about them when the chips were down in the FA Cup at Upton Park last month, there has been very little about Everton over the past three games that suggests they will play with such abandon, at least not for the first hour.
More probably, Martinez's approach will be one of containment for the first two thirds of the contest and then, perhaps, a gradual upping of the ante if things are still level late on. Again, most fans would take a draw from such a difficult fixture and use it as another stepping stone towards the all-important first leg against Young Boys in a week's time.
Kick off: 7.45pm
Referee: Jonathan Moss
Full coverage: ToffeeWeb Match Reports
Reader Comments (76)
Note: the following content is not moderated or vetted by the site owners at the time of submission. Comments are the responsibility of the poster. Disclaimer
Tony Hill
1
Posted 10/02/2015 at 23:32:12
As I've said on another thread a point would be very useful after Hull and QPR won tonight. 5 points away from the zone is not as comfortable as any of us would wish. In my view, we have to show some attacking intent tomorrow because they will pick us off if we just sit tight.
Let's hope Lukaku feels he has something to prove - not least to us.
Phil Sammon
2
Posted 10/02/2015 at 23:55:41
GK Howard
RB Coleman
CB Stones
CB Jagielka
LB Baines
RM Mirallas
DM Besic
Very DM McCarthy
Very very DM Barry
LM Naismith
ST Lukaku
No surprises.
We have to stay tight for this one and it's likely to be backs against the wall. I don't want to see Naismith out wide, but I think he should start. In fact I'd even consider dropping Lukaku for Lennon then bang Naismith in the centre. Or Koné.
Darryl Ritchie
3
Posted 11/02/2015 at 00:25:32
A draw would be fine.
Gavin Johnson
4
Posted 11/02/2015 at 00:28:09
I always have little, or no expectations from this fixture, so will be over the moon if we can grab a point.
James Stewart
5
Posted 11/02/2015 at 01:17:20
Would be nice to see Garbutt play. Oviedo didn't look at all great defensively against Ibe.
Robles
Coleman Stones Jagielka Garbutt
McCarthy Besic
Lennon Barkley Mirallas
Lukaku
Ernie Baywood
6
Posted 11/02/2015 at 02:15:05
My view. If we play for 0-0 then we'll almost certainly lose with the possibility of a draw.
If we have a go at them then we might got snotted all over the park but we might have an outside chance of a win or draw.
People above want to take a shield to a gunfight. At least take a knife.
Colin Williams
7
Posted 11/02/2015 at 03:18:21
James, same team as your good self... except Kone for Lukaku. (Although it won't happen with our weak management team.)
Kunal Desai
8
Posted 11/02/2015 at 06:42:17
Everton will have to be extremely cautious in their approach against Chelsea. I would say look to take advantage of any sporadic forays into the box but not committing too many bodies forward. The midfield of Barry, Besic and McCarthy (if he starts) will be key.
Keep them quiet for 65-70 minutes at 0-0 and then it could be backs to the ball getting out of there with a point, but the slightest of slips and any loose balls and it's game over, I'm afraid.
Chris Gould
9
Posted 11/02/2015 at 07:04:30
With no Costa I don't think we need to play with too much fear. In fact I'd like to see us have a go at them. If Coleman can keep Hazard quiet then who knows.
Of course they are a well oiled machine right now, but they lack pace at the back and we are much more likely to gain something from this match if we give them something to worry about. Play like we did against Liverpool and we will struggle.
Lee Wareham
10
Posted 11/02/2015 at 07:37:49
James Stewart. Thats exactly the team I would select but you know Barry will play think Roberto has a man crush on him. If fit Baines and Howard will play (sucking all confidence out of Joel). if I were a young Everton player, I wouldn't stick around.
Sam Hoare
11
Posted 11/02/2015 at 08:52:26
A scrappy draw would seem the best we could hope for but then what happened to sin miedo! Maybe go in all guns blazing! At least the match at Goodison was entertaining.
Colin Glassar
12
Posted 11/02/2015 at 08:58:55
A scrappy draw would be a great result, Sam, and I'm sure most of us would take it right now.
Sin miedo has been put into the freezer until we get to the infamous 40 puntos.
James Martin
13
Posted 11/02/2015 at 08:58:10
I'll never understand why Barry is still getting a game. McCarthy and Besic deep with Ross ahead of them Lennon and Mirallas flanking Lukaku, soak them up and hit them on the counter.
Jim Bennings
14
Posted 11/02/2015 at 08:57:15
I can't believe it's 21 years since Everton last won at football match at Stamford Bridge. Bloody hell, I looked up the two sides that day, it seems like a world away.
Why have we not won a match there for so long? It's not really acceptable for an established Premier League club like Everton to not win a match away to one of its fellow rivals for such a length of time.
I'd be made up with a draw tonight but let's be bold, let's have a performance that we simply haven't really seen from Everton this season, at the minute one we just don't look like putting in that's going to be good enough to win, granted but come on, we are due a big big display.
This will be the first season in my memory that we haven't put in a really "stellar performance" to upset one of the top sides and beat them.
Even under Moyes we couldn't do it away but at Goodison we regularly fucked up the big boys.
Come on, Blues!!
Phil Walling
15
Posted 11/02/2015 at 09:06:25
10-1 against an Everton victory. My 20 quid is a burning a hole in my pocket. Not.
But I can't resist – so here goes!
Max Murphy
16
Posted 11/02/2015 at 09:12:40
I think Chelsea may do us a favour and let us have a point – showing their gratitude for taking that Yard-Dog Lukaku off their hands for 28 million!
Ross Edwards
17
Posted 11/02/2015 at 09:18:50
I've done enough moaning this week. We're winning tonight. Lukaku winner.
James Martin
18
Posted 11/02/2015 at 09:17:40
The most annoying thing is we never even pick up the really lucky undeserved wins that the smaller sides get at these top grounds. The way Villa can go to Anfield, score from one chance, then defend all match and get a 1-0 win. Or Sunderland go to Arsenal or Stamford Bridge and will get the flukiest win you have ever seen. That never happens to us.
You would think law of averages would mean we've played these guys enough times that, even just once, we'd luck out... but no, not one win at Anfield, the Emirates, Stamford Bridge or a Moyes-less Old Trafford in god knows how long. White Hart Lane is going the same way (although every other club seems to be able to win there).
As a club, we just have one of the worst mentalities of any team in the league to playing the big boys. The best we hope for is a draw but often we're beaten before we even start, desperately trying to conserve a 1-0 or 2-0 loss. Next week, you see some side near the bottom of the table having a free swing at one of the big guns, giving them a massive scare on their own patch. It's never us and that's infuriating.
Colin Glassar
19
Posted 11/02/2015 at 09:20:53
I would go with a 4-5-1 tonight:
Robles
Coleman
Stones
Jagielka
Garbutt
Besic
Mcarthy
Barry
Baines (if fit)
Oviedo
Lukaku or Kone (makes no difference IMO)
Swap 'Sin Miedo' for 'No Pasaran'. A point tonight and a win against Leicester and we could get to the giddy heights of mid table safety.
Jim Bennings
20
Posted 11/02/2015 at 09:29:05
James Martin,
Couldn't agree more, great post.
I mean it comes to something when most Everton fans accept that us winning at Chelsea is more of a shock than probably even bloody Bradford winning there.
It's clearly something in the blueprint at our club over the last 20 year's or so. You can't blame luck when it's over such a length of time.
Rob Halligan
21
Posted 11/02/2015 at 09:45:28
4-5-1
Robles, Coleman, Stones, Jagielka, Baines/Oviedo. Mirallas, Barkley, Besic, McCarthy, Lennon, Lukaku.
Nullify their midfield, cut out the supply to whoever is their front man, two wide men in Mirallas and Lennon and hit them on the break. 1-0 win guaranteed!!
James Hughes
22
Posted 11/02/2015 at 10:00:16
I am not looking forward to this tonight, I don't really want to watch, but I will. I can just see frustration and bafflement, on my part, being the main card.
Hopefully I will be proved wrong and we will play some football and play them off the park, sigh.
Jim Bennings
23
Posted 11/02/2015 at 10:01:07
Does any other club do bad records like us?
Take a glance these, strange but very true facts..
21 years without winning at Chelsea.
19 years without a win at Arsenal.
We went 51 years without winning at Leeds.
We had a spell of 21 years without winning at Tottenham between 1985-2006.
We unbelievably went from 1987 to 2005 without beating Aston Villa at Villa Park.
1999 since our last win at Anfield.
We have won 3 Merseyside derbies in 15 years.
We went from 1995 to 2005 without beating Manchester United home or away.
We went a full decade from 2000-2010 without beating Chelsea full stop home or away.
I tell you what: if half of these records were not so bad, we could actually be proud of them!
Thank God for West Ham.
Alex Carry
24
Posted 11/02/2015 at 10:18:12
I think id like a 4-3-3 formation because Lukaku isn't good enough by himself..
Robles
Coleman, Sones, Jagielka, Garbutt
Besic, McCarthy, Barkley
Lennon, Lukaku, Mirallas.
Kevin Tully
25
Posted 11/02/2015 at 10:11:23
I think Lennon will start tonight. There is a chance he and Seamus can strike up a partnership from the off. Put Mirallas on the left, in front of Oviedo, and let's see us try to get some balls across the the face of their goal. These are far too good defensively to waltz through the middle, so getting in behind their back four will be our only chance of scoring.
They have a seven-point lead at the top now, so they may be tempted to take their foot off the gas a little. As long as we can keep Stones and Jagielka fit, we'll be absolutely fine at the back for the rest of the season.
This is a free hit really – nobody expects us to win, so the team can play with a little freedom, which has been lacking for months now, especially at Goodison.
I'm looking forward to this, actually; I would like to keep this unbeaten run going if we can't sneak a win.
Amit Vithlani
26
Posted 11/02/2015 at 10:21:18
Colin "Swap 'Sin Miedo' for 'No Pasaran' "
You can imagine Mourinho's post match interview
"Only one team tried to play football tonight. The other team was playing football from the 1800s. And they parked two buses. The referee did nothing to protect us from this negative football."
Jim Bennings
27
Posted 11/02/2015 at 10:32:49
Also think it sends out the wrong message to drop Robles after three clean sheets...
Totally understandable if we had leaked goals but it sends out totally the wrong message, almost saying "it doesn't matter how you perform because I have my favourites".
Ernie Baywood
28
Posted 11/02/2015 at 10:27:03
Jim #24
Arteta Derby
Carsley Derby
AJ and Tim Derby
Gosling Derby
That's 4. Have I missed any?
Can't believe it's between 21 years (actually it's far closer to 20) since we won at the Bridge. Vividly remember listening to it on the radio and us getting high praise on MOTD that night... during that spell where the RAF were flying and it felt like we could beat anyone. Even seasons where you flirt with relegation can be great.
Mike Childs
29
Posted 11/02/2015 at 10:28:24
Good luck Phil nice odds. I'm scared to death that Mr USA is going to walk right back into the starting XI and bumble away the points.
Jim Bennings
30
Posted 11/02/2015 at 10:49:21
Ernie,
Yes, you can include the Gosling derby, I was tending to go with mainly league, and of course the Gosling one ended 0-0 in normal time but hey, what the heck, let's have it.
Yes, I recall watching our last win at the Bridge on Match of the Day, memories of a half built Stamford Bridge, a casual peach of a cross with the outside of Limpar's boot for Rideout to head the winner in the wallpaper white tractor skid mark away kit.
Joe Royle's first away match that was.
Alan Khan
31
Posted 11/02/2015 at 11:06:41
I really hope we go for it tonight – I fear that if we venture with 3 defensive midfielders infront of a back 4 then we would be overly cautious. Granted, Chelsea hit us for a 6 at Goodison but we should make a bigger effort in attack.
Lukaku scoring our winning goal at the Bridge would be nice but nice doesn't necessarily win games. I'll take the winner from any of our players – hoping to see something along these liens, considering the Baines in unlikely to play. Hopefully JM is fit – as he makes a difference.
Robles
Oviedo
Jagielka
Stones
Coleman
McCarthy/Barry
Besic
Mirallas
Barkley
Lennon
Lukaku
One thing I know for sure – the travelling Blues will be singing their hearts out on a cold London night. Enjoy the game everybody... COYB!!!
Nick Page
32
Posted 11/02/2015 at 11:13:07
I'd take a pragmatic point all day (night?) long, tbh. Would like to see Lennon start, as that might make them think a bit about the quick ball over the top (you know, the one fucking Sun Tzu invented last year and nearly won the league).
Harold Matthews
33
Posted 11/02/2015 at 10:57:33
Mirallas and Lukaku will be trying to impress but I'm just hoping for a respectable performance with no errors, no Chelsea corners and no injuries.
Kevin Tully
34
Posted 11/02/2015 at 11:26:33
This website may spontaneously combust if Howard is named in goal tonight. Can just see the headlines; "ToffeeWeb Towers goes up in smoke."
Brian Harrison
35
Posted 11/02/2015 at 11:29:00
Well, for me, this is very much a free hit tonight, nobody expects us to get anything so a night for a bit of bravery, RM. I know we had a go at home and lost heavily but at least we showed some passion and aggression – something that has been missing from our game of late.
Ian Jones
36
Posted 11/02/2015 at 11:38:43
Hi James (Martin),
I agree with you about those teams who are in theory smaller than Everton getting victories against the likes of Chelsea, Arsenal and Liverpool etc – especially at their grounds. Frustrates me too.
I suppose it's because Everton are much better than these so-called smaller clubs and the bigger clubs respect us more, don't take us for granted, and realise they have to up their game when playing us.
:)
Cheers.
Andrew Ellams
37
Posted 11/02/2015 at 12:07:31
Is Howard available tonight? I reckon we are more likely to see him in Switzerland next week. But, who knows....
Mick Wrende
38
Posted 11/02/2015 at 12:31:54
I do wish Martinez would drop Lukaku because he is so lazy and doesn't look like a footballer. No chance though as having spent virtually all our resources on him Martinez would have to admit that he cocked it up. Terry will have an easy night.

Barry Pearce
39
Posted 11/02/2015 at 12:43:13
It's saying on the OS McCarthy will miss tonight's game... bollocks.
Max Murphy
40
Posted 11/02/2015 at 12:34:20
RM commands no respect from his players because he doesn't deserve any. He unsettles the team with his ridiculous tactics and as a result we have witnessed much of our team to drastically lose form.
I expect tonight we will see an abominable team selection, where he continually selects chronically out-of-form players. His substitutions will be equally bad, and untimely, post-match – RM verbal diahrrea. I will also see the postings on TW to be virtual replicas of previous posts after most games we've suffered through this season.
If we hold onto to this manager until the end of the season, we will see a mass exodus of players, which could be the downfall of our great club. I hope now supporters will be more vociferous at the next home game, and demand the sacking or resignation of Roberto Martinez.
Colin Glassar, I respect your optimism, but there are times you have to face reality: we have a Muppet for a manager.
Graham Mockford
41
Posted 11/02/2015 at 10:21:01
Jim
I was gutted when Fulham got relegated. I think we won 13 out of 13 at Goodison.
Jon Withey
42
Posted 11/02/2015 at 12:54:52
Oviedo in front of Garbutt on the left if Mirallas doesn't fancy it anymore? might give us some width. Coleman and Lennon on the right.
Despite the Barry moaning, if McCarthy or Besic are not match fit, then we are lucky to have him.
I would like to see Kone helping Lukaku at some point, especially if we go behind. And introduce Ross a bit earlier.
Michael Polley
43
Posted 11/02/2015 at 12:57:35
Match is on BT Sport tonight. I'll watch it, but it could be painful viewing. I hope we come out with some intent, and have a go against them. Chelsea have proved vulnerable when teams throw the gauntlet down and play on the offensive. Let's go for it.
In saying that, a draw would be good. COYB – get stuck into them!!!
Jim Bennings
44
Posted 11/02/2015 at 12:55:54
Ian Jones.
Some validity about the reasons behind our woeful record at those mentioned venues but for me it's too easy an excuse.
We have underperformed away to these sides for a club of a stature and it's gone on for too long.
Jim Knightley
45
Posted 11/02/2015 at 12:47:04
Mick.. we are clearly not playing to Lukaku's strengths, and he is suffering as much as anyone from the style issues. He has demonstrated that he can control, trap a ball etc on occasions, and will show it again more consistently when we decide to use a strategy which suits our players, rather than our manager. His goal-scoring record before this season demonstrates that he is very much a 'footballer'.
A Chelski side under Mourinho will always be the toughest away match in the league. We are expected to lose, so we have everything to gain from a good performance. We will necessarily be pragmatic again, and I do not think three DM's would be a bad idea given the strength of Chelski's score, but they will again lead to an AMC playing out of position. I'd prefer to have Barkley than Naismith involved if we do play three DMs, as I think he is more likely to come up with the something special we need, and his lapses will be less costly in a game with three DM's. We need to work the ball quicker, and get it to Lukaku in the right areas, because he has the skills to worry Cahill and Terry. We should also stick Mirallas on the left, as Chelski can be exploited down that side because of Ivan's lack of place, and the lack of a genuine right sided mid (unless Cuadrado starts) in Chelski's starting 11, as Spurs demonstrated through Chadli, and Kane's runs from the left. I'd also like Robles to stay in goal.
Martinez was praised widely on here in the months after he took over from Moyes, because of his perceived ability to integrate youngsters in the starting 11. But, Coleman had a great six months before Moyes left, and I expect Stones would have emerged irrespective given our CB issues. Recent games have seen Barkley look increasingly poor when he has been in the team, and Besic, Robles and Oviedo have only been given chances because of the absences of preferred first teamers. Given the form of Besic and Robles in particular, Martinez has a chance to demonstrate materially his trust in our very good youth players, and playing a team involving Oviedo, Robles, Barkley, Besic, McCarthy, Stones and Lukaku would give us 7 players under 25 in the first team. Whilst this season has been a washout, I think prioritising the younger players whilst attempting to get back in the top half should be our brief in the league now.
Clive Mitchell
46
Posted 11/02/2015 at 13:02:25
Jim, 24 - "Does any other club do bad records like us?"
Congratulations, if ToffeeWeb ever dies you've written its epitaph.
Jimmy Kelly
47
Posted 11/02/2015 at 12:44:23
Ian (37), I agree that teams are less likely to see us as an easy 3 points and are therefore may be a bit more 'switched on' when playing us than they are when playing some of the obvious minnows.
Jim (24) most teams have similar records against certain sides. We could justifiably be seen as a bogey team for Swansea (beat us for the first time EVER earlier this season), Fulham (never won a league game at Goodison), Sunderland (before last season hadn't won at Goodison since 1996 & had lost 14 of previous 19 meetings home or away). Funnily enough there's been a bit less fuss made about Martinez being in charge when 2 of those records were lost than there was about us winning at Old Trafford.
Tony McNulty
48
Posted 11/02/2015 at 13:04:56
Phil (16) I'm not a betting man but 10-1 looks crazy. I am betting 㿞 in my local imaginary betting shop. If we triumph I guess I will have to imagine picking up my winnings and imagine what I could have done with 𧺬 (minus the tax of course – if they still charge that on bets – I once worked in a betting shop in London as a holiday job).
Matthew Williams
49
Posted 11/02/2015 at 13:13:09
Plucky losers methinks, unless Chelski start like a train with an early goal followed by a quick second. I'll be watching through my fingers as per usual...
Russell Smith
50
Posted 11/02/2015 at 13:11:23
Unfortunately, Tony, the team and Martinez will also only be imagining they can win. We couldn't score against West Brom or Liverpool, so it is highly unlikely that we could score against a better defensive unit, the best we can hope for is another 0-0 draw.
On the theme of unenviable records, when was the last time an Everton player scored two goals in the same game? Was it Leighton Baines at West Ham last year? When was the last time one of our forwards scored twice in the same game?
James Lauwervine
51
Posted 11/02/2015 at 13:41:13
James (#6) – that's exactly the team I would pick, but I don't expect it will ever happen. Maybe Oviedo for Mirallas would be the only change (I'm assuming Baines isn't available).
Ernie (#7) – I love your closing line.
I keep saying it but I would never choose Naismith over Barkley if both fit.
Ian Glassey
52
Posted 11/02/2015 at 14:03:08
Russell, was it Lukaku against the shite last year. When he still had his dreads, he looked like a striker then.
Denis Richardson
53
Posted 11/02/2015 at 14:10:02
I'm afraid I have no confidence in this team & manager going to Chelsea and defending for 90 mins – we won't be able to. Inevitably it'll be 0-0 up to around the 65 minute mark and then we'll let in a couple of goals. We didn't manage it under Moyes and we won't under Martinez.
We'll probably start with Barry/McCarthy/Besic in CDM, which means we'll really struggle to put up any kind of attack. The likes of Mirallas, Lennon (hopefully he'll start) and Lukaku will be chasing ghosts in the final third. Chelsea will just keep knocking on the door until it inevitably opens.
It's a tough place to go and they're the best team in the land so I can understand the defensive tendancy but, at the end of the day, we have to have a go. We simply don't have the stamina, concentration or players to be able to just defend for 90 minutes there.
If I could pick the team, I'd play a few younger players from the off so that their youth and energy will give Chelsea something to think about. Won't happen but I'd pick:
Robles
Coleman Stones Jagielka Oviedo
McCarthy Besic
Lennon Barkley Mirallas
Lukaku
I would ask Barkley to sit a bit deeper, more a CM rather than AM role, with Kone and Garbutt to come on at sometime depending on how the game is going.
If we come to just defend, we'll lose.
Denis Richardson
54
Posted 11/02/2015 at 14:22:13
Russel 51 – Eto'o scored a brace against Burnley whenever we played them in Oct or Nov last year.

Andrew Ellams
55
Posted 11/02/2015 at 14:20:25
Eto'o scored twice at Burnley this season.
James Cadwaladr
56
Posted 11/02/2015 at 14:32:51
Robles
Garbutt
Jagielka
Stones
Coleman
Barry
McCarthy
Mirallas
Barkley
Lennon
Lukaku
I'd put Besic in ahead of Barry but think the Pensioners might be a bit too cute for him.
Andrew Ellams
57
Posted 11/02/2015 at 14:48:01
I'd be surprised if there was any changes at all tonight.
Mike Dolan
58
Posted 11/02/2015 at 14:49:21
On paper, it's no contest. But this is going to be an upset win though. 2-0 Blues. People are gonna say we've turned the corner. We've already turned the corner so this one's for the legend.

Max Murphy
59
Posted 11/02/2015 at 14:52:26
Jim #46. I don't think it has anything to do with "playing to Lukaku's strengths". The player has clearly shown he cannot function as a footballer. He cannot trap the ball, control the ball, head the ball, jump for the ball or pass the ball (accurately). He may have performed some of these feats in the past, but so could any non-footballer, given the number of times he receives the ball.
The laws of probability would dictate that he would eventually get one or more of these 'actions' correct, over a given period of time. Chelsea knew this, and quite frankly we were mugged of 㿈 million.
Ian Burns
60
Posted 11/02/2015 at 15:21:34
10/1 on an EFC win tonight.
I am not a gambling man but I am thinking about it!
However, my point is that this price shows how far we have gone backwards under this "don't know what you are doing" manager and what the bookies think of us, which has made me feel quite ashamed and not a little sad.
Still I will put my money where my heart is
Jim Knightley
61
Posted 11/02/2015 at 15:41:02
With respect to the ostensibly very long odds – Mourinho has lost 1 Premier League home game in approaching 90 home games for Chelsea across two spells hasn't he? I also think he went 150 home games unbeaten until a loss in his spell at Real. I'm not surprised by the odds, and I think they are as much a reflection on Chelski as on us.
Jay Harris
62
Posted 11/02/2015 at 15:50:21
I don't believe playing McCarthy, Besic and Barry is overly defensive. It gives us strength in MF where most of the action normally is in any game and allows the fullbacks to get up and down the pitch knowing there is cover.
It also means the forwards aren't all running into one another so there is space to play forward passes to.
I think we have a decent record of draws at Stamford Bridge. My head tells me this is a Chelsea banker but my heart (and bias) tells me we will get something out of this.
Mark Andersson
63
Posted 11/02/2015 at 16:05:39
I have never put a bet on in my life. At 54, I would be tempted at those odds; however, the reason I don't bet is because bookies get it right more than they get it wrong.
21 years without a win will now be 22. If ya know ya history, that is quite shameful.
Clive Rogers
64
Posted 11/02/2015 at 16:13:52
I'm afraid I just can't see us scoring a goal, and almost certainly we will concede. When I look through the team sheet, I just can't see where the next goal is coming from. Very worrying. Good job the back four are playing better.
Ian Burns
65
Posted 11/02/2015 at 16:30:07
Jim - 62 - are you telling me when another of the top half teams play Chelsea at SB, you will also get odds of 10/1?
That is where our comparison should be, as an absolute minimum.
Clive Rogers
66
Posted 11/02/2015 at 16:29:42
Jay,
Which forwards are those?
Lukaku is more likely to run into a post than one of our players, they are so far behjnd the play.
Gareth Fieldstead
67
Posted 11/02/2015 at 16:29:09
I don't think he will risk McCarthy tonight, ten day rest with the hope he will be fully fit for the EL game. I would start with Lennon and Mirallas and probably Gibson tonight. I would still have the three sitting midfielders and hope to hit them with pace. I would also consider Kone, but no chance of that happening. Robles has to start.
Andrew Clare
68
Posted 11/02/2015 at 16:54:39
I have seen us win at Stamford Bridge. Bob Latchford scored. Long time ago though.
COYB.
Phil Walling
69
Posted 11/02/2015 at 16:55:59
Yes, it's still 10/1 AGAINST an Everton win tonight and a very decent 4/1 AGAINST a draw. Chelsea seen as certainties at 4/11.
I've had my usual score on Everton tonight and a saver on us nicking a point.
I've lost interest in the RM discussion and am just counting off those 10-12 points to safety.
Christopher Dover
70
Posted 11/02/2015 at 17:16:17
Try something new, play a 㿈 million centre forward As A
Centre Forward, with instructions not to be off side every couple of minutes, might have someone in the box then to score a goal or two.
Kevin Rowlands
71
Posted 11/02/2015 at 18:00:13
If Bradford City can go there be 2-0 down, get it back to 2-2 then go on and win scoring their final 2 winning goals AFTER Fabregas, Willian and Hazard had come on then I don't see why we can't go there and get something, I hope Martinez has reminded them of that these week, c'mon Everton give us something to smile about tonight!
Paul Tran
72
Posted 11/02/2015 at 18:31:44
Never mind Bob Latchford, what about the Friday night TV 2-0 1984 and Alan Harper's 30 yard winner in 1987 or 1988? Great days, we can only hope tonight.
If Howard's starts tonight, let's hope he comes for the ball with conviction, unlike the same game last season. .....
Nick Armitage
73
Posted 11/02/2015 at 18:47:29
Now that's a strange team selection.
Dave Abrahams
74
Posted 11/02/2015 at 18:50:39
I'd like Mr. Martinez to prove that Kone is really fit by starting him or at least give a good thirty minutes tonight, either replacing Lukaku at the start or later in the game.
Colin Glassar
75
Posted 11/02/2015 at 18:56:12
I hope Mirallas doesn't start. We need people who will put in a shift not someone who will pose and pout.
Clive Rogers
76
Posted 11/02/2015 at 19:05:24
Can only see that team getting pasted. Hope I'm wrong.
---
Add Your Comments
In order to post a comment, you need to be logged in as a registered user of the site.
Or Sign up as a ToffeeWeb Member — it's free, takes just a few minutes and will allow you to post your comments on articles and Talking Points submissions across the site.
© ToffeeWeb