Everton vs Tottenham Hotspur
Match Preview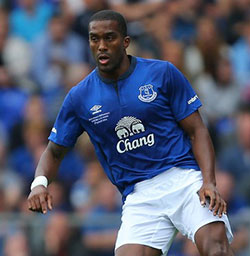 Sylvain Distin could get a chance to bid farewell to Goodison after all.
Everton hope to sign off their disappointing 2014-15 season on another upbeat note as Tottenham Hotspur come to town on Sunday.
Thanks to Romelu Lukaku's last-minute winner at Upton Patk last weekend, the Blues can ensure a top-10 finish with victory over Mauricio Pochettino's side providing West Ham don't beat relegation-threatened Newcastle by a wider margin at St James' Park. Everton currently edge the Hammers in the table on goals scored.
Given their involvement in the European picture, Spurs's need is a little greater, however. The Londoners have their sights on recording a first win at Goodison Park in eight years and leap-frogging Liverpool into the top Europa League spot in fifth place. They could fall to seventh, however, if they lose and Southampton get any kind of result at Manchester City.
Roberto Martinez restated his desire to finish the season strongly in his pre-match press conference but he will be forced into at least one change to the team that started last Saturday. Aaron Lennon is ineligible to face his parent club and that will create an opening that will likely be filled by either Kevin Mirallas or Aiden McGeady.
Both players came on as substiutes against West Ham but it was the latter who weighed in with the crucial assist for Lukaku's stoppage-time winner and that, combined with his limited playing time in recent weeks due to injury, might be enough to earn him a start.
Mirallas could well start anyway, either on the other side of midfield or playing off the striker if Martinez is feeling adventurous but both Leon Osman and Ross Barkley will be in contention in those spots.
In defence, it would not be a surprise to see Brendan Galloway handed a home debut at left back after his solid display at Upton Park and the manager has suggested to the media that Sylvain Distin could well get the chance to bid farewell to the home fans after all.
If he gets over a bout of illness, the Frenchman could replace Antolin Alcaraz on the substitutes' bench after the Paraguayan picked up an injury in training. That would provide the opportunity to throw Distin on for a few minutes at the end of what will be his last season with Everton after six years of service.
There is scope for further switches — Muhamed Besic hasn't started a game in quite a while now, for example — but Martinez probably won't make wholesale changes despite Spurs' chequered away record of late. They won handsomely at Newcastle a month ago but also lost heavily at Manchester United and Stoke, suggesting that Everton could rattle them if they can get out to an early lead.
The debut of the new home kit following its unveiling this past week will add to a general air of looking towards the future at Goodison, an attitude summed up by Tim Howard's assertion to the loal press that there will be no long post-mortem of 2014-15 among the team. The American said that the players will put the current campaign behind them and look towards a fresh start in August.
Kick off: 3pm
Referee: Jonathan Moss
Full coverage: ToffeeWeb Match Reports
Reader Comments (42)
Note: the following content is not moderated or vetted by the site owners at the time of submission. Comments are the responsibility of the poster. Disclaimer
Ben Dyke
1
Posted 22/05/2015 at 19:58:21
An attitude summed up by Tim Howard who said "we don't really give a fuck, we get paid loads of wonga regardless of results and it doesn't matter to us too much what the fans think."
They haven't a clue what being a fan on a yearly wage less than their weekly one is like, have they.
Mark Andersson
7
Posted 23/05/2015 at 00:59:00
Great report, Lyndon. I feel Ben Dykes has a point. Let's hope Distin gets his farewell cameo.
Now it would be nice for the team to make a effort and win in style, sadly I can't see it and Spurs to break their 8-year duck.
It's going to be interesting to see how the crowd react to the players lap of, as some say, dishonor.
Only one thing is certain everyone's opinion will differ. Lots to debate about over the summer and that's what makes TW my daily read before I go to work and before I go to bed.
Paul Kossoff
8
Posted 23/05/2015 at 01:03:07
Wish list for Sunday:
Blue win,
RS loss,
West Ham win,
dark side in Europa,
Newcastle, Wonga and that twat chairman feeling sorry for themselves.
Mike Childs
9
Posted 23/05/2015 at 01:32:21
With all the points Mr. USA cost us this year he should just keep his mouth shut. If Distin doesn't start Sunday it only adds fuel to the fire that Mr. Brown Shoes holds grudges.
Sylvian has earned the start.
Jim Bennings
11
Posted 23/05/2015 at 08:33:02
Whatever the team is let's hope we sign off the season especially being at home, with a good win.
Wins over Manchester United and Spurs would at least put a bit of gloss on the end of the season after the months between August to March were a total non-event.
Then the hard work really does start though, we will be saying goodbye to more than just Distin after tomorrow I feel, obviously Alcaraz is going, wish we could say it was a a good two year's but he turned out to be nothing more than a poor stopgap in the end after a promising debut on December 28 2013 , following it up with a composed display at Stoke, it just didn't work out.
I get the feeling we might see one or two other squad players moved on if unexpected offers arrive.
Lets hope it's a summer that sees more faces come in than leave though..
Jim Bennings
12
Posted 23/05/2015 at 08:47:10
I can scarcely believe the season is ending tomorrow already, it only just feels like it's getting started, due no doubt to our appalling for the first 6 months of the campaign.
There definetly should be a post mortem and major inquest amongst the players over what on earth went wrong and there should be some massive soul-searching too, they should really be asking themselves why they only ever start playing when the pressure is off.
New signings are needed and lots of them.
Patrick Murphy
13
Posted 23/05/2015 at 08:59:09
Jim - There will be no soul-searching or in-depth analysis of where so much went wrong as Tim Howard says it all starts again in August with a clean slate so what's the point of dwelling on the past. From that point of view it's difficult to see how any lessons can be learned, just put it all down to experience and move on seems to be the prevalent mood of the club and the players.

Jim Bennings
14
Posted 23/05/2015 at 09:10:01
Seems everything that's wrong with Everton FC these day's Patrick.
Just prepared to accept never once being in a position to challenge for the top 6 or 7 all season.
Tim Howard is at the end of his career, he knows now probably his best years both personally and as a group finishing high up the table or winning something have all but gone now, that's possibly why he's hardly arsed anymore.
Phil Walling
15
Posted 23/05/2015 at 09:38:25
I suspect the powers that be consider this to have been a decent season all things considered. The manager is still citing the influence of the World Cup on the poor start and the disappointment of not winning the opening games 'which we dominated' as the reason we've dropped down the table.
Apparently, the Thursday/Sunday schedule in Europa weeks took its toll but is seen as 'a learning experience from which we can only benefit.' Really ?
Whilst I imagine that the drop of half a dozen places will cost upwards of ٤Million in Premier placemoney , increased attendances and Europa money should see the club again 'be on budget 'although not able to spend a great deal in transfers.
As we reach the last game, I shall be far away and intend to remain so. 'Thank God', I hear you say as my views on the manager again becomes a minority one. But, as Tim says, next season gives us a new start, and who knows, I might have been wrong after all !
Harold Matthews
16
Posted 23/05/2015 at 09:28:41
Spurs have much more to play for but it will be interesting to see if we can maintain the new faster style of play without Lennon. McGeady will probably deputise and I look forward to him plonking the ball onto Lukaku's head again. The big fella has not been the worlds best striker this season and appears to have lost the love of his team-mates, but he is always eager to score.
It would also be nice if Barkley could get one or two of his rocket shots on target and Osman dazzles their big lumbering defenders with his quick feet. Roll on.
Jim Bennings
17
Posted 23/05/2015 at 10:04:03
Phil
Martinez is already saying he hasn't given up on Kone and is only looking for "temporary" striking options in the summer..
I think that pretty much says it all about the ambitions and goals for next season.
Strikes me that next season, the sole targets will be to finish top 10 and hear my pet hate phrase dragged out of having "a good cup run".
Steavey Buckley
18
Posted 23/05/2015 at 10:27:43
As usual, Everton will have width on the right side, but not on the other. Who ever is the left back tomorrow, will be targeted by Spurs.
Ross Edwards
19
Posted 23/05/2015 at 13:10:31
The fact that there won't be any kind of inquest into this season just sums up the attitude.
'This season has been a pure accident and we've done well to get 10th, so there's nothing really to discuss. Let's move on.'
Nothing will be learnt from this season. We'll still be playing Howard and Barry week-in & week-out, corners will be a complete waste of time as usual, and we'll still have no idea how to beat teams coming for a draw.
Essentially next season we'll probably be around 7th-10th. The top 6 will all strengthen and so will Southampton. We're going nowhere.
Harold Matthews
20
Posted 23/05/2015 at 14:39:18
Amen Steavey.
Brian Harrison
21
Posted 23/05/2015 at 16:44:12
Well ,another season comes to a close tomorrow and what a sorry season it has been. The football for most of the season has been boring and the manager's comments before and after games have left most of us bewildered as to what he was talking about. All the years that I have been going to Goodison, I have never booed the team or left a game early.
As is traditional for the last home game of the season, the players will parade round after the match, but this time I will be leaving the minute the ref blows the final whistle. Maybe if they reappear to an empty stadium with their kids in tow, it will be a more powerful demonstration than any booing could achieve.
Andy Walker
22
Posted 23/05/2015 at 18:25:17
Martinez has been awful this season: poor team selection, poor team set up, apparently random styles of play (did the players just take over at times?), contrary media statements (do the players trust anything that he says?), poor transfer deals.
We now play a meaningless match to finish a season where we are 10th with nothing to play for. Spurs also have nothing to play for, but at least they can look back at the excitement of reaching a cup final and playing some really exciting stuff at times, and having a top centre forward that cost nothing.
Probably a draw, but who cares? Thanks for nothing Roberto.
Ian McDowell
23
Posted 23/05/2015 at 18:33:09
As we have no Pienaar or Lennon and Distin is likely to get his farewell appearance, I'd like to see three at the back. Give Lukaku some support upfront.
Jagielka, Stones, Distin
Coleman McCarthy Barry Galloway (Garbutt unless he is leaving)
Barkley
Mirallas Lukaku

Doug Harris
24
Posted 23/05/2015 at 19:36:46
Summed up in ONE there Ben...
One crap of a season to be well forgotten .
Harold Matthews
25
Posted 23/05/2015 at 20:41:44
Andy. Spurs are 1 of 3 teams fighting for 5th and 6th place.
Tom Bowers
26
Posted 23/05/2015 at 21:02:31
The side he starts with, no matter what, will have the same weaknesses they have had all season resulting for the most part in mediocre performances.
Sure they snatched a win at the death last week, beat Man Ut, and snatched a point at Anfield... but these ''highlights'' have been few and far between this season.
The team lacks a midfield general and, as far as I can see, there is nobody at the club who comes close to filling that role.
We had hoped Barklay would have improved enough to have become just that but he has been a big disappointment.
Macca is consistent but doesn't seem to have leadership qualities.
The final game has nothing to offer except pride although Spurs may have a lot to gain and may make it an interesting match but I suspect, like many games I have seen in the Premier League this season, there will be the usual boring possession tactics by both sides, leaving both keepers with very little to do.
I do hope I am wrong as anything less than a bright performance by the Blues will further enhance the bad taste of a poor season, especially at Goodison Park.

Tony Abrahams
27
Posted 23/05/2015 at 21:14:16
Silence is golden, Brian – ask Bill Kenwright.
Trevor Powell
28
Posted 23/05/2015 at 21:20:47
Re #18 comment about weakness on the left, why not try Baines on the left in front of Garbutt? After all, the talk of Baines being the new Philip Lahm, give it a go!
Dave Abrahams
29
Posted 23/05/2015 at 21:30:13
Brian (#21) I'll be doing the same as yourself, leaving at the final whistle and agree with you an half empty stadium will say more than most demonstrations.
Gerard Carey
30
Posted 23/05/2015 at 21:27:05
Big summer coming up, a new keeper, a centre-half, a decent attacking midfielder and a good striker needed. Oh and a proper right winger too. Bill needs to throw 㿞M on the table and everything is sorted. We can dream, eh!!!!!
Mark Riding
31
Posted 23/05/2015 at 21:55:59
Trevor (#28),
Baines had an op last week and is on crutches.
Andy Walker
32
Posted 23/05/2015 at 22:07:58
Cheers Harold, I've lost touch with the top half of the table!
James Flynn
33
Posted 24/05/2015 at 01:15:25
Off-topic and then some; end-of-season, so no harm done. Thus:
The song Raglan Road. Purchased, on-line, a version by Van Morrison (my wife's favorite) and the Chieftains. Never heard of it. Just another tune of Van's to have. Discovered there's many renditions of that tune.
What's the tradition attached?

Michael Polley
34
Posted 24/05/2015 at 02:02:34
Glad to see the back of this season. What a mess!!!
Let's finish on a win. COYB
Ajay Gopal
35
Posted 24/05/2015 at 07:04:05
No room for sentiment, IMO. Only if we are leading 3-0 with 5 minutes to play, should Distin get a runout on the hallowed grass.
My last team wish:
Howard
Coleman Jagielka Stones Garbutt
McCarthy Barry
McGeady Osman Mirallas
Lukaku
Subs: Robles, Distin, Galloway, Besic, Barkley, Kone, Long.

Eddie Dunn
36
Posted 24/05/2015 at 07:51:27
I think people are getting the wrong idea about the so-called "lap of honour". Unless a team have actually won something, it is more of a chance for the team to say thank-you to the fans (and, of course, for the fans to reciprocate).
Let's face it, if Hull stay up today, I think that they will do a lap of honour, and their fans will love it. Likewise, so will the Magpies despite their awful season.
If we beat Spurs, I can see 99% of fans staying to take part, but lose, and the feelings of inner dissatisfaction, and resentment will come back to the surface, and there may be a few more empty seats.
Andy Crooks
37
Posted 24/05/2015 at 11:26:47
James # 33, Raglan Road is based on the poem by Patrick Kavanagh. I'm not so keen on Van Morrison but Luke Kelly's version is worth a listen.
Kavanagh was a remarkable man. He had only a basic formal education but is an example of being born with genius. "Pegasus"and "The great hunger" are good examples of his work.
Off topic, I expect a good result today, from us and Stoke.
Colin Glassar
38
Posted 24/05/2015 at 12:00:26
Thank god this season is almost over. A 2-0 home win today and an in-depth post mortem ASAP, please.
Phil Walling
39
Posted 24/05/2015 at 12:28:52
Hey, Colin. A 2-0 win today and everything in the garden will be lovely. Our man will probably get an extended contract!
Harold Matthews
41
Posted 24/05/2015 at 10:26:18
People want a creative midfielder but this Blue Pirlo will need target-men with a brilliant first touch who are able to beat the offside trap with quick intelligent runs. The sort of run Cleverley made against us at Villa. Mirallis might manage it but I can't think of anyone else.
Andrew Ellams
43
Posted 24/05/2015 at 13:18:13
I think we will nick it today.
For a potential number 10, I haven't seen Lewis Holtby's name on here for a while
Colin Glassar
44
Posted 24/05/2015 at 13:31:53
Wasn't he given one in the summer Phil?
Joe Foster
45
Posted 24/05/2015 at 13:44:44
2-0 win? Probably more chance of RM and Distin walking onto the pitch holding hands and then French kissing each other in front of everyone.
Liam Reilly
46
Posted 24/05/2015 at 13:35:35
This sentimentality re Distin is nonsense. They guy has become very wealthy playing for Everton. He's done OK; so thanks and bye.
I doubt we'll see him in the stands any time soon. If we're giving anyone 10 minutes at the end of the game; I'd rather see one of the younger lads like Ledson or Browning et al.
Neil Humphreys
50
Posted 24/05/2015 at 14:10:57
Since we haven't started so far this season, I won't mourn it's passing. However, I would love it, love it if Newcastle went down.
I know Pardew has gone but I'd love to ram his words down his throat!!!
Ian McDowell
53
Posted 24/05/2015 at 14:18:26
Everton
24 Howard
23 Coleman
26 Stones
06 Jagielka
32 Galloway
16 McCarthy
18 Barry
11 Mirallas
20 Barkley
21 Osman
10 Lukaku
Substitutes
01 Robles
07 McGeady
09 Koné
14 Naismith
15 Distin
17 Besic
19 Atsu

Chris Gould
54
Posted 24/05/2015 at 14:40:14
Neil, I suspect Pardew would like to see them go down as well.
Geoff Evans
55
Posted 24/05/2015 at 14:38:02
Gerard #30
Good thread. Your obviously a bright eyed optimist rather than a disillusioned cynic.
What we'll probably get is what the board think they can reasonably get away with having successfully, over a period of time, dumbed down expectations.
---
Add Your Comments
In order to post a comment, you need to be logged in as a registered user of the site.
Or Sign up as a ToffeeWeb Member — it's free, takes just a few minutes and will allow you to post your comments on articles and Talking Points submissions across the site.
© ToffeeWeb