Mirallas signs new three-year contract
by

93 Comments [Jump to last]
| 07/08/2015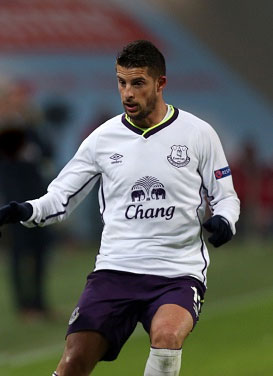 (Ronny Hartmann/AFP/Getty Images)
Breaking
Kevin Mirallas has joined James McCarthy in committing his future to Everton by penning a new deal that ties him to the club until 2018.
The Belgian forward agreed terms this week and signed the paperwork at Finch Farm today to end speculation over his future.
Mirallas, a Ł5.3m capture from Olympiacos three years ago, had two years left on his existing deal after Everton took up the option to extend it by an extra season to maximise his transfer value this summer should the player have elected to move on.
The 27 year-old had spoken of his desire for Champions League football earlier this year and hinted that were the Blues unable to achieve it bia the Europa League last season, he might need to look elsewhere to achieve his dreams.
Manager Rpberto Martinez has successfully convinced him that his future lies at Goodison Park however and the Mirallas, expressed his delight to evertonfc.com.
"We all know the goalscoring threat and talent that Kevin brings to the team and it was very important to end the uncertainty regarding the next step in his career," Martinez said.
"To say I am delighted is an understatement. What this means is that Kevin has chosen Everton for the next chapter in his career and, as you can imagine, his potential impact and contribution will be a major part of what we are trying to achieve.
"That continuity in our squad and renewed focus will provide the strong platform on which we will build the 2015/16 campaign."
Mirallas has scored 29 goals in 85 starts and 25 substitute appearances for the Toffees, including 11 goals in 24 starts last season.
He said: "I'm really happy to commit three more years to the Club. I've always been happy here, this is my team and my family is settled here, too, so it was a very easy decision when I sat down with the manager and the Chairman.
"My goal is to help the team and our objectives are to aim as high as we can. This is a club that wants to win trophies and compete in European competition and the fans could not be more supportive in helping us to achieve these goals.
"The fans are a huge part of this Club and I hope they are as pleased as I am to have committed my future here."
---
Reader Comments (93)
Note: the following content is not moderated or vetted by the site owners at the time of submission. Comments are the responsibility of the poster. Disclaimer
Joe Halligan
1
Posted 07/08/2015 at 15:41:23
Mirallas signs new three year deal!!
Mike Manchester
2
Posted 07/08/2015 at 16:05:01
BOOM
Sharabi Singh
3
Posted 07/08/2015 at 16:05:54
Sound. Beat Watford tomorrow and it will have been a great week.
James Flynn
4
Posted 07/08/2015 at 16:05:58
Good to hear.
Stay healthy, Kevin, and go get 'em.
Neal Kernohan
5
Posted 07/08/2015 at 16:06:17
Happy days!
Conor Skelly
6
Posted 07/08/2015 at 16:07:23
Great news. Well done Jimmy and Kev.
Brent Stephens
7
Posted 07/08/2015 at 16:08:48
Positive.
Steve King
8
Posted 07/08/2015 at 16:10:44
Great News.
Maybe he'll stop sulking now and get back to the player he was 6 months ago!
A front 3 of Mirallas, Lukaku and Deulofeu is real quality. Shame they're all made of glass and we probably won't see it for more the 10 or 15 games!
Jamie Crowley
9
Posted 07/08/2015 at 16:13:45
How do you say it? Chuffed to bits!
Excellent news.
Joe Foster
10
Posted 07/08/2015 at 16:14:12
Now this is good news. I have always backed KM when others disapproved of his actions. I believe he has a winner's attitude and his continental foibles can rub us up the wrong way sometimes but this is a very important extension for us.
Jamie Crowley
11
Posted 07/08/2015 at 16:14:42
Hell yes! Great news. Get in!
My 6-year-old will be thrilled. Super Kev is his favorite player.
Colin Glassar
12
Posted 07/08/2015 at 16:16:55
Not been a good week for the ITK media chappies has it? Good luck Kev?
Danny O'Neill
13
Posted 07/08/2015 at 16:19:16
Said it last night but Sky and the Mail will be massively miffed now. Two Tottenham certs gone nowhere! Now to Stones and the new signings we need!
Christy Ring
15
Posted 07/08/2015 at 16:26:55
Positive signs.
Now can Bill get the cheque book out please.
Allan Barratt
16
Posted 07/08/2015 at 16:28:40
Great news, just needs playing through the middle now.
Anthony Hawkins
17
Posted 07/08/2015 at 16:32:19
Awesome news.
Winston Williamson
18
Posted 07/08/2015 at 16:39:53
Very good news. Let the goals fly in. Best one-on-one finisher we have. Should be paired with Lukaku up-front in certain games...like tomorrow!
Bob Hannigan
19
Posted 07/08/2015 at 16:40:17
Now stay healthy and find the back of the net on a regular basis.
Too much to ask?
Jamie Barlow
20
Posted 07/08/2015 at 16:45:04
Great news. All these players who have no faith in Martinez signing new deals.
Lost the dressing room?
Andrew Clare
21
Posted 07/08/2015 at 16:45:58
The fact that Mirallas and McCarthy have signed new deals might actually mean that some good signings are on the way.
David Booth
22
Posted 07/08/2015 at 16:50:46
Ohhhh Kevin Mirallas.
Love this fella - a feisty, cocky, maverick, matchwinner.
Absolutely delighted he's signed.
Can't wait to get to Goodison tomorrow.
COYB!

Matthew Williams
23
Posted 07/08/2015 at 16:55:18
Jeez... play him up front or sell him would've been my mantra on this one. Another deal we'll rue. Remember the penalty miss last season folks?!
Paul Tran
24
Posted 07/08/2015 at 16:55:50
So, does this mean that these players really believe in Martinez.......or does it mean they didn't get any better offers?
Either way, it's great news; let's hope they start showing that commitment from tomorrow onwards!
Tony I'Anson
25
Posted 07/08/2015 at 16:56:19
My immediate thought too Andrew #18 and maybe they've been told that John Stones is definitely not being sold as well. I really hope the players who are signing up have been told of the targets coming in.
In true theatre style, I wonder if Bill will have the new boys on the pitch before the game holding up their shirts????
Max Fine
26
Posted 07/08/2015 at 16:58:40
Excellent news. When it looked like keeping one of either Lennon or Mirallas it was a no-brainer in my mind that we opted for Kevin's goals and moments of magic over Lennon's work rate.
Well done RM, never in my time supporting Everton have we managed to keep hold of so many players coveted by other teams.
COYB!
Paul Smith
27
Posted 07/08/2015 at 17:00:14
I'm pleased the two lads have signed as it gives us more security. It would be of interest to see him given a chance in the number 10 role until we actually buy someone.
Ross Edwards
28
Posted 07/08/2015 at 17:00:27
Fantastic news. And again the Mirror have been made to look like idiots.
Lyndon Lloyd
29
Posted 07/08/2015 at 17:11:21
Matthew W (21):
Another deal we'll rue. Remember the penalty miss last season folks?!
I do, Matthew. I also remember the 11 goals he scored for us which more than made up for it.
Mirallas is a cracking player on his day and even though those "days" aren't as frequent as we'd like, we're far better off with him at the club than out of it. That kind of talent would cost a lot of money to acquire these days so I'm happy as long as his heart is with us.
Les Newsham
30
Posted 07/08/2015 at 17:12:52
Great great news on Mirallas and McCarthy.
I only hope we're not being softened up for the loss of Stones.
Steve Brown
31
Posted 07/08/2015 at 17:15:50
Now his head is clear, I am hoping for the real Miralles to return. Having a winger who cant get you 10 goals a season is gold for a low-scoring team like us.
James Flynn
32
Posted 07/08/2015 at 17:18:02
Good news. Like the both of them.
Hopefully it all works out.
Steve Brown
33
Posted 07/08/2015 at 17:18:16
Plus he sticks the boot in against Liverpool... I wish more of our players had a bit more of an edge like him. Too bloody soft by half.
Paul Smith
34
Posted 07/08/2015 at 17:24:58
Brilliant news! Our most exciting player last season.
Must admit the players seem united behind our man.
Jon Cox
35
Posted 07/08/2015 at 17:28:30
Great news. I reckon our Kev could be the new No 10.
We all know who is No 6... so the question is, Who is No 1?
Paul Ferry
36
Posted 07/08/2015 at 17:30:18
This really is excellent news!
Roberto Martinez has done an absolutely terrific job in selling his sense/vision of the club to Kevin and James and getting them both to commit to it for the longer term.
Much maligned at times -- and often (as with uninformed and ultimately incorrect insinuations about his relationship with this pair and their views of him and his club) without any secure basis for doing so -- Martinez seems to have the players on his side (now that Distin has been booted out) and this can only be good for 2015-16.
If he can buy well in the three parts of the pitch he wants to improve then the squad will be in pretty good shape for the testing ten matches ahead (trouble is, needless to say, that there are a handful of games before the window shuts).
The 'Stones affair' rolls on but Martinez has done no wrong so far as I can see in how he has handled it and himself. Far from it, we ought to be cheered by his recent stance and words aimed at Terry and the King's Road tossers.
A very good week for Martinez up to now! But tomorrow is another day.
I have more than a few issues with Martinez but credit where credit is due and one of his strengths IMO -- in contrast to a lot of what has been said -- is his relationships with his players. The Wigan thing has been done to death and it's boring. How about a different spin: plenty of his former players seem very happy to play for Martinez again.
Stephen Brown
38
Posted 07/08/2015 at 17:48:46
Huge signing this! Wingers who score 10+ goals per season are on the market for upwards of £20 million.
Come on Kev, a brace tomorrow please.
David Chait
39
Posted 07/08/2015 at 17:54:13
The is the news I've been wanting to hear! Even more so than McCarthy...
All that bollocks beginning if the season that he was off and fans saying value ١-5M. Unbelievable! One of our most valuable players and few real goal threats!
Happy!
Colin Malone
40
Posted 07/08/2015 at 17:54:14
Well done, Kev.
One game does not make a season, so let's get behind the lads. COYBB.
Rob Halligan
41
Posted 07/08/2015 at 17:59:59
Just goes to show that nobody on here has got a bloody clue what goes on behind the scenes at Everton. 48 hours ago every Tom dick and Harry were saying McCarthy and Mirallas were off. 48 hours later they've both signed new contracts.
So despite the fact that we haven't signed nobody since 1st July, stop bleeding moaning about lack of signings. Who knows what's around the corner? Exactly, NO-ONE!!
William Cartwright
42
Posted 07/08/2015 at 18:02:08
Thanks Roberto . . . . . .
Jay Harris
43
Posted 07/08/2015 at 18:02:30
Great to keep some stability and more importantly in Kev's case some goals in the squad.
Now for Charlie Austin, Van Dych and Nolito and new owners, manager and stadium and we can become great again.
Suppose you cant have it all then eh?
James Flynn
44
Posted 07/08/2015 at 18:06:44
Rob (36) - So you're mocking everyone else ToffeeWeb lacking a "bloody clue", then acknowledging you don't either?
Nicely done.
Duncan McDine
45
Posted 07/08/2015 at 18:07:51
I'm absolutely made up with this news. I was convinced he'd be on his way in Jan or next summer (obviously he still might, but it will be for a proper fee). COYB
Charlie Burnett
47
Posted 07/08/2015 at 18:14:43
Totally agree with you Rob but, mate, we are negative because all the actions of being tight and last minute sneakiness our chairman puts us through.
So you haven't had the thought that Stones is going to go to Chelsea at 10:57 and Bill comes out and blames Chelsea for stalling the deal which didn't give us enough time to bring someone in?
Where's the Arteta money, Bill?
Tony Draper
48
Posted 07/08/2015 at 18:21:21
Triffic news. Talented lad KM and
occasionally
frustrating, but definitely one that I'd rather have in our Royal Blue jersey than playing against us.
Swiftly following up Jimmy Mc's new contract with KM's is good work.
Yes, I really would like the three new bodies as well, but keeping these 2 is far better than having to bring in replacements.
And I also most heartily agree with the comments above regarding how sweet it is to defiantly rubbish the "red rags" fairy stories.
Paul Andrews
49
Posted 07/08/2015 at 18:31:38
Lyndon, spot on.
On his day he is a match winner. We need him to perform in 3 out of 4 games not his 1-2 out of 4.
A very good player for us to sign up on a new contract.

A nasty streak to his play as well. Nothing wrong with that.
John Atkins
50
Posted 07/08/2015 at 18:34:02
Delighted with this news
Quality player when he's arsed hopefully he'll stay fit and if he does the we'll do well
Teddy Bertin
51
Posted 07/08/2015 at 18:40:13
More good news. Hopefully this will help team spirit to get back to where it was before Eto'o and penalty gate made us hit rock bottom
Alastair Donaldson
52
Posted 07/08/2015 at 18:41:45
Back of the net!!!!!!!!!!!!
Keith Glazzard
53
Posted 07/08/2015 at 18:42:05
Kevin? He's got to be an Evertonian with that name, hasn't he?
Good lad! PL defenders will be most upset that you haven't moved to Italy or somewhere. NSNO!
John Raftery
54
Posted 07/08/2015 at 18:42:37
Three years is about right for a good player, but one who may not last long into his thirties. Up yours, national media. Great to see the money being invested in players coveted by other clubs.
Sean Dullard
56
Posted 07/08/2015 at 19:01:41
Great news! Now on with the new signings, please!
John Maddock
57
Posted 07/08/2015 at 19:02:53
I hope this does not appear to be a daft comment, but given our lack of depth up front and the fact that Barkley plays in an advanced No10 role. Would it not be an idea to push him on as an an out an out striker? Surely at his age he may adapt into a decent option up top.

Keith Monaghan
58
Posted 07/08/2015 at 19:06:39
Agreed David Chait (35) - couldn't have put it better myself. For me, this is our best signing this summer so far - I'd be happy to see it bettered though! And believe it's possible.
Graham Holliday
59
Posted 07/08/2015 at 19:10:33
Just listened to the interview with him on the OS, and when asked "11 goals last season, is that the target this year?" his answer was "the target is trophies, to win trophies". That is exactly the single-mindedness we need more of... even if it translates to greediness every so often. Bag 15-20 and win us a trophy, Kev! COYB
Jamie Crowley
60
Posted 07/08/2015 at 19:10:41
William Cartwright at 38 -
Favorite post of the day. And I second it.
Thanks Roberto! Well done gaffer!
Jack Cross
61
Posted 07/08/2015 at 19:16:54
Great news Mirallas signing new deal. Great exciting player to watch, even if a bit inconsistent at times. But maybe now he's penned a new deal he will get his head down and show us what he is really capable of achieving on a more regular basis. Brilliant player though and glad he's staying.
Things are starting to look that bit different now to the new season. it's strange how tying up a couple of player's that are all ready with us can seem like new buys.
Two further additions would give us a real chance of pushing on and competing with the top six again. In my view.
Dave Ganley
63
Posted 07/08/2015 at 19:20:52
So pleased Kev has signed up again. With him and Jimmy Mac signing it has put a smile on my face again
Darren Hind
64
Posted 07/08/2015 at 19:23:39
The penalty wasn't just an isolated incident, there were times when he just could not be arsed.
It's nice to have a player who can win you games, but they all need to be prepared to sweat blood for the cause. Having talent does not excuse lack of commitment.
I remember calling his performance at Villa the worst and least committed I have ever seen from an Everton player — I did not say that lightly. Match winner one day, complete passenger the next. Not acceptable.
I think he may have been surprised that there was not a queue of top clubs chasing his signature, that may not be a bad thing. Perhaps it will focus his mind.
Even when it isn't going well, he still needs to contribute.
Jon Withey
65
Posted 07/08/2015 at 19:26:26
Good news, squad isn't falling apart after all.
When all is said and done, Kev and Rom are our match-winners - the stats say as much.
With Del and another attacking signing we carry some threat.
Give us a decent CB and a play-maker too and we're ready.
Iain Thomson
66
Posted 07/08/2015 at 19:32:46
Holy shit ,,well guess his agent being a massive bellend got him a bigger payrise...happy though if he left to replace him in the current market would be horrendous...
Id happily see him playing 10 role behind lukaku...think he's a bit wasted out wide
Paul Thompson
67
Posted 07/08/2015 at 19:39:42
We all know his faults, but he is the only one on the books who can turn a game single-handed and one on one with the goalie, he's a cool finisher. Delighted.
Colin Gee
68
Posted 07/08/2015 at 19:50:55
Good news for me, Super Kev when he can be arsed is a top top player.
Just needs a run free from injuries now. Just keep him away from penalties!
Keith Glazzard
69
Posted 07/08/2015 at 19:51:06
John M (50) if Rom can't start at CF should we put Kevin or Kone there?
Anyone with a brain would have to go for Kevin, I reckon.
Peter Mills
70
Posted 07/08/2015 at 20:02:55
Two posts on here say it, and others imply it - "when he's arsed" he's a very good player. I agree. I just hope he will get that arse into gear a bit more often.
Denis Richardson
71
Posted 07/08/2015 at 20:14:36
Very good news as there was/is no way I'd have been happy swapping Mirallas for Lennon.
Whatever people say about the effort he puts in, the simple fact is he's by F.A.R the most creative goal scoring threat we have in midfield. Take Rom and Mirallas out of the team and we have no goals whatsoever.
Eddie Dunn
72
Posted 07/08/2015 at 20:23:46
This is good news- it seems that Bobby and Bill have been busy behind the scenes. Now let's see if we get Austin and a couple more, and if we keep Stones too, we will really have a boost.
Gavin McGarvey
73
Posted 07/08/2015 at 20:24:01
Really happy about this. Now if we can hang on to Stones and add a couple who can improve the first team, we can start to be a bit more optimistic.
Rob Halligan
74
Posted 07/08/2015 at 20:31:21
're James Flynn #40. Exactly were do I say I have a clue what's going on behind the scenes? I don't. Unlike most deluded TWebbers who think they know every single thing that goes on at FF/ GP. They know sweet FA.
Andy Walker
75
Posted 07/08/2015 at 20:32:18
Fantastic news! I really like Kev and this puts all the shit that was written about him because he missed a penalty to bed. I couldn't believe the stick he got at the time, everyone seems happy now though.
Tony Abrahams
77
Posted 07/08/2015 at 20:50:30
Darren you can't half be a miserable killjoy, even if I totally agree with that assessment you have just made!
Colin Glassar
78
Posted 07/08/2015 at 20:56:58
Totally agree with Darren. He can be a match winner when he feels like it but ONE (1) assist last season sums him up for me. He's a greedy sod who refuses to pass to teammates in better goal scoring positions. If he could sort that out he'd be a great player.
Paul Jeronovich
79
Posted 07/08/2015 at 20:57:27
Great news. great player.
Matt Garen
80
Posted 07/08/2015 at 21:05:36
Ok football manager here we go.
Howard, Coleman, Stones, Jagielka, Baines, McCarthy, Cleverly, Barkley, Deulofeu, Mirallas, Lukaku. That could do some damage.
Dean Adams
82
Posted 07/08/2015 at 21:22:46
I don't get that he is greedy. He had the most assists last season and is one of the few who makes the effort to shoot. THat is not greedy and to be fair, if you looked up and saw some of our players free and unmarked, you would think twice!!
Raymond Fox
84
Posted 07/08/2015 at 21:38:26
Great news about Kev, he's one of the few in the side that can make a goal out of nothing.
As a boringly constant supporter of Martinez (to some) to follow on from what Paul Ferry has already said the players who have the inside story of what's happening with the manager and the club in general have always seemed to be behind RM. That goes for present players and past players that have been under him at other clubs.
Make no mistake though after tomorrows game we have an awful run of fixtures which were going to struggle to get points, so lets not go into panic stations too quickly, its a long season!
Andy Codling
85
Posted 07/08/2015 at 21:43:41
great squad on paper, if only the manager could play to their strengths !!!!!!
Alex Jones
86
Posted 07/08/2015 at 22:02:49
Some good news at last. I am slightly cynical about the timing of this and McCarthy's the day before the season starts when we haven't really strengthened. Both players were here last year when we did badly!
If we played Matt's team above (72) though i'd be much more optimistic.
Still feel we need another top quality winger, striker and backup experienced cb.
Tony Draper
87
Posted 07/08/2015 at 22:12:12
"The penalty wasn't just an isolated incident, there were times when he just could not be arsed."
Sorry Darren @, but that's a matching colander pair of statements.
The penalty was an isolated incident. There was one such incident.
Then, as an example of a time "when he just could not be arsed", that penalty really isn't one.
He does look too uninvolved occasionally (and that is too frequently for Me).
Jon Cox
88
Posted 07/08/2015 at 22:51:42
This is all great stuff, but the question still stands,
As a manager can Rob Mart,
Motivate?
Time, as always, will tell.
Keith Glazzard
89
Posted 07/08/2015 at 23:33:19
Colin C (70) I generally go along with you, and it's hard to assess KM. All I can see from this news is a player who will settle down, play for the club, and keep his career on a high. No more penalty garbage when he - with some possible reason - thought the team was going to the dogs.
I suspect that there has been much more going on in the dressing room than we will ever know. I think Roberto is managing the public image of that.
Jimmy and Kevin in two days is a sigh of relief, not a strategy.
Colin Glassar
90
Posted 07/08/2015 at 23:38:58
Hope you're right Keith. He has the talent if he combines that with a bit more awareness he'll be great. Dean, the one assist last season was taken from ssn.
Chris James
92
Posted 07/08/2015 at 23:41:38
Good news for the club, now if we can just keep Stones and get in Austin, Shaqiri and a defender, plus ditch the crappy tippy tappy passing we could have a good season!
Rob Hooton
93
Posted 07/08/2015 at 23:42:57
Matt 72 - Great potential for that team, if we can get them all fit and firing for a sustained period it would be "phenomenal" and if by some miracle they all peak together we could achieve something special again against the run of play. I like to believe we are the real "chosen ones" and will continue to punch above our weight because we are Everton.
Let's back El Bob and the boys to the rafters and hope that Bobs first season was the true reflection, even the best managers have mostly had second season syndrome. I lost patience with him last season but with another CB we have a very strong squad - I certainly agree with everyone who says Mirallas can be our No. 10 and am over the moon he has signed an extension. With the Euro's coming up a lot of our young guys have a lot to prove this season and I think we will see them bust their balls to get in their national squads.
Keep the faith, let's believe something special is going to happen and the players may just believe it too.
COYB!!
Steven Jones
95
Posted 07/08/2015 at 00:05:46
Lovely news ....
When I saw Kev at the Swindon friendly it was evident that he was going nowhere .
Sometimes agents need to be educated by their client after the club and the fans have shown Kev we care and love him ....
Think he has got to the stage of his career that he will not go to a Champions League team ...
Now I hope he now focuses on EFC and along with Lukaku we go to town on teams ...
Laurie Hartley
96
Posted 07/08/2015 at 00:11:16
The signing of new contracts by McCarthy and Mirallas are good news for several reasons that come to my mind.
Take those 2 out of the squad and things would be looking very bleak.
It will give the rest of the players a big lift.
It sends a message to the other clubs that they can't just come and cherry pick players from Everton.
It may help to settle the John Stones situation down.
It also suggests that the players are behind Martinez - we fans may have differing about the manager - but the players have to believe in him.
New season - new hope that a repeat of Martinez's first season is possible.
Up the blues!
Michael Polley
97
Posted 08/08/2015 at 00:16:36
Great news. Hopefully this is a positive sign of things to come. Three points tomorrow will end the week nicely .Hopefully both Mirallas & Lukaku are fit, and give the fans something to shout about. COYB
Paul Kelly
98
Posted 07/08/2015 at 00:16:39
A genuine game changer, who are few and far between.
We know his faults but made up he's still here. Roll on Watford.
Mike Childs
99
Posted 08/08/2015 at 01:12:50
Three cheers for the home team hip hip hooray, hip hip hooray, hip hip hooray!
Trevor Peers
102
Posted 08/08/2015 at 08:57:52
Rob 67; I don't think any TW's has been deluded into knowing what was going to happen with Mirallas or McCarthy, just a the dreaded feeling that the situation was allowed to linger on for so long without knowing how it would be resolved.
The outcome has been great, but nobody knew how this would end up, and most people's concerns were totally justified. It's not a case of point scoring or proving who was right or wrong, but what is best for the team that's important.
Henrik Lyngsie
103
Posted 08/08/2015 at 12:41:26
Really good news. Mirallas is the player we can not afford to loose. I know a lot of people find him arrogant and selfish but that is sometimes needed. He is a goal scorer, he can make assist, he is a constant danger for the opponents. (And he took down Suarez first time I had my kids on Goodison not to forget).
For me he is class and can make the difference. If we were to replace him it would cost £25 million to get the same competencies.
Now Kevin don't let me down
Priya Bowley
105
Posted 09/08/2015 at 12:31:59
I'm really glad. I didn't like to hear that we might sell him.
Colin Williams
106
Posted 10/08/2015 at 05:00:07
Some people want to keep Mirallas! The guy who doesn't care about us and also is giving us nothing on the field! And some blues want to sell Stonesey! You're mad!... Why? This young lad, combined with many other young talented players we are fortunate to have within our squad.

This could quite easily create a massive forward shift in our player development ... on and off the playing field (top talent creates talent). Keep them! give them opportunities within the team/squad...develop them! Give them the support they deserve and hopefully...with a bit of luck watch us grow and wipe the smile off that Chelsea twat's face!
Add Your Comments
In order to post a comment, you need to be logged in as a registered user of the site.
Or Sign up as a ToffeeWeb Member — it's free, takes just a few minutes and will allow you to post your comments on articles and Talking Points submissions across the site.
© ToffeeWeb