Martinez determined to keep hold of 'sensational' Stones
by

58 Comments [Jump to last]
| 10/08/2015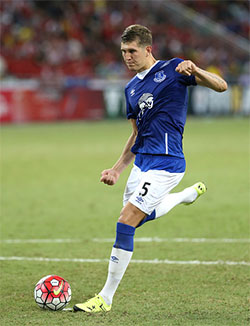 Roberto Martinez sees his prized defender's partnership with skipper Phil Jagielka as one of the keys to his Everton side as speculation builds around a possible third bid for John Stones from Chelsea.
Despite having twice told the Londoners that Stones is not for sale, media talk suggests that the Toffees should brace themselves for another formal offer in the coming days, with many citing a rather arbitrary £34m as the all-important figure. Two attempts from Stamford Bridge to prise the player away for £20m and £26m respectively have been knocked by the Goodison hierarchy.
Martinez admitted last week that all of the attention is affecting his usually unflappable centre half but he is confident that Stones loves playing for Everton enough that he won't be swayed by what is on offer in the Capital with Jose Mourinho and the reigning Premier League Champions.
"He loves Everton," the Catalan says of Stones in The Guardian. "He loves the club and the team and he is an incredible professional, so I don't think you would ever expect him to sulk.
"He will always react professionally. John is an incredible leader. He will always give everything to the club."
His value to the present Blues team is enormous but it's dwarfed by his potential role at the club over the next decade where he is seen by management and supporters alike as a long-term leader and captain. That has many wondering why the club would countenance selling him for a sum as low as £30-odd million now when is so important to the way Martinez wants his team to play.
"If I would like to highlight one key partnership in the team it would be John and Phil because you can take risks with those two. They will always find solutions and never get done," Martinez continued, describing the 21-year-old's performance in the 2-2 draw with Watford on Saturday as "sensational.
"When I see him on the pitch, I feel safe."
Test of character
Jagielka, meanwhile, says that while his protege is dealing with the press chatter and scrutiny "really well", he admits that it's a test of character for Stones. The ex-Barnsley man has acknowledged the role that his captain played in his development thus far and it will comfort concerned Evertonians to know that Jagielka is helping guide him through his first experience of national exposure and the lure of a big-money move.
"It's not an easy scenario, it is difficult for John," Jagielka tells The Express.
"I have told him to just keep doing what he does because there is a reason why people want to sign him. It is a little bit of test for him now.
"It is a test of character and we all know he has a good character. He is a level headed lad. It is easy for people to let it go to their heads or decide not to be totally committed.
"But if you look at his performance, then he is a good lad and these little tests in his career will make him stronger."
Mourinho mind games?
For his part, Mourinho was sticking to his assertion of last week that he is not thinking about further player acquisitions and refused to be drawn on the newspaper speculation regarding Stones following his own team's 2-2 draw against Swansea on Saturday.
"I know the market is open but the market is closed for me now," he said. "If ... I lose a player before the end of the [transfer] window and I get a new player then OK, but I don't think about the market now."
---
Reader Comments (58)
Note: the following content is not moderated or vetted by the site owners at the time of submission. Comments are the responsibility of the poster. Disclaimer
Bobby Thomas
1
Posted 10/08/2015 at 07:13:21
The high priest of hyperbole strikes again.
With such sensational first choice center halves and 2 holding players in front of them, Martinez should ask himself how we remain a defensive shambles.
Matt Traynor
2
Posted 10/08/2015 at 07:42:47
Haha Bobby (Thomas not Martinez).
To be fair, that's about as unequivocal a statement as you're ever likely to get out of RM.
If we're positive about it, he's determined he stays, so he's really painted the board into a corner. According to this, not only does he want him to stay, but the player himself is not agitating for a move. I'd like to think he's done it deliberately.
Maybe then when he is sold late on during deadline day the fans will start to ask questions. Maybe that's hope more than expectation on my part.
Colin Glassar
3
Posted 10/08/2015 at 08:18:23
I've promised myself, several times now, not to comment any further on this story. Yes, Chelsea will offer £30m this week and it will be rejected. And yes, they will come back on TDD with an improved £32m which will also be rejected.
The point I wanted to make is that I see Mario Gotze is desperate to leave Munich and is being linked to Arsenal today. Well, well, well. The golden boy who turned his back on the club, and fans, who adored him for the riches of a "bigger club". I hope players like Gotze continue to rot on the subs bench. One day, just one day perhaps these morons will realise that the grass isn't always greener......
Brian Porter
4
Posted 10/08/2015 at 08:24:03
So, if Mourinho is publicly saying the market is closed as far as he's concerned, we can obviously determine that any future bids for Stones will go further towards proving what a lying, conniving, double -dealing piece of slime he is. Let's see if his word can be trusted, which I doubt. If Stones can't see he's better off continuing his development with us, with a starting place guaranteed and potential England caps to come rather than getting the odd game or a few minutes off the bench for Chelsea then my estimation of the lad is way off course. I think and hope he knows he's not the finished article yet, and stands more chance of getting there under the watchful eye of Phil Jagielka, an experienced England international himself, and a man he already has a developing understanding with. Fir Gods sake, why don't the board get behind the manager and simply tell them we are not interested in selling Stones, who is, after all, tied to a long term contract with us? Act like the big club we used to be, Everton, PLEASE.
John Raftery
5
Posted 10/08/2015 at 08:24:41
He will not be sold unless the club receives a ridiculous bid...like £60m. That won't happen in this transfer window. The Daily Mirror teenage scribblers haven't a clue. As for Shearer and Murphy on MoTD they went into overdrive to stay onside with Mourinho and Chelsea by describing a move to Chelsea as ideal. Absolute garbage.
Julian Wait
6
Posted 10/08/2015 at 08:56:31
#5 John Rafferty - "teenage scribblers" - funny. I sat in the row in front of the press box on Saturday, for the first time ever, and at 50 I really couldn't understand how they had such young kids in the press box. What do they know? Nothing much before 1992 I would presume, as they would have been at most 8 or 9. All they know is the Premiership era with a focus on London+Manchester. It explains a lot to me about what I choose to avoid reading online (I live in the states). I agree it's going to take a "too big to refuse" bid and I don't see it coming before the Euros. It's in everyone's interests to wait at this point, I think including Chelsea's given the price point (they tried to get him on the cheap and hopefully it's over ... and if they come back with anything over 40m we can discuss again ....).
Peter Morris
7
Posted 10/08/2015 at 08:58:46
John(5),
to be fair to Shearer, he did qualify his comment with the words "if, and only if, Everton decide to sell him" and I think that gives him the right to give his opinion. Others, like that slime ball Rio Ferdinand, and a raft of red top journos,bypassed any legitimate say EFC have in the matter, inferring it is solely a decision between John Stones and the suitor club,and that for me puts them in the gutter, where they belong, as it betrays their wish to agitate for the move.
Phil Sammon
8
Posted 10/08/2015 at 09:02:44
"...you can take risks with those two. They will always find solutions and never get done."
I've turned a new leaf. Normally this kind of comment would see me screaming for the nurse...but alas, I'm a changed, more positive man.
'Serenity now...serenity now.'
Derek Knox
9
Posted 10/08/2015 at 09:10:39
I do hope one way or the other, that all this transfer talk and speculation, doesn't ultimately affect John Stones too much, that is, assuming he will still be with us come TDD.
Colin @3
You are so right with regards to Goetze, these players these days think the footballing world owes them a more than a lottery win, several times over. I sincerely hope this Shaquiri does not fall into that category, should we eventually get him.
It could be aother Samuel E'to'o, situation that disrupts training and the dressing room. I'l be glad when it shuts, (Transfer Window) providing we get a couple of quality signings in ourselves.
Brian Hill
10
Posted 10/08/2015 at 09:24:20
I am with Colin on this - Stones will stay. Phil Sammon, that was one of the funniest Seinfeld episodes ever. (Hope that's your reference!)
Dave Pritchard
11
Posted 10/08/2015 at 09:27:52
Stones was taken to the cleaners for Watford's second goal. All defenders make mistakes of course. Shows that even if we keep him we do need to sign another centre-half.
Tony Abrahams
12
Posted 10/08/2015 at 09:34:04
If there has ever been a man to jump on the bandwagon, it's Alan Shearer. Think about it, he must have a lot of friends in the media, just to keep his job.
I've never listened to Shearer and thought yes, that's good, never.
Thanks for telling us that Mouriniho is the best manager Alan, but can you tell us anything about the game itself? Jobs for the boys, has it ever been any different?
Eric Myles
13
Posted 10/08/2015 at 09:40:06
Matt #2 "Maybe then when he is sold late on during deadline day the fans will start to ask questions."
If Stones is sold on deadline day it will be because he's put in a transfer request 'cos he's a greedy disloyal twat just like Rooney and Arteta before him.
And the board will get away scott free again.
Lewis Barclay
14
Posted 10/08/2015 at 10:10:42
I thought it was interesting to see how Stones reacted to Barkley's goal at the weekend and how Barkley responded back.
I'm inclined to agree with RM based on that alone.
I'm not so sure Stones will be off ... Just yet!

Mark Pendleton
16
Posted 10/08/2015 at 12:06:43
Whatever happens, it's clear that Stones is a professional and I also think he really does enjoy playing where he's playing and with a group of lads like Barkley, McCarthy etc. Also, he is learning from a quality defender in Jagielka and anyone who suggests he will have a different or much better learning curve from Terry is speaking absolute nonsense.
He can get in and cement an England place playing well at Everton. There are only two things he'd vastly improve his chances of at Chelsea and that's winning trophies and earning a shed load more cash. We'd criticise if he went for the latter and as for trophies yes, who wouldn't like to win them but there have been plenty of players in the past who've stayed where they love (Le Tiss being the highest profile but Shearer himself at Newcastle and our own Tim Cahill spring to mind). He is also nailed on next Club captain at Everton if he stays.
David Currie
18
Posted 10/08/2015 at 13:35:28
Charlie Austin would be bad business and remember he failed a medical at Norwich before joining QPR, Ighalo would be better business at that price!
Jim Potter
19
Posted 10/08/2015 at 14:01:23
Hi Colin#3. I know you said you didn't want to comment again ....
But, as you seem to have an 'inlet' to club news (or possess an excellent crystal ball) - do you know if we have said - "We will not sell him this summer regardless of any offer". ?
And - is he happy to stay? He looked it after Barkley's goal.
And - have we actually bid for Shaqiri?
And (lastly) - who are we actually interested in signing (No 10, central defender, striker).
Sorry if you've been asked all or some of this before.
Thanks.
Ian Riley
20
Posted 10/08/2015 at 16:05:53
All a smoke screen for our poor transfer policy. Every player has a price and desires to win trophies and more money! Sadly our club cannot provide neither.
Our defensive record is becoming a sensational problem! Stones may be sold, but he will not go until the last week of the transfer window. Chelsea know how it works with Everton. If stones is not for sale tell the manager to shut up and concentrate on the pending relegation battle coming up!
Christy Ring
21
Posted 10/08/2015 at 16:09:33
Bob, just say he's not for sale at any price and leave it at that.

More importantly, would you please bring in 3/4 top players now .
Andrew Grey
22
Posted 10/08/2015 at 16:16:33
If he goes and at the moment I could see it going both ways then the least we should be doing is to be trying to get him back on loan for a year. We need one CM now and if he goes then we need two and they will both be at inflated prices.
Tom Bowers
23
Posted 10/08/2015 at 16:28:28
It needs to be sorted once and for all.
Stones is a decent player but not the finished article and I agree Everton's defending is not that good even with him playing.
It's easy to say that down the line he will be a dominant force alongside Jags. or whoever but that's pure speculation and optimism given what has happened to Everton last season and so far this season.
One hopes that RM has some sort of contingency plan if BK accepts a bigger offer ?
It appears Everton have nobody at the club who could step in right now although like Stones, Galloway and Browning have shown promise.
Distin and Alcaraz were let go and maybe that wasn't preventable but RM has failed to get experienced cover for the central defence.
James Marshall
24
Posted 10/08/2015 at 16:42:27
The way we play as a team means any centre half at the club is going to be left exposed and have his work cut out not to make mistakes - we play such a high line all the time, we end up chasing back whenever teams win the ball back or we lose possession anywhere in midfield.
I don't think it's fair to blame Jagielka or Stones for some of the goals we concede based on the above. If anyone's at fault, it's the manager for sending out a team that lines up wide open to the counter attack at all times.
He did it at Wigan, and has no clue about how to send out a team to defend as a unit. All the best teams in world football defend first, and attached second - it's not rocket science.
If Stones goes, we need a defender with pace, otherwise we're jipped.
David Booth
25
Posted 10/08/2015 at 17:42:25
Call me a cynic, but does anyone else share my dread that the reason we have been so relatively inactive in the transfer market is that any dealings will be dependant upon selling John Stones first?
Along with Mirallas up front (for his maverick, match-winning qualities), I rate John Stones as our most important player right now and would regard selling him as a hugely unambitious, retrograde, defeatist and small-minded thing to do.
Unnecessary too in the light of the £70/80m we allegedly get from Sky?
In very simple terms (and I know all sorts of other factors, such as wages have got to be taken into account), we've only spent £4m of it so far, so surely we do not have to sell any players to balance the books? And especially not the most talented man we have right now.
When Arteta and Fellaini were sold to kick-start the purchase of new players they were past their best and surplus to requirements respectively.
Stones, meanwhile, can be our totem - in the mode of Terry, Gerrard, Keane, Viera - for many years to come.
We cannot afford to let him go for whatever silly money we get offered right now - as, quite simply, he will be worth many more times that to us in the long-term.
The biggest statement of intent I can remember in almost 50 years of supporting Everton needs to be clearly made here.
John Stones is THE most integral part of any successful future Everton have any hopes of aspiring to.
Max Fine
26
Posted 10/08/2015 at 17:47:24
We have the beginnings of a sensational young team that could play together for years to come. All credit to RM, OFM never put up a fight when a so called 'big' club came in for any of our players.
And we need a defender who can head the ball... I wouldn't actually mind seeing Fellaini back for his assured clearances from opposition corners.
James Marshall
27
Posted 10/08/2015 at 17:56:29
Noises coming out of the Internet suggest we're going to knock Chelsea back again, so fingers crossed.
I can't help feel RM has said so much about how important Stones is to Everton and what he's trying to do here, that if he was sold, he'd look an absolute fool - surely behind closed doors his comments have been pre-discussed at board level? Surely?
Dean Adams
28
Posted 10/08/2015 at 17:57:22
Our best defender from corners, for many years was Tim Cahill. We really seam to have a midfield that are not doing the basics, whose fault that is, is, well, anybodys guess!!
David Barks
29
Posted 10/08/2015 at 18:10:41
Max Fine,
Quite a delusion post there buddy. Moyes never put up a fight? Really? So there was no fighting over Lescott and City, Arteta for years. Jagielka when the likes of Arsenal were showing interest in him. Baines. Moyes never put up a fight, just gladly sold the players?
And who are these "sensational" young players that is all credit to OFM. Colmean, signed by Moyes. Stones, signed by Moyes. Barkley, Everton Academy under Moyes. Mirallas, Moyes.
I look at Martinez and I see Robles, never plays. Barry, plays 90 minutes every match and is old and slow. Alcaraz, just sat on the bench collecting paychecks. Kone, injured for 2 years and is not young. McGeady, never plays. Besic, never plays. Lukaku, always stuck up top on his own with no support.
Then you name Fellaini who Martinez sold to Moyes without putting up a fight.
Colin Glassar
30
Posted 10/08/2015 at 18:11:06
I really hope De Bruyne doesn't go to City, that WBA stand firm over Berahino, and of course our very own.
I hate this predatory market were the super rich clubs think they can just walk over everyone else and no one is allowed to build for the future. I know I'm a dreamer but I really wish that the poorer clubs could come together and agree on a transfer embargo against the filthy rich.
Fran Mitchell
31
Posted 10/08/2015 at 18:21:42
Colin #3
That was awfully mean of you. Upon seeing Gotze's name, I half expected you to give one of your 'you saw it here first' comments.
Oh well, back to expectations Lennon, Gomez (that shite lad from wigan) and some overpriced Koldrup mark 2 on transfer deadline day.
Oh well
Andrew Clare
32
Posted 10/08/2015 at 18:37:58
Are we just hanging on and hanging on talking up Stones so that Chelsea will pay the highest price? With all of our transfer business dependent on the outcome.
Meanwhile all of the club's around us are signing players left, right and centre.
Harry Catterick once said. 'we talk big, we buy big, we are big. God knows what he would say now .
Harold Matthews
33
Posted 10/08/2015 at 19:18:52
I've often criticised the lad but wouldn't want him to go anywhere. Players of his class on the ball don't grow on trees. In fact, Pique is probably the only one who comes near and he was also error prone in his early years.
My main gripe is lack of movement in the transfer area. Don't tell me we need to sell Stones to raise the money because I won't believe it. There are good players out there who could be had for buttons but Martinez and our scouts are not looking in the right places.
Shaqiri will be Stoke's 12th signing. The Baggies are about to sign a £15M striker who will probably be able to trap a ball. West Ham, Southampton, Palace, Leicester, Watford, Newcastle and Swansea are bringing players in from all over the place. Most of them are new to the various managers but the clubs are taking the chance. We ought to try doing the same.
Kristian Boyce
34
Posted 10/08/2015 at 19:46:15
If this transfer window activity continues, I'd be surprised if we have any players here next year. How can we keep our top players whilst showing a complete lack of ambition in bringing anyone in? If Stones stays through this one, and no decent additions come in, I can see him along with Lukaku, Coleman, McCarthy and others looking for a way out.
Saying this, Mirallas and McCarthy both just signed contract extensions, and I would of imagined that some promises were made on squad improvement. With both looking likely to leave last month (albeit media hype), there must of been something that enticed them to stay.
Andy Walker
35
Posted 10/08/2015 at 20:08:55
The master of hyperbole's description of Barkley after Watford:
immensely
world class
fantastic
very brave
magnificent
Now he describes Stones as sensational. Pathetic.

Andy Walker
36
Posted 10/08/2015 at 20:17:47
Harold 31, I completely agree. We probably maybe we are trying but the players don't want to come to Everton. Alternatively the Board don't want to give Martinez the cash. Either way we end up with fuck all.
Tony Abrahams
37
Posted 10/08/2015 at 21:02:30
Anyone who would put up a fight when they was about to receive £27 Million for Fellaini, would need to be sectioned.
What's the good of keeping hold of players, if the team doesn't get reinforcements? What's become of us?
Ian McDowell
38
Posted 10/08/2015 at 21:07:45
Harold at 31 is spot on. This window has shown you don't need to spend a fortune. Find out the areas you need and the players are out there in the 10-15 million bracket.
Brian Griffin
39
Posted 10/08/2015 at 21:22:00
Anyone know the Portuguese for "Go take a running jump Jose"?
Jim Burns
40
Posted 10/08/2015 at 21:32:20
David @ 23. I don't share the concerns in your first paragraph - I simply refuse to believe he's going anywhere and expect the usual surprises and rabbits from hats much closer to the transfer deadline.
As for the rest of your post - you absolutely nail it spot on for me - this lad is our Mainstay for years to come.
Tom R Owen
41
Posted 10/08/2015 at 21:33:31
Agree with Colin 2
The Whole Delph to Shity summed up many in football these days
I would like to believe Stones is of better character than that.
Colin Glassar
42
Posted 10/08/2015 at 21:42:17
Tons of examples Tom. Look how lost and out of sorts Remy and Bony look after their dream moves. The likes of Sinclair, Moses, Rodwell, Routledge etc.....all moved to bigger clubs and, with the exception of Routledge, have gone backwards in their careers. But most footballers are too thick to make the right choices.
Steve Guy
43
Posted 10/08/2015 at 21:56:59
Reports suggest another bid from Chelski. When does No mean No ? If he is daft enough to go and spend his season playing for the reserves more fool him and more fool The Dear Leader. He'll still be wanted next year and we'll get £40m plus. Chelsea are getting him on the cheap at £34M. The whole saga is repulsive.
Colin Metcalfe
44
Posted 10/08/2015 at 21:59:32
I watched the the Watford game again and yes Stones did show what he is capable of and yes he got the official MOTM however he was slightly at fault for the first goal when he missed the header at the near post and for the second he got well and truely turned inside out !
He is no where near the finished article and I think he knows it , he is a young lad learning his trade and a big transfer to Chelsea would be massive gamble on his behalf it's just something he not ready for .
I believe he will stay because it's simply too early for him and his agent and the Everton board have a responsibility for his well being and career .
Andy Walker
45
Posted 10/08/2015 at 22:14:35
It's an opportunity to join one of the riches clubs in the world, in one of the greatest cities in the world, with one of the best CB and manager in the world. He moved from Barnsley to a much bigger club because he is ambitious so he'll be up for another move. The only thing that can stop it is Everton, but if Chelsea offer enough money he'll be gone.
Get the deal done sooner rather than later so we ain't left holding the baby on deadline day. We need some time to get in replacements.
Mark Dunford
46
Posted 10/08/2015 at 22:36:49
Assuming Andy Walker (43) is another wind up merchant. The real sorrow is that there is a recognisable truth in elements of what he says, but you need to get past the provocative crassness of his first sentence. It is all overstated yet the argument is there.
Still want Stones to stay. Excellent prospect who needs to play regularly.

Harold Matthews
47
Posted 10/08/2015 at 23:00:02
Mark. I sincerely wish I was smart enough to be accused of "provocative crassness". On TW that's almost like winning a medal.
Jamie Sweet
48
Posted 11/08/2015 at 02:32:04
"If I would like to highlight one key partnership in the team it would be John and Phil because you can take risks with those two".
What, that massive risk of sticking two defensive midfielders in front of them?
Come on Roberto, time to break up the Barry & McCarthy partnership and take that risk every now and again (from the 1st minute!)
Phil Sammon
49
Posted 11/08/2015 at 03:30:49
Jamie
Or perhaps he's talking about other risks...such as not spending a moment on practicing defending corners.
Phil Walling
50
Posted 11/08/2015 at 07:23:02
Mirror site reporting this am that Stones will go for £34M but only on final window day as he is due a LOYALTY BONUS !
You couldn't make it up !
Darryl Ritchie
51
Posted 11/08/2015 at 07:27:21
John Stones will leave Everton sooner or later, because the club won't be able to pay him the wages he can earn at a richer club. (Notice I didn't say "bigger") The thing is, the longer we can entice him to stay, the larger transfer fee we can demand.
He's pretty good now, and only going to get better. If, and the longer he stays, the bigger the "if" gets, if he decides to commit to Everton long term, he will become a legend.
Money's not everything, just about, but not quite.
Darryl Ritchie
52
Posted 11/08/2015 at 07:29:25
Good to hear from you, Phil.
Darren Bailey
53
Posted 11/08/2015 at 09:05:34
Portuguese for "go take a run and jump" is something like "ir dar uma corrida e salto" but Martinez still wouldn't use it just like at no stage through this whole debarcle have I actually heard him say "John Stones is not for sale". I may be wrong and please correct me if I am but all I hear from him is that he's a phenominal talent/player with lots to learn still, Everton is the best place for him to do that and the best one "we don't want to sell our best players". Well blow me down with a feather, no shit sherlock, of course we don't want to sell our best players! If you listen to him when asked about it he always goes so far around the houses he runs out of petrol and by the time he gets to the point people have actually forgotten what the original question was.
There's two ways to get the point across if the player is not for sale under any circumstances:- 1. Say "Not for sale under any circumstances". and 2. Do what Palace and Swansea did with Bolaisi and Williams and stick a stupid price tag on his head. There was interest in those two players and they came out and said their value was £25m or something like that. Then it all went quiet as nobody would be willing to pay that. Martinez should have said something like "£100m and he's yours". If they was to then pay that then I'd drive him there myself and name the new staduim the "John Stones Stadium".
Ray Roche
54
Posted 11/08/2015 at 09:48:53
Just logged on.On the right of my screen was an advert for the "Donkey Sanctuary" with a photo of a forlorn looking donkey. I thought at first it was our new CB signing....
Paul Mackie
55
Posted 11/08/2015 at 10:17:16
@Phil 48
'You couldn't make it up !'
Actually I suspect that's exactly what the hacks at the Mirror have done
Phil Walling
56
Posted 11/08/2015 at 10:18:40
Darren, of course RM does not wish John S to leave the club. But neither did Brenda want to lose Sterling - and we all know what happened !
But these days managers are but one piece in the jigsaw. If the money is right ( and that figure is agreed between the clubs ) and the player wants it, it's sure gonna happen.
The days of player serfdom went out in 1960 - blame Jimmy Hill and George Eastham if you like - but not Roberto in this matter, please !
Peter Morris
58
Posted 11/08/2015 at 11:47:16
Phil(54),
The Sterling situation was very different to our situation with JS.
Sterling had refused a new contract, signalling his intention to run his existing one down, and then, through his slime ball agent, embarked upon a deliberate campaign to draw LFC into a war of attrition. JS, on the other hand,has in the last 12 months signed a very long term deal at EFC, by today's standards anyway, and has thus far conducted himself in an exemplary manner(as he should) both on and off the pitch. Now I'm not so naïve as to claim that this removes all threat of us losing JS, but it does take away, at least until such time as the player changes his position, one of the main events that brings about a contracted player moving on, i.e. they force it through. In our own recent history, contracted players, Mikel Arteta and Marouane Fellaini, BOTH asked to be allowed to go, and so it came about. Leighton Baines did not agitate for a move, so he stayed. I think two things could bring about Stonesy leaving.
1. EFC receive such an outrageous offer, that THEY persuade JS to enter in negotiations with Chelski or whoever.
2. JS comes out and says he wants to go. If he does that, EFC will undoubtedly start negotiations with suitor clubs in an attempt to kick start a Dutch auction.
There is little point in trying to keep a player who doesn't want to be with us.
I can't think of any recent examples where a Premier League club has been able to hang onto a contracted player who has asked to leave, apart from possibly LFC keeping Suarez for a year longer, but still keeping him out of the hands of an English rival.
Laurie Hartley
59
Posted 11/08/2015 at 12:14:50
Harold @ 31 & 45,
"The Baggies are about to sign a £15M striker who will probably be able to trap a ball."
That appealed to my sense of humour - please accept the TIC medal for services to the downcast.
It completely took my mind off the dreadful thought of us selling our best young player.
Phil Walling
60
Posted 13/08/2015 at 10:01:21
Just chanced upon a Sky Europe News slot of Martinez saying, 'I will say it again, John Stones is vitally important to us and is not for sale.' He went on, 'Yes, we are looking for three players and are looking to the next ten months not the next three weeks.'
I'm not sure if this was a re-hash of a previous broadcast but make of it what you will
Brian Wilkinson
61
Posted 16/08/2015 at 22:04:46
Why would Stones want to sign for a lower placed team in Chelsea, may as well get it in now while the goings still good.
Add Your Comments
In order to post a comment, you need to be logged in as a registered user of the site.
Or Sign up as a ToffeeWeb Member — it's free, takes just a few minutes and will allow you to post your comments on articles and Talking Points submissions across the site.
© ToffeeWeb