Everton complete Holgate transfer
13/08/2015

44 Comments [Jump to last]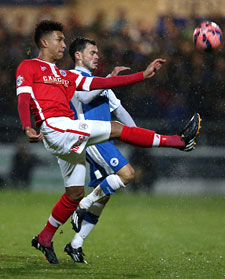 (Jan Kruger/Getty Images)
Everton have announced the acquisition of Mason Holgate from Barnsley in a deal that could ultimately be worth Ł1m to the Yorkshire club.
The 18-year-old defender passed a medical and agreed personal terms yesterday and put pen to paper on a five-year contract.
Holgate, who can operate at centre half or right back, spent a time training with Manchester United this summer as they followed up their own interest in him but the Blues have now secured a player whom the boss is happy to have on board.
"With Mason, an opportunity came up and we didn't want to lose out," Roberto Martinez said.
"He is a young man with a very impressive future. His development is going to be important and it will be interesting to see how quickly he can have an impact on the first-team.
"But he is not a player who I would expect to perform straightaway in the Premier League - that would be very unfair."
Like John Stones, another signing that Everton brought in from the Tykes, Holgate joined Barnsley aged just eight and has come through their youth ranks where the emphasis for centre-halves is on the passing football that Martinez has established at Goodison Park.
BBC Sheffield Sports Editor, Andy Giddings, was asked about Holgate whom he described as "a technically gifted centre-half in the mould of the modern day CB who looks comfortable in possession."
---
Reader Comments (44)
Note: the following content is not moderated or vetted by the site owners at the time of submission. Comments are the responsibility of the poster. Disclaimer
Victor Jones
1
Posted 13/08/2015 at 15:49:48
Nice to get someone on board. But strange to see Luke Garbutt go out on loan. Let's hope that this lad turns out to be as good as Stones. And lets hope that his "impressive future" will be with Everton. We could have a very promising young defence in a few years time. Browning. Galloway. Holgate. Garbutt. Whats the odds. We now need a top class goalkeeper to command his box. Looks like Stones will be going. But please, lets not bring in journeymen players, just looking for a last payday. If the youngsters are good enough. Then play them.
Ajay Gopal
2
Posted 13/08/2015 at 16:01:29
Intriguing - what Martinez is trying to do. We have potentially 4 of the best young English central defenders in the game today - Stones, Galloway, Browning, Holgate. When Jags is ready to hang up his boots, we could have Galloway or Browning or Holgate ready to step in. And then we have a few from the U-21 who are trying to break through. All very rosy (theoretically) for Everton, BUT 2-3 years down the road. The question is - for the NOW, do we have enough depth in defence? I think Johnny Evans would be a good addition to the squad and would support that move. If that happens, then it might be worthwhile to farm out either of Browning or Holgate on loan to a Championship club.
Philip Bunting
5
Posted 13/08/2015 at 16:52:14
Victor jones....why do you say Stones is going? Sick to death of reading fans telling us hes going. The fact is you don't know so why add or state unless its a known fact. Youre only adding fuel to the rumours and thats all they are, idle gossip.
Alex Parr
6
Posted 13/08/2015 at 17:04:49
Good choice Mason. Welcome to the club. Heres to a long and exciting career at Goodison mate.
David Donnellan
7
Posted 13/08/2015 at 17:10:11
Gotta be happy with this signing, especially if he lives up to the potential they see in him. I hope he succeeds!
Just turned off the radio, Durham & Gough the latest monkeys championing a move for Stones to Chelsea. Apparently Everton are hypocrites by signing this kid from Barnsley, allowing him to make the step up, but we won't allow Stones to make the step up to Chelsea. Pair of cretins, not really a fair comparison, this kid has come from league 1, ffs! Everton play in the same league as Chelsea last time I looked!
Drew Shortis
8
Posted 13/08/2015 at 17:11:23
Potentially a very wise investment for the future, especially if he can follow in Stones footsteps. I completely agree with Martinez's policy for the future. Stones, Browning, Holgate, Galloway and Garbutt (Moyes signing but new contract under RM) are all very promising defenders and in a few years time we could have one of the best home grown defences in the league. This is definitely a very sound strategy for a club with limited resources and its good to see young players view Everton as the place to go. Best of luck to you Mason!
Victor Jones
9
Posted 13/08/2015 at 17:35:51
I would love Stones to stay at Everton. Believe me. But the nature of the beast is that when the right money is offered, Stones will go. I just hope that Martinez can spend his transfer kitty wisely. Only I wouldn't hold my breath on that happening.
Until we get new owners, and a new direction and ambition, we will always be selling our Rooneys and John Stones. I hate that. But it is a sad truth.
Tony Draper
10
Posted 13/08/2015 at 17:39:29
Yep, happy with this. A quality young player joining a BIG club and an increasingly strong line-up being assembled to step up to the first team in the near future.
Steven Higgott
11
Posted 13/08/2015 at 17:40:41
Good to see us building for the future as in a couple of years we will be letting some of the older players go.

I can see what Martinez is doing and if these youngsters turn out how we hope they will then that will be brilliant.

Martinez sounds confident that he will have all his weaker areas filled by the end of the window so hopefully thing will look brighter in the next couple of weeks

Let's hope we can get some good results against Saints,City and Spurs so when the new arrivals come we will then be stronger as a squad and push on from there, I am trying to be positive as is been frustrating times so far but we need to get behind the team and manager and just wait and see were it takes us.
Jamie Tulacz
12
Posted 13/08/2015 at 17:59:24
Yes a good long term strategy, but we still need somebody for the here and now!
Keith Harrison
13
Posted 13/08/2015 at 18:01:50
Roberto has stated today that Stones will not be going. Can we just accept this please and stop trying to have the lad sold in your own minds. The reason I believe the club have not stated categorically that he is not for sale is because EVERY player has a price. If that Chelsea clown came calling with a £55 mill bid, I would shake his hand and carry JS there on my back. Welcome to the club Mason, and lets hope similar speculation is surrounding you in a couple of years time lad.
Colin Glassar
14
Posted 13/08/2015 at 18:07:44
We won't hear of this kid now until next season at least so let's give him time to settle down. I'd lend him back to Barnsley for the season.
Keith Harrison
15
Posted 13/08/2015 at 19:03:41
What else is in the pipeline Colin, or is Madre the word for the moment? Miss you on the OF too pal.
Paul Ellam
16
Posted 13/08/2015 at 19:24:53
Chuffed. I have friends who are Barnsley fans and while they don't think he is as good as Stones they do think we have got a cracking little player on our books now.
I also would loan him back to them for the season - as a kind of thank you as well as to get him game time.

Joe Foster
17
Posted 13/08/2015 at 20:04:11
Just two more signings to go
Harold Matthews
18
Posted 13/08/2015 at 20:21:51
Don't know much about this lad. Over 20 games in Division 1, mainly at RB, 5'-11" plus tall haircut and still growing. Hope he makes it.
Colin Williams
19
Posted 13/08/2015 at 20:24:16
Talented lad, hopefully a great future with our great club!
Keith Glazzard
20
Posted 13/08/2015 at 20:40:13
Welcome Mason. You're covering possibly the best RB in the league so be patient and learn. You have joined a great squad of players in a top club.

Joe Foster
21
Posted 13/08/2015 at 21:01:28
Keith you should ask him round for Xmas dinner as well
Chris Kelly
23
Posted 13/08/2015 at 22:21:00
A good signing, we hope. Agree david#4 we should not be a feeder team to Chelsea or any other of the nouveau Riche. They may have more cash and indeed play champions league but sorry pundits they do not have the best record for developing talent. Just look at the you germs Chelsea, Man City have let bought, sat on the bench...if they are lucky and then get loaned out or sold out. Maybe if the kids world class they may get a bite but most don't. Terry may be a good defender but I would say jags is the better man...if you get my drift in terms of passing down to the next generation.
Abhishek Saha
24
Posted 14/08/2015 at 04:34:19
Investment for the future always delivers the goods (be it money or good players) if done in the right fashion and if Stones, Galloway, Browning are any kind of a track record then no reason why we shouldn't be doing this. So good signing!!

What concerns me is the signing of a defender for the future prior to signing one who can be on our bench straight away. Does Martinez knows something which we fans are dreading the most??
Phil Sammon
26
Posted 14/08/2015 at 07:18:15
You don't half make me laugh, Harold.
Paul Cherrington
28
Posted 14/08/2015 at 11:36:43
This is a good signing and credit to Martinez for builing toward the future with all the young lads we have to come through. It does worry me also though that we seem to be only buying for the future sometimes and forgetting about needing players to go straight into the first team. At the end of the day, it's no good having the most amazing team in League One three years from now...
Keith Glazzard
29
Posted 14/08/2015 at 17:20:27
Joe (19) I spend a lot of time in Catalunya. I have converted many a local to the True Blue cause. A very well respected man I know and I met up at our local last week, I hadn't seen him for a while. How's Everton, were amongst his first words. Better with Deulofeu, I said. I know his parents, he said, they live near Girona. Who knows, I may be invited to a prestigious Xmas dinner!
Joe Foster
30
Posted 14/08/2015 at 17:35:26
Keith sorry mate I was just being a bit cheeky. Your sentiments reflect my own though. Hope he is a similar success story as John Stones. There is always a place at Xmas dinner for an Evertonian
Keith Harrison
31
Posted 14/08/2015 at 17:44:33
Joe, I'll be there. With missus, Kids and Grandkids and my mother. What time do you sit?
Joe Foster
32
Posted 14/08/2015 at 17:49:12
I will need to buy more chairs then Keith
Keith Harrison
33
Posted 14/08/2015 at 17:51:28
Okay pal. Nice of you. Cheers.
Phil Roberts
34
Posted 14/08/2015 at 18:24:22
Glad we got him today as it will weaken their defence for the Capital One Cup tie. We may even score a goal.
David Chait
35
Posted 17/08/2015 at 10:57:46
It's too early to call him one of best potential youngsters but let's see.
I like the idea of Barnsley being a feeder club... get our youngsters playing there on loan.... buy some of their talent when ready for the step up at a good price with a healthy sell on clause... win-win.
Oliver Molloy
36
Posted 19/08/2015 at 20:34:09
I tell you what, we may just have found another John Stones in Mason Holgate, he looks a class act tonight in the mould of Stones.
David McKitt
37
Posted 19/08/2015 at 20:40:20
Agree with you Oliver. I've been impressed
Stephen Brown
38
Posted 19/08/2015 at 20:47:40
After the penalty incident he's looked very composed! Hope he hasn't stopped growing yet as looks slightly small.
Brent Stephens
39
Posted 19/08/2015 at 20:52:12
Well, what an impressive performance form Holgate tonight!!!
Oliver Molloy
40
Posted 19/08/2015 at 20:53:07
He's close to 6ft Stephen and around 18 so maybe another inch or so.
I wouldn't be worried about his height, he looks the business!
Colin Glassar
41
Posted 19/08/2015 at 21:03:08
This is one very, very classy player. Saw him play tonight and he was head and shoulders above everyone else on the field. Very exciting young player.
Jay Harris
42
Posted 19/08/2015 at 21:13:54
Totally agree Colin. I thought his range of passing and composure on the ball was first class.
Poor decision for the penalty though but that will come with experience.
He appears to have all the tools.
Brent Stephens
43
Posted 19/08/2015 at 21:15:31
Jay, Liverpool have all the tools? I just hope that performance was a typical one for Holgate. Well done Roberto. Hope Bill wasn't watching or it might make his mind up over Stones.
Jay Harris
44
Posted 19/08/2015 at 21:21:01
Put a five-figure number in front of Bill and he goes all misty-eyed, Brent.
Still, let's hope RM is in charge while he is ill and Stones won't be going anywhere.
Steve Jenkins
45
Posted 19/08/2015 at 21:22:58
Great signing by the looks of things, very classy and composed.
Well done Roberto!
Sandra Williams
46
Posted 19/08/2015 at 21:24:12
Was Jose there tonight waiting to bid for anyone in Blue? Wouldn't put it past him and his classless cronies. And can we keep it quiet re Holgate, otherwise he'll be gone by friday! (don't you know 'they' are monitoring our every word?!)
Trevor Lynes
47
Posted 19/08/2015 at 21:24:55
Fully agree about Holgate, he was our best player by miles and he is only 18 years old playing with lads in their 20s. He seems really comfortable on his right side so could be an able deputy for Coleman. The kid also looks comfortable on the ball so could well play defensive midfield.
Just wish we could find someone who could play up front as the general ball control apart from in defence was pretty average.We seem to have an absolute abundance of defenders but no one is coming through as an attacking midfielder or ball player. :(
Colin Glassar
48
Posted 19/08/2015 at 21:36:49
Sandra, ye say in jest. I wouldn't put anything past that classless tool.
Sandra Williams
49
Posted 19/08/2015 at 21:44:23
Neither would I Colin... he'll probably don a Man City strip and sneak into the Away dugout on Sunday....then he can whisper to Stones every time he runs past him... "Sign here, kid... you're too good for this lot!"
Add Your Comments
In order to post a comment, you need to be logged in as a registered user of the site.
Or Sign up as a ToffeeWeb Member — it's free, takes just a few minutes and will allow you to post your comments on articles and Talking Points submissions across the site.
© ToffeeWeb