Martinez appeals for faith while supporters groups plan protests
15/08/2015

135 Comments [Jump to last]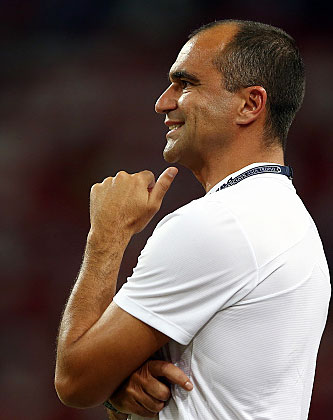 Roberto Martinez has asked Everton fans to assess the club's performance in the transfer market after the 1st of September deadline, promising that the squad will be stronger when the window closes.
Last Saturday's disappointing 2-2 draw with Watford in which the Blues twice had to come from behind to salvage a point against the newly-promoted Hornets was underpinned by a disconcertingly similar performance to those that led to Everton finishing outside the Premier League's top 10 for the first time in nine years last season.
That has led to growing unrest among some sections of the fanbase concerned by the lack of investment in players, disenchantment that will be expressed on a banner reading "Kenwright and Co - #TimeToGo NSNO" that a coalition of Everton fan groups plan to fly above Southampton's St Mary's stadium before kick-off later today.
Fledgeling social media group "Everton Board OUT", the Blue Union, and fan site SOS1878 have clubbed together to hire the aircraft as part of their planned activism at the match which will be televised live on BT Sport.
Martinez's comments on the eve of the club's first away match of the new season suggest that he is aware of the impatience permeating much of the Toffees' support but he stresses that the plans for the summer remain very much in place.
"We're very confident we will finish the window stronger and it's fair to say over the last two years that is what we have done," Martinez said.
"Every window to window we become stronger with a clear idea of the continuity we want in the squad. We work in different ways. It doesn't mean we have not got the money. You have to wait until the window closes and make the assessment.
"We are close," he continued, reiterating once more that he plans to bring in three new players before the end of the transfer window. "We know exactly what we need and who we need. It's case of working has hard as we can to get them."
"From the last two seasons we have gone from window to window it is about getting stronger and this is not going to be different in this one.
"Two years ago we finished 5th and then had a fantastic experience in Europe, we have not lost any of those top performers and that is a real positive," he said.
"The next three players who are to come in are going to help towards that."
Commitment to retaining young stars
Everton's opponents this weekend have not only consolidated their position in the top flight since gaining promotion three seasons ago but recovered from the loss of a number of their best players last summer to become one of the surprise packages of the 2014-15 campaign under the guidance of manager Ronald Koeman.
The Saints' policy of selling high and reinvesting modest sums in hand-picked talent from the Continent helped them to a 7th-place finish in May and qualification for the Europa League but Martinez rejects the sell-to-buy approach as being the right model for Everton. The Catalan sees the club's productive youth system as its future strength and a core around which to build a successful team.
"[Southampton's approach is] exactly what we don't want to do," he said, as reported in The Telegraph. "We want to build around young players. Our strategy is to build something and keep what we see as the future. I appreciate what others have done but clubs are different. No-one is in the position that we are.
"I respect what Southampton have done. They've been a breath of fresh air and a terrific story in the last three campaigns. But every club has to work with what suits them. I don't agree in six, seven or eight changes each season and losing your identity.
"Our assets are getting stronger, our young ones getting more mature. Yes, we need three more but two of the young players will be in the first-team squad and we will get stronger when we bring signings in as well. It's how you can attract the ones we need at this club."
---
Reader Comments (135)
Note: the following content is not moderated or vetted by the site owners at the time of submission. Comments are the responsibility of the poster. Disclaimer
Steve Durham
2
Posted 15/08/2015 at 02:44:27
Actually, have to say that is fair comment from Roberto.
I am happy to keep my powder dry until September 1st, especially as he is now talking specifics; getting in three players and "it doesn't mean we have not got the money".
That suggests he knows who he wants and talks are well underway.
However, if September 1st arrives and things remain the same I hope he's prepared as I really think this time the protests will be vociferous (unless by some miracle we are four or five games unbeaten).
Paul Ferry
3
Posted 15/08/2015 at 03:34:05
I did have to smile when the players were called well not players but 'assets'. Too true, I believe, they are our only assets aren't they with The Old Lady mortgaged up to the hilt, a training ground that we do not own, a mega-store that is not ours to call our own etc.
Is it official now, the proper word is 'assets' from now on and no longer 'players'?
Dan Murphy
4
Posted 15/08/2015 at 03:58:18
'Fledging social media group Everton board OUT '. Who are these people, who's fronting the money, whose side are they on?

Pulling this stunt now will play into the club in crisis /decline line and strengthen the hand of those lobbying for Stones to leave. Beware enemy agents and their useful idiots.
Peter Fearon
5
Posted 15/08/2015 at 04:03:28
Absolutely ridiculous at this stage of the season to launch these divisive, self-aggrandizing public protests with 37 matches left to play and two weeks left in the transfer window. Whoever is behind this has more money than sense, obviously.

It would be beneath the notice of most Evertonians were it not for the significant damage this kind of thing risks doing to the team's self-confidence and morale. This is an imaginary crisis, an invention by the usual suspects with the familiar platitudes and unrealistic demands.
Jamie Crowley
7
Posted 15/08/2015 at 04:39:22
Building around young players is exactly what we need to do. Well said Roberto and well done.
I've said in the past I like Roberto's "vision". That's exactly what I mean. He has a long term vision and plan of building around a talented youth "core".
I want to be patient with Roberto...
Sixteen years of BK with no new stadium plan or development with failed attempts and lies makes it real difficult to see what Roberto is trying to accomplish.
It'll be ok. We'll hear of a new stadium plan next Spring... cough-cough-cough. It's the way forward... gag-gag-gag.
We have a forward thinking manager with a Neanderthal owner and board.
Simple as that.
This board bought in for 20 million or so? They are sitting on a 120 million sale easily. NO business plan to get a new ground or redevelop Goodison. Leading the sheep astray with lies.
The BOARD is the problem. Look at ANY sports franchise in the free world and they are only as good as their owners.
Where's the 5 year plan to get us out of our dilapidated stadium? Where's the merchandising business plan? Why have we been COMPLETELY asset-stripped?
Roberto loves this club. I've no idea why. He'll never get the support he needs. He's doing all he can under the circumstances - plodding forward trying like hell to build and hold on to a nucleus of fantastic young talent.
I pray the man succeeds.
John Gee
8
Posted 15/08/2015 at 05:12:37
The board have let us down badly. There's no question about that. But, if the rumours are true about Kenwright's health, we're going to look extremely classless.
I also wonder who is putting the money up for this. I'd like to see their blue credentials.
Jay Harris
9
Posted 15/08/2015 at 05:19:32
Why be patient while we drop points,
The season has already started and the squad is weaker than last term which was a disaster,
Garbutt, Long, Distin and Alcatraz have gone and we've got Cleverley and Delofeu in.
We have had six months to plan and execute some quality transfers but in typical fashion we sit back while other clubs get the cream.
I notice Richards went on a free and Scott Sinclair went for 2.5 m while quality such as Traore, Ayew,Ogbonna, Cabaye,Connor Widkham,sako,Wijnaldum, Afelay, Shaquiri, Payet etc have all been swept up by the opposition while we stand back and wait.
Nero fiddled while Rome Burns seems to be the perfect analogy.
When a colleague once suggested to our chairman we should be looking at the long term he was reminded that "without the short term there wont be any long term"
William Cartwright
12
Posted 15/08/2015 at 05:44:36
Jamie Crowley (5), I pray you are right too. I agree with everything you said but have written so many confused, contradictory posts over recent weeks I am totally stressed out. Are we all wrong? is tippy tappy the only way to go? This is what is killing Roberto in the eyes of the fans at the moment. All the background unknown and unclear shennagins are disturbing. If the truth be told I think your views regarding Roberto's sincerity are correct and it will be a great shame if he has to fall on his sword in the near future.
Tony Abrahams
13
Posted 15/08/2015 at 06:12:30
It seems that Martinez, is the only person at Everton Football Club, that has a plan, ( hence the long overdue protests). let's hope the man can now get out of his own personal slumber, because His plan makes a lot of sense. If we could achieve success, with this blueprint, it would be fantastic, especially in this money obscene English Premier Lge.
Gary Fenton
14
Posted 15/08/2015 at 06:14:20
He did say as the season finished he had already identified the players we needed and we are still waiting. I just hope he is not bluffing as I can not stand another season of great possession, the most passes, no goals and no points.
Harold Matthews
15
Posted 15/08/2015 at 06:15:56
After watching a bunch of strangers in a bizarre spectacle billed as Villa v United, I'm definitely with Martinez on the issue of keeping our identity.
James Marshall
16
Posted 15/08/2015 at 06:22:15
I'll lay a few quid on this guy Mori, Aaron Lennon and Holgate being the 3 players we get in. It'll be Lennon and Mori on deadline day and then they'll trot out the line that they tried hard all summer but couldn't quite pull of the signing of their forward targets.
Bullshit.
James Marshall
17
Posted 15/08/2015 at 06:24:15
Oh and for the record, I agree that supporters groups protesting is not healthy, positive or in any way helpful to the cause at this time of the season.
Kenwright may have his flaws, and our board certainly do as well but I don't think it'll do anyone any good. Seems like a minority group with a bit of money to throw around if you ask me and the board will likely shrug it off.
Tony Abrahams
18
Posted 15/08/2015 at 06:44:27
Unless the group gets stronger James.
Brian Porter
19
Posted 15/08/2015 at 06:44:45
I agree it's too early for such protests but also hope there are a few grains of truth in Roberto's words, which do carry a hint of a desperate man trying to plug the leaks in a sinking ship. Even more cynically, giving him the benefit of the doubt, I hope the board are not encouraging him to say these things, (we know he's the soundbite king), only to be able to gold him up as the sacrificial lamb if things go seriously pear-shaped.

Even though I have no live for Martinez or his methods, he does appear to be sincere in his beliefs, even if the are costing us points and that makes him an ideal dupe to carry the can if we fail to land his so-called targets, thus deflecting criticism from a more and more isolated and beleaguered board who have certainly lost touch with the club's fanbase and their aspirations. In order to retain a modicum of credibility it would be good if at least one of Roberto's targets could be brought in earlier rather than later, in order to show the fans there is some truth in his statement.

Otherwise, the next two weeks could become very uncomfortable, lending more weight to the growing protest groups. For a start, the board could publicly back their manager by saying that John Stones is not for sale, and then give him the funds to secure at least the one target previously mentioned. Only then, might the fans begin to believe some of Roberto's latest pronouncements.
Duncan McDine
20
Posted 15/08/2015 at 06:53:15
I'll be at St Mary's later and will 'boo' the banner as/when it flys by... It's completely ridiculous at this point of the season.
Eric Myles
21
Posted 15/08/2015 at 07:28:52
"Yes, we need three more but two of the young players will be in the first-team squad"
So he's saying of the 3 players we need 2 will be from the academy?

Clive Mitchell
22
Posted 15/08/2015 at 07:31:33
Are there reasons to worry? Many. Banner on a plane? Bunch of clowns with more money than sense. Wish I had the cash to fly a plane across behind theirs saying "not in our name # Evertonian masses"
Andy Codling
23
Posted 15/08/2015 at 07:37:13
I agree its only been 16 years ,this is way too soon for a protest!!
Joe Foster
25
Posted 15/08/2015 at 07:49:15
The time to act is now. How long do you want to wait? Untill sep 1st, xmas or the end of the season. We are a club in decline. Maybe Kenwright is ill maybe he isn't who knows? Again how long should we wait? If someone wants to fly a banner that is upto them, that is their right as a god fearing Evertonian.
Matt Garen
26
Posted 15/08/2015 at 07:50:51
What is ridiculous is standing idly by while the entire league around you build and finalise their squads early in the summer, while Everton supporters hear the biannual bullshit of how the targets didn't quite come off, or even why they do its 11.50pm on deadline day and that's because someone was sold.
Our club relies entirely on future TV deals to fund the playing staff, it does not generate any commercial finance to invest in the squad because of either sheer incompetence and/or neglect of their duties of the board. Others are managed properly and its becoming a gap that will be too far to bridge, and that's just your Saints, Stoke and Swansea.
He got a load of stick on hear but my opinion is if it wasn't for what Moyes did with the net spend over 10 years we would be playing Stevenage today not Southampton and I've got no confidence Martinez has the ability to do the same incredible job. He is taking us where Moyes picked it up after Smith.
The game has moved on but we were lumbered with Bill and his mates but while the cherries were ripe we missed out.
The days of genuinely challenging and winning things are over and sadly most fans appear to simply accept that's that but this protest today and hopefully many more in future shouldn't necessarily be about changing the board for someone new because that simply won't happen until health forces Bill to stand down. That ship sailed when the Kings Dock fiasco and countless others mentioned previously was accepted by the majority of Evertonians. What this should be about is raising enough media interest into forcing Kenwright or Elstone out and answering the questions that need answering. Finally it appears there is now some appetite in the media to force this,the echo notwithstanding obviously.
Oh and by the way I know 2 premiership players, 1 current and 1 former and If anybody genuinely believes that's a group of lads in their 20s/30s who are all millionaires from playing a bit if footy will be in the slightest bit affected by a Cessna and banner flying over later you need to have a word with yourselves. They won't give a toss.
Andrew Clare
28
Posted 15/08/2015 at 08:00:25
I can't believe that there are people who are against the protest. I am flabbergasted.
Everton are the 4th most successful club in the top flight, a jewel in the crown of English football.
The current owners have completely stripped the club of all assets, have no plans, have left the club with an old dilapidated stadium and lowered the expectations of supporters to the level of mediocrity.
If you are happy with that you must be crazy.
We must protest now before it's too late.We have to get rid of these people quickly or else we won't have a club left to save.
Tony Abrahams
29
Posted 15/08/2015 at 08:05:41
Duncan, their will also be a lot of people at St Mary's today who will agree with this protest, something which started gathering legs at the END of last season.
Nothing wrong with booing the plane, but a split fan base is a dangerous concoction, especially considering the passion amongst most Evertonians. Let's just hope the team put on a good performance to take away some of the negativity.
David Greenwood
30
Posted 15/08/2015 at 08:06:13
Terrific post Matt @21.
A protest will not affect the players on or off the pitch in any way shape or form.
BK has been a disaster for our club.
We have no assets whatsoever. Everything has been sold or mortgaged several times over.
We rely totally on TV money to survive. The club commercially is a disaster.
Stand at the Winslow and look up at the main stand. It's falling apart. The windows don't even get cleaned, they are filthy.
Kings Dock.
Board members who don't put a penny of their own money in. They wont even guarantee loans with British bank, forcing us to take out these hefty overseas loans. Who do you think owns these overseas banks?
Clubs being sold left right and centre, not us, despite BK looking 24/7. Why do you think that is?
Philip Green, what is and has been his involvement?
Absolutely no chance of winning any trophies.
The list could go on for pages.
For anyone who thinks that there should be no protest, at what point should there be one?

Ian McDowell
32
Posted 15/08/2015 at 08:09:21
The protest isn't just about this transfer window and how a good couple of signings before Sept 1st will make everything ok. Its about the last 16 years, Kings Dock, Fortress Sports, Walton Hall park, no investment, asset stripping of the club and complete and utter incompetence by the current board.
David Greenwood
33
Posted 15/08/2015 at 08:11:29
Should have added under the club being a disaster commercially.
What do Tim Cahill, Landon Donovan and Tim Howard have in common?
Did we cash in on having these players at out club? The three biggest superstars their countries have produced in a decade and I bet you most yanks and Aussies couldn't even tell you what club they played for.
Trevor Peers
34
Posted 15/08/2015 at 08:19:48
Usually when these protests happen the team concerned win, lets hope that is the case today.
The protest itself is entirely justified and it will bring our grievances into the public eye, something that urgently needs to be done.
We need investment and a clear plan going forward under a dynamic new owner.
John Crawley
36
Posted 15/08/2015 at 08:22:55
Good on the fans who've organised the banner. It's a protest about the club board not the manager!
I'm sure the aim is to start focusing the media on the running of the club, hence it being today at a televised game. It's already picked up coverage from the Daily Mirror.
Something has got to change because the clubs being run into the ground.
Karl Jones
38
Posted 15/08/2015 at 08:29:59
Everton are a club still living in the 60,s and 70's and something needs to happen. I support the protest, but nothing will happen from it and it wont change the clubs outlook. Fans are totally insignificant these days, hardly worth a comment.
A word from Phil Thompson or Paul Merson on Sky is more likely to elicit a response than a group of Evertonians flying a plane over a stadium.
Joe Foster
39
Posted 15/08/2015 at 08:33:10
I hope it's a bi-plane with wing walkers.
Colin Glassar
40
Posted 15/08/2015 at 08:33:33
I'm all for making our disquiet public. Evertonians have been far too passive for far too long while BK and his cronies have run the club into the ground.
The one thing that Bill values more than anything else is his public persona as Mr. Everton, BP Bill, The Cannon Ball Kid etc.... Once his value to the club is called into question, in the media glare, he just might decide to walk away.
He's spent years convincing the gullible that he's the only man who can run EFC and the media have generally accepted this but now questions will start to be asked about his disastrous reign.
Phil Sammon
41
Posted 15/08/2015 at 08:35:34
Too early?!
This has nothing to do with the football on the pitch. This is about BK and YEARS of incompetence!
Joe Foster
42
Posted 15/08/2015 at 08:38:05
If it was about the football on the pitch we would need to hire a b52 bomber.
Eddie Dunn
45
Posted 15/08/2015 at 09:03:51
I'm for the protest.
Moyes was frustrated by the board, and even though I don't like Martinez, he is having the same problem.
It is high time that fans were heard, after all there is no democracy involved here, so a coup is needed.
This protest may put pressure on Bill & Co to be more proactive.
On Martinez, do we really think that if he lands his three targets, that we will suddenly play differently?
I am pleased that we have secured the continued service of some of our better players, and the club should be congratulated for that, and Roberto's intent to build from the youth is also a good idea.
However, we are not playing to the strengths of our players, and the lads seem reluctant to try things that deviate from the manager's detailed remit.
Sterile, predictable football is the result.
More bullshit will be served up by the cartload at the end of today's game.
We rarely play well in early kick-offs, and our recent record down there is poor. We will surely concede, and will need something out of the ordinary, from Barkley or Kev to salvage something.

Peter Bell
46
Posted 15/08/2015 at 09:05:16
Walking to the ground last Saturday, the most sickening site, was a crane in the near distance, lifting the roof onto a new stand. Na, this has gone on long enough and our manager asks us for patience he has only been here for two years. There are a lot of posters on here who watched Everton in the 1950/60s, they must be horrified at what we have descended into, I only started watching in the 70s and that has been tough enough
Paul Kelly
47
Posted 15/08/2015 at 09:11:02
Good on them, about time. For all those happy clappers who are against just how long will you say enough is enough? another sixteen years?
Hope this is the start of something and not a one off.
Martin O'Sullivan
48
Posted 15/08/2015 at 09:12:21
Afraid of fans' protests? Come to Spain. Admittedly, there are no planned campaigns of handouts or flypasts. But when things go very wrong, it's quite a spectacle to hear the spontaneous cacophony of jeers and boos and see the mass waving of the white handkerchiefs (a symbol of discontent taken from the bullrings). Not the place to be then for sensitive souls, be they players, coaches, directors, owners or whoever the protest is aimed at.
And the upshot of this vociferously expressed discontent? Players, teams, coaches, clubs undermined by their own fans? Hardly, just think of the current year 2015 with Barcelona and Sevilla champions of the European competitions. Take a specially good look at Sevilla. Is their present success built exclusively of decades of harmonious relations between the club and it fan base? Not in the least.
"El que no llora, no mama." "The baby that doesn't cry, doen't get to to suck on the tit." Sometimes you've got make yourself heard in order to get your just desserts.
Colin Glassar
49
Posted 15/08/2015 at 09:12:39
Are all these rumours about a possible takeover just another ruse to keep the docile masses schtum? I wouldn't be surprised by anything our board conjure up in their desperation to keep things under wraps and out of the media glare.
Steve Cotton
50
Posted 15/08/2015 at 09:18:10
Whether Bill is at the game or not, he will be aware that the tide is turning. Rome is burning and he has left RM dangling. Perhaps this protest will be the one that forces the charlatan to finally decide to quit.
In 16 years his £1M personal investment has risen to £40M so don't feel sorry for him when he goes. In 16 years, we haven't won a dicky-bird so he can't even claim a legacy.
We need an independent company to sell off the club, not a snake-oil salesman. People on here defending him should remember what they have said when we regularly become a bottom-half team.
Joe Foster
51
Posted 15/08/2015 at 09:18:39
I think the take over rumours are just a smoke screen, in the hope it will stop the fans unrest before it gets bigger
Dave Abrahams
52
Posted 15/08/2015 at 09:21:13
Unbelievable that any Everton fan can see anything wrong with this protest, let's all sit and stand by and just watch this club fall apart.
As for us looking classless making this protest because the chairman might be ill, he hasn't been ill the last sixteen years while cocking the club up.
Let this be the first of many protests with more people backing the groups who make them, if the club is going down lets go down fighting, not standing idly by.
Kevin Tully
53
Posted 15/08/2015 at 09:23:26
Yeah, all the other clubs are clearly doing it wrong by getting their business done early. What a load of bollocks. And don't tell me we haven't missed out on players whilst waiting for T.V. payments or off-shoe loans.
Fly that plane, put up the banners - this lot are slowly killing this club. Wake Up.
Dick Fearon
54
Posted 15/08/2015 at 09:24:04
Sad to say but fans of our dear neighbours have shown how poor our own lot are in demonstrating their lack of patience at behind scenes jiggery pokery.
Mark Tanton
55
Posted 15/08/2015 at 09:30:35
We effectively write of the first month of the season every year by allowing other squads to build up their quality and bed in. What they're doing through July we get around to doing in September. Why are we so keen to disadvantage ourselves?
Ian Doyle
56
Posted 15/08/2015 at 09:34:17
I'm frustrated and angry and confused as anyone else...
But if Kenwright is ill, as I imagine he is (I can't see that being bullshit as well), then those protesting today will look a bit tasteless.
But, as said before, each to their own and have their own opinion.
Colin Glassar
57
Posted 15/08/2015 at 09:36:38
I didn't want to touch on Bill's supposed illness Dave as that should be kept separate from the issue at hand. If he is indeed ill then I wish him a speedy recovery.
William Kenwright, healthy or poorly, needs to go now. For the the benefit of the club and himself he needs to step down so someone with a modicum of business sense, and ambition, can steer our club in a different direction. Bill has had his chance and he blew it.
If he goes now he might be remembered with a degree of fondness in a few years time. If he clings on to power then he will become another Doug Ellis, a man universally disliked by friends and foe alike.
Ian Cowhig
58
Posted 15/08/2015 at 09:37:51
Sorry gents. I don't agree with Martinez and his plan. A plan works when the component parts go together. Just look how uncomfortable our players are playing the tippy tappy possession for possession's sake. We hold the ball so long that all our forward players have made a run, and had to come back to stand in front of a defender, back to goal. Barclay gets the ball from our defenders in front of the opposition midfield. Then gets groaned at for running sideways because there is no space, or because he can't find the worldy pass through space equivalent to a nat's chuff.
Martinez may be this forward thinking coach. But he actually needs to think more about here and now. And how to get this team functioning properly, with confidence.
Interestingly we have reversed mentality. Under Moyes we were cautious against the big teams. Expansive against the others.
With Martinez. The opposite. We should take the go at them against all opposition. This is what our current players are confident doing.
Ernie Baywood
60
Posted 15/08/2015 at 09:46:36
I love this site. The opposite of flying a plane across the ground is "happy clapping"
Personally, I find it fucking embarrassing on a kopite scale. A plane! A fucking plane pulling a banner!
What does it show? If you chant, you find out if there are 35,000 with you. If you march, you find out if there are 35,000 ready to walk with you.
A plane shows absolutely nothing. It's a small group deciding that they speak for everyone. That now is the time and this is the way. How self important is that?
Jim Harrison
61
Posted 15/08/2015 at 09:57:08
Classless to be honest. Surely they could find a more noble cause to throw their money at.
Ian Hollingworth
62
Posted 15/08/2015 at 09:58:19
Its long overdue to bring the disastrous Kenwright reign into the public glare.
It has no affect on the players or the match.
Hope Martinez gets the 3 players he claims but hope they are the right players and will it make him change the way we play??
I would be happy if both BK and Martinez left for the good of Everton FC
Jimmy Salt
63
Posted 15/08/2015 at 10:01:49
I support any (reasonable) protest against the current board of our club.
I wont repeat whats been said above, the list of failures is abhorrent.
.
One thing I notice about this thread is that the amount of people who support the protest have quickly outweighed the people against it, even though the opinion of these people is that they are in fact in the majority.
James Newcombe
64
Posted 15/08/2015 at 10:02:15
Ah no, not a bloody plane
Jim Lloyd
65
Posted 15/08/2015 at 10:04:14
I see it as two serparate issues really. With Martinez and his capacity (or lack of it) for managing our football team, and the issues surrounding the state of Everton Football Club.
As far as the Martinez/team issue goes, our manager has asked for patience and its blindingly obvious why. He won't get anyone in until the Board releases the funds to get those players.
Roberto can have identified the players he wants weeks/months ago but he is as helpless as Moyes was at recruiting top quality, or ewven ordinary quality players
I have me doubts about the style of play, at times because I see our buoild up as too slow. I look at the first season though, and most of the time it was good to watch.
I want to see Roberto being given the players he's asked for, being able to count on the services of the youngsters who are not far off ready, to see Pienaar and Gibson back (who's dreaming) and top see what Delefeu can do in a club he wants to be at.
I don't expect us to do much more than finish around the top 8 this season, but guess that depoends a bit on who is available for Roberto to pick. I cant see yet, that he is putting the team perilously close to relegation, so I don't see him being given a fair chance yet. I want tro see what happens froin Sept m1st onwards and I don't expect us to have gained a big haul of points between now and November. If there's progress, if there's fight, that'll do mer for starters.
I don't see anyway, Kenwright sacking him as he's given him a whopping big contract. Then, there's the issue that if somehow, he was sacked WHO replaces him =in this basket case of a club.
The other issue regharding Kewnwright. I think he shoulds have gone long ago. The problem is that who, if anyone is in line to succeed him.
As for the protests, I'm with them, as long as it's aimed at that bunch of charlatans on the Board and our good friend Green; not at Roberto and the team,.
Phil Walling
66
Posted 15/08/2015 at 10:07:08
Some will say it's a bit like the Chelsea doctor rushing on to gain attention to herself. She achieved her objective but probably wishes she hadn't !
If Everton lose today the NSNO group will be easy targets for taking the players' attention off the task at hand.
Poor tactics in my book - a mass streak would have gained much more attention !
Colin Glassar
67
Posted 15/08/2015 at 10:10:23
Volunteering Phil?
Eugene Ruane
68
Posted 15/08/2015 at 10:11:21
Seeing this issue finally being covered in a national newspaper, even one that is basically a celeb-filled comic for 13 year olds with learning difficulties (coz they're thick!) was for me, quite emotional.
I'm getting a sense of what it must have have been like in 1989 to have been at the Berlin wall with thousands of others (and a large mallet).
And I will try to put to the back of my mind any The World At War images of baldy, tar-covered, terrified looking Parisian sorts who..ahem, 'went with' the Germans.
Kevin Tully
69
Posted 15/08/2015 at 10:13:54
Anyone defending their record as custodians of EFC is a fucking massive hypocrite. If they were foreign owners, every one of you would be volunteering to act as co-pilot today. Time for some to be completely honest with themselves. The truth might hurt, but at least you will see past the bullshit.
James Morgan
70
Posted 15/08/2015 at 10:30:07
Who cares what point of the season a protest is made? The club has been stagnant for far too long and the more people that think it's ok to sit there and do nothing whilst we rot, the worse it will get!
Mark Andersson
71
Posted 15/08/2015 at 10:34:08
Some great posts; I agree partly with Ernie however this plane banners ploy may just kick start the revolt. More likely though it will just fade away and ToffeeWebwers will have more reasons to bitch and moan as the club stumbled into the abyss. Sad really sad.
If by some miracle we win with a good performance today, I will wake up tomorrow thinking it was a dream.
andrew jones
72
Posted 15/08/2015 at 10:34:30
Forgive me for being an old cynic! Whilst it's great to see youth coming through the Board sees these as appreciating assets with a future saleable value. After all there is nothing else to sell!
I want to believe Roberto has targets to bring in who will be better than what we have but generally bringing new players in at a late stage in the window takes time to embed them and given the tough start we have we need these quality players in, fit and ready to go. The only big signings will come if there is a big sale. I do however hope I am wrong!!!
John Steadman
73
Posted 15/08/2015 at 10:37:20
The question you have to ask yourself and being honest about are.
Are you continually frustrated season in season out with us being one of the lowest spenders in the transfer market?
Why is it always left till the last 2-3 weeks of the transfer window before we sign the vast majority of players?
Are we as a club being held back by playing in a 3rd class stadium with many obstructed views, whilst having to pay near full price for these seats?
Having queued up all half time for a piss or to try and get something to eat or drink?
We are continually getting misled on a ground move by the board?
What are these massive "other operating costs" where many millions of pounds go every season?
Why does a person who has a estimated wealth of £240m and sitting on the board, refuse to invest any money?
Fed up with the brand of football served up the vast majority of the previous 7-8 years?
I am not going into the kitbag deal, or one of lowest incomes
from shirt sponsorship, or the fiasco of not knowing we don't
own our own traing ground, or we don't own the land at the
rear of the parkend.
All of the above are a direct result of the current board!!!!
Time for them to go and direct action is the only option left, we are not going to go the game, so what else is left, raise our concerns to the national press and beyond, let the board know enough is enough
Dave Abrahams
74
Posted 15/08/2015 at 10:40:16
Colin (43) I understand what you are saying, I never brought the chairman's illness up, I was replying to someone who did, by the way I wouldn't want my worst enemy to have this illness, so I of course hope the rumour is untrue.
Colin Glassar
75
Posted 15/08/2015 at 10:49:34
I know you weren't Dave. I was just saying he needs to go and the sooner the better.
Steavey Buckley
76
Posted 15/08/2015 at 10:53:08
The chairman and the board of directors at Everton should do the decent thing and sell Everton for what they paid, £20 million. At that amount of money there is more chance of attracting a buyer (s) who will invest money into Everton FC.
John Atkins
77
Posted 15/08/2015 at 10:56:05
A protest of any sort is well overdue
I'm very much in favour of this
So some of you think it's classless and embarrassing eh?
Well I'll tell you what's embarrassing ..... Everton FC at this present time, we are a laughing stock going nowhere
Our beautiful football club is falling to pieces whilst most of you sit around and watch it
I'm sick to death or this incompetent board of directors
Time to go - yes long overdue !!!!!
Jimmy Salt
78
Posted 15/08/2015 at 10:57:51
Eugene Ruane,
Never stop posting, your like an open window in a farty room.
Colin Glassar
79
Posted 15/08/2015 at 11:07:54
Great post John. Enough is enough.
Steve Jenkins
80
Posted 15/08/2015 at 11:12:33
I like Martin ez & want him to do well.
I do believe be has an eye for a young player, they seem to be Rom aside, pacy, athletic will a good skill set. Don't get me wrong Rom has some great attributes but his first touch is dire.
If only he could get his bloody tactics right!
His stubbornness... sticking with 2 D M (neither one of which sit in front of the back 4), lack of tempo, and backwards sideways passing, and failure press them and stand off them will unfortunately be his undoing if he doesn't have a "Eureka" moment this season.
Steve Jenkins
81
Posted 15/08/2015 at 11:21:23
Great post John, for those that don't already realise it we are the joke of the Premier League right now!
Laurie Hartley
82
Posted 15/08/2015 at 11:33:02
Peter Bell @ 35,
"There are a lot of posters on here who watched Everton in the 1950/60s, they must be horrified at what we have descended into,"
I am one of those "horrified". I have wonderful memories of those days.
I lived in the North End of Birkenhead and used to meet up with two of my school mates John Laing and Tony Loy. John used to get a bus from the Woodchurch Estate to meet me and Tony at his mum and dads place in Ilchester Square.
From their we used to get the train form Birkenhead North into the Liverpool City centre and then a bus up to Goodison.
3/- used to get us through the turnstiles onto the Goodison Rd terraces under the clock at the Gladys St end (where Alex Parker used to ply his trade).
The hairs are starting to stand up on the back of my neck as I remember the feeling I used to get as we emerged from beneath the stands into that wonderful arena. All that lovely green grass cut and rolled. It was like stepping into another world for those 3 thirteen year olds in the early 60's.
The anticipation would mount as the terraces filled in behind us and around the ground. We used to guess how big the crowd would be - it was quite often over 50,000.
It was a great time to be an Evertonian although I do remember my dad (God rest him) grumbling about John Carey being sacked. That didn't last long however as we watched Harry Catterick assemble a team of champions. A team that any football fan anywhere in the world would have been truly proud to call "his team".
We had the lot then:
A great fan base
One of the best grounds in Britain
A great manager
A great team
A great Chairman
Sad to say all that remains is the great fan base, because, irrespective of our polarised views on the current situation, we all love "the club" - and there are many of us.
I emigrated to Australia in 1973 but the love affair with Everton Football Club continues. There is something great about this club and I live in hope that somehow it will find a leader that can restore its fortunes.
Southampton shortly. Young John Stones will have a chance to prove if he is worth $30m. That opportunity will come in the form of Pelle. Let's hope he rises to meet the challenge. If he does you never know we might just win this one.
Up the Blues!!!
Peter Gorman
84
Posted 15/08/2015 at 11:58:39
Who is going to fly the plane though?
David Johnson
85
Posted 15/08/2015 at 12:01:36
How about a poll?
Colin Glassar
86
Posted 15/08/2015 at 12:16:48
Biggles probably.
Lee Gorre
88
Posted 15/08/2015 at 12:30:24
A fantastic experience in Europe is getting to the final, winning it, etc not getting battered embarrassingly against an average team.
Christy Ring
90
Posted 15/08/2015 at 12:55:12
Long overdue. Enough is Enough.
BK and his cronies have sucked everything for this great club. Imagine one of the oldest grounds which is falling apart, is 'Remortgaged'.
We sold Bellefield and bought Finch Farm, sold it to Liverpool Council and are now leasing it from them.
Kitbag pay £3m a year for 10 years and get the profits from every merchandise sold.
Since BK took charge 16 years ago, he has spent an average of £3m a year on players.
Absolutely shocking.
Where is all the Sky money gone??
Jim Burns
91
Posted 15/08/2015 at 14:56:01
It's now 2.45pm and we've won 3 nil with some style. It seems to have gone quiet on here.
Simon Paul
92
Posted 15/08/2015 at 15:11:36
Just to point out, the banner had nothing to do with the website "NSNO"
As if we'd want our name printed in red!
Eric Myles
93
Posted 15/08/2015 at 15:48:20
Christy #68, we didn't sell Finch Farm to Liverpool Council, they bought it from the company we sold it to when they went bankrupt for £13m, an option we turned down preferring to spend £40m on rent.
Steve Jenkins
94
Posted 15/08/2015 at 15:54:48
Jim
It changes nothing! I think some, certainly myself, are just trying to enjoy the result today & leave anything negative alone at least until tomorrow :-)
Jim Burns
95
Posted 15/08/2015 at 16:15:08
Steve -- I accept and agree that the bigger picture hasn't changed. I just thought it would be nice if the doom and gloom merchants came on again to give credit where it's due. It seems, at times, we are quick to vent our frustration but not as quick to come on and celebrate. Is this what Lyndon was getting at a little while back?
Steve Jenkins
96
Posted 15/08/2015 at 16:31:48
Fair point, Jim and I agree with you.
I stopped coming on here last year due to the negativity which was overbearing.
I'm a fan of Martin ez & want him to succeed but agree with other people's points about him re tactics etc.
He got it right today & I'm really hoping this now continues.

Martin Mason
97
Posted 15/08/2015 at 16:49:51
Can somebody please give me an example of asset stripping that the board has carried out? Converting physical assets to playing assets isn't asset stripping and that is surely all that has happened? We've sold physical assets to buy and pay players to do what all fans wanted which is to at least maintain our position in the top flight. Surely asset stripping implies that the board has taken the assets from the club which there isn't a shred of evidence to support. I'll accept any offered.
Regarding protest, I really can't see any point of protest especially at this point in time unless the board has an immediate and realistic alternative to what it is doing now or the protesting group has ideas for credible alternatives themselves which they don't seem to have other than Kenwright out and hope for the best? It really isn't very good.
Tony Abrahams
98
Posted 15/08/2015 at 17:01:46
Good story Laurie. I text my oldest son who was at the game to say Stones would be cheap at £50 Million, playing like he did today. His reply was they would have to double that!
I only watched it on the telly, but this kid today was absolutely fantastic, a real pleasure to watch and enjoy.
Tony Abrahams
99
Posted 15/08/2015 at 17:07:31
Martin, you really should save your stupidity for another day, it's not very often The Toffees win 3-0 away from home, in the premier lge.
John Atkins
100
Posted 15/08/2015 at 18:09:42
Tony spot on !
Martin - pathetic
People like you are the reason why we have fallen so far behind
Do me a favour will you, go take a walk in Stanley Park and glance over at the progress our loveable neighbours are making
We need action NOW
Martin Mason
101
Posted 15/08/2015 at 18:32:35
Tony, rudeness isn't a substitute for answering the points I raised but easier I suppose?
John, Liverpool are not Everton, they are a richer club than us with far better access to finance. Kicking our current board out doesn't make us richer unless the new board can provide means of sustainably increasing revenue. Let me ask you, how do you feel an incoming board could sustainably increase our revenue? It's not a trick question but if we need action NOW we must have an idea of what that action could be?
Patrick Murphy
102
Posted 15/08/2015 at 18:39:07
Martin you seem to have all the answers so why don't you provide the information you request. Do you honestly believe that the board could not have done any more in the sixteen years that they have been in charge? Not a trick question btw. Sorry if that's a little too rude for you.
Kevin Tully
103
Posted 15/08/2015 at 18:49:02
Jim Burns # 76. Supporters are celebrating the win, and quite rightly so. If you think 3 points in any way excuses the lies, failings, missed opportunities and non-investment then I feel a little sorry for you.
Even if we signed Messi & Ronaldo, these fuckers have set this club back a generation. It's attitudes like this after a win or two that allow them to get one over a gullible fan base.
Some of us can see past what is occurring in our midfield on any given day. You should try it.
Dean Adams
104
Posted 15/08/2015 at 18:53:49
The last set of accounts which were on show on TW this last week showed that our assets had risen by over £30million last year alone. That is evedence that there is no asset stripping, but if people do not understand how finance works it becomes very easy to confuse them.
Denis Richardson
105
Posted 15/08/2015 at 19:08:35
Jim 80 - great win today but one swallow does not a summer make. Lets have a few more performances like that before we start talking about Martinez turning over a new leaf. The players can obviously play and it's been the tactics that's been holding them back so far.
We also had the odd decent performance last year mixed in with the shit. Never the less, nice to get a win away to S'ton after all these years. The team today was unrecognisable to the one that played last week and you have to ask why? Which team will turn up next week?
We still need to clear out the board and get people in with a proper plan that doesn't just involve avoiding relegation and getting the sky money.
Jay Harris
106
Posted 15/08/2015 at 19:13:33
Martin,
ever a voice for the board.
If all the asset stripping HAD been transformed into players we would be looking at a very different picture now.
In Kenwright's first 2 years we saw a change in the accounts to a net liability as opposed to a net asset position he inherited despite income from player sales.
When Kenwright took over "Other" operating costs were 1 million a year. Within a few years that had jumped to over 20 million and we were making losses every year hence Rooney had to be sold..
In his 15 year reign we have one of the lowest net spending amounts on players in the Prem so how do you equate that with asset sales.
Tim Barford
107
Posted 15/08/2015 at 19:15:12
The challenge of running a football club in the Premier League in the 21st century is huge. Bill has managed this a lot better than most with a lot less than most. Granted, there are question marks about some of the business decisions and models adopted, and undoubtedly lessons to be learnt for the future, but we have a stability in our squad and an integrity that is the envy of many.
Many quality players, a quality manager and backroom team, quality ground staff and a quality human being in Bill Kenwright. 100% behind the club, the board, the management, the chairman and the players. And thrilled to see today's performance. The huge investment in Rom and the resistance of temptation to cash in on Ross paid dividends today.
Jay Harris
108
Posted 15/08/2015 at 19:30:35
Dean you are so right about not understanding accounts and how easy it is to confuse those that do not understand.
Fixed assets stayed about the same but debtors (current assets) was up about 22 million.
Current assets such as debtors fluctuate from year to year and should not be considered when talking about asset stripping.
Tony Sullivan
109
Posted 15/08/2015 at 20:51:42
David Greenwood (26), I was at the MCG during the 2010 Ashes series. A young lad sat next to me, he was wearing an Everton shirt.
After ascertaining that he was an Aussie (and not with the Barmy Army), I asked him why he supported Everton? "Because of Tim Cahill," he said.
He was really keen and knew a great deal about our history, and of course TC was a great role model and ambassador for our great club.
However, I do think we as a club don't make enough of our overseas players; there are many examples, as we all know.
Keith Harrison
110
Posted 15/08/2015 at 21:02:00
Bill Kenwright.
Please get well soon.
Please get rid soon.
Let the club go with dignity, and you'll be remembered as you would like.
Thankyou.
Tony Abrahams
111
Posted 15/08/2015 at 21:12:47
Martin, I wasn't being rude, I genuinely felt you was being stupid. I saw Jay Wood wipe the floor with you on ToffeeWeb, yesterday, and sometimes feel that it's better to have no answers, than to continue making a fool of yourself.
Read your post again, and stop making sense. People are happy with the team today, leave it till tomorrow. PLEASE!

Martin Mason
112
Posted 15/08/2015 at 21:13:36
Tim@92, a post of reason and thank you.
There has been no asset stripping at the club and I really hope that we don't see this myth repeated lest it gains any credibility.
Patrick@87
Do I think the board could have done better over recent years? Of course I do but I think in a complex situation they have done well to get us into an ever improving financial position and with a team that can play the devastating game that we played today, a game that very few could match including United. It's easy not to see the positives in a sea of irrational negatives though. Thanks for not being rude, it's appreciated :-)
Martin Mason
113
Posted 15/08/2015 at 21:19:39
Tony, where did Jay Wood do that?
Tony Abrahams
114
Posted 15/08/2015 at 21:24:36
It's a complex situation, Martin. I really don't know who is being rude or negative?
Tony Abrahams
115
Posted 15/08/2015 at 21:28:00
It might have been Jay Harris, Martin., sorry.
Martin Mason
116
Posted 15/08/2015 at 21:29:20
Tony, answer the question please and stop waffling.
Martin Mason
117
Posted 15/08/2015 at 21:31:11
Sorry Tony, I didn't mean that.
Tony Abrahams
118
Posted 15/08/2015 at 21:39:26
Haha. Tony, rudeness isn't a substitute for answering the points I made, but easier I suppose?
Read your post again, and tell me how you know the answers to the points you raise?
Do us a favour though Mart, tell us tomorrow!!!
But before I go, one more thing, you was right with your last sentence mate, haha!
Dave Abrahams
119
Posted 15/08/2015 at 21:42:34
Tony, I've got some bandages when you come tomorrow, your head must be cut to pieces, banging it against a brick wall there, lad. Oh and stop being rude to Martin. I think I'll take an aspirin myself.
Tony Abrahams
120
Posted 15/08/2015 at 22:03:32
I can't remember the name of the film Dave? It's a proper classic, the fella who steals the show, does everyone's head in. The Duke reminds me of Martin, the way he gradually breaks you down!
Lev Vellene
121
Posted 15/08/2015 at 22:34:53
We shouldn't 'protest' against the Team (at all!), and only against the Manager if he goes back to beating his dead horse, passing the ball backwards or maybe sideways for most of the match...
But protesting against a Board that has left us holding nothing much more than our name and trademark? I hope we still have some control of Goodison Park, but I won't put it past the Board to think renting it for a few hours every other week would be worth letting some circus or market keep it for the rest of the time!
Eric Myles
122
Posted 15/08/2015 at 22:44:11
"Can somebody please give me an example of asset stripping that the board has carried out?"
Well Martin, when they took over from Johnson we had tangible assets (that's physical possessions, not players) of around 㾼M and now it's around ٦M, just having increased ٟ.5M, we must have bought some lawnmowers.
John Atkins
123
Posted 15/08/2015 at 23:07:12
Martin,
Firstly I'm trying to enjoy a fabulous 3 points today.
Do you know what though... I started typing my reply to you highlighting and reminding you of the failures, lies and incompetence during the last 16 years of this current board. Then I got tired and thought.... I'm also tired of people like you.
I'm ashamed to see this fantastic club I love in the state it finds itself, struggling to compete in the transfer market with Stoke City and the like (FFS)
Your comment about Liverpool says to me that you see us as second best to them -- shame on you!
You'd still probably defend BK through a relegation.
Rude to you? Probably... Angry and frustrated with BK? You bet I am!
Patrick Murphy
124
Posted 15/08/2015 at 23:08:02
Dean made the claim that "our assets had risen by over 㿊million last year alone."
Can somebody point me in the right direction to find this figure in the accounts? I don't disbelieve what Dean says but I have searched and can't find it but I've never been particularly good at reading accounts.
Eric Myles
125
Posted 15/08/2015 at 23:08:27
And of course another example is selling off the playing assets each year without spending the money to replace them.
Ian Smitham
126
Posted 15/08/2015 at 23:36:39
Great thread, from my viewpoint, the people who most closely query the Share issue and the Costs and Loans situations are all here.

Matt Traynor contributed this on another thread:
Re: Kings' Waterfront, the initial contribution from Everton was £30m, but by the time it was "take a shit or get off the pot", it had risen to £65m, and Everton were nowhere near raising the money, and lost their preferred bidder status.
There was also a strong likelihood that the £65m requirement would've increased.
Maybe someone should ask Paul Gregg if he was still ready to reverse mortgage that much... I doubt it.
Ian Smitham
127
Posted 15/08/2015 at 23:39:56
Some little while ago, this appeared on TW, after a meeting, it seemed to me that the Operating Costs issue was dealt with
AGMs reinstated at shareholders meeting
by Lyndon Lloyd | 26/06/2013 Comments (88) jump to end
Would send the link but just do not know how to.
Keith Harrison
128
Posted 15/08/2015 at 23:55:12
Roberto definitely said TWO players after the game today. To me this means he has decided either a) Ross is the no.10 we're looking for, b) Kone is a striker, or c) He's re-signing Alcaraz on a free so he doesn't count.
Patrick Murphy
129
Posted 15/08/2015 at 00:00:39
I don't know if the operating costs is an issue or not, Ian, it seems that most companies use it and I would think that things like loan fees, add-ons to transfers, players bonuses etc would be part and parcel of that particular category. However, I'm not sure whether it is healthy for any club to rely on TV revenue to such an extent, especially as we don't generate massive income from other sources.
My own view is that, if we have been relatively successful on the football side of things in relation to at least breaking even on player transfers over the last 16 years with healthy gates for most of that period, but even that has not been enough to cover the costs without selling off land etc. It's probably true that it is not asset stripping as the accountants would define it but the board have sold off most of the family silver.
When there are no tangible assets to sell, how do we cope? We have to take out a loan every year to enable us to purchase players; if that loan is not forthcoming, we have to sell to buy. So far, you could argue that it has worked to an extent but, apart from paying the players and staff, what else has been achieved? Things may alter in our favour in the next couple of years but whatever we gain will also be gained by our rivals, that is the gripe that I have and why some of us feel that the board has generally let the club down as far as the bigger picture is concerned.
Denis Richardson
130
Posted 15/08/2015 at 00:17:58
Patrick (#109), I think what Dean means is that our balance sheet improved by about 㿊M last year (actually 㿈M I think).
In baby language, we made a 㿈M profit last year so are 㿈M better off compared to the year before. (We started out having more libilities than assets; that is still the case today but the gap has reduced thanks to the 㿈M profit.)
The profit btw was 100% down to the increased TV money.
Steve Jenkins
131
Posted 16/08/2015 at 01:03:38
Those that don't see it now, will do so if the status quo remains in the next few years. The RS are massively outspending us now; when all that extra revenue comes in from the new stand, if we continue to stand still, they will be smacked between the eyes with the gap that widens.
Why should we want better, a board with a plan to increase infrastructure, revenue streams and perhaps, I know this is crazy thought... even invest a pound or two of their own money to take us back challenging where we belong?
Everton are a massive club, one of the biggest around, a sleeping giant since the late 80s, but hey, let's settle for mediocrity.
We have]no physical assets left now, so what happens the next time we need money? We don't need Einstein on the forum to answer this one...
Also, without the extra revenue streams, as time goes by it will get harder and harder to attract players to us with us not being able to bid as much or compete with wages, as well as hold on to them, as they will get offered far larger wages elsewhere.
Steven Jones
132
Posted 16/08/2015 at 01:18:44
Wonderful EFC fans today at St Mary's... a credit to the club, RM and BK.
I do wish those that are critical of BK and the board and RM and the players would suggest what they would actually do if they had the reins. What actually would they do other than liquidate fixed assets to develop players and acquire younger players and develop and then sell later at a premium?
Only other option is to change the board... and replace with who? 85 per cent plus result in failure like even bankruptcy -- Leeds, Blackpool, Portsmouth, Blackburn et al.
Where is there another Man City or Chelsea oligarch???
So let's make our choice and stick with it!
Nicholas Ryan
133
Posted 16/08/2015 at 01:37:22
My dad asked a very interesting question on the ownership saga: 'If Donald Trump announced he was going to buy Everton, would that make things better or worse?'
Be careful what you wish for!
David Barks
134
Posted 16/08/2015 at 02:27:06
Nicholas, as much as I despise him, I would take it. Everton would instantly be an international brand, he would absolutely spend a ton on the club, he would build a state-of-the-art stadium with accompanying hotel/amenities.
If he was the owner, we wouldn't even have to question whether Stones will be here in 2 weeks time. He'd have us touring the USA every Summer along with all the major clubs, and would have us signing the biggest players in the world. Because, at the end of the day, that's what the agents would care about and that's what would get the players here.
So yes, I don't have to like the owner. I don't think City love their owners and agree with their political views. But they love the money they spend on their club and the world class players they've brought to a nice but destitute club.
Frank McGregor
135
Posted 16/08/2015 at 02:42:51
Laurie Hartley (#70),
Yes, they were exciting times in the 1960s; however, I remember the 1950s when we were relegated to the Second Division... Everton was not the glamour club and badly run, far worse than it is now. We did eventually get promotion to the First Division in 1954 by beating Oldham Athletic I believe in the last game of the season.
The games you enjoyed only came about after John Moores took over the club and started to buy players like Roy Vernon, Bobby Collins, Tommy Ring etc. Back then, I too took the train from Hamilton Square Station to Central Station and got the bus up to Goodison Park.
Maybe the situation at Everton now is history repeating itself...
Dennis Ng
136
Posted 16/08/2015 at 03:28:08
I imagine he will make a reality show out of our club.
Eric Myles
137
Posted 16/08/2015 at 05:30:07
Denis #115, the "profit" was 100% down to player sales.
Patrick #114, the issue with the Other Operating Costs is that they leapt in one single year by around £20 mn with no explanation and the fact that the chairman of a company has no clue where 35% of the company income is spent on.
Patrick #109, page 71 of the accounts under Current Assets, the figure for Debtors (people who owe us money) increased as did Cash in the bank, a combined total of £30 mn.
Alex Doyle
138
Posted 16/08/2015 at 07:55:31
Well done Tim #92. A voice of reason and logic in a sea of ill-informed and knee-jerk cynicism.
For anyone who is actually interested in Everton's finances and the boards (and capable of understanding) recent performance, may I refer you to this independent and detailed assessment of our financial results.
http://swissramble.blogspot.ie/2014/12/everton-blue-sky-mining.html
Eric Myles
141
Posted 16/08/2015 at 09:04:56
"Other loans include a 㿁 million loan securitized on Premier League TV money at 8.8%."
What he doesn't say though, Alex, is that this figure increased by ٦M on the previous year. It seems that the more money we receive from Sky (㿊M more than when we took out the initial ٧M loan with Vibrac) the more we need to borrow at high interest rates.
Tony Abrahams
142
Posted 16/08/2015 at 09:06:48
Frank 118, wouldn't that be a great thought. My dad reckons there were at least 25,000 toffees at Oldham when Everton got promotion. He said we got 69,000 at Goodison Park for our first match back in the top league, (midweek), then 73,000 for our second.
My own memories come from the eighties, when we rose out of the ashes once more. Gates were low and everyone wanted change in the boardroom, and a different manager!
I remember reading an article about Everton's game at Birmingham in the Mirror. The reporter wrote, "On the way to the game today, I am going to read Orwell's book, because 1984 has got to bring better times for Everton"!
We won the cup, and twelve months later, we was Champions of England, and won our only European trophy, even getting voted World Soccer Team of the Year.
This was achieved in the space of 18 months, but do you know what the best thing about it, was to me. We done it playing absolutely fearless football. We steamrolled teams. We done it the EVERTON WAY.
Patrick Murphy
143
Posted 16/08/2015 at 09:31:24
Thanks for the information Eric and Dennis relating to increasing assets. Thanks too to Alex for that Swiss Ramble link in which the author concludes:
No matter how much Everton's passionate following wants the club to return to its former glories, this will be virtually impossible unless there is a dramatic improvement in the financial position. The fans really do deserve better from the board: a clear, coherent strategy would be a step in the right direction.
Alex Doyle
144
Posted 16/08/2015 at 09:47:54
@Eric overall debt is down significantly. Surely that counts for something in your book? It counts for significant progress in mine. The loans have been expensive, but the numbers speak of a general improvement in our finances, across the board. There could definitely be improvements and the board recognise the limitations of Goodison, but I firmly believe they are on the right track.
We have sold players but we have also bought: Lukaku and McCarthy spring to mind. The value of our current squad is immeasurably bigger than previous squads. The age profile is younger. We're not going to win the league but, as the Southampton game indicated, we will be better than last season.
Last season was disappointing, but the long-term stewardship and direction of the club has been excellent.

Phil Walling
145
Posted 16/08/2015 at 10:14:46
On a day when we should all be rejoicing over Everton's best away performance in the Martinez reign, we find ourselves wallowing in the misery of Blue Bill's leadership. Of course, finding something to moan about is the true mark of an Evertonian -- and of none more so than me!
I am no more a fan of our chairman than I am of his chosen manager but I do support Martin Mason in his view that no malfeasance has occurred. The sale of assets has become necessary because of this regime's lack of vision and inability to devise and deliver an effective business plan.
When one of Bill's acolytes said "All the money has gone to Finch Farm," only the cynics could interpret that as implying it was all spent on lawnmowers and whitewash. A cursory glance at the accounts did, for many years, show that a ridiculous and high amount was being expended on staff and players WHO OPERATED FROM FINCH FARM.
That unsustainable approach is gradually being ameliorated by the massive increase in TV revenues and this alone may provide BB with a lucky and, perhaps, undeserved opportunity to avoid a meltdown.
A company director's fiduciary duty includes the responsibility to borrow money at the most competitive rate and the BVI loans have always seemed a little sniffy. However, if it is true that 'normal' banks would not take the risk, then so be it -- and a seat on the board may well have been a condition attaching to those loans. Who knows?
Of course, Bill loves -- absolutely loves -- being chairman and he milks his Everton mania for all it's worth. Were he a billionaire with the ability to invest, we'd all love him for it. The trouble is that he's a relative pauper who has only his enthusiasm to offer and has totally failed to offset that fact by surrounding himself with people of vision and business skills as per the Swansea model.
Survival is his game and, personally, I hope he does survive -- but only until an 'as well-meaning' but competent successor can be found. Soon.
Jay Wood
146
Posted 16/08/2015 at 12:51:09
Martin Mason
May I be of assistance to you? In Tony Abraham's post #96 in which he states "I saw Jay Wood wipe the floor with you on ToffeeWeb yesterday," you asked him in #98 "Tony, where did Jay Wood do that?"
I believe this is the thread Tony referred to, the 'Has Kenwright Given Up thread'
Now, I'm too modest to say whether I wiped the floor with you, but anyone can read that you made 8 posts in a 30 hour period between Thursday and Friday on that thread. Just one day on I'm surprised you don't recall it.
I and others, including Eric Myles who has also responded to you in this particularly thread, challenged your original premise that basically stated Everton:
* has been in decline for 40-50 years now
* has sold assets to maintain our position in the top flight in the absence of any other income source "such as that enjoyed by the top clubs ... It is totally unrealistic to expect a club like EFC to develop a business model to achieve the income enjoyed by the top clubs" (your words in quotes).
Other posters besides Eric and I presented an eloquent, well-researched and well-presented riposte to your original and subsequent posts, which included you describing the club's most successful period in its history in the mid-80s as (your words again) "a statistical blip on a decline that's been going on effectively since the break-up of the wonderful 1970 side."
You subsequently offered a very selective interpretation of specific transfers out of the club, which again were well countered by others.
Why I am revisiting all that in this thread? For two very simple reasons:
1) In this very thread you ask questions of others to show examples of asset stripping and how any incoming board would improve our finances
2) You respond to Tony Abrahams telling him "rudeness isn't a substitute for answering the points I raised but easier I suppose"
1) is a legitimate question to ask, 2) is a reasonable request for courtesy.
However, given your evasiveness and rudeness on the 'Has Kenwright Given Up?' thread, I hope you'll forgive me for noting your apparent hypocrisy and contradiction, trying to position yourself as the voice of reason and moral superiority on this thread.
You were asked many legitimate questions on the earlier thread, for which you offered no answer. Instead, you resorted to this:
#183 "Jay@181 I'm sorry, I have a life to live. Perhaps when I'm struggling for sleep some time?"
Pot - Kettle - Black comes to mind.
On that thread, Jim Jennings #186 responded to you with: "That's a really pathetic response. It reminds me of someone who once said "I'm bored with your question" because said question exposed some uncomfortable truths."
Anthony Hawkins #188 wrote: "Martin Mason #185. Sorry to make this specific to you but you should stop to listen/read some of the longer posts above as it would provide you with a lot of insight and stop you spouting more nonsense."
You have a particular modus operandi Martin. You state your case which, when legitimately challenged, you consistently fail to respond to specific questions put to you, as in the earlier thread.
You compound this ignoring of hard questions on your position by introducing new or secondary topics and deflect the 'burden of proof' from yourself to others, insisting they respond to your questions whilst ignoring theirs. Oft times you ask them to prove a negative.
You further avoid hard questions by labelling others "rude" so you don't have to engage with them.
Your quoted post #183 above exposes your hypocrisy as you demonstrated in this thread how wobbly your own 'superior moral code' is in your post #101. Having pulled Tony up on what you perceive as his rudeness, you starkly tell him: "Tony, answer the question please and stop waffling." Tony's response to you showed the irony of your moral hypocrisy was not lost on him, even if it probably was on you.
More Pot – Kettle – Black, Martin.
Before the last 2 days I've never engaged with you Martin. I understand better now, given your hypocrisy, contradictions and the slight of hand you regular practice as demonstrated above, many people on TW don't find you very credible in what and how you post.
Most respectfully, yours ...
Jay.

Eric Myles
147
Posted 16/08/2015 at 15:46:33
Alex #129, overall debt INCREASED by 19%!!!
The most expensive debt burden @8.8% interest INCREASED by 66%!!!
We sold players and had an excess of £28 mn from player trading (prior to summer purchases) for which the board claimed credit as "record profit"!!
And you consider that significant progress??
Brent Stephens
148
Posted 16/08/2015 at 16:01:57
Eric (etc) this is a genuine question as I'm not a financial specialist. Based on the Swissramble comparison of 2014 and 2013, if I owned the club outright and was thinking of closing it down completely at the end of 2013, and then thinking the same at the end of 2014, after paying off all debts would I have more dosh at the end of 2013 or at the end of 2014?
Tony Abrahams
149
Posted 16/08/2015 at 20:33:52
Jay, without wanting to sound rude to Martin, I suggest you don't take him serious!
The film I was asking about at post 105, Dave, was "Midnight Run", and Martin without ever meeting him, definitely reminds me of "THE DUKE"!
Sean Randles
150
Posted 17/08/2015 at 10:57:06
Could someone involved in this 'get the board out' campaign please explain their ideal scenario for what happens if they get their wish?
Do they think Bill will resign? Who takes his place? How will the club be run etc. Are you expecting Bill to sell his shares? Presumably you want Elstone to resign as well?
Can you please give a cogent clear explanation of what will be put in place of what we already have and why it will be better?
Eric Myles
151
Posted 17/08/2015 at 14:52:40
Sean, I refer you to post #128 in the 'Unity' thread.
'Who will replace the board?' and 'be careful what you wish for' are cries often heard during these debates.
Well on the one hand we have the BU who want the appointment of independent experts to attract buyers, perform due diligence and sell to the person that will provide for the best interests of the Club.
On the other hand we have the self proclaimed "best salesman if EFC" who has consistently failed in his approach and was entertaining selling to a bloke in a bedsit.
Who do you trust as the most capable party to find the correct buyer??
Ian Smitham
153
Posted 18/08/2015 at 22:00:17
Phil#128 , great contribution, especially around the loans.
Eric, appreciating that you are on the button regards the debt increases, we discussed the real values of the players, rather than the values in the Accounts and I think you said the players are understated by £100M.
Just wondered again about this pesky Vibrac piece. If the Company is doing better than before and has been stabilised and the assets are increasing, based on the player valuations, which I am sure they will be insured for, then why don't the club refinance said loan facilities with a more mainstream Bank?
Add Your Comments
In order to post a comment, you need to be logged in as a registered user of the site.
Or Sign up as a ToffeeWeb Member — it's free, takes just a few minutes and will allow you to post your comments on articles and Talking Points submissions across the site.
© ToffeeWeb