Fantastic goals blow away The Saints
by

217 Comments [Jump to last]
| 15/08/2015
Southampton 0 - 3 Everton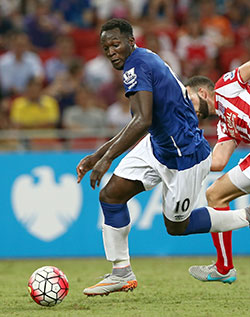 Two superb goals from the Big Belgian were the difference in a very effective Everton performance at St Mary's
(Lionel Ng/Getty Images)
Roberto Martinez decided to dispense with recognized wingers in his team selection for the lunchtime televised match at St Mary's where Everton wore their green and black third strip. A plane had circled the stadium, carrying a banner calling time on Chairlamn Bill Kenwright and his fellow custodians.
Everton kicked off and immediately pumped up a ball for Lukaku but his header on was too strong and Southampton attacked, putting in a good cross for Pelle. The home side then put in some good possession play and it almost caught Everton out but Jagielka defended with confidence and the ball was again put forward to Lukaku whose header fell to a red & white shirt.
Lukaku scampered away down the left and a sliding tackle right on the edge of the box by Targett took him out, but not a penalty. Barkley curled the free-kick off the top of the wall and out for a corner taken by Barkley that eventually fell to Kone who took too long but won another corner that Barkley wasted, firing over everyone and out for a goal kick.
McCarthy then Barry fouled Mane but Everton held strong for the free-kick but it was increasingly adventurous attacking by Southampton that continued to push Everton back and threaten them with some enthusiastic play, a brilliant cross from Tadic picking out the lone star Pelle who did not jump for what could easily have been the opener. Targett was next to fire one in at Howard.
A spell of tippy-tappy saw Barkley get the ball forward to Kone who was coming deep and trying to get Coleman to overlap but the Irishman was thwarted again by Targett. Everton then moved the ball forward more quickly down the left but lost possession.
A clever ball from Pelle found Mane surging forward and his brilliant shot was fantastically saved bu Howard. From the corner, an excellent Everton break started by Barkley down the right and Kone hesitated before picking out the big man at the far post and a difficult header with Lukaku having to crane his neck backwards, found the net off the underside of the bar to give Everton a brilliant lead.
The goal was executed brilliantly and it totally deflated a very buoyant Saints side, giving Everton in their military style kit a fantastic platform to build on. After tremendous work by Kone, a superb chance fell to Barkley whose poor sidefooted strike picked out Stekelenburg with either side of the goal to score in: a terrible miss, and Cleverly totally fluffed the follow-up.
Everton showed much more confidence iin some great possession play, with forward intent but Coleman's cross after great work down the right was defended away. Jagielka fouled and Barry had to give away the corner which cause d havoc but Wanyama headed over when he could have scored.
Stones fell awkwardly on his lower back and left arm, the ref stopping a very good-looking attack in its tracks. But he was soon up and running again, showing some tremendous class in defence. Pelle was booked for a cynical pull on Coleman.
Cleverley scooped a great ball forward for Barkley who almost beat the Southampton man but then had to foul him and Southampton were attacking but excellent strength by Stones denied Mane. Another Deliberate Everton attacked ended with Barkley's forward ball that was too adventurous for Kone. Galloway was trying to get forward but ran the ball out of play.
Another direct surge through the middle after great work by Lukaku brought an excellent result, Barkley given space to run forward over the half-way line and feed an excellent ball to feet for Lukaku to drive low and wide of Stekelenburg into the net for a superb second goal.
Barkley committed a stupid tackle, foul, yellow card and free-kick that allowed Tadic to swing in a good cross Howard came out and punched away!!! The whistle blew signaling the end of a fine and very competitive half in which Everton's and indeed Lukaku's great finishing was the difference.
Southampton came out strongly, with Romeu replacing Tadic, and they won a corner off Cleverly but it was headed wide. But it was nervy stuff at the back for Everton as they were put under a lot of pressure, Coleman blocking Pelle's strike. Romeu caught McCarthy badly and saw yellow.
Great work down the right by Coleman was wasted when neither Kone nor Lukaku had bothered to get forward into the area for the cross from Cleverley(?) and the home side attacked to win two more corners, Kone heading away the second. A clever cross by Mane was well cleared by Jagielka. Then a ball spun off Coleman and fell perfectly for Pelle but Howard was well positioned to save his snapshot, as Southampton pressed hard to get back in the game.
Everton were trying to play the ball out from defence but when they did,it was't quite clicking, with Barkley getting half-chances that just wouldn't work. Another corner from the home side was headed over as the game entered its final quarter.
Everton won a series of corners that Barkley delivered well but nothing came of them, with Barry & Cleverley getting them offside on one! Everton appeared to have weathered the South Coast storm as they gave Southampton something of a testing time, but were always under pressure for the crosses the home side swung in. However, most were headed away by Everton players.
A superb effort by Mane was well saved by Howard as Ward-Prowse replaced Davis, and Naismith replaced Kone with 10 minutes left. Some good play saw Lukaku win a corner that then saw some tremendous dribbling by Lukauku and some excellent ball work around the Southampton area that saw Barkley finally get the ball, jink the defender, and curl in an absolutely brilliant third strike to seal all three points for the men in green and black.
As Southampton tried to make it respectable, Everton broke forward again and Naismith should perhaps have done better at the end of it. Tyias Browning came on for the last few minutes replacing Brendan Galloway, who had done well in place of Leighton Baines. Gerard Deulofeu also came on to start his second Everton spell, this time as a permanent player, replacing Lukaku.
Everton played out the final minutes to a cacophony of chants and cheers form a very happy Blues contingent who had witnessed a top-class performance all round for Roberto Martinez's charges.
Scorers: Lukaku (22′,45′) Barkley (84′)
Southampton: Stekelenburg, Cedric, Yoshida, Fonte (c), Targett [Y:8'], S Davis [Y:77'] (80' Ward-Prowse), Wanyama, Tadic (46' Romeu [Y:48']), Mane, Long (72' Rodriguez), Pelle [Y:40'].
Substitutes: Gazzaniga, Martina, Reed, Juanmi.

Everton: Howard; Coleman, Stones, Jagielka, Galloway (88' Browning); Barry, McCarthy [Y:75'], Cleverley, Barkley [Y:44']; Kone (80' Naismith), Lukaku (89' Deulofeu).
Subs not Used: Robles, Mirallas, Bešić, Osman.
Referee: Michael Oliver
Attendance: 30,966
Full coverage: ToffeeWeb Match Report
---
Reader Comments (217)
Note: the following content is not moderated or vetted by the site owners at the time of submission. Comments are the responsibility of the poster. Disclaimer
Karl Parsons
1
Posted 15/08/2015 at 13:09:49
Goalllllllllllll
Alexander O'Brien
2
Posted 15/08/2015 at 13:30:22
That second was a peach!!!!
Christy Ring
3
Posted 15/08/2015 at 13:32:07
Eat my words, we are playing superbly all over the park.
Jim Knightley
4
Posted 15/08/2015 at 13:38:10
Best half I've seen from Everton in a very very long time. Lukaku's performances demonstrates the idiocy of comments which criticise so many aspects of his play. He has been unbelievable - unplayable and he has scored two superb goals. Unsurprisingly one has come from the back post balls he thrived on at West Brom, and another created by his running. We've got him running at players, as we should be, and he and we have looked so much better for it.
This is the first time I've felt optimism about Everton in a long time. Let's hope we can keep it together in the second half and come away with a win.
Colin Malone
5
Posted 15/08/2015 at 13:38:44
Not a square ball in sight. YIPPEEEEE!!!
Alexander O'Brien
6
Posted 15/08/2015 at 13:41:16
Full credit to Howard at 0-0 pulled off a great save. McCarthy's been industrious, Barkley's perfectly weighted pass for the second was quality.
Karl Parsons
7
Posted 15/08/2015 at 13:44:49
Barkley's pass for the first was equally as good Alex.
Colin Glassar
8
Posted 15/08/2015 at 13:44:49
It's like watching Everton in Roberto's first season again.
Dave White
9
Posted 15/08/2015 at 14:27:12
Well that's Kone's best game in Everton blue by a country mile!
Alexander O'Brien
10
Posted 15/08/2015 at 14:28:15
3-0 yet another belter!
Craig Fletcher
11
Posted 15/08/2015 at 14:43:07
Absolutely fantastic result today.
Well done lads, and the manager, tactics were spot on. I sincerely hope this result has helped quell some of the doom and gloom that permeates this website, though I'm not sure it will. I found this pearler actually on the Southampton v Everton preview:
"Let's face facts: if it's not another hammering, all it will be is another below-par performance with more questions than answers.
I don't even bother expecting anything from Everton under this manager anymore. I mean how long is it since we beat a top half team away from home? Was it the win at Old Trafford in 2013?

You know it will be the same pathetic formation that yields hardly any decent attempts on goal and no men getting forward in support of the isolated striker. That will continue until we go a goal down late in the first half or early in the second then soft ollies will bring Naismith or Kone on and we will get caught late on with a goal on the break and lose 2-0.

You can almost read the script, it's just so hard to be anything like positive about Everton at the moment".
I hope that those who are the first to come on here after a disappointing match to absolutely batter the players, and manager, are also the first to come on post-game and hold their hands up when they are woefully wrong.
But again -- huge result. Just the filip we need heading into a tough next few games. COYB
Robin Cannon
12
Posted 15/08/2015 at 14:43:45
I think the best league performance since RM's first season. Really excellent.
Gavin Johnson
13
Posted 15/08/2015 at 14:43:59
Well, I didn't see that result coming. From Koeman saying in the pre-match interview "We know how Everton play" to our previous couple of encounters at Saint Mary's to say I'm surprised is an understatement.
Look at what a difference playing 2 strikers makes. Well done lads.
Joe Foster
14
Posted 15/08/2015 at 14:44:32
Fantastic result. Every player played superbly. Martinez in. Eh?
Stephen Brown
15
Posted 15/08/2015 at 14:45:16
Fantastic performance 1-11. Special mentions to Kone and Barkley. Now to maintain this level! COYB
I get the feeling we will be better away from home on the break this season.
Michael Kenrick
16
Posted 15/08/2015 at 14:45:17
A top class performance that provides a stunning contrast to the at times ridiculous angst expressed by so many in the build-up, underlined by the flying banner which may be largely neutralized by this excellent result.

Well done for calling out that utter nonsense, Craig. It's pathetic attempts at soothsaying and prophesy like that which really annoy the hell out of me!
Craig Fletcher
17
Posted 15/08/2015 at 14:47:26
And Jim (4) yes, agreed. Lukaku took his goals brilliantly. The header for his first was top class.
Peter Giles
18
Posted 15/08/2015 at 14:47:33
What a great result! Well played to everyone. A bit of confidence showing in our play.
Tony Waring
19
Posted 15/08/2015 at 14:48:50
No tippy-tappy and guess what we won and with great style. All played well especially Rom, Barkley and Kone.
Cleverley overhit a few passes and occasionally we were a bit slow to move the ball on out of defence but that is being hyper-critical. If we can carry this form on who knows how high we'll finish in the PL. My only complaint is the fact that we didn't play in blue!
Bill Gall
20
Posted 15/08/2015 at 14:50:13
Great result. Major positive less tippy tappy at the back until near the end when it was more controlled. We're not out out of the woods yet but the manager showed a lot more flexibility with the formation.
Teddy Bertin
21
Posted 15/08/2015 at 14:50:33
Martinez took a massive gamble today. Key wide men not match fit and instead of playing it safe with experienced and solid players like Nasey or Osman he went for Kone out of position and recovering from a long spell of zero confidence. He didn't look comfortable, we were left exposed and could easily have conceded early on. Fair play to Kone he worked hard and it was a cracking cross for the 1st goal. With Rom and Ross playing with that confidence we can really hurt teams on the break. Great win. Not a gamble that Moyes or Mourinho would ever go for but it's paid off and will do the player's confidence the world of good.
Drew Shortis
22
Posted 15/08/2015 at 14:54:26
Fantastic result and performance. Great to see Lukaku and Barkley on song so early into the season. Great to see Kone finally showing what Martinez brought him in for. It looks like Martinez learned from the Watford game that two up front suits Lukaku better. If he can adapt his tactics like this on a regular basis he will soon be back to his first season best.
Just what we needed after a period of doom and gloom. I have said for weeks that I'm willing to reserve judgement until the end of the transfer window. If we can keep this kind of performance going until then and get in the three players we need (and I'm convinced we will) then the whole outlook for the season will be transformed. Keep the faith blues!
Chris Wilson
24
Posted 15/08/2015 at 14:57:54
Maybe that's the key, Gavin? "We know how Everton play", but maybe RM has learned he has to be flexible in his tactics, and he caught Koeman off-guard (I've never heard of too many humble Dutch managers btw)? Just get the results, and not be so bothered about how.
Jamie Barlow
25
Posted 15/08/2015 at 15:00:36
Spot on Michael. The negativity on the live forum before the game was ridiculous.
What a fantastic performance from every player in "green"?
It's too hard to pick a man of the match but Stones and Jagielka were brilliant. Barkley looked the world beater he can be if he puts in the effort. He chased, harried, tackled and challenged for headers in the middle as well as looking calm and cool and playing some great football. Lukaku and Kone fought for every ball and looked great together.
Every player put in the effort today and it paid off. Well done Roberto and the boys. Top class display.
Ps. We had Stones, Galloway, Browning, McCarthy, Barkley, Deulofeu and Lukaku playing for us today. Not bad for an ageing team.
Paul Mackie
26
Posted 15/08/2015 at 15:03:38
Chris #22 - Absolutely spot on. It's like the 3-0 game against Arsenal when we lined up with a 4-3-3 and totally got the jump on Wenger. More of that sort of thing please Bobby!
Drew Shortis
27
Posted 15/08/2015 at 15:03:45
Yahoo are showing a clip of Lukaku going into the Saints stand to hug a lady who he accidentally hit with a wayward shot in the warmup. Got a great reception from the Saints fans. A small gesture but a credit to our great club!
https://uk.sports.yahoo.com/news/watch--Everton-striker-lukaku-goes-into-the-stands-to-hug-saints-fan-he-hit-with-the-ball-125038639.html
Steve Barr
29
Posted 15/08/2015 at 15:04:50
No one can really criticise that performance. We played very well all over the pitch today and capped it off with three excellent goals.
However, to say that one performance negates the " board out" and the negativity that has been expressed based on the previous terrible season( and the long standing lack of success) is short sighted and unfair on those so called soothsayers.
The criticism of the board in particular is based on over a decade of mismanagement and lack of a vision and ambition. This one excellent performance does not diminish that fact.
I for one will always be supporting our team, particularly any player that commits to Everton, but not this pathetic board.
John Raftery
30
Posted 15/08/2015 at 15:05:18
Football is primarily about what players do on the pitch. Today they were magnificent as were the away fans. This great result should change the agenda on ToffeeWeb for the coming week. Let it be more about the players we have than the ones we think we should have. Let's all turn up at Goodison next Sunday and get behind the players instead of moaning.
Ross Edwards
31
Posted 15/08/2015 at 15:07:08
Brilliant performance. The best away performance we've had in the league for a long time. It reminded me a lot of that 3-0 win at Newcastle, pace, power, 100% effort and commitment.
Martinez got it spot on today and deserves full credit. Let's hope he carries on with this 2 striker formation because it worked to devastating effect today.
If you give Lukaku the service, he will score and he was unplayable at times.
I've given Kone a lot of stick but today was a good performance by him, that cross for the first goal was brilliant. The perfect confidence booster to take to Man City next week.
Just a word on Southampton as well: I think they are badly missing Alderweireld and Schniderlin. They look decidedly shaky at the back.
Frank McGregor
32
Posted 15/08/2015 at 15:07:14
Jim Bennnig -- looking forward to your comments and assessment.
What should we do now? "Terrible mess we are in now Stanley"
By the way, a great result, a credit to the players and manager.
Mike Powell
33
Posted 15/08/2015 at 15:07:49
Fantastic. I was worried going into this game but got to hold my hands up, we were great. Kone, Barkley and Lukaku were outstanding; just shows you -- no tippy tappy shit and we look good. COYB.
Dave White
34
Posted 15/08/2015 at 15:07:54
Tony (18) You and me both! But if we play like that every time in that rank colour, I'd be delighted never to see the blue shirt again! I was a worried man after last week...I don't think I can handle another season like the last one. I know one swallow doesn't make a summer but it's a long time since it's felt so good to be blue (green)!
Christy Ring
35
Posted 15/08/2015 at 15:08:23
Superb result. Playing with 2 strikers made us a different team. It brought out the best in Lukaku and Barkley who was outstanding as we played with great tempo and pace.
Phil Walling
36
Posted 15/08/2015 at 15:09:18
Absolutely stunning today, although as the manager said on BT, 'it wasn't about the points, its was the performance.'
Really, I'll settle for the points, Roberto. I always said you were a good 'un !
Joe Foster
37
Posted 15/08/2015 at 15:10:46
Brought tears to my eyes that did (of joy not in a girly way)
Colin Glassar
38
Posted 15/08/2015 at 15:11:14
Craig#10, I know one who was made to eat his hat (chicken) today. Ha ha, you know who you are.
Craig Fletcher
39
Posted 15/08/2015 at 15:14:57
I imagine there will be a few who may be feeling a little sheepish right about now, Colin. But hey, we're all Evertonians aren't we, so hopefully they also have a smile on their face as we do after that performance.

Colin Glassar
40
Posted 15/08/2015 at 15:17:02
Phil, you know 'el jefe' suffers from verbal dyslexia. Give him a break, at least for today.
Jim Bennings
41
Posted 15/08/2015 at 15:17:09
What a win!!!
You bitch Martinez why can't you get us doing that every week???
Terence Tipler
42
Posted 15/08/2015 at 15:17:37
Delighted with that performance. Well done lads.
Robin Cannon
43
Posted 15/08/2015 at 15:18:03
@Phil (30) - I dunno, sometimes it's as much about the performance. A scrambled dire 1-0 gets the points, but never give huge hope for what might be. A performance like that enforces a much better feel-good factor.
Of course, it's Everton, and it's the hope that kills, but...
Kevin Tully
44
Posted 15/08/2015 at 15:18:21
Fantastic performance, and a special mention to Mr. Kone. Ross can hopefully play with his swagger back now he's equalled his goal tally from last season! Where has that Lukaku been? Awesome display offer and skill.
One thing though, if 3 points affects your opinion of the board and the bloodsuckers on it, then you're a fool. Goodison Park is STILL going rusty, and they STILL haven't invested a penny in 16 years. We STILL don't have any future plans to move or redevelop.
P.S. - I had no intentions on mentioning our owners, but other posters saw fit to bring the subject up.
Paul Tran
45
Posted 15/08/2015 at 15:19:19
Two up front gave the team more space and allowed us to play the game in their half. They all looked like they wanted it today; that doesn't cost money and that level of effort should be the benchmark for every game.
A great performance, we still need another striker and a playmaker to open up the teams that park the bus at Goodison.
Patrick Murphy
46
Posted 15/08/2015 at 15:20:16
A great result a good performance and the right attitude shown by all the players. That's the benchmark for the rest of our away games and if we can show the same qualities in the majority of the remaining games it will once again be a pleasure to watch Everton. That's all that most of us ask, we can take the odd bad result but not looking as if we are going to score drives me to distraction, which obviously was not the case today. COYB keep it going and prove that you are a better team than most people believe you to be.

Joe Foster
47
Posted 15/08/2015 at 15:20:45
I even understood RM's after match interview and not a " phenomenal" in sight.
Steve Jenkins
48
Posted 15/08/2015 at 15:23:34
Has Roberto has his "Eureka" and after last week the penny's dropped?
I really hope so!
We were excellent today, all over the pitch.
We covered the pitch well not leaving huge gaps. The back four were pretty tight and space was minimal for Southampton players all over the pitch, through positional organisation.
Kone made a huge difference & played v well today. It shows how when you have someone who can hold the ball up, it allows you to build momentum & attack.
Kone has to start for this reason, but so does Lukaku as whilst he can't do what I one can to allow the play to build, he can most definitely score goals & took his goals well today.
Final mention for Ross: one chance he fluffed aside, I thought he was brilliant today, a mature performance. Played it simple the majority of the time, but when it was on he went for it. Today his decision making was spot on.
For periods, he dictated and controlled the midfield today.
Great run and pass for the second goal, great finish for the 3rd.

Joe Foster
49
Posted 15/08/2015 at 15:23:39
Stones was sublime. He just glides across the pitch. Effing marvellous.
Colin Glassar
50
Posted 15/08/2015 at 15:24:31
Howard - 7
Seamus - 7
Stones - 8
Jags - 8
Galloway - 7
Macca - 7
Barry - 7
Cleverley - 7
Barkley - 8
Kone - 7
Lukaku - 9
I think that's fair.
Joe Foster
51
Posted 15/08/2015 at 15:25:46
McManaman kept saying "we" with regards to us. Obviously caught up in the moment.
Gordon Crawford
52
Posted 15/08/2015 at 15:27:52
Brilliant performance all over the pitch. Impressed with Barkley and Lukaku today. Also thought cleverly showed some nice touches. Bring on Man City!
On a negative though, Roberto said in the interview afterwords that he only needs two more players, that is very worrying. Clearly Mason Holgate is one of the three he said we needed.
Craig Mills
53
Posted 15/08/2015 at 15:29:12
That's up there with the best performances under Martinez, 10/10 from Lukaku, took his goals with absolute class and looked every bit a 30m striker. Brilliant.
Joe Foster
54
Posted 15/08/2015 at 15:30:35
Howard did not have too much to do but when he did he looked assured doing all the things he needed to do correctly. No flapping looked in charge of his area and his handling and distribution looked so much better.
Joe Foster
55
Posted 15/08/2015 at 15:33:31
Ross Barkley ....what can I say, that's the local lad I want too see. Superb today. 2 games 2 goals. Ecstatic.
Phil Walling
56
Posted 15/08/2015 at 15:33:46
Hey, loosen up, Colin. I was 'avin a laff , like' !
Meant to thank Carra for helping our man see the light !
Nev Renshaw
57
Posted 15/08/2015 at 15:33:49
We turned out looking like a team from the army in that kit today, and we certainly carried out a precision military manouver on them. COYB.
Steve Jenkins
58
Posted 15/08/2015 at 15:34:58
We need to bring in a striker in the Kone mould, that is, with a good touch that can hold the ball up. It's unlikely AK and Rom will be able to play every game together so another player of this nature we are short of & require.
If we can find a striker that also knows where the back of the net as well then that'll be perfect.
Paul Andrews
59
Posted 15/08/2015 at 15:35:55
All credit to Martinez.
Got his tactics spot on today.
Great performance from the lads, full of pace and commitment.
Dave Pritchard
60
Posted 15/08/2015 at 15:36:48
Always confident that we'd win this. (Nose gets bigger)
Joe Foster
61
Posted 15/08/2015 at 15:37:06
Rom what a star. We played to his strengths and he delivered. The rest of the team should feel proud of their performance today from the young to the not so young. This is what we want and we want more.
Mike Keating
62
Posted 15/08/2015 at 15:41:45
Great result and 3 superb goals despite the military fatigues.
Glad we played two up top (RM actually learned something from last week) and pleased for Kone (inch perfect cross).
Currently 2nd spot
Champions League beckons
Coyb
Eamonn Long
63
Posted 15/08/2015 at 15:43:20
Lucky green shirts. There can be no other explanation.
Andrew Clare
64
Posted 15/08/2015 at 15:43:44
Just got in from lunch with the neighbours. What a result! Absolutely delighted. What happened?
Tony Bourbon
65
Posted 15/08/2015 at 15:46:07
Good tactics, good commitment, good result, good for the confidence.
Maybe the 'Camo' kit will also be good for us? Once a green always a blue!
Colin Glassar
67
Posted 15/08/2015 at 15:49:34
Joe, I've compared him (Stones) in the past to Beckenbauer and I still think he could be that good. He's like Bobby Moore with pace.
Dave Ganley
68
Posted 15/08/2015 at 15:51:40
Excellent result... didn't see that coming but brilliant. Well done. Let's hope we can follow it up against City next week.
Mike Hughes
69
Posted 15/08/2015 at 15:51:42
Dave #52
Exactly! I was never in any doubt we'd win this one as well - and by 3 clear goals. I always knew Roberto would come good and Kone is one of my favourite players of all time. He'll be a machine for us.
Actually, I was listening to the match on R5L. Before we scored, the main topic of the BBC commentator was whether or not Stones would be off to Chelski. Check out the BBC match report and there's a sizeable reference to the Stones debate on there as well.
Great result today! Well done to the manager, players and fans. Fear the Blues. Fear the Mighty Blues.
I think I might watch MOTD tonight - or will it be 30 seconds of our win and 10 minutes on "Stones to Chelski" stirred up by Redshite pundits?
Phil Sammon
71
Posted 15/08/2015 at 15:53:58
Perfect performance. I enjoyed that game so much. Attacking at pace...I'm sure RM will take the plaudits, but many of us have been advocating this for months.
Please Roberto...learn from this.
Joe Foster
72
Posted 15/08/2015 at 15:55:27
You're right, Col, he is a different class than most defenders. His style is quite unique. You can understand why Jose is losing his mind by us not conceding to his demands.
Hugh Jenkins
73
Posted 15/08/2015 at 15:57:17
Joe (44) - Supposedly a life long Blue who went to play for the Darkside.
Perhaps he has rediscovered his tru allegiance in later life, as apparently has Carragher et. al.
Brent Stephens
74
Posted 15/08/2015 at 15:58:00
Drew (#25), I was about to post about the game but that clip of Lukaku hugging a lady after a wayward warm-up shot is beautiful. Good man.
Steve Jenkins
75
Posted 15/08/2015 at 15:59:55
Colin
Completely agree and have said the same myself! I honestly believe once he gets experience he can become the best CB in the World.
Stones is that good, he doesn't even surprise me anymore, I've just come to expect it. I still remember his performance at Anfield in last year's derby, big pressure game & he was immense, so calm & composed that day.
Jon Cox
76
Posted 15/08/2015 at 16:00:32
This is where we as EFC supporters start to diverge, on the one hand has RM had a Damascene moment, or will we be back to the Tippi Hedren passy passy shite the next game. Time will tell "one swallow" etc etc.
Well done, lads, you were outstanding today. If Billy big Bollox tells you to play any different in the next few games, tell him to fuck off!
Eugene Ruane
77
Posted 15/08/2015 at 16:04:11
Great result, great performance, there's nothing like a good away win (sets up a pint tonight wonderfully).
But interestingly, the performance did illustrate a (strange..ish) dilemma - something that maybe kind of needs figuring out.
Ok, just food for thought but we were away today to (on paper) a decent side.
So it seemed sort of 'natural' watching that we would, to a degree, sit back and hit them on the break and that our..um.. 'division of concentration' (so to speak) would be more on defence than attack.
Against Utd at Goodison last season it was the same - even though we were at home, it felt right/natural to think in terms of stopping them first, then seeing what we could get on the break.
The outcome was much less 'possession' but great results.
For many of our best results/performance under Martinez, this has been the case (or appears to have been).
So here's a question, should we adopt this policy for every game?
(I'm currently asking myself so I'll ask yooze as well)
One of the problems we have (certainly at home) is that against the 'lesser' teams, we (seemingly) feel obliged to play like 'the home side'.
To come out and...charge!
Laudable of course but...naive?
Certainly some of our home performances in the last 12 months against the likes of Sunderland, Watford, Hull, Palace, Leicester (whoever) suggest a more pragmatic approach might have yielded more points.
I don't like the idea of us not being 'the boss' of Goodison but the frustration I felt coming out of the ground last week (and most of last season) I really hate.
Simon Smith
78
Posted 15/08/2015 at 16:04:19
I think what today showed, is that, when our top players play to their strengths and are on their game, they are match winners.
Lukaku's first half performance was awesome.... when he skinned their player in the first 15 minutes, that was definitely a sign of things to come.
Barkley, despite fluffing a great chance, never let it get to him and showed his quality late on. Stones and Jags were solid all game and Seamus was always involved! We actually looked like a team!
Hopefully Martinez adds quality that will fit in to the team. This is his make-or-break season, let's hope today is the start of a great one!
Ian Glassey
79
Posted 15/08/2015 at 16:05:14
I just hope that after the way Ross played today, and Roberto saying he hopes to bring two new faces in, that he won't get a Number 10.
Ross was very good but we still need a playmaker, and then use Ross as a box-to-box midfielder.
Brent Stephens
80
Posted 15/08/2015 at 16:05:31
Not the best of our players but again Galloway didn't let us down. That's one of the biggest positives from the (first two) game(s) for me. Well done lad. The more game time he gets like this the better he'll become, hopefully. Let's not get on the lad's back when he makes the inevitable blunder. If he progresses like Stones... And then we have Browning doing similarly. The greening of Everton.
Joe Foster
81
Posted 15/08/2015 at 16:06:18
Hugh me and the lads where having a few scoops in the central on a week day afternoon in the the mid-nineties and McManaman was in drinking bottles of house champers. He was being a biff trying to get the barmaids to bring it to him. When one of the barmaids shouted to him "eff off you red twat". We all pissed ourselves laughing and he slunk out with his entourage. Young and dumb at the time I am sure.
Eddie Dunn
82
Posted 15/08/2015 at 16:06:28
Well done Everton. I was surprised that Martinez put two up top, but fair play to him, he did and it worked.
We proved in the Europa League that we can do it on the break, but my worry is that at home, when teams play deeper, trying to catch us on the break, that we will struggle. We still need a clever creative type, and back-up for Rom.
Well done Kone, so pleased for him, hope his confidence gets a boost from this, and Barks was class.
Great result .
Brent Stephens
83
Posted 15/08/2015 at 16:08:25
So pleased for Kone. So pleased for Rom (so much better pointing north). Great work rate by both. And Ross so much better thrusting from deep (ooo-errr).
Hugh Jenkins
84
Posted 15/08/2015 at 16:11:11
Gordon (45) - Perhaps RM said two because he knows that we are going to sing Mori the CB from River Plate. Therefore the remaining two will be the much vaunted No 10 and another striker.
Jon Cox
85
Posted 15/08/2015 at 16:16:04
Eugene, correct. I just want to see us going for it in a big way every time we cross that white line.
Look at two points in time. The Utd game last season and today.
If we have to wait that same amount of time till the next fantasmagorical result away from home, then this guy is, or should be toast.
On the other hand if he's had that Damascene moment and has learnt how to manage Everton properly, then that is a reason to be optimistic.
As always, time will tell.
Hugh Jenkins
86
Posted 15/08/2015 at 16:16:48
Joe (68) - LOL - during his "Spice Boy's" period - no doubt.
Kunal Desai
87
Posted 15/08/2015 at 16:20:55
I must admit, when I saw the teamsheet before kick-off with no wingers, I really did expect the worst. As it turned out, that is the best away performance since Newcastle away two seasons ago (3-0).
We must start following up these performances on a consistent basis, otherwise this performance counts for nothing. Do not tinker with the side, go with the same players and formation against Man City. With the pace and tempo shown today, we can beat City next week and win a few of the other up-and-coming difficult matches we have, but we must produce what was shown today regularly.
Joe Foster
88
Posted 15/08/2015 at 16:21:07
Indeed Hugh
Dave Lynch
89
Posted 15/08/2015 at 16:23:24
For me the use of two strikers was the key.
Although Kone was not playing in an out-and-out striker's role, his natural instinct is to get into the box; he was arriving late which gave the defenders a big headache at times.
I honestly feel that this gave the midfield more assurance that the ball was not going to just come back at them, we stretched them defensively and out battled them as well.
The three centre backs were immense.
Full credit to the boss for this one; he got it spot on.

John Atkins
90
Posted 15/08/2015 at 16:25:46
John Stones was as absolute class today. He's worth at least 㿨m plus and we still shouldn't sell at that if we've any ambition
This guy is years beyond his age.
Forget the chavs coming knocking -- we're going to have a bigger problem when Real and Barca come sniffing.
Paul Ellam
91
Posted 15/08/2015 at 16:26:06
Plenty of us are quick to berate the club/team when they fall short of expectations (including me), so I think it's only fair we give them credit where it is due. That was a terrific team performance today and hopefully one that will give the squad a great deal of confidence.
As has been mentioned on an earlier post -- that was like watching Everton from the 2013/14 season. Long may it continue!
Danny James
92
Posted 15/08/2015 at 16:27:29
I liked the way we looked to get forward faster. It makes it so much easier to create openings as the opposition has less time to reorganise and form a wall in front of goal. This slow pensive passing from the back is our downfall at times. Today the defenders moved it faster and the Saints couldn't get back into their rhythm as quickly.
Guy Hastings
93
Posted 15/08/2015 at 16:28:38
Well, that'll be City back in with £40m for RB by the time tomorrow's red tops are out.
Gordon Crawford
94
Posted 15/08/2015 at 16:28:55
Hugh (71) maybe, but I still find that slightly worrying. But hopefully, we will make some great signings.
But what a great win today. Barkley is a Number 10, that's for sure.
Steavey Buckley
95
Posted 15/08/2015 at 16:29:58
In a similar way, Southampton played like Everton last week. plenty of the ball, but no penetration and no width. Result was, that Everton could hit Southampton on the break. In the same way Watford undid Everton last week. Verdict, have plenty of width when playing at home, otherwise get bogged down playing down the middle and vulnerable to a counter attack when a passing moves breaks down.
Marks out 10 for Everton:
All players rated a 7, except for Lukaku, who rated a 10, for leading the Everton line with massive strength and power; while scoring 2 excellent goals. Barkley (8) would have been rated a 9 if he had put a relative easy chance away, whose link up play was first class and scored an excellent goal of real quality to seal 3 points.
Steven Twine
97
Posted 15/08/2015 at 16:38:47
How good and committed was John Stones and see him walking off, with Jagielka's arm over his shoulder, talking most probably about the brilliant clean sheet they earned us! Jags is going to be vital to Stones staying: older pro, England international who has also been through this a few years ago when Arsenal were sniffing. Does anyone else worry about Barry covering for Galloway that it creates space in the middle of the edge of our penalty area?
Andy Walker
98
Posted 15/08/2015 at 16:49:10
Well that was remarkable, well done boys and Matinez. Has the manager had some sort of awakening? Firstly we played a much different style and then in his post match interview he didn't turn into Mr hyperbole, just a couple of 'incredibles' which is nothing for him.
Did Cara's words have some sort of influence? Probably not I know, just a coincidence.
It's only one result so too soon to judge if a corner has been turned but we can now hope which is something.
Rob Dolby
99
Posted 15/08/2015 at 16:52:57
Pace, Energy, Passion... and tactics spot-on. Kone has made the difference with his strength and running which has helped out Lukaku and Barkley. Credit were it's due: Roberto got the best out of them today... now let's keep it going.
COYB.
Robin Cannon
100
Posted 15/08/2015 at 17:00:09
Oh, small note of praise for the ref today, too, I thought he was excellent.
Mark Tanton
101
Posted 15/08/2015 at 17:04:36
My thoughts;
For the first time in forever... Lukaku looked like looked like he likes playing football.
Kone is a fine footballer.
Cleverley is a very astute signing.
We played with tempo from the beginning, and never looked back.
We put our heads up, looked forward, moved into space. A revelation.
Martinez has supplied a "response" performance, when his hold on his job was becoming tenuous.
The players are clearly happy and enjoy playing for Martinez.
Man of the Match, any one from Barry, Barkley, Cleverley, Kone, Lukaku.
We were owed this win, we were owed this performance and Evertonians deserve it. The players and Martinez deserve to enjoy it.
Optimism returns. That was as good as anything from Martinez's first season here.
Tony Dove
102
Posted 15/08/2015 at 17:08:47
Don't forget Galloway. In three months time it might be "Leighton Who?"
Brian Denton
103
Posted 15/08/2015 at 17:10:03
John Cox (66); Tippi Hedren was north of gorgeous! If we can play as well as she looked, we will win the League......
Frank Crewe
104
Posted 15/08/2015 at 17:19:53
I can usually find something to gripe about but not today. An almost perfect performance. Fast counter attacks and two great goals from Lukaku in the first half. Contained them in the second and another great goal from Barkley for the cherry on top. Can't ask for more. Well done RM and all who played.
Colin Glassar
105
Posted 15/08/2015 at 17:23:16
To paraphrase the old song, "What a difference a win makes.....".
Guy (#89), you might've said that tongue-in-cheek but I wouldn't be surprised if messrs Lewis, Richardson, Bates etc....have Ross moving to one of their beloved top 4 clubs tomorrow in the Sunday rags.
Chris Kelly
106
Posted 15/08/2015 at 17:25:12
Agree with Dave @85. 2 strikers works for me in creating space and giving the midfield option. Given all the stick we have given Kone, myself included I thought he has done well in the season so far. If Martinez can get our players playing to their potential then we are force to be reckoned with. 5 goals so far, fantastic and loving it.
Mark Tanton
107
Posted 15/08/2015 at 17:28:38
Amazing how Kone freed Lukaku up. Amazing how defenders find two up top hard work.
Chris Gould
108
Posted 15/08/2015 at 17:32:13
I just re-watched the Carragher interview.
Now it all makes perfect sense!!
Savage made a valid point today. Lukaku has set the bar for the remainder of the season. He has to put that effort in every week. He was outstanding.
Michael Kenrick
109
Posted 15/08/2015 at 17:37:37
Just to clarify, my point about the banner is that, while the criticisms of Kenwright & Co remain fully valid, the potential impact of the banner has been lessened, I believe, by the excellent performance and fantastic result today -- making it easier for those who support Kenwright to give him the benefit of the doubt, extending possibly to a reiteration of the anti-BU backlash we saw last time anyone tried to organise public protest against the custodians.
Stephen O'Donnell
110
Posted 15/08/2015 at 17:39:27
Brilliant Everton performance. Never seen that coming; 3-0 away to the Saints. Hope Roberto enjoys his paella tonite.
I must say, we looked great in the green kit. I love it. Everton forever.
Richard Reeves
111
Posted 15/08/2015 at 17:39:30
Great performance and result; I love the kit as well, even though some commentators are picking up on a few negative comments from social media (mainly the orange in it), and a few irritating comments claiming everything is okay with the club and how it's run because we've got the win but a fantastic day for me.
Also... I liked how Lukaku gave the Southampton supporter his sweatshirt and a hug and Galloway's sprint up field to help out with options for the first goal even though he wasn't needed. A great day.
John Malone
112
Posted 15/08/2015 at 17:40:02
I honestly didn't think Lukaku was much better than he normally is the only difference was he got balls put in front of him on the run rather than behind with a packed defence to get through!
The difference for me was playing attacking football and Kone playing up top giving Barkley and Lukaku the experienced intelligent old head they've been crying out for!
Hopefully Martinez will realise the problems with this teams results do not lie with the players -- it's his tactics! But hats off to him today for changing it round and getting a great win!
Paddy McKenna
113
Posted 15/08/2015 at 17:43:58
Good day: Roberto Martinez, Romelu Lukaku, Ross Barkley, Arouna Kone, the woman who got whacked in the head by Rom's shot pre-game, the Everton faithful.
Bad day; the Everton whingers, the Everton moaners, the Everton anti-Martinez brigade.
David Lloyd
114
Posted 15/08/2015 at 17:45:07
First time poster on TW, a very good afternoon to everyone. I just wanted to say am I alone in thinking that we already have the creative midfielder in Ross Barclay? This boy has everything in the locker just needs the confidence to unleash it and that confidence needs to come from us the fans.
David Donnellan
115
Posted 15/08/2015 at 17:46:28
Excellent result! Couldn't fault anyone on the pitch in a camo shirt, brilliant performance, well deserved! I must admit I never saw that result or performance coming.
Southampton are a decent side with some good players, but they never really troubled Everton today, Howard was a spectator for most of the afternoon & was comfortable when called upon. How good was Lukaku? When he is up for it & on his game, he looks a top quality forward, some of his touches & link up play were superb & his two goals were well taken.
Just a small mention about Stones, he certainly isn't playing like a player who wants away, keep hold of him Kenwright!
Of course, this result will mean nothing to me if we sell any our jewels before the deadline; we need to keep this crop of players together with a few additions & who knows we could be looking at an exciting season ahead. COYB ETID!
Shane Corcoran
116
Posted 15/08/2015 at 17:51:10
I thought that Martinez's words "........... from the first second when Tim Howard makes a very good save, as a team was outstanding in every department of our performance."
Before that it was far from impressive and the first goal was essential.
Just a little reality check. Great performance though.
Tony Abrahams
117
Posted 15/08/2015 at 17:52:37
Tony, Galloway, looks like he's got the makings of a really good DEFENDER, he certainly tries to stop the cross better than Baines.
It's a pleasure watching Everton play like that, and it should do wonders for the team's confidence. I know it's a team game, but like a few have already said...

HOW GOOD IS THAT JOHN STONES?

"Fucking brilliant!"
Jay Harris
118
Posted 15/08/2015 at 17:56:00
Just proves what a lot of people have been saying for a while.
Stop the tippy tappy shit, play with one defensive mid and push McCarthy further forward and let Ross come from deep so end up with more players in their penalty area.
Result = less pressure on the defence and more goals from the attack.
I hope this game is a turning point and a lesson for Roberto and that we don't revert to type in future games.
Happy days for at least one weekend.
Jay Wood
119
Posted 15/08/2015 at 17:56:37
Everton were superb. I'd go as far to say that is the best performance of any team in this fledgling season to date.
We were good all over the park and our game management was spot on throughout. We weathered the early Saints storm, our counters were deadly for the first 2 goals, the midfield and defence solid at the start of the 2nd half when Saints battled to get a foothold in the game, then clinical at the death with Barkley's sweet finish.
Barkley looked a player again, Lukaku showed what he is about if the ball if the ball is played in the right areas to him -- 2 touches, 2 goals -- and why flog Stones now for a paltry £30 million when he is going to be worth double that very soon? Imperious! Galloway continues to impress, even though caught out of position once or twice. These games are credit in the bank for him and his future.
I for one am happy the next two games are against Shitteh and Chelski, especially on the back of today's performance. Confidence is on a high and players know they have to be 'perfect' when playing the top sides.
Finally, I know it's early days yet, but a curious anomaly of the season to date is that in the 17 games played in the PL thus far, only 3 have resulted in home wins and there have been 9 away wins and 5 draws. Is that evidence of how effectively teams are set up to counter away from home these days?
Colin Glassar
120
Posted 15/08/2015 at 18:00:33
IMO, Macca and Barry were the unsung heroes. They broke up most of their attacks and when Wanyama and Davies tried some rough stuff these two battered them.
I know they shouldn't always play together every game, especially at home, but today they were both superb. Hats off to both of them.
Alex Bennett
121
Posted 15/08/2015 at 18:04:48
Great result, great performance. I thought the back four were outstanding and we had some of the best counter-attacking play I've seen away from home since possibly the Wolfsburg game last season.
David Barks
122
Posted 15/08/2015 at 18:06:25
Let's be clear here, that was a very good win with some very good performances. But that does not mean, as is being implied by quite a few in this thread, that all of the negativity and frustration and anger at Martinez's tactics for the past year and last week were not valid.
All of us that have been complaining and angry have been saying enough with the slow, methodical sideways passing among our defense. We've been saying get the attacking players up top to give Lukaku support. And for God's sake, attack with pace.
Let's not have one very impressive performance suddenly cancel out last week and last year's poor showing. I don't expect a 3-0 victory away from home every week. But I do expect us to go for victories and attack the opposition. If this signaled the end of the boring football we've become accustomed to then I'll be ecstatic. But it does not mean that the criticism of our Board is invalid and the past criticism of Martinez was invalid.
Sam Hoare
123
Posted 15/08/2015 at 18:06:45
Brilliant and frustrating. Mainly the former but in some ways the latter as it shows what these young players are capable of when set up right and showing desire and intensity.
The crucial thing now is consistency.
A lot of our lads are confidence players and I hope this evidence of their capability lifts them into sustaining today's high performance levels. Happily such a style is well suited to playing the better teams so hopefully we might yet see more of the same in the next month or so...
David Greenwood
124
Posted 15/08/2015 at 18:08:38
Fantastic three points. Made up here. Brilliant news.
Victor Jones
125
Posted 15/08/2015 at 18:14:29
That was a great result and also a great performance. Let's hope that Martinez and the players can show that effort most weeks. Many supporters have been crying out for a solid midfield and two upfront. It seems to work. We need another striker, and I would love to see us bring in a top class midfield general. But today was good. Today was a start.
I know that I have been critical of Martinez. But no complaints today. All this long suffering Evertonian wants to see is my team show some heart. To show some effort. To show some skill. To show some nous. We saw that today. Long may it last.
I was brought up watching the School of Science. My standards and expectations of Everton are high. Let's hope that BK was taking note.
Anyhow, that was great today. No complaints from me. Let's now kick on. 4-4-2 seems to work. So hopefully keep this momentum going.
Last comment, well played Ross Barkley. Keep the goals coming. COYBs
John Jones
126
Posted 15/08/2015 at 18:14:35
Just rewatched the full game after a very very late night. Made my hangover feel better.
The formation was spot on. Other than the front 3 I thought Cleverley was outstanding.
Also thought there was a nastiness to our play which we has been missing.

Eric Owen
127
Posted 15/08/2015 at 18:15:10
I am not a sceptic as I was delighted with today's result, but I think I'll be a little restrained until after next week's game against Man. City.
I still don't think this is a team that will light up the Premier League as RM needs some new players before the transfer season closes. Many people have been saying this for many weeks and one win, good as it feels, doesn't change yesterday's attitudes. So let's get it done.
Today Everton had four good chances and they took three. Barkley missed the easiest one in the first half.
Southampton did not play as well as we have seen them and, even though they had majority possession, I'm sure many people on this website had ants in their pants for the first 15 minutes of the second half (statistics on my TV in Canada showed 80/20 possession), even though we were winning 2-0. While the Everton defence stood up to them, I have to ask how many headed balls, from corners and crosses, did they put over the bar and how many shots went over as well? IMO, too many.
For a change it was great to see the breakouts up the pitch, not square across it, and to enjoy the pressure they were able to apply.
Southampton's best effort was near the end of the game and Howard saved well.
Still it's three points and let's hope it's Everton's second win of this season after next weeks game.
Paul Andrews
128
Posted 15/08/2015 at 18:17:11
Owen Hargreaves made a great point.
"Roberto, did you purposely choose to have less possession today to bring the opposition on to you? You looked very good on the counter"
Martinez agreed before he finished the question. I thought he was spot on today tactically.
Koeman acted on the spaces we left down our right side in the first half by playing Mane down that side. Within seconds, Martinez switched Cleverley to right and Kone left. Simple but effective
Peter Z Jones
129
Posted 15/08/2015 at 18:17:53
Awesome. Just awesome. Our tempo and intent was always there from the beginning. As a fan, that's all you can ask for. Proud to support this club. I've got a sneaky feeling we make a big jump this season with all of our young stars a year older. If we can win 5 of the first 10, the rest of the league better take notice.
John Atkins
130
Posted 15/08/2015 at 18:20:30
Watch now for the Daily Mail bollocks tomorrow ......
Man City in for Barkley bid for 㿨m
Or
Man Utd bid for Lukaku for 㿏m
Or
Chelsea make final bid for John Stones for 㿔m
Brin Williams
131
Posted 15/08/2015 at 18:21:53
'extending possibly to a reiteration of the anti-BU backlash we saw last time anyone tried to organise public protest against the custodians. '
So, MK104 - are you saying that is a good thing or a bad thing - you seem to convey a message of pessimism at the possibility of a non-protest.
I appreciate that you are an Evertonian and a ToffeeWebber but as a mediator should you not stand back a little from being a cheer leader for one side or the other.
Just a thought!
Simon Howett
132
Posted 15/08/2015 at 18:27:45
Proud of the team today. We need to play with THAT intensity every week. Over to you Roberto there. Got the ball forward quickly and the players loved that today, they thrived on it. Barkley was excellent, he kept going even after the miss.
And something we should be proud of as Evertonians and also something the media seem to miss. Too busy trying to flog our players instead of seeing the positives of them being at Everton. Today we finished with 8 players from Scotland, Ireland and England. Put that in yer pipe and smoke it.
Also for me, this "We have only spent £4 million is a bit of a red herring. If we paid £15M for Deulofeu and Cleverley, no-one would be moaning too much. We got VFM that's what Everton do.
Also 4-5 signings is plenty. Continuity is the key for this squad. I am a happy Evertonian today and hopefully lessons have been learned by fans and management alike. Bring on City.
Denis Richardson
134
Posted 15/08/2015 at 18:36:52
Well well well, who'd have thought that - we CAN play!
What a difference it makes playing more direct, positive, aggresive and quick football. Lukaku got the exact type of service he's been crying out for - one excellent cross and one great through ball. Feed him and he'll score. He was certainly up for it and as soon as the first goal went in the confidence came back.
Also great to see Barkley have a great game, should have buried his earlier chance. His confidence should be up.
Why the hell have we not been playing like this before! The players can play, stop with the tippy tappy bollocks and just let them play.
STAT FOR MARTINEZ - EVERTON POSSESSION 46% / FINAL SCORE 3-0!
Possession stats are irrelevant, it's what you do with it that counts.
At home we won't be able to play counter attacking football but we need to maintain the aggression and the quicker direct approach.
Great result but I still want the manager out. Will need a lot more of those kind of performances to convince me he knows what he's doing. We've seen enough false dawns.
We also need to fly the BK out banner at every game.
Mike Iddon
136
Posted 15/08/2015 at 18:49:59
Fuck any negativity, watch the travelling blues singing at St Mary's today, fantastic:
http://metro.co.uk/2015/08/15/Everton-fans-filmed-singing-brilliant-ross-barkley-song-at-southampton-5344901/?
John Ford
137
Posted 15/08/2015 at 18:51:05
Anyone notice Jags comment to Coleman after he'd given the ball away on the edge of the box? 'Just twat it'......love it....could have been the Wallasey Sunday league!
Haven't posted in ages as the constant anti-Martinez thing is getting too much, but well heartened by today. Appreciate the more considered posts too.
Well done all round.
James Newcombe
138
Posted 15/08/2015 at 18:51:40
This is what's so frustrating -- we have a quality squad here that should be taking half of this league apart. Let's see if we play like that for the next ten games.
Ben Howard
139
Posted 15/08/2015 at 18:52:46
I'm not one to gush reactively over one performance but... I'm also not one to drink a bottle of rum before 7pm. I think there might be the beginning of something very special happening.
The significance of new contracts for Mirallas and McCarthy shouldn't be underestimated, Ross looks like he's fired up, and I haven't seen that kind of effort from Rom since he arrived. Look at the will, natural finishing and sheer power for his second goal.
Special mention for Kone for persevering in the face of personal adversity and an unforgiving new home since he got here. Now build on this and keep playing with passion. It's all we've ever asked for.
Phil Rodgers
140
Posted 15/08/2015 at 18:59:53
I have been very critical of Martinez but he got his tactics spot on today. Kone was outstanding.
Tony Draper
141
Posted 15/08/2015 at 19:01:58
We really aren't "media darlings", throughout todays BT Sport broadcast their "team" continually talked us down whilst "bigging up" Southampton's performance based upon last seasons outcome (and any other available statistical BS to reinforce their insightless insight).
Despite the scoreline by half-time BT's chosen few persisted with their "Pro Saints" bias. Then finally when RB slotted home our 3rd then made an almighty 180 swerve to affirm our well deserved etc etc etc (accompanied with conveniently reversed statistics which had been rolled out all afternoon to suggest another Everton away defeat at Soton).
Thank heavens they have dropped the terminally uninteresting Michael Owen. Even today's bright and breezy performance and 3 pts would have felt like a "self termination" attempt if accompanied by his utter shite.
Raymond Fox
142
Posted 15/08/2015 at 19:07:28
Everything came together today, and it was helped because Southampton wanted to come at us.
When teams come to Goodison, the lesser teams anyway, they come to frustrate and that is when we start playing the 'tippy tappy' as some like to call it!
Martinez has had some hammer on here, not by me I might add, but he deserves plenty of credit how he's brought our younger players through, Stones, Barkley, Lukaku, Garbutt, McCarthy, Browning and Galloway.
Galloway looks like Stones material to me; London to an onion that he's a future star in central defence.
Browning looks like he's physically maturing also and I expect him too to become a valuable player for us.
Colin Gee
144
Posted 15/08/2015 at 19:15:11
I was at work so couldn't go, heard someone say it was 2-0 and thought, great there's no way we'll come back from that then...
Imagine my surprise when I found out it was 2-0 to us! Spent most of the second half expecting to hear Southampton had equalised, couldn't believe it when I heard that Ross had made it 3-0!
Where did that performance come from?
Dave White
145
Posted 15/08/2015 at 19:15:22
John at 123. I saw that too mate, I was laughing out loud in the pub! What was even better is I'd just shouted the same thing at the screen!
What a difference a week makes eh? Happy fucking Saturday ToffeeWebbers!!!
Peter Gorman
146
Posted 15/08/2015 at 19:21:10
Lovely stuff today but let's not think for one minute that we can all ignore what has been on our minds for the last couple of weeks.
I mean, those green shirts, just awful.
Colin Glassar
147
Posted 15/08/2015 at 19:22:22
John Ford, I did notice JS, Jags and Coleman have a little giggle towards the end of the game. I think they'd just passed it around a Southampton player a few times and they were just having a laugh.
The body language of the players seems to me to show thay are a tight, close knit bunch who really enjoy playing together.
Craig Walker
148
Posted 15/08/2015 at 19:28:09
Well done Blues. Well done Roberto. Pleased for Kone who has quite rightly suffered a lot of stick but has shown good character and ability in these last two games.
Great to not have a weekend ruined.
COYB!
Dave Abrahams
149
Posted 15/08/2015 at 19:38:11
Great win, very good performance, carry on like that please, get the three players, keep the banner and protests going, get Kenwright out and most of us will be happy.
Happy for all us fans today, especially the ones who travelled to Southampton, starting off at such an early hour, happy for Martinez and the players who gave a very positive and energetic performance.
What they had in abundance was MOVEMENT all over the pitch, Cleverly was outstanding for me. Now keep it up.
Neil Gribbin
150
Posted 15/08/2015 at 19:42:51
Boys.....today was great. Last week was shite.
Who's got a crystal ball? Next week on that performance, we are more than capable of doing the meffs. More than capable of doing anyone.
If we do, or if the players and manager turn that out again is another question. Let's enjoy our moment in the sun. I am.......hic.
Joe McMahon
151
Posted 15/08/2015 at 19:43:07
Fantastic result, I hope that the counter attacking just like the Man Utd at home last season tells Roberto, this is how we get 3 points. Great team performance all round, pleased for Kone. Just shows like when Leighton was injured 2 years ago, we can cope without him.
Neil Roberts
152
Posted 15/08/2015 at 19:44:58
Well a great result!
Yes, we did tippy tappy... but in the opposing half, always looking for that through-ball.
I'm a happy Blue today!

Michael Polley
153
Posted 15/08/2015 at 19:46:00
Great result & performance. Great counter-attacking. Every player give 100%
The Lukaku/Kone partnership has got great potential.
Barkley poses a real threat in that attacking No 10 position -- Roberto please don't move him out wide ever again.
Great confidence boost to the team' Let's hope we can carry the momentum onto next weeks' game. Our wee team tends to lack consistency in the past, but hopefully we can charge on and get a result against City.
This Evertonian is very happy for the next few days. COYB
Don Alexander
154
Posted 15/08/2015 at 19:52:15
After last season, Martinez has way to go before he's forgiven. At last he did what just about everyone else wants; at last the team put themselves about as they should in every match (well easier if you're happy with the formation mind) and not a dark cloud in sight.
As "43" and "109" have said, today should be a benchmark for EVERY game. We don't get angry with defeat providing there's effort all over the pitch. With the sort of game plan and performance today, we might just have opposing managers not quite so sure of what we'll deliver.

Dennis Ng
155
Posted 15/08/2015 at 19:59:36
Amazed at the result. Agree with folks trumping Kone. Lukaku should never play up front alone ever again. Keep it up!
Simon Smith
156
Posted 15/08/2015 at 20:23:44
Do you think it will be the same 11 (if everyone remains fit) that starts against City?
Nicholas Ryan
157
Posted 15/08/2015 at 20:31:59
Amazing, that RM didn't use the word 'phenomenal', because that's what it was! Also, impressed with the Tweet from Landon Donovan ...[along the lines of 'What a great day ... woke up and Everton have won 3-0 ...']
Lev Vellene
158
Posted 15/08/2015 at 20:37:50
I'm happy for Kone, and for him and Barkley working so well up front with Lukaku! Unfortunately, I don't expect it to last. There was a reason computer football manager games made up the hidden 'injury-prone' statistic...
But if Kone (and we, as such) are lucky, he might prove to be the exception to the rule (like Peter Reid, in his time). If not, I really do hope RM will see the value of getting another player in the same mold into the first team. Up through the years we've had so many potentially decent forwards/strikers that imploded when they ended up as the 1 in a 4-5-1 system!
Colin Leary
159
Posted 15/08/2015 at 20:47:20
I thought the green kit looked smart today and uniformed. Do you think the army super hero look put the fear into the opposition? American sports have been doing this for years with club names and strips.
John Malone
160
Posted 15/08/2015 at 20:52:04
Just have to say I hated that green kit before today, but the more goals that went in the more I loved it!
They can wear it every week if they play like that! The Green Beret's!
Mark Tanton
161
Posted 15/08/2015 at 20:52:28
Earlier in the thread someone mentioned Martinez is now talking about two new signings, not three. Did anyone else hear that? Today was, given the circumstances, Martinez's finest hour at Everton.
Martin Mason
162
Posted 15/08/2015 at 20:52:35
Today was amazing, to see Everton give perhaps the best dynamic performance of the Premier League so far but we have to keep our feet on the ground. We can see now the potential of this side and it is massive but we have to be able to repeat it and that is the difficult thing. What a real pleasure though to see them play like they did today although I hope sitting back in the second half wasn't deliberate.
We also have to face another potentially bad reality in that Southampton have sold a strong side and have done badly in both games.
Brian Abbott
163
Posted 15/08/2015 at 20:54:57
This was obviously a brilliant performance and it really highlighted how much the players enjoy being on the pitch and playing well together. It's essential that this is maintained. That means that we have to be very careful who we bring in.
Great day to be a blue. NSNO!!
Des Farren
164
Posted 15/08/2015 at 20:59:02
Criticism, David @117, is not necessarily invalid but sometimes just prejudiced.
Enjoy the moment; not an ecstatic one, I agree... but full of hope after a performance as professional as any we may see this season.
Stephen Brown
165
Posted 15/08/2015 at 20:59:54
Howard seems more focussed too! Since he lost the beard!
Lev Vellene
166
Posted 15/08/2015 at 21:04:49
Well, RM already bagged one, so I close my eyes and fold my hands for the other two, atheist though I am!
If we can get some talented, level-headed youngsters involved this and next season (and get them to stay, despite their 'agents' not understanding it's worth waiting for even greater profits in the long run), I'll be very much relieved. We seem to have such a good mix of good, older and experienced players to mix with up-coming talent, that I really want to issue shoot-on-sight bounties on agents...
Richard Reeves
167
Posted 15/08/2015 at 21:08:34
I was so pleased for Galloway, he fits in well in the team and has to stay at left back. There are going to be mistakes from him, it's inevitable... he's only 19 so what do we expect? But he will get better and, as Matt LeTissier says... "The best way to get a player used to first team football is to play them." (Or something along those lines.)
Martinez needs to hold back in the transfer market for a left back or cover for central defence. Browning is more than capable as cover and is another top quality youngster who too will also make mistakes now and again, like any other established player, only because he's young. People will say he's not ready whereas with an established player it will be "one of those days".
If we didn't have Stones, I would say he could be breaking into the team on a regular basis so I think we're lucky in that position. Actually, the whole back line if you believe like me that Garbutt will be a very good left back and allow Galloway to move into Jagielka's position eventually.
Colin Leary
168
Posted 15/08/2015 at 21:14:25
I thought Kone was good today and showed what he is capable of. Well done to him beating his injury problems. Nice goal celebration with Rom. It showed they knew a goal was going to happen today and practised the celebration. COYB
Tahir Abdullah
169
Posted 15/08/2015 at 21:14:46
Lukaku has now scored 43 goals in EPL; the highest ever by a Belgian (1 ahead of Benteke)....
Jon Cox
170
Posted 15/08/2015 at 21:16:11
Did we win?
Just got home from a "Did man actually walk on the moon" lecture.
Just joking, I know we won, but did man actually......
At the end of the day, it,s only media led shite!
Mike Hughes
171
Posted 15/08/2015 at 21:21:48
BREAKING NEWS
There's always something to spoil the party.
We're third on MoTD tonight.
But the 'experts' are Jermaine Jenas (?*!!*) and Ian Wright.
If it's not kopites it's (fill in the gap).
I'll have to find the mute button.

Colin Glassar
172
Posted 15/08/2015 at 21:23:04
Mark 151, that was me. I definitely heard him say two players but that might just have been a slip of the tongue.
Tahir, and he's still only 22!!
Mike Hughes
173
Posted 15/08/2015 at 21:23:12
I really can't stand the sound of Jenas. Little old man.
Ian Wright might be slightly better -- but not much.
Mark Tanton
174
Posted 15/08/2015 at 21:25:04
Cheers Colin. I expect you already know their squad numbers and where they're planning to live in Cheshire?!
Colin Glassar
175
Posted 15/08/2015 at 21:25:36
Jenas was quite objective about us the last time he was on. Wrighty is okay if he takes his meds beforehand.
Colin Malone
176
Posted 15/08/2015 at 21:26:58
Let's not get carried away. Southampton went forward from the start, underestimating us, as did the top teams we have beaten, eg, Chelsea and the Mancs. It's against the likes of West Brom and Stoke that we wont see Rom and Ross perform, why?
Tactics, Tactics, and my opinion them tactics are too square and too slow with two defensive midfielders. Never again should we let Ross and Rom be stifled with slow football. Made up for Ross; after all the stick, I could cry .
Phil Malone Jnr
177
Posted 15/08/2015 at 21:27:45
That Kone's not bad; I always liked him at Wigan... ;)
Mike Hughes
178
Posted 15/08/2015 at 21:29:27
He might have been objective about The Mighty Blues ... but he's just not right in the same way that kids phoning in to R5L after-match phone-in isn't on.
In my day ......

Neil Wood
179
Posted 15/08/2015 at 21:34:41
Two words today. Tom Cleverley.
Mike Childs
180
Posted 15/08/2015 at 21:39:25
Very well played indeed. Kone making himself available to link up play was key for me. Southampton is no where near the team they were last year especially at the back. They were missing the GK and 3 of last year's starting back 4. Still thought with the attitude of the players today we would have beat anybody in the EPL today. Great to see them smiling and enjoying their football.
I go to bed praying Martinez has had an epithmany.
Victor Jones
181
Posted 15/08/2015 at 21:45:19
I noticed that the bench was strong today. There were a few options there. That is always good to see. Here's hoping that the starting eleven today can stay fit for a run of games. (No need to change a winning team.) Use Naismith. Mirallas and Deulofeu as impact subs.
I'm very happy to see McGeady omitted and Alcaraz gone. Youngsters getting a chance is the way forward.
But will Martinez realise that, and resist the chance to tinker with a winning formation??? He has tinkered before... with disastrous results. The ball is now firmly in RB's court.
Mike Hughes
183
Posted 15/08/2015 at 21:51:47
Colin #167 - you could turn that around and say that City will also have a sterner test facing the Everton that turned up today. Let's hope for a similarly effective performance next week - well, every week.
Gavin Johnson
184
Posted 15/08/2015 at 21:53:56
I can see some backtracking ahead from Roberto and the three positions we need to fill. Now Kone has played well in the last two games can anyone else see Roberto coming out and saying we have enough fire power with Rom, Kone and Naismith?
I hope I'm wrong and our big summer signing will be a goalscoring striker like Austin. As much as I'm made up that Kone is putting some kind of form together, will he be able to sustain it over a course of a season?! For me signing another striker is imperative.
As for a No 10, I think that we might be okay with Barkley and Cleverley and think we'll sign Lennon in any case so I think we can keep dreaming of signing someone like Nolito.
I think Miro will be the CB. My worry would be that we only sign two players and they are Lennon and Miro. Would it be enough to improve us significantly?!
And just going back the game. Playing the bigger sides early on might turn out to be a blessing. Saints came out to beat us today, as will City. We know the top sides aren't just going to sit back and press our midfield like Watford the other week.
Mike Hughes
185
Posted 15/08/2015 at 22:00:02
Gavin,
We've drifted to 12/1 fourth favourites to sign Austin now, behind Newcastle, Spurs and Bournemouth. I fear you may be right.
Mind you the bookies got today's EFC odds wrong, didn't they?

Jon Cox
186
Posted 15/08/2015 at 22:01:22
Neil Wood
Correct. For me it's Oman and Pienaar. They have to be replaced.
And with the utmost decorum...
Mike Hughes
187
Posted 15/08/2015 at 22:09:46
Today's performance did remind me of what RM did to us while at Wigan when they stuffed us at GP (and not just in the the scoreline).
Mind you, we were crap that day.

David Cooper
189
Posted 15/08/2015 at 22:22:59
You have to give RM his props for believing in Kone. We have not seen anywhere near his best, apart from when he blew us away playing for Wigan. It certainly explains his perseverance and encouragement while AK was recovering from his injuries. In the past 2 games he has begun to show why RM puts so much faith in him and if RM continues to play AK and Rom together, I think we will see a totally different Everton team from last year. The big question is IF he can stay healthy? Maybe that's why we have just recruited the Wigan physio!

Ian Cowhig
190
Posted 15/08/2015 at 22:28:21
I always felt worried with set pieces coming in to our box. Too many headed opportunities for my liking. The ball always seems to get too close to the centre of our 6-yard box, even when an Everton head gets on it.
That said, I thought we did a job on Soton today, and reduced them to the set piece. I thought the midfield put in a real shift hunting in pairs to get the ball back, and stopping crosses from wide positions. And the attacking at pace, rather than the tippy-tappy, suited the team set up. They all looked comfortable playing that way. And if that is what Kone can do, then bring it on.
I thought his ball into the box for the first goal was well timed, and accurate. Rather than what the report says was hesitation.
I don't understand the Ross coming from deep comments. He causes real problems when he gets the ball behind their midfield, or when there is a gap in the centre of their midfield to go through.
Sorry for any cack spelling. The only explanation is, as Rowley Birkin QC would say. "I am very drunk".
Anthony Dwyer
191
Posted 15/08/2015 at 22:39:04
Unbelievable performance by our lads today, they shocked me no ends. I only wish we played like that more often. I've said all along that this Everton team is among the best I've seen (on paper, that is) in a very long time and the biggest issue with us has been Martinez's systems and tactics.
I'd echo most comments in giving a special mention to Kone as he has added so real pace, power, work rate and sheer desire to our attack line. I myself have never been convinced by Kone and I am not holding my breath for that type of performance on a weekly basis, but credit were it's due, hopefully Kone is now past his injuries and ready to show us he is a player.
We must now stick to this more attacking style game plan were we move the ball a lot quicker and get bodies in an around Lukaku to link up the play with him instead of leaving him constantly isolated.
Also good to hear that we played 6 player aged 22 and under. Hopefully the positives are going to become more frequent. Well done blue boys.
Craig Mills
192
Posted 15/08/2015 at 23:08:48
Just purring over the performance on MotD; Ian Wright saying it was Lukaku's best ever game for Everton and watching the highlights I would totally agree. I've never seen him play with such power, aggression and quality.
Hopefully this Lukaku is here to stay!!

Kyle Lombardo
193
Posted 15/08/2015 at 23:11:38
A few have brought this up a bit and I'd like to give it a go as well. We played 'phenomenal' today, but in the real sense of the word. However, we played the counter, something usually employed against us rather effectively. This will work against a handful of aggressive teams and especially on the road. But those games against Swansea, Newcastle, and Aston Villa at home will not be the same.
We struggle in a, to steal a basketball term, half court offense. What we really need before the window closes is a playmaker. Someone to pick out those forward passes to our men in the box. Barkley was brilliant today with that second goal but he hasn't shown the consistency to merit the No 10 role. We still need an attacking midfielder and a backup striker in my book before the window closes.
But, for today, it was all roses.
Alexander O'Brien
194
Posted 15/08/2015 at 23:20:39
See Roberto's comments suggested he's now after TWO signings rather than the 3 from last week. Either he's now completely happy with Kone or he's found his Number 10 in Ross. I for one hope for the latter.
Anthony Dwyer
195
Posted 15/08/2015 at 23:33:18
Craig (#175);
I agree that Lukaku looked as described; I also think it's nothing we have not seen from him before... we just need him to show it more frequently.
I talk to my dad about his runs off the ball every week and comment that he wants the ball played much sooner than it ever seems to arrive. I think we have to play more often to his strengths as he's often left isolated and very frustrated.
Kone is a good foil for him and Ross is an ideal playmaker for him as he's willing to take chances playing the ball forward. I feel Ross has to step up an run our team as we look so much better when he is dictating play. If Ross does not take it upon himself to demand the ball then senior players have to force him onto it. Too often last season, players like Naisy tried to be the man who picked the holes in oppositions defence, but for his efforts he simply does not have the ability to boss a top 10 EPL team, Ross does, he just has to do it consistently.
I think the message best taken from the lads' performance today was we are more comfortable moving the ball forward more quickly and we need players closer to Lukaku more often. Kone looked great but he is just another hard working striker, Mirallas or Naismith could do a similar job if pushed up right alongside Lukaku. That's not to say I would not stick with Kone because I most definitely would, but if he had an injury I would find someone else to get up in and around Lukaku.
David Hallwood
196
Posted 15/08/2015 at 23:34:49
Agree Craig (#175), but did you hear the commentator, every time Stones touched the ball he mentioned Chelsea; oh and they didn't mention Barkley's goal.
Colin Grierson
197
Posted 15/08/2015 at 23:46:29
I couldn't fault a single player, or the manager, today (even after the post match interview).
I have been critical of Lukaku's touch but today just showed that if you play to his strengths and give him another striker to play off then 㿈m looks a steal. Today was his best performance in an olive shirt and if he is allowed to play in the same formation, week-in & week-out, then we have an exciting season ahead of us.
Happy days!
Ian Smitham
198
Posted 15/08/2015 at 23:49:26
I have posted a bit on here tonight, not about Football really. Today, for me, the team were superb as a group and as individuals. Really happy for Kone, the cross was magnificent, people often say that strikers are the best crossers as they know how they want to receive a ball. Enjoyed watching Ross, after the dog's abuse he was getting on the Live Forum on here. Some beauts on there for sure.
The back 4 looked solid, and the midfield keen.
Well done to all, including kg the changes in the tactical approach.
Not trying to be contrarian, but I think the kit looked good. As always, the ones I admire most are those loving, loyal supporters of our club, the way they turned up, sang, encouraged ad supported the team by being there was a credit to each and every one and I hope that they all feel they got value for the financial commitment they made.
Well done to everyone.
Paul Jeronovich
199
Posted 16/08/2015 at 00:08:20
Great result lads, two up front worked a dream on the counter. Rom's best game in a green shirt.
Time to sober up.
Drew Shortis
200
Posted 16/08/2015 at 00:46:34
I have just checked News Now and see that the rags are not giving up on the Stones story. Apparently he's 'edging closer' to a move to one of the Manchester teams. Like he's inching towards the exit door a little bit every time Martinez looks away and when he gets close enough he'll make a dash for it. Despite the fact we only have two senior centre backs and are in the market for at least one, every centre-back we are linked to turns into a replacement for Stones story. Pathetic excuses for journalists.
There's also a story about Barkley, quoting Man Utd legend Alan Tonge (?) saying he'll get a big move. Two goals and the nonsense starts up again. After watching the analysis of Rooney on MotD, I wouldn't be surprised if there's now a rash of stories about Lukaku to United. All so flaming predictable.
So far under Martinez's reign we have not lost a single player we wanted to keep. Fellaini didn't really suit the system and I'm pretty sure Martinez was happy to cash in on him whilst his stock was high. I think there's a very good chance we will keep hold of everyone in this window and bring in the three we need. If we keep playing like today then why would any of them want to leave?
Brian Wilkinson
202
Posted 16/08/2015 at 01:04:51
Spot on tactics today, for those knocking the negative posters, they did have a point, get rid of tippy tappy football, hit teams at speed and play two strikers.
Martinez went to plan b and it worked, that's what a lot of posters were pulling their hair out, because he stuck to the same boring sideways football previously.
None of us seen that result coming today, or different tactics, keep it this way Bobby, and ditch the tippy tappy football and results will follow.
Superb performance by everyone. COYB.
Mark Andersson
203
Posted 16/08/2015 at 01:23:31
Biggest plus for me was seeing how the players celebrated each goal. That was evidence of a great team spirit. Well done Martinez and the players, I will eat a small slice of humble pie today. Happy to eat it all in the coming weeks.
Great match report too.
Si Cooper
204
Posted 16/08/2015 at 01:34:50
Excellent effort all round. Good movement off the ball makes a huge difference and when we attacked today we generally had plenty trying to get involved. Cleverley epitomised this with his running for first goal, which both gave Kone time on the ball to measure his cross and pulled the deepest defender to the front post which meant Lukaku had space to attack.
The sport at this level is small margins however. Today we played very well and everything really went our way so the players have earned the plaudits.
Max Fine
205
Posted 16/08/2015 at 01:48:42
Superb post Craig (11).
The recent pantomime negativity on here has made it difficult to express any opinion other than one of dramatic doom-mongering... good to see one such poster get called out on it.
James Flynn
206
Posted 16/08/2015 at 02:18:27
Perhaps this has been posted in here. Here's the link, of Lukaku going up into the stand, I like.
Class shown by Southampton supporters. Especially when he heads back down the steps.
http://www.liverpoolecho.co.uk/sport/football/football-news/southampton-v-Everton-fc-romelu-9862787#ICID=sharebar_facebook
David Barks
207
Posted 16/08/2015 at 02:40:05
I liked the kit. Different, which was good for me. I liked it.
Ernie Baywood
208
Posted 16/08/2015 at 03:23:11
MotD made good viewing... they're right about Lukaku. If he can recreate anything like that performance them he's unplayable and 28M looks cheap. On the other hand, we know how he can look in other games. Over to you, Rom.
I thought Kone was great. Yeah, he's still no world beater but he takes up good positions and with good players around him will cause problems. He worked so hard today in defence and attack.
To be honest, I'm not so convinced we were chalk and cheese against Watford and Southampton. Southampton didn't give this team the respect it still deserves and got battered. For our part we just seemed to have a group of players lift themselves from 6/10s to 8/10s. I think we'll go alright in these big upcoming games -- we have good players.
The test will be how we approach the games we should win. Can we create the same kind of space that these teams are affording us?
Harold Matthews
209
Posted 16/08/2015 at 05:13:32
As one of the few long-time Kone supporters I am pleased that others are now coming to appreciate his value to the team. The way he understands the movement of team-mates and brings them into the game, as he did against Burnley and Swansea last season.
Last week against Watford we noticed that Barkley looked sharper than normal for the first game of the season and his post-match interview revealed a maturity we had never seen before. Had our lad finally grown up and seen the light? Had the Stones business pushed all the youngsters up a gear? I think it probably has. It certainly emphasizes the fine character of John Stones who continues to play his normal game.
As for yesterday's match. Let's face it. We were pretty damn good. Watching a re-run of the highlights on Match of the Day, I loved the graph of big arrows indicating our lads charging forward in unison, because that's the way it was. All for one and one for all.
A tremendous rear-guard action from the back seven and a demonstration of perfect counter-attacking play from Barkley, Cleverley, Kone and Lukaku.
The Big Fella was like a runaway train. Absolutely unstoppable. Fit, well and up for it, he was fed the stuff he thrives on and bagged two wonderful goals.
How we fare from here is anyone's guess. We have a very decent first team with a fairly strong back-up soon to be strengthened by the late new signings. The spirit is good and the players are fit and in form. Let's hope we continue to improve.
Peter Mills
210
Posted 16/08/2015 at 07:52:05
Howard (#196), I thought about you as I was watching the match (not in a weird way), just that you would be enjoying Kone's performance. You have consistently defended him, so you are entitled to a mild "told you so" moment! Now, it would be great to see that level of performance for a couple of years to make up for the misfortunes he has suffered.
Like everyone else, I enjoyed our display, although we did still look very vulnerable to high crosses coming into the box.

Ray Roche
211
Posted 16/08/2015 at 09:04:15
For the first goal, Kone, Barkley and Galloway all ran from our penalty area to theirs, Galloway down the right side. Adventurous, attacking breakaway football at it's best.
Laurie Hartley
212
Posted 16/08/2015 at 09:30:57
Well I have to say that yesterday the players and the manager delivered everything that I have complained has been lacking for the past 12 months - and I wasn't expecting them to.
Therefore I will happily eat what is left of Mark's (190) humble pie. What is more I am going to ask my missus to bake another bigger one for me for next week against City.
Fast attacking football
Dogged defence
Team spirit on display
Fighting for possession
And they looked fit.
Stating the obvious but Lukaku looked a different player with Kone in support and that rubbed off on Barkley.
I thought Barry bossed the game today - he is tough and clever.
Jagielka was terrific.
I thought Galloway really looks like he has something about him over and above football ability.
Browning looked as if he has bulked up from last year and looked very confident in his cameo.
As I watched those youngsters, Stones, Browning, Galloway, and Barkley walk off the pitch, I felt the hope rising in me again.
Eddie Dunn
213
Posted 16/08/2015 at 09:41:39
Kone was a revelation, I really am surprised. His link play was so sensible and it is great to see him gaining confidence and overcoming that injury.
As Mark (#190) said, it was good to see the unity in the side, celebrating together. The acid test won't be when we play the big boys, but when we face the likes of Sunderland with everyone back, and whether we have the nous to unpick the lock.
I hope that we see more of Kone with Rom, it certainly means we have more tactical options.
James Marshall
214
Posted 16/08/2015 at 09:43:48
Just watched the goals again and I have to say where did Barkley suddenly get pace from? He burst out of defence for the first goal - Lukaku as well, flying through the middle for the second one. All 3 goals great finishes as well.
The formation was much more suitable for these players, and Kone's movement & hold-up play made such a difference to the rest of the team as we attacked. He's also a pretty hard worker and did plenty of defending, especially on crosses.
I've derided him like many, but he does appear to have something to offer if we can keep him fit - he could be key if we continue to use that formation, but will we?
Will Bob revert back to type when Mirallas is fit for example?
We were second for a while yesterday - I took a screenshot of it to show my Grandchildren.
Andy Crooks
215
Posted 16/08/2015 at 09:55:52
Just got up on holiday and checked this site for the result. Well it can now rain all it likes. By all accounts, guile and tactical nous from the coach. An inestimable boost for confidence, and Lukaku proving that, in the right formation, he is awesome.
Good players used with some imagination, surprising our opponents. What surprise is in store for Man City? Well done to players and coach, what a difference.
Niall MacDiarmada
216
Posted 16/08/2015 at 10:28:09
Great 3-0 win. The first goal was crucial here.
I thought Kone was brilliant. He's much better with his back to the goals than Rom, and really brings in Ross, McCarthy and the overlapping full backs into the play.
What way will the team set up at home the next day?

Colin Glassar
217
Posted 16/08/2015 at 11:52:23
Spot on Harold #196. I've had a pop or two at Kone but only for the fact that we were paying wages for a man who was never fit (Gibson and Pienaar are now in that category as well) but I never got personal about it.
I remember him at Wigan, not as a prolific goalscorer but as a handful for defenders. Always on the move, always probing. It's obvious that Lukaku also loves playing with 'Papa Kone' as he calls him. He's spoken in the past of the respect and esteem he has for him as a person and a player so, hopefully, this partnership will grow and flourish this season.
Mike Hughes
218
Posted 16/08/2015 at 12:10:06
The BBC picked out Barkley's goal as the best.
I thought they were all excellent but Lukaku's second was my favourite - very well taken and just came at the right time.
What a luxury to be thinking about, not just any scabby old goal, but top quality ones, away from home at a historically difficult place for EFC.
(Mind you, I don't mind the scabby goals either - as long as we win.)

Paul Kelly
219
Posted 16/08/2015 at 12:11:41
A late post from me as I have finally taken away my hand from my crotch area after that performance.
Great game. Credit were its due Bob.
Paul Kelly
220
Posted 16/08/2015 at 12:25:15
Oh and Kone's cross for Rom- you won't see a more accurate cross/pass this season. Sublime.
Colin Glassar
221
Posted 16/08/2015 at 12:36:21
Not wanting to put a damper on things but if we want to have a great season we need to perform like this on a consistent basis, HOME and away.
We need to learn how to break down the likes of Stoke, Palace, WBA, Sunderland etc....who will come to Goodison and have all eleven players in their half. The top teams will always play their own football but it's these teams who we seem to struggle against. Unlock that mystery and I think we will be challenging at the top end again.
Phil Brown
222
Posted 16/08/2015 at 12:53:38
Think that we're going to have to play two different starting elevens, Mirallas and deulfeou on the wings at home; and cleverley and kone for the away games - perhaps also for the big teams at home.
Need to get round the back of the teams that park the bus, using the vision of our new No 10 with ross starting as box to box midfielder alongside barry or mccarthy.
Paul Tran
223
Posted 16/08/2015 at 13:28:19
People need to remember that this is the same squad that deservedly finished fifth two years ago and is, in my opinion, still better than those of clubs that have spent millions this summer.
If Martinez keeps them fit, motivated and playing with the energy and desire they showed yesterday, this could be a good season.
Harold Matthews
224
Posted 16/08/2015 at 13:53:15
Cheers Peter / Colin. Yes Peter, the high cross into the box could well be our Achilles heel.and while the Keeper and rear-guard remain unchanged, our only hope is to get players to limit the things that might hurt us, starting with the giving away of cheap corners and freekicks, losing possession in our own half, not closing down and losing focus. ie. ball watching rather than man watching.
Anyway, right now I remain delighted with yesterday's performance. A tonic for everyone. The travelling Blue Army especially. We shook a few people in the world of football and the Everton name shines as bright as ever.
As for the future. Well, we do have youngsters learning roles, veterans with dodgy legs and slow legs, lads returning from injury and the promised late new signings. Martinez will face huge decisions with regard to starting line-ups, substitutions and general "give someone a rest" rotation. I hope he is up to the task. I also hope we bring in a younger, healthier Osman, Kone, Pienaar type. A football brain on strong legs to do a similar job with Barkley, Cleverley and Lukaku. We'll see.
Steven Jones
225
Posted 16/08/2015 at 14:00:09
Phil #208
I like that analysis along with Kone, Osman, McGeady or Naismith coming on late at Goodison to give variety and fresh legs and new angles with packed defences.
Tom Bowers
226
Posted 16/08/2015 at 14:41:44
Consistency is the key and yes,it was a great win yesterday, but the same defensive frailties appeared early in the game which could have spelled disaster, such as Barry twice in a row passing badly and then tackling weakly in his own third.
The first goal obviously settled things down and I was just about to write a split second before that Everton needed to score first when Lukaku struck. That was the momentum-shifter.
Kyle Lombardo
227
Posted 16/08/2015 at 15:03:03
Collin #207
My thoughts exactly. I said near the same thing above. What do you think we could do to change that?
I believe a strong No10 would do the trick. Barkley and Gibson (when healthy) have shown flashes, they aren't that type of player. Michail Antonio could be a decent fit or my preference would be a Serie A player, someone used to cracking defences. Hamsik or Franco Vazquez wouldn't be cheap but I think would fit that need wonderfully.
Anthony Dwyer
229
Posted 17/08/2015 at 00:50:11
As others have said home form will become crucial if we are to kick on this season.

Top teams develop a fortress for a home and that is exactly what we need.

I have to admit, when I saw the team I was slightly annoyed at the fact we had 2 up top as I felt this would play into Southampton's hands. I thought we should have gone with 2 up top v Watford and just 1 v Southampton. What do I know?

I do know that 4 points from first 2 games is a decent return.

Coyb
Add Your Comments
In order to post a comment, you need to be logged in as a registered user of the site.
Or Sign up as a ToffeeWeb Member — it's free, takes just a few minutes and will allow you to post your comments on articles and Talking Points submissions across the site.
© ToffeeWeb