Reading vs Everton
by

42 Comments [Jump to last]
| 22/09/2015
Match Preview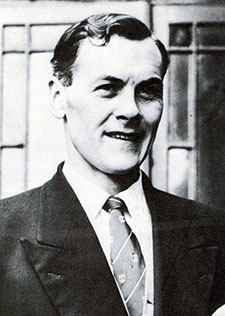 Ian Buchan circa 1957
22 September 2015 marks the 50th anniversary of the death of Ian Buchan who, in between the Cliff Britton and Johnny Carey regimes, oversaw Everton's first team for a shade over two seasons. Often overlooked, his posthumous pen-portraits have been cursory. So who was Ian Buchan?
John Cameron Buchan was born on 20 June 1926. Always known as Ian, he grew up in Riddrie, a working-class community to the east of Glasgow. His father, George, owned a shop. Whilst George was of an easy-going nature, his wife, Agnes, was more strong-willed.  In earlier life, George had participated in long-distance walking to quite a high level. Although Ian had an elder sister, Betty, he was, by most accounts, the apple of his parents' eyes.
Ian always took a keen interest in sport with football his particular passion. Twice he attended trials with his favourite team, Glasgow Rangers, but on both occasions he was knocked out in aerial challenges.  He was subsequently registered with Third Lanark from 1942 to 1946 but it is unclear if he played for the first team. Several 1950s newspaper articles stated that he had played for Queens Park, the famous amateur Hampden Park-based club. There is no record of him appearing for the Spiders' first team but it is possible that he turned out for the Strollers (reserves) or the Hampden XI (who played in Saturday amateur leagues). Ian was also reported to have been selected as a reserve forward for the Scottish amateur team on five occasions. Formal amateur international fixtures had been suspended between the outbreak of war in 1939 and March 1949 so these selections may have been for unofficial fixtures.
During the Second World War, Ian became a parachute instructor and became quite addicted to the pursuit. He studied physical instruction and gained employment teaching PE at Sir John Maxwell Primary School in Pollockshaws (South Glasgow).  Joe Davis, who went on to play at left-back at Hibernian under Jock Stein, recalls Ian making him captain of the school football team which won the area cup in 1951. Ian met his future wife, Margaret "Rita" MacAlister, through work as she was also a PE teacher — they wed on 8 July 1954 at Mosspark Church. Both were evangelical about the joy of sport and helping people to work properly with the body they were given.
Ian was ambitious and willing to take risks. In 1953, he accepted a post lecturing in sport at Loughborough College. The Leicestershire town has a tradition of excellence in sports science. The University, which was spawned by the College, has been attended by the likes of Bob Wilson, Seb Coe and Tanni Gray-Thomson. Ian's specialist area was kinesiology — the science of human movement. He had received FA coaching and physiotherapy qualifications and, in his new role, prepared students for careers as PE teachers and physical training instructors.
Two of his students, Hugh Barr and Mike Greenwood, would go on to represent Great Britain in football at the 1960 Rome Olympics. Greenwood recalls: "Ian was a no-nonsense person. He wasn't brutal but at the same time he had the attitude of 'you mess about with me and I'll mess about with you'. He was, however, a very understanding person and was highly regarded within the college."
In February 1956, Everton had parted company with General Manager Cliff Britton in acrimonious circumstances. With Dick Searle replacing Ernest Green as the club's Chairman, the Board of Directors resolved not to appoint a manager ever again — preferring to retain the powers it had enjoyed before Britton's appointment in 1948.  Scores of applications were received for the vacant post but the five candidates short-listed for interview in early May were Ian Buchan, former Everton half-backs TG Jones and Maurice Lindley, Luton Town coach Harry Wright, and former England international George Hardwick. Ultimately the directors chose the Scot, offering him a two-year deal at £1,250 per annum. The board minutes recorded: In accepting the appointment, Mr. Buchan thanked the Directors for the confidence shown in him, and said he would do his utmost in the interests of the Club.
  
The left-field appointment of a man without a professional playing or managerial background came as a shock to anyone outside the boardroom.  So why was Ian selected? Family recollections suggest that a tip-off about the job had been given so perhaps Ian's work at Loughborough had come to the attention of someone on Merseyside.  Clearly Ian impressed the parsimonious board with his promise to make the Everton players the fittest in the land — thereby raising performance levels without the need for a significant outlay on player acquisitions. After his appointment, Ian told the journalist Don Hardisty: "I don't think the players of any professional club in the country have yet even approached the peak of physical fitness." When asked by Hardisty if, as an unknown quantity, he might find it hard to win over supporters, he replied: "I didn't apply for this job without a great deal of thought. Now I will let results speak for themselves."
The directors offered Ian the lease on Number 1, Earls Close in Crosby — a phone connection was thrown-in. The house had previously been occupied by Harry Potts who had been Cliff Britton's ill-fated big-money signing for the club.
Having finished his duties at Loughborough, Ian eschewed a summer break and commenced work at Goodison just three days later, on 14 July 1956.  Rita was less enamoured than her husband with the idea of swapping the stability of Loughborough for the cut and thrust of the football coal-face. Nonetheless, she supported Ian to the hilt once the decision was made.
Ian was given the title of Everton's "Chief Coach", the exact responsibilities of which were still being defined and refined after the 1956-57 league campaign had commenced.  In September, the board decided that Ian would train the first team but many other matters, including transfer activity, appeared to remain under the control of the board. It was also decided by the directorate that the new coach could watch matches from the Directors' Box.
The team Ian inherited was still in the doldrums after three seasons spent in the Second Division (promotion was achieved in 1954). The ageing squad was in need of overhaul but the transfer pot was empty. First-team stalwarts Cyril Lello and Nobby Fielding were six years older than the 30-year-old coach.  Although Lello would move on to Rochdale after only 5 games under the new regime, Fielding would play a significant role on the pitch throughout Ian's tenure. Ian met the players (fatigued after a summer tour to the USA) for the first time on 18 July with club directors and the local press corps in attendance. "Ranger" (Bob Prole) of the Liverpool Echo reported:
Mr. Ian Buchan, at the request of the chairman, addressed a few remarks to the players. He was, he said, both gratified and proud to be associated with a club of Everton's traditions. To make sure of a successful season he would need 100 per cent co-operation from all the players. He felt sure that would be forthcoming and that they would all pull together for the good of Everton. On behalf of his colleagues skipper Peter Farrell extended a warm welcome to Mr. Buchan, assured him of the wholehearted co-operated he had just asked for, and wished him a long and happy career with the club.
A few weeks into his tenure, Ian commented to Ranger on the positive attitude of the players which he'd encountered: "They are determined to achieve the peak of condition and equally resolved to do well on the field of play which is the vital thing." He went on to explain the scientific approach to preparation for the coming season: "The purpose of the initial training of the past ten days has been to achieve basic fitness. That is the solid foundation on which I hope to build their speed. Later on we shall go into other matters, such as the tactics to be employed, the varying strategies during individual games, and so on."
Ian went on to advise Ranger that soccer success is made up of "90 percent perspiration and 10 percent inspiration". He explained that his aim was to provide an infinite variety of tasks for the players to tackle so that they never lost interest. Training was to be geared to the capacity of each individual with no-one being asked to attempt things beyond his ability merely because somebody else could do them.
Ian concluded by stating: "We are aiming at a happy and sound team spirit and I am sure we shall achieve it. The players are co-operating wonderfully well and realize that not only myself but everybody connected with the club is anxious for their well-being and future success."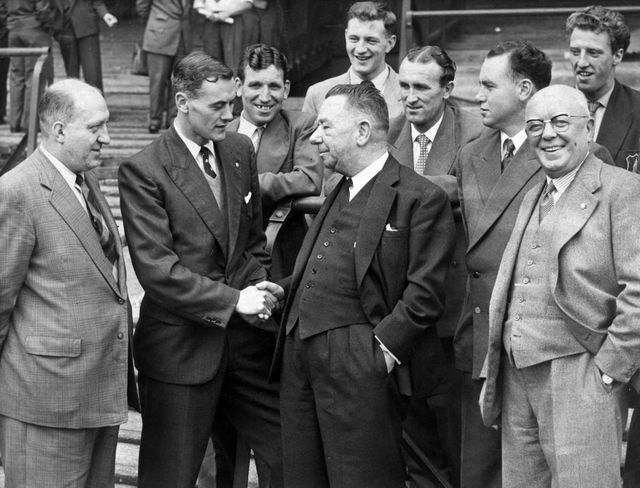 Ian's first competitive match was on 18 August 1956 at Elland Road. In an attempt at mind-games, Ian instructed the coach driver to stop a mile and a half short of the ground so that the Leeds players would be intimidated by the sight of the visitors arriving at a canter on foot. The plan backfired – Wally Fielding described the players as "knackered" as they fell to a 5-1 defeat.
A debut victory was finally achieved at home to Burnley on 12 September – a week later the board resolved that:  The Chief Coach presents on paper to the Board each weekly Board meeting his suggested 1st and 2nd Teams for the next match, and the Board agrees to accept these teams in their entirety. Over time, the Directors eroded Ian's autonomy in team selection. Board meeting minutes from January 1957 recorded: It was agreed that Mr. Buchan present his teams personally each week, after the Board meeting had closed, when any comments could be made.  A further indication of the way in which Ian's authority was impinged on by the board was a minute of the Playing Sub-Committee from April 1957: TEAM SELECTION: It was resolved that the Sub-Committee inform Mr. Buchan that it is the wish of the Board to play some of the younger players in the 1st Team as soon as possible.
The day before the Burnley fixture in September 1956, Ian presented a memorandum to the board. This "special report" assessed that state of the playing staff (which consisted of 52 professionals) and made proposals to address issues highlighted.  Ian stated that the existing playing squad lacked the quality to compete at the highest level and he put forward two alternative remedial strategies. The first was for the board to make significant outlays on established forwards such as Fulham's Johnny Haynes and Sheffield Wednesday's Albert Quixall. The second option was to blood youngsters in the hope, and expectation, that the experience given to them would prove useful in the medium term even if short-term might be arduous. Ian recommended the latter, stating:
By this method, although we may have a very lean season, we shall have found our way out of the woods and the green fields of opportunity and success will lie at the feet of men who are young and virile enough to take full advantage of this.
The board concurred and rubber-stamped Ian's plan to blood youth and gain an advantage through levels of fitness superior to those of opposing teams. Indeed, teams fielded during the Buchan regime had often cost less than £100 to assemble.  During the close-season a new, cutting edge, gymnasium was installed under the corner of the Gwlady's Street and Bullens Road stands at a cost of £2,500. Press reports noted that the gym boasted "special air conditioning", "fluorescent lighting" and a splinter-free Danish beech wood floor. Ian was determined to get good value from the investment.  
Club captain Peter Farrell touched on the new fitness regime and facilities in his regular column in the Liverpool Echo:
During the past four weeks, under our new coach Ian Buchan, all the boys at Goodison have undergone a very strenuous yet interesting schedule of training. In our new gymnasium under the Gwladys Street Stand we have shed quite a lot of perspiration in our circuit training and weight-lifting. We have also devoted much time endeavouring to speed up our movement in this respect with the aid of the stop watch. Mr. Buchan and his staff discovered that we have quite a few speed merchants in our ranks, and one morning Jimmy Harris, the fastest man on the books, clocked 10 seconds for 100 yards.
Brian Labone, Mick Meagan and Derek Temple, who would taste glory in the 1960s, made their debuts under Ian. The latter recalls: "It was a strange appointment but I really liked Ian, he was a nice man.  He was a great bloke but not cut out to be the manager of a big club.  He gave me my debut and he told me that I'd play for England and he was proved right – I played once! He built a state-of-the-art gym – it was all circuit training against the clock and weights which we had never been heard. He had us so fit but some of the older lads like Nobby Fielding complained!"
Meagan, who made his first team debut in August 1957 after five years on the sidelines, continues: "Ian didn't seem like a real footballing type — he could have been a business man. He was a lovely man but maybe a bit too nice to deal with the pressure of football. He was a keep-fit merchant. He was the first man to bring in weight training in the gym. It was very good for guys who myself who were small. We had lunch at the ground in those days and the meals we had were fantastic with the best steak. He'd come up to you and say, 'Did you get enough steak?' Ian was very concerned that you needed this grub to keep going — he had this vision of building us up into monsters!"
Installed to work alongside Ian as assistant coach was Harry Wright who had been pipped to the Chief Coach role — presumably Ian had little input in the appointment.  Wright had previously been an army PT instructor at Aldershot and was noted for his film-star looks. Mick Meagan recalls: "Harry Wright was some character, he was the image of Clark Cable  and he knew it! He used to wear lovely Donegal tweed suits. The trainer in those days would help with the team gear in the big skip  — pushing it at the likes of Euston Station. But that wasn't Harry's thing. He suggested that we bring two reserve young lads to give them experience of mixing with them the first team but they ended up pushing the skip — not Harry! He was a big man and loved the hotels and all the attention!"
As might be expected with a transitional team lacking quality and experience, the 1956-57 season proved difficult but the 14 victories and 10 draws were enough to secure a mid-table 15th  place finish. A rare highlight was a thumping victory at Old Trafford. The Buchans worked as a partnership with Rita attending reserve matches whilst Ian was at first-team fixtures — and vice-versa.  After the match at Old Trafford, Rita advised her husband of the 5-2 scoreline. Ian consoled himself out loud that the Blues had managed to score two goals before Rita corrected him that Everton were the victors.
Ian's second season saw the return of fans' favourite Dave Hickson from Bill Shankly's Huddersfield Town for £6,500. Jimmy Harris switched from centre-forward to outside-right to accommodate the Cannonball Kid; Derek Temple established himself at inside-forward, and Mick Meagan finally broke through at left-half.  Temple made his debut at centre-forward against Newcastle in March 1957.
In October of the same year, Ian accompanied him to London when he played for England Under-20s against Romania at Stamford Bridge. The trip was most memorable for the return journey as Temple recalls: "We had won about 4-2.  After the game, Ian said to me, 'Come on we're going – we have a game coming up and I want you back.'  I said, 'OK but there are two lads here that need a lift if you don't mind Boss?' They were Wilf McGuinness and Jimmy Melia. Ian had an Austin Cambridge, and he had his wife with him — a nice lady. I was terrified by his driving — foot down and then braking. He had two smashes in Birkenhead — I was glad to get out at the end."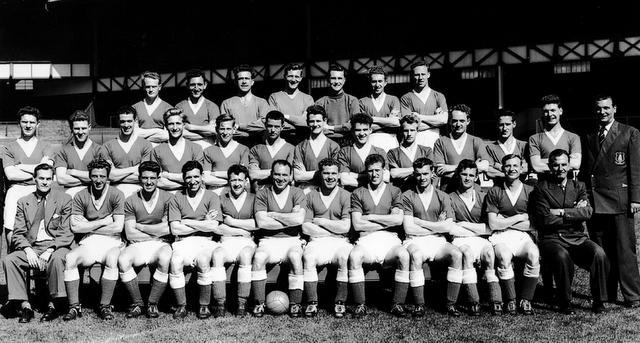 Everton squad photographed in the summer of 1957. Ian seated far left
During the summer of 1957, the Everton training team of Harry Wright, Gordon Watson, and Stan Bentham spent a week at the Lilleshall centre of the Central Council for Physical Recreation. Here they attended a course in the latest methods of training coaching and treatment of injuries — it is reasonable to conclude that this was at Ian's behest.  Wally Fielding was also there, taking the first steps on the road to a potential career as a coach. Back at Goodison and Bellefield, the new season was preceded by the now customary Buchan regime of training – albeit, Ian told Ranger, with a greater emphasis on shooting, heading, dribbling, trapping and so on. Newly re-signed Dave Hickson commented on the training programme in his Liverpool Echo column:
Under the guidance of our chief coach Mr. Ian Buchan, I feel – apart from the temporary stiffness, which will soon wear off – fitter and better than for many a long day. My former colleagues, who have been through it all before and speak highly of the system, have told me how much it has improved their fitness and staying power in the past. I can quite believe it. The weight-training system for the strengthening of muscles in all parts of the body – arms, legs abdomen, back and so on – is strenuous, but I am sure it will do me, as it has done the others, a world of good. Unless I am very much mistaken we are going to be one of the fittest teams in the country, and far more able to stand a grueling ninety minutes than the majority of our opponents
In spite of Hickson's optimism, local journalists were filled with foreboding for the approaching 1957-58 season. Leslie Edwards of the Daily Post wrote: Even allowing for Dave Hickson's return, I suggest that this may prove one of the most difficult of Everton seasons — and we have endured some pretty indifferent ones since the war.  Ranger in the Echo concurred:  The man I envy least of all is Mr. Ian Buchan, who apparently is expected to make bricks without much straw. He is doing as good a job as possible with the limited staff and limited powers. I wish him the best of luck.
Confounding the portents of doom, the season started promisingly with Everton in the top ten until late autumn.  The early season promise saw Ian awarded with a three-year extension to his contract in January 1958. A month later, as form ebbed away, the directors chose to dilute Ian's authority further by insisting that he could submit his team sheets at noon on Wednesday after taking on board the opinions of the directors.  Eighteen-year-old Brian Labone was blooded at centre-half in March - the first of his 451 league appearances. Victories on the final two games of the season gave the gloss of a 14th-place finish.  In an article published at the end of the season, Ian put forward his reasoning for the dip in form as the season progressed:
Our team this season has largely been comprised of youngsters inexperienced in the demands of First Division football. This has to be expected and viewed as part of their apprenticeship where they gain that invaluable part of football — experience. I firmly believe that they will be all the better for it.
At the beginning of the season, there was plenty of grass on the pitches and the style of football which we adopted – namely a fast-flowing teams which relies mainly of moving the ball about first time — proved highly successful. But with heavier going (pitches) we suffered a great deal. I shall not rest until I am satisfied that we have a more flexible approach to the game and are able to adapt our style to suit the conditions.
Mick Meagan recalls that Ian's focus on fitness may, ultimately, have become a hindrance rather than a help:  "Instead of staying at a level, he kept building on the weights until it got to the point where we couldn't lift them. When we hit the bad spell, it got into Ian's head that by adding more weights it would make us stronger — like gladiators. It had the opposite effect on our performances — we were knackered and it backfired on us.  That was the start of the downward trend with Everton."  Derek Temple recalls the impact the pressure of the role had on Ian: "He didn't half age. He had looked the part but he started getting black under his eyes and his hair went from black to grey."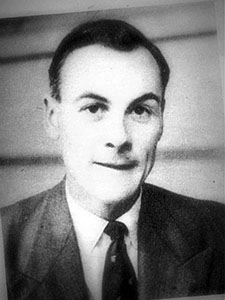 Ian photographed in 1958
Ian's third season started disastrously with five consecutive defeats. A 6-1 home humbling by Arsenal on 6 September 1958 was to prove the final straw. At half-time, fans turned on the Directors' Box and started chanting "We want a team". Chairman Dick Searle saw fit to publicly criticise the fitness of the players. Two days later, Ian had to face the assembled board members who proposed drastic changes to the coaching setup. Gordon Watson was promoted to first team trainer and Harry Wright — apparently under a cloud — was demoted to coaching the juniors. Ian's own position appeared to be uncertain as the minutes noted: Mr. Buchan stated that, in his opinion, the proposed changes would not solve any of the present problems. The question of the relative positions of Messrs. I.C. Buchan and A.W. Fielding re. tactical training was deferred for discussion next week. Publicly the board merely was more opaque and issued the following statement: "The directors are in complete harmony regarding the steps to be taken to remedy the present situation."
At the subsequent board meeting it was agreed that:  The appointment of a Team Manager with playing experience of 1st Division professional football is expedient in the present circumstances. This was tacit acknowledgement that the gamble taken on installing a Chief Coach in lieu of a manager had failed.  On 23 September, the news broke that Blackburn Rovers' manager John Carey, the former Manchester United captain, had agreed in principal to become Everton's team manager. Carey, offered  a five-year contract with a salary of £3,000 per annum, insisted that he would have "full control of playing staff, training staff and scouting, subject to the overriding authority of the Board." This was in stark contrast to Ian who, the board minutes suggest, had been treated almost as a gofer by some directors.
Ian continued in his role whilst Carey's appointment was finalised and the Irishman worked his notice. One of his final acts was to go to Glasgow to help negotiate the transfer of Bobby Collins from Celtic. Collins was dumbstruck when he learnt, in conversation, that his brother, Archie, had been taught PE at school by Ian.  Collins made an immediate impact on the pitch — scoring on his debut in the team's first win of the season.  His winning mentality and footballing ability would almost single-handedly drag Everton out of relegation trouble. Sadly the inspirational Collins's arrival was too late to save Ian.  When Carey commenced his duties at Goodison in mid-October, a handover meeting was held with Ian. Subsequently the in-limbo Scot was given a two-week leave of absence — ostensibly to avoid an awkward state of affairs for all concerned.  In his biography Collins compared the two men: "Ian Buchan knew the game but he was too much of a theorist, having never played the game at the top level. Johnny, on the other hand, had a wealth of experience and understood players more."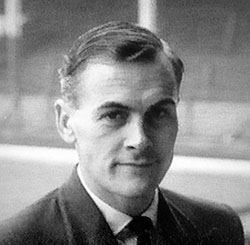 Ian being interviewed on TV
Local journalists speculated that Ian might continue on the Goodison staff under Carey. For a period, he worked with the youth players but it soon became clear that his time was coming to an end. With little sentiment, the directors elected to cease footing the bill for Ian's phone calls and his car allowance on 4 November 1958.  With Rita hospitalised for a number of weeks following the arrival of the Buchans' baby daughter, Ian had to break the news that he had been displaced by the appointment of Carey.  At this time, an offer to coach the national team of Turkey was on the table. Ian did not dismiss this proposal out of hand but Rita, the more practical and risk-averse of the two, insisted that her husband seek a more stable occupation which would support the growing family.
It would be the following spring before E Holland-Hughes (the future Everton Chairman) and Ian's solicitors reached a final severance settlement.  Compensation of £1,600 was paid in lieu of contracted salary payments up until July 1961. The parties agreed for Ian to purchase the club house in Crosby in October 1959.
Ian found employment with Littlewoods in Liverpool. It is highly likely that the increasingly influential John Moores had a hand in the appointment. Mick Meagan recalls coming across his former coach: "Football can be a sad game. Four or five of us used to go into town for lunch on a Friday. One day we went into Littlewoods and there was Ian working.  It was sad to see him as a few months earlier he had been our boss. It was so hard to go over — you didn't know what to do because he was a very nice person. But we did go over and it was the usual 'hellos'. He said that he was delighted that we were doing well and said 'Don't forget that you are my boys.' That was the last time I saw Ian."
Subsequently Ian worked in Berkshire in sales for a pharmaceutical  company — family members recall that he could be charismatic and good in terms of selling ideas to people.  In 1963, the family returned to Scotland, living at Bridge of Weir in Renfrewshire, as Ian took up a post with the Peter Stuyvesant tobacco company. He would rise to become head of sales in the Scottish region. Despite the career change, Ian never lost his love of sport; he encouraged his employer to become involved in sponsoring Scottish skiing whilst tentative, but abortive, discussions were held about him appearing on BBC Scotland's Sports Scene.
In the early hours of 22 September 1965, Ian was driving home in his Ford Zephyr when the car left the road and hit a lamppost. No other vehicle appeared to have been involved in the incident. When the emergency services extricated Ian from the vehicle, they took him to the Southern General Hospital in Govan where his death was confirmed.  He left behind Rita, who would outlive him by 50 years and his 7-year-old daughter. Many reports of his passing gave his age as 45 – an error repeated in most subsequent articles. In fact he was still nine months short of his 40th birthday.
In the intervening years, Ian has faded from memories of most connected with the game. Looking back, his appointment at Everton can be viewed as an inadvertently forward-thinking one by an ultra-conservative club hierarchy. The current-day European model of football management sees coaches employed to focus on the teams whilst executive board members take care of the wider aspects of club administration and transfer policy. Certainly Ian's scientific approach to conditioning and fitness, although perhaps taken to extremes, would not seem out of place in a modern football environment. Perhaps if Everton had chosen a suitably qualified "football man" to work alongside Ian, and invested in several top-class players, things might have panned out very differently.
» Read more: Ian Buchan – Everton's Forgotten Manager (Liverpool Echo)
  
Acknowledgements:
The Buchan Family
John Litster – author of an excellent article in Scottish Football Historian (Issue 125)
George Orr
Billy Smith (Merseyside press articles on bluecorrespondent.co.uk)
Mick Meagan
Derek Temple
Jimmy Harris
Alan Rhodes (Queens Park historian)
Bert Bell (Third Lanark historian)
Douglas Gorman
Various Everton history books
Bobby Collins – The Wee Barra by David Saffer
The Everton Collection (board minutes)
Joe Davis
---
Reader Comments (42)
Note: the following content is not moderated or vetted by the site owners at the time of submission. Comments are the responsibility of the poster. Disclaimer
Duncan McDine
1
Posted 22/09/2015 at 07:25:06
I think that line up is very close to what we'll see, Lyndon. The only doubt is if he starts both Leon and Gibbo together. I'd rather see Macca alongside one of them (Barry MUST be rested).
Looking forward to this one... Cheap night out and just down the road!
Thomas Surgenor
2
Posted 22/09/2015 at 07:29:38
Agree with the majority of your predicted starting 11.
However I think he may well rest Barkley as well and play Nais or Leandro from the start.
Pity about Mirallas as this could have been the match he forced his way into the starting 11.
Jim Bennings
3
Posted 22/09/2015 at 08:14:33
Make sure we get through, that's the main thing here.
Winning also breeds confidence and going out tonight could really set us back on what has been a solid if unspectacular start to the season.
Every win breeds momentum and it will be another boost for the players knowing they are just one round away from the Quarter Final, if we can navigate our way past these tonight.
Yes it's a tricky looking game, they beat Ipswich 5-1 a few weeks back and there's no doubt Reading have caused us quite a few problems in our meetings with them so I'm taking nothing for granted.
I'm hoping we get through and get a home draw, with no European action this season I'm missing being at Goodison under the floodlights, there are no league matches on the horizon scheduled for night so the Cup is our only hope.
Let's get after them Blues!!
Peter Murray
4
Posted 22/09/2015 at 08:32:28
We have come unstuck in the third round in the previous three seasons, losing to Leeds, Fulham and Swansea ,all away from home.
A win tonight would be a major psychological boost in every way for the club for the rest of the season.
Gerard Carey
6
Posted 22/09/2015 at 08:51:04
Not too many changes please. Need to keep our mini run going. Reading will be up for this, another clean sheet would be great for confidence and playing Lukaku and him scoring would be good for his confidence too. Next game is nearly a week away so plenty of time to recover.
Nick Entwistle
7
Posted 22/09/2015 at 09:10:19
Are any bookies taking bets on Gibson not getting injured?
Nicky Styles
8
Posted 22/09/2015 at 09:50:16
I agree with this team selection. I really want Robles to do well for us. I think there's a good keeper hiding in him. Delighted if Gibson got 90 minutes as well. Is McGeady injured? If not, I'd like to see him get a run out as well.
Neil Wood
9
Posted 22/09/2015 at 09:52:58
I'm hoping to see Leandro tonight with Del Boy running them ragged on the flanks. Hope it's a bit warmer than last night.
On a seperate note.... Has anyone any spares for the derby my brother has messed up thinking I had got the tickets... Annoyed!!!
Steve Croston
10
Posted 22/09/2015 at 09:56:00
It frustrates me so much, whenever the League Cup comes around, everybody wants to put our second string out or play lots of players who have just come back from injury. If we play Robles, Funes Mori, Gibson, Osman, Rodriguez, Deulofeu and Lennon in the same team then we are going OUT!
Does nobody remember Leeds, Brentford, Oldham etc? We have no game until next Monday, so let's put our strongest team out and wipe the floor with Reading. Personally, I would just swap Deulofeu for Lukaku and put Naismith or Kone up top. As for the rest, I would leave well alone.
Winston Williamson
12
Posted 22/09/2015 at 10:59:04
My team, for what it's worth:
Howard
Browning
Stones
Funes Mori
Galloway
McCarthy
Gibson
Lennon
Deulofeu
Osman
Lukaku
Besic for McCarthy
Rodriguez for Osman

Thomas Surgenor
13
Posted 22/09/2015 at 11:10:44
Nicky #7. NO, just NO to McGeady. His outing against Barnsley should (and hopefully will) be the last time he ever pulled on an Everton shirt. It was a total and utter embarrassment.
We shouldn't even waste a space on the bench with him. I'd far rather we progress a youngsters career with giving them exposure of being in and around the first team (all be it on the bench) than have that muppet anywhere near it!
You might well get your wish and he might well put in a stellar performance. Although even that, for me, wouldn't redeem his previous exploits.
We now have the squad depth to cope with a cup run so we should expect to progress no matter what starting 11 we field. Although it's never that simple.
Chris Gould
14
Posted 22/09/2015 at 11:12:43
I have no problems with Lyndon's predicted lineup, except for Robles in goal. Bringing a goalkeeper in who isn't match sharp is always a big risk. He doesn't fill me with confidence.
Howard seems to have refocused, and I wonder if shaving off his comedy beard is one way of showing this. I don't think it's a position where players need rest, it's mentally fatiguing rather than physically.
Abhishek Saha
15
Posted 22/09/2015 at 11:15:05
Yeah, too may changes can prove costly. With Kev unavailable, there are now only 3 regular benchers who can be drafted into our usual starting XI on any matchday..... Deulofeu, Lennon and Osman (assuming Cleverley, Oviedo, Besic & Coleman are still injured), so that makes Naismith & Browning a usual starting XI.
So just get starts for this trio and retain eight from the usual XI. So (a) you don't change the team too much; (b) you get a team which is as good as your usual XI; (c) you give chance to players who otherwise deserve to start in your usual XI.
Then, if we have sealed match with time to spare, throw another 3 who are yet to be tested, like Funes Mori, Gibson, Rodriguez. That way you have tested 6 non-starters in match conditions, which is not a bad deal.
My take on the 3 to be rested are Kone, Barry & Barkley. Kone & Barry need more time to recover. If they're well rested, they're different players altogether, as we have seen this season. Barkley will be the centre of attraction if he starts and we don't want him out for months following a stupid tackle from some desperate Reading player. Naismith and Lukaku can do with some more game time, so they can start.
So starting XI should look like:
Howard
Browning Jagielka Stones Galloway
McCarthy Osman
Lennon Naismith Deulofeu
Lukaku
Bring on Funes Mori, Rodriguez, Gibson if we have sealed the match.
Kone and Barkley on if we're chasing the game.
Declan Martin
19
Posted 22/09/2015 at 11:59:40
Where has McGeady gone?
In the pecking order of those trying to establish a first team place, he's obviously behind Deulofeu, Lennon and Mirallas, all of whom are getting an occasional run in the team.
Is he worth a risk tonight?
[And I emphasise the word 'risk'...]
Matthew Salem
21
Posted 22/09/2015 at 12:21:31
I don't care where McGeady is, but I fully concur with an above post that I never want to see him in an Everton shirt again. Aside from crosses and corners, he is horrid.
I don't care if we had drawn Hayes & Yeading Utd instead of Reading, McGeady is an utter waste of space and should not play for us ever again.
Sam Hoare
22
Posted 22/09/2015 at 12:22:25
Worth pointing out that Steve Clarke (Reading Manager) has said he intends to make several changes to his promotion-chasing side. The cup is not a priority for them, though I think it should be for us.
Having said that, I think Barry probably needs a rest and this would seem the obvious game to give Funes Mori and Deulofeu their first starts. Possibly Lennon as well but then RM doesn't like to play 2 wingers...
Tim Greeley
23
Posted 22/09/2015 at 12:26:34
Robles
Browning - Stones - Funes Mori - Galloway
McCarthy - Gibson
Barkley
Deulofeu - Osman
Kone
Bench: Howard, Naismith, Lennon, Lukaku, Rodriguez, Jagielka, Pennington
Jim Knightley
24
Posted 22/09/2015 at 12:29:00
I like Lyndon's team, although I'd probably play McCarthy instead of Gibson or Osman.
If we did play Lyndon's team of: Robles, Browning, Jagielka, Funes Mori, Galloway, Gibson, Osman, Lennon, Barkley, Deulofeu, Lukaku.
That would leave us with enough players not involved to make the following 11:
Howard, Coleman, Stones, Besic, Baines, McCarthy, Barry, Mirallas, Naismith, McGeady and Kone.
That is some fantastic squad depth.
Darren Bailey
27
Posted 22/09/2015 at 12:52:34
Jim Knightley #21 - surely you mean Oviedo or Pienaar instead of McGeady in your 2nd 11 there? You're not thinking McGeady has any chance of getting in an Everton team of any sort whatsoever?
Ross Edwards
28
Posted 22/09/2015 at 13:05:06
McGeady shouldn't even be in the squad Jim, he's that bad. Anyway, onto the game.
If as Sam says, Clarke puts out a much changed team, we have no excuses tonight. I, and I'm sure many others will be very disappointed if we go out tonight.
This competition is our best chance of ending that trophy drought. We need to take it.
I personally would pick this:
Robles
Browning Funes Mori Stones Galloway
McCarthy
Deulofeu Barkley Lennon
Lukaku Rodriguez
Pete Edwards
29
Posted 22/09/2015 at 13:12:07
Chris #12 how does a keeper (or any other player for that matter) get match sharp without playing matches?
Chris Gould
32
Posted 22/09/2015 at 13:36:48
Pete @ 12, players who haven't played much (due to injury etc) will generally play in the U21s to get some match sharpness back. (As I'm sure you are aware.)
But I was only talking about Robles. As the last line of defence his errors change the results of matches, and in a competition that I would like us to take seriously, it isn't a match where I would like to see Robles's lack of sharpness exposed.
If you're a team that has other priorities such as Europe, then fine, use this competition to keep squad players ticking over. I would like us to have a proper go at winning this, and would therefore like to see Howard in goal.
Brian Hennessy
34
Posted 22/09/2015 at 13:55:42
How dare all you above criticize my fellow countryman Aiden McGeady.
I'll tell you how good I think he is and I have seen him in blue and green!
He is useless, absolutely useless, headless chicken who would never nail down a startling place in any Premier League side.
Now there you have it...
Terence Leong
35
Posted 22/09/2015 at 14:00:07
Of Lyndon's predicted line up of:
Robles, Browning, Jagielka, Funes Mori, Galloway, Gibson, Osman, Lennon, Barkley, Deulofeu, Lukaku
I would prefer to keep Howard in goal, as Robles usually (as someone points out) doesn't do well when asked to stand in for only a game. He seems to do better when he knows that he's got a run of games, knowing that he's got time to prove himself.
And while it's time to let the squad get match fitness, I would be uncomfortable with no defensive midfielder when Reading come on aggressively.
I think Naismith might deserve to start ahead of Lukaku, given his recent performances. Big Rom can be called upon as a substitute.
Barkley should be given an extended run to build his confidence and keep the momentum going.
I do think Mirallas should be given a chance (be it to start or to end the game), as he won't be available for the next 3 games after today. While Mirallas's match-winning qualities are not in doubt, his temperament to keep going when the chips are down is suspect.
Thus, I am torn between choosing two from Lennon, Deulofeu and Mirallas.
This as with all our League Cup history, is a banana skin tie, but I'm hopeful that we can win it and still achieve the goal of keeping all our players on their toes!
Looking forward...

Tim Kells
36
Posted 22/09/2015 at 14:03:19
If ever there was a need to make minimal changes and to take this competition seriously then this is it. See the points below. I'm going tonight. COYB
Everton have been eliminated away from home in six of the past seven seasons. The Toffees have come unstuck in the third round in the previous three seasons, losing to Leeds (2012), Fulham (2013) and Swansea (2014). All defeats were away from home.
Ben Jones
38
Posted 22/09/2015 at 14:18:15
I think playing Osman and Gibson in the deeper positions is risky; neither have enough stamina. I'd definitely play McCarthy with one of them, probably Osman.
The rest of the team looks good though. Robles played really well in the recent U21 game. Rodriguez and Gibson to come off the bench. Gibson can change the game if we're not doing so well.
Jay Harris
39
Posted 22/09/2015 at 14:18:34
I really worry about wholesale changes. It causes confusion and breaks up the rhythm and momentum the team has going. We need to make this game safe then bring the subs on.
I would only start by resting Stones (following his knee knock on Saturday), Gareth Barry, and Lukaku to enable us to try other options up front.
Changing the GK with all the changes in the back 4 recently is a recipe for disaster IMO.
David Pearl
40
Posted 22/09/2015 at 14:21:34
With playing next Monday evening, we really should play a strong team from the start and make sure we are in control early and not have to ride our luck like we did at Barnsley.
Lukaku should start and he should prove a point and find the back of the net. Kone has improved a lot this season but what is the use of a forward that can't score? Naisy should also start for me as we need a natural finisher in the team.
Steve Woods
41
Posted 22/09/2015 at 14:22:27
Is this game televised anywhere?
Peter Cummings
42
Posted 22/09/2015 at 14:38:59
Chris (#15),
If memory serves, didn't Robles replace Howard when he was on International duty with the USA and get rave reviews from us for his excellent performances?
He played so well that many Evertonians felt he should be made first choice over an unreliable and mistake-prone Howard,
Admittedly, so far this term, Tim hasn't made any costly blunders, mainly because of our well organised defence. Robles can come good when it matters, but then again, who knows???

Steve Pugh
43
Posted 22/09/2015 at 14:55:32
http://www.thefeed2all.eu/watch/373040/1/watch-reading-fc-vs-Everton-fc.html
Only feed I could find Steve
Kevin Ballard
44
Posted 22/09/2015 at 15:04:18
I expect Lukaku will start with Ossie or Naismith behind. Lennon and GD need a game so we should finally see 2 natural wide men (though Naismith on the left and Osman centre would be more Martinez like).
Barry HAS to be rested and with Besic injured I would have McCarthy & Gibson in CM. Back 4 could see Funes Mori come in for a rested Jags (or Stones if he took a knock Saturday).
Robles will start. He has shown his hand in the League Cup by playing Robles. It's the only game time he gets.
Still a good enough side to win but Reading will be no pushovers even if they change their team. We are Everton after all!
Brian Wilkinson
45
Posted 22/09/2015 at 15:26:26
Nicky@7 are we talking about the same Robles who shipped in three goals in the previous round, looked rooted to the spot most of the game, came flying off his line for all the penalties against West Ham in the shootout, and got as near to any of them as I did to Miss World...
Howard is in fine form, a fantastic penalty stopper should it go the distance.
Stick with your best goalkeeper, it's our best chance for silverware, one of the cups, so having your regular shot stopper has got to be top priority.
Sadly, I think he will play Robles.
Ray Roche
46
Posted 22/09/2015 at 15:28:03
Just put "Reading v Everton live stream" in on Google, you'll get a list of sites.
Matt Traynor
47
Posted 22/09/2015 at 15:29:23
Terrance #24, Mirallas's ban has already started, so he's out tonight. Preferable that his ban includes this game than an additional Premier League game, to my mind.
As this is the one domestic honour we've never won, I'd like us to go for it seriously for once.
Aidy Dews
48
Posted 22/09/2015 at 15:46:21
I can see us making a few changes tonight but not whole sale.
Think it'll be :-
Robles
Browning
Jagielka
Funes Mori
Galloway
McCarthy
Osman
Lennon
Barkley
Deulofeu
Lukaku
This won't be an easy game tonight and we need to be up for it from the off. I'll take 2-1 in the 90.
Jim Knightley
49
Posted 22/09/2015 at 15:47:59
Actually Ross/Darren, I discounted Pienaar because he is so often injured, and is currently. Embarrassingly, I completely forgot about Oviedo.
Personally I think McGeady plays with head down too often, and rarely delivers. He has a super goal in him, but unfortunately he only puts in a performance a few times a season.
He needs to go to a poorer team and league where he can be at the centre of things, and should be well down our pecking order. But, he is hardly a dreadful fourth choice wide option behind Mirallas, Deulofeu and Lennon, and arguably even fifth/six choice of Oviedo and Pienaar are fit.
Steve Brown
50
Posted 22/09/2015 at 16:01:54
What's the score with Oviedo? Is he unfit, out of form... or is his game time getting managed carefully to bring him back slowly?
Dave Pritchard
51
Posted 22/09/2015 at 16:47:33
Oviedo is injured again.
Darren Hind
52
Posted 22/09/2015 at 17:16:51
This is no walk in the Park. The Reading manager is vastly experienced in knock-out competitions and, no matter what side he puts out, they will all know their jobs.
On several occasions this year he indicated that league was priority for him, but it didn't stop them getting to the Semi-Final of the FA Cup; only bad refereeing and bad luck prevented them from beating Arsenal and going all the way.
My money is already down on Reading to get automatic promotion. We need to be professional tonight, 100% focused. because if we are not, we will be out.

Roger Helm
53
Posted 22/09/2015 at 17:30:57
Neal (#8),
I can't go to the Derby due to work commitments so you can use my season card for the Upper Bullens. You could text me 07796 958 255.
Realistically this is our only real chance of a trophy so I would say it is as important as a PL match and should be treated as such.
Eivind Nyhus
54
Posted 22/09/2015 at 17:52:00
I'm worried about Barkley getting injured again. Resting him tonight might not be the worst idea.
We should win this, but our last few games in this cup don't fill me with confidence.
Add Your Comments
In order to post a comment, you need to be logged in as a registered user of the site.
Or Sign up as a ToffeeWeb Member — it's free, takes just a few minutes and will allow you to post your comments on articles and Talking Points submissions across the site.
© ToffeeWeb