Martinez: We did enough to win
by

61 Comments [Jump to last]
| 05/10/2015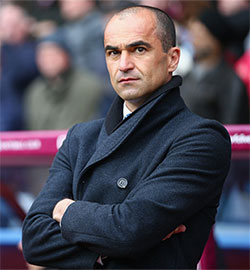 Roberto Martinez lamented the lack of a little bit of luck in front of goal and composure in the final third as Everton had to settle for a draw in the Merseyside derby.
The Blues again conceded the opening goal in this fixture and were forced to recover before trying to win the game and the manager was happy with his players' reaction even if he was disappointed with the result.
Romelu Lukaku scored his seventh goal in all competitions on the stroke of half time to bring Everton back level, the highlight of an excellent all-round performance that was deserving of a better scoreline.
Simon Mignolet in the Liverpool goal, meanwhile, made three good saves to keep the Blues at bay.
"The hold-up play from Rom was the strongest we have had in an Everton shirt," Martinez said after the game. "He locked [up] three centre halves and we played around him.
"Our performance was good enough to get the three points but you need to earn them and I donít think we had that bit of luck you need in front of goal,"
"Simon Mignolet was outstanding and we are disappointed with the goal we conceded, but the reaction was pleasing. In the second half we carried real danger and that little bit of composure would have given us three points."
Like everyone else of a Blue persuasion, Martinez question the refereeing of Martin Atkinson in the 1-1 draw, particularly his weakness is not showing a second yellow card to Lucas Leiva for a cynical trip of James McCarthy.
That should have seen the Brazilian set off with a quarter of an hour to go but Brendan Rodgers quickly substituted him before he could earn what felt like an inevitable dismissal.
"I donít understand it," the Catalan continued. "Lucasís technical fouls were very clever but the second was from behind and should have been given a yellow card. Martin has a clear view. We should have played 10 men in the last 15 minutes."
---
Reader Comments (61)
Note: the following content is not moderated or vetted by the site owners at the time of submission. Comments are the responsibility of the poster. Disclaimer
Craig Fletcher
1
Posted 05/10/2015 at 04:07:22
Just watched a replay of the game and the officiating by Atkinson was, at best, questionable.
Lucas having three bookable offences but being given just the one yellow being the worst decision, there was also Skrtel knocking Jags to the ground in the box as a corner came in (I've definitely seem those given as a penalty before). Also towards the end of the game Liverpool had a foul awarded; and Coutinho took the foul quickly from a spot a good ten metres from where Barry had actually fouled him! If it wasn't for Funes Mori making a last-ditch intercept, Sturridge would have been clean through on goal. Now that would have been interesting had the RS scored.
Irony of course is when we were awarded a first-half foul (one of the few we were awarded) the ref hauled us back when we took the foul from the wrong spot.
Sometimes I wonder what the hell we have to do in derbies when there are twelve people on the pitch on the reds' side. Not surprising that the best we often get when we're the better side is a draw.
For what it's worth tactically I think Roberto did pretty well, Geri was not having a great day and needed replacing by Lennon; perhaps towards the end Gibson for McCarthy just to give us a bit more go-forward could have been an option.
Lukaku, Barry and Jags our standouts. Funes Mori too did extremely well I thought.
Brian Porter
2
Posted 05/10/2015 at 06:04:05
100% in agreement with your summary, Craig, #1. I don't normally knock the officials who have a tough job to do but in this case, Atkinson was so blatant in his poor handling of the match that he really should be brought up in front of the referee's panel or whatever they call it.
As for the team, I thought Funes Mori was a stand out player bearing in mind his lack of playing time with us before yesterday, and the tackle you mention saved a definite goal scoring chance for them while a lot of the players were still semi switched off expecting the ref to call play back for that free kick to be retaken. I hhought both Naismith and Lukaku deserved to score and both played well throughout the game.
Paul Kelly
3
Posted 05/10/2015 at 06:55:18
Well lads, I believe we have to ditch the "nice guy" routine, the club, especially El Bob and the players should be questioning the FA's decision in appointing said referee, coming out and using the media to kick up a shit storm.
It's gone on for years now and a ref' being demoted after the fact does us no favours what so ever. If they get fined it's buttons for them, so no problem there.
The thing is, his performance wasn't inept, it was blatantly biased, makes you think what agenda the FA have got as they wont do shit unless we kick up a fuss and then if successful they won't do a lot anyway. Cut from the same cloth as FIFA.
Andy Codling
4
Posted 05/10/2015 at 07:02:01
Pity we don't have a goalkeeper that can come off his line and dominate the six-yard box!
Kase Chow
5
Posted 05/10/2015 at 07:06:42
Ref was poor.
Naismith should have scored that header: that's what top 4 teams strikers do.
McCarthy must cover a lot of ground in real life than is shown on TV cos I just don't see what he brings (closes space down but offers nothing offensively... I accept he had a decent shot yesterday)
If we'd played someone right up top with Lukaku to get onto his knock-ons, we could have won.
Little creativity from the left.
Overall decent but I don't think we did enough to win. We were the better team but didn't create enough clear-cut chances.
Peter Barry
6
Posted 05/10/2015 at 07:19:42
'We should have played 10 men in the last 15 minutes' But instead we played 12 men for the whole game, Atkinson was a disgrace – as is USUAL.
Mark Andersson
7
Posted 05/10/2015 at 07:32:53
I thought the ref done well for the job he was paid to do from Liverpool. Or is it something more sinister, like the sky money men who need Liverpool to do well as they are one of the world wide brands.
It did seem a wee bit biased but will we ever know for sure. If Fifa is corrupt to the core then nothing would surprise me.
Rodgers getting the sack is a bit harsh, he was doing a great job. So another manager will have to spend another £100 million to keep the Red Shite where they belong, mid table just behind us.
Matt Traynor
8
Posted 05/10/2015 at 08:03:58
Paul (#3), I'm not normally a conspiracy theorist (although the moon landings were definitely fake), but I am beginning to believe the Premier League (and by extension the FA) have a dilemma.
The "Sky Four" was perfect for them - same 4 teams top 4 each year, they didn't give a shit who finished where, as long as it protected the 4 Champions League slots.
Given we can only relinquish a slot to a country that currently has 3 teams, that overtakes our co-efficient, that's quite an accomplishment. Step forward Man City...
One thing the money pouring in from broadcast rights has done is mean the chasing pack can also pounce if one of the "money" teams screws up - this really doesn't help the FA as it'll mean another team in the Champions League on a steep learning curve etc.
The only thing I can't fathom is why they persist in trying to crow-bar the RS into that top 4. We've only gone 3 years longer than them since lifting the title...
Jim Bennings
9
Posted 05/10/2015 at 08:16:40
Hmmmm... I'm not to sure I agree 100% with Bobby on that.
We pushed and huffed and puffed a lot in the second half but, apart from that one glimmer of goal Lukaku had on his right foot and Barkley's close shave with the curled effort, we just didn't quite possess the quality nor commit enough men to get that winner.
Sometimes I wish Ross would watch some DVDs on old Tim Cahill performances, not just against Liverpool but in general; Cahill was always in the penalty box for tap-in's, headers, or just causing a nuisance.
Barkley is our only real attacking central midfielder so he should be running in behind Lukaku more often or positioning himself where a chance may arise. Nevertheless it's a decent draw, I badly wanted to beat them but I couldn't have taken losing.
Watching the goals on Match of the Day, Tim Howard ends up almost behind the goal-line, can we start encouraging him to come out and claim balls that are in the six-yard box please!!!
I wouldn't mind but goalkeepers are a protected species as soon as they come into the melee they nearly always get a free-kick, Howard would take a hell of a lot of pressure off by doing this rather than standing there statuesque.
Fair result the draw, but please can we beat them at Anfield. It's really gone on too long.
Ernie Baywood
10
Posted 05/10/2015 at 08:41:50
I don't believe Ross will ever do that, Jim. The trick is finding someone to do that ahead of him.
I thought Ross was very, very good against that lot.
Trevor Peers
11
Posted 05/10/2015 at 09:13:11
He's right we did do enough to win, having watched it again last night.
I'd settle for winning a trophy over beating the RS though, let's hope we pick one up this season. Then our obsession with beating them will become irrelevant.
Dave Ganley
12
Posted 05/10/2015 at 09:28:38
Think I must have been watching a different game Ernie #9, thought Ross was poor yesterday. He didn't really get into the game and the one chance he did have to create something he dithered on the ball with players making runs either side of him and ended up shooting and didn't even get it on target. To be fair to Ross he was playing out of position, again, but that shouldn't detract from the fact he offered little yesterday.
As regards doing enough to win, no I'm with Jim. We didn't do enough to win. We huffed and puffed in the 2nd half with little or no penetration. In the last 10 minutes when we really should have been peppering the goal we just plodded along, gently probing with play that had not worked for most of the game. Think West Brom when we were searching for the winner and compare that with yesterday, the comparison is stark. We just didn't create anything of any note in that last 20 minutes.
There is no doubting the fact that we were the better team by a long way but we just didn't go that extra yard to get the win. That mental block is still there. The RS were there for the taking and we blew a golden opportunity to twist the knife.
Ray Roche
13
Posted 05/10/2015 at 09:45:35
Jim Bennings, the Cahill observation is correct, the number of times over the last couple of seasons when are attacking and we have no one in the penalty box is just ridiculous. A sniffer of half chances would be the leagues top scorer in our team...
Sam Morrison
14
Posted 05/10/2015 at 09:52:19
Kase (5) I have to disagree with your summary.
Naismith's header: that's a tricky one, basically heading on a ball that is coming in from behind him. Many strikers would have headed it over - just as he did against Chelsea, Naismith managed to keep it down. It was a great save from Mignolet.
Even better was the save from McCarthy, who 'offers nothing offensively' according to your post! I'd certainly agree that Gibson has a better range of passing, but I don't think he's mobile enough for the derby - not starting it anyway.

Brent Stephens
15
Posted 05/10/2015 at 10:24:18
Dave #11 You say "We didn't do enough to win".
And then later say "There is no doubting the fact that we were the better team by a long way".
I'm confused.
Ian Jones
16
Posted 05/10/2015 at 10:24:51
It's great that so many on here have differing views on the game and how each player performed etc. Who would be a Manager?
A simple question. Where is Ross Barkley's best position?
I get confused. It is entirely likely that his best position isn't necessarily his favoured position.
Colin Glassar
17
Posted 05/10/2015 at 10:44:19
We played like we had lead in our boots. It was slow, ponderous and nervy. What happened to the team that went all out against WBA in the 2nd half? Why do we freeze against this lot? We have a massive inferiority complex against the rs and I don't know when, or if, we will ever get over it.
Aidy Dews
18
Posted 05/10/2015 at 10:58:01
I thought it was a pretty fair result tbh. Neither team for me were better than the other, we both had our moments during the game.
We did play well at times and I have to say, Lukaku played well and at times, held the ball up well and brought others into the game in better areas than he has been. I'm one of those that wants that and expects that from Rom every game cos he can do it and when he doesn't I'll admit, I hammer him cos at the end of the day, apart from goals, that's his game up there and he doesn't do it enough but yesterday he did it really well!
I thought Barkley played well as well and I get all points on him that are made, I really do. But like Jim says, and Souness before the game highlighted it as well, Barkley needs to be getting in the box more and becoming more of a goal scoring threat when playing the position that he does.
But like Ernie says, he's not that player. Barkley likes to be in and round the centre circle and the 18 yard box, either picking the ball up and running with it or getting into positions to work the shot from distance. He's not the type of player to go bursting beyond the striker and pick up on half chances or get on the end of crosses.
I see he said to Carragher he sees himself as a box to box midfielder and tbh, he is better positioned from a deeper start point, but I don't think he has the work rate or defensive discipline yet to be a box to box midfielder. You watch him and he rarely tracks back or tracks runners, doesn't close down or get himself set into position within the defensive unit when we haven't got the ball and I'm not sure if he'll ever pick that up?
Like he said also, he'll be best as a box to box CM in a midfield 3 as he knows the other 2 will do the donkey work for him going back, but then that means more responsibility on him to go forward and create and score goals, so either way, he'll have to work on certain parts of his game to improve in one area!
And a mention goes out to the back four as well, thought they all did well but especially Jagielka, Funes Mori & Galloway. The kid Galloway is just getting better by the game. Had a tough time vs City but he's come out the other side and come on in leaps and bounds! Jags looks to be back to his best and Funes Mori as stepped up to the plate since Stones as been injured. Although at the min he does seem to start games a bit slow imo, but as the game goes on he comes into his own and looks great. He looks a very solid addition already and well played to the lad!
By the time the next set of fixtures come around, we should start to see players come back and the squad/team looking more healthy and with us playing okay at the min, with competition for places we could see more improvement and hopefully we can kick on and have a good run up to the New Year!
Oliver Molloy
20
Posted 05/10/2015 at 11:53:44
" we did enough to win "
What I believe you should be saying is the opposite.
"We didn't do enough to win"
For me I'm fed up with the same comments after every derby, we did this we did that,he played well, with a bit of luck it would have been different, the referee was biased and on and on excuse after excuse.
When are we going to win a derby on our own ground?
As of now they are crap and we still can't beat them.
Who looked like the home team in the first 20 minutes or so
It's the same every time...
If Gerard had been in their team yesterday they most likely would have won.
Totally fed up with it.
If our manager is saying that to the players then that sets the tone.
As some have said you would be better ranting and raving about the referee and having a word with your first choice keeper.
Oh well, all will be forgiven when we beat them at their place!
Dave Abrahams
21
Posted 05/10/2015 at 12:14:15
We definitely didn't do enough to win, too frightened of losing, no one has said so I'll be the first, Browning never looked comfortable and struggled at times, offered very little going forward, I know he is still learning but he seems terrified of trying to impose himself on the game, maybe he'll learn.
Tony J Williams
22
Posted 05/10/2015 at 13:03:14
It's hard to get that luck when the ref is doing his best to score for the other side.
I don't believe his reffing was game changing, in the sense we could have won but for him, but it was absolutely shocking at some points.
That Cuntino one was the pick of the bunch, he pulls Barry back for a rolling ball and the redshite do the exact same thing but only after stealing 10 yards.
This was closely followed by the assault on Barry's head....and the daft prick tries to justify it by pointing at his fucking whistle???
Half time team talk should have consistent of one sentence.
"These are fucking shite, now go out there and twat them.", repreated over and over again.
Mark Daley
23
Posted 05/10/2015 at 13:11:51
We started well but then let the RS play, and it was one RS corner after another. Lukaku was the best I've seen him, winning almost everything in the air. Deulofeu was invisible. With hindsight, Kone starting and Deulofeu on the bench would have worked better.
Galloway was terrific again. The RS were dirty and the ref was very disappointing, but we didn't play like we did against Chelsea and it was mainly scrappy.
I have to say, the RS supporters were noisier than us a lot of the time and they can't have been more than 4,000 of them. Some clubs would have raised the roof to rally their team after going 1-0 down but not us. The stands are as quiet as a library except when we score.
Against West Ham last season, the noise from their fans all around the Boleyn ground was fantastic. Could the club get a group of Ultras going like they have in Poland? Check out Lech Poznan's fans on YouTube... we could do that!

Steve Guy
24
Posted 05/10/2015 at 13:20:46
We haven't won one of these games at Goodison in 5 years and at Anfield our record is much worse still. That was a poor Liverpool side and we still struggled to beat them.
There are no conspiracy theories. Atkinson is a poor referee who was determined not to send anyone off given his previous track record.
We needed to be a lot braver going forward but seemed to lack the nerve until the RS wilted in the last 10 minutes. Kone should have been on at least 20 minutes before he finally got on and we looked all the better for it.
Brenda's sacking took the magnifying glass away from our on-going poor record in these games. The RS have the psychological advantage over us regardless of form and it's worth a goal every time they play us.
Tom Bowers
25
Posted 05/10/2015 at 13:24:17
Everton have never had the rub of the green when it comes to derby-match refereeing. Sadly the Premier League refereeing is still sub-standard despite the extra official, the communication technology, and also since they became full-time which in itself was supposed to improve the overall performances.
Yes, I know they are only human and they can only give what they see but sometimes they need to take an extra few seconds to evaluate a situation before making a decision.
When Ross and Can clashed and both got booked, it was clearly an instigation by Can who should have been the only one booked for ungentlemanly conduct; but no, idiot Atkinson books both. Ridiculous! Too many referees are overreacting with the yellow cards these days.
What's going on in the penalty area has become a disease that the FA and/or the officials are ignoring and therefore promoting the proliferation of it. When blatant clutching and grabbing is caught on camera and apparently ''missed'' by the officials then at the very least yellow cards should be administered by the FA at a later date, just like suspensions are now.
Sam Hoare
26
Posted 05/10/2015 at 14:25:00
I said many times last season that Ross was not creative enough to be an AMC but this season he has proved me wrong so far and has considerably upped his key pass, assists and goals stats so far. If he carries on like that, then I think he can make the position his own for both Everton and England.
Craig Walker
27
Posted 05/10/2015 at 15:04:54
The only favourable derby decision I can think of in recent memory was Suarez scoring in injury time at Goodison a few years' back after we'd fought back to make it 2-2. The goal was chalked off but he was onside.
Charles Brewer
28
Posted 05/10/2015 at 15:09:59
I was most certainly one of the 'last chance saloon' crowd for Martinez last January, but I don't think there was anything wrong with his statement that we did more than enough to win yesterday.
Another day, Naismith would have got an ounce more on the ball and it would have been 1-0; another day, Ross Barkley would have placed it inside the post from an easy and uncontested position; another day, McCarthy would have caught a goalkeeper not quite so on top of his game; another day, Tim Howard would have come off his goal line and caught or punched an easy ball away [OK, that's a joke.]
For all the dismissal of Atkinson's influence, I think it was absolutely central.
I've often seen players booked for a high boot when it was pretty clear that the player booked could not have known about the presence of the player he kicked. In the case of Can, however, Barry was all over him and he just hoofed it, there was no question of it being committed unwittingly, he knew exactly what the situation was.
Second, Everton players had probably worked out that they were going to be booked for being attacked by Liverpool players, people have criticised Ross Barkley for not being fully involved, but he must have known that if he actually did anything seriously aggressive (and I don't mean a foul), he was going off.
Even Lukaku, who is probably the cleanest centre-forward I've ever seen (some would say not committed enough, but in this context I think form is significant), got booked for being attacked by some weird looking object in red.
What went on in the Liverpool penalty area was a continuous stream of pulls, pushes, hacks and bumps, none of which is legal in the manner carried out by Liverpool. And not one of which was punished.
It is not easy to play football when you know that you will be punished even if you have done nothing (McCarthy, Lukaku, Barkley), but the other side will get nothing against them for repeated, blatant and cynical fouling (Can, Lucas, Skrtel). Presumably in the Everton team there is still the memory of Rodwell's disgraceful sending off and the endless attempts to maim by Suarez.
I think we are well rid of this increasingly dodgy or perhaps I should say FIFA-esqe fixture. With referees like Clattenberg or Atkinson in the middle, Everton are not going to get anything like a fair match, and it happens just far too often not to suspect that there is more to it than bad luck.
Oliver Molloy
29
Posted 05/10/2015 at 15:18:53
Tony @ 20,
Yeah, and I would bet that Can seen the opportunity to try and take his head off. It was meant alright judging by the way he jogged off without a care in the world.
I wonder if Barry had acted up a bit would Atkinson sent him off - probably not....

Dave Ganley
30
Posted 05/10/2015 at 15:24:24
Brent #14, we were the better team imo but we just didn't gamble enough to win the game. Yes, we had chances but coming into the last 10 minutes or so we continued to gently probe instead of really going for the win. We just seemed a bit scared to take chances in case we left ourselves open to counter-attack.
We can blame luck, good goalkeeping by the RS keeper (Naismith, McCarthy shots) but did we really test him much in the 2nd half for all our dominance? Imo, no, we didn't; and if the team is not at least testing the keeper then we really didn't do enough to win the game.
As I have said, it is really a golden opportunity missed to beat the RS because for all our superiority in the 2nd half, we just didn't do enough in the final third to win the game.
Harold Matthews
31
Posted 05/10/2015 at 15:31:49
Leaving Naismith on in a defensive role for 78 minutes and bringing on Lennon to track back says it's all for me. Can't blame the players. Martinez did not want to lose and that's it. Kone was brought on to help go for it with only 12 minutes left.and our manager chucked away two more points at home. Never mind the ref. He performed as expected.
RM said we "carried more danger" in the second half yet their keeper, with the sun scorching his eyeballs, hardly had anything to do. You can't win if you don't commit and we paid the price. Sickening. Three red centre backs with only one man to mark. I thought we were going places this season and there's still plenty of time, but these half-hearted careful tactics will need to be dumped. Quick.
Brian Murphy
32
Posted 05/10/2015 at 15:43:52
A few points for Sunday where we had issues, Tim Howard enough said. Also the big difference on Sunday for me was missing the back three of, Stones, Coleman & yes Baines.
We really miss Stones composure, bringing the ball out of defense and not panicking under pressure, Liverpool pressed high against us on Sunday and while Jagielka and Funes Mori did fine and cleared when in danger, Stones just brings that touch of class to step out if needed and set up attacks. The other issue is not having Coleman flying up the right flank. Young Browning is a prospect but he is a center back and not a right back. He looked so uncomfortable when he crossed the halfway line.
We defended fine but we need Coleman back ASAP. Also Deulofeu was poor and I feel Coleman behind him will bring out the best in him charging up out side if him and dragging defenders away creating more space for him.
Finally Galloway is looking better and better with each game, however Baines gives us much more threat in the final third which is only natural. Again it's another attacking option that was missing at the weekend and while we wont miss it every week in tight games its the little things that get you over the line. One thing I will say is that going backwards and defending I would say he is and equal if not batter than Baines. If he continues to grow at this rate he will be a star.
Liam Reilly
33
Posted 05/10/2015 at 15:44:10
Atkinson should be in the Championship this weekend after that showing. The laws of the game are clear and unambiguous about intentional professional fouls and he was 3 feet from Lucas when he took McCarthy's legs.
On another note; who is our Goalkeeping coach? That's 2 goals in 2 games that we conceded from headers inside the 6-yard box. Howard should be clearing out everything (men and ball) in front of him to get to those crosses but he stays rooted to his line. Chances are he'd be winning free kicks if he doesn't get clear contact on the balls anyway so it's a no-brainer.
Patrick Murphy
34
Posted 05/10/2015 at 15:47:55
Harold,
Of course Roberto did not want to lose this match. After all, it means ever so much to the supporters and it seems to the club itself. Had this have been a home game against WBA, Stoke or any other team, the team and management would not have been over-burdened by the need to avoid defeat and probably would have won.
Roberto isn't always correct but, like many other managers, he is astute enough to know what helps him and his team and what doesn't. Of course a win and everybody on here would have been over-joyed and lauding the manager with exactly the same performance as yesterday. However, a defeat and the inquest would have gone on right up to the next home fixture.
I hope we start to realise that this constant comparison to Liverpool in every aspect is counter-productive and just ensures that they are given more respect than they often deserve. Compare our neighbours and their friends down the East Lancs Road; no amount of bile, dislike and over-reaction to their results at OT has helped the other lot, has it?
Incidentally their record at that ground is abysmal in the last decade... it might be just coincidence, of course, but often the over-emphasis on the club that you are playing often results in defeat or at best a draw. It's not only the responsibility of the manager for that psychology; it's the whole club, including us as fans.
Andrew Ellams
35
Posted 05/10/2015 at 15:49:53
We could have won if we were more daring around the opposition box. We have made strides this season, we look better at the back when Stones and Coleman are available, we have not been passing for passing sake in midfield and Lukaku, Barkley and Kone look different players from last season. If we could just get the ball into the box a bit quicker we will be more dangerous and the goals will come.

Dave Pritchard
36
Posted 05/10/2015 at 15:54:27
I felt that the Kone substitution should have come 10 minutes earlier. The main problem for me was that Rom was not supported enough in attack with Del and Nais not contributing enough.
Shane Corcoran
37
Posted 05/10/2015 at 16:21:54
I mentioned it on another thread but has anyone involved Atkinson-bashing mentioned that Barkley wasn't booked for kicking the ball away or for his dive?
Has anyone even mentioned his dive outside the context of the referee's performance?
That's him and McCarthy in the last two games on top of his dive last year against West Ham.
For the record, I think Atkinson had a bad game but as usual it wasn't the case that he was conspiring against the Blues.
Brian Harrison
38
Posted 05/10/2015 at 16:42:45
The Liverpool Echo is saying that quite rightly John Stones has been sent home from the England camp to carry on with his recovery at Everton. But Coleman is being assessed by the Irish physios and O'Neil is saying that he might not play in the first game but might play in the second one. Now obviously all players want to play for their Country but surely if you have missed the previous 2 games for your club surely he shouldn't be involved with the squad at all.
Derek Turner
39
Posted 05/10/2015 at 16:50:15
Shane, are you really saying that Lucas shouldn't have got a second yellow for the challenge on McCarthy? Can was sailing close to the wind too.
I don't like our players diving either, but Lucas cynically tripped a player, who he missed a tackle on, who was driving into space with attackers ahead of him, in full view of the ref.
The ref "missed" the important decisions. Perhaps it was "bad luck" that those decisions affected us, but I felt he bottled the decisions which did affect us. In the first half he continually blew for innocuous challenges we made and allowed the shite far more leniency.
Poor ref for us on the day.
Shane Corcoran
40
Posted 05/10/2015 at 17:06:18
Derek #37, I think he definitely should have sent Lucas off.
But he definitely should have booked Barkley for kicking the ball away. Had that been a Liverpool player the crowd and Tofffeweb masses would have lost the plot.
He missed the dive too.
Like I said, he was poor. My point is that he didn't target Everton. He was just bad.
Brian #36, fair point on Coleman but these are two make or break games so I hope Martinez sees that side of it although I wouldn't blame him if he didn't.
James Marshall
41
Posted 05/10/2015 at 17:24:51
Martinez: "We did enough to win"
No you didn't. Unless I'm mistaken, the rules of Association Football stipulate that to win a match within a 90 minute period (plus time added on for injuries) you have to score more goals than the opposition team.
I'm pretty sure both teams managed to cross the goal line with the ball only once each, which makes this statement completely untrue, and a fabrication of the highest order.
Worrying.
Dave Pritchard
42
Posted 05/10/2015 at 17:35:54
Come on James, that is splitting hairs. I think 'we did enough to win' is the sort of statement that is used a lot and is not a stick to bash Martinez with.
Michael Penley
43
Posted 05/10/2015 at 17:37:53
#34: Yes, Kone is the common denominator in all our good performances this season. We were much better when he came on.
James Marshall
44
Posted 05/10/2015 at 17:38:45
Dave - I was kinda joking!
Dave Pritchard
45
Posted 05/10/2015 at 17:40:20
Far too subtle for me, James!
Paul Tran
46
Posted 05/10/2015 at 18:17:02
The problem we have, which was really exposed on Sunday, is that we have too many players who compensate for each other rather than complement each other. Good players who are 75% there, not good enough to win us games all the time.
The back six is superb at the moment, giving little away and making us difficult to beat. We'll win more than we'll lose, but if we're going to push on, we need to find some extra quality or a better mix of player when we attack.
We're nearly there but not yet.
Anthony Hawkins
47
Posted 05/10/2015 at 20:03:58
We did enough to win? No, we didn't else we would have won.
I'm not being negative but realistic.
Alex Jones
48
Posted 05/10/2015 at 21:22:28
Despite how well both Barry and McCarthy did defensively, did we really need two defensive midfielders against Liverpool?
There was a reason we never had anyone in the box! Martinez needs to change that style when we should be going for the win.
Paul Kelly
49
Posted 05/10/2015 at 00:16:06
Shane, but he did book Barkley for getting shoved when he done nothing at all, another cock-up by the man in black.
John Audsley
50
Posted 06/10/2015 at 00:49:29
Chance missed against a poor Liverpool team. We just were way too nervy in the 1st half and ran out of steam in the 2nd.
This is becoming a mental scar.
Shane Corcoran
51
Posted 06/10/2015 at 11:32:27
Paul #48, Barkley reacted to Can running away with the ball and pushed him in the chest, no argument.
By today's big girl blouse rules, Barkley deserved his yellow.
On that note, I think the Premier League should have a Big Girl's Blouse of the year competition. The nominees so far are Gabriel and Sakho.
I've no doubt there'll be many, many more to come.
Michael Polley
52
Posted 06/10/2015 at 11:38:53
Opportunity missed, and another poor performance by the ref. Ah well let's move on. A little break and then the Manure for the taking. COYB
Harold Matthews
53
Posted 06/10/2015 at 15:10:11
Shane. I must need a pair of specs. I didn't see anyone running. From my line of vision I saw Can hold on to the ball, Barkley put an arm around his waist and they twirled like they were doing the waltz. Can then got his knickers in a twist.
Shane Corcoran
54
Posted 06/10/2015 at 15:46:55
Harold, why are you pulling me up on the word "running"? What does it matter if he ran or tiptoed away?
After they twirled, Barkley pushed Can in retaliation which is a yellow card.
Winston Williamson
55
Posted 06/10/2015 at 15:48:25
Shane/Harold
They were doing the can-can
I'll call my own taxi....
Tony Abrahams
56
Posted 06/10/2015 at 19:31:42
I know you try to look at the game through a honest perspective, but I have to disagree with you with regards the referee on Sunday, Shane.
I went the game, haven't watched any replays, so might've missed the Barkley incidents close up, but I left Goodison totally frustrated by Martin Atkinson, once again.
If the most we can ask for is consistency for both teams, then he failed miserably in my opinion. I honestly think Atkinson hates Everton, but I might be paranoid. How can he let Coutiniho take that free kick near the end, when he pulled McCarthy up 15 minutes before, citing the same moving ball??
I've honestly never seen this mans demeanour ever change, and would genuinely sooner have Clattenberg ref Everton.
Jackie Barry
57
Posted 06/10/2015 at 19:37:59
On another note I have just seen that we have the most error prone player in the EPL: Gareth Barry.
Anthony Dwyer
58
Posted 06/10/2015 at 23:47:07
Decent performance in the derby but agree that it was a missed opportunity. We could and should have really went for it as there defence is as poor of a defence I've ever seen.
Rom bullied them, Jags and Galloway were outstanding and most of our lads were up for it. Unfortunately for us Deulofeu wasn't at the races and Naisy was quiet, but we had enough on the bench to make up for this and ram it up them.

Shane Corcoran
59
Posted 07/10/2015 at 09:56:44
Tony, #55 he might hate Everton; I don't know the man but I just find a bit tiresome on ToffeeWeb sometimes with the one-sided views.
An opinion is only worth considering if both sides of the argument are mentioned. There's hardly been a mention of the McCarthy and Barkley dives on here yet if it was the other way around we'd have threads about it.
Now you might say that this comes with the territory as it's an Everton based website but I don't accept that. Plenty go on about how special our club is but yet we seem passive to that type of behaviour.
On the ref, I recall the free-kick taken from the wrong place and the Lucas incident which he certainly got wrong. I also recall Barkley's dive and kicking the ball away. No other major issues remain in my memory.
Michael Kenrick
60
Posted 07/10/2015 at 17:06:53
Shane, I think you make a good point in flagging the refereeing errors that faovoured the home side on Sunday. But I don't think you'll be successful in requiring everyone to provide the balance you're seeking — it's simply not in our nature for most of us, especially in the emotionally charged response to what was a poor derby for us.
Everton should be protesting his assignment, based on a litany of errors. But they're not going to, and so nothing will change, sadly.
Tony Abrahams
61
Posted 08/10/2015 at 21:13:12
Michael, an error, is normal on the basis that we are all human. What Atkinson, did, with regards pulling up McCarthy, but allowing Coutiniho, to get away with it, was disgraceful.
Shane that decision was worse than the Lucas, one in someways. It smacked of smugness and arrogance, and only for a last gasp interception could have caused a riot.
Brent Stephens
62
Posted 08/10/2015 at 21:49:02
Shane #58 Nais is also prone to go down - prone.
Add Your Comments
In order to post a comment, you need to be logged in as a registered user of the site.
Or Sign up as a ToffeeWeb Member — it's free, takes just a few minutes and will allow you to post your comments on articles and Talking Points submissions across the site.
© ToffeeWeb