Howard Kendall, Everton Legend, dies aged 69
17/10/2015

134 Comments [Jump to last]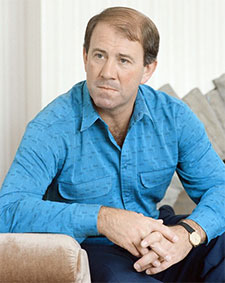 Howard Kendall, a club legend from his playing days and the greatest manager in Everton's history, has died aged 69.
The shock news that Kendall had passed away in hospital following a heart attack was revealed just a few hours before the kick-off of today's home game against Manchester United.
He leaves behind his wife Lil and three children, Hailey, Lisa and Simon, and a glittering legacy as both a manager and a player at Goodison Park.
Though he would represent Preston North End, Birmingham City, Stoke City and Blackburn Rovers, it was at Everton that Kendall forged his reputation as one of the finest players never to win a senior cap for England.
Forming one of the famous midfield "Holy Trinity" alongside Colin Harvey and Alan Ball, Kendall was an integral part of the Everton team that won the League title in the 1969-70 season and he would go on to captain the Blues before moving to St Andrews in 1974.
He would return to the Toffees in 1981 as manager, however, resuming a relationship he would come to regard as a marriage, surviving calls for his dismissal following a difficult start to lead Everton to FA Cup triumph at Wembley for the first time in 18 years in 1984.
Audio: Peter Reid pays tribute to Kendall
That victory over Watford at the old Twin Towers sparked the beginning of the most successful period in Everton's history – the following season they won the 1985 League title at a canter, lifted the European Cup Winners' Cup and missed out on a historic treble that year thanks to a Norman Whiteside goal in extra time of the FA Cup Final.
Though they were pipped to the League and Cup double by local rivals Liverpool in the 1985-86, the Blues were widely regarded as one of the finest club side in Europe at the time and would have been favourites for the European Cup that season had the European ban on English clubs following the Heysel disaster not robbed them of the opportunity to participate.
Kendall would lead Everton to the title again in 1987 but the lack of European football led him to try his hand in pastures new when he accepted the managerial role at Athletic Bilbao in Spain.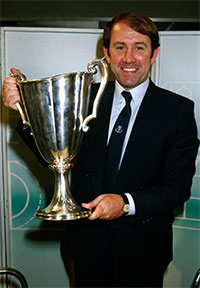 Kendall pictured with the European Cup Winners' Cup. He remains the last English manager to lead an English team to a European trophy
His departure was a part of the gradual break-up of that fine mid-1980s team in the wake of the Heysel ban, with the likes of Trevor Steven, Gary Stevens and Gary Lineker all leaving and by the time Kendall returned to Goodison for a second spell as manager in 1990 following Harvey's dismissal and then a third in 1997, conditions were very different and he was unable to replicate the magic of his initial tenure.
Though he was born in the northeast and his football career would involve 12 different clubs, Kendall will forever be synonymous with Everton thanks to his wonderful achievements as a player and manager.
A minute's applause rang out around the Grand Old Lady before kick-off today as Evertonians paid emotional respects to a club great and, by all accounts, a wonderful human being. His former team-mate, managerial assistant and the last surviving member of the Holy Trinity Colin Harvey was pictured in tears during the tribute.
The internet is full of other fine tributes from all quarters of the football world and beyond and Dr David France leads ours with some lovely words about Howard.
---
Reader Comments (134)
Note: the following content is not moderated or vetted by the site owners at the time of submission. Comments are the responsibility of the poster. Disclaimer
Chris Leyland
1
Posted 17/10/2015 at 11:15:26
RIP - Howard Kendall a true Everton legend.
Shane Corcoran
2
Posted 17/10/2015 at 11:19:45
Just seeing that Howard Kendall has died. Was he in bad health?
Brian Hill
3
Posted 17/10/2015 at 11:20:07
Howard Kendall gone. I feel sick.
James Hughes
4
Posted 17/10/2015 at 11:23:30
Kendall's gone - jeez, only 69.
James Morgan
5
Posted 17/10/2015 at 11:28:36
No way... I can't believe Kendall has died.
Tim O'Connell
6
Posted 17/10/2015 at 11:30:04
Terrible news about HK. RIP a true legend

Jim Bennings
7
Posted 17/10/2015 at 11:40:47
He was only interviewed with Ian Snodin for The Everton Show over the last few days. It was aired yesterday, they were having a laugh and he seemed in great spirits.
So sad, let's do what Howard would have wanted and murder these Mancs today!!
Jason Murray
8
Posted 17/10/2015 at 11:41:57
Apparently Snods filled in for Howard at a do he was meant to attend last night but Howard couldn't get out of bed because he had a bad hip. Howard was taken to hospital and suffered a heart attack unexpectedly. Incredibly sad. RIP Gaffer, will be missed in so many ways.
Eugene Ruane
9
Posted 17/10/2015 at 11:42:41
Stunned to hear of the passing of Howard Kendall.
I watched the Everton show on that BayTV last night and the 3rd segment was Howard Kendall being interviewed by Snodin.
It was kind of sad watching to be honest.
He looked small and frail (and sitting in some empty country club bar in Formby didn't help).
However that image won't be the one that will last.
Howard Kendall was a superb footballer and as a manager, he dared us to dream, then..made our dreams come true.
It is not an exaggeration to say he gave me the best days of my life.
Another legend gone. RIP.
Jim Lloyd
10
Posted 17/10/2015 at 11:42:56
What an awful, awful shock! He was a great player for us, a great manager for us and a great Evertonian.
I just hope the gobshites who sang through the minute's silence for Phillip Carter aren't here today.
Clive Lewis
11
Posted 17/10/2015 at 11:43:41
RIP Howard Kendall thanks for the memories, so many to cherish.
Stephen Brown
12
Posted 17/10/2015 at 11:45:02
Howard Kendall – very sad! Go and beat Man Utd in his honour!
Thoughts with family!
Tony Hill
13
Posted 17/10/2015 at 11:46:55
A great player and Evertonian and crucial to the best team we have ever had. RIP.
Kevin Elliott
15
Posted 17/10/2015 at 11:47:49
The passing of our greatest ever manager has cast a dark shadow. Feel like someone has just kicked me in the gut.
R I P, Howard.
Brian Murray
16
Posted 17/10/2015 at 11:48:26
Rest in peace, Howard... You gave me the best years of my life as an Everton supporter.
Kunal Desai
17
Posted 17/10/2015 at 11:51:13
Absolutely gutted hearing about this. RIP Howard Kendall. Thank you dearly for the great memories you have provided all Evertonians in the '80s. You will be sorely missed but never forgotten!
Tony Marsh
18
Posted 17/10/2015 at 11:52:58
Howard Kendall. The Greatest Evertonian who ever lived. Gave me the best football experiences in my life. Great player, manager and human being.
R I P, Howard. God bless you and thank you.
James Marshall
19
Posted 17/10/2015 at 11:54:55
Unreal. I only found out about 10 minutes ago, and it's got me in bits.
Gutted doesn't come close. The man who made this little kids dreams come true as manager of the best team I ever saw in a blue shirt. Probably the man who truly cemented my adoration and love for Everton Football Club.
Send my love all of you who are at Goodison today, from 6,000 miles away. Gone but never ever forgotten. True Legend in every sense.
Brian Harrison
20
Posted 17/10/2015 at 11:57:09
How sad Howard played in one of the best Everton teams ever and also managed one of our best ever teams. A true legend, who was Everton through and through. I watched him make his debut for us what a classy player.
Colin Glassar
21
Posted 17/10/2015 at 11:57:46
Just seen this. R I P, Howard the Great.
Do it for Howard, lads.. and smash the Mancs!!
Christine Foster
22
Posted 17/10/2015 at 12:00:24
Hurts, like losing someone in the family...
As a kid, I remember cutting out pictures from the Echo of Howard hammering in a volley, they adorned my bedroom walls. Another leg of the famous trio is lining up in heaven with Alan Ball..
R I P, Howard, Good night and God Bless.. Thank you.
Dave Abrahams
23
Posted 17/10/2015 at 12:00:43
Howard Kendall, very sad. What a player, one of the best, even when he came back as player manager.
An evening game versus Stoke City, an icy pitch, at 36(?) he was the best and classiest player on the field.
Goodnight, God bless, Howard.
Mike Hughes
24
Posted 17/10/2015 at 12:07:02
Howard Kendall — legend.
He gave us some of our best memories and put us back where we belong, at the top. Pride of Merseyside.
Thank you and RIP.

John Crook
25
Posted 17/10/2015 at 12:07:33
RIP Howard. My 1st game was 1988 so I just missed out on the glory mid-eighties. Please let's have a roaring Goodison today and a result for Howard!
Paul Tran
26
Posted 17/10/2015 at 12:11:16
Just got home, got a text from a friend, sitting here in tears.
He was a great player in the first Everton team I saw in the flesh. As a manager he delivered the first trophy I saw us win and so much more. As someone in his early twenties it was a gift to be able to travel around UK and Europe watching us win games, trophies and friends.
That was all down to Howard. A great manager, motivator and an underrated tactician.
Whenever I discuss Everton managers I always look back to that team of 1985. A balanced team with a mix of skill, graft, craft and sheer bloody – mindedness. All built and maintained by Howard.
Thank you Howard. The best Evertonian of my lifetime. God rest your soul and hope you enjoy a win today from wherever you watch.
Chris Corn
27
Posted 17/10/2015 at 12:14:31
Devastated. Loved him.
God bless you, Howard. RIP.
Andrew Presly
28
Posted 17/10/2015 at 12:23:00
Thank you for everything, Howard. You were loved by and brought happiness to thousands upon thousands of people. RIP.
Dave Roberts
29
Posted 17/10/2015 at 12:23:08
God Bless and sleep tight Howard and thanks for the memories both as a great player and a great manager. I remember the time I met you in Malta and you had no hesitation in giving my grandchildren your autograph. They still have them.
Give Bally my best regards. It seems so ridiculous, two of the greatest players I ever saw pull on a blue shirt to play in the best midfield I have ever seen in English football and both about the same age as me yet now gone to the Grand Old Lady in the Sky.
Brian Denton
30
Posted 17/10/2015 at 12:23:08
Was there ever a better time to be an Evertonian than that glorious season of 1984-85? We feared nobody, would turn up at Old Trafford, Anfield, White Hart Lane cocky as hell - we are Everton and we're better than you.
Thanks for that, Howard. For Blues of our generation, it was a pivotal part of our lives. RIP.
Derek Ward
31
Posted 17/10/2015 at 12:23:15
Constantly dazzled, even in our greatest midfield. Should have got 100 caps. Thanks for the thrills, the goals, the trophies, and I will never forget his trademark slide tackle where he always got the ball. Great memories.
RIP, Howie.


Gavin McGarvey
32
Posted 17/10/2015 at 12:28:12
Just heard about Howard Kendall. RIP, a true Everton legend. A sad day.
Patrick Murphy
33
Posted 17/10/2015 at 12:29:52
Few people have graced Goodison Park with the ability of Howard Kendall as a player a manager and most importantly as a man. Howard set the bar for his Everton team-mates and for those who followed him in the decades that followed him after his retirement as a player, he set the bar for those managers that followed him into the Goodison hot-seat, and will continue to be the person that anybody connected to Everton FC will always aspire to be.
Friendly, courteous, straight-talking, strong-minded and a person who wasn't publicity hungry or who sought to further his own agenda at the expense of others. If you had to describe Everton FC to those that may not know what or who we are, you could do no better than to offer a portrait of Howard Kendall. That's Everton FC in a nutshell — nobody else in my football watching time comes close to embodying everything that is Everton.
RIP, Howard, you will be sadly missed a true gentleman of the sport and a truly great ambassador for Everton FC. Condolences to all of his family and friends.
Denis Richardson
34
Posted 17/10/2015 at 12:30:31
RIP HK — tragic loss today.
Sad sad news.....
Victor Jones
35
Posted 17/10/2015 at 12:32:17
So sad to hear of the passing of Howard Kendall. He without question was my top Everton manager. No ifs or buts. No disputes. No question. When I talk about Everton,Howard Kendall is the man. And his Everton team of the mid-1980s is what I look up to and judge all Everton teams against. We should have won a European cup. His best buys (and there were a few) IMO were Peter Reid and Andy Gray. We were bloody brilliant back then. That was Howard Kendall's legacy.
And what about the Holy Trinity? I was a youngster back then. The trinity will always be remembered.
Now to the small matter of a football match today. Lets win this one, for Howard Kendall, and for all the Everton family. Let's show the world what this football club is all about. No team talk should be needed today. We need to win this match. RIP, Howard Kendall.
Jim Lloyd
36
Posted 17/10/2015 at 12:36:47
Aye, Patrick,
Above all, our heartfelt sympathy to his family. What a truly great man.
Julian Exshaw
37
Posted 17/10/2015 at 12:42:42
The point was made on Football Focus that he had never played for England, amazing!
Jon Cox
38
Posted 17/10/2015 at 12:46:46
I remember saying hello to Howard and Alan Ball at Southport's open-air swimming pool.
I asked them who the first game of the season was against. Howard said Arsenal away. These were pro footballers but they spoke to me like they'd known me for years.
Quality people. The time was just prior to the start of the 69-70 season and I was 11.
A good season for us, that was.
Sorely missed, Howard, sorely missed.
Colin Metcalfe
39
Posted 17/10/2015 at 12:47:23
Just heard the sad news. Howard Kendall, a true Everton great... RIP.
David Donnellan
40
Posted 17/10/2015 at 12:49:14
Sad news about Howard Kendall, my thoughts go out to all his loved ones and my fellow Evertonians.

He built the team of my childhood heroes. Greatest Everton manager ever, hands down!

RIP Howard Kendall.
Colin Malone
41
Posted 17/10/2015 at 12:55:18
Maybe now they will name a part of the ground after our most successful manager.
Paul Kelly
42
Posted 17/10/2015 at 12:55:38
Fuck me, Kendall, gutted.
Harold Matthews
43
Posted 17/10/2015 at 12:56:52
Goodness me. Just heard about Howard. Our Howard. A truly great Evertonian. Rest in peace my friend. We'll never forget you.
Julian Exshaw
44
Posted 17/10/2015 at 12:58:55
Patrick Murphy, well said, excellent post.
Simon Harris
45
Posted 17/10/2015 at 13:02:51
Excellent post Patrick.
Thanks for the marvellous memories HK.
John Daley
46
Posted 17/10/2015 at 13:04:27
Having just found out about Howard's passing by logging on here, I really am lost for words for once.
The 'legend' moniker is meted out almost arbitrarily these days it seems, but there is absolutely no doubt at all that it is a cap that fits when it comes to discussing Kendall (as snugly as an England cap surely would have). As both player and manager, he's one of the most pivotal characters in the history of this football club.
Ian Riley
47
Posted 17/10/2015 at 13:05:29
I was standing outside the main stand two years ago waiting to go in. Less than three yards away stood Mr Kendall talking to fans. I was so star-struck, mouth open by the time I got my phone out to have my photo with him, he had gone.
How blessed Everton Football Club are to have had a world class player and manager who lived life for Everton.
God bless you and thank you!
Brent Stephens
48
Posted 17/10/2015 at 13:07:14
Patrick, Well said.
Darren Hind
49
Posted 17/10/2015 at 13:16:45
So upset
How ironic that we are playing the Mancs.
I remember him being mobbed by ecstatic Evertonians on Saturday night after twatting them 5-0. No arrogance, just utter joy that he was giving us a team we had always dreamed of.
We were Kings.
Karl Jones
50
Posted 17/10/2015 at 13:22:28
Lets hope the Red Echo give him a fair tribute amongst all the over the top hysteria regarding the German, who's on the back and front pages every day. Doubt it though.
Nick Entwistle
51
Posted 17/10/2015 at 13:28:20
It was a nice touch from Football Focus to end with a sentimental montage of footballers dicking about with goal celebrations. Well done, BBC.
Nick Entwistle
52
Posted 17/10/2015 at 13:31:05
It was a nice touch from Football Focus to end with a sentimental montage of footballers dicking about with goal celebrations. Well done BBC.
Paul Kelly
53
Posted 17/10/2015 at 13:31:26
Shows you the affiliation we have as supporters; I never met the man, but got goosebumps every time I read his name.
Gutted I am, a truly sad day for blues everywhere.
Dennis Stevens
54
Posted 17/10/2015 at 13:31:29
Such very sad news. A great player & our greatest manager. The man deserves a statue alongside WRD!
Ian Cowhig
55
Posted 17/10/2015 at 13:40:17
As a kid growing up I, and many others, had to put up with the team across the park winning trophies. Then Howard Kendall came to Everton. What an experience his team gave me through the mid-eighties.
And what a gentleman he was. No airs and graces. Just a man passionate about football and most importantly Everton Football Club.
RIP.
Ernie Baywood
56
Posted 17/10/2015 at 13:43:05
Literally just got home, logged on to TW and seen the comment from Dennis Stevens. So obvious what has happened and so shocking. Such sad news.
Chris Corn
57
Posted 17/10/2015 at 13:48:39
I was 11 years old when he made us the best around. At that time, domestically life wasn't easy in our family but some of the memories he gave me made that period much easier to bear. That is why I would rate him as a massive influence on my life.
He gets some critique regarding his subsequent returns, but his second spell was nowhere near as bad as some would have you believe and we were comfortable before he left on a matter of principle and the subsequent spell of games saw us spiral into That Game v Wimbledon.
His third spell was bad judgement on everyone's part and Johnson's subsequent treatment of him is the reason I have no time for the Hamperman.
It must be remembered that only a Terry Venables's last-minute U-turn prevented him managing Barcelona. He should probably have got the England job and his spells at Man City and Sheffield Utd were successful as well.
Unfortunately, like Catterick, he is never remembered as he should be, probably because of the effect of the European ban.
Howard, you were a legend as a player, manager and a man. God bless.

Andrew Clare
58
Posted 17/10/2015 at 14:09:44
Rip Howard. A great player and a great manager. I remember when we signed him. Everyone knew he was a cracking player. A great Evertonian. A very sad day.
Richard Reeves
59
Posted 17/10/2015 at 14:11:32
It is like loosing one of the family and part of my childhood. If ever there is someone at the club who could be considered "Everton's Greatest Fan" then he is one of the few contenders.
I wasn't even born when he was gracing the field in the legendary "Holy Trinity" but I was lucky enough to start supporting Everton a few years before the glory days of the eighties and for me he was Everton. Those days have long since gone but even in his third spell at the club I could see he was trying to change the style of play from the "Dogs of war" to a purer brand and still think his sacking was premature.
I always felt confident going into a derby with him in charge. We could've done the double on them that year if Madar hadn't missed a sitter at Anfield.
I never met him but a good friend of mine did in the school summer holidays when we were about eight years old. He was with his family when he bumped into him on a beach in Spain and got talking about all things football. Living in Coventry, they were all Coventry City fans but they couldn't speak highly enough of him and I remember his dad referring to him as a true gentleman.
I'll never forget that first day back at school when my mate said "You'll never guess who we met on holiday"? Me and my brother were the only Everton fans at my school and during that glorious period it was all I ever talked about.
Sadly another true legend has passed. R I P, Howard Kendall.
James Hughes
60
Posted 17/10/2015 at 14:12:25
Dave #50 I was at that game and I remember his name being read out and me and my mates looking at each other and saying "WTH, Kendall's playing, we must be desperate."
Then he bossed the game and was fantastic to watch. He didn't run much as he didn't need to, little flick here and a pass there, he kept us going forward. I never got to see him play in his prime but that night was a good consolation.
I don't think Roberto needs a team talk today and I am hoping for lots from the crowd.
Howard Kendall's Blue and White Army!!!
Trevor Lynes
61
Posted 17/10/2015 at 14:22:35
A great player in a great team. I would always pick him in my best eleven and I remember all the greats from the 60's.
He Labone and Harvey were a truly fantastic trio and always entertained when they played. Tony Kay would have just edged Harvey in my best ever side but Kendall would always be a starter. He played in a cup final at 16 years of age and Shankley was after him but he was just beaten to his signing by Catterick who professed no interest in public.
RIP Howard always an entertainer, my humble condolences to those you left behind.
Brian Denton
62
Posted 17/10/2015 at 14:28:48
Andrew, I remember Kendall's early games for Everton. I would be interested if anyone else shares my recollection that the fans - especially the older ones like my dad - didn't take to Kendall instantly, and that for the first couple of months he was subject to the boo/groan treatment that Everton fans often give to their young players.
Or is my memory completely shot?
Mark Fitzgerald
63
Posted 17/10/2015 at 14:29:27
Shocked & saddened at the news of Howard Kendall's passing.
As a teenager I loved watching Howard's successful team of the '80s and the manager & players of that era will always be the yardstick against which I compare all others. HK is synonymous with the club's success during those glorious years and that will ensure his legacy amongst all Evertonians.
Here's hoping that the team & crowd do him proud at Goodison today.
Howard Kendall — Everton Legend.
Condolences to Howard's family & friends.
Matthew Melia
64
Posted 17/10/2015 at 14:34:27
Just heard of the sad passing of Howard Kendall. I'm old enough to have enjoyed the success Howard brought to the club, cost me a bomb, worth every penny and what a side!!! God Bless Howard, you'll be greatly missed.
James Flett
65
Posted 17/10/2015 at 14:35:42
Being old(-ish), I've seen Howard Kendall play... what a player. I've seen him manage... what a manager.
Last but not least, what a man. Everton down to his last breath.
Eugene Kearney
66
Posted 17/10/2015 at 14:38:57
RIP Everton player, Everton manager and Everton legend.
Nick Jones
67
Posted 17/10/2015 at 14:40:56
Devastating news. CYOB win today in Horward's memory.
Timothy Sebastian
68
Posted 17/10/2015 at 14:42:25
Will be missed. His Everton team of the 80's brought back the pride of being a Blue. Long will his memory last. A legend indeed. Let's win today for hin.
Joe Foster
69
Posted 17/10/2015 at 14:43:10
RIP Howard.
Pat Kennedy
70
Posted 17/10/2015 at 14:47:00
I remember when he signed as a player from Preston. Shankly tried desperately to get him but he chose us.
For those of you who didn't see the Holy Trinity, Howard was the unsung hero of the 3. Prodigious work rate allied to vision and calmness.
Came back as our manager when we were at a low ebb- the rest is history.
Sadly his second and third incarnations were not as glorious, but a true Evertonian.
RIP
Colin Glassar
71
Posted 17/10/2015 at 15:08:19
Really gutted about this and it's taken away the excitement of today's game.
Trevor Powell
72
Posted 17/10/2015 at 15:11:27
I managed to keep a stiff upper lip when some of our sixteis giants have passed away but today when I heard the news on the car radio I pulled off and blubbed uncontrollably for the man who had been such a huge part of the football tapestry of my life.
I remember well the uncertainty about his arrival @EFC as he missed absoulte sitters at home in his first two games against Soton and Spurs in April 1967.
Then we saw his true potential as he supported Alex Young and Alan Ball's demolition of champions Man Utd on the opening agme of the 67/68 season. He never looked back and just bloomed into an all round, stylish and yet forceful midfielder. Great goals followed, for me most memorably his goal after 15 seconds to drive the Blues onto thrashing Chelsea in the championship decider at a packed out Goodison in 1970.
Then came his return to Goodison and the pattern was repeated, uncertainty followed by success. The eighties team won trophies but more immensely did it the Everton Way, style and panache, grit and determination!
I have just read Neville Southall's comment on the BBC website, "A great manager an even greater man. What ever I did was solely down to him. Gentleman, friend, mentor. Will miss him. Gutted."
It was an absolute privilege to see Howard Kendall in his pomp both as a player and a manager.
A blue hero to the very end!
Geoff Evans
73
Posted 17/10/2015 at 15:15:49
Great man, immense loss, all sympathy to his wife and family.
Glen Garrett
74
Posted 17/10/2015 at 16:41:48
Howard Kendall what a player what a manager a top guy. Brought so much success to Everton football club glad I was around to see it all back then.
He brought joy to the club and to the fans.
RIP, HOWARD A REAL TRUE EVERTONIAN.
THANKYOU FOR THE MEMORIES.

Phil Sammon
75
Posted 17/10/2015 at 16:53:19
Sad thing is; I bet he hardly gets a mention. Talk about heroes down the years...SkySports would sooner celebrate the briss of Jamie Redknapp.
Peter Gorman
76
Posted 17/10/2015 at 17:01:03
Just so sad...
Peter Mills
77
Posted 17/10/2015 at 17:12:43
What a player - a tough tackler, a tremendous passer, a fierce shot, and could dictate a game.
What a manager - shrewd, wise, and his players would run through walls for him.
What an Evertonian - possibly the most important person in the history of our club.
Rest in peace Howard, thanks for everything.
Karl Jones
78
Posted 17/10/2015 at 17:28:54
Really pissed off with Sky. Their obsession with the RS even stretches to this. "Tommo leads tributes to HK".. Why go to a hated ex RS who has never hidden his contempt for Everton on their programmes?
Then of course Carra gets in on the act. Souness and Redknapp'll be there tomorrow....Could you imagine the reaction if an ex-Everton player/s had "lead the tributes" for Shankly or Paisley? What the fuck is the matter with them?
Is it just me or are they trying to wind Everton fans up at this sad time?
Jay Harris
79
Posted 17/10/2015 at 17:29:12
The complete midfielder, the best manager, a great man and a true blue.
RIP Howard you will always be a legend who gave us so much.
Bill Gall
80
Posted 17/10/2015 at 17:30:29
R I P to a great manager and player. I was fortunate to see him after he was signed from Preston and whenever his name came up in a conversation ,I immediately thought: Ball, Harvey, Kendall.

Sympathies to his wife and family with the knowledge of how Howard brought so much happiness to thousands of Evertonians during his career.
Mark Cooper
81
Posted 17/10/2015 at 17:45:20
Had the pleasure to meet him, great man, great loss.
RIP, Howie.
Dave Williams
82
Posted 17/10/2015 at 17:48:59
Devastating news and makes today's performance meaningless. I watched him play and he was terribly underrated. Great passer, great volleyer, lots of energy and everything he did reeked of class.
Then he became manager and oh my how he managed. He didn't build a team using oodles of cash but bought unknowns and turned them into world class players, a couple of old crocks who he returned to their very best, an untouchable in Pat who became a top class defender and he engendered a marvellous team spirit.
There is no one around today fit to lace his boots; a great Everton icon has gone and we are so much poorer for it but what a huge privilege to have been an Evertonian at the same time as him.
Respect Howard – total respect!!
Callum McNab
83
Posted 17/10/2015 at 17:51:42
Very sad day. I thank him for giving me some of the best days of my life watching football. The man certainly epitomized what our Motto stood for.
R I P, Howard, and thank you for everything you gave to the club and its fans.
Colin Glassar
84
Posted 17/10/2015 at 18:05:06
Karl, as there are no Evertonians working in the media the obvious choice, I suppose, was to ask Thommo to say a few words as a Liverpudlian. To be fair to him he was very eloquent and very praising towards Howard. He could have told Jeff Stelling he didn't want to do it but he did so fair do's.
Will Leaf
85
Posted 17/10/2015 at 18:09:49
The architect of so much joy from my childhood and teens.
R.I.P. Howie.
Mike Powell
86
Posted 17/10/2015 at 18:24:56
I am absolutely devastated been in a daze since I heard. God bless you, Howard, and thank you for the great times we had.

I met him a few times at Everton nights. You are a true Everton legend. RIP.
Gerard Carey
87
Posted 17/10/2015 at 18:40:07
Very sad day, between playing and then as manager Howard was a true legend. Gave me most of my great memories of supporting the Toffees. RIP
Tony Sullivan
88
Posted 17/10/2015 at 18:40:52
The depth of feeling shown on this thread, is not only a tribute to Howard, but it underlines the quality of our fans.
Proud to be a Blue on such a sad day for club.
Craig Walker
89
Posted 17/10/2015 at 18:44:33
Got the privilege of meeting Howard at the Burnley game in April. The fondest memories of my childhood are down to HK.
Cruel how arguably the greatest side our club has ever seen were unable to compete in Europe in the 80s which lead to Howard leaving. I remember by dad telling me that Kendall was going to Bilbao and it was like a death in the family.
Another blue taken too soon but there is a hell of a team assembled up there. RIP Howard and thanks for the memories!
Max Levy
90
Posted 17/10/2015 at 18:52:33
Feeling numb. Sat at the game today not caring less about the result. Howard gave me the greatest football memories of my life. I don't expect to see the like again. Thanks for the memories Howard.
God bless.
Rick Tarleton
91
Posted 17/10/2015 at 18:58:41
Everton's second best manager, but also a great player and a much pleasanter person than Catterick. Our thoughts with his family and close friends at this sad time.

Michael Polley
92
Posted 17/10/2015 at 19:03:30
So shocked to hear the news. Couldn't believe it. RIP Howard, and like so many have already said thanks for all the memories as a young Evertonian during the mid-80s. I have glorious memories of that period.
You were a legend that played in a legendary team, and also managed one. Today's result is overshadowed by this sad news. A pity we couldn't get a result for his memory.
Paddy Howlin
93
Posted 17/10/2015 at 19:09:14
Absolutely devastating news. My time starting to watch the Toffees was in that magical 1985 season and Kendall was my hero. Devastated when he left in 1987, I was over joyed the night he returned in November 1990.
Sadly the club didn't back him when it needed and his 2nd spell didn't work out. However the nucleus of his side won the FA Cup in 1995 and I'm amazed he never gets any credit for that (just think of the goal: Watson, Jackson, Stuart and Rideout involved in the build up where all his signings).
He came back in 1997 when no-one else would work for Peter Johnson and sadly it was just one spell too far and the game had moved on. He managed to keep us up though when I doubt anyone else would have. The way he was treated at the end of that spell was a disgrace and sumed up PJ Spudles to a tee.
Howard Kendall, Evertonian, Gentleman and Legend. RIP the greatest player and manager not to represent his country.
William Cartwright
94
Posted 17/10/2015 at 19:11:56
Max Levy (#87) sums it up. I watched the game on TV but it didn't seem to count. Like a reminder there are more important things than football.
He was my favorite of the holy trinity, I can't remember him ever having a quiet game or a bad one.
When he moved to Birmingham, I was shocked and there he became a fans' favourite too. Sympathy to all his family.
Liam Reilly
95
Posted 17/10/2015 at 19:19:57
Never got the credit he deserved as a great because of the European ban.
Top manager, true Evertonian and top man. Pity our current crop couldn't have shown a little more on this sad day.
RIP HK

Colin Leckey
96
Posted 17/10/2015 at 19:45:13
I remember dancing round the living room when he came back from Man City in 1990, absolutely convinced that a new era of glory was at hand. Sadly it wasn't to be... but how much he gave us beforehand.
I only wish I could go back and tell my 9 year old self listening to news of the 1-0 at Norwich that won the league in '87 that this was as good as it was ever going to get for me as an Evertonian...
Danny Broderick
97
Posted 17/10/2015 at 19:51:01
Today's result didn't really matter, I think we were all rocked by the news. Two little stories always make me chuckle about Kendall:
1) He gave Neil Poynton the nickname Dissa – as in disappointing!
2) I read that Slaven Bilic didn't like the drinking culture under the leadership of, and sometimes led by (!), Howard Kendall.
No-one in the world of football seems to have a bad word to say about him. RIP.
Tony Byrne
98
Posted 17/10/2015 at 20:11:03
I heard the terrible news at 12:00 today whilst driving; I was totally gutted.
I was fortunate enough to see our greatest team as a teenager in the '80s; this great man genuinely made my dreams come true. For that, I will always be eternally grateful.
R I P, Howard, a true Everton legend in every sense of the word.
Sincere condolences to all of Howard's family & friends.
Andy Ellis
99
Posted 17/10/2015 at 20:19:18
Like everyone else gutted today. I was too young to enjoy the 69/70 team but was fortunate to be late teens when we won the cup in 84 and everything else that followed.
Places I went to watch us, times I had, friends I made, memories of that great time to be Evertonian are all because of this great man. He brought players from obscurity, some last chance saloon, others from lower league, other teams reserves, and gave a chance to the best young players at the club.
A totally class manager who puts the modern lot to shame. I will be reading his book tonight, signed by HK himself, whilst reminiscing about those great days.
RIP Howard, the Gladys Street will continue to suck those goals in!
Mike Rees
101
Posted 17/10/2015 at 20:41:20
So sad to hear about the passing of such a class player from the 69-70 title-winning side. That midfield trio of Ball, Harvey and Kendall was special.
And then Howard returned as manager in the early 80s and, after a difficult start, gave all Evertonians their pride back with the superb Championship and cup winning footballing sides he produced in the mid-80s including our first and only European trophy. Who knows how many other trophies he could have won but for the European ban in that same year?
Thanks for some special footballing memories and all our sympathies and condolences as Evertonians go to Howard's wife, family and close friends. RIP to an Everton legend.
Alan Bodell
102
Posted 17/10/2015 at 21:01:14
From this morning when I turned on Sky Sports and heard about this, it's been a tearful day alright and just reading down here on this thread has me drenched.
I was lucky enough to meet the great man on a train after an away at Derby, so humble and just a very nice man.
So that's two of our greatest midfield gone but not and will be never forgotten.
Don Alexander
103
Posted 17/10/2015 at 21:23:55
I lived in Preston in 1965 and Howard Kendall used to visit our local rec, in his Mini, and was not averse to joining in with a game of footy with some of the local lads just a few years younger than him.
Imagine that! The youngest player ever to appear in an FA Cup Final playing for fun with us lot! Even aged 18, he was a proper bloke and I will NEVER EVER get my head round why Alf Ramsey always picked Alan Mullery and then Peter Storey above our Howard.
Rest In Peace.
Eddie Dunn
104
Posted 17/10/2015 at 22:04:28
So very sad to hear that the great Howard Kendall has passed away. I thank this wonderful Evertonian for all of the marvellous times that he gave me.
Apart from the obvious glory days of the mid-eighties, I remember him playing in a night game at Notts County (I was a student there at the time). Kendall was our new manager and his "babes" were trying their best, but off the pace. He came on himself and just ran the show.
Everything he did was simple and appropriate. A perfect example to his young players.
I often thank my lucky stars that I was around when his great team carried all before them.

Colin Gee
105
Posted 17/10/2015 at 22:26:05
Such sad news, I was only 18 months old when we won the League in the 1969-70 season so don't recall that at all.
But as a teenager in the 1980s Howard's Everton gave me some of the best days of my life, well almost...
Asbjørn Opstad
106
Posted 17/10/2015 at 22:33:49
RIP Howard Kendall. Thanks.
Peter Roberts
107
Posted 17/10/2015 at 23:09:49
Not sure who's stomaching Match of the Day tonight but the tribute at the start was a nice touch.
Ernie Baywood
108
Posted 17/10/2015 at 23:15:34
Strange to reflect but this guy I never met in person had one of the biggest impacts on my life. I was 6 in 85... I wonder whether I might not have gone on to become quite the same had it not been for those glorious years? You can then add my kids to that list as a direct impact.
Such sad news and 69 really is no age to go. That image of Colin Harvey in the stands... jeez.
Anthony Dwyer
109
Posted 18/10/2015 at 00:08:21
RIP to a true legend, a massive loss for the footballing world, likable fella who was lived by all Evertonians.

Anthony Dwyer
110
Posted 18/10/2015 at 00:09:37
Loved by all Evertonians.
Sean Patton
111
Posted 18/10/2015 at 00:17:25
Gut wrenching news about the great Howard Kendall, he really was under-appreciated outside of L4. His achievements are of course known to us all but to win the league as both a player and a manger is incredible; to do it with the same club is extraordinary.
He was the last great English manager yet his passing hardly made a ripple in the wider media and he barely features on the back pages whereas, if Redknapp was to die tomorrow, he would be front-page news.
A sad day made sadder by the lack of recognition and attention given to a brilliant football icon.
Shahul Hameed
112
Posted 18/10/2015 at 01:09:06
Shocked to hear of his demise. He is missed.
Matthew Salem
113
Posted 18/10/2015 at 20:28:15
A gentleman and true Everton Legend, who played a big part in making me an Evertonian as a wee lad... R I P, Howard Kendall.
Andy Crooks
114
Posted 18/10/2015 at 20:40:01
Great player, great manager, great Evertonian and by all accounts a great man. Only for appalling events outside his control I believe he would have nailed us a lasting place among the top in Europe.
Oliver Molloy
115
Posted 18/10/2015 at 21:41:04
EVERTON LEGEND.....
R I P. Sincere condolences to the family.
Ray Robinson
116
Posted 18/10/2015 at 21:49:12
Another one of my heroes gone. I never met him and for me, being 62, I valued him as much as a player as a manager. I remember him for being a superb tackler, possessor of a tremendous shot, and able to ping 40- or 50-yard passes across the park.
I remember him appearing in the Cup Final for Preston aged only 17, his debut for us against Southampton at home when he skied a sitter over the bar at the Gwladys Street end, a goal more or less straight from the kick off against Chelsea in 1970 on our way to winning the League, a winner in the derby match and hitting the bar from 30 yards at Old Trafford when we drew 0-0 (a midweek match in 1973 during the miners' strike) when I was trying to remain incognito in the Stretford End. So many memories from the Ball, Harvey, Kendall era!
A great player, a great manager, a true legend and obviously great all round human being. R I P, Howard.
Trevor Lynes
117
Posted 18/10/2015 at 22:02:22
What I would love is for the streets of Liverpool to be lined as they were for Shankley. This would show the rest of the country what Liverpool as a city is all about.
There were a million fans from both clubs lining the streets as Shankley's funeral cortage went by. Evertonians wearing blue favours and Liverpool fans wearing red.
This should be repeated for Howard's funeral with the blessing of his family of course.
Let us show our appreciation of Kendall publicly and let all the London and Manchester fans take note.
Dave Abrahams
118
Posted 19/10/2015 at 11:23:21
Another little story about Howard:
I was in the players' lounge at Nottm Forest, the day they ended our long unbeaten run. I was waiting for Alan Hill, the former Forest keeper. When he came, he said to me "Cloughie has just given your manager a gentle slap on the cheek and told him not to poach any of his players!"
I asked which player Howard was interested in? He told me it was Peter Davonport, who later went to Man Utd.
So, even though we had won the league that year, Howard was still working on the next season.
Nick Entwistle
119
Posted 19/10/2015 at 11:54:12
Ernie (#106), I'm a year older than you and think the same. I supported Everton in the '86 cup final and it went from there. It could have been Sheffield Wednesday! And what kid doesn't like a team with a day of the week tagged on the end?
Pete Laffey
120
Posted 19/10/2015 at 12:42:02
We all rave on about 84-85 (rightly so) but tell me how many teams past or present could've done what we did in 86-87?
No Big Nev, Gary Stevens, Physco, Reidy, Brace (long term) for the opening few months, with some longer; Dave Watson struggling with taking over from crowd favourite Derek Mountfield...
We signed Paul Power, Kevin Langley, Neil Adams, later in the season Wayne Clarke (good pros, but not exactly world beaters) yet we still ended up Campions!!!
That season gave me greater pleasure than the 84-85 season.
R I P, HOWARD KENDALL — LEGEND.
Dave Brierley
121
Posted 19/10/2015 at 15:28:04
Very very sad news. Lovely man, wonderful player and great manager. Thanks for all the memories Howard. God bless you.
Brendan Moriarty
122
Posted 19/10/2015 at 19:05:48
RIP Howard Kendall and condolences to his family.
Thanks for everything Howard, you allowed us to hold our heads up with pride.
Sean McCann
123
Posted 20/10/2015 at 14:01:59
Still gutted. I went to that night game at Oxford with our kid. Also on the pitch at Villa and Highbury. Thank you for making my dreams come true.
RIP Mr Kendall, true blue.
Matthew Williams
124
Posted 20/10/2015 at 14:12:51
Thanks for the amazing ride we took to glory Howard.
RIP... The Greatest of them all!
Matthew Mackey
125
Posted 20/10/2015 at 15:30:20
Howard Kendall was pretty much the reason I started supporting Everton in the early 1980s. It was a magical time to watch the Blues and, after all those years of seeing them lot over there win most things, it was for us and Everton like watching the Phoenix rise from the ashes.
A messiah had come to take us back to where we belonged – at the head of English football. Howard Kendall – a fantastic manager of a truly wonderful team in those heady days.
RIP boss – your memory will live on forever at our beloved Goodison and in the bigger world of football.
Matthew Mackey
126
Posted 20/10/2015 at 16:32:13
Regarding the sad demise of Howard Kendall I would also just like to mention here and express warm gratitude towards Birmingham City Football Club for the way they conducted themselves regarding Howard passing away. As most of us older Evertonians know Kendall was part of the deal back in 1974 which brought Bob Latchford to Goodison Park and Howard moving in the opposite direction to St Andrews.
Living in the Midlands I don't always get up to see all our home games now and this was the case on Saturday. During the morning I was standing at the side of a football pitch somewhere in Solihull watching my 14yr old play and it was at this time that I was informed by one of the other parents who knew I was an Evertonian that Howard Kendall had passed away. As both my lads follow Birmingham City first (it's a long story) we decided to immediately get tickets and go down to St Andrews for their game against QPR later that day. I have to say that the warmth that their fans showed towards HK before the match was fantastic, even their announcer read out a short piece about Howard and his time at BCFC before a 1 minutes applause through which their fans chanted "There's only one Howard Kendall". It was quite moving and I would like to say thanks and "respect" to them for also showing such appreciation towards a great man in every way.

Mike Hughes
128
Posted 20/10/2015 at 18:16:48
Matthew #125
Back in the early summer I had a business meeting with a cardiologist in a Midlands hospital. I spotted the chipped football mug in his office and we got talking about the Kendall - Latchford deal (I was only 7 at the time) many years ago.
What struck me was how the man enthused about Howard Kendall. Apparently, at the time, the BCFC fans thought that HK was probably past it - in the same way that many people view an incoming player who has perhaps played in his prime elsewhere. I was told by the cardiologist that HK shut everyone up pretty quickly, being heads and shoulders above the rest on the past.
"Class," was his final word on Howard Kendall.
Mike Hughes
129
Posted 20/10/2015 at 18:18:33
... heads and shoulders above the rest on the park.

Dave Abrahams
130
Posted 20/10/2015 at 18:39:12
Don't forget Archie Styles went to Birmingham as part of that deal.
Kevin Johnson
131
Posted 20/10/2015 at 20:36:55
I simply adored Howard, worshipped the ground he walked on. Those memorable moments in the 80s are some of the greatest times in my life.

I saw him at the derby and he looked well .RIP Howard . We will never ever forget you x
Eugene Ruane
132
Posted 20/10/2015 at 22:29:37
From the Guardian's David Squires.
Mike Hughes
133
Posted 20/10/2015 at 22:48:38
Very interesting trip down memory lane.
EFC v Swansea 1981.
Reverse roles.
Howard Kendall player manager.
Bob Latchford playing for Swansea.
Barely the seeds of what was to happen three years later.
This has to be the definition of 'a side in transition.'
I might see if I can dig the programme out ...
Mike Hughes
134
Posted 20/10/2015 at 22:58:56
I forgot about Dai Davies as well.
Incidentally, Howard Kendall couldn't do the post-match interview as he needed stitches in his mouth.

Eugene Ruane
135
Posted 23/10/2015 at 20:13:00
Just watched Joe Royle on that Everton Show (BayTV) talking about Kendall.
He's getting on now Joe (and didn't look too well to be honest) but imo, few Everton managers have had his ability to choose the right word or expression.
He talked wonderfully about HK he was honest, insightful, interesting and reverential without ever being mawkish.
A sad week for the club but listening to these old players who love Everton has given me a boost rather than depressing me.
Personally, I think we could do worse than have Joe give the team-talk before the Arsenal game – there's something about how he expresses himself that is quiet but... the message really gets through.
Patrick Murphy
136
Posted 23/10/2015 at 20:37:26
Eugene (#132), I agree with you regarding Big Joe, it's such a strange time to be a Blue, as you say we are all enormously proud of each and every one of those legends for that is what they are, Kendall, Ball, Harvey, Royle et al but similarly we are also sad about the passing of each one as it reminds us all of our own mortality and that of our heroes.
Each of us is apprehensive about the future of our club and sometimes ponder which of the players from the modern era, if any, will be able to keep bringing the same pride to the club as our former players have done for so many years.
We can only hope that the young men representing the club at present, will realise that it is a privilege to wear the Royal Blue shirts of Everton Football Club and that they will do their utmost to bring success to the club or at the very least give the proverbial 110% in every game they play - that is all that the legends did; but they had the distinct advantage of being exceptional footballers and, for the most part, exemplary people.

Ian Smitham
137
Posted 23/10/2015 at 20:58:29
I have just been on Facebook, and noticed a contribution which was a copy of a couple of pages in the programme for last nights game. At the possible expense of incurring the wrath of others, may I salute Liverpool Football Club for showing great dignity in setting aside pages to salute Mr Kendall. There are times when a degree of perspective are appropriate and to be fair they got this right, IMHO.
Add Your Comments
In order to post a comment, you need to be logged in as a registered user of the site.
Or Sign up as a ToffeeWeb Member — it's free, takes just a few minutes and will allow you to post your comments on articles and Talking Points submissions across the site.
© ToffeeWeb