Arsenal vs Everton
by

97 Comments [Jump to last]
| 23/10/2015
Match Preview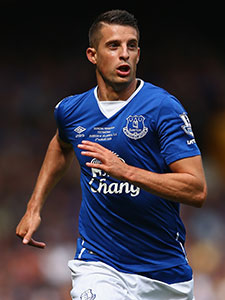 Time for a recall? Mirallas hasn't started a League game since the opening day against Watford
Though Roberto Martinez has been able to slay a few "old Sky four"-related demons in his time as Everton manager, two of the club's longest and most unwanted away hoodoos remain very much alive despite his efforts to rid the club of the fear that seemed to surround these games under his predecessor – namely the records away at Chelsea and Arsenal. Evertonians will need no reminding of the fact that it is almost 20 years since Andrei Kanchelskis earned the Toffees a 2-1 win at Highbury and that they haven't recorded a win on the Gunners' turf since.
David Moyes came very close in January 2010 when Steven Pienaar's wonderful breakaway goal looked to have secured three points, only for Tomas Rosicky to grab a heart-breaking injury-time equaliser. Since then, though Martinez's side passed their hosts off the park for much of their meeting at the Emirates in December two years ago, they ended up having to salvage a draw thanks to Gerard Deulofeu's famous strike after Arsenal had struck first through Mezut Ozil at the other end.
On Everton's last visit to this part of London, Arsenal were coming off the back of an awful defeat in Europe, having been beaten at home by Monaco with a result that set the decks for their elimination from the Champions League. The Blues were unable to capitalise on any jitters or self-doubt in the Gunners' ranks and lost 2-0 but perhaps the psychology will work in reverse this time in the wake of their impressive victory over Bayern Munich on Tuesday night in the same competition.
If there is cause for some optimism away from Everton's own desire to atone for last weekend and improve the Blues' awful record on Arsenal's turf, it's that Arsene Wenger will not be at full strength for this one. The strength and depth he has in the squad means it ordinarily wouldn't make much difference but the fact that there are question marks over Alexi Sanchez's fitness can only work in Everton's favour.
The Chilean was substituted late on Tuesday night, with Wenger suggesting that he was exhausted following his international commitments this month and that could signal that the in-form ex-Barcelona man might at least be dropped back to the bench for Saturday.
The likely beneficiary in that event, though, will be Olivier Giroud who has scored against Everton in three of the last four meetings between the two sides, including a brace in the FA Cup Quarter Final in March 2013, the damaging equaliser at Goodison Park in the first Premier League home game last season and what was effectively the winner in this fixture last season before Rosicky killed the contest with a late second.
Meanwhile, Aaron Ramsey is ruled out after suffering a hamstring injury against Bayern and he joins fellow midfielders Rosicky and Jack Wilshere in the treatment room as well as forward Danny Welbeck and second-string goalkeeper David Ospina who are all injured.
In Alex Oxlade-Chamberlain, Arsenal have a ready-made replacement, however, and a player whose pace and energy will still need to be watched by Everton's defensive-midfield axis of Gareth Barry and James McCarthy, as will the enigmatic Santi Cazorla, the mercurial Ozil and the in-form Francis Coquelin.
Having witnessed his side comprehensively nullified by Manchester United last weekend – the Red Devils themselves coming off a humiliating defeat at the Emirates a fortnight before – and failure to beat an average Liverpool before that, Martinez seems to be searching for answers to a problem of consistency, a lack of regular chances and, consequently, a shortage of goals. He has switched in Steven Naismith and Arouna Kone with mixed results in the past few weeks and deployed both Gerard Deulofeu and Aaron Lennon wide on the right but is yet to find a reliable formula.
For that reason, he may turn belatedly back to Kevin Mirallas who has started just one Premier League fixture so far – the opening day draw against Watford – and who was overlooked almost completely in three of the subsequent four games (against Southampton, Manchester City and Chelsea) and only came on at half time against Spurs because of Tom Cleverley's injury. Martinez spoke about the Belgian in his press conference yesterday but it remains to be seen whether or not he gets a place in the starting line-up.
Unless Martinez sees him as a viable alternative to Kone or Naismith, playing off Romelu Lukaku as they have sometimes done for Belgium, Mirallas is likely vying for a slot with Lennon who can provide more defensive cover than might Deulofeu who struggled to make an impact in the derby or when he came on against United last week. The manager's reluctance to use two wide men means that the odds are on one of Kone and Naismith being selected – the assumption being that Cleverley is not deemed fit enough to start – and the three wingers waiting to see which of them is preferred. It would be nice to see some variation on the theme, though.
The fact that they have won three on the spin since losing to Olympiakos at the end of last month, scoring eight and conceding none in the process, makes this trip to Arsenal slightly more daunting than it has been in recent seasons. Throw in Everton's performance last weekend and it's enough to bring on that familiar feeling of resignation to another poor result that used to hang around this fixture like a millstone for Blues fans in the late 1990s and early 2000s.
As the Greeks, and West Ham before them, have shown, though, anything is possible if you can get at them early, disrupt their flow and score some goals. The potential loss to Wenger of Sanchez's lightning pace may change Martinez's thinking slightly but placing the emphasis on patient, possession football like that which frustrated the Gunners in that 1-1 draw here in 2013-14 may be a more prudent avenue than relying solely on the counter-attack because they have pace in their ranks to get men back quickly.
Whatever happens, it's going to take a top-level performance across the park if Everton are to score a precious win. Most of the sold-out travelling contingent would surely be happy with a creditable draw.
Kick off: 5:30pm, Live on Sky Sports 1
Referee: Lee Mason
Predicted line-up: Howard, Coleman, Stones, Jagielka, Galloway, Barry, McCarthy, Lennon, Barkley, Kone, Lukaku
Full coverage: ToffeeWeb Match Report
---
Reader Comments (97)
Note: the following content is not moderated or vetted by the site owners at the time of submission. Comments are the responsibility of the poster. Disclaimer
Mark Andersson
1
Posted 23/10/2015 at 03:05:59
Great write-up although a bit depressing but the truth hurts. I can't see Martinez going for anything other than tippy tappy, just more of the same rubbish no matter what team he selects.
On a positive note, anything can happen in football especially when cheered on by the best away supporters in the land.
Abhishek Saha
2
Posted 23/10/2015 at 03:17:02
Mirallas deserves a start ahead of Naismith, Deulofeu and Lennon. Kone has done well on the right wing (and on the left as well) and he is a centre forward by nature, so we can keep shifting between 4-2-3-1 and 4-4-2 formations, depending on where the ball is on the pitch.
Howard
Coleman Stones Jagielka Galloway
McCarthy Barry
Kone Barkley Mirallas
Lukaku
Bring on Delboy in place of Kone after half time, to take advantage of some tired legs in their backline. This move also allows us to see the much awaited combination of Mirallas - Barkley - Deulofeu playing behind Rom, which we were so excited about during the transfer window.
Keep the faith!
Kieran Kinsella
3
Posted 23/10/2015 at 04:05:40
Osman. Remember him? I know people complained that Moyes would play him as a winger but wouldn't he be a better fit out there than Naismith or Kone? He's a better passer and his goal scoring record is better than Kone. He's also experienced which is important if young Galloway is behind him and Barkley is inside of him.
I'd go with him left, Mirallas right. I'd also drop McCarthy to the bench and have Ross drop back alongside Barry with Gibson in front.
Darryl Ritchie
4
Posted 23/10/2015 at 06:32:06
The fact that they not only played midweek, but beat an in-form Bayern Munich, will work in our favour. Right now they're tired but content; if they had lost, they'd be pissed off, and tired or not, they would be looking to take it out on someone... us!
This is the game where not being in Europe might actually work in our favour. We need to be level, or at the very most, only one goal down in the last half-hour. If we get our act together and attack with purpose, and press hard on defence, I believe we could wear them down.
Howard
Coleman Stones Jagielka Galloway
Barry McCarthy
Deulofeu Barkley Mirallas
Lukaku
And please, Bob, if anyone... anyone, looks like they're sucking wind, or just not up to it, get'em off.
A win would be historic, but I would be happy with a point.
Kunal Desai
5
Posted 23/10/2015 at 06:56:17
I said before the season started that Martinez had to get a minimum of 13/14 from the first 10. We now don't play any of the big sides until next year.
Crucial period now coming up where Martinez must pick up points from every game. Another 13-odd points from the next 10 games will certainly be a very poor return.
Mark Andersson
6
Posted 23/10/2015 at 06:59:01
Good point Kieran, although there are some on here who would disagree. I think there will be raised eyebrows no matter what team he puts out.
They walked all over us in pre season and they have improved since. I will not expect a victory, but would be happy with a good performance from all the players.

Jim Bennings
7
Posted 23/10/2015 at 08:02:39
It's high time we won a match at Arsenal!
I'd take a draw fair enough, in fact after witnessing us last Saturday it brought back haunting memories of last season, then I'd be made up with a point, but our shite record there, no win since before Gareth Southgate put a brown paper bag over his head after Euro 96, makes me want to end that hoodoo.
It's high time we did it!
Phil Sammon
8
Posted 23/10/2015 at 08:12:23
I'm struggling to summon the effort to even think about the game.
I like Barry, McCarthy, Naismith... even Barkley and Lukaku... but it drives me mad that they're in the starting eleven regardless of form.
If Naismith earned his place with that performance against Chelsea, then he has certainly earned a benching with his performances since.
Barry/McCarthy, both good players but do they BOTH have to play EVERY game? It's so restrictive. I'd get Gibson in there so at least we can have a bit of craft and vision going forward.
I cannot, for the life of me, fathom how Martinez has still not addressed the lack of a creative midfielder and a left winger, and instead purchased TWO right wingers who are not versatile enough to switch flank nor play through the middle.
Away at Arsenal is the fixture I'm least confident about each year. To make matters worse, it's not on til 3:30am over here. I'm braced for a horribly long weekend.
Dick Fearon
9
Posted 23/10/2015 at 08:25:45
Martinez can use the same game plan as against Man Utd by using a lone striker or use Deulofeu as a twin striker.
Fullbacks Coleman and Galloway plus, I would pair Funes Mori with Jagielka and play Stones in the midfield with Barry, Naismith and McCarthy.
Jim Bennings
10
Posted 23/10/2015 at 08:39:08
Phil
Count yourself lucky it's not on where you are until 3:30am, you have a good excuse to miss it.
Arsenal away has to be the most nightmare-inducing fixture on the list for me. For years now whether at Highbury or the Emirates, we have suffered some of our most horrid days in this particular fixture, the 7-0 humiliation which made a total mockery of us being team that had just freshly finished 4th.
To the image that still haunts me now of Tony Adams running through our defence and scoring a 4th goal that with one match of that God-awful season left I was convinced our relegation was confirmed.
Then we had that embarrassing day when some semi dressed flabster walked on the pitch offering Alex Nyarko his shirt, leading to the ultimate insult on a terrible day.
All in all its been a horror fixture for Everton Football Club for way too long. I'd love to take away a good memory for once.
Phil Sammon
11
Posted 23/10/2015 at 09:01:16
Dick
Deulofeu as a 'twin-striker'? That's a new one to me...care to explain it?
Jim
I can't miss it, I'm a sucker for torture, you see. Nice to know someone shares my fear and complete lack of confidence though. Heartening...almost.
Tommy Coleman
12
Posted 23/10/2015 at 09:04:55
Barkley and Naismith can't play at the same time. Naismith always cuts inside and takes up Barkley's space. Barkley rarely plays well when playing along side Naismith.
We need Barkley in the centre of the pitch and running the show. Kone should play instead.
Dave Abrahams
13
Posted 23/10/2015 at 09:19:50
Roberto, if you send out the team to play with the caution they displayed against Liverpool and Man Utd then you are doing no one, the team, yourself and most of all the wonderful supporters, any favours. Tell the team to give Arsenal a game, don't just go through the motions as in the previous two games.
Mr Martinez, we are not fools; this season's performances are starting to resemble last season's efforts, and that will simply not do.
The chairman won't get rid of you, but you will feel the crowd's displeasure, like you did last season; change your tactics, or the fans will change them for you — just like they did last season.
Tony Abrahams
14
Posted 23/10/2015 at 09:32:08
People were slagging Lennon off last week but I thought he was getting better when he got subbed. Think the chopping and changing doesn't help either the players or the team get any consistency but I think Mirallas is the type of player who could come right in, if he's been training properly.
Play them two out wide, drop Barkley, alongside McCarthy, and play Deulofeu, in behind Lukaku. Just go for it a bit more, Martinez, and I know we were all saying the same thing last season, but just let this team, off the leash.
Attack Arsenal, tomorrow, because I know they got a fantastic result against Munich, but it must have taken something out of them physically, and they should tire.
Eugene Ruane
15
Posted 23/10/2015 at 09:56:58
An oul' mate of mine is a (film) cameraman now living/working in the states.
He contacted me yesterday asking if I was going to the Arsenal game. I told him I wasn't.
'Shame' he said, then told me he was going to be behind the goal at the Emirates, filming a promo for NBC.
For anyone going, if you get within shouting distance of a black cameraman and shout 'Hilton!' (his name) the reaction could be priceless.
(He's a Spurs supporter by the way.)
Up the Toffees!
Peter Fitzpatrick
16
Posted 23/10/2015 at 09:57:13
Lukaku usually plays a lot better alongside Kone, so I'd start him with Barkley and Mirallas. McCarthy has been really poor this season in my opinion, so if Gibson is fit, I'd be tempted to start him instead.
If McCarthy isn't getting about and breaking things up, it's pointless having him there, and we'll need Gibbo's composure and passing ability if we're going to get anything tomorrow.
Andrew Ellams
17
Posted 23/10/2015 at 10:03:22
Eugene, wouldn't a chant from travelling blues go down better?

Eugene Ruane
18
Posted 23/10/2015 at 10:15:37
Andrew (17) hopefully traveling Evertonians will have plenty to sing and chant about tomorrow without concerning themselves with my mate, but you're right — a chant of 'there's only one Hilton Goring!...' would no doubt (to use a popular expression) freak him out.
Sam Hoare
19
Posted 23/10/2015 at 10:19:26
How often have we played teams that 'should' be tired and yet we are the ones who have ended up looking like we've had a mid-week trip to the Ukraine?!
Arsenal are highly trained professionals and I don't expect them to look 'leggy' at all. We certainly cannot rely on it.
They are the one team I dread playing as they can pick you off on the counter if you press high but equally play the intricate stuff if you stand off. There are times when they were a bit of a soft touch but the likes of Coquelin and Sanchez love the rough stuff and their back 4 is pretty solid with the addition of a top class keeper behind them. In short, my expectations are low!
I would like to see us with a more consistent team as I think all the chopping and changing of wingers in particular is not helping and I think at the moment Deulofeu and Kone are our best bet given RM's refusal to play 2 proper wingers.
Probably our best bet is to keep things relatively tight and try to counter quickly and hope Barkley and Lukaku are on form. Needless to say, that the first goal will be crucial and if we concede it then I fear it could be a grey day...

Laurie Hartley
20
Posted 23/10/2015 at 10:33:25
I am a bit disappointed that Browning has been dropped by the manager and most of us. RM reckons he's the best one-on-one defender at the club? I would have kept him in the starting 11 and dropped McCarthy.
Personally I think sending a team out with one winger is a footballing oxymoron – play with two or none. I like symmetry.
One thing is for sure we will have to do something different against Arsenal because on current form we are 6 goals worse than them.
What is more, the team needs a shake-up after that home performance against Man Utd. Having said that, the first man on the team sheet for me would be Lukaku.
This is the side I would start with against the gunners:
Howard
Browning, Stones, Jagielka, Galloway
Coleman, Gibson, Barry, Barkley,
Mirallas, Lukaku
When defending corners, put Coleman and Barkley on each post and tell Mirallas and Lukaku to wait for the clearance.
Tell Ross to press the ball when we are not in possession – if he doesn't, hook him for Kone and drop Mirallas into left midfield.
I am not sure what is going to happen at The Emirates but I am confident Lukaku will score... maybe more than one.
Clive Rogers
21
Posted 23/10/2015 at 10:42:51
It has to be Mirallas and Cleverley (if fit), in for Naismith and Lennon. Doesn't it?
Tony Abrahams
22
Posted 23/10/2015 at 11:00:30
Football Sam, isn't it great the way we all have different opinions?
I know what your saying, but wouldn't it be good to get after Arsenal with positive football, trying to score goals.
I'm not saying Arsenal will be leggy; I expect them to start with all the confidence in the world after the other night, so what's the point in sitting back?
Unless they make a few changes though, I definitely expect them to tire, and think that's why Arsenal will want to try and get the job done early. Fight fire with fire, it just might be the making of this team.
Phil Sammon
23
Posted 23/10/2015 at 11:00:34
Laurie
That's a bloody joke mate. You don't shoe-horn a centre-back into right-back only to shoe-horn your right-back into right-wing.
Meanwhile you have Barkley on the wing, where he has looked a shadow of the player he can be.
Charles McCann
24
Posted 23/10/2015 at 11:30:04
Despite last weekend's dismal display against Man Utd, I am still looking forward to the match tomorrow.
However, regardless of who Martinez decides to pick to play, I feel the tactic of hoofing long balls up to Lukaku has to change. Against Man Utd, Jagielka and Barry continually launched long balls all afternoon which plainly does not work. We need to get the ball on the deck and pass it through midfield to create openings for Lukaku to run on to.
For me, Gareth Barry is an obvious weak link and needs replacing by either Cleverley or Gibson. Tim Howard is another weak link but unfortunately we have no-one better to replace him with. We have a terrific squad and I am confident we can beat Arsenal and go onto have a great season. Fingers crossed!
Abhishek Saha
25
Posted 23/10/2015 at 11:34:58
Agree with most of the above. It should be Mirallas (left), Barkley (mid) and Kone (right) behind Rom.
Amit Vithlani
26
Posted 23/10/2015 at 11:39:37
Our visit to the Emirates is a game I hate, second only to our trips to Anfield.
I hope last weekend's game was a once-off, linked to the shock of Howard's passing.
We were absolutely terrible defensively and the horrible organisation that is the Achilles heel of the Martinez era truly came to roost. United could have won by a couple more and I was thankful that we somehow escaped further humiliation.
I do not know what the best formation or lineup is but I do strongly believe that Geri has to start. He makes a difference with one moment of class and for me I don't care if he stinks the place out for 89 minutes if he produces one moment of glory. Lukaku's last 3 goals have come from excellent crosses by Geri and you know the boy will produce one moment of magic in the game.
Kone deserves a shot too; to me, Barkley plays better when he is around.
I have no hope for us defending well, the Chickens came home to roost last week when the appalling defensive organisation under the Martinez regime was laid bare. My hope is one moment of magic upfront gets us a goal and puts the Arse on the back foot.
Shane Corcoran
27
Posted 23/10/2015 at 11:40:50
Phil # 8, I'm a bit like you except I'll have the comfort of watching it at 5:30 once the wee 'un doesn't mind.
I'm in no way hopeful. Big improvements needed by many and I've seen nothing to suggest we'll get them.
I would love to see Cleverley in for Naismith. If Naismith starts he'll be eaten alive I feel. The big one for me is the performance of Barkley. He needs to get on the ball, get turned and speed up our attacks.
Any other team that had just beaten United and Bayern 3-0 you'd fear for your life but this is Arsenal and I'd argue they're due a slip-up. Let's hope Bobby remembers to pick up the bananas.
Sam Hoare
28
Posted 23/10/2015 at 11:44:23
Tony (#22), I know what you're saying and I'm not necessarily saying that we should sit back but I do feel that if we go gung-ho and press them high up (which we basically have never done under Martinez anyway), then we may play into their hands by leaving space in behind for the likes of Walcott and Sanchez to run into while Ozil and Cazorla supply the balls through.
I think we hassle them hard... hit them on the break when we can and try and keep the ball otherwise so that they have to keep moving. Which is pretty much how I think Martinez sets us up for most matches but whether it is executed properly is a different matter....
Andrew Ellams
29
Posted 23/10/2015 at 11:59:15
Arsenal's strength is definitely in attack and the way they pile midfielders forward allegedly leaves them open to the counter. This game is crying out for Mirallas.
Denis Richardson
30
Posted 23/10/2015 at 12:19:09
We know the formation and the only real question is: Who will be the two AMs either side of Barkley? The remaining 9 places are pretty much set in stone.
I for one hope we start with Mirallas – even if he's pissed off and wants a move then at least he'll put the effort in to attract a club in January or next summer. He offers so much more creativity-wise than Naismith, Lennon or Kone and we need to give the Arsenal midfield and defence something to think about.
One thing that is guaranteed is that Arsenal will have loads of possession and will pass the ball around. We need to be able to hit them on the break when we get the chance and Naismith is not the guy for that; I'd rather have Mirallas than Lennon if it's an option between the two.
Personally, I would throw the whole 4-2-3-1 in the bin as I don't think we have the players to play the system properly, but that's not going to happen. If I had my wish for Arsenal, I'd probably go with a 4-1-4-1 line-up that could switch to 4-5-1, 4-2-3-1 or 4-4-2 depending on the match situation. Beef up the midfield but don't sit too deep (like McCarthy and Barry tend to).
Anyway, it would make a change from the 4-2-3-1... although the formation doesn't really matter if the tactic is still to simply pass the ball around the back in our half..
Expect us to lose so anything else is a bonus – all I ask for is a bit of fight, aggression and taking the game to them rather than going there looking to play defensive from the off. By all means get the home crowd frustrated in the first 15-20 mins but we need pace in the side to give them something to think about. Plus Lukaku needs support!
Harold Matthews
31
Posted 23/10/2015 at 12:26:17
Arsenal away. What a joke. 19 years since our last win and it took a world class winger to do it for us. Jeeps. They even ran rings round us in the Singapore away game.
Even so, I'm hoping the kick up the pants off United will stir us into vigorous action. Unlike the Euro teams I've watched this week, too many of our outfield players don't demand the ball or fight to win it back when we lose possession. This has to change. We want a full shift off everyone. If I see Jags and Stones nonchalantly passing the ball to one another I'll scream. Come on lads. Let's give our great away support a match to savour.
Tony J Williams
32
Posted 23/10/2015 at 12:38:20
Exactly, Harold... if we resort to our usual game of "Statues" then we will get mullered.
I actually screamed out, "No!!!" just before Jagielka's suicide pass last week, I just hope he has learned from it.
Sam Hoare
33
Posted 23/10/2015 at 12:40:39
Worth noting that Bellerin their RB is quick as anything. I don't think Mirallas would get a lot of change trying to dribble past him but he's not the biggest and I think Kone will fancy his chances of holding the ball up well and beating him in the air to anything....
My team (even though I'm not a fan of McCarthy right now):
Howard
Coleman Stones Jagielka Galloway
McCarthy Barry
Deulofeu Barkley Kone
Lukaku
Brian Denton
34
Posted 23/10/2015 at 12:53:41
I hate it when people use "on the spin", rather than "on the trot" or "on the run". It's an EPL thing, like referring to 'The Lane' or 'The Bridge'. Gets on my wick.
But that's just me.
Brian Denton
35
Posted 23/10/2015 at 13:00:33
Jim (#10), I don't know how old you are, but comfort yourself with remembering our 1-0 win at Highbury in the opening game of the 69-70 season (Champions!) or Wayne Clarke's goal in 86-87 (Champions!).
We didn't win often at Highbury, but when we did it usually meant something!
Dave Pritchard
36
Posted 23/10/2015 at 13:08:11
Brian (34), there are worse things in life to hate but I know what you mean. My own annoying phrase used in threads is 'rip them a new one' which seems to get used quite a lot.
On the game, it is staggering that the Kanchelskis match was our last win there. I think Roberto should try something a bit different as that is when we've upset them in the past, admittedly at Goodison.
Not sure what that different scenario should be so hope that we have a Plan A with a Plan B ready if it doesn't work. We certainly had no Plan B last week. What we must do is get support up for Lukaku who has been very good in the last two games.
Patrick Murphy
37
Posted 23/10/2015 at 13:15:02
Is the Emirates the only ground in England that we haven't won a competitive game at, particularly as we play there every season – I'll have to do some searching to see if there are any others.
I suppose bringing a point back will suffice if it's accompanied by a decent performance, but it is more likely to be a "backs to the wall" job and nick something on the break type of match – now where have I seen that before?

Raymond Fox
38
Posted 23/10/2015 at 13:23:49
The match betting is 4/9 Arsenal 4/1 Draw 7/1 Everton.
Call me defeatist if you like but I think a fortunate draw is the best we can hope for!
I fear they will have too much going forward, but hey ho, hope springs eternal, you never know... they might just surprise us.
Dick Fearon
39
Posted 23/10/2015 at 13:26:54
Phil (#11), I suggested Deulofeu as a second striker because the Gunners are covering injury problems with a converted centre back. If there is a weakness in their setup, that could be it.
Ultimately it could not possibly be worse than Bobby's game plan for the Man Utd game.
Patrick Murphy
40
Posted 23/10/2015 at 13:31:04
Raymond (#38),
Those odds are a sad reflection of Everton in the Premier League at the moment. Arsenal aren't the 'invincibles' they once were and Everton supposedly have one of their best squads in modern times, yet it looks as if the gap between the two is as great as ever.
But, as you say, you just never know in the daft game that is football. I'm not risking any of my hard-earned on it though, but good luck to those who might.
Andrew Ellams
41
Posted 23/10/2015 at 13:54:38
Patrick, if you are talking about all 92 league grounds then there are quite a few relatively new league clubs like Burton, Morecambe, Fleetwood etc. and quite a few new stadiums.
I'm not 100% sure we have won at Leicester's new stadium which would mean The Emirates isn't even the only PL ground we haven't won at.
Mark Daley
42
Posted 23/10/2015 at 14:13:55
For sure, RM won't drop McCarthy and play Kone behind Lukaku with Deulofeu, Barkley and Mirallas behind them, Naismith and Lennon as subs after 60 minutes.
That could work though - blitz the Gunners. Do we need Barry and McCarthy with the back four we have?
Tony Marsh
43
Posted 23/10/2015 at 14:33:58
I can see this being over by half-time. Arsenal have just smashed Man Utd then Bayern at the Emirates and we are nowhere near their level... Last week, anyone?
The facts are, Martinez won't drop the players who aren't good enough (Lennon, Naismith, Howard) and he won't play with any intention of winning this game.
How West Ham made it look easy there is stuff we can only dream of. I predict 3-0 Gunners without breaking sweat.
Clive Rogers
44
Posted 23/10/2015 at 14:35:33
Why not play 3 at the back with Funes Mori, Stones, Jags with Seamus and Galloway to get forward when possible? Mirallas with a free role behind Lukaku. That would get our strongest 11 on the pitch. No Naismith or Lennon.
Patrick Murphy
45
Posted 23/10/2015 at 14:36:10
I think you can only count the grounds where Everton have actually played at Andrew, however, Leicester City is a good shout as Gary Speed's winner in our last victory there was indeed at Filbert Street.
I did say I would have to do some research, I'm a little bit sorry I mentioned it now to be honest... but hey ho!
Raymond Fox
46
Posted 23/10/2015 at 14:36:29
We have to go there and take it to them, Patrick; if we lay off them and give them time on the ball, we will be well beaten.
I'd pick an all-out attacking 11, better to go down fighting than try to play a defensive game.
Matthew Williams
47
Posted 23/10/2015 at 15:06:59
My team would be:
Howard
Coleman Stones Jagielka Galloway
Deulofeu Gibson Barkley Oviedo
Mirallas Lukaku
Should get a point at least!.
Mark Daley
48
Posted 23/10/2015 at 15:07:47
Yes Clive, that's another idea; Lukaku and Kone seem to work well together, which is why I thought of having the two of them on.
Jay Harris
49
Posted 23/10/2015 at 15:21:40
I believe Arsenal are good enough to win the league this season.
Having said that, we need an "in your faces" performance from our lads, whoever plays.
With that in mind, I would start Naismith and let him wind them up first half with some niggles here and there.
I also think holding the ball up and not giving it away cheaply is important and with that in mind I would start Cleverley, if fit, in place of Gareth Barry who I do feel gets very unfair criticism but the sands of time are catching up and he can't afford to get caught on the ball.
I can't decide between Lennon and Deulofeu. Lennon is very quick, incisive and defends well. Deulofeu is a bit of a Maverick, capable of producing something out of nothing, but is also prone to giving the ball away and is not that good at tracking back. Having said all that, Barkley seems to play better with Kone and Deulofeu in link up play.
Decisions, decisions... who would want to be a manager?
If we get anything out of this, I will be delighted and it will do much to restore the faith; on the other hand, a drubbing will confirm all of our concerns.
Peter Cummings
50
Posted 23/10/2015 at 15:49:26
If Arsenal play as well as they can and we play like we did against Man City, 'Them' and Man Utd, it's game over. Unfortunately the real problem isn't the majority of the players but the selection process... in effect, the manager.
Quite frankly Martinez has not instilled the spirit and confidence in the team, or indeed the desire, which even Moyes was able to generate with Everton players who he brought in on a poverty budget and turned into England and International prospects.
Watching the team so far this season has been a real test of patience for many, like myself, a Blue fanatic of over 70 years (yes, I'm that old) and even now over 3,000 miles from the Dingle, where I was born, with a blue spoon in my gob, I still can't wait to watch my royal Blues take the field whenever and wherever.
I firmly believe Evertonians need better.
Conor Skelly
51
Posted 23/10/2015 at 16:48:02
We should play our best players... which are:
Howard,
Coleman, Stones, Jagielka, Galloway,
Gibson, Barry,
Deulofeu, Barkley, Mirallas,
Lukaku
Okay, so the center of midfield looks a bit slow but chasing shadows against Arsenal is not something that you want to do anyway. We need a side that can make positive use of possession when we have it.
When their attacks break down, we need players that can make well-weighted forward passes to players that only want to go one way, ie, Mirallas, Barkley & Deulofeu. That is what West Ham did and what Monaco did to them last year in the Champions League. I only hope Martinez see's it this way. Which he won't.
If we line up with Lyndon's predicted line-up, we are on a hiding to nothing.
Jay Harris
52
Posted 23/10/2015 at 17:43:26
Conor,
I think we are on a hiding to nothing no matter which team he picks but I would hope at least the lads picked show up and we don't see this tippy tappy bullshit with no one to pass forward to.
Brian Swift
53
Posted 23/10/2015 at 17:45:50
I'm fed up watching Barry and McCarthy sitting in front of our back four. We used to have one guy doing that job, Carsley, and what great job he did. So, with that in mind, my team for this particular game would be:

Three at the back: Jagielka Stones, Funes Mori.
Gibson in front of them (on his own).
Coleman and Gallaway as normal.
Kone, Barkley, Mirallas, behind....
Lukaku.
Eugene Ruane
54
Posted 23/10/2015 at 17:55:50
Update from my mate the cameraman.
He said any blues (on coaches) who are stopping at the Chingford Rugby Club before the game could find themselves in the promo as he'll be filming there first.
Up the Toffees!
Kieran Kinsella
56
Posted 23/10/2015 at 19:06:33
I think the Barry McCarthy thing is just a lazy way for RM to solve his managerial career long issue of not knowing how to set up a defense. If we worked in the back four we wouldn't need two defensive mids.
Tim Greeley
57
Posted 23/10/2015 at 19:11:23
Eleven matches played all competitions, we have scored the first goal twice. We won both matches convincingly. How and why Roberto keeps sending our guys out in quicksand mode to keep things tight in the first half is mind-boggling. Go for it, MAN!
If Arsenal score first, which I do expect them to do, then we will be done for. Obviously feeling the aftershock of last weekend, but I cannot see any good result coming our way.
I have to say it's almost unbelievable that Everton have gone this long without one single win at Arsenal – I mean, finances aside, these are all high level professional athletes competing... how can we not win ONE every 12 or so matches away to them!? I get the mental thing with the RS (even though that is a disgrace) but to Arsenal?!? Why?
Also, I hope to see Mirallas tomorrow. At least he has a nasty streak. Him and Gibson are needed more.
Brian Harrison
58
Posted 23/10/2015 at 19:44:53
Well, who knows what team RM will pick tomorrow? He seems to chop and change the forwards week to week, except Lukaku. RM said he is looking for a reaction to last week's poor performance; let's hope it's the right reaction.
Arsenal had a tough game against Bayern in midweek so maybe that game is still in their legs. Although they won, Bayern had them chasing all over the park.
I think under RM we seem to lack ambition to go and grab a game in the first 15 minutes and make a statement. We tend to start with a slow passing game which encourages the opposition to come and attack us. Seems as if we have to go behind before we increase our intensity. If we go behind to Arsenal, it might be a long night.
Ian Bennett
59
Posted 23/10/2015 at 20:22:15
He won't, but I'd drop Ross for this one, and look to bring him on as an impact sub.
Howard
Coleman
Galloway
Stones
Jagielks
McCarthy
Gibson
Deulofeu
Naismith (to sit on their playmaker)
Mirallas
Lukaku

Harvey Miller
60
Posted 23/10/2015 at 20:29:53
I will not watch the match live because I'm going to a gig, a band I must see and hear. But If I were the manager I would go for 4-4-2 and shape the things like:
Howard
Coleman Stones Jagielka Galloway
McCarthy Barry Barkley, Cleverley
Mirallas Lukaku
In this formation we might have something in the wings. Also, comparing to the last game with Naismith and Lennon, a suicide.
I know the result will be around 0-3, but why it must like that? Surely we are not that much worse...
Callum McNab
61
Posted 23/10/2015 at 21:01:04
Eugene, both my girls are going tomorrow. Just told them about your mate. They have now took the butties out of their bags and replaced them with their make-up bags... lol.
Callum McNab
62
Posted 23/10/2015 at 21:03:47
Listening to Bobby's interview on TalkSport, sounded like we are beaten before a ball is kicked.
Oliver Molloy
63
Posted 23/10/2015 at 21:44:13
Who's the band you must see and hear Harvey ?
Tony Twist
64
Posted 23/10/2015 at 22:17:45
West Ham did a number on Arsenal and the RS for that matter; we have more than good enough players to win. It just takes proper preparation. With Martinez in charge, I'm not sure he's capable.
My team would be (if fit):
Howard,
Browning, Jagielka, Funes Mori, Galloway,
Deulofeu, Gibson, McCarthy,
Mirallas, Barkley,
Lukaku.
Do your job, Martinez, let's have a performance of class in the memory of HK.
Laurie Hartley
65
Posted 24/10/2015 at 06:03:19
Phil, you obviously didn't see through my cunning ploy to outwit Arsene Wenger. Here is the logic:
I can think of two very good centre-halves who started at right back and left back, did a good job there then when the time was right, were moved to centre-half. Stones & Lescott.
I think Browning should have retained the right back spot. I think the manager should stick with Galloway at left back for the same reason.
McCarthy is out of form and from what I have observed offers a lot less than Coleman going forward. Call to mind Coleman's form under Moyes.
Gibson is as hard as nails, is big, and can pick a pass. Barry – ditto. There are no wingers – Coleman and Barkley are midfielders. Barkley is on the left of midfield because he has a good left foot.
Mirallas is playing just behind Lukaku.
The line up looks like a 4-4-2 because it is however, and here is the clever part ;) - in an Ancellotiesque stroke of tactical genius it can morph into 4-3-3.
Barkley sits in between Gibson and Barry. Coleman goes on to the right wing and Mirallas onto the left. That'll confuse the Frenchman. Meanwhile behind them there are seven six footers (and a goalie).
Up and at them and up the Blues.
Frank Sheppard
66
Posted 24/10/2015 at 07:39:26
Arsenal beating Bayern in midweek might actually work in our favour. They probably see themselves as far too good for us, so might be there for the taking... if we are prepared to take the game to them.
Let's face it. We are long overdue a decent result away to them. COYB.
James Marshall
67
Posted 24/10/2015 at 07:49:53
Given that Arsenal have beaten us 91 times, which is more than any team in history has beaten another team, it's no real surprise that people feel we're beaten before we start.
I can't remember us beating them away, ever, although I have a terrible memory.
Home or away I never feel confident and apart from the game when Lukaku played wide-right (3-0?) I don't remember a home win either.
Playing Arsenal I'm happy with anything other than a heavy defeat - even losing 1-0 is easy to take against them given that we've had some proper hidings in the past!
Eddie Dunn
68
Posted 24/10/2015 at 08:50:58
Our awful defence will never be able to keep out a classy Arsenal side. The win over Bayern will boost their confidence and we should remember how they brushed aside a Manc team that beat us with ease last weekend.
I hope Coleman is nearer being match-fit, as he cost us time and again on his return. More worrying is the fact that he was costing us with similar mistakes before his injury lay-off.
Martinez has talked about Kev's momentum, so don't expect to see him on the pitch until we are 2 down with 20 mins to play. Expect the usual line-up with Rom alone up top, joined by Kone, deployed on the left with a remit to get forward when possible, and Lennon on the right.
Barkley will be expected to provide our creativity, but the Arse midfield will simply stifle him. Barry and Mac will be too busy stopping waves of attacks to help further forward, and I am resigned to us being in the game for half an hour, before the usual implosion and changes left too late.
We will have a great last ten minutes when we will think "Why didn't we play Kev/Del earlier?" and we will lose 3-1.

James Marshall
69
Posted 24/10/2015 at 09:18:13
Sounds about right, Eddie.
This is one away day I'm not arsed (see what I did there?) about missing out on!
Nitesh Kanchan
70
Posted 24/10/2015 at 10:03:57
Lennon should start to set up defensively. Arsenal played in midweek so they will get tired as the games progresses. It would be suicidal if we attack from the kick-off and leave space at the back.
The Gunners defence are prone to mistakes if they play the high line or through set pieces (proved by West Ham and proved otherwise by Bayern). Deulofeu and Mirallas for Barry and Lennon at HT if 0-0
Howard, Galloway, Funes Mori (love for the big games), Jagielka/Stones, Coleman, Barry, McCarthy, Lennon, Barkley, Kone, Lukaku.
0 - 2 COYB

Nitesh Kanchan
71
Posted 24/10/2015 at 10:21:28
Eddie, Bayern and Man Utd brought their downfall by keeping the ball. They hardly had a go at Mertesacker and Koscelny, who are prone to counter-attacking mistakes, as they hardly got out of their penalty box.
Biggest worrying factor is Sanchez's form and Bellerin's burst of pace. Galloway and McCarthy have a big job tonight to keep them quiet.
Winston Williamson
72
Posted 24/10/2015 at 10:34:41
James (#65),
Can't remember us beating them at home...???
"Remember the name... Wayne Rooney" 2-1

Other than, that I feel exactly the same! And to make matters worse, my boss is an Arse fan and I'll have to endure his fat, ugly face on Monday morning telling me how superior his Arse is to my Toffees! Dickhead that he is!
Peter Bell
73
Posted 24/10/2015 at 10:41:50
One-Nil, James Beattie, 2006.
One-Nil, Andy Johnson, 2007 (last minute).
Dave Abrahams
74
Posted 24/10/2015 at 10:59:49
It might sound stupid to most fans, but to me it is simple, it's only a game of football: go out and fucking enjoy it, you just might surprise yourselves how easy it is to play football with a smile on your faces, get stuck in, have a good go then no one can complain.
If Martinez doesn't like it, tough, then do the same next week and the week after that, you'll either fail or be in the top four in a few weeks. What have you got to lose? You'll slip up anyway with Robby's tippy tappy nonsense.
Peter Weaver
75
Posted 24/10/2015 at 11:44:19
Eddie @ 66: You talk about our 'awful defence ' - and by what we saw last week it would be an accurate description. But few of us would subscribe to the view that the players who make up that defence are 'awful'. More the lack of defensive tactics/ drills is to blame in my view.
Yes, we are patently useless at defending corners and other set pieces where a laissez-faire approach is the norm and the goalie blames everyone but himself for being a static observer. And individual 'clangers' in open play seem to have become the accepted norm. Three seasons into Roberto's reign, that should not be the case.
But given that none of us (including the manager) ever knows which Everton will turn up, we are just as likely to pull off a shock victory today as suffer a total stuffing. Most of us will settle for a point, I think. And the arguments can go on!
Max Murphy
76
Posted 24/10/2015 at 12:05:45
Every now and then, we will get a few decent results – Chelsea (although anyone can beat them at the moment); Saints and West Brom away. By fluke, Martinez, due to the laws of probability, gets it right now and then.
We have moments of elation on these occasions, and we foolishly think the manager has turned it around - but it's never the case. Consistency in good performances, does not exist.
We will end up mid to lower half of the table because that is the limit of our manager's abilities. He's not the man for Everton. His team selections and substitutions are absurd. I still think the Europa League last season was there for the taking and the blame lies solely with the manager.
I hope we thrash Arsenal today and Martinez does turn it around, but deep down I believe it will never happen.
Bobby Thomas
77
Posted 24/10/2015 at 12:15:59
Reasonably early days but we seem to be shaping up for mid-table really. We are inconsistent and I don't know what we will produce today.
In fact, one thing was are consistent about is our defending. It's regularly awful. Martinez and his poor man's Wenger approach means, as he says himself, that it's not necessarily about clean sheets. But you can be organised at least. We consistently are poor on crosses and it feels like he's been saying we need to defend the box better for about 18 months.
As many have said, we play two holding and are regularly exposed, and they are exclusively defensive players. We have looked a bit better set up and more organised early on but I thought we were poor at West Brom and the goal blitz masked the display. The United performance was awful. I was at Reading and felt we barely deserved it. He was trying some strange system that was neither one thing or the other.
Martinez doesn't convince me so my thinking is probably coloured but I'm always waiting for it to unravel. The players we have there is no way we should be as weak and as poor defensively with the back 4 and two holders.
Going forward, ive said many times so I won't bang on, the squads options are unbalanced and basically all our chips are on Lukaku. The speed and tempo of the play seem to be permanent issues.
Honestly no idea what to expect today. I would hope for a reaction, even if there's no points, after last weeks shambles.
Raymond Fox
78
Posted 24/10/2015 at 12:32:26
Tony (#63), so your team is good enough to beat Sanchez, Walcott Ouzil, Cazorla, Oxlade-Chamberlain, Giroud and Flamini going forward!
Then there's Cech in goal! That's why Arsenal are 4/9 favs, Tony. We might just have the edge in the remaining defenders to be fair.
Blaming the manager if we get beat is a cop out in my opinion, oh and then you can throw in home advantage as well. Hope you're right but I can't see it myself.
Nothing to do with today's game but it shows their strength in depth when they have out injured Ramsey, Rosicky, Wilshere, Arteta and Welbeck.
Victor Jones
79
Posted 24/10/2015 at 12:51:00
I really don't like these 5:30 kick offs... we never seem to get results in them. And against Arsenal. Watch to see what team tires first; chances are that it is not the team that had a hard midweek match.
I would take a draw right now. Take the point. Steady the ship (after the rubbish of last week), and move on to next week. Get back to winning matches, starting with Big Sam's Sunderland. Although should we do something today, well that would be a welcome bonus.
My team for today (for what it is worth): Howard, Browning, Jagielka, Stones, Galloway, McCarthy, Gibson, Cleverley (if fit), Barkley, Kone, Lukaku. 4-1-3-2... No wingers. But Mirallas and Deulofeu to come on in the second half. Barry to play should Cleverley miss out. Barkley to play a free role behind the front two.
And no Coleman (I like Coleman. But he has not shown his true form for about a year). Is his mind elsewhere? I also like Funes Mori but I fear that he will need to be patient; his time will come. Needless to say that, whoever plays today, they all need to turn up.
Moyes usually got a reaction after a bad defeat. Well nearly always. Can Martinez? Last Christmas, he struggled to turn things around. Has he learnt anything? Or will we all plod from one bad result, to another. We need to start boxing clever against teams like Arsenal (in London). And not just look to get the fixture out of the way.
Anyhow, I want an Everton win but would settle for a draw. And I just hope that we do our selves justice. No more braindead clueless performances (from last seasons manual). We are Everton.
I've just (during the week) been looking through my old programmes from the Howard Kendall years. It brought back to me just how good we were back then. We were winning matches in London on a regular basis, with no fear. We need to get back to that... or we will win nothing. COYBS.
Jim Lloyd
80
Posted 24/10/2015 at 13:26:01
I don't see that we're any worse on crosses now that we were in Moyes's days. When they're all fit, we have two 3 English international defenders and an Irish international defender, who've played together for years.
And before John Stones we had Distin, who was another good defender. I think we have a goalie who is good and sometimes brilliant, at shot stopping but his performance in and around the six-yard box at corners is not very good at all.
I seem to remember us having 11 in the penalty area when our previous manager was there and it would, on many occasions, get knocked in and out of the penalty box like a bagatelle game.
I don't think we have been playing bad, we have done alright so far and when we get a full squad again, I think we'll be capable of giving most teams a hard time.
Maybe there was a reason for the whole team being off key last week. That's not knocking Man Utd either. I thought they played extremely well and their tactics were spot on.
To me, last week I thought Macca had a really poor game compared to his usual standards and maybe when we have all, or even most, of our players back fit, then perhaps it's time to look at if we can improve on the partnership of Macca and Gareth Barry, when the circumstances warrant it.
I think if we go ahead with Ross, Gerry and Kevin in the team, then we really need to be certain about how we are fixed for getting the ball back from the opposition and denying them space to attack our defence.
I'm sure Martinez wants our players to just go out and play with no fear, and the performances against the top sides have generally shown that we will take the game to them rather than just going and hoping for a draw.
I look at Wenger and I think he has been a wonderful manager for Arsenal but he inherited a fairly good squad and could build on it, which he has done excellently.
Even so, there's been times when the supporters have sung "You don't know what you're doing" at him. He's had a better inherited squad, more money and more time to produce the teams he has
Today, Arsenal are favourites, in my view, maybe odds on favourites but I think today, it is more about how we play, for me, not so much the result. I'd love us to win but if we play well and lose, so be it.
Victor Jones
81
Posted 24/10/2015 at 13:26:32
Spot on, Peter Bell. I also remember a few wins in the 1970s and 80s. Although TBH not enough. And a certain Mr Wright was always a pain in the Arse.
Sorry if I sound defeatist, but I would take a draw today. Better that, than another capitulation, like last week. Although I live in hope that we produce some thing special. You never know.
Eddie Dunn
82
Posted 24/10/2015 at 13:27:50
Peter (#71), I wonder what they practice at the training ground. I think that a good defence has to be well organised, and able to communicate with each other. I can forgive an individual error, a slip, or bad luck. Unfortunately we have seen the same sort of errors which boil down to a lack of understanding.
Howard is afraid to come off his line, and he goes to ground far too early on one-on-ones. Stones and Jags are fine players, but they need to develop their understanding. Galloway is great going forward (a breath of fresh air) but is still learning the left back role.
Coleman is also good offensively, but makes lots of positional errors in defence. He also allowed himself to be done on the inside three times by Chadli when Spurs came to town. Once, maybe twice, but three times!
The new lad, Funes Mori, showed that he is a good deputy and I really wish that Martinez would allow a meritocracy to grow at Goodison. Men who get the chance and do well should keep their places, and established guys returning from injury should wait for their chance.
We have three problems at present: one is we are vulnerable at the back, particularly from set-pieces, and the second, is we are too reliant on our lone front man for our goals. Just 3 shots on target against United, at home!
The thing of course that links these two problems together is our biggest problem of all, our midfield. Too slow, laboured, no pace. Barkley is over-playing as he has little to pass to. A lack of movement all over the park. Our midfield was so crap against the Mancs that Jags and Barry just launched it towards Rom at every opportunity. It's like kicking possession away in Rugby – you are just giving the ball away most of the time.
I will watch with interest today, and hope that our away form will continue despite my worries.

Tom Bowers
84
Posted 24/10/2015 at 13:34:30
Given the squad that Everton have and the manager, I suppose we cannot complain too much about the results so far although we all get frustrated when they play and win then put in a performance like last week. If ever there was a time to rebound positively then today's game is tailor made.
Anything gained today can be viewed as positive although Arsenal's superior players and passing game will test the Blues to the limit but, when all said and done, football is a funny old game when many results just go against the form book so hopefully this one will be one of them.
I get a feeling that Osman may get a start today.
Tony Twist
85
Posted 24/10/2015 at 13:53:32
Raymond (#73), what I am saying is that I would say we have better players than West Ham. West Ham beat Arsenal 2-0 by taking their chances; we need to do the same.
My team has players that are a threat and that's what we need to worry Arsenal.
Brian Denton
86
Posted 24/10/2015 at 14:03:27
Blues and Boks double today!!
I saw us beat Arsenal 6-1 once.....
Victor Jones
87
Posted 24/10/2015 at 14:27:00
I also saw us beat The Arsenal 6-1. I think that Lineker scored a few goals that day. But, there again, I also saw Arsenal stuff us 6-1.
I think that we were mainly useless in this fixture during the 1990s when Moyes was scared shitless of this fixture. He set up for a draw, and was clueless when we fell behind... I just remembered the 7-1 defeat as well.
Sorry about the history lesson, but this is a nuisance of a fixture (away); we usually play like rabbits caught in headlights. Let's hope that Martinez has his team and tactics spot on. And that we turn up...
Jay Harris
88
Posted 24/10/2015 at 14:52:55
Eddie,
I totally agree with all you say, especially regarding players and the team playing well should be left alone and players coming back from injury should be made to wait their chance.
Also, the midfield issue has been bugging me since Martinez took over. He encourages defensive midfield and attacking midfield but no cohesion between the two and no player with all-round ability to defend and attack and score goals.
Mirallas is our only true attacking midfield as he can score goals regularly. We need to score 60 to 70 goals a season to make top 4. If Lukaku manages 15 who have we got to score the rest.
Then at the other end we have players passing backwards and forwards to each other because there is no midfield further up the pitch to pass to.
My biggest complaint, however, is that this manager does not encourage closing the opposition down and getting in their faces. Instead, we allow far too much space for the opposition to play around us.
Terry McLavey
89
Posted 24/10/2015 at 14:57:06
Brian (#84), Was the footage in grainy black and white and the players moving at twice the speed?
Myself, I think we're in for another train crash like last week unless we pull out a Chelsea performance and what are the chances of them being that shit on the day?
Winston (#71), My line manager is an Arsenal fan but fortunately he is a decent bloke and won't crow... but I may still avoid him next week!
Brian Denton
90
Posted 24/10/2015 at 15:01:58
Terry, good one mate!
Actually it was in the Lineker season.
Terry McLavey
91
Posted 24/10/2015 at 15:03:34
Just had a thought... Maybe we should leave a team of supporters at St Luke's praying?
Hopefully it won't be a bad as we think...
"Nurse, is it time for my tablets?"
Terry McLavey
92
Posted 24/10/2015 at 15:05:20
Brian, That's when we HAD a striker.
Alex Carry
93
Posted 24/10/2015 at 15:18:06
I'd like to see:–
Howard
Coleman Stones Jagielka Galloway
McCarthy
Gibson Barkley
Lennon Lukaku Mirallas
But I don't think Martinez will attack the game and will more likely go for a defensive side.
Victor Jones
94
Posted 24/10/2015 at 15:34:05
A draw today... then a win against a poor Sunderland side next week. Then we have a run of winnable matches through November and December. We can keep in touch with a European spot. Sounds good when you say it quickly...
But, there again, this is Martinez's Everton, so expect some tinkering and clueless defeats against so-called lower opposition, who end up looking world beaters against us. What would we not give for a settled Everton team and a little run of decent results? And no more Christmases like last year. The joys of being an Evertonian.
And let's not forget Norwich City in the League Cup. A good performance today will set us up nicely for the month ahead. Fingers crossed.
Dave Ganley
95
Posted 24/10/2015 at 15:38:20
Yeah, the truth does hurt. For all Martinez being positive in press conferences, that doesn't translate to the teams that he puts on the pitch.
I personally am sick and tired of two DMs. Basically having 6 defenders on the field with having at least one CM on the wing doesn't auger well for having a positive outlook on a game with a view to winning it. Even Moyes never played with two DMs.
The team just looks as unbalanced as it did last season. We have flair players so why we don't use them in their correct positions totally bemuses me. I get that Mirallas and Deulofeu are never going to be great tacklers or back trackers but let's face it, having such a defensively minded team isn't halting the flow of goals conceded so why not try something different?
Barkley also needs to grow a backbone. Again, I get that he is not there to be a great tackler but the way he shit out of 50/50 balls last Saturday was just embarrassing.
I really hope we make me eat my words this afternoon and put on a show of attacking football and let the players off the leash. We have an awful record at the Arse so let's have a go for once. I would love to see the following team:
Howard, Coleman, Stones, Jagielka, Galloway, McCarthy, Gibson, Mirallas, Deulofeu, Barkley, Lukaku.
Alas this probably won't happen and we will go into the game containing, resulting in the Arse taking us apart. Let's have a bit if energy and be in the Arse's faces all game, harass them and then break quickly and attack with intensity instead of the tedious slow pedestrian-based football which has become the norm and easy to defend against.
Good job we are all eternal optimists...
COYB
Sam Hoare
96
Posted 24/10/2015 at 15:44:08
West Ham second as it stands! How I wish we'd gone for Payet. Not bringing in a proven playmaker this Summer was surely a crucial error (though it has been masked by Barkleys great start to the season)
Les Martin
97
Posted 24/10/2015 at 16:03:56
It is essential they we are set up to play counter-attacking football, ie, Lennon or Deulofeu on one side Super Kev on the other, added to Rom's pace then we have a chance.
The previous set up against Man Utd will reveal the same result a defeat, there is no use repeating this and expecting something different, said Einstein not me!
David Booth
98
Posted 24/10/2015 at 16:29:58
Cleverley back to add to the mix now for Roberto, so if he plays true to form, he'll manage to shoehorn him plus Naismith, Lennon and Kone into the team, while match-winning talent such as Deulofeu and Mirallas, inexplicably, are left to look on longingly from the bench?
Alternatively, he could revert to how he was when he had a point to prove on joining the club, give them both a starting place and take the game to Arsenal, as we did two years ago with great effect?
I suspect, however, that his new found priorities of 'tracking back' and 'working hard' will take priority - and we all know the consequences of that, against a team like this. Is this the Everton way and what Evertonians want?
For god's sake stop this negative outlook of 'stopping the opposition playing' and 'protecting our full backs' Roberto and try to make Arsenal - or whoever we happen to be playing - worry about us a little.
We have the most exciting squad we have had for 30 years and you've started shitting yourself before every game.
Pick an adventurous, attacking team today and let's have a go.
COYB!
Jim Bennings
99
Posted 24/10/2015 at 16:49:59
David
I'm still not convinced we have "the best most exciting squad for 30 years".
A midfield that possessed Arteta, Cahill, Fernandes (albeit short-term), Steven Pienaar at his peak and Yakubu, Johnson, Saha as striking options still got me more excited than this present bunch.
Add Your Comments
In order to post a comment, you need to be logged in as a registered user of the site.
Or Sign up as a ToffeeWeb Member — it's free, takes just a few minutes and will allow you to post your comments on articles and Talking Points submissions across the site.
© ToffeeWeb