Jagielka out until the end of the year
by

42 Comments [Jump to last]
| 26/10/2015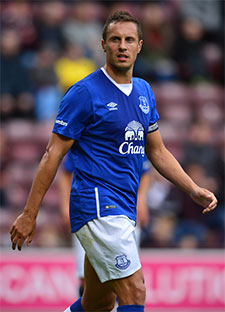 Everton are likely to be without Phil Jagielka for the next two months at least with the knee injury he suffered at the Emirates on Saturday.
The club's captain suffered medial knee ligament damage in the 2-1 defeat to Arsenal and had to be withdrawn early in the second half.
Roberto Martinez admitted after the match that he suspected Jagielka had sustained "damage to the structure of the knee" in an innocuous looking block tackle in his own area.
The manager said, however, that his skipper's injury is not as complicated as it could he have been and that he doesn't expect him to be sidelined for longer that "eight to nine weeks."
"The medial ligament is affected and it's an injury that is quite straightforward," he said. "It's hard to tell [how long he will out]. The medial ligament depends on what area there is damage to determine how quickly you can recover.
"At the moment we are going to make sure he gets the right course of treatment. I wouldn't expect anything longer than eight to nine weeks."
"There is no other damage to the meniscus or the cartilage. The cruciates [ligaments] are very strong.
"After the game, we expected the worst especially the way the injury happened and rotating the knee - it could have been anything."
Jagielka was deputised to impressive effect by Ramiro Funes Mori who, as a left-sided centre half, was able to slot in seamlessly to the defence alongside John Stones and ensure that no further goals were scored by the Gunnerson what was ultimately a disappointing afternoon for the Blues.
While the injury is a blow, Martinez has further cover over the next couple of months in the form of Tyias Browning, Brendan Galloway and even Gareth Barry.
---
Reader Comments (42)
Note: the following content is not moderated or vetted by the site owners at the time of submission. Comments are the responsibility of the poster. Disclaimer
Patrick Murphy
1
Posted 26/10/2015 at 12:34:52
So Jags will be out for up to 9 weeks and we won't see him in the line-up probably until the New Year. Let's hope his presence isn't missed too much, the young lads will have to be prepared to fill-in as and when required.
Tony J Williams
2
Posted 26/10/2015 at 13:16:46
So Patrick, that will probably mean 3 months at least when taking into consideration the Everton Physio Syndrome.
Nick Entwistle
3
Posted 26/10/2015 at 14:36:29
That's not so bad considering what it could have been. But we're supposed to be a top PL club yet one defender goes down and in reserve we've got kids and square pegs.
Helen Mallon
4
Posted 26/10/2015 at 14:39:28
We will just have to get on with it. The kids can cope.
Karl Graham
5
Posted 26/10/2015 at 14:47:51
I'm happy with the backup: an international coming into the team and some talented youngsters getting opportunities to be around the squad. Hopefully Baines will be back soon then maybe Jagielka won't be such a miss. Browning and Galloway as backup is good enough for me better than Distin and Alcaraz anyways.
Julian Wait
6
Posted 26/10/2015 at 14:48:46
Get well soon, Jags. I'm really glad we have some strong replacements.
Steve Moe
7
Posted 26/10/2015 at 14:55:27
It is a good thing for Funes Mori or we would be in big trouble. We will get through this with Stones and Funes Mori.
Paul Jeronovich
8
Posted 26/10/2015 at 15:04:47
Definitely gives opportunity to others to shine. Not as worried as I thought I'd be given the defending at Arsenal.
Jamie Crowley
9
Posted 26/10/2015 at 15:05:52
Funes Mori sure seems worth every penny now.
Dave Hall
10
Posted 26/10/2015 at 15:14:51
So who's the new skipper? Barry? Bainesy? Seems daft to make it Howard as shaky as he's been-- should be close to losing his place, not put at the front of the line.
Tony J Williams
11
Posted 26/10/2015 at 15:23:47
To be fair, I can't be too worried when an Argentinian International (on the correct side, left) comes in to take Jag's place.
Julian Wait
12
Posted 26/10/2015 at 15:27:33
Skippers should be Jags, then Barry, then McCarthy. I'd also be tempted to give it to Stones but I think it's just a wee bit early. As an aside, Stones must be bloody grateful he didn't go and work for Mourinho! (I want Mourinho to NOT get fired and to keep Chelsea in circus mode.... )
Raymond Fox
13
Posted 26/10/2015 at 16:04:10
Disappointing, we will miss his speed over the ground, but Jags is not the best in the air methinks.
Mori's chance to step in, he's looked good when he's come on, you never know It might work in our favour.
Baines should be ready to come back too which will give us more experience, that frees up Galloway to be a replacement for Stones or Mori and there's Browning on the bench also.
Dave Pritchard
14
Posted 26/10/2015 at 16:08:41
Shame as we can ill afford to lose such an experienced player. Apart from the last 2 games I think Jags has been playing well. Galloway and Browning as cover for Stones and Mori it is then. Wonder who RM will go for tomorrow. Mori and Stones for me with Galloway staying at left back.
James Stewart
15
Posted 26/10/2015 at 16:35:05
Not been in the best of form recently so the break might do him good. We looked more solid when Funes Mori came on anyway so not too worried.
Jay Harris
16
Posted 26/10/2015 at 16:36:35
I think Baines,Gibbo, Oviedo and possibly Pienaar need some game time so maybe give one or two of them 45 minutes.
Jay Harris
17
Posted 26/10/2015 at 16:36:35
I think Baines,Gibbo, Oviedo and possibly Pienaar need some game time so maybe give one or two of them 45 minutes.
Steve Carse
18
Posted 26/10/2015 at 16:45:47
Jay, tomorrow night is not a training exercise or a friendly -- it's our best (only?) chance of winning something this season.
Kim Vivian
19
Posted 26/10/2015 at 17:04:20
How long before Mori earns the captain's armband?
I reckon he could get 'em motivated once he's fully comfortable and settled.
Are we on tv tomorrow? I thought we were but can't seem to find anything.
Patrick Murphy
20
Posted 26/10/2015 at 17:10:12
I don't remember us looking more solid when Jags went off, I'm pretty sure that Arsenal hit the bar, skimmed a post and Howard had to save at least one with his feet. However, I do think our aerial ability may be improved with Mori, but whether we will concede fewer chances is debatable.
Jay Harris
21
Posted 26/10/2015 at 17:30:54
Steve,
I don't think 45 minutes of any of those players would be any worse than the current incumbents. Baines especially as I feel Galloway is now feeling tired after so many games and the intensity he is not used to.
Andy Crooks
22
Posted 26/10/2015 at 17:38:37
Raymond, I agree, we will miss Jagielka but it's been a long time since I've witnessed his"speed over the ground".
Dave Pritchard
23
Posted 26/10/2015 at 17:57:15
Kim 19. Give the lad the chance to get some more games under his belt before talking about him as our next captain. Classic case of building someone up too early.
Tony Abrahams
24
Posted 26/10/2015 at 18:08:03
Have to agree with you, Patrick, I don't know how losing our best out and out defender, is going to make things any easier.
Maybe Funes Mori, will improve us in the air, but we have had problems in this department for as long as I can remember, and until we change the keeper, I don't think anything will change.
Charlie Burnett
25
Posted 26/10/2015 at 18:19:13
I think Funes Mori is going to be a class act he looks as calm as stones when playing. This is a good thing for Everton giving him playing time. Baines back in the squad gives him that extra expierence playing next to him as well.
Against Arsenal we couldn't win the ball in the air, Stones as well as Jags... and Jags was getting bullied pulled all over the place by Giroud.
Howard was shocking he couldn't catch a cold nevermind catch the ball — he done it once in 90 mins and got the biggest cheer all game. He is robbing us blind... even 89 min 2-1 down he took for ever to kick the ball and ended up kicking it out of play. Get a keeper who the back 4 feel confident with, like what Arsenal have done — it's all in there heads.
Marshall Duvall
26
Posted 26/10/2015 at 18:55:20
I hope Jagielka gets better very soon. I really do.
Jagielka has been struggling lately. The side actually looked much better IMHO after Funes Mori came in.
In addition, Coleman seems to be returning to form after a disasterous first game back.
I expect the defense to look much better over the next few weeks barring any further injury.
Ian Bennett
27
Posted 26/10/2015 at 19:07:54
A really poor challenge.
If Jags had done that on an Arsenal player, Wenger would have gone crazy.
Peter Weaver
28
Posted 26/10/2015 at 19:33:51
I'm betting that Roberto will use Jag's absence to boost his hero Howard's confidence by making him up to skipper. God help us !
Ernie Baywood
29
Posted 26/10/2015 at 19:42:34
An opportunity for Mori but still a loss. We've now lost every member of our first choice back 4 to significant injuries within the first 10 games - that's amazingly bad luck isn't it?
A settled back 4 is important, even if Mori, Browning, and Galloway have been a silver lining.
Sam Hoare
31
Posted 26/10/2015 at 20:28:57
Funes Mori has looked good but he rushes out often. Fine if he makes the tackle but dangerous if he doesn't... and I'm sure it won't be long before he misses one, leaves a gap, and we concede. Having said that, I still like him and am optimistic.
If we lose another, we may really be throwing Galloway or Browning into the fire but I have a feeling they will cope okay and, as another said, they couldn't be much worse than Distin and Alcaraz last season.
Funes Mori and Stones could well grow into our strongest CB pairing in a year or two's time (I know!) and them getting game time together may be a blessing in disguise.
Michael Polley
32
Posted 26/10/2015 at 20:31:50
Fumes Mori will do the job. I'm impressed with him.
Peter Morris
33
Posted 26/10/2015 at 20:55:49
Jags has had a number of quite serious knee injuries over the years and he's not getting any younger. It could also be a contributor to his losing some elasticity and spring in his jumping for what is anyway, nowadays, quite a short centre back.
I think his greatest strength as he has got older is his reading of the threat coming forward, and over the next couple of months this could be the biggest weakness with what will be a very young and inexperienced back four, and with a goalkeeper with shattered confidence behind them. Come back quick Bainesy!
Jamie Crowley
34
Posted 26/10/2015 at 20:59:34
The captaincy is a real interesting one with Jags out.
I think it'll be either Barry or Howard. But I like neither choice for a variety of unimportant reasons.
I'd like to see one of our younger players, whom we are building our future around, get the responsibility and step up to the plate and "learn to lead".
McCarthy or Barkley for me. I'd edge McCarthy for one personal reason. Jags, before the game in the tunnel, looks as if he's about to go to a Girl Scout convention. He just screams "friendly ninny." I think McCarthy would have the tunnel looking like a bar fight at closing time. I'd love to see that. Everton players ready to eat their own liver for 3 points and ready to throw down before they even take the pitch.
A man can dream...
Helen Mallon
36
Posted 26/10/2015 at 22:08:44
Tomorrow's team
Robles
Browning
Stones
Funes Mori
Oviedo
Deulofeu
Besic
Cleverley
Mirallas
Kone
Lukaku

Richard Reeves
37
Posted 26/10/2015 at 23:19:04
I'm not to bothered Jagielka is out. Funes Mori should be more than capable. It could be an ideal opportunity for him to stake his claim for that position.
For tomorrow's game, I'd like to see Browning at right back and, if we're a couple of goals up by half-time, I'd take Stones off and move Browning into that position and bring on Pennington at right back for the second half.

Anthony Dwyer
38
Posted 27/10/2015 at 01:42:55
If that is the team, Helen, I'm not sure I could guess the captain correctly.
I'd go for Lukaku or Stonesy as my pick but would maybe guess Cleverley as Roberto's choice.
Abhishek Saha
39
Posted 27/10/2015 at 03:00:53
Mike (#31), you echoed my thoughts there!! COYB!! I suspect we're going to have a Stones-Distin experience with Mori coming in for Jagielka.
Jakob Herd
40
Posted 27/10/2015 at 04:31:50
The Captain issue is interesting if he [RM] dares to be different and look to the future.
If Baines was fit and playing I think it would be an automatic choice; but he's not.
In my opinion the candidates are:
Stones: A natural leader but probably just too young and has the 'want away' issue still in the background.
Barkley: Still unpredictable and does not need extra responsibility.
Lukaku: No he just wouldn't...
Coleman: Not captain material.
Barry: A good choice but he's in his penultimate season I would guess and not a good choice for the future if you want to breed a new captain.
McCarthy: I just don't see a leader here.
Howard: Same as Barry but unfortunately the logical [RM] choice
The rest are too young or too new to be considered so; lets just wait and see what RM has as a surprise for us.
Darryl Ritchie
42
Posted 27/10/2015 at 05:43:54
With all the grief Howard has had thrown his way the last few days (well earned, admittedly), Martinez will make him interim skipper.
1) To bolster Tim's confidence
2) To show the world that, at least he, still believes him to
be crucial to the success of the club.
It may work...probably not, though.
I'd like to see the armband given to McCarthy. Might be the spark to drive his game to a next level.

Paul Tran
44
Posted 27/10/2015 at 19:20:34
Nick, we're one defender down and a good one coming in. One who's looked good and unlucky to lose his place. Oh sorry, Martinez signed him, so he must be shit, mustn't he?
Anthony Dwyer
45
Posted 28/10/2015 at 00:32:34
No matter how good Funes Mori proves to be, the loss of Jags is massive, he's been brilliant for me this season with young lads all around him and a shakey goalkeeper behind him.
This guy is our captain, show him respect as he earns it on a weekly basis.

Terence Leong
46
Posted 29/10/2015 at 07:09:14
Funes Mori should slot in well; while the injury is not something we wished upon anyone, it'll give our Argentinian the chance to get adjusted to the game further, and provide more competition for all.
While the other back-ups are kids (Galloway and Browning), they are getting match fitness and experience, which should stand them in good stead should we need further back-up (beyond Barry).
The most immediate captain is Barry, but I'd like to see McCarthy given a chance. Barry will provide leadership no matter what. As a veteran, he will continue to lead (armband or not), but it'll be good to give another player the chance to step it up.
Our conquering 84-85 team had leaders throughout (Gray, Reid) who were veterans but didn't need the armband to do so.
In 1987, we had Paul Power and Dave Watson, the captains of Man City and Norwich added to the team.
Add Your Comments
In order to post a comment, you need to be logged in as a registered user of the site.
Or Sign up as a ToffeeWeb Member — it's free, takes just a few minutes and will allow you to post your comments on articles and Talking Points submissions across the site.
© ToffeeWeb