Martinez disappointed not to win
08/11/2015

28 Comments [Jump to last]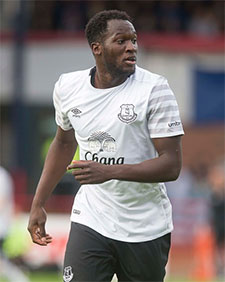 Lukaku scored his seventh goal in as many consecutive games against West Ham
Roberto Martinez was purring after the game at Everton's equalising goal against West Ham but he expressed his disappointment that his side couldn't take all three points.
Gerard Deulofeu and Romelu Lukaku combined in electric fashion to cancel out Manuel Lanzini's excellent strike earlier in the first half, but while the Blues were able to shut the Hammers down in the second half, they couldn't find a winner at the other end.
"I think it was one of those goals that was fantastic in the execution whichever [way] you look at it," Martinez told the BBC after the match.
"The assist is something where you need to have that talent to see the pass but then to execute that ball with the perfect weight of the pass is sensational.
"But there's still a lot of work to do and the [instinctive] way in which Romelu took that goal was quite impressive.
"I just felt that goal gave us a real sense of being able to kick on. In the second half I thought we were magnificent defensively but not being able to get that next goal is the only disappointment we'll be taking out of this performance.
"We were disappointed with the manner in which we conceded the goal – we allowed too much space in front of the 18-yard box. But from that point on I was delighted with the reaction, with the way we found a very solid outlook with the performance.
"In the second half we kept West Ham very, very quiet and we always carried that threat and I think the performance was terrific in terms of having that winning mentality.
"But [we were] disappointed in the end that we couldn't find that final move or moment of magic in front of goal to collect the three points."
---
Reader Comments (28)
Note: the following content is not moderated or vetted by the site owners at the time of submission. Comments are the responsibility of the poster. Disclaimer
Brian Porter
1
Posted 08/11/2015 at 06:55:35
As usual, Martinez spins a good tale, but omits the fact that, par for the course, he did little to help achieve that elusive win, which was quite within our grasp.
Once again, his substitutions were a case of too little, too late, and why oh why, did he only use two of the possible three, not for the first time this season? It was obvious Ross was having an off-day but he allowed him to struggle to the end when he could have introduced the fresh legs of Steven Naismith for the last 15 minutes. Naisy's habit of getting in the opposition's area (and in their faces), have maybe swung the game our way against a tired Hammers defence, but as always, Martinez bottled it.
We will not win these tight games, Roberto, unless you make bold moves to try and make it happen. I feel like we lost two easily winnable points yesterday, and if this is how the manager continues to approach so-called "winnable" games, then the most we can hope for is a mid-table finish yet again.
Darryl Ritchie
2
Posted 08/11/2015 at 06:58:53
A close game between two evenly matched teams. We came close in the second to breaking the deadlock, as did they, but close only counts in horseshoes and hand grenades.
In the end, a point, and not getting anyone injured (something West Ham can't say), is a fair result.
Victor Jones
3
Posted 08/11/2015 at 12:36:16
I suppose that a draw is a fair result. But TBH when did WHU become a team that we are happy to draw with? Notice this season that teams like Southampton, Spurs and Leicester are not settling for draws. Not to mention the top money teams.
We need to win our next few fixtures, or the point yesterday means nought. We need to go on a run. Put pressure on teams above and around us. Take full advantage of a run of easier games. Most other teams do just that. Time that Everton did.
My frustration on another thread is just that we always flatter to deceive. We cannot seem to string together a few wins, no matter who we play. We score 6 one week; we struggle the next week. A decent run of results now through November would see Everton right in the mix. But who am I kidding. On paper we have a run of easy games, but this is Everton... we don't do anything easy.
There is something out there for Everton this season, if only we can grasp it. Play to our full potential, no pissing about.
I agree that Barkley should be dropped (rested). But I always maintain that our attack is limited with always playing 2 DMFs when one would do. Make room for an attack-minded MF or at least a forward passing one, like Gibson or Cleverley. Drop Barry or McCarthy, I don't care who, and rest Barkley.
Give Mirallas a few games, not Naismith, as he is not as effective alongside Kone and Lukaku. Mirallas and Deulofeu to shift wings, and Baines to wait his turn to replace Galloway...
Why drop Galloway? Do people really think that Baines is the same player that graced Goodison a few years ago? His defending last season was poor and his corners were bloody awful. He needs to earn his place back.
So come on, you Blues, a few good wins over the next 4 weeks would set everything up nicely for the New Year. A cup could be within our grasp this season but only if we turn up. Over to you, Mr Martinez.
Frank Crewe
4
Posted 08/11/2015 at 13:32:46
While we have Barry and McCarthy in the side, we'll never win enough games to be serious top 4 contenders. In over 2 seasons they have only scored a measly 4 goals between the two of them. Most games they barely make it out of our own half of the pitch. They just sit in the middle of the park knocking the opposition over and picking up cards. We're basically playing with 6 defenders.
Until we get at least one midfield player who can get ahead of the forwards, we simply won't give the oppositions defense any problems.
RM should drop one of them (I don't care which). Move Barkley alongside the other one. Move Geri behind Rom and put Lennon and Kone/Mirallas out wide.
In the last two games, we've seen the kind of defense-splitting pass that Geri is capable of but opportunities to deliver it are restricted as long as he is out on the wing. We need creativity and he is our most creative player by a mile. Barkley should watch and learn because Geri is easily better than him.
Colin Glassar
5
Posted 08/11/2015 at 13:37:23
Frank, I can see where you are coming from regarding the Macca/Barry partnership but the manager, like most managers these days, will persist with two DM players. It's just part and parcel of the modern game.
Sam Hoare
6
Posted 08/11/2015 at 13:58:39
Agreed Colin but the nature and quality of those DMs is very different. We have 2 cloggers essentially. Even Palace have Cabaye who is a wonderful deep-lying playmaker.
Barry and McCarthy in particular's lack of goal and assist threat it just about ok if they are making us rock solid at the back but they are not doing that either.
At the moment what we seem to have is a team that is vulnerable defensively whilst relying very heavily on moments of individual brilliance usually from Deulofeu, Barkley or Lukaku to score.
Baines coming back will help as he is one of our top creators but I would like to see at least one of our DMCs be someone who can create or score as well as do the leg work.
For me McCarthy has been very poor this season. He makes less tackles, blocks etc than Barry and seems to play fewer incisive forward balls. In short he's been somewhat of a passenger. I think Cleverley is capable of showing his energy whilst also being much better on the ball and getting forward with well time runs for the odd goal.
I think its unlikely that RM will drop one of his 'favourites' in McCarthy but I would like to see the following team in a fortnight:
Howard
Coleman Stones Funes Mori Baines
Cleverley Barry
Deulofeu Barkley Kone
Lukaku
Victor Jones
7
Posted 08/11/2015 at 14:12:53
Frank. I totally agree with your comments on playing 2 DMFs every bloody game. It restricts Everton going forward. And it makes us look pretty dire at times. We are always on the back foot. That IMO is why we concede so much. They do not close teams down. Pointless really.
Our 2 CBs and maybe one DMF should be able to hold the line. And our DMFs are hardly in the Roy Keane mould. It only really works with players of that ilk pulling the strings.
And Colin, yes it is part of the modern game. But wouldn't it be great to have a manager with vision, not following the norm, who actually come up with a system of his own?
Colin Glassar
8
Posted 08/11/2015 at 14:23:42
I quite agree Sam but with the injuries to Besic, Gibson and Cleverley he hasn't really had any serious options for those two positions. I think Barry is going through a bit of a renaissance just now and, while I don't agree with all the criticism aimed at McCarthy, I do agree we need to freshen things up in that area.
Steve Jenkins
9
Posted 08/11/2015 at 14:27:41
First chance to post for a while.
The main problem is neither adds anything creatively, as Sam says are two cloggers, backwards and sideways, Barry does at least offer some forward passes, but they are always over or under hit.
The biggest problem I have is neither sits in front of or protects the back four, they are very limited in what they can do, yet both seem to be playing some sort of free role within the midfield. Well, I say midfield, both are absolutely all over the park.
I don't blame either, clearly it's some part of Roberto's game plan, but I don't understand it at all.
There appears to be no discipline for either, that is, you stay in front of the back four (one or both) and you protect the back four, you break up play and give it simple to someone much better.
Only one of these two players it would require to do that, allowing us to drop one of them and bring in a more all around and skillful players into the midfield (box to box) Besic if fit would be the current choice.
What we tend to have instead is two DM's yet;
a) neither sit in front of and protect the back four, coupled with a lack of the team pressing the opposition, standing off them giving them way too much time and space... hence we are defensively vulnerable.
b) whilst both can be classed as defensive midfielders (i.e. they don't offer anything going forward and also completely slow down the pace of play and attack), neither look to play as disciplined DM's as such, both as said above, tend to be all over park if you keep an eye on them, meaning we lose the opportunity to have one more midfielder that can add more creativity, pace etc going forward.
I'm resigned to nothing changing, we'd have to go on a seriously bad run where the pressure became unbearable for Roberto to change.
Barry will play zoz of "experience" the same as Howard.
McCarthy he loves, so that's that.
I am actually a big fan of Roberto, but picking these older players that everyone can see are detrimental to the team and given "experience" as a reason, along with the incredibly annoying - standing off and given the opposition all the time in the World to play are big bugbear's of mine (and I'm sure most Evertonian's).
I really like the young players he's brought in and we're definitely I feel moving in the right direction, but could be getting their a lot quicker, but how long are these older players going to stick around for holding us back?
Just when you think they have a season or so left, he'll come out and state that Howard and Barry can both play into their 40s... FFS!
Steve Jenkins
10
Posted 08/11/2015 at 14:46:29
I'd prefer Besic, Gibson or Cleverley, all different but all offer far more all around than either 2.
I agree with Colin – Barry's better than last year and McCarthy gives you energy – he'd be perfect in a disciplined role, but neither are good enough to be played as they are currently, as two main midfilders given the licence to go and play wherever they choose.
For me, only one of the two of them should be starting.
It's just a complete waste of another player that can come in and offer far more going forward and that are far more comfortable than either on the football.
Steve Harris
11
Posted 08/11/2015 at 16:07:43
I wouldn't mind playing two defensive midfielders every week so much if it made us hard to break down but unfortunately that's not the case. Nearly every team, whoever it is, seem to be able to cut through us at will. Until the Spanish tactical wizard finds a solution to that, we will continue to struggle.
Steve Jenkins
12
Posted 08/11/2015 at 17:53:01
Steve Harris
My sentiments exactly, that's the only time it'd be acceptable and understandable to play them both.
So it begs the question what is the point in either being there?
We're losing the opportunity to play two far better all-round midfielders for them and they're not giving us what they should therefor.
We certainly don't need both starting – all it requires is for one of them to be in a disciplined role and sit in front of the back 4 and protect it.

Mike Hughes
13
Posted 08/11/2015 at 17:58:09
I'm disappointed we didn't win away at WHU as well.
But it's better than getting Kloppered at home against Palace.
(
Sniggers smugly to self
).
George McKane
14
Posted 08/11/2015 at 18:13:39
I went to West Ham yesterday, a game for the taking in my opinion.
We looked nice and the touch from many of the players is nice (nice... in football!!!) — but we totally lacked real passion, a single great heart on the pitch, bravery, courage from certain players... By that, I mean courage to make your own decisions, to take control of a situation or the game.
Our football is like a template: once we are on the pitch, there does not seem to be one player who has the ability, nouse, belief and bravery to change things. Obvious yesterday that Barkley (whom I like) did not get a free kick or corner right on one instance. Where is the player to say "leave it"? Also, on several occasions, Barkley (especially) and several others just took really poor, playing easy. making dreadful decisions once they had made space.
We need to play with some passion and freedom; it looks flat and prescriptive. We need game changers and decision makers. Our thinking never mind our physical movement looks terribly slow.
I believe there is the nucleus of a decent team here; someone needs to give it some bollocks.
Don Alexander
15
Posted 08/11/2015 at 22:04:12
Whilst playing Barry and McCarthy offers so little in delivering positive football, the very thought of dropping them gives me the heebie-jeebies. With RM in charge, we've become as defensively inept as Wigan were, and his Swansea before that, and that's whilst we're playing six defenders effectively. Any less than that would be another gift from our manager to our opponents.
I don't think it's too much to ask that our manager just tries to organise players to play attractive exciting football MOST of the time. I don't expect a top four place, I've had to get used to living without that, but to watch the dross "devised" by the bullshitter masquerading as our football manager is doing my head in. To him, mid table seems to be an achievement. After all, he so rarely gets that high up in the league regardless of where he's "worked".
Ernie Baywood
16
Posted 08/11/2015 at 22:53:58
I don't think anyone is "happy" to draw against West Ham. I think most just understand that it was an evenly contested game away to decent opposition. There's a difference.
Must admit that I'm feeling quite positive. We have a striker who is 2nd in the goalscoring charts after a tough run of games and creativity and pace in support. That always gives you a chance.
We've probably done no better than ok so far this season. But the bonus is that I don't think we've played to our capability. This team can do so much more. If there wasn't potential I'd be pretty downbeat.
Brent Stephens
17
Posted 08/11/2015 at 23:00:27
George (#14) "Our football is like a template and once we are on the pitch there does not seem to be one player who has the ability, nouse, belief and bravery to change things."
I suspect our players are over-tutored. Just look at how long it takes to get a sub on, listening to and looking at the pages of instructions from our coaching staff.
Patrick Murphy
18
Posted 08/11/2015 at 23:01:30
Ernie (#15),
I see it like that too, it's important that Roberto demands more from his team because they do at times look as if there is at least another couple of gears in them. I don't think we'll ever see a Roberto team with raw passion, but we do need to see more urgency when the games are there to be won.
Yesterday's game was similar to WBA; although we played better yesterday, the desire to go on and win the match was absent. If Barkley and or McCarthy continue in their present lackadaisical manner, they should be benched and replaced in the first team. It's the middle of the park where attacks are started and thwarted and them two have to take more responsibility in driving the team forward.
Trevor Peers
19
Posted 08/11/2015 at 23:08:08
I agree with you, George. Apart from Deulofeu, the midfield is not dynamic enough, and although we have had a reasonable start to the season, I doubt we have the personnel to kick on in these winnable games to put these easier teams to the sword. More often than not, we will draw.
Mirallas certainly isn't the answer... he's far too greedy, so, unless Roberto can add something new in January, we will have a reasonable season but that's all.

Chris Owens
20
Posted 08/11/2015 at 23:38:21
Maybe if we tried to score from a set piece, instead of passing it back to Tim Howard, we could win one of these tight games?
Andy Crooks
21
Posted 09/11/2015 at 00:26:20
I agree, George (#14). We just seem to be missing a spark. Is there anyone we could bring in free in January who could be the catalyst? A new Peter Reid. A bit of luck that turns it round?
Michael Polley
22
Posted 09/11/2015 at 01:35:24
I agree with most of these posts. We need to be more creative in midfield. I think Barkley has been disappointing in a lot of games.
I'm looking forward to Bainsey coming back, and providing us with more attacking options, and maybe scoring a few from free kicks!!!
Harold Matthews
23
Posted 09/11/2015 at 03:20:43
Brent. Spot on. Page after page of complicated instructions before the subs enter the fray. The starters will get a double dose and I strongly suspect this is one of the reasons we play in a daze for the first 20 minutes.
George McKane
24
Posted 09/11/2015 at 08:39:02
Good point, Brent. One of my shouts from The Park End is "Don't look at the iPad!"
Some of the so-called backroom staff have iPads on the bench... for goodness sake.
Let's get back to real football with footballers – not just "athletes".

Aidy Dews
25
Posted 09/11/2015 at 10:01:01
"In the second half we kept West Ham very, very quiet and we always carried that threat and I think the performance was terrific in terms of having that winning mentality." - What does that even mean?! We didn't win the game so how was the performance terrific in terms of having that winning mentality?! He does spout some shite.
In the end, it seems a good point but, if we had more about us on the day, we could've won. I know Kone had a great game last week and got a hat-trick but I don't think it worked having him down the left on Saturday. At times we had no width down the left as he always wanted to come central and sometimes he popped up on the right even when Geri was there. And he didn't really offer Galloway any protection up against Moses either.
And I thought Barkley was poor on Saturday. It really bugs me when he gets on the ball in the final third and he just holds the ball up by taking touch after touch and slowing our attacks down, allowing the opposition to get back into position. Plenty of times he got it in wide positions and could of put a ball in and instead, just kept hold of the ball and slowed everything down. The lad really hasn't got a footballing brain.
Also, for me, those two assists by Deulofeu in the Sunderland game and on Saturday... Barkley should be doing things like that! But yet he can't spot things like that, and instead travels with the ball. To become a really good player, he needs to see things like those passes Deulofeu did. The lad as been playing with Rom for over 2 seasons now yet can't play to his strengths, Deulofeu for a shorter period and he knows what Lukaku wants and tries to give him it, that's the difference in their footballing brains and intelligence.
As for the rest, I thought they played well. Barry is doing much better, McCarthy had a better game, Stones was much improved.
In our next 3 fixtures, we should definitely be looking at 7 to 9 points and it's more than doable imo.
Rennie Smith
26
Posted 09/11/2015 at 14:12:44
"The lad really hasn't got a footballing brain"? Have a word, Aidy. Barkley is an intelligent young lad who needs to be left to make a few mistakes to progress.
If you want a headless chicken that sprints or dribbles into blind alleys, you'll find plenty of them in the lower leagues. He didn't have a great game on Saturday and I agree that he should have got the hook, but he gets far too much stick for me.
Deulofeu is a completely different type of player. He can sometimes glide along and play supreme passes, but not all the time. Funny how his mistakes are forgiven and not Barkley's.
He's one of our own FFS, give him a chance.
Harold Matthews
28
Posted 09/11/2015 at 19:30:12
Yes, we could have won but West Ham will say the same. Apart from Carroll, who operated at walking pace, they're a pretty good outfit these days, especially when Sakho is up front.
They also have 4 or 5 midfielders and forwards who are clever and quick on the ball. We only have Barkley and Deulofeu and one is not always clever.
What we do have is tremendous pace and power on the counter-attack which should have brought us 2 goals but Kone decided against slipping the ball to the wide open Lukaku. I guess the hat-trick gave him big ideas.
Initially I thought we should have won but, weighing up the injuries to Payet and Valencia, I've changed my mind. Indeed, I think we were lucky to finish with eleven men on the pitch.
Aidy Dews
29
Posted 09/11/2015 at 21:45:40
Rennie, how many more seasons are we going to give Barkley the opportunity to make mistakes?
And I don't think he's that intelligent on the ball either, anyone can make 5, 10, 15 yard simple passes that he makes! Deulofeu shows intelligence with his passing. And I must be seeing different games but Barkley is guilty of running down blind allies with the ball at times.
He can do good things, I think he's a better player when he plays a more refined game, doesn't try too much, more on instinct. When he tries too much, he thinks too much of what he should do next and it fucks him up, imo.
Add Your Comments
In order to post a comment, you need to be logged in as a registered user of the site.
Or Sign up as a ToffeeWeb Member — it's free, takes just a few minutes and will allow you to post your comments on articles and Talking Points submissions across the site.
© ToffeeWeb