Elstone: Everton remain committed to new stadium project
by

64 Comments [Jump to last]
| 18/11/2015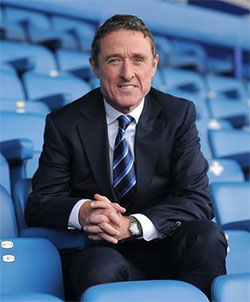 Robert Elstone, says that the club remain in discussions with Liverpool Council over a proposed stadium at Walton Hall Park which he believes will be the "real springboard to greater things".
Writing in the annual accounts that were released today, the club's Chief Executive spells out his continuing commitment to a scheme that would not only provide a new ground for Everton but also further regeneration of the park and its surrounding area.
"A consistent feature throughout 2014/15 has been our work on Walton Hall Park, in partnership with Liverpool City Council," Elstone writes.
"When offered the site, the club responded to a regeneration agenda with conviction, recognising that we had an opportunity to not only find a solution to our search for a new stadium but also make a significant, lasting and much-needed difference to north Liverpool, the city and the region.
"Those objectives underpin our ambition today and we continue discussions with the Mayor and his officers to finalise a funding model that gives the scheme a fighting chance of success."
Elstone's comments come in the wake of a statement at the end of last month by Mayor Joe Anderson who expressed his disappointment that there is, as yet, "no tangible proposition" for the site and seemed to suggest that the Council would have to make a decision on its part in the proposal one way or the other by early next year.
The Blues' CEO remains committed to the proposed development and sees it has the real potential difference-maker in terms of Everton's future success.
"As I have said in the past, and as acknowledged by almost every independent commentator, the club has performed exceptionally well over the past 10 years," he continues, "and, for as long as we stick to the tried and tested formula that has delivered that success, we can be confident that the club will continue to flourish.
"The real springboard to greater things will be the new stadium. It's why we will continue to work with determination and creativity to find the solution."
---
Reader Comments (64)
Note: the following content is not moderated or vetted by the site owners at the time of submission. Comments are the responsibility of the poster. Disclaimer
Ian McDowell
1
Posted 18/11/2015 at 21:13:40
Boring!! Come and let us know when we have a viable plan that is ready to be delivered. I have listened to so much lies and rubbish about a new ground I have had enough.
Tony Abrahams
2
Posted 18/11/2015 at 21:17:39
Gives the scheme a fighting chance of success, and by sticking to the tried and tested the club will continue to flourish?
The whole of the EPL is flourishing at the minute, but Everton have never gone so long without major honours, ffs.
But don't worry because the determination and creativity of this present board should see us through to the springboard of greater things though!
This fella gets paid a fortune to tell us fuck all, and deliver even less. Save it for the AGM, please, Robert.
Eugene Ruane
3
Posted 18/11/2015 at 21:37:06
His lingo is superb, he really can talk for ages without saying anything at all.
Paragraphs of 'waffle-spoffle-poffle' and when you look for actual content, it's like a Dynamo trick - 'Wow, there's nothing there!'
Pictures..
RE: "I'm certainly very happy to entertain this idea, in theory anyway, as it is still, relatively speaking, 'early days'. I am very open to the idea of taking on board something which could, in a tangible way, be thought of as 'exciting and fresh yet traditional.' Something with a simplicity and appeal that has, over the years, been, in a very real way, endorsed by millions. Of course the timing of this offer, like any offer must be right, but it feels to me that the timing of this offer is close to being just about perfect and consequently, I will be giving it serious considerat..."
Mrs E: (sigh) "For fuck's sake Bob, do you want a cup of tea or not!?"
James Morgan
4
Posted 18/11/2015 at 21:46:55
Quality, Eugene.
Paul Doyle
6
Posted 18/11/2015 at 21:59:29
Cue Echo photo shoot of Green, Earl, Woods joking amongst themselves, shovels in hand, wearing blue hard hats and vests, somewhere in the middle of Walton Hall Park, with a smiling, somewhat sick-looking Billy boy looking on admiringly across the wasteland, thinking to himself: "That's the Christmas half-season tickets plug sorted."
Paul Washington
7
Posted 18/11/2015 at 22:00:56
What success? 㿊-odd million in the red, two failed ground moves and one pending, Finch Farm fiasco and the Park End hospitality cock-up, 20 years without a cup...

Elstone, keep to doing duathlons or become a bloody politician – they talk forever without saying anything.
Denis Richardson
9
Posted 18/11/2015 at 22:24:44
Gotta say I'd love to be able to come out with such utter crap and and still keep a straight face.
When the council themselves say fuck-all has happened and they'll likely look for another option, it's amazing that he still sticks to the script.
Wish I could be at the AGM.

Andrew Yates
11
Posted 18/11/2015 at 22:48:26
Inevitably we find ourselves in a position of optimism but with a real sense of caution of which when put into context can be construed as both a viable situation under the continued close eye of the management team we have in place which week be scrutinising both the options available but not available in the cold light of day, simple really.
Ian Riley
12
Posted 18/11/2015 at 23:03:32
Here we go again! Tranmere will have a new stadium before us! That's the transfer money sorted out for January and the summer!
Colin Glassar
14
Posted 18/11/2015 at 23:38:37
Elstone has as much credibility as Tariq Aziz had.
Bobby Thomas
15
Posted 18/11/2015 at 23:46:02
We're committed to an idea that that our business can't fund, that our board of directors are not prepared to personally back with dollar, that we have no viable funding package for and as of October seem to have made no progress on, that the council have indicated may be dead in the New Year unless we even moderately get our shit together, aside from saying "Erm, any chance you can pay for it?"
These pricks went to the Kirkby Public Enquiry unable to show where a penny of the required 㿺 million was coming from.
This latest statement is fucking nonsense. Determination and creativity??? CASH. IT NEEDS FUCKING CASH.
They can't get anything done, and they won't.
Karl Masters
16
Posted 18/11/2015 at 23:49:38
All the time he says 'we' are committed to a New Stadium he can keep people at arms length from demanding to know why Goodison hasn't been redeveloped.
Who exactly are 'we' anyway? There has been no vote on moving since the Kirkby vote in 2007 when a relatively narrow 59% - 41% mandate was obtained, since proven to have been built on a web of lies ('effectively free', 'best transport links in Europe', 'Tesco will be paying 㿞m towards it', 'state of the art design' etc, etc) all exposed at a Public Enquiry.
'We' constitutes effectively Kenwright, him (a Yorkshire rugby man), two Spurs fans (Earl and our 'advisor friend' Green) and er....... We don't have any other Board members! Motives? Emotional attachment to the Club and therefore really caring about the fans and its future? Only Bill by the look of it and can you ever really believe a word he says?
Spurs, Man Utd, Villa, Newcastle, all have developed existing sites. There is no need to move. What there is a need to do is get a redevelopment plan together and get on with it. This is what everybody else has done. Even clubs like Barnsley have rebuilt 3 sides of their stadium on a small fraction of our income.
Steve Jenkins
17
Posted 18/11/2015 at 23:55:21
3 Eugene
Class post! When CEO next becomes available you can comfortably fill that, Eugene.
Elstone to look at reminds of Frank Spencer - "oh Betty I've had a lot of harassment", and I can just see him saying that after the AGM.
The tricks played before previous AGMs to appease supporters and take the sting out of lack of progress can only work so many times – takeover rumours, imminent ground moves... We've heard it all before. Depending on who else from our board turns up at the AGM, it could be poor Bob that bares the brunt of frustrations
Paul & Denis 6 & 7
Exactly. His words "fighting chance" tell you this is going nowhere, with about a 0-10% chance of happening under the current board.
Anthony Dwyer
18
Posted 18/11/2015 at 23:57:33
Pathetic statement, can't understand why he bothered himself to talk all that crap.
The only thing I can think is Mr Elstone thinks all Evertonians are idiots.
I think we need to go back to basics, save some money and start to improve Goodison bit by bit, just like the red shite have done and just like Man Utd have done.
Baby steps and small bits of investments, maybe sell stand names off if we have to but, if we don't crack on, we will massively fall behind.
Spurs, West Ham, Southampton, Leicester, Arsenal, Man City, and lots of others have brilliant new stadiums, but if all blues were to be completely honest, none of us expect to be rehoused any time soon.
Eric Myles
21
Posted 19/11/2015 at 03:40:32
Meanwhile the council and LFC push ahead with their portion of what could have been The Football Quarter, while our board want to move away from the area.
Michael O'Brien
22
Posted 19/11/2015 at 03:48:39
It's a but early for season ticket time, isn't it?
Mike Benjamin
23
Posted 19/11/2015 at 06:49:33
The opposition to the Walton Hall Park development from local residents is very strong. The Friends of Walton Hall Park is a well organised and powerful group who have already shown how much influencee they have by getting Liverpool City council to restrict match day car parking at the site. Even if initial plans are submitted it will take years to implement due to challenges and public enquiries.
Jimmy Salt
24
Posted 19/11/2015 at 06:52:01
They're not even trying anymore.
James Marshall
25
Posted 19/11/2015 at 07:08:25
So basically what he's saying is that Everton need a new stadium, but we don't have enough money to build one.
Same as before then, right?
Excellent. I'm glad we cleared that one up.
What does Elstone actually do for his living?
Jim Lloyd
27
Posted 19/11/2015 at 08:03:27
"A significant, lasting and much needed difference to North Liverpool"!! One of the major factors in keeping County Rd/Walton Rd from totally going into oblivion, is Everton at Goodison Park.
Now if EFC want to move to a new stadium, that's their business, but don't give us that bollocks about it being good for North Liverpool.
Walton Hall Park is surrounded mainly by a residential area. All they would be doing is bunging a retail right in the middle of a residential district.
Mind you the Council have the right of it. They're disappointed by the lack of any progress from the club. So this waffle from Mr Elstone comes just in time for the AGM, in the vain attempt someone out there will believe that the club have got anything other than a "dream" about one day moving into a nice new home.
As a number have said already, they should have been ready years ago to rebuild Goodison Park; but that would take ambition, funding and planning.
This lot have one idea, someone build them a stadium and then they can flog their shares for lots of lolly.
Peter Barry
28
Posted 19/11/2015 at 08:25:06
Let me guess: it's Half Season ticket sale time.
Eddie Dunn
29
Posted 19/11/2015 at 09:16:43
Pathetic. As said above, another smokescreen to hide the fact that Goodison is being neglected.
I hate this twit with his corporate gobbledygook, a politician who is swanking around on his fat salary telling us nothing, as inertia rules. All of these ideas about this park and that park, disregard the local inhabitants, who (shock-horror!) might like to keep their green spaces.
Goodison should be redeveloped, like our chums over the park are doing to our old stadium. Bit by bit, year by year.

Dave Abrahams
30
Posted 19/11/2015 at 09:20:52
I haven't made my mind up until I hear what Martin Mason has to say about this, it will be something different to the rest of us and will put us all at ease.
Come on, Martin... the floor is yours.
Tony Abrahams
31
Posted 19/11/2015 at 10:36:15
Mike 18, exactly why this site is perfect for the phoney lying bastards to keep on peddling their bollocks.
Les Martin
32
Posted 19/11/2015 at 11:58:16
A lot of anger in these posts about the proposed ground move.
On saying that, the CEO's comments about ongoing talks are fact therefore there must be creedence in the possibility of a move. Let's face it, it has to happen at some time for the club to survive.
Walton Hall Park would be excellent; yes, there will always be protesters and I am sure they will have valid points against a stadium being built and its impact, especially on match days. However, the council will be fully aware of this, and if these problems were unsurmountable, we would not have this thread now.
And please let's not have this nonsense about redeveloping Goodison Park, the reasons have been mentioned so many times. A change is gonna come, its just a matter of sooner or later
Winston Williamson
33
Posted 19/11/2015 at 14:21:32
Council: EFC have made no progress, we're frustrated and will look at other options in the new year.
EFC: (after cutting through the BS) we'd love WHP as a site for our new ground, but we've not found anyone to pay for it yet.
Same old shite...EFC will keep up the positive approach until after the AGM and by the new year we'll all know it's not happening when the Council approve someone else's development on the site...
Whilst Goodison Park continues in limbo.
John Daley
34
Posted 19/11/2015 at 14:33:24
"...we will continue to work with determination and creativity to find the solution." 
Brand New Stadium Brainstorming Session 6026:
1) Enrol Bobby Elstone on a beginners course in that new-fangled 3D Printing, just in case 'Brother' or somebody one day gets round to making an absolutely massive bastard.
Consensus: Cracking idea, showing tremendous foresight and a finger on the pulse of current technology, only falling down on the fact Bobby flat out refuses to ever enter a classroom again after suffering flashbacks of his schoolmates all shouting 'NERRRRRRRRRRRRRRD' and spitting wet bog roll at him through a straw.
2) Bill Kenwright himself – Everton decanter wrapped in two towels and safely stashed in his duffle bag – could hire a hot air balloon, an Inuit guide and a couple of huskies and head for the North Pole... to find out if there's any basis in reality for that bit in Superman: The Movie where Clark Kent chucks a crystal in some snow and the Fortress Of Solitude springs forth from the ice.
Consensus: Again, really great stuff guys and Bill was definitely all for it... until he got the wrong end of the stick and thought we said he should take along an idiot guide and a couple of hussies. He was incredibly insulted, not to mention hurt, by the perceived slur on his snow traversing abilities ("I'm good friends with Michael Crawford, son. Who do you think taught him how to ski off a fucking roof, land and carry on down a busy road going '"Ooooooh Betty!" for 'Some Mothers Do Have 'Em'?"), and even more so by the suggestion he couldn't go a couple of weeks without getting his hole ("I'm good friends with Cliff Richards, son. Double-teaming a couple of lasses on our Summer Holiday's just means giving the girls a game of fucking Table Tennis to me.").
3) Commission a master craftsman to create a miniature model of a state of the art stadium, complete with real little grass pitch and goalposts, and then get a scientist to build us a shrink ray, stick it above the (normal sized) entrance and just Ronnie Corbett every cunt as they come through the turnstile.
Consensus: Ingenious but probably impractical, as real world science isn't as advanced as our limitless imagination just yet. There's no way they could get grass seeds to grow on a pitch that small.
4) Redevelop Goodison. Alright, who's taking the piss? There's always one joker in the group. Giving it the "I know. I'll cum up wi de mos far fetched idea possible just to show 'em I don't tekk de process seriously at all and wanna get bacccck to more urgent matters like whether we should sell King Size Twix or normal Twix at half time." Well smart arse, you're just spoiling it for the rest of us who want to take the club forward and present our fantastic fans with a feasible plan we could actually bring to fruition.

Michael Penley
35
Posted 19/11/2015 at 14:40:11
I find this astonishing. Let's keep doing things the way we've been doing them because it's won us fuck all, from our own CEO. Any proper business CEO coming out with that rubbish would be sacked on the spot.
Matthew Williams
36
Posted 19/11/2015 at 16:25:22
20 years without a trophy and still no buyers...very strange. It all starts on the pitch first, folks – we start winning things then the rich men will flock to Goodison in their greedy droves!
Will Firstbrook
37
Posted 19/11/2015 at 18:17:08
If we were given a pound for every one of the meaningless new stadium statements Bill, Elstone and Co have troddled out during their reign, we probably would have enough to actually build a new stadium (and sign a top notch striker!)
Dave Lynch
38
Posted 19/11/2015 at 18:52:35
Someone should tell King bullshitter that talk is cheap.
Peter Cummings
39
Posted 19/11/2015 at 19:10:19
Karl M,
I agree wih you completely on Goodison being redeveloped, I can't see any valid reason why the 'old lady' can't be brought up to an acceptable EPL standard with internal modification, Bullens Road could be the main object of a plan to build another main stand along with the Stanley Park end for instance, both would increase capacity considerably.
Lets face it the fans are already paying through the nose for seats and ever changing merchandise designs so our capacity is not likely to increase beyond the fifty thousand mark unless they are guaranteed regular success in all competitions, and on current and recent events and results this is unlikely to happen in the near future.
The other main problem will be to maintain our ability to hang on to our best and brightest, again until Billy Boy and his cohorts get real and stop crying poverty and continuously refuse to find a buyer real progress will be a non starter.
Eric Myles
40
Posted 19/11/2015 at 00:18:47
Les (#25), the Club has not come up with any reasons why Goodison Park cannot be redeveloped, just the opposite in fact.
During the King's Dock proposals they came up with TWO possible redevelopment schemes.
Ciaran Duff
41
Posted 20/11/2015 at 12:32:55
I am one of those lunatics who thinks that overall the club is run fairly well. However, I think that the stadium is a massive Achilles heel for the club. I know it is not easy to solve, without funding, but the issue has been dragging on for too long and has become a millstone around our necks.
A move to a new ground seems unrealistic as we can never come up with our part of the funds (even for subsidised stadiums). So, that basically means that the only option we have is to redevelop Goodison Park. I think the club should accept that reality and start planning from there.
I'm sure that there are many (redevelopment) options, ranging from just doing the ground to including the area nearby (along with the community and council). The positives are that it retains our spiritual home; the fans would be onboard and it can be done gradually.
A journey of a thousand miles begins with a single step.
Denis Richardson
42
Posted 20/11/2015 at 17:41:40
Les @25 'And please let's not have this nonsense about redeveloping Goodison Park, the reasons have been mentioned so many times.'
Care to tell us what these reasons are?
To my knowledge, the board has said (many times) that GP development is a 'non-starter' but have never given any details as to exactly why.

Patrick Murphy
43
Posted 20/11/2015 at 18:19:48
Unfortunately the major reason that Goodison Park is unlikely to be re-developed is the same reason we are unlikely to move into a new stadium – inability of the current board to find somebody from outside of the club to pay for it.
At least building a new stadium may dangle a carrot to would-be funders but re-developing Goodison would not interest outside funding and therefore, in the current situation, it is a non-starter. Sad, because leaving Goodison will be such a big wrench for the supporters and I just hope that, if we do move to WHP or elsewhere, it is not to a cheap and cheerful, soulless stadium.

Martin Mason
44
Posted 20/11/2015 at 20:20:11
Dave @23,
The club can't be "committed" to a new stadium because they have no finance even if they have a location identified. A new stadium is their preferred option but without an enabling partner (somebody to pay for it), it can go no further.
We can just about finance our current position in the EPL with no non-player expenditure and this would be in doubt even if a lower cost GP redevelopment option was available.
So, looks like it has to be the money tree or are you seriously suggesting that the EFC board should finance it from their own pockets?
At some time, you just have to accept that you support a club that just doesn't have the money to meet your lofty ambitions.
Dave Abrahams
45
Posted 20/11/2015 at 20:53:50
Fair enough, Martin, I know you will never accept that Kenwright and his cronies have helped to put us in this position, but it would be pointless to go over old ground.
Nice to hear from you anyway.
John Tyrrell
46
Posted 20/11/2015 at 21:30:14
Well, maybe my kids might see a new stadium in their lifetime, they are 6 years old now. What I'd love to see is the stadium built while I can still go to the match with them; I'd achieve this by a share issue.
From all the research I've done, very few shares in EFC have traded at more than £2,000 each. So I would start by doing a 10-to-1 share split, giving an average price of ££200 per share and a total 350,000 shares issued.
Then, to raise some money, I would issue 650,000 new shares at £200 a share. This would give the club £130M. This could be spilt by using £30M to pay off the net debt, £70M towards a new stadium, and the final £30M for new players.
Add this to the money from selling some of the older players and we should have £45M to play with: Banega on a free, £20M for a Number 10, £15M for striker and £10M for a goalkeeper.

Well that's my fantasy football done for the night...
Eric Myles
47
Posted 20/11/2015 at 00:03:14
Martin, why is it not possible for our owners to finance redevelopment from their own pocket?
Our previous owner did in building the Park End stand, and the RS owners are financing their redevelopment from their own pocket.
So it can be done if there is any real interest in the boardroom to take the Club forward. But as you rightly point out, our lot are only Interested in someone else paying for it.
So we will not get a new ground or an improved GP.
Christine Foster
48
Posted 21/11/2015 at 00:26:01
What's the reason for Elstone coming out with this bullshit?
An AGM coming up? PR not to show the club in a negative light if possible suitors are sniffing around? Half Season Ticket sales at Christmas? All of the above?
The council is fed up once again with Everton as they obviously have no intention of moving to WHP, strung them along again, keep the wolves (sorry fans) off their backs and buy a little time.
Is it no coincidence that the perennial search for investor / buyer occurs with the same timely interest?
Or is it that Bill is ill and wants to divest his shareholding as soon as possible... more likely.
Elstone is gilding the lily, the smoke-and-mirrors game no longer cuts any ice... seen for what it is.
As for funding and the club cannot afford a new stadium, sorry but the next season will see the biggest TV revenue earner in the history of EPL; if we cannot leverage off that without the need to bring in partners, to redevelop Goodison or commit to a new build, then commercially there is no desire to do so at board level.
Frankly, I believe the club will be sold shortly and Goodison redeveloped within the next two years, amazingly easily. It just needs the will to do so, good financial planning and someone with vision. It's also the reason none of the above will ever happen with the current board.
Graham Mockford
49
Posted 21/11/2015 at 01:27:24
Eric Myles #40
Peter Johnson certainly did not pay for the Park End stand from his own pocket. Do you just make this stuff up?
It was funded from a share issue and a Football Trust grant.
Jay Harris
50
Posted 21/11/2015 at 03:21:35
Graham,
I think the point is PJ had to give a personal guarantee as to the funds and is the last EFC director to show any personal commitment and ambition.
Bill and Cronies have shown no ambition nor interest except if they are to profit significantly from it, such as the cowshed in Kirkby.
Eric Myles
51
Posted 21/11/2015 at 03:25:53
Graham, Johnson paid for the £10m shares issue out of his own pocket, as he also did with the second shares issue.
Graham Mockford
52
Posted 21/11/2015 at 07:18:36
Eric,
No in both cases; he purchased shares which he retained and sold in 1998. To describe it as 'from his own pocket' is misleading in the extreme.
Eric Myles
53
Posted 21/11/2015 at 07:45:15
Graham, in both cases Johnson purchased NEW shares that were created for the specific purpose of providing NEW investment into the Club.
He did not just purchase existing shares from existing shareholders with no benefit to the Club, like the current owners.
He spent money from his own pocket to provide investment to build the new stand in the first instance, and to purchase players in the second.
Graham Mockford
54
Posted 21/11/2015 at 07:52:41
Eric
But he retained his investment in shares which he later sold. You make it sound like he paid for the development himself out of 'his own pocket'.
Bobby Thomas
55
Posted 21/11/2015 at 08:21:56
From the Shareholders Association website:
Despite already owning the majority of shares and in an effort to build on the success of a 1995 FA Cup Final victory the much maligned Mr Johnson implemented a 'six for one' rights issue in July 1996. This involved the creation of 30,000 new 𧺬 shares in the company which would raise an additional 㾻m for the club. This rights issue was fully subscribed with Mr Johnson acquiring 20,805 of the new shares at a cost of 㾶.4m. Subsequently Mr Johnson had increased his shareholding to 23,725 shares which equated to 68% of the 35,000 in the company.
Bobby Thomas
56
Posted 21/11/2015 at 08:32:19
Patrick #36
"I just hope that, if we do move to WHP or elsewhere, it is not to a cheap and cheerful, soulless stadium."
Under this board I think we all know the answer to that. It's irrelevant anyway. Zero will happen without fresh blood and money into the club.
Eric Myles
57
Posted 21/11/2015 at 09:21:16
Bobby (#48), that was the second rights issue in 1996; the first rights issue which Johnson used to fund the Park End development was in 1994.
"Having narrowly escaped relegation last season, Everton welcomed the offer of a 㾶 million cash injection from Peter Johnson, chairman of Park Foods, the publicly quoted Christmas hamper company.
The form of the cash injection was largely dictated by the needs of the club. Johnson obviously wanted a substantial shareholding but the main priority was to get money in to the club to enable it to purchase new players and fund ground improvements.
The route chosen to achieve this aim was a rights issue underwritten by Johnson's family trust.
Prior to the rights issue Everton had 2,500 shares in issue. These are rarely traded but, when they are, change hands for around ٠,600. The one-for-one rights issue was priced at ٢,000 per share. The price discouraged shareholders from taking up their rights. The general aim of the transaction (that new shares should go to Johnson as underwriter) was also facilitated by making them non-renounceable. Johnson could in principle have bought shares from the Moores family (who owned 43.52 per cent of the club prior to the rights issue). But the money would obviously not have gone to the club"
So it is clear that the sole reason for the initial rights issue was to provide money for ground improvement, and that money came from Johnson's own pocket.
The point is that Johnson invested his own money, "from his own pocket" to the benefit of the Club rather than just purchasing shares from existing shareholders with no benefit to the Club.
Compare that to the current chairman who has not only NOT invested money to benefit the Club, but has also NOT used money "from his own pocket" to purchase his shares!
Kevin Tully
58
Posted 21/11/2015 at 09:42:31
The Crystal Palace board are offering to dilute their shareholding to entice new investors into the club, and raise funds for stadium improvements.
"Under the offer Parish, who owns a 25% stake in Palace along with the three other members of the CPFC 2010 consortium – Stephen Browett, Jeremy Hosking and Martin Long – having bought the club out of administration five years ago, would continue to run the day-to-day operations at Selhurst Park.
Although the equal stakes held by the four owners would be diluted with Harris buying into the club, no one would have a bigger stake than Parish in shareholding terms with all parties signing up to a reinvestment programme aimed at stadium development."
This is the type of deal that we have been crying out for since Luvvie boy took the reins at the club.
Incredibly, Trevor Birch said we are looking for investment without any dilution of shareholding or to even give any potential investors a place on the board. Basically, the cocks want donations. They want someone else to build a stadium, and they want to run the club on a charity basis, with somebody else's hard-earned cash.
They are a laughing stock amongst Liverpool City Council, yet you will still hear lone voices defending their record. That is the part I find extremely difficult to comprehend. Unless you set the bar at just existing in the Premier League, they have failed on every single level.
Unless we can find new owners, who are prepared to act on these ground issues, we will soon find ourselves behind the likes of Stoke and West Ham. A damning indictment of the current board.
Graham Mockford
59
Posted 21/11/2015 at 09:47:06
Eric
The math is simple, he put £20m into the club he took £20m out. He made a zero net investment from 'his own pocket'.
Johnson was a speculator hoping to make a return on his investment. Nothing wrong with that by the way but he didn't in the end see a return.
To portray him as some benevolent supporter of the club is incorrect.
Dave Abrahams
60
Posted 21/11/2015 at 10:09:17
Eric (50) it would be great if Kenwright and his cronies did the same as Mr Johnson did, basically selling their shares for what they bought them for: no-one would begrudge them a small profit either.
Eric Myles
61
Posted 21/11/2015 at 10:25:09
Graham (#20), that was the net result in the end, but when he put his own money into the Club to build the Park End, he wasn't to know that; he could have even lost money.
But still, he put up his own money to benefit the Club. Wouldn't it be nice to have owners like that now eh?
Bobby Thomas
62
Posted 21/11/2015 at 10:54:06
Eric. Fair does the text I used related to the second issue of shares. However, PJ did not pay for the Park End.
The Park End was initially supposed to be a double-decker wraparound to the Bullens Road stand but was scaled back. The inadequate single tier was mainly paid for by a £1.3M grant from the Football Trust; it was the previous board's doing. They scaled back the original plans, outlined by Jim Greenwood in the matchday programme – I remember reading it in the Main Stand as a teenager; we went with the single-decker because we were skint.
Clifford Finch: "When it was clear that Peter Johnson's bid for Everton had been successful, the first thing we tried to do is stop the building of the Park End, but it had progressed too far. Everything was in place."

Eric Myles
63
Posted 21/11/2015 at 11:18:34
Another interesting quote from Clifford Finch, Bobby:
"There were also advanced plans for a stadium switch, which Finch believes only the sudden end of Johnson's tenure saw shelved.
"Yes, we had plans to move," he added. "A ground poll indicated that 83 per cent of supporters wanted to move, from 39,000 votes cast.
"The position was that the plans were for a stadium four miles from Goodison Park and they only needed to be rubber-stamped. A considerable amount of money was then spent on a feasibility study into Kings Dock when it was quite clear at the time that it was not feasible.
"But then, of course, everything came crashing down."
"He sold the club for virtually the same price that he paid for it, therefore not only not making any profit, but actually coming out with a substantial bottom line loss."

Martin Mason
64
Posted 21/11/2015 at 11:54:59
Dave@38
I'm not sure that this board has helped get us into our current broke state as the decline has been going on for far longer than this board's been at the helm. What is correct though is that they haven't been able to turn it round and have no chance of doing so without a lot of additional finance which they don't have and can't raise. My belief is that they have been net positive but have only scratched the surface of the deep structural problems.
I'm not sure that there is a solution that can make Everton a big club by today's standards given that long term we must be able to operate sustainably within our income and that will need increased spending on players, a new ground and a new business model. Is this type of investment available in football now? I seriously doubt it. Can this board provide it? No, only various degrees of survival.
Dave Abrahams
65
Posted 21/11/2015 at 12:23:59
Martin (#57),
They are not even trying; see what happens at the AGM. I could have gone as a proxy voter but it is on a Monday night, I still follow the "Mad Monday's" system, having a good drink with my mates, got to get my priorities right.
A few bevvies is more beneficial than listening to a load of nonsense from the CEO, and another poor acting performance from Billy Boy, if he is there.
Tony Abrahams
66
Posted 21/11/2015 at 12:42:15
Dave I was talking to a few of your mates last night and they seemed gutted that you wasn't going to the AGM!!
Dave Abrahams
67
Posted 21/11/2015 at 13:17:16
Tony (#59), What have I told you about telling tales? No wonder you were the teacher's pet at school.
Martin Mason
68
Posted 21/11/2015 at 18:27:13
Dave, I hope that the AGM is positive and that the board can answer the questions that need to be answered.
Bobby Thomas
69
Posted 22/11/2015 at 01:31:04
Eric (#56),
So we agree that Peter Johnson didn't pay for the Park End? In any way shape or form. You made that up. Why, I have no idea.
In relation to your last quotes, have also conveniently ignored that Johnson kept the club in limbo for over a year as he held out for the best offer. He held out for as long as he could before accepting the offer he did.
Duncan Ferguson was sold in around November 1998. The club was sold in early 2000!!! Peter Johnson was originally looking for approx 㿞-60 million for the club.
It has already been shown you're totally bullshitting about the Park End and you're now putting a VERY generous spin on Johnson's exit. Quite why you're spinning (I'm being generous) this nonsense only you know.
Eric Myles
70
Posted 22/11/2015 at 05:10:36
Bobby, see my post #50:
"Johnson obviously wanted a substantial shareholding but the main priority was to get money in to the club to enable it to purchase new players and fund ground improvements"
Money Johnson invested paid for the Park End, the grant was not sufficient to pay the full cost of the development.
I'm not putting spin on anything, just providing quotes from a source you yourself introduced into the discussion
I will say though that Johnson keeping the Club in limbo for a year holding out for the best offer seems a lot better than keeping the Club in limbo for 12 years and counting.
Eric Myles
71
Posted 22/11/2015 at 05:26:38
If you want a positive spin though, Bobby, I'd say the evidence shows that Johnson invested his own money from his own pocket for the benefit of the Club, not once, but on two separate occasions in 4 years.
What a cunt!! We should consider ourselves fortunate that the current owners have never done something like that, eh?
Add Your Comments
In order to post a comment, you need to be logged in as a registered user of the site.
Or Sign up as a ToffeeWeb Member — it's free, takes just a few minutes and will allow you to post your comments on articles and Talking Points submissions across the site.
© ToffeeWeb