Competition for places has been vital to improving form
by

27 Comments [Jump to last]
| 26/11/2015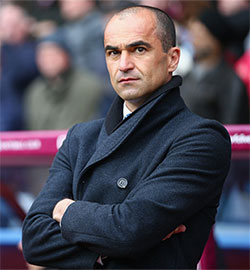 Roberto Martinez is hopeful of a positive run from Everton over the next few months as his team gels and players battling for places drive momentum to keep the team challenging for the European places.
The manager has expressed recently how he feels that the Blues are now reaping the benefits of the recruitment work undertaken over the summer, a growing understanding on the pitch and the experience gleaned from last season's European commitments in terms of coping with the demands of competing on multiple fronts.
Speaking at his pre-match press conference ahead of the trip to Bournemouth tomorrow, Martinez told the media that an improving injury situation and competition for places is perhaps the biggest factor behind his team's recent form.
"I think at the moment we're in a very impressive period," he said. "[We have] up to 18 weeks where we can concentrate on what we've got in front of us domestically.
"Internally we've got players coming back from injury, we've got probably the strongest squad we've had for a long, long time in terms of the numbers and in terms of moments of form of players. We're looking for that competition for places to last and to see how far we can take it. The last game [against Aston Villa] was a very good way to start [the next phase] and now we need to find that level throughout this period.
"For a while we've had really positive momentum in terms of proactive attitude to get better. I think that positivity is [running] throughout the football club in every department and it helps when you get everyone back from injury."
While the Catalan admitted that there are players struggling with the fact that they are not being selected, he stressed that, as a manager, he welcomes those kinds of headaches you want and that the battle for places in the team is creating energy and keeping those who are playing week in, week out on their toes.
"You want these situations," Martinez continued. "You don't want to overdo it – you want football to make the decisions. When players are performing on the pitch, you just want to give a little bit of direction and nothing else. It's been very different to last season – playing in Europe is a completely different demand
"The mentality and the psychological fatigue forces you as a manager to try to rotate things and freshen things up. At the moment that's not the case – we can prepare from game to game. Of course we want to be involved in the domestic cups for as long as we can but I think we're prepared psychologically to cope after the experience of last season."
Asked specifically about players like Kevin Mirallas who might look to leave the club if they aren't getting regular game time, Martinez said: "You don't want to have players who are happy to just come in and train. [Right now] every player wants to come in, be important in the team and improve to become part of a winning team. You need to see that.
"Competition for places is the only reason why we've been so good in our recent performances. If you look at our last two [matches] at home, the attacking threat that we carried comes from every single aspect of our performance – the way we work off the ball, the way we press as a unit, how quickly we get the ball back and then that understanding and the tempo that we have in possession comes from the tempo we have in training.
Competition for places is the only reason why we've been so good in our recent performances.
Roberto Martinez
"And that's down to the competition for placesand because everyone is pushing to the maximum to get into the starting line-up. It's important that everyone knows that they've got has a role but I would expect the playerse who is not in the starting line up not to be happy with that situation even though they understand that playing or not playing they are a direct influence on how we perform at the weekend."
Martinez provided a further update on Leighton Baines, saying that physically the 30-year-old is ready – the important thing for him now is to ensure that he is mentally ready for the rigours of the Premier League.
"More than anything [it's about' getting his confidence back in terms of being able to got into a 50-50 challenge without feeling fearful. When you get an injury the way he did when he was just blocking a simple ball ... when need to be very careful that we give him the time to get his confidence back and prepare his body to be really strong.
"We'll take it day by day. We'll assess it tomorrow in terms of the trip to Bournemouth ... it's not good to get Leighton rushed back and risk losing him for the rest of the campaign."
He also said that both Tom Cleverley and Muhamed Besic are fully fit and ready to play when selected.
---
Reader Comments (27)
Note: the following content is not moderated or vetted by the site owners at the time of submission. Comments are the responsibility of the poster. Disclaimer
Paul Andrews
1
Posted 26/11/2015 at 18:29:43
He has created a decent squad with the players he has brought in being a big improvement on a lot of the ones he inherited. The likes of Lukaku, Deulofeu would be comfortable in any side in the Prem.
His development of Barkley, Galloway, Stones Funes Mori etc is fantastic to watch. Long may it continue...
James Flynn
3
Posted 26/11/2015 at 18:54:28
With all that gets said about some of Roberto's utterances, he's speaking correctly and accurately here.
My feeling was that next year was the year to see what we really have as a team with so much youth in it. Roberto seems to think they can get it done this season. Fine by me.
Now, if Ross will just eliminate carrying the ball straight into 2-3 defenders . . . . . . .
Denis Richardson
4
Posted 26/11/2015 at 19:00:37
We only really have competition in the 3 atticking midfield spots. The rest of the team is pretty much unchanged, week-in & week-out.
Back 7 are set in stone (Baines will take over from Galloway) and Rom has no competition up top (but is still scoring). Jags is out for a while but I cannot imagine him not walking straight back into the side, especially given he's the skipper.
Also love the way Europe is again the reason we had a shit season last year, even though the worst period coincided with when we didn't have any Europa League games...
We're playing decent stuff at the moment but again, one game at a time...
Ernie Baywood
5
Posted 26/11/2015 at 19:38:37
"For a while we've had really positive momentum in terms of proactive attitude to get better."
Does that mean our form has improved?
Phil Sammon
6
Posted 26/11/2015 at 19:45:50
"We've got probably the strongest squad we've had for a long, long time in terms of the numbers and in terms of moments of form of players."
Read: "We are playing well."
Brian Harrison
7
Posted 26/11/2015 at 19:56:42
Well at last RM has said something that I understand, and as not one of his biggest fans I have to say he has improved the team this season.
I think if you had asked any Evertonian how we would cope without Baines and Jagielka many, me amongst them would have feared the worst. But his purchases of Galloway and in particular Funes Mori has been very impressive.
I also agree with RM that the hardest task will be to keep hold of some of our key players come the summer. Should we not get Champions League football, can he persuade Lukaku and Stones and maybe Barkley to remain with us?
I would gladly have had RM leave after last season, as we had definitely gone backwards. But maybe he has listened to the fans' dissatisfaction at the very slow build-up play. Although I still think much more work is needed on our tempo in matches, as we quite often slip back into the slow build up routine.
Dave Southword
8
Posted 26/11/2015 at 20:44:03
Good quotes here; bigging up the squad players and reminding the first teamers that they have to continue to earn their place in the side.
All for nought if he sticks with players when their form drops, so that will be interesting to see.
Ste Lewis
9
Posted 26/11/2015 at 20:47:30
Perhaps last year was part of the process. Maybe persisting with a young Lukaku as lone striker – though frustrating – was part of his development. Maybe playing slower was part of the team's development as they adjusted to what was being asked.
This was not going to be a straight-forward journey and there should have been more patience shown. Hard when you're forking out a small fortune to watch dross but Martinez had to look beyond the immediate. Not everyone saw that, some still don't.
Listening to the fans' dissatisfaction? I don't think so.
Eddie Dunn
10
Posted 26/11/2015 at 20:51:18
I have to pour a little cold water over all of this excitement. This squad is far from the real deal. We lack cover up front and in goal. For all of the talk of competition for places, Martinez seems to have picked his favourite who will play every week unless injured.
We have despatched a couple of dreadful sides, which was nice, but let's not get carried away. We have a trip to Bournemouth to navigate, and although on paper, they are in the same bracket as our last two opponents, I think that they will be more of a test, and they have been a bit unlucky so far. Hopefully these big wins will have the team buzzing with confidence and we will go down there and collect the three points.
In December, we have Palace and Leicester visiting us, which will give us an idea of how good we are. In January we will play Spurs, Man City and Chelsea. These are the games that will determine whether we are Europa League contenders or mid-table also-rans.

Alan Bodell
11
Posted 26/11/2015 at 21:19:35
Here we are again: "I've got to pour water over... blah, blah."
We have a great young squad, rejecting bids for our main assets and that is still not enough for some of ours so if this is not making you happy right now then I wouldn't know what can be.
We don't have an Arab/Russian so accept the good times while they last. And I have to say you moaning boys really piss me off... try living through the bad patches of the '70s & '80s like many of us have.
Dave Southword
12
Posted 26/11/2015 at 22:00:55
I think maybe Eddie has taken Lawro's prediction to heart!
Quote:
"Everton were really good against Villa last weekend and it is interesting to see how their team has developed since the start of the season, with Arouna Kone and Gerard Deulofeu coming into the starting line-up.
"Bournemouth really should have got three points against Swansea last time out - to be 2-0 up against a team that is not playing well, and surrendering the lead, is just not good enough.
"This is a gut feeling more than anything else, but I am going to go for a Bournemouth win.
"It is certainly not based on their previous form, because they have only won one of their last 10 league games, but they are still creating chances and scoring goals and I think they will get the win they have been waiting for on Saturday.
"Lawro's prediction: 2-1"
Patrick Murphy
13
Posted 26/11/2015 at 22:10:17
There's more of the other lot's supporters on the South Coast than there are Cherries.
I'm expecting a tough game against them on Saturday but hopefully the lads will keep up the good form and get the points.
Anthony Flack
14
Posted 26/11/2015 at 22:12:14
Lawrenson prediction - we should have a short cut key for responding "Lawrenson is a nob" end of.
Max Murphy
16
Posted 26/11/2015 at 22:25:56
We've had two big wins... against two of the worst teams in the Premier League. Let's not get carried away.
Harold Matthews
17
Posted 26/11/2015 at 22:54:05
Alan #9. You have a very strange way of showing your happiness.
John Daley
18
Posted 26/11/2015 at 23:06:38
"For all of the talk of competition for places, Martinez seems to have picked his favourite who will play every week unless injured."
For me, that's exactly the approach he should be taking barring someone suffering an obvious and continuous dip in form.
Despite the manager himself highlighting competition for places as "the only reason we've been so good in our recent performances", I would suggest a more significant factor is the fact he's actually been fielding a more settled side for a change, instead of constantly chopping and changing for the sake of it or to placate players who haven't had as much time on the pitch as they themselves would like recently.
I don't believe for one minute that Deulofeu's recent shit-hot streak, for example, is due to Lennon breathing down his neck (okay, breathing slightly above his arse crack) thereby causing him to up his game, rather than it is down to him being given a decent run of games to find form and forge an understanding with those around him.
Same with Kone. I don't think it's the spectre of Steven Naismith that is spurring him on to finally show the sort of form that convinced Martinez to bring him with him from Wigan. It's far more likely that, for the first time since he signed, he's gotten enough game time to regain confidence in both his body and ability and to gel with Lukaku in particular.
Mark Andersson
19
Posted 26/11/2015 at 23:52:59
Some good posts, have to agree with John Daley. As for Lorrow prediction we can predict that he always puts a downer on us blues.
Good win for us will neither get us any recognition or shut the biased media off. But they can't stop us enjoying our football.
Eddie Dunn
20
Posted 26/11/2015 at 23:56:48
Dave (#10); Oh shit! I never want to agree with Lawro!

Eddie Dunn
21
Posted 26/11/2015 at 00:07:37
Alan 9, are these the "Good times"? Two wins against shite teams – you are easily pleased.
We don't need an Arab or a Russian, the TV money is closing the gap all over the Premier League. It is probably why things are closer this season; lots of clubs have more money to spend, and perhaps we are seeing a change.
My main point was we will see in due course just how good we are, or just how average we are.
Ernie Baywood
22
Posted 27/11/2015 at 01:40:45
I think it's fair to temper the enthusiasm a bit. It's only a few games ago that we were uninspiring in a home derby, battered at home by Man Utd, and taken to penalties at Goodison by Norwich.
But if you have to look past the last three games to judge us then you might as well go back to the start of the season. So far we have done alright despite significant injuries and a tough sequence of fixtures, we seem to have settled our young players into decent form. Rom has shown his goalscoring ability, we've found goals from the supporting acts, and the bench looks stronger than in the past. And we're still in the League Cup. And we've played some great football at times.
With players returning from injury, young players with improvement in them, and a kind run of fixtures it's hard not to feel a bit optimistic isn't it?
Peter Barry
23
Posted 27/11/2015 at 02:32:49
Do you see Lawro's League Table against the REAL League Table Everton are conspicuously far lower in Lawro's Table and the RS far higher than reality and its the same every year.
Hugh Jenkins
24
Posted 27/11/2015 at 03:43:44
Peter (#18). Yes - it is very noticeable. The man cannot be objective where we and the RS are concerned and surely someone at the BBC must have noticed this.
Week in, week out, his predictions for us and the RS are subjective and reflect wishful thinking on his part, rather than any real attempt at analysing current form of either us and the RS, or the respective opponents for that week.
His predictions are based on the form of the two sides 40 years ago rather than 40 hours ago.
It really is time he was put out to grass.
Ernie Baywood
25
Posted 27/11/2015 at 06:51:32
I'm surprised anyone gives a shit about Lawrenson.
Dave Pritchard
26
Posted 27/11/2015 at 08:14:51
Ernie 23, totally agree. Pundits are seen to be doing their job well by their employers when us fans talk about them. It always puzzles me when people get so upset by them.
Tomorrow we should win but how many times when we start a roll do we end up blowing it? A continuation of the form from our last 3 games and I would fully expect a win.
Paul Cherrington
27
Posted 27/11/2015 at 09:10:20
I have to say that to claim we have true competition for places is a little fanciful at best. Barry & MaCarthy have no competition and neither do Lukaku, Howard or most of the back four. They have to be injured not to be playing.
That's not to say there aren't people in the squad who could do their jobs... it's just the boss will always pick his favourites
Kevin Elliott
28
Posted 27/11/2015 at 09:37:48
Got my prediction right last week, so here goes:
3-1 Everton.
Tony J Williams
29
Posted 27/11/2015 at 12:41:46
Amen Ernie, it's the same with Garth Crooks' team of the week.
Subjective bollocks.
We need to beating these teams if we have any hope of getting back to Europe.
Add Your Comments
In order to post a comment, you need to be logged in as a registered user of the site.
Or Sign up as a ToffeeWeb Member — it's free, takes just a few minutes and will allow you to post your comments on articles and Talking Points submissions across the site.
© ToffeeWeb